Today, it's hard for busy people to spend quality time searching for the right person. As a result, dating applications have become a valuable service for millions. According to Statista, the growth of online dating revenue to 755 billion U.S. dollars by 2024 in the US alone. With high demand, dating app development can be a profitable business. 
Onix has 20+ years of experience designing and building reliable solutions. Using our software development services, you can create a dating app of any type: an app specializing in serious relationships/marriage, hookups, catering to LGBT audiences, culture-specific, regional, health- or interests-based dating.
In this post, our experts share valuable insights on how to create a dating app, show practical design tips, pay special attention to the user experience (UX) aspect, and provide dating app development costs.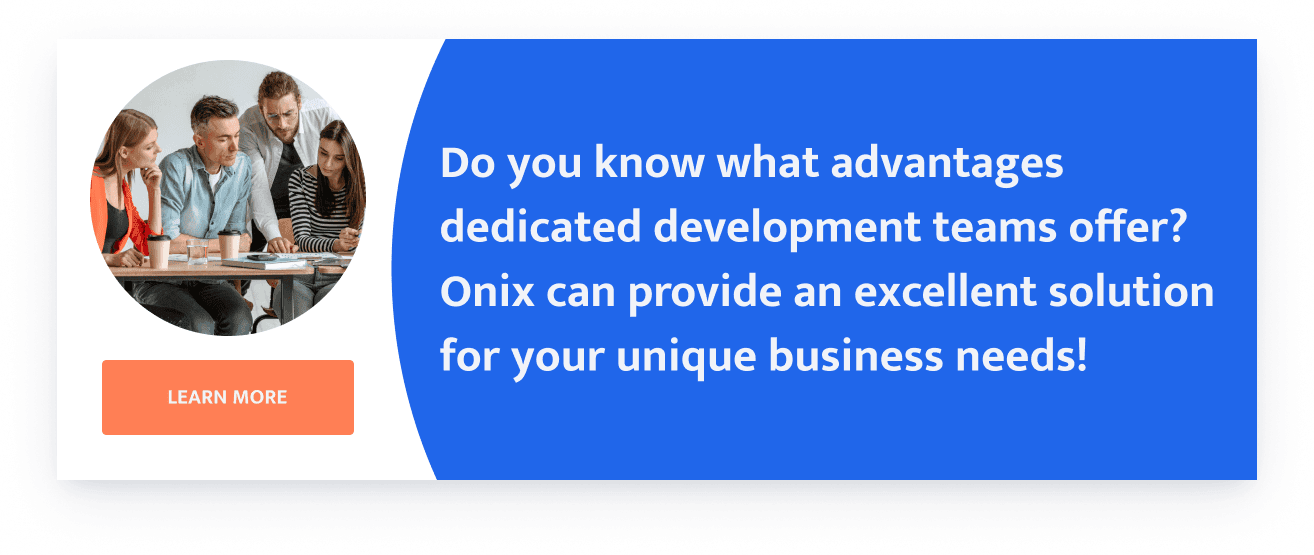 Dating app market
Before we go to tips on how to create a dating app, first, let's first consider how promising the idea of developing a dating app can be. Below we've gathered impressive dating app statistics and the essential information you should know about dating app market share.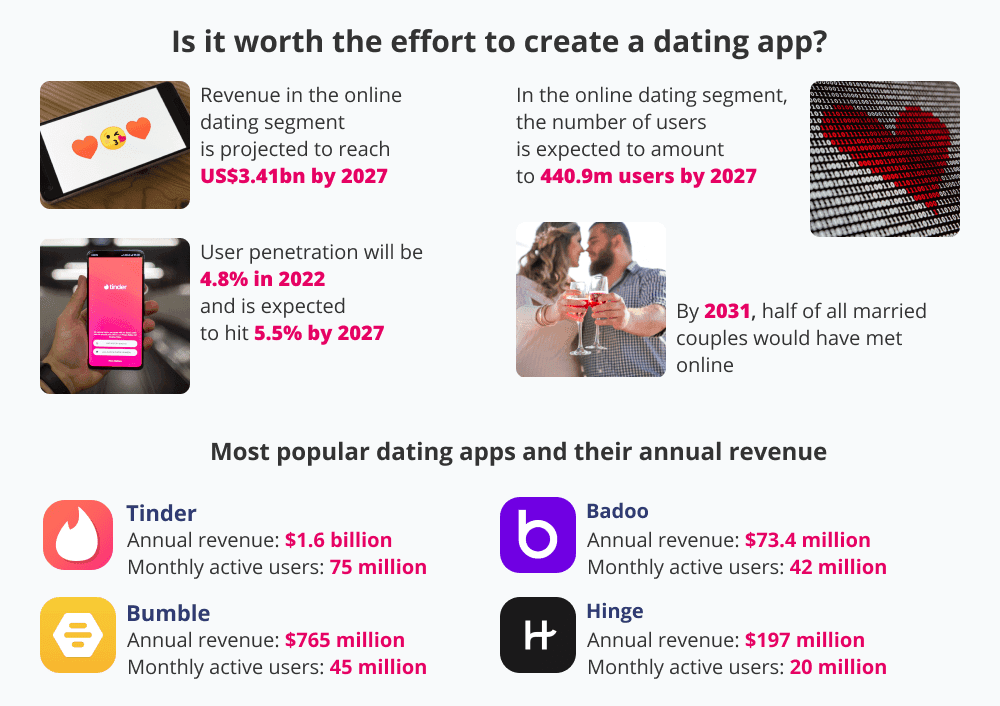 The dating apps market is growing, as well as the users' demands. Tinder is the most popular dating app, with 75 million monthly users. Its success paved the way for new applications powered by big data and machine learning, attracting an ever-increasing user base and investors. The online dating segment exploded. Despite all the abundance, entrepreneurs and startups still can find opportunities to earn money in the market.
Now it's time to look at some must-have features to consider when creating a dating app.
Core dating app features to include
To start your own dating app, the primary and crucial task is to define the core app functionality. Below we highlight the essential functionalities users expect to use in a dating application.
Profile
To create your own dating app successfully, pay great attention to the visual design. Even on Tinder, it's not always intuitive or easy to find each person's information, which may turn out to be bare and irrelevant. People hate filling out long forms. Try to balance Hinge's detailed profile and Tinder's minimalism. Start with defining the essential profile components, including the images and editable info like age, gender, interests, and other facts that users might like to share and others would like to know.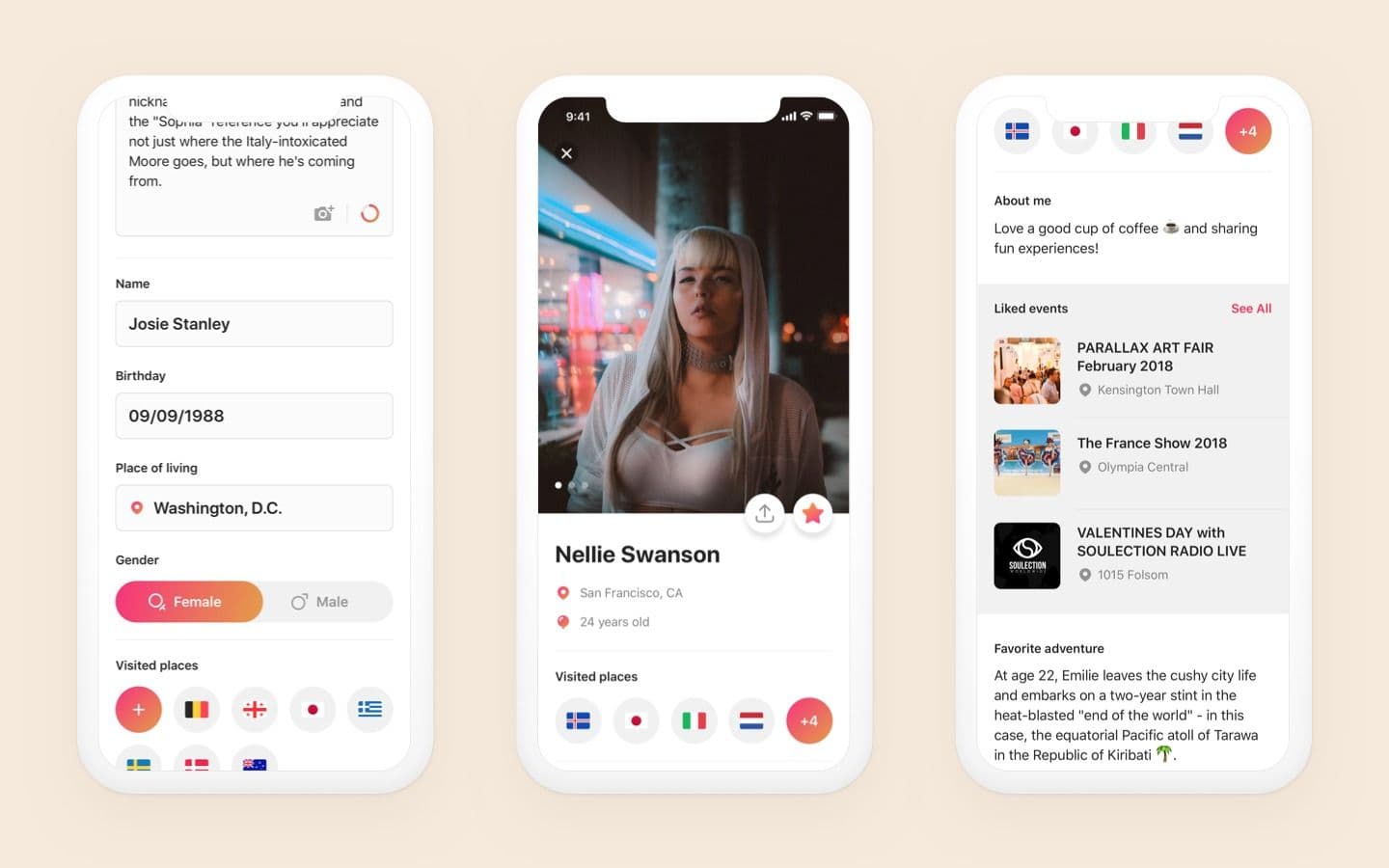 Several dating apps have made profile creation more fun by adding cool graphics. Consider sign-up with Facebook, which makes initial data entry automatic.
Matching people
Dating app developers must know the end-users very well to design the best way to match them, e.g., with the help of algorithms or plain filters. Tinder matches users based on their preferences and location. Dine offers a unique matching style, integrating with Yelp. Users pick three suitable restaurants or bars. Based on the chosen places, they get matched with 2-5 people per day so they can request to go on a date in a restaurant.
It also makes sense to allow for searching around places the users might be visiting or planning to shift to. Locali (designed by Onix) has that feature. Not a conventional dating app, it helps people meet others while they travel. We had experience with such functionality in the process of providing travel software development services.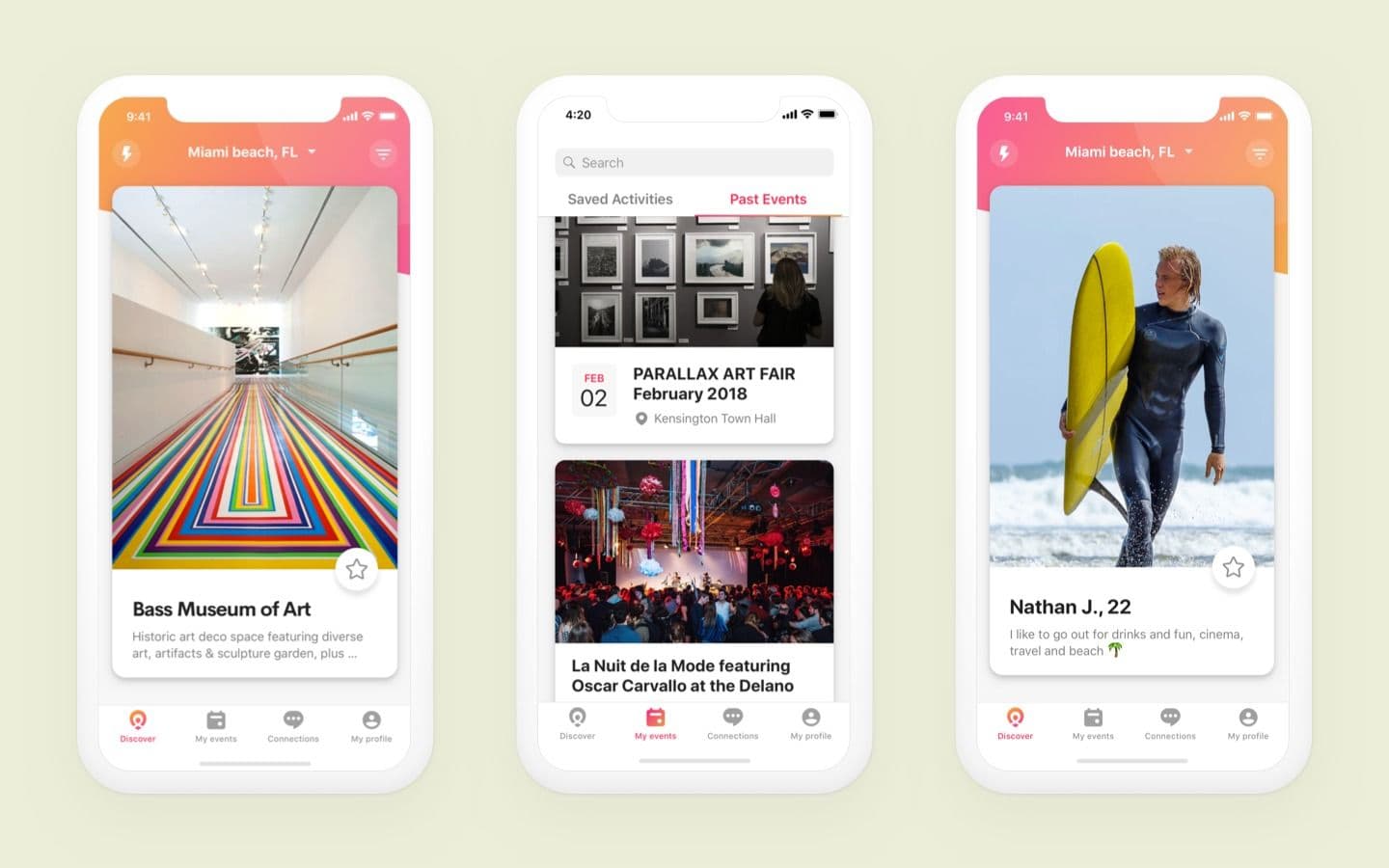 Design the matching experience creatively. Bumble's large "BOOM!" screen that appears when a user is matched with somebody makes each match feel unique.
Access control
Users expect privacy and security from online dating services. Think of a safer user experience as your potential competitive advantage and consider investing in some form of security checks.
Zoosk, a dating app for serious relationships, validates your phone number first and verifies photos to confirm that they're actually of you. It also uses an artificial intelligence algorithm to check user preferences and offers more confident matches.
It's useful to integrate platforms like Facebook and Instagram to make log-ins and sign-ups to your dating application easy and fast. Sign-up with Facebook is not only convenient and helpful for filling out the profile information. It offers access to user data that you can use to suggest local singles and find common friends and interests. Hinge and Bumble pull a person's full name, where they went to school and work, and any mutual friends from Facebook once they're matched with someone. Her, a lesbian dating app, uses Facebook to check if a user who signs up is a real female person. 
It also checks the supplied email address against a third-party database to see if it has been used to create Twitter, LinkedIn, or Foursquare accounts.
If you offer sign-up with Facebook, make it clear that you will not share any information associated with your app on the user's Facebook timeline.
Messaging
Design the messaging logic and the user interface wisely. Push notifications must be part of the app to prevent users from missing out on a possible romance. Design smart real-time alerts about events within your application, i.e., messages, matches, reminders, etc. The options include push notifications, pop-ups with advice, hello bars, personal letters, and personal assistant notes.
Social media integration
For example, Tinder allows users to integrate their Instagram and Snapchat accounts with their dating profiles. This feature can significantly boost interactions within the app leading to more active users.
How to create a dating app: Onix recommendations
Define your targeted group and meet its needs
To succeed with your app, it's best not to rush into the development process. Instead, decide on the dating app segment you will focus on ( marriage, hookups, LGBT audiences, culture-specific, etc.) and then research the market to identify your target audience needs. Let's compare top dating apps and their niche.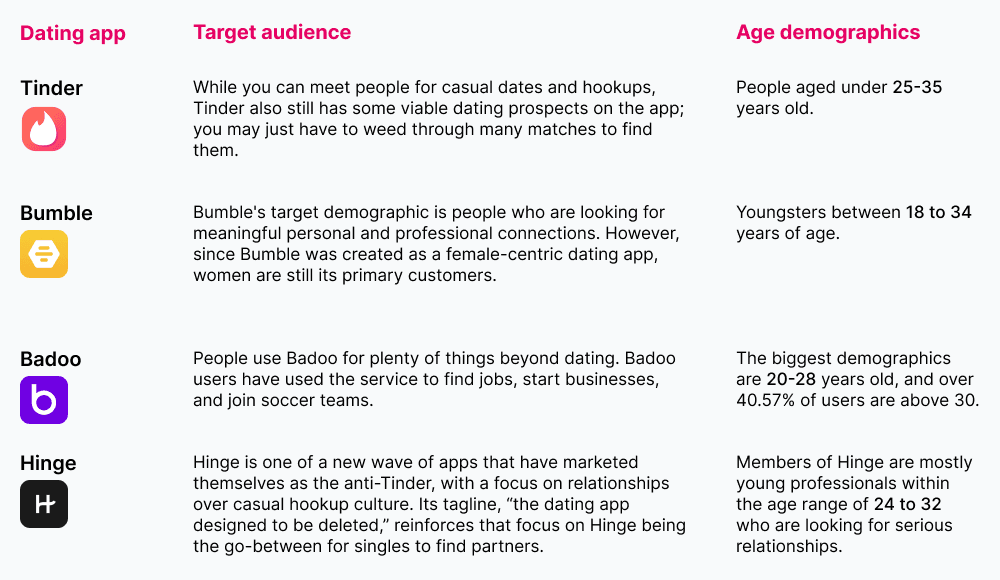 To develop a mobile dating app that thrives, it's essential to consider the pain points your target market has and try solving them by providing an improved product with useful features and an intuitive design. You can also research and collect demographics like age, gender, location, etc., which allows you to build your marketing campaign more effectively.
Make your app visually attractive
Tinder's user interface design makes the expectations and emotions of dating feel easier. The bright palette and playful animations help trigger more positive feelings. Even Tinder isn't perfect, though. For example, a bar at the top of each person's profile indicates how many pictures there are. The white bar blends in too easily if a user has a light background picture.
The palette helps set the right mood. Red may be a good choice if your app promotes hot and passionate relationships. Bumble's design template is very close to Tinder, but its bright yellow suggests playing on the safe side of happiness. BeLinked, which is connected to LinkedIn, feels more serious and helps build trust thanks to a purple-based design. You might try green colors if you offer some robust match-building algorithms to help people develop efficient relationships.
The colors of Locali work in two ways. Three gradients, between sunny orange and lovely pink, channel the brand's joie de vivre philosophy. Additionally, they vary depending on what's on the screen: orange corresponds to events and pink to people the user might wish to meet.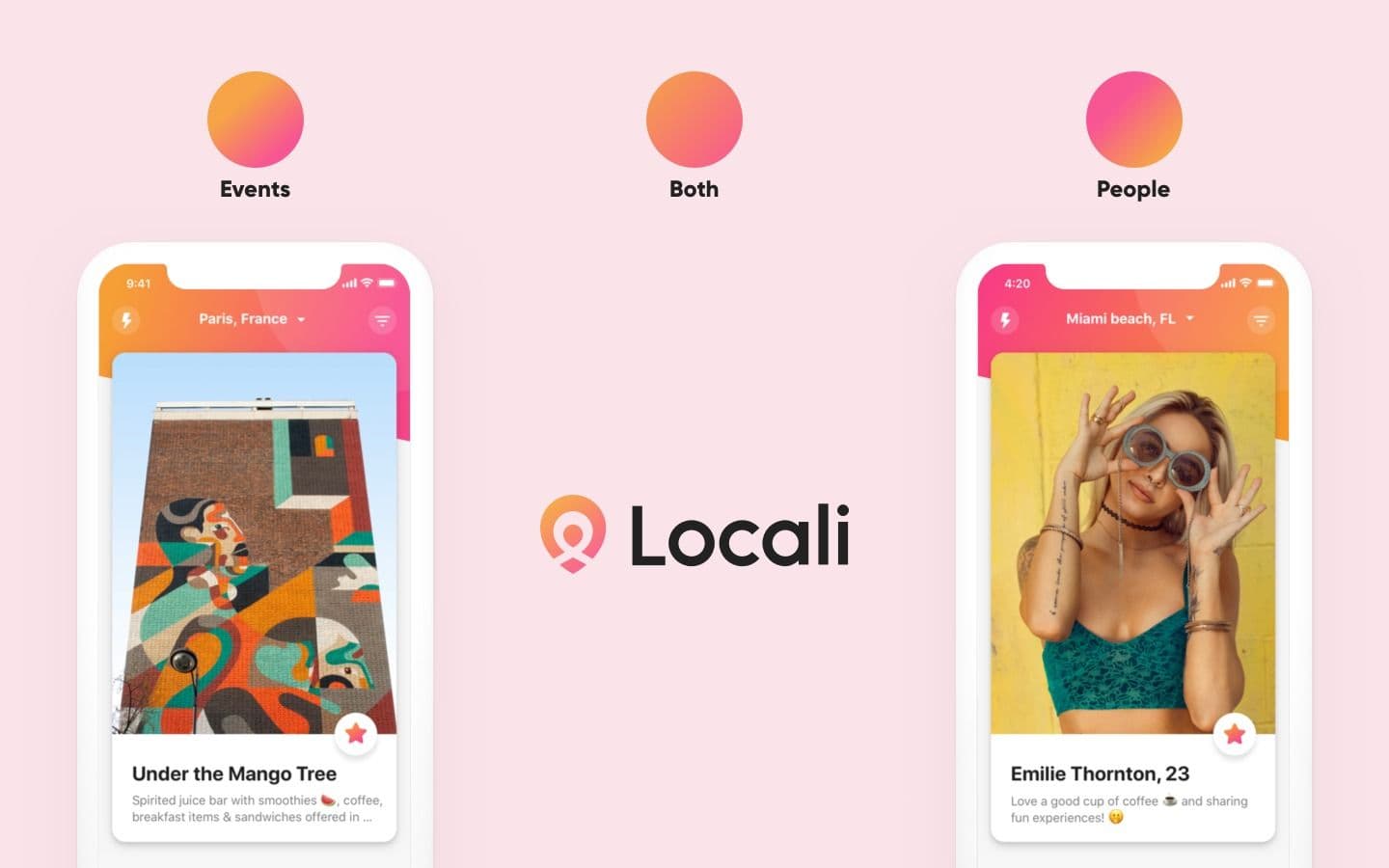 Logo design deserves special attention too. People tend to remember icons better than words, so it's always good to have a small image incorporating your brand's ideas and values. Whether you go for a colorful and playful or a more serious visual design, keep it clean and consistent.
Pay special attention to interaction design
Nearly every interaction in a dating application is irreversible. If a user casually 'likes' someone, they'll know. Accidentally rejecting someone, they might miss out on the love of their life. The interaction design thus requires special attention.
Make the navigation intuitive and pleasant. Minimize the work on the user's part. Try to arrange the human-computer interaction so that users can perform all the tasks with one finger. Most of the best mobile apps' navigations are aligned to the bottom and are visible when users browse profiles or perform main operations.
Bumble's flow of pictures to personal information feels natural and comfortable. Unlike Tinder, it shows each person's bio as the last screen to scroll through. The swipe-down navigation is seamless. Still, some users might prefer readily accessible information on each individual.
Graphic icons and pictures can also be used for navigation implementation. Half of the job is done if your UI designer can make users want to tap on an icon. Just make sure not to overload the screen or page. Typically, there should be no more than three options.
Your guiding question throughout the UI and UX design process should be: 'Is this feature easy, fun, and engaging?' However great they seem to you, don't overwhelm users with features. Identify what is truly valuable to them and optimize around that. Focus on simplicity and getting directly to the point, eliminating unnecessary pieces of UI. Make sure to test each feature or improvement with actual users before release to find out what distracts them, what is annoying, and what is useful.
Add more gamification and fun 
The user's experience with a dating app needn't necessarily be 'addictive,' but it definitely should be fun. The future of dating includes more real-time experiences, both virtually and in person. At Tinder, they see significant potential in new media forms to represent users online.
You can gamify the app experience by rewarding users upon logging in, creating a profile with some pictures, or rating others' profiles. Create a system of rewards that will correlate with the overall design and entice your target audience.
VRCHAT, for example, builds a virtual space where one can talk to others around the globe, visualizing them as if they were in the same room. 'You never know if the next avatar you will meet will turn out to be your next best friend.' This makes romantic blind dates possible, even if only virtually.
Focus on security
According to an IBM Security analysis, more than 60 percent of leading mobile dating apps it studied are potentially at risk of vulnerabilities. These security issues may include profile takeovers, phishing, GPS tracking, etc. If one security issue happens and you put a user's privacy information at risk, your reputation can be ruined, and you risk losing your customers. 
Below we consider best practices to ensure high-level security when building a dating app:
Encrypt data. Encryption implies mathematical algorithms that encode data into code. Unauthorized users or hackers can't decode this data without a specific decryption key. There are such popular encryption algorithms as Twofish, AES, and RSA.
Provide secure authentication and authorization. Integrate multiple technologies to maximize the security level of your app. For example, you can use two-factor authentication with voice, face, and fingerprint recognition. Also, you can require users to reset their passwords regularly, for example, every three months.
Ensure secure app logic. To avoid any possible threats, it's better to establish security measures at every stage of app usage. You should monitor unusual activity to identify hacking and information leakage. One more way to protect your dating app is to establish a One-Time Password system. OTP allows generating a unique and limited-time password that can be used only once.
Test on an ongoing basis. It's crucial to test your app security at every stage of the development process. Your specialists must test every corner of the dating app to guarantee a high level of protection.
Take care of the monetization aspect
One more vital question is "How do dating apps make money?" Although people spend tons of time on dating apps, they're less eager to spend money on them. The monetization aspect thus requires special attention and creativity.
There are five basic dating app business models:
Subscription. Premium features are available within monthly, quarterly, or annual pricing plans.
Freemium. Basic services are free, and additional high-quality features for a fee. Valuable add-ons may be unlimited swipes and matches with the ability to go back on a rejected profile or a 'profile boost' that makes a user show up in more searches.
Advertising. Revenue may come from in-app ads, native ads, in-chat ads, etc., or a paid version without ads and with more people to choose from. It's best to display deals from businesses relevant to datings, such as restaurants, bars, florists, jewelers, or candy stores.
Gifts. You can offer digital stickers, emojis, etc., for a fee or integrate gift-sending as a revenue model. Determine how you can make mutually beneficial partnerships with local venues or gift shops.
Offline services. The app can book movie tickets, reserve a table, and so on. You might also host local dating events, such as speed dating or sell event tickets in the app.
Try to play around with these options. Remember that users will pay only if you offer them something valuable.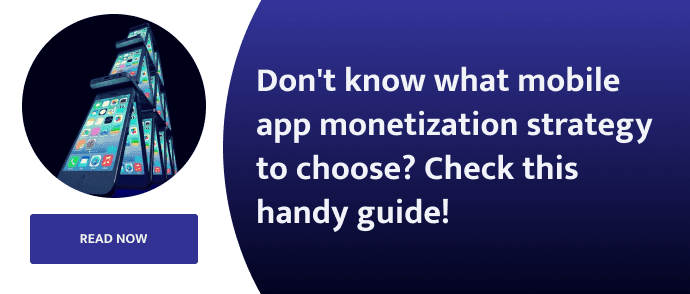 How much does it cost to create a dating app?
An accurate calculation of dating app development cost is not easy because each application and situation is unique. The factors that directly influence the cost of making a dating app, but are not limited to:
Number of required features
The project complexity
The platform you're opting for (iOS, Android, cross-platform)
The chosen technology stack
3rd-party integrations
Team size and its location
Cost of deployment and support
Cooperation model (find an outsourcing company, hire freelancers, create dev team in your office)
To answer the question "How much does it cost to build a dating app?", you also have to consider the number of specialists you need. Usually, building a mobile app requires a team that looks as follows:
Project manager
UI/UX designer
Backend developer
Frontend developer
Quality assurance engineer
DevOps
Moreover, the development cost depends on the country where services are offered and the development company rate. Take a look at the average rates of IT specialists from different countries and compare their hourly rates.
Prices are calculated individually depending on the project complexity, whether it's a development from scratch or an old version update, what development approach you need, the technologies required, and many more factors.
If you need to know the exact amount, share your dating app idea with us, and our experts will calculate your app development costs.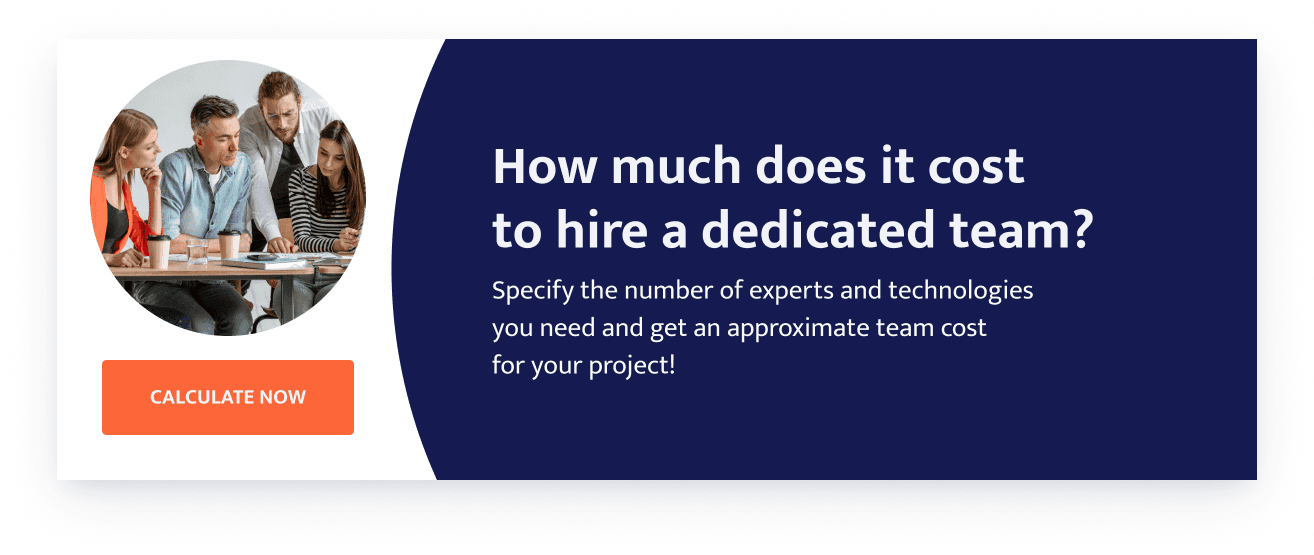 Final thoughts
The time of 'Tinder clones' is over; uniqueness is the key to success. Invest in original features, innovative new approaches to bringing people together, enjoyable UI, and the best UX design to set your dating application apart from the crowd. Consider the strengths and weaknesses of your rivals. You've succeeded if you can make their user's experience more efficient through enhancements or optimizations.
If you found an exclusive niche in the market and wish to create a dating app 'like Tinder but better' or upgrade your existing mobile app, attract a new audience, introduce paid plans and extra features, go ahead!
Onix's web and mobile app developers are here to help. Whether it's an estimate of your app concept, wireframes and prototyping, UI and UX design, software development, user research, and testing — we can do it!
FAQ
How to create a dating app from scratch?
To make a dating app, you'll need to conduct deep research and business analysis that involves project requirements elicitation and planning of the project development. After defining the main functionality, you and your tech partner select the required tech stack. Then you can start the UX/UI design and development process.
Is it possible to create a dating app for a specific community?
Despite the abundance of dating apps, entrepreneurs and startups can still find opportunities to earn money in the market. The online dating segment is only gaining momentum. You can occupy a niche with an app specializing in serious relationships/marriage, hookups or escort, and catering to LGBT audiences, culture-specific, regional, health- or interests-based dating.
But, to succeed with your dating app, it's best not to rush into the development process. Instead, decide on the dating app segment you will focus on, research the market, and identify your target audience's needs. It's essential to consider your target market's pain points and try solving them by providing an improved product with useful features and an intuitive design.
How long does it take to make a dating app?
To accurately answer this question, we need to know your app idea, its complexity, the number of required features, developers' expertise, and team size. Moreover, keep in mind that development time can depend on user feedback. After each stage of development, we conduct testing to collect user feedback and improve the product accordingly. Thus, the client and our developers influence the development vector of the application.
What are the essential functions of a dating app?
We recommend you include the following features:
Sign-in
Profile management 
Matching
Geolocation
Discovery settings
Voice chat
Messaging
Social media integrations
Push notifications
How much does it cost to build a dating app?
To accurately answer this question, we need to know your app idea, its complexity, the number of required features, developers' expertise, and team size. Share your dating app idea with us, and our experts will calculate your app development costs.