MobileAppDaily nominates Anna Umanenko, CMO at Onix-Systems, in the 40 under 40 technology leaders report
We at Onix-Systems are thrilled to announce that MobileAppDaily, a leading app marketing platform, has listed our Chief Marketing Officer Anna Umanenko in the 40 Under 40 Mobile App Technology Leaders Report. 
Founded in 2000, Onix-Systems is a premier software development company that has climbed many stairs of success under the leadership of Anna Umanenko. She works as a CMO at Onix-Systems and has over 7 years of experience in developing inbound and outbound marketing strategies. As a leader, Anna's abilities have pushed the company towards various stages of growth across multiple market regions.
Anna also has expertise in QA engineering, technical translations, business development, and product marketing. 
Hence, we can proudly say that under the leadership of Anna we have seen continuous growth in our clients and we have reached new heights of success.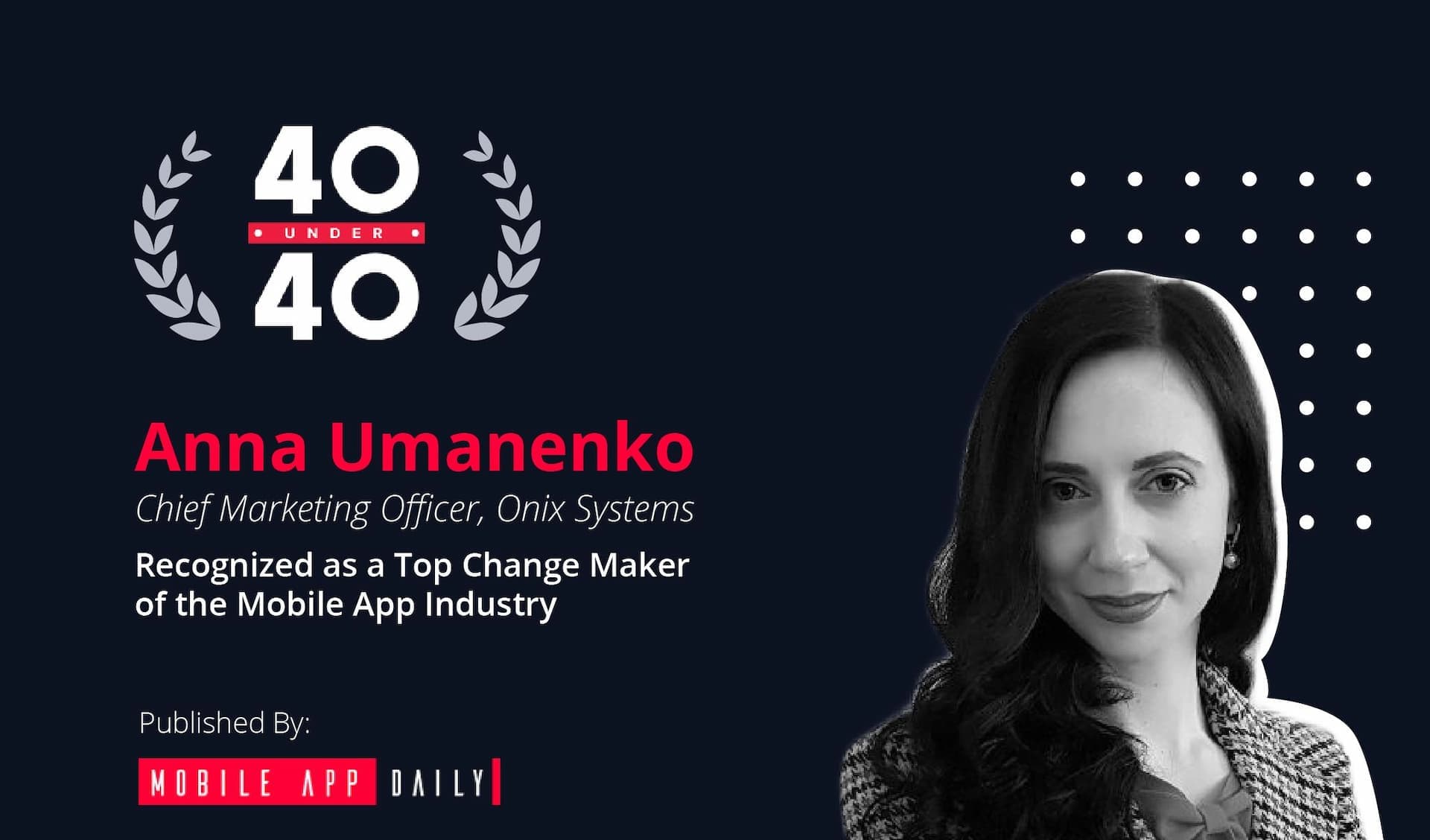 How Anna Umanenko was selected for MobileAppDaily's 40 under 40 Report?
MobileAppDaily is a leading tech platform for entrepreneurs, business owners, and tech enthusiasts. MobileAppDaily interviews industry leaders from the technological field and publishes blogs on different topics, such as artificial intelligence, Blockchain, IoT, and more. 
Recently, a new edition of MobileAppDaily's Top 40 Under 40 Mobile App Technology Leaders Report was published. The report featured many leaders, including founders, co-founders, CTOs, and managers who are less than 40 years old.
Being nominated as one of these 40 leaders in this report has helped Anna in sharing her achievements with a much larger audience. In addition, Onix-Systems has also received a chance to show its journey of hard work throughout the years. 
Lastly, our organization appreciates the efforts of MobileAppDaily to explore more about the organization and list Anna in the Top 40 Under 40 Mobile App Technology Leaders Report.