When it comes to online travel, a smooth user experience is key. Furthermore, picking the right payment gateway is crucial. Picture this: your customers effortlessly book their trips, ensuring their satisfaction. But how do you choose the best fit for your travel site among the many options available? Let's simplify your decision.
Integrating a trustworthy payment gateway is non-negotiable for businesses like group travel agencies, car rental services, tour operators, hotel booking platforms, and airlines. This is where Onix, a travel software development company,  steps in. With years of expertise in seamlessly integrating payment gateways for travel websites, Onix ensures a hassle-free experience for businesses. Their proficiency guarantees smooth transactions and shields businesses and customers from potential data breaches and fraud.
In a world where every click matters, having the right payment gateway, backed by Onix's expertise, empowers travel businesses to thrive, providing travelers with the secure, convenient experience they deserve.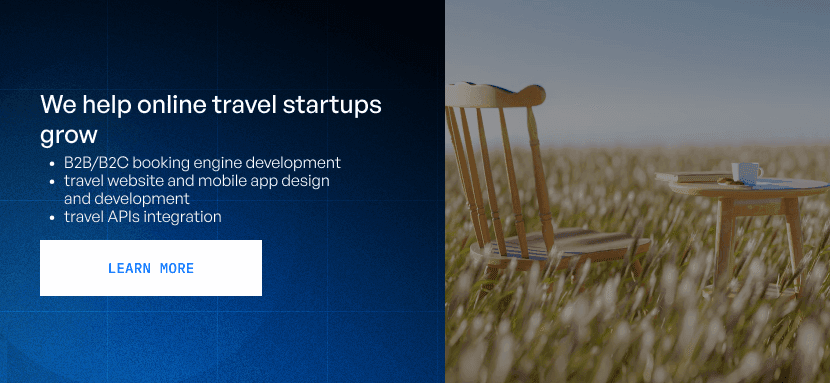 Payment Processing For Travel Industry: How It Works
The global payment gateway market, worth about $26.79 billion in 2022, is expected to grow by around 22.2% each year from 2023 to 2030. This growth is happening because more and more people worldwide are using their mobile phones to make payments. Also, as online shopping increases and more people get access to the internet, the demand for these payment gateways is increasing. People and businesses also choose digital methods for transferring money online, which adds to this growth. The market for payment gateways is getting bigger because many people use their phones to pay for things and do business online.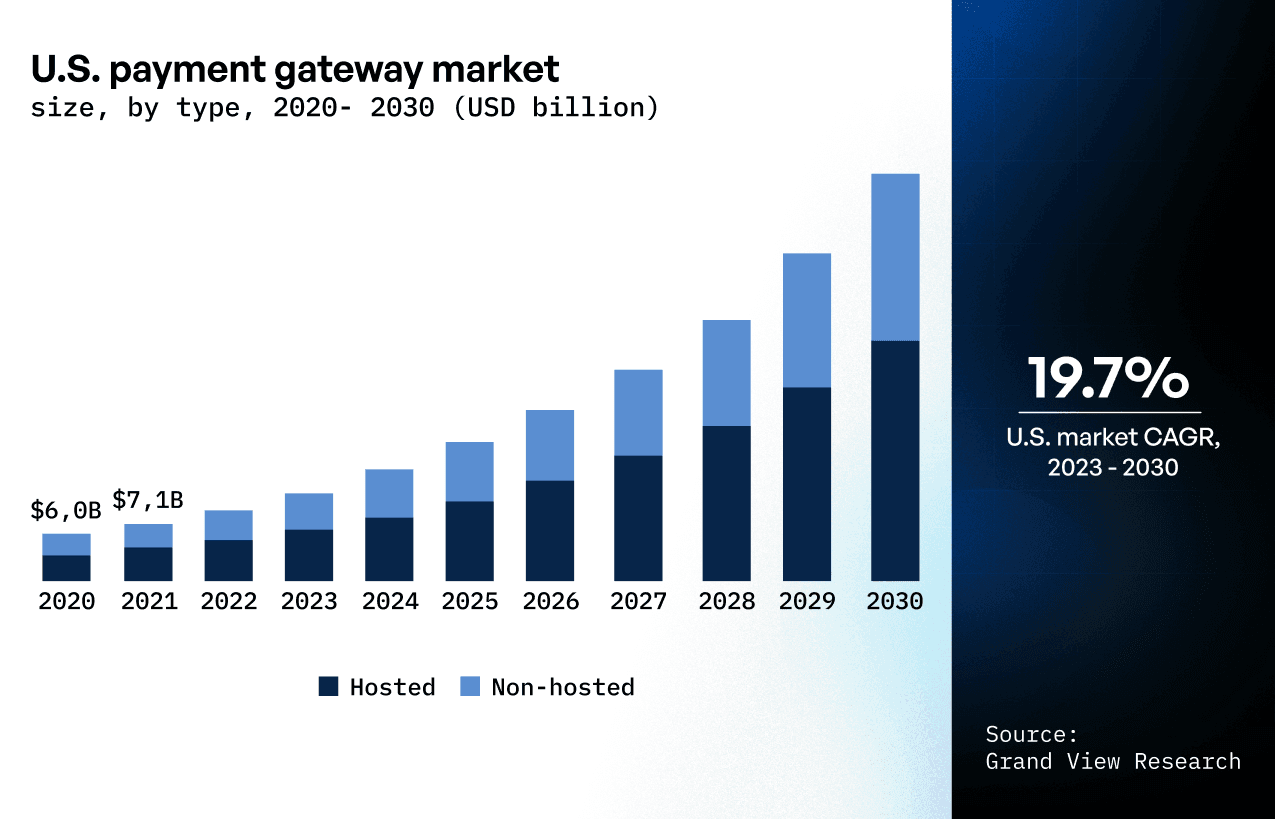 A payment gateway is a crucial component in the process of online transactions, enabling secure and efficient communication between various parties involved, including merchants, customers, and financial institutions. Here's a detailed explanation of how a payment gateway works:
1. Initiation of the Transaction:
Customer Makes a Purchase: A customer initiates a purchase online by selecting products or services and proceeding to the checkout page.
Merchant's Website: The merchant's website sends the payment information to the payment gateway securely. This information typically includes the customer's credit/debit card details, transaction amount, and other relevant data.
2. Encryption and Security:
Data Encryption: All payment information is transfered using SSL (Secure Socket Layer) ensuring that the sensitive information remains secure during transmission.
Tokenization: Some gateways use tokenization, replacing card details with a unique token. This token is used for processing transactions, enhancing security by reducing the exposure of card information.
3. Authorization Request:
Payment Gateway Sends Request: The payment gateway sends the encrypted payment information to the acquiring (merchant's) bank.
Acquiring Bank's Processor: The acquiring bank forwards the transaction details to the payment network (like Visa or MasterCard) through their payment processor.
Authorization: The payment network checks for available funds and verifies the transaction's legitimacy with the issuing bank (customer's bank).
4. Transaction Approval or Decline:
Response to Merchant: The issuing bank approves or declines the transaction based on the customer's account status, available balance, and other factors.
Response to Payment Gateway: The payment network sends the response back to the acquiring bank, which, in turn, communicates the result to the payment gateway.
5. Customer Notification and Receipt:
Notification to Customer: The payment gateway informs the merchant's website and the customer about the transaction's status.
Payment Confirmation: The customer sees a confirmation page on the merchant's website indicating the successful transaction.
In summary, a payment gateway plays a pivotal role in the online transaction process, ensuring the security and efficiency of payments for both merchants and customers. With the continuous evolution of technology and changing consumer preferences, payment gateways continue to adapt and innovate to meet the demands of the modern digital economy.
What Benefits Travel Businesses Get From the Online Payment Gateway?
In the dynamic realm of travel, the digital era has ushered in transformative solutions, and online payment gateways stand at the forefront. These gateways offer various benefits, streamlining financial transactions for online travel agencies and enhancing customer experiences. Here's how: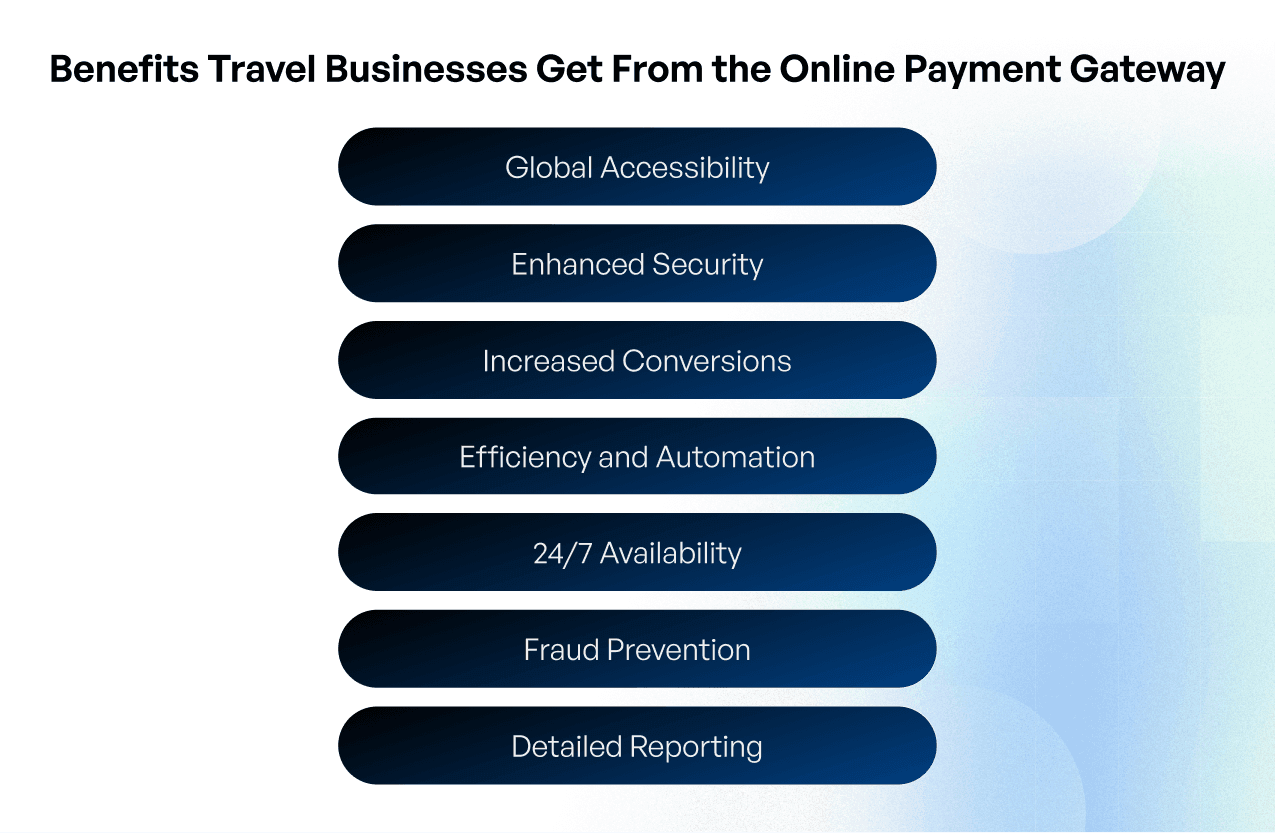 Global Accessibility: Online payment gateways such as PayPal and Stripe enable travel businesses to accept payments from customers worldwide, significantly expanding their reach and customer base.
Enhanced Security: With robust encryption and security protocols, payment gateways like Square and Authorize.Net safeguard sensitive customer data, ensuring safe and worry-free business and client transactions.
Increased Conversions: Streamlined payment processes, including various payment methods provided by gateways like Braintree and Adyen, lead to higher conversion rates, reducing cart abandonment and boosting revenue.
Efficiency and Automation: Payment gateways such as Worldpay and 2Checkout automate payment processes, reducing administrative workload and enabling businesses to focus on enhancing their services.
24/7 Availability: Businesses can accept payments round the clock with gateways like PayU and Razorpay, allowing customers to book their travel experiences anytime, improving customer satisfaction.
Fraud Prevention: Advanced fraud detection tools and verification processes offered by gateways like CyberSource and Forter protect businesses from fraudulent transactions, mitigating financial risks.
Detailed Reporting: Payment gateways like Adyen and BlueSnap provide comprehensive transaction data and analytics, empowering businesses to make data-driven decisions, optimize strategies, and enhance their offerings.
"Embracing the right payment gateway is akin to crafting a smooth journey for both travelers and businesses. At Onix, we believe in empowering travel businesses with seamless, secure, and innovative solutions. By integrating cutting-edge payment gateways, we enable businesses to focus on what truly matters – delivering exceptional travel experiences while we handle the complexities behind the scenes."
Denis Sheremetov, CTO at Onix
In conclusion, adopting online payment gateways simplifies transactions and fortifies the foundation of automated travel systems. With global accessibility, heightened security, increased efficiency, and valuable insights provided by examples like PayPal, Stripe, Square, and others, these gateways pave the way for seamless, secure, and prosperous ventures in travel.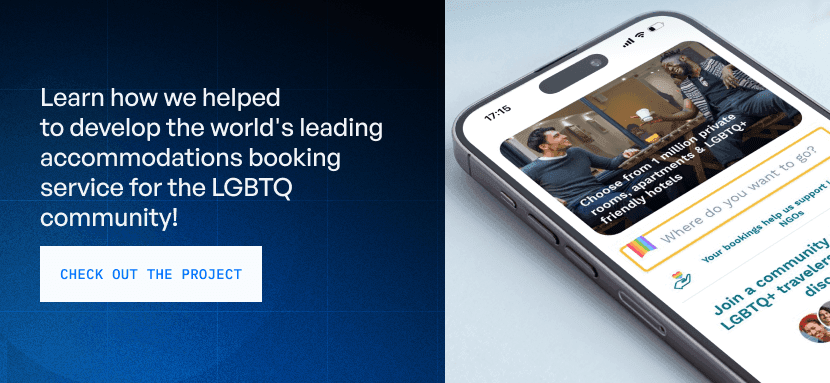 How To Integrate Online Payment Gateway Into a Travel Website
Here is a detailed list of best practices for choosing a payment gateway for your travel website, enriched with examples and insights from the Onix team's first-hand experiences.
Understand Your Business Needs
Begin by analyzing the unique requirements of your travel business. For instance, if your travel website specializes in luxury tours, you might need a payment gateway that supports high transaction amounts and provides additional security layers.
Prioritize Security Features
The Onix team emphasizes the critical nature of security. For instance, Onix has successfully integrated payment gateways like Braintree, known for its robust security protocols. Choosing a payment gateway with advanced encryption ensures your customers' data is safeguarded, enhancing trust in your services.


Ensure Seamless Integration
Onix's expertise lies in seamless integrations. We have firsthand experience with platforms like Stripe, celebrated for its user-friendly APIs. A well-integrated gateway minimizes technical hiccups and provides a frictionless experience for your customers during the payment process.
Compliance with Legal and Regulatory Requirements
Choosing a payment gateway for your travel website involves careful consideration of legal and regulatory requirements to ensure secure and compliant transactions. Here's a guide on how to do it:
1. Understand Legal Frameworks:
Research Local Laws: Familiarize yourself with the local and international laws regarding online transactions, data protection, and consumer rights in the regions in which you operate.
PCI DSS Compliance: Ensure the payment gateway is Payment Card Industry Data Security Standard (PCI DSS) compliant, meaning it follows security standards to protect sensitive customer data.
2. Security Measures:
Fraud Prevention: Look for features like real-time fraud detection and prevention tools to safeguard against fraudulent transactions.
Two-Factor Authentication: Ensure the gateway supports two-factor authentication for an added layer of security.
3. Reputation and Reviews:
Research: Read reviews and testimonials from other businesses, especially those in the travel industry, to gauge the reliability and reputation of the payment gateway.
Industry Experience: Consider providers with a track record of serving travel businesses understanding the unique challenges and requirements of the industry.
4. Compliance Checks:
Legal Consultation: When in doubt, consult legal experts specializing in online transactions to ensure your payment gateway choice aligns with all legal and regulatory obligations.
Evaluate Mobile Optimization
Payment gateways like Adyen are exemplary in offering mobile-responsive interfaces. By prioritizing mobile-friendly gateways, you cater to the growing market of travelers who prefer booking via smartphones and tablets.
Read also: How to create a mobile booking app in 2023 [+ Free Guide]
Consider Multi-Currency Support
Onix has dealt with global clients, making multi-currency support vital. Payment gateways like Worldpay have proven invaluable, allowing seamless currency transactions. This feature enhances the user experience for international customers, making them feel at home while making payments.
Transparent Fee Structure
We have often recommended providers like PayPal, known for their transparent fee structures. Transparent fees prevent unexpected costs, enabling you to project your expenditure and revenue accurately. This transparency is vital for managing your budget effectively.
Read also: How to build a travel mobile app
Responsive Customer Support
Many of our clients have benefited from payment gateways like Square, renowned for their responsive customer support. Access to prompt assistance ensures that issues are resolved swiftly, minimizing downtime and ensuring your payment processes run smoothly.
Comprehensive Analytics and Reporting
Comprehensive reporting tools offer insights into customer behavior and transaction patterns. This data-driven approach empowers you to refine your marketing strategies and tailor your services to customer preferences.
Evaluate Uptime and Reliability
Payment gateways like PayU Money, with their proven track record, ensure that your website's payment functionality remains operational 24/7. Reliability fosters trust among customers, enhancing their confidence in your services.
Scalability for Future Growth
Our experience with scalable gateways like Adyen has highlighted the importance of growth-oriented solutions. Scalability ensures that your payment infrastructure evolves seamlessly with your business. As your travel website expands, you can integrate new features and handle increased transaction volumes effortlessly.
By considering these best practices, enriched with examples and insights from the Onix team's experiences, you can make a well-informed decision when choosing a payment gateway for your travel website. This approach ensures a secure and seamless customer payment experience and positions your travel business for sustainable growth and success.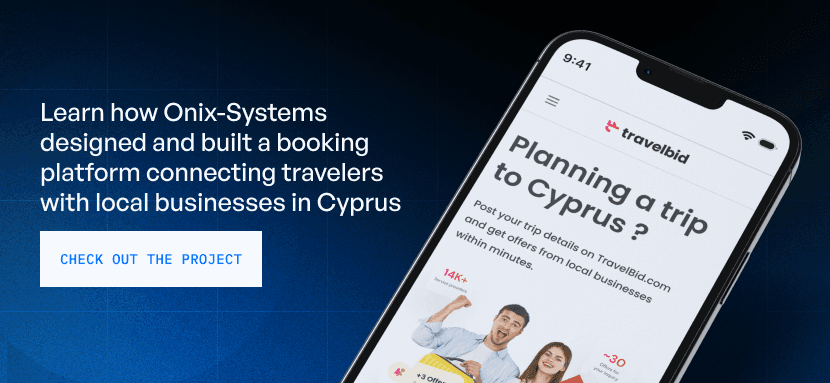 How To Choose Between Popular Payment Gateway Providers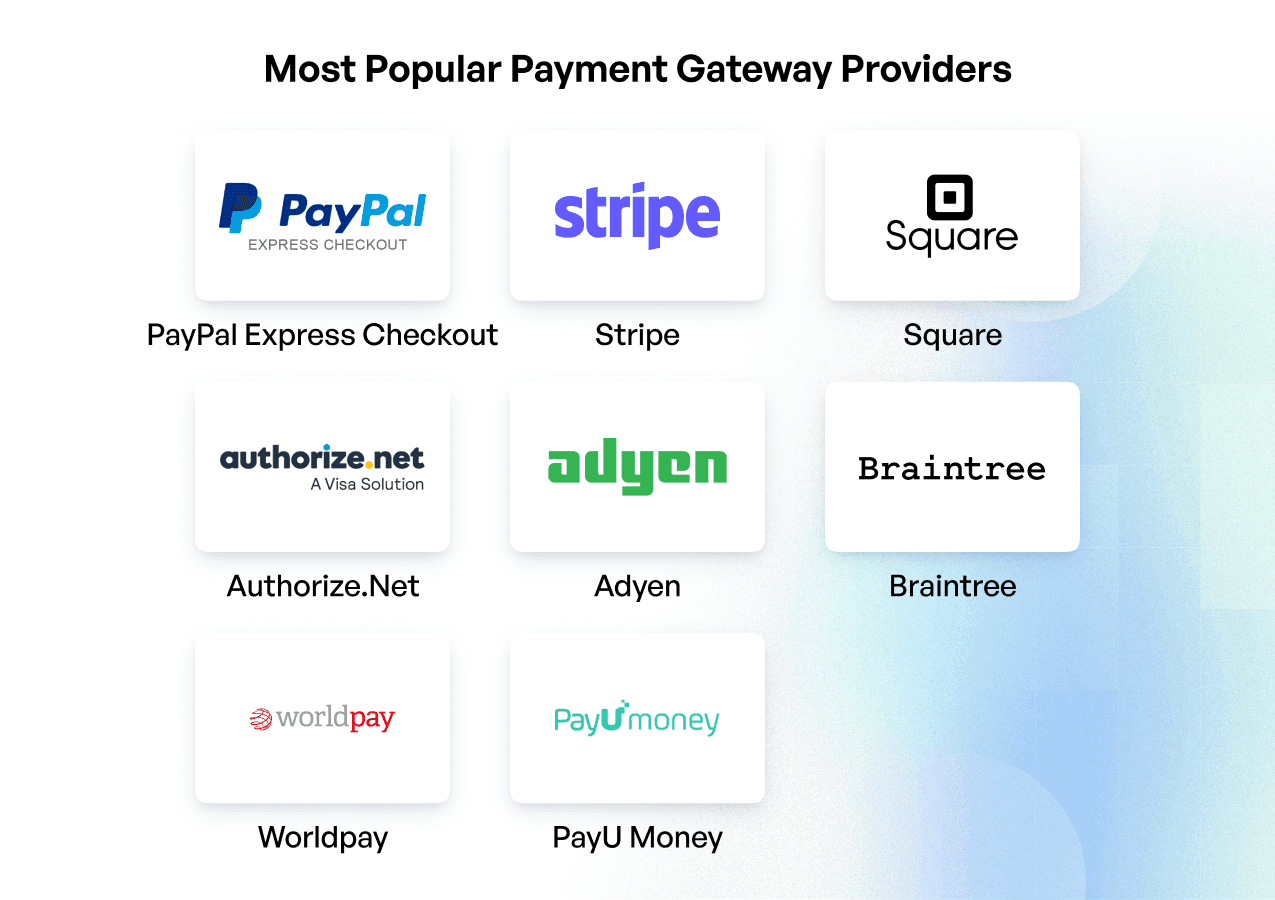 1. PayPal Express Checkout:
Customers can pay using their PayPal accounts or credit/debit cards. PayPal securely processes transactions without revealing financial information to sellers.
Pros: Widely accepted, user-friendly, strong buyer protection.
Cons: Transaction fees can be high for certain businesses, with limited customization options.
Choosing Criteria: Ideal for small to medium-sized businesses, especially international customers. Consider if simplicity and buyer trust are paramount.
2. Stripe:
Stripe allows businesses to accept payments through various methods, including credit/debit cards and digital wallets, with seamless integration into websites and apps.
Pros: Customizable, supports multiple currencies, robust developer tools.
Cons: Requires some technical knowledge for integration; chargeback fees.
Choosing Criteria: Best for businesses with development resources looking for flexibility and scalability. Suitable for startups and growing enterprises.
3. Square:
Square provides point-of-sale solutions, including physical card readers and online payment processing, allowing businesses to accept payments in various ways.
Pros: Simple setup, transparent pricing, versatile hardware options.
Cons: Higher fees for manually entered transactions, limited international support.
Choosing Criteria: Ideal for small businesses and local retailers seeking an all-in-one solution for in-person and online payments.
4. Authorize.Net:
Authorize.Net enables businesses to accept payments online, offering a secure platform for processing credit card and eCheck payments.
Pros: Established reputation, robust fraud prevention, subscription billing support.
Cons: Monthly fee, additional fees for certain features, dated user interface.
Choosing Criteria: Suitable for medium to large businesses looking for a reliable, feature-rich payment gateway.
Read Also: Travel agency startup costs
5. Adyen:
Adyen is a global payment company that supports various payment methods and currencies, providing a seamless experience for both online and in-store transactions.
Pros: International reach, excellent fraud protection, omnichannel support.
Cons: Complex fee structure may require technical expertise for setup.
Choosing Criteria: Best for large enterprises with international clientele seeking a unified payment solution across multiple channels.
6. Braintree:
Owned by PayPal, Braintree offers customizable payment solutions for online and mobile businesses, supporting credit cards, digital wallets, and more.
Pros: Easy integration, developer-friendly, and recurring billing.
Cons: Limited currency options, transaction fees can be higher for certain businesses.
Choosing Criteria: Ideal for startups and growing businesses looking for a seamless, developer-friendly payment gateway.
7. Worldpay:
Worldpay provides payment processing solutions for online, in-store, and mobile transactions, supporting various payment methods and currencies.
Pros: Global reach, extensive payment method support, reliable customer service.
Cons: Complex fee structure, additional fees for certain features.
Choosing Criteria: Suitable for businesses of all sizes, especially those looking for a comprehensive, globally accessible payment gateway.
8. PayU Money:
PayU Money is a popular payment gateway in India, allowing businesses to accept online payments through various methods, including credit/debit cards, net banking, and digital wallets.
Pros: Seamless integration, extensive Indian market presence, supports multiple payment methods.
Cons: Limited international support and occasional transaction delays.
Choosing Criteria: Ideal for businesses operating in India, especially e-commerce platforms and service providers catering to the Indian market. Offers a localized payment experience for customers in the region.
How Onix Can Help You Integrate Payment Gateway into Your Travel Product Seamlessly and Risk-free
At our company, we specialize in seamless payment system integration, offering tailored solutions to enhance your business operations. Our expert team ensures the smooth integration of payment functionalities, optimizing your platform for effortless financial transactions. Here are the systems we work with: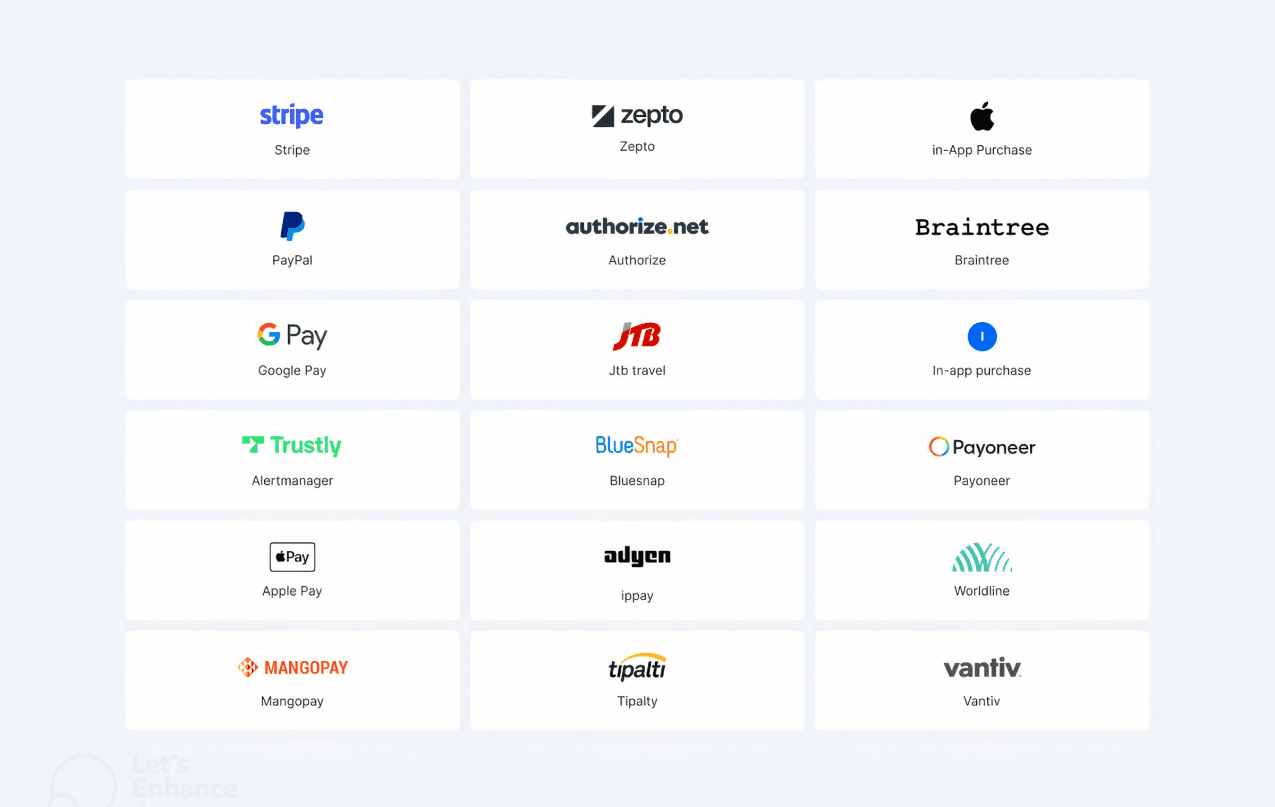 We streamline your payment processes by integrating diverse functionalities, including account creation and payout procedures. Our services cover:
1. Account Creation:
Bank Account Integration: Seamlessly link users' bank accounts, ensuring secure and reliable transactions.
Card Payment Account: Enable convenient card payments by integrating secure credit/debit card processing systems.
2. Payout Procedure Optimization:
Transaction Management: Implement a robust system for real-time transaction tracking and management.
Fund Distribution: Automate fund distribution among accounts, ensuring accuracy and transparency.
Currency Conversion: Facilitate global transactions by integrating currency conversion capabilities.
Money Transfer: Enable seamless fund transfers between various payment services for enhanced flexibility.
In one of our recent projects, Onix focused on integrating Plaid, a leading financial technology service, to facilitate seamless payment round-ups for gambling activities. Plaid was chosen for its ability to connect users' bank accounts to the app, ensuring a convenient and secure payment experience. Here is how the integration process looked:
Data Encryption: Onix implemented Plaid's end-to-end data encryption standards, including Advanced Encryption Standard (AES-256) and Transport Layer Security (TLS), ensuring the utmost security for users' financial data during transactions.
Cloud Infrastructure: Leveraging Plaid's cloud infrastructure, we created a robust and scalable system capable of handling varying transaction volumes efficiently and securely.
Third-Party Security Reviews: Plaid's APIs were continuously reviewed by third-party security researchers and financial institutions. This ongoing evaluation ensured the integration maintained high-security standards, meeting industry best practices.
Multi-Factor Authentication: Plaid's integration included multi-factor authentication measures, enhancing security by requiring multiple verification forms, thereby safeguarding user accounts from unauthorized access.
Continuous Monitoring: We implemented continuous monitoring processes to monitor the payment system's performance, ensuring any potential issues were promptly identified and addressed.
By integrating Plaid, Onix enabled seamless payment round-ups for gambling activities and ensured users' highest level of security and data privacy, building trust and confidence in the payment process. Our meticulous approach to integration guarantees a smooth, secure, and user-friendly payment experience for all users involved.
Consider even more examples: TravelBid.com benefitted from Onix's expertise by integrating Stripe and PayPal, ensuring secure payment processing. Meanwhile, MisterB&B, a travel platform specializing in LGBTQ-friendly accommodations, relies on stripe too.
Why Onix: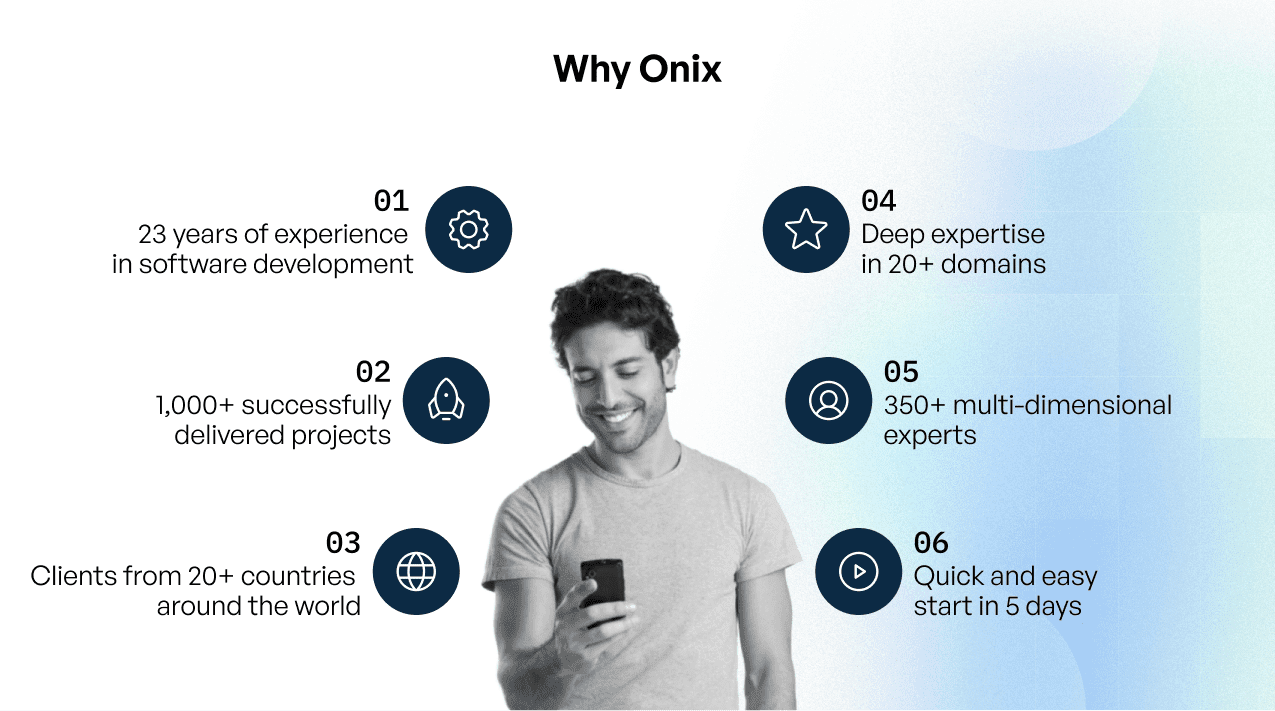 Customized Solutions: Tailor-made integration to suit your business needs, ensuring a perfect alignment with your goals.
Focus on Security: Implement industry-standard encryption protocols to guarantee the safety of user data and financial transactions.
Scalability: Build scalable solutions for your business growth and evolving transaction volumes.
Enhanced User Experience: Create intuitive interfaces for hassle-free account management and payment procedures, boosting user engagement and satisfaction.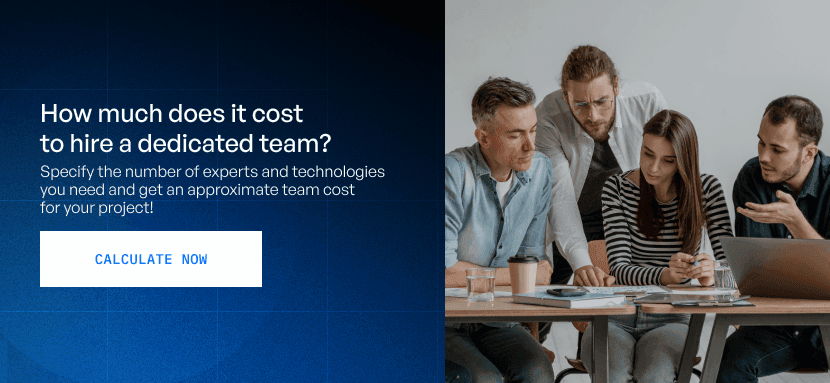 Final Thought
In the travel industry, seamless payment experiences define customer satisfaction and loyalty. At Onix, we've honed the art of integrating travel payments, ensuring smooth, secure transactions tailored to the industry's unique needs. Our commitment to diverse payment methods, currencies, and top-tier security empowers travel businesses to offer unparalleled service.
The journey to exceptional travel payments begins with Onix. Experience the ease of secure transactions and elevate your customer experience.
Ready to redefine your travel payments? Contact Onix today and embark on a transformative journey toward seamless and secure transactions for your travelers.
FAQ
1. Q: What payment methods can Onix integrate for travel businesses? 
A: Onix can integrate various payment methods, including credit cards, debit cards, digital wallets, and even diverse international payment options, ensuring a seamless transaction experience for travelers.
2. Q: What factors should I consider when choosing a payment gateway for my travel website?
A: Choosing the right payment gateway for your travel website is crucial for ensuring smooth transactions and a positive user experience. Here are several factors to consider:
Security: Look for a payment gateway that prioritizes safety, offering robust encryption methods and compliance with industry standards like PCI DSS (Payment Card Industry Data Security Standard). Security features like tokenization and fraud detection can enhance user trust and protect sensitive data.
Accepted Payment Methods: Ensure the payment gateway supports various payment methods, including credit cards, debit cards, digital wallets (e.g., PayPal, Apple Pay), and alternative payment options prevalent in different regions. Catering to diverse customer preferences can increase your conversion rates.
International Transactions: If your travel website caters to an international audience, choose a payment gateway that supports multiple currencies and allows seamless transactions in different countries. Consider the gateway's ability to handle cross-border transactions efficiently.
User Experience: Opt for a payment gateway with a user-friendly interface and a seamless checkout process. Complicated or lengthy payment procedures can lead to abandoned carts. The gateway should integrate smoothly with your website's design and provide a hassle-free experience for users.
Fees and Pricing: Understand the fee structure of the payment gateway, including setup fees, transaction fees, and any additional charges. Compare the costs across different gateways to find one that offers competitive pricing while meeting your requirements.
3. Q: How does Onix prioritize security in travel payment integrations? 
A: Onix prioritizes security by implementing robust encryption protocols, adhering to industry standards, and employing multi-factor authentication. We ensure that every transaction is not only convenient but also highly secure.
4. Q: Is Onix's payment integration service scalable for businesses of different sizes? 
A: Yes, our payment integration solutions are designed to be scalable. Whether you are a small travel agency or a large enterprise, Onix tailors its services to meet your specific needs, ensuring flexibility and growth potential for businesses of all sizes.