No matter what size your hotel business is, managing property requires great effort. You need to carefully track all operations from administration and managing customer data to reservation and accounting.
But how can you make your business work effectively in such chaos? The solution is to "digitalize" your hotel property management and automate daily operations by using a hotel property management system (PMS).
In this article, we'll take a closer look at what a hotel property management system in hospitality industry is, explain the core features of a hotel PMS, consider the most common challenges you may face when developing a hotel property management system, and share our own experience.
If you want to know more about custom property management system development for hotels – this blog post reveals everything you need to know. Here we go!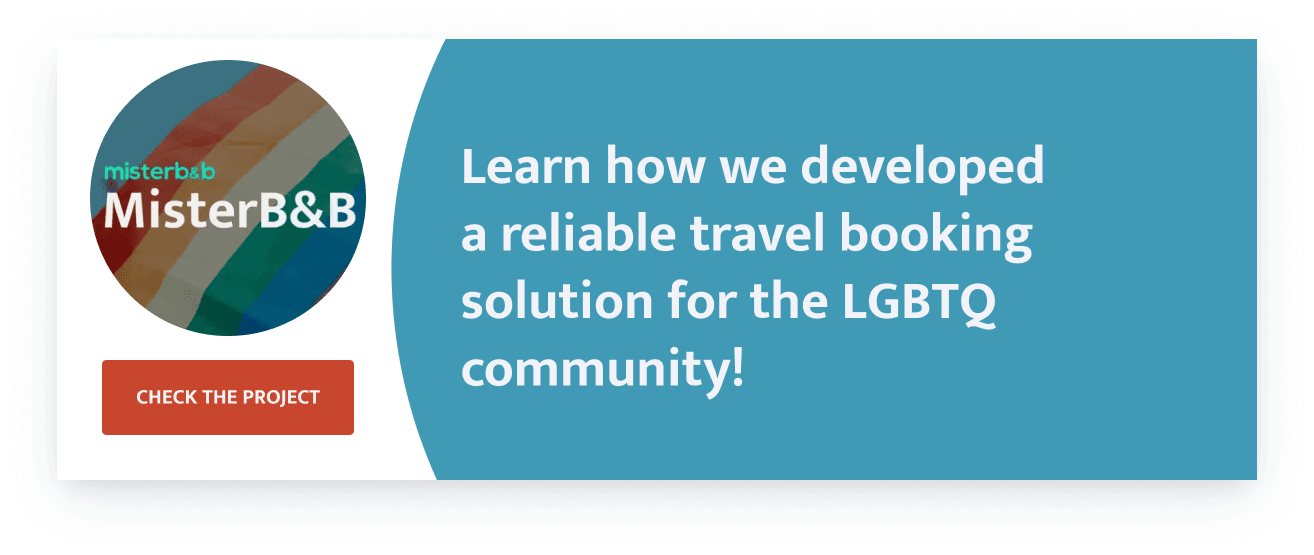 Benefits of Property Management System for Business
The advantages of PMS in hotel business include, but are not limited to:
Enhanced check-in/check-out capabilities
A mobile-enabled cloud hotel PMS empowers a hotel's front-desk staff to check guests in and out, assign rooms, and enable guest services anytime from any place. 
Increased housekeeping efficiency
The software can alert housekeeping staff in real-time of an early arriving guest whose room must be prepared or update the staff when guests check out. It helps identify and manage room maintenance needs faster.
All data in one place
Numerous tasks that were previously handled by different programs can be done from one central location. Management can keep everything in one place where it won't be lost. Employees can access, update, and track all relevant information across all departments and multiple property locations. Moreover, they can do it from any location and collaborate more effectively.
Improved revenue management
Hotel property management software connects operations and financial processes. It leverages pre-built integrations to accounts receivable, accounts payable, payment gateways, point-of-sale systems, and payment processors. Moreover, analytics, reporting, and competitive intelligence help improve the hotel's business operations.
Better customer data management
Hotel PMS consolidates and securely keeps all customer data, helping to form detailed guest profiles and ensure compliance with applicable consumer data protection regulations. The understanding of customer buying patterns enables hotel businesses to develop more targeted packages and services.
Increased employee productivity and engagement
User-friendly interfaces facilitate the training of hotel staff and reduce the likelihood of errors. The staff can save hours on routine administrative tasks that can be automated while concentrating on adding value instead.
High data security
When all of the hotel's data is stored in the cloud, it's available for download and analysis and protected by the latest technology. The information in your cloud hotel PMS is encrypted and securely backed up. Even if a computer breaks or a laptop is lost, the hotel data will remain accessible to the hotel PMS users.
Enhanced guest experience
The automation of daily operations and administrative tasks promotes a consistent provision of quality services. Moreover, hotel PMS remembers customer preferences coupled with customer feedback analysis, which gives hotel employees helpful insights to help ensure better guest experiences.
As you can see, hotel PMS offers many advantages for the hotel business. That's all thanks to its functionality. Let's take a look at the basic feature set that any custom property management system for the hotel business should have. 
What Are the Top Must-Have Features of a Property Management System?
A modern hotel PMS combines multiple work environments in a single piece of software. Depending on your business needs, the combination of modules in a system and functionalities within a module can vary. However, here are the major property management system features to consider:
#1 Reservation and Front-Desk Operations
The reservation service holding all inventory information and dates should be integrated with the website booking engine and other distribution channels. Convenient and user-friendly dashboards display the current and upcoming reservations to hotel management. They can check room availability and status, keep track of reservations and guests, and move them around as needed. This module checks guests in and out, issues key cards, tracks room allocation, manages room-related requests, processes payments and issues receipts to guests, performs night and shift audits, and more in one secure system.
#2 Distribution Channel Management
To ensure visibility to different audiences, hospitality businesses have to appear on multiple online distribution channels. Bookings come from a hotel's website, travel websites and mobile applications, corporate clients and airlines, travel agents, and other sources. Hotel property management software helps expand the business' reach across the Internet and manage multiple channels. It integrates with online travel agencies (OTAs) and global distribution systems (GDSs) and enables listing rooms and rates on various channels and through third-party booking partners.
While a centralized hotel booking engine handles direct sales, an online channel manager controls the distribution channels. This feature helps eliminate manual management and facilitates booking-related transactions. The software connects directly to the reservation system and provides a single interface to control and distribute inventories across the various channels. All bookings are synchronized, and room availability is updated in real-time across all channels. It also ensures consistency in terms of the hotel's rates and discounts.
#3 Housekeeping & Maintenance Management
Housekeeping functionality includes management of room statuses, assignments for room cleaning, and tracking housekeepers' tasks. The module automates management tasks and connects housekeeping staff to the front office. The software should identify rooms that need to be cleaned or prepared for the next arriving guest and assign tasks to the responsible employees. A front-office manager can track the status of each room and organize maintenance reports. Cloud-based hotel PMS enables housekeepers to update the status of their tasks or rooms on their smartphone or tablet once everything is done. The staff can also upload photos of any issues so that the maintenance department can assess and repair them quickly.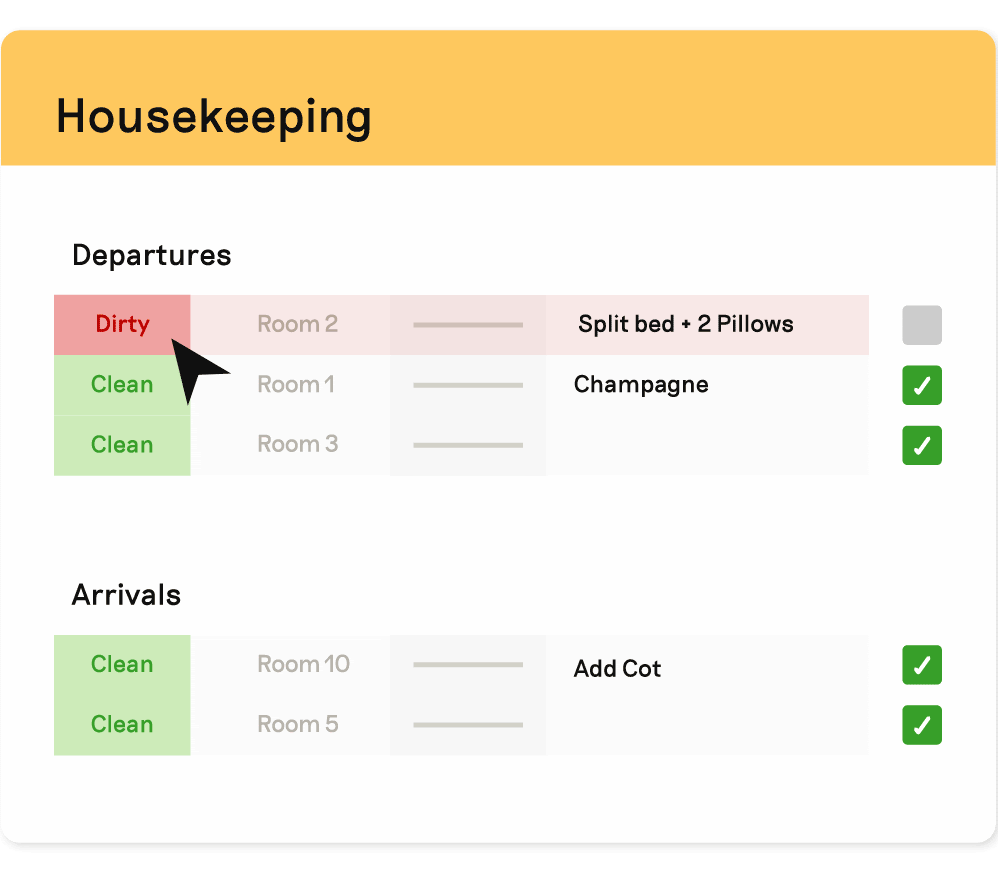 A maintenance management system helps plan and organize maintenance operations, record hotel disruptions and repairs, manage maintenance reports, and track maintenance requests and update their statuses. 
#4 Revenue Management and Strategy
A hotel revenue management system provides a secure and straightforward interface for tracking, managing, and analyzing payments. It accepts online payments, instantly validating credit/debit card details, and in case of non-payment, helps track and manage outstanding charges.
Hotel property management software also empowers hoteliers to implement flexible, data-driven revenue management strategies. They track key performance indicators like occupancy, revenue per available room (RevPAR), and average daily rate (ADR). Special algorithms use historical data and info on competitors' rates, weather, or local events to help determine optimal rates. Dedicated pricing tools enable hotel managers to adjust room prices across all distribution channels automatically, set up restrictions, and create packages and special offers. Revenue management systems also help hoteliers modify the processes to achieve better results and control finances.
#5 Customer Data and Customer Relationships Management
Hotels should be able to keep in touch with customers before, during, and after their stay. A CRM integrated with the front-desk and reservation systems collect and organize guest contact information and other data from these sources. A database of guest information can help hoteliers develop marketing strategies and membership and loyalty programs for better-personalized guest experiences. Hotel PMS systems also provide a comprehensive feedback management feature that captures guest feedback. The information can be used on the hotel's website, travel booking sites and mobile apps, or surveys.
If a hotel or resort chain has its own CRM system, the hotel PMS should integrate with it.
#6 Analytics
Comprehensive and timely reporting is essential to hotel business growth. Depending on the software, hotel PMS systems can generate various types of automated reports: night audit, shift audit, room and tax reports, departure/arrival, housekeeping, or other ongoing reporting. Below you can see an example of reports on historical bookings.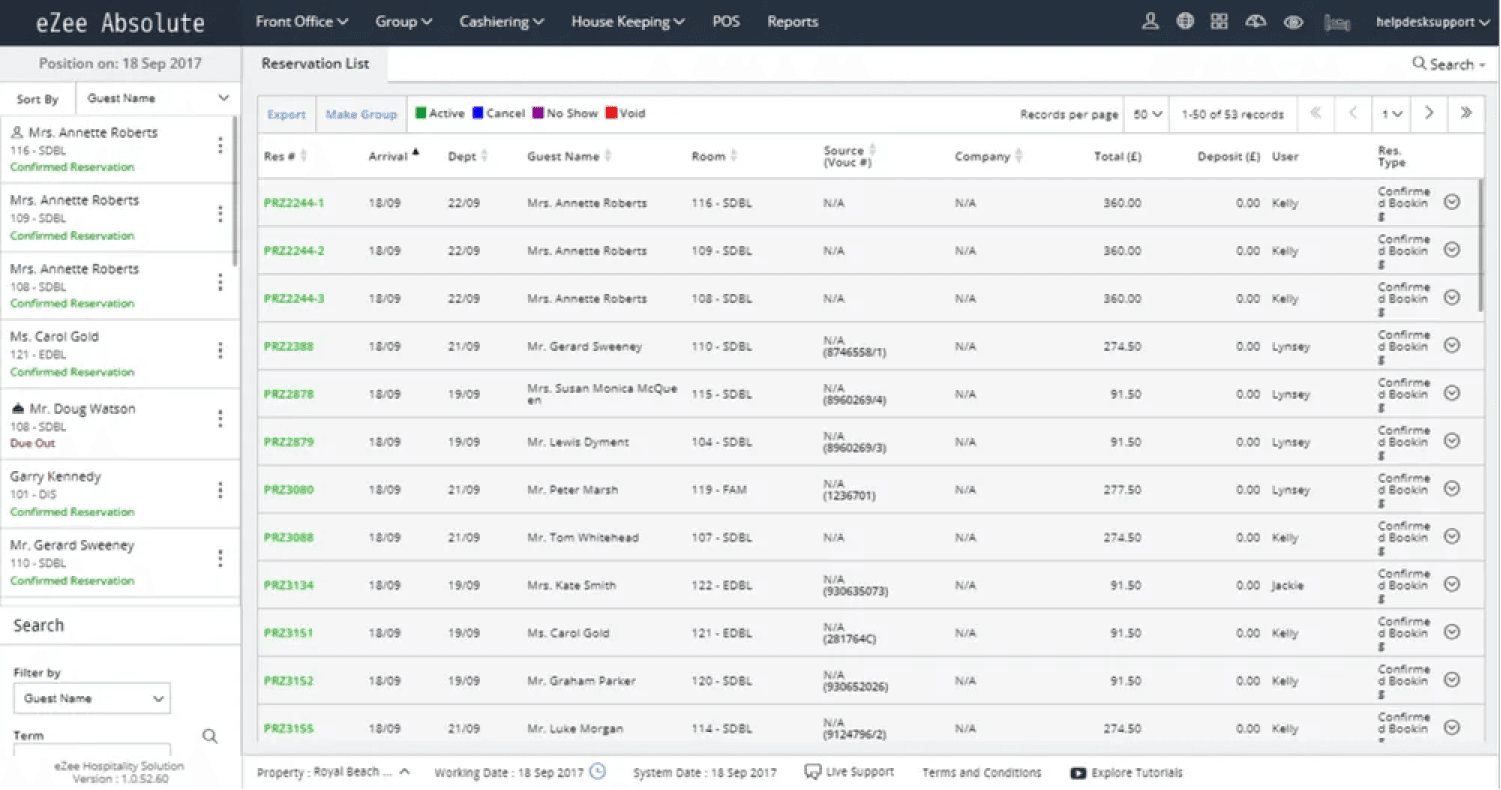 This module facilitates keeping track of revenue, reservations, and inventory and provides valuable insights into hotel performance through daily reports, occupancy rate, ADR, and RevPAR. The right hotel PMS also helps to comply with local tax reporting requirements and regulations.
#7 Back-Office Management
This module helps streamline, improve visibility, and optimize back-office and administrative hotel operations. It may include the following functions:
Human resources management, including shift management and staff invoicing
Reviews management
Event management and catering
Conference room, spa, and gym management
Sales and catering execution for group bookings
Assets management
Inventory analysis
Consumption costs and hotel spending analysis
Sales and management of promotional campaigns
The back-office module may offer internal messaging, reports of guest's arrival times, the ability to manage campaigns, send emails, and sometimes, basic accounting.
#8 Point-of-sale (POS) Services
Many hotels have restaurants, banquet and conference halls, gyms, day spas, gift shops, and other premises. They can also include extra costs or discounts on food and beverages, in-room services, mini-bar items, TV, or Wi-Fi on the guest folio. The POS function of hotel operating systems helps manage all payments accepted through multiple point-of-sale terminals smoothly, automates transactions, and keeps the data in one location. 

#9 Business Intelligence & Reporting
A comprehensive business intelligence & reporting is an invaluable tool for any hotel property management system. This feature allows operators to understand their customers better and make informed decisions based on detailed guest behavior and preferences analyses. It also provides access to clear and concise data that can be used to target marketing campaigns, track progress, identify defects in processes or systems, analyze customer feedback and satisfaction ratings, and measure the hotel's overall performance. With this powerful insight into their audience, business owners can gain an advantage when strategizing for growth and success.
#10 User Logs & Permissions
User logs & permissions offer powerful functionality in any hotel property management system. By keeping a history of user actions, the system is able to alert the correct personnel in cases of misuse or data leakage. Additionally, this feature allows authorized staff to grant and revoke access, creating an effective security layer while also allowing improved scalability and adoption. Enhancing day-to-day operations by granting specific personnel access to guest information or software features is particularly beneficial for hotels looking to streamline processes, increasing efficiency and productivity while ensuring operational fidelity. With these efficient user logs & permissions features of hotel property management systems, business owners can rest assured that their hotel operations are secure and optimized.
We examined the main features that a system should include. To understand how an ultimate product can look and function, let's consider a few real-world examples of a hotel PMS.
Hotel Property Management System Integrations 
Adding third-party integrations to a hotel PMS is essential for staying competitive in today's market. It provides flexibility, enhances functionality, improves guest experience, and increases revenue potential while controlling costs.
Channel Management: automates the distribution of inventory across various OTA's, meta-search sites and GDS networks.
Guest Interaction Platform: enables hoteliers to communicate with guests at scale using automated messages.
Rate Shopping Tools: tracks pricing of competitors & provides insights on how to adjust rates for maximum profitability.
Housekeeping Solutions: simplifies housekeeping tasks such as laundry management, room cleaning scheduling and tracking maintenance requests.
Revenue Management System (RMS): optimizes pricing strategies through forecasting demand and analyzing market data from competitor hotels. 
Central Reservation System (CRS): centralizes all reservations in a single platform for increased efficiency.
Reporting & Analytics: allows hoteliers to track performance and gain valuable insights from their data.
Mobile Apps: provide guests with a convenient way to manage their stay & access information about the hotel and its services from their mobile device.
Property Management System (PMS): provides an integrated solution for managing front desk operations, reservations, guest profiles and billing information in one place. 
Enterprise Resource Planning (ERP): enables hotels to integrate all departments of their operations into one comprehensive system, making it easier to manage different aspects of the business such as finances, HR, inventory management etc. 
Business Intelligence Tools: generate real-time reports that help hoteliers assess their performance and identify areas for improvement.
Customer Relationship Management (CRM): helps hotels to better understand their guests' needs through data-driven insights and strategies.
Digital Key: provides a seamless check-in experience for guests by allowing them to access the hotel room via their mobile phone.
Loyalty Programs: rewards customers for their repeat visits and encourages them to become loyal brand advocates.
Employee Scheduling Software: streamlines employee scheduling, shift management and time tracking tasks from one central platform 
Chatbot Integration: offers automated customer service to quickly answer basic questions while providing a personalized touchpoint with guests during their stay.
Document Management System: securely stores electronic documents and simplifies file sharing processes for increased efficiency.
Social Media Management: helps hotels to expand their reach, engage with guests and promote their services on various social networks.
Data Security & Compliance Solutions: ensures that customer data is secure while meeting legal requirements and industry regulations. 
Room Distribution Tools: optimizes the distribution of hotel rooms across multiple channels by automatically synchronizing availability and rates.
Payment Gateway Integration With a Hotel PMS
Integrating a payment gateway into your hotel PMS is essential for optimizing your payment processes, enhancing the customer experience, reducing risk, improving cash flow, and simplifying accounting. The most popular payment gateways provide clear documentation and are really easy to integrate. It is an investment that can pay off in many ways and help you to grow your business. Here are the most prominent benefits you can get:
1. Streamlined Payment Processing: Integrating a payment gateway with the PMS can automate payment processing and reduce manual errors, leading to faster and more accurate transactions.
2. Enhanced Security: Payment gateways offer advanced security features such as encryption and fraud detection, ensuring that sensitive data is protected from unauthorized access or theft.
3. Improved Guest Experience: Payment gateway integration can provide guests with convenient payment options such as mobile payments or online billing, leading to higher guest satisfaction rates.
4. Increased Revenue Potential: By integrating with multiple payment gateways, hotels can expand their reach to customers who prefer different payment methods or currencies, leading to increased bookings and revenue opportunities.
5. Better Data Management: Payment gateway integration provides real-time transaction data that enables hotels to make informed business decisions based on actual revenue performance metrics. 
6. Easier Reconciliation: With integrated payment processing, reconciling payments becomes easier and more efficient since all transactions are recorded in one place.
Overall, integrating a payment gateway with a hotel PMS is essential for improving operational efficiency, enhancing guest experience and increasing revenue potential while keeping costs under control. It offers streamlined payment processing, enhanced security features, improved guest experience and better data management capabilities that enable hotels to stay competitive in today's market.
Examples of PMS in Hotels
Oracle Hospitality
Oracle Hospitality is one more example of a property management system in hotels. The software includes several valuable features that facilitate daily hotel activities such as direct bookings, housekeeping management, personalized services, transaction operations, reporting, and analytics.
Source: Oracle Hospitality
Cloudbeds 
Cloudbeds is a hotel property management system that allows hotels to manage the booking process easily, arrange payments, quickly check-in and outs, and collect data to analyze the market and make the right pricing decision. Cloudbeds allows its users to optimize their daily routine tasks, save time, and increase service quality in their hotels. 
eZee Absolute
eZee Absolute is an all-in-one management system that helps hotels to automate their day-to-day operations such as reservations, back-office, transactions, housekeeping, etc. Moreover, this hotel PMS has a mobile app that offers excellent customer service allowing guests to check-in themselves or request needed services.
Source: eZee Absolute
Above, we considered some examples of popular PMSs in hotels. One day your product may also be on this list. And to make your hotel property management system development successful, you'll want to be aware of some challenges you may face. Let's consider them!
Mews
Mews is a hotel property management system that offers hotels of all sizes a comprehensive and intuitive platform to manage their operations. With its cloud-based technology, Mews allows hotel staff to access real-time data from anywhere at any time, streamlining the check-in process and providing guests with a seamless experience.
One of the standout features of Mews is its ability to integrate with third-party apps and services, including payment gateways, housekeeping software, and revenue management tools. This means that hotels can customize their system to fit their specific needs and preferences.
Mews also offers robust reporting capabilities, giving hotel managers insight into key metrics such as occupancy rates, revenue per available room (RevPAR), and average daily rate (ADR). With this data at their fingertips, managers can make informed decisions about pricing strategies, marketing campaigns, and staffing levels.
Challenges You May Face When Developing A Custom Hotel Property Management System
There are some common challenges of building a hotel management system you should know beforehand to avoid them. Let's look at the most common problems a hotel PMS may face and ways to solve them.
Product viability
For your product to be truly viable and cover all your business needs, you should first validate the idea. For example, at Onix, we offer a product discovery stage that guarantees our clients have a feasible product idea, define project complexity, and assess possible risks. This stage establishes the basis for the success of your future product.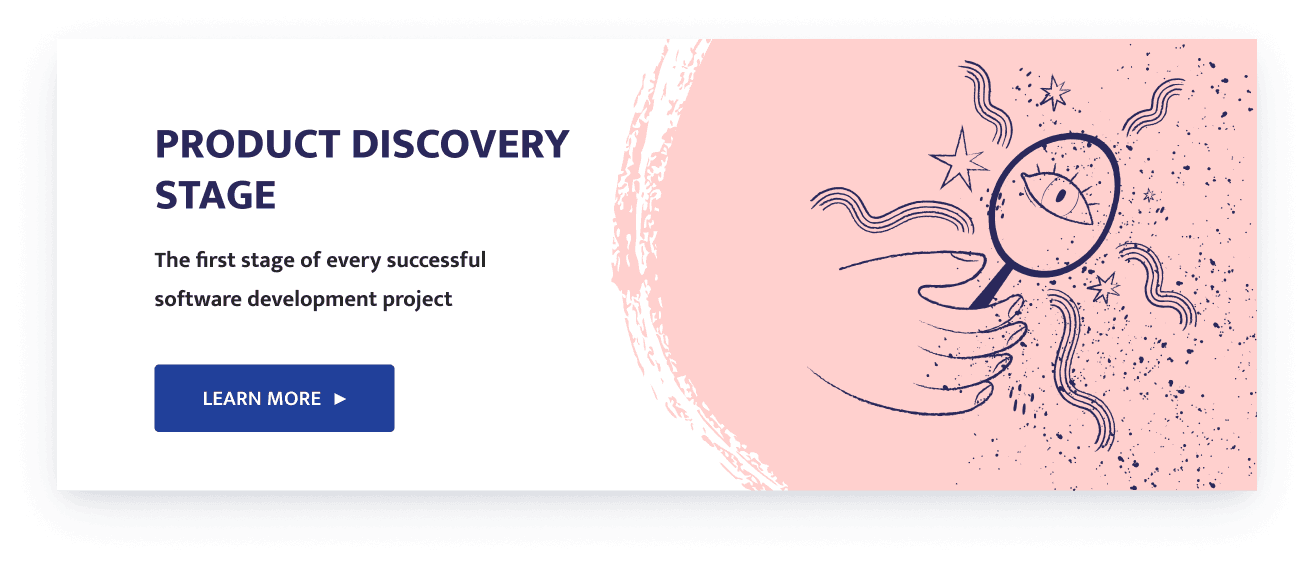 Maintaining privacy and security
Security is one of the main challenges you will likely face when starting hotel management system development. Your system will store and process a great deal of sensitive data such as the personal data of your customers, data on hotel income, etc. To avoid hacking and information leakage, you need to ensure necessary security measures. First of all, make sure you encrypt personal data so hackers can't harm your business. Also, you should control access by requiring unique credentials for each hotel PMS user and implementing multi-factor authentication. 
Ensuring intuitive user experience and navigation
Many hotels have routine tasks that need to be done quickly and efficiently. Therefore, when creating a system, it's necessary to carefully think through an attractive user interface and intuitive user experience. The main functionality must be available in one click. For example, you should build a dashboard that shows the hotel's occupancy from a bird's eye view. 
Need help with design? Our experts understand UI/UX best practices and know how to meet client's requirements and their target audience's needs by delivering innovative design solutions.

How to Choose The Best Hotel Property Management Systems? 
Choosing the best Hotel Property Management System (PMS) is a critical decision for hoteliers, as it directly impacts the efficiency of operations and guest satisfaction. Here are some key factors to consider when selecting a PMS for your hotel:
Features and Functionality:
Ensure the PMS offers essential features like reservations management, check-in/check-out, room assignment, housekeeping management, billing and invoicing, and reporting.
Look for additional features that align with your hotel's needs, such as channel management, online booking, guest preferences tracking, and point-of-sale integration.
Scalability:
Choose a PMS that can accommodate your hotel's current needs and future growth. It should be able to handle increased room inventory, guest volume, and additional properties if applicable.
Integration:
Check if the PMS can seamlessly integrate with other systems you use, such as revenue management, distribution channels, CRM, and accounting software. Integration reduces manual data entry and enhances overall efficiency.
Cloud-Based vs. On-Premises:
Decide whether you want a cloud-based (web-based) or on-premises PMS. Cloud-based systems offer flexibility, accessibility, and automatic updates, while on-premises systems might provide more control over data but could require higher upfront costs.
User-Friendly Interface:
The PMS should have an intuitive interface that is easy for your staff to learn and use. A user-friendly system reduces training time and minimizes errors.
Mobile Accessibility:
In today's world, mobile access is crucial. Ensure the PMS has a mobile app or responsive web interface that allows you to manage operations from anywhere.
Support and Training:
Consider the level of customer support and training offered by the PMS provider. Adequate training and support are essential for a smooth transition and ongoing usage.
Security and Compliance:
Data security is paramount. Ensure the PMS follows industry standards for data protection and complies with relevant regulations.
Customization:
Every hotel is unique. Look for a PMS that can be customized to suit your specific needs, from room configurations to guest preferences.
Cost and Return on Investment (ROI):
Consider the overall cost of the PMS, including setup fees, monthly fees, and any additional charges. Evaluate the potential ROI based on how the system will streamline operations and improve guest satisfaction.
Future Upgrades and Innovation:
Check if the PMS provider regularly updates its system with new features and improvements. You want a PMS that can adapt to industry trends and technological advancements.
Vendor Reputation:
Research the reputation of the PMS provider or creator  within the hospitality industry. A reputable vendor is more likely to provide reliable software and excellent customer service.
Demo and Trial:
Request a demo or trial period to assess the PMS firsthand and see if it aligns with your hotel's requirements.
Remember that the best PMS for your hotel depends on your specific needs, budget, and long-term goals. Taking the time to thoroughly evaluate your options and choosing a PMS that aligns with your hotel's unique requirements will lead to smoother operations and enhanced guest experiences.
Onix Experience in Hotel Management System Development
For 20+ years, Onix experts have created products of various industries, sizes, and complexity. We complete 500+ projects each year, including software development for hotels, booking websites, travel apps, etc. 
For example, utilizing proven and latest technologies, we've created a booking platform that allows gay travelers worldwide to rent desired apartments comfortably and safely. Travelers can search for these accommodations in 200 countries, book apartments online, and view and leave a review.
One more travel project we worked with is TravelBid. TravelBid functions as a innovative platform that empowers travelers to secure hotel rooms, holiday homes, airport transfers, and car rentals in Cyprus. Diverging from conventional booking engines like Booking.com or Expedia, users input their travel specifics into TravelBid. They receive immediate proposals from a vast network of over 14,000 local enterprises. Through our travel software development services, we contributed to the conception of this groundbreaking platform for the company.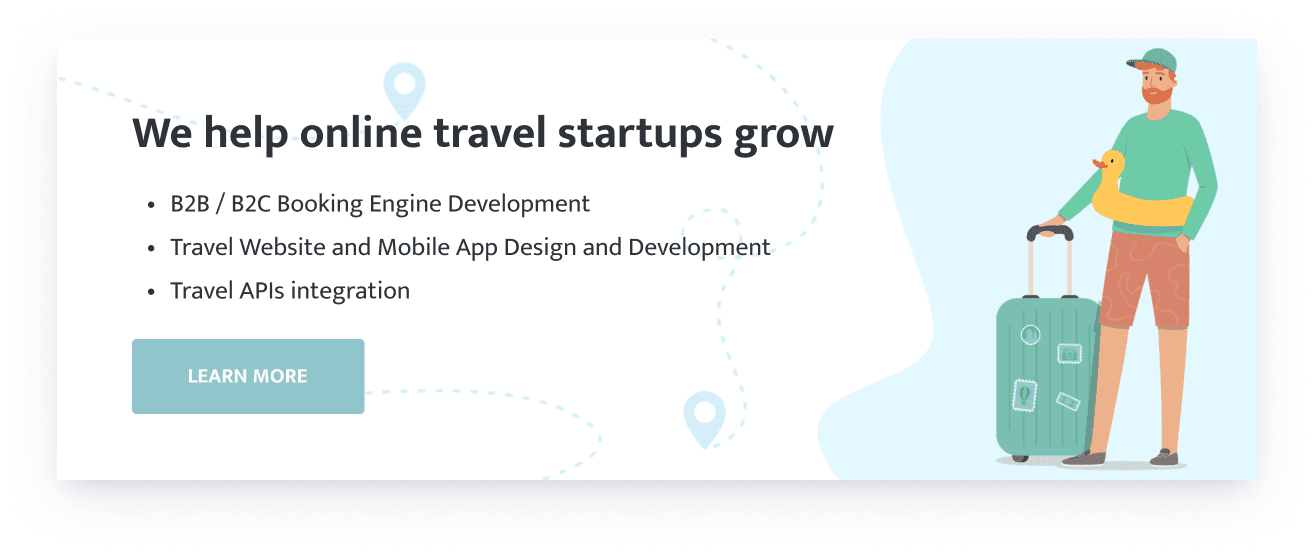 Ready To Revolutionize The Way Your Hotel Business Works?
To remain competitive, hoteliers are jumping through hoops to meet customers' needs and expectations throughout the experience. This includes online search, booking process, on-property interaction with the hotel staff, in-room experience, and post-stay feedback on social media. And here, hotel property management software comes in handy. 
Despite the fact there are ready-made solutions, they cannot compete with a custom hotel management system. Custom solutions can have tremendous benefits. The main one is management software that totally meets your specific hotel business needs. Besides reducing time spent on administrative work, custom hotel PMS will enhance your guests' services, leading to great loyalty and increased revenue. 
Are you about building a custom property management system for your hotel business? Contact us to get a technologically advanced and cost-efficient hotel PMS development solution!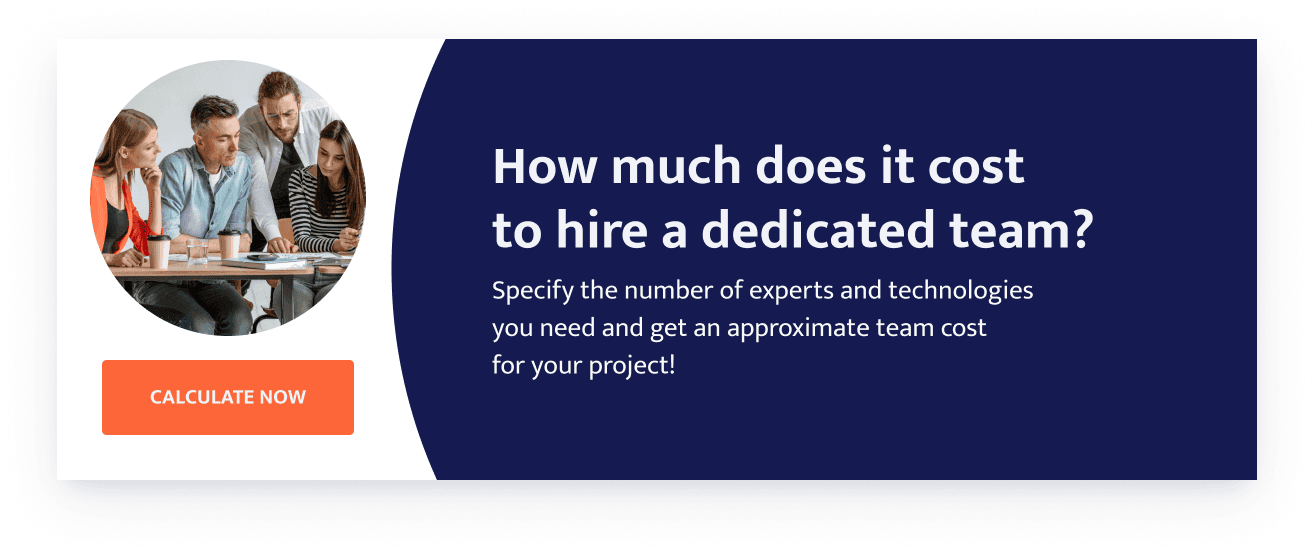 FAQ
- How does a hotel management system work?
A hotel management system (HMS) is a software platform that enables hotel managers to efficiently manage their daily operations. It typically includes modules for managing reservations, check-ins and check-outs, room assignments, guest profiles, billing and payments, housekeeping, inventory management, and reporting.
When a guest makes a reservation, the HMS stores their information in a central database and assigns them a unique reservation number. This information is then used to manage room availability and assign rooms to guests based on their preferences and availability.
When a guest arrives at the hotel, the front desk staff uses the HMS to check them in, verify their identity, and assign them a room. The HMS then tracks the guest's stay, including any additional charges, such as room service or amenities.
During the guest's stay, housekeeping staff uses the HMS to manage room cleaning schedules and update room status, ensuring that rooms are available for check-in as soon as possible.
When the guest checks out, the HMS generates an invoice for the guest's stay, including any additional charges, and processes payment. The HMS also updates the room's status and inventory, making it available for the next guest.
- Why is PMS important for business?
A Property Management System (PMS) is a crucial tool for businesses in the hospitality industry. It provides a central platform to manage all aspects of a property's operations, from reservations and check-ins to billing and housekeeping. With a PMS, businesses can streamline their operations, reduce manual errors, and improve efficiency. By managing guest profiles and preferences, businesses can provide a more personalized experience, leading to increased guest satisfaction and loyalty. Overall, a PMS helps businesses to enhance their operations, increase revenue, and improve the guest experience.
- What are the essential functions of a hotel property management system?
We recommend you include the following features:
Reservation (to see the current and upcoming reservations, provide online booking, check room availability)
Housekeeping (to manage room statuses, assign room cleaning, and track housekeepers' tasks)
Customer relationships management (to collect and organize guests contact information)
Back-office management (to streamline administrative hotel operations)
Point-of-sale (POS) services (to manage all payments, automate transactions, and keep the data in one place)
- What are the main advantages of a custom hotel property management system?
Automated routine tasks, increased staff efficiency, all data in one place, convenient customer data management, high level of data security, and enhanced customer experience.
- How to create a hotel management system?
Identify the requirements and scope of the system, including the modules and features needed to manage all aspects of the hotel operations.
Choose a suitable technology stack and development framework based on the project's requirements and budget.
Design and develop the user interface and backend of the system, including database design, application architecture, and testing.
Integrate third-party APIs and services, such as payment gateways, channel managers, and online travel agencies.
Test the system thoroughly and deploy it on a reliable hosting platform with proper security measures and backup systems in place. Additionally, provide adequate training and support for staff to ensure the system's effective use.
- Is management software helpful in expanding the hotel business?
Indeed! The right hotel management software features significantly optimize your daily operations while comprehensive, timely reporting gives valuable insights to help manage your business effectively.
- How much does custom hotel property management system development cost?
Hotel property management system development costs directly depend on your project requirements, its complexity, team size, number of required features, design, and so on. For example, building an MVP version with only essential features will take approximately ~1,000 hours. The average hourly rate in Eastern Europe is $50 per hour. Accordingly, the development will cost approximately $55,000. 
But this is only a rough example of cost. The actual amount depends on your requirements and the specifics of the project.