Purposely designed software development technologies and trends help businesses to automate tasks, streamline operations, and improve efficiency in their organization. Leveraging the latest tech advancements enables companies to gain a competitive edge in the market.
Onix-Systems, a leading full-service software development company, strategizes effectively by implementing the latest technologies and trends for their client projects with a clear plan and state-of-the-art methodologies. To create sound IT solutions tailored to meet their client's needs, the company retains a significant scope to serve businesses of all sizes across different industries.
Onix-Systems was established in 2000 in Kirovohrad, Ukraine as a professional web development service provider with 20 years of experience working with B2B companies across a diverse range of industries seeking quality-based custom web solutions to take their business up to the next level. The best thing is their solutions are compatible to connect to all smart devices, including tablets, PCs, smartwatches, and smartphones. 
Top Class Technology Services at Onix-Systems
Onix-Systems has been offering custom web and mobile development services for 20 years to its customers from more than 13 countries worldwide. The company excels in providing exclusive design and development services that base the strong foundation behind its professional growth. Some of the popular services offered by the company are as follows: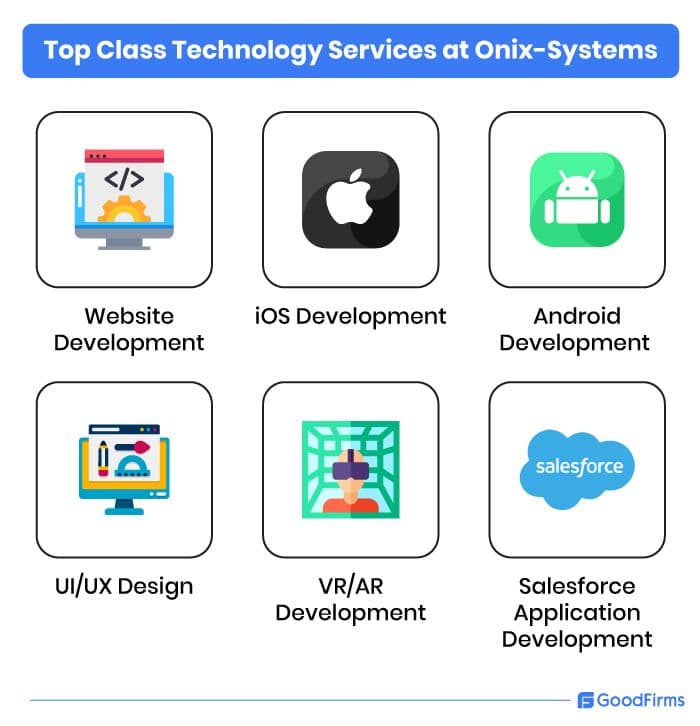 Website Development - Front-end Development, CMS Development, Development Consulting, Support, and Maintenance.
iOS Development - Swift, Objective-C, and other proven technologies and approaches allow companies to extend and scale their services quickly.
Android Development - Scalable apps are created by the company for a broad range of devices capable of running Android, including smartwatches and smart TVs.
UI/UX Design - User Flow Mapping, Interface Design, Visual Design, Wireframing and Prototyping, Responsive Design, and UI Kits.
VR/AR Development - Desktop and Immersive Virtual Reality, 360-degree immersive, Google daydream, and architectural walk-through.
Salesforce Application Development - Salesforce consulting, business analysis, design, QA, deployment, and support.
Why is Onix the Best to Choose for Tech Outsourcing? 
With a well-defined software development lifecycle, Onix ensures that its customers always receive quality products within deadlines and with a limited budget. The accumulated experience of their success and efforts of their professional team expanded the scope of their development services to bring forward IoT, Unity3D, and VR divisions. The company is recognized as the top software development company in Ukraine by GoodFirms. It is gaining immense appreciation among its partner companies for offering robust solutions per quality standards.
The company's enthusiastic team of developers, designers, and engineers completes over 500 projects yearly for its clients from Ukraine, Europe, Asia, the U.S., South America, the Middle East, and other parts of the world. The company regularly stresses its team's self-development and training to remain updated with the latest technologies, increase creativity and productivity, and maintain high product quality standards. 350+ skilled and efficient professionals in the company create custom websites and mobile apps reflecting the latest trends in responsive design, features, and user experience. The company uses agile and waterfall approaches to control the development process and ensure absolute customer satisfaction. 
The company follows a 100% customer satisfaction approach and works hard to meet the trending demands of the customers before, during and after project submission. A client testimonial below proves why the company is highly valued and most preferred among its customers.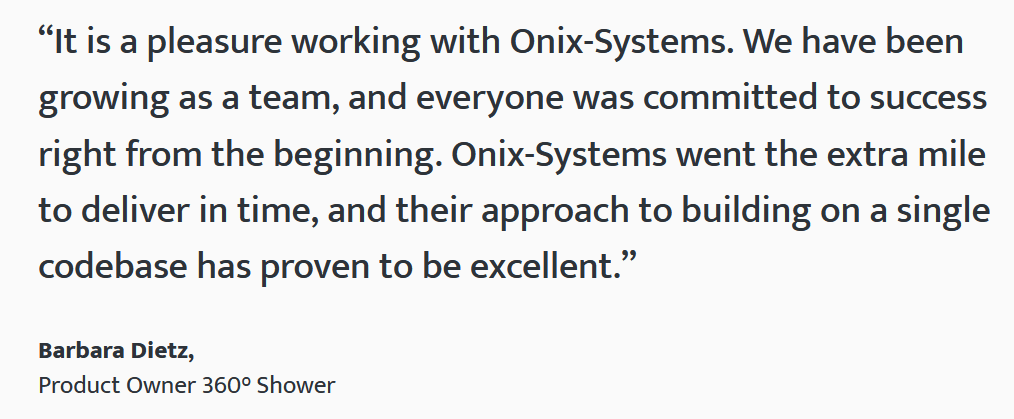 Here are the partner companies associated with Onix-Systems.
GoodFirms Research Methodology
GoodFirms is a leading research and review platform that connects businesses for mutual growth. It allows companies, tech products, and service providers to improve their business based on authentic customer reviews and ratings, leading to the sure door to success with minimal challenges. 
Conclusion
As an entire web and mobile development service provider, Onix-Systems has been leading the tech market sphere for over a decade. Providing scalable solutions based on the latest technologies and as per customers' requirements is the motive with which the company is growing and flourishing at the desired pace.
About GoodFirms
GoodFirms is a leading ranking platform for businesses seeking their significant establishment in the field of information technology. It helps software vendors and IT companies connect and mutually benefit from growing together. The rankings are updated continuously, and review scores are given based on their intensity.  
About the Author
Working as a Content Writer at GoodFirms, Anna Stark bridges the gap between service seekers and service providers. Anna's dominant role lingers to form every company's achievement and critical attributes into words. She strongly believes in the charm of words and equips new approaches that work, always with concepts, something new to create, and something unique to enhance the firm's identity.