Onix's Risk Management Measures In Action
Recently, there were attacks on critical energy facilities in Ukraine that caused power outages. However, most employees could return back to work within a couple of hours. That's because Onix developed a risk management strategy to deliver stable service to Onix's clients despite possible, even long-term, power outages.
Here is what our energy-risk measures at our headquarters include:
Starlink hardware has been installed in the office, providing high-speed internet connection when fiber internet connections are unavailable. The office's Internet connection is currently ensured by several Internet providers.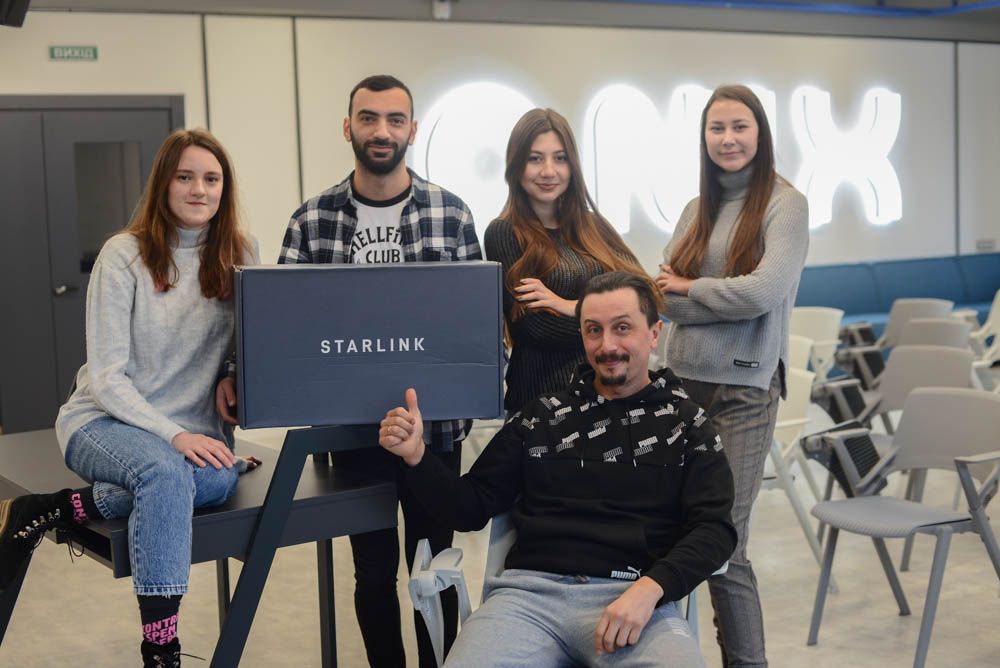 Diesel generators are installed in our main office in Kropyvnytskyi to ensure a backup power supply. This will allow teams to work for several days or weeks without outside electricity if necessary.
Our executive team members including CTO and PMO, who are located in Europe, have discussed risk mitigation plans with each employee. Our employees are equipped with laptops, which ensures 4+ hours of uninterrupted work. The Onix company also provided financial assistance for employees outside our central office to purchase all necessary equipment, such as generators and Starlinks, and ensure stable Internet connectivity and power.
Psychological support is available for each employee. Our corporate psychologist conducts one-to-one meetings with anyone at Onix who needs help.
We are prepared to handle any outages and are proud to see our employees showing impressive responsibility and resilience. We always think a step ahead, so there is no downtime or interruptions in our work.
If you want to receive updated information about the situation in Ukraine, we recommend following the official media, e.g., https://www.mil.gov.ua/en/
If you need any additional information about your project, please don't hesitate to contact your Project Manager.
Ukrainian Resistance Grows Due to Your and International Support
Russia has recently conducted several powerful air attacks on Ukrainian energy infrastructure. Some missiles were successfully shot down and didn't reach their goals. Even though they damaged some energy facilities, the percentage was too low, and our energy experts fixed everything quickly.
Moreover, Ukraine possesses considerable capacities for electric power generation. Before the Russian invasion, the country's energy production exceeded its consumption, so a portion was exported. Now, the export has come to a halt. The country's energy system is fully integrated; if a component fails, it quickly balances itself.
In addition, the Rammstein 7 meeting was held at NATO headquarters in Brussels, focusing on supporting Ukraine with additional air defense systems. As a result of this meeting, Ukraine will receive:
Two more HAWK launchers and missiles from Spain;

The United States has announced $400 million in additional commitments to support Ukraine, including missiles for the HAWK air defense systems – a complement to what Spain has committed.;

Sweden to deliver $287 million package of assistance to Ukraine, which includes an air defense system;

Germany has advanced much-needed donations of air defense, artillery and MLRS ammunition;

Greece announced an important donation of 155-millimeter ammunition;

Poland has committed additional artillery and tank ammunition, as well as short-range air defense capabilities.
Fortunately, Onix's headquarters are located relatively far from strategic objects and all the directions of the Russian invasion. The damage caused by air raids has been minimal, and not a single enemy drone has reached the city so far.
Currently, most of the Kropyvnytskyi-based employees that had relocated are back to the city. All our systems are operational, we have taken extra cyber-security measures, and no client or user information was affected.
Despite periodic sirens, we keep calm, support the humanitarian efforts and the Ukrainian army, take care of our elderly, children, and pets, welcome refugees from other regions, and go on with our jobs!
We are really grateful for our partners' and clients' support and loyalty. We work hard to keep up with deadlines. And we hope the war will end soon so Ukraine can emerge victorious.