We know how great UI/UX fitness app design looks
The niche of fitness apps is highly profitable due to high user retention and app engagement rates. However, it's also super-competitive because fitness apps have become one of the most popular app categories over the past few years, and users tend to stick to one fitness app they like.
Do you want to implement your fitness app idea with no pain and risk?
Ask for a free consultation from our team of design experts.
What you need to know about fitness apps
According to statistical studies about fitness and health apps held by Statista and Flurry, in 2023-2024:
More than 250,000 apps are available for download
75% of fitness app users open their apps twice a week and 25% of users access fitness apps 10 times a week
More than 75 million unique fitness app users were reported in the U.S. in May 2018
The total number of fitness app users will reach 350 million by 2022
Wearables lead the fitness app market with 13% taken by Fitbit
Currently, the average revenue per fitness app user is US $10.97
96% of app users stick to using only one app
What are some types of fitness apps?
With its almost $4 trillion worth, the fitness app industry offers a wide choice of mobile apps for the gym, running training, yoga, home workouts, and healthy eating.
01
Amateur apps
Such apps often focus on a specific type of fitness activity that would be easy for a beginner to do on a daily basis to stay healthy.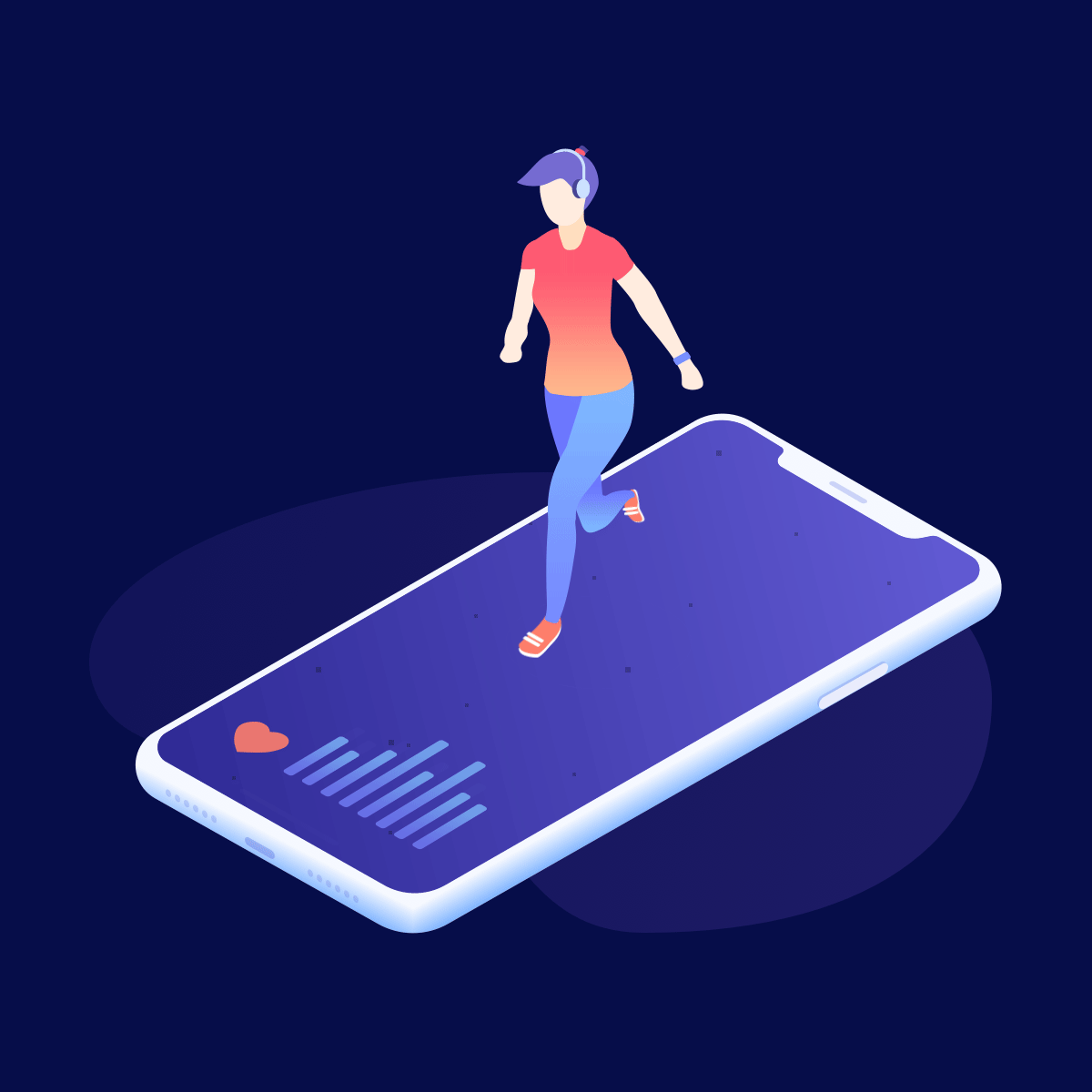 02
Professional apps
These apps present complex workout routines with detailed tracking. Their design requires a deep understanding of fitness and needs of athletes.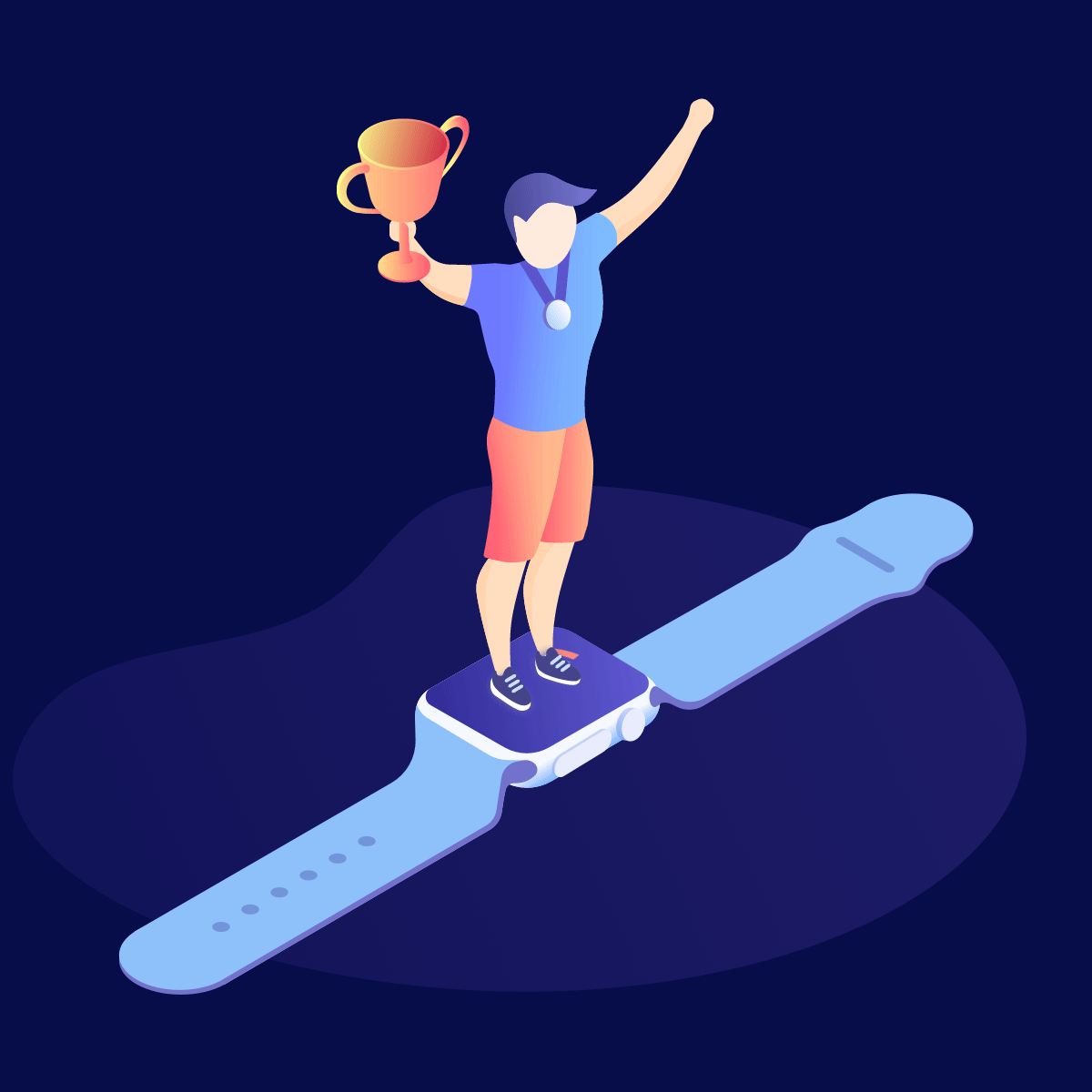 03
Wellbeing apps
They help monitor daily activities and suggest ways to improve a user's diet to become stronger and healthier.
We can help you plan your app design
Are you a fitness studio or a nutritionist who has developed a weight loss diet? Maybe you're a fitness startup that needs an app's design prior to starting your search to find an investor?You've come to the right place! Onix' design team is ready to provide you a free consultation, create a free low-fidelity prototype and get your design done in just a few weeks.
How we make an excellent UI/UX
for a fitness app
Customization
The app's interface should tailor the content to the needs of different user groups (level of preparedness or possible disabilities) and adjust it to their preferences and specific goals.
Clear navigation
A user needs to take action fast, be able to work with the app straightforward. A good design provides workout or menu information in one tap, so a user immediately feels at home.
Convenient tracking
Recent routine stats should be made available in an instant. Data from wearables should be displayed to give an immediate understanding of the progress and new achievements.
Hardware integration
The best UX is achieved when the app can be integrated with wearables and fitness bands. Easy data logging and enabled fitness progression add to the app's key fitness features.
Test your app idea with the help of our fitness app design experts
Check our fitness apps design
case studies
Why you need a low-fidelity
prototype for your app
Once you discuss a fitness app idea with our designers, we'll prepare a lo-fi prototype, a fast and easy way to check and test the app's concept. Creating it is free and helps resolving such issues, as determining the app's audience, key functionality and user flow. Once you've got a low-fidelity app, you'll have clearer expectations about your fitness app.
How does a lo-fi prototype look like?
— Basic shapes are used to visualize the app's design of screens
— Content is limited and includes only key ideas that explain the user flow
— Basic explanations accompany the flow to provide extra detail as to what a user will be able to do with the app
Why preparing a lo-fi prototype will help you test your app's idea?
— It's a fast way of experimenting with several ideas without having to design and develop the app
— You receive assistance from experts that will suggest the best way to implement your fitness app concept
— Lo-fi prototypes can be used as a project documentation and reference for future iterations.
If you're looking to deliver an outstanding user experience with your fitness app design, our team will readily help you with consulting assistance and prepare a free lo-fi prototype.
How our team can help you
create a fitness app
Fitness app design
You've got an idea for an app? We can help you with its implementation by creating wireframes, interactive prototypes and delivering an outstanding UI/UX design for a fitness app that would be fun to use.
Fitness app redesign
You've already got an existing fitness application, but you feel it needs to be refreshed and polished? Our designers' team will conduct an audit to provide you with new ideas of how your app can be improved and what features or interface changes can make it user-friendly and easier to use.
Fitness app development
You've got a fresh design for your app and need a team to code it and bring to life? Onix has a team of iOS and Android developers and QAs that will take care of the design and will help you launch it.
Our team offers a full cycle fitness app development, from a prototype to app launch
See how our design process looks like
Сonsultation and learning about your objectives
We set an accurate understanding of your business goals, consider user needs and determine a fundamental strategy.
Generating ideas and design concept
Our UI/UX designers collaborate with you and conduct a research and task audit that reveal information gaps and preplan the workflow.
Crafting design users will enjoy
At this stage, we evaluate the concept and UX presentation and decide together with you about the future design and user experience.
Creating an engaging mobile user experience
We take advantage of Sketch, Photoshop, Invision, Adobe Illustrator to come up with an awesome design that corresponds to fresh and smart trends.
Turning design into something real and living
Our developers' team will help you put your design into production and make it a fully-functioning product.
Meet the designers' team of Onix
We've got more than 7 years of experience in web and mobile design, branding, and e-commerce design. We don't just agree to customer requests, we examine your ideas and carefully craft every project facet.
Max Kamenschikov

Art Director

Andrew Kreitor

Motion Designer

Max Honcharov

UI/UX Designer

Max Belevtsov

Illustrator
We can develop a fitness app for you
Onix team can help you develop a feature-rich fitness app that contains videos, images and 3D models and considers different user groups and levels of difficulty (from beginners to professional athletes).
Our services include the development of workout and logbook applications, nutrition and fitness tracking apps that are suitable for gym and home use, for athletes and personal fitness instructors. We can create fitness tracking apps that integrate with wearable devices and measure fitness progress.
Planning
At this stage, our team of developers study the documentation and supporting materials, including the design of your future fitness app. It is when we estimate the time and budget for the app development.
Development and testing
At Onix, we rely on Agile software development model that ensures efficient coding and testing that help save your time and budget.
Release and maintenance
We will prepare your app for submission and approval procedures so it goes through the launch quickly and easily. Once the app becomes available on an app store, we will help collect analytics and monitor the app's performance to avoid possible crashes.
Got an idea for an awesome fitness app?
Give it a go and delegate work to the professionals!
Let us know how we can help you.
Send us your question or share an idea with us.