Over the past decade, digital health industry funding all over the world has grown almost twenty times. The digital healthcare market is expected to exceed US$500 billion by 2025. These numbers may be evidence of the profound positive impact of technology in the healthcare industry.
As patients require more progressive solutions and higher quality services, healthcare providers look for innovations to stay relevant and enhance business operations.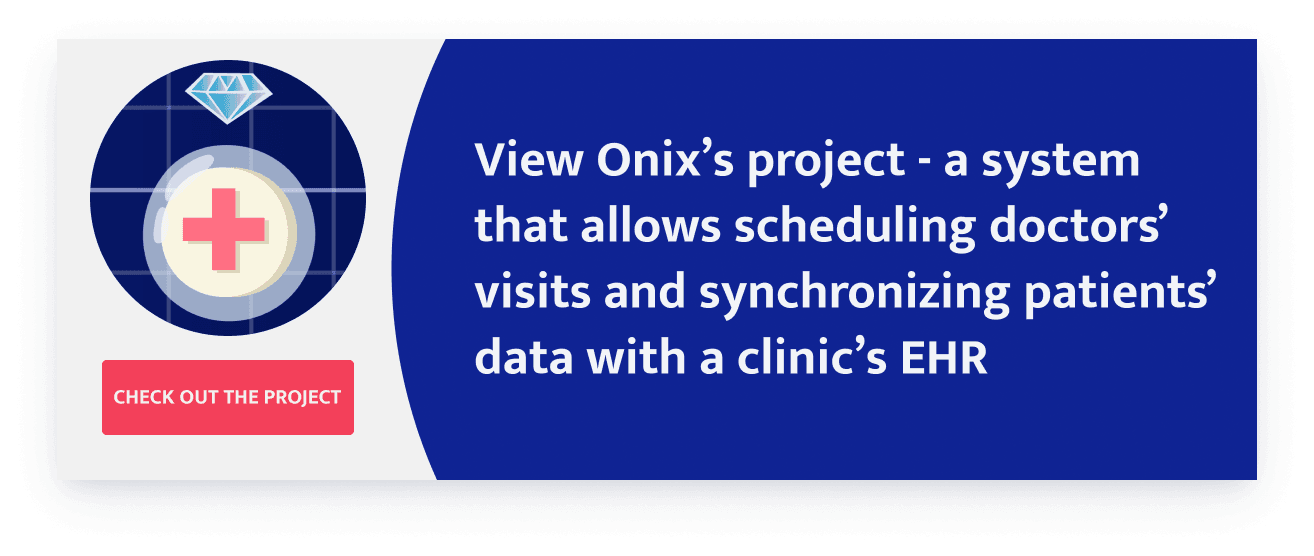 To this end, our experts have prepared a list of healthcare technology trends following which you can stay up to date and thrive in this ever-evolving digital era.
You can also read about fitness tech trends in 2024.
Applications of Virtual and Augmented Reality
VR/AR apps are one of the main healthcare technology trends this year. According to the Medi-Tech Insights report, the global Augmented Reality (AR) and Virtual Reality (VR) in the healthcare market is expected to grow at a CAGR of >25% to cross $5 billion by 2025. This growth is driven by technological advancements and increasing digitization, government initiatives support, and large numbers of startups.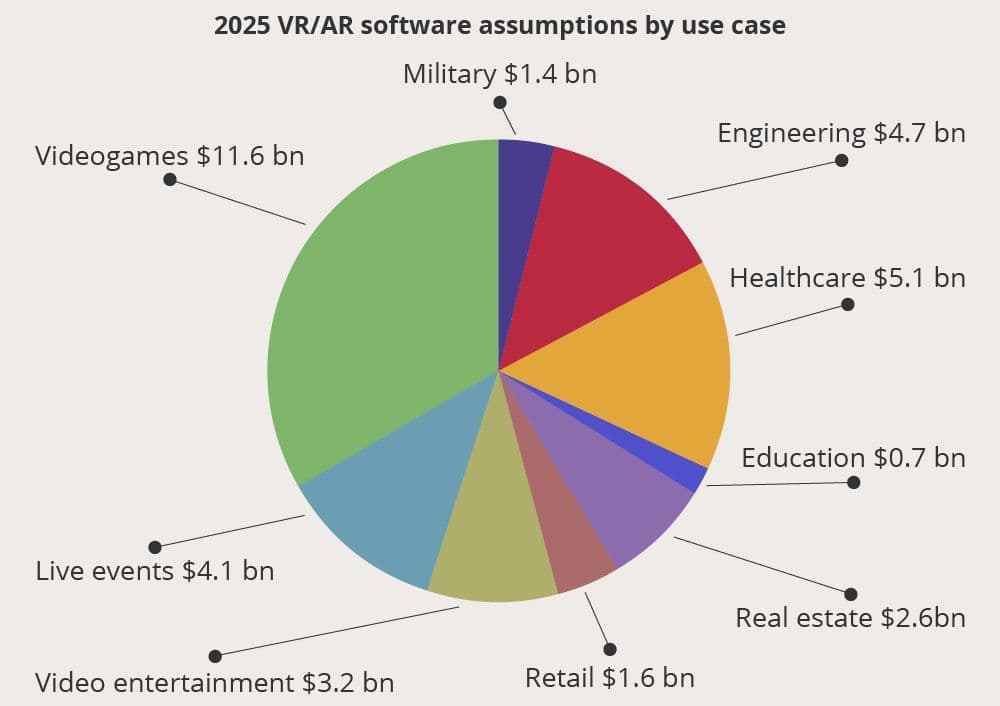 Virtual reality is an entirely simulated environment created by headsets and software, whereas augmented reality only superimposes computer-generated objects on the environment seen through a special lens or screen. 
Augmented reality medical applications assist in:
health condition assessment

treatment planning

clarifying complex medical subjects to patients 
Virtual reality can be used for:
the treatment of mental health conditions and psychological therapy

reducing pain during medical procedures

increasing patient engagement during physical therapy and speeding up recovery

raising disease awareness 
The Onix team has built several immersive and detailed VR applications for the healthcare industry. For example, laboratory VR training simulation. This is a digitized science lab providing hundreds of affordable experiments. It was created as a demonstration project that works on HTC Vive and Oculus Rift, with the main objective of introducing students to work in the laboratory.
One more example is the VR Medical training simulation that is designed for medical staff. In this project, immersive virtual reality technology offers low-stress, safe, and interactive digital environments that provide immersive training opportunities.
Virtual and augmented reality is a vivid example of how technology is changing the healthcare industry. This technology is already transforming how medical staff work, hone their skills, and treat patients. AR and VR software development services will be increasingly used in healthcare, so it's a perfect time if you're thinking of leveraging this new medical technology.
Read also: AR app cost explained.
Internet of medical things
The Internet of Medical Things (IoMT) is one of the most prevalent healthcare technology trends that will shape 2022. The IoMT market size is expected to reach US$254.2 billion by 2026, a significant increase compared to US$44.5 billion in 2018.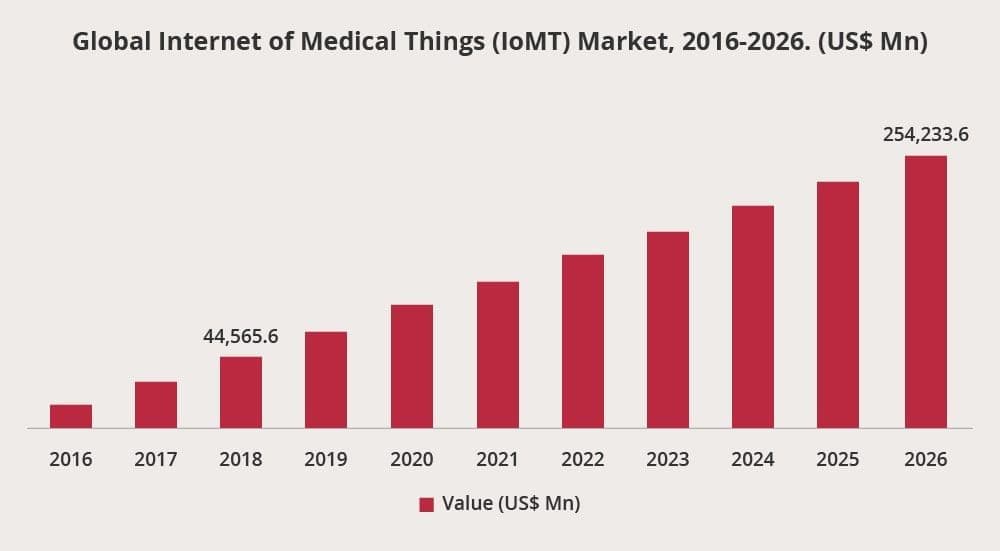 The Internet of Medical Things (IoMT) is all about creating smart systems of medical devices and healthcare applications that facilitate the provisioning of better services and improve the workflow of medical units. Simple use cases are devices such as healthcare trackers, wearables, and sensors quickly sending patients' health data to doctors without patients actually visiting the hospital.
The development of IoMT offers opportunities to: 
monitor patients at home or on the go from anywhere, measuring and tracking critical health indicators

receive accurate and timely data for qualitative patient monitoring

create personalized treatment programs based on the collected data

save lives over time

optimize workflows within hospitals and clinics 
Here are some impressive numbers that show you the prospects and demand for implementing IoMT.
As you can see, the Internet of medical things (IoMT) provides excellent benefits and holds tremendous promise for the healthcare industry. Don't miss a chance to leverage this emerging technology in healthcare.
Telemedicine
Covid-19 has made people worldwide self-isolate much more trying to reduce the risk of infection. Under such conditions, telemedicine has become extremely popular since it's an excellent method of remotely providing medical services between patients and healthcare providers.
The size of the telemedicine market is expected to rise at 19.3% CAGR from 2020 to 2026. One of the reasons for this growth is that healthcare institutions are focusing on modernizing their services and providing faster solutions.
Telemedicine apps are rapidly transforming the healthcare industry, and in the coming years, the demand for such apps will continue growing. To be convinced of telemedicine's importance, just look at the statistics below.
Telemedicine technology and clinical applications have the potential to transform the industry worldwide, while healthcare startups can benefit from the rapid growth of the telehealth market and create a profitable business built around a high-quality telehealth platform.
Artificial intelligence and robotic process automation
Artificial Intelligence (AI) has the potential to enhance the workflows of various industries, and the medical field isn't an exception. As O'Reilly's report shows, healthcare is among the top industries actively adopting AI technology.
For example, AI played an essential role in dealing with the COVID-19 outbreak. Particularly, AI helped doctors understand the virus better, slow down its rapid spreading, and screen the molecules to create a treatment plan.
The total Global Artificial Intelligence in Healthcare Market is estimated to reach USD 95.65 Billion by 2028, up from USD 6.60 Billion in 2021, at a compound annual growth rate (CAGR) of 46.1%. This growth is for several reasons. 
Firstly, robotic process automation utilizes the power of AI to enhance the operational workflows of medical organizations.
Secondly, AI technology changed healthcare by facilitating the mining of medical records and effectively analyzing massive data sets. The technology can help define the best treatment plan for specific patients by predicting possible patient outcomes.  
AI is already integrated into caregiving and nursing as it simplifies analyzing the health situation, creating a treatment plan, serving meals, etc. It is also implemented in chatbots, virtual health assistants, robot-assisted surgery, precision medicine, medical dosage, diagnosis, healthcare units workflow optimization, cybersecurity, and more.
AI and robotic process automation are not new innovations in healthcare, but they will only gain momentum in the coming years. So, if you have not adopted this technology yet, now is a perfect time.
Mobile apps for better mental health treatment
The COVID-19 pandemic affects many people around the world and significantly impacts people's mental health. As of 2020, сlose to 1 billion people are living with mental disorders. What is more, one person dies every 40 seconds by suicide. These chilling statistics call for immediate, effective, and coordinated responses. And here, mobile apps can help come to the rescue.
Source: Statista
Mental health mobile apps help people to manage stress and nurture their overall mental health by providing the required information, techniques, activities, and encouragement. Using such apps, patients and their counselors can monitor and analyze their mood ups and downs over some period, detect exacerbation stages, practice mindfulness and cognitive skills training, etc.
The global mental health apps market size will reach $17.5 billion by 2030. It's expected to expand at a CAGR of 16.5% from 2022 to 2030.
Mental health apps are only gaining traction since they offer users excellent advantages, such as:
Great flexibility (An app can be a life-saver during quarantine or when visits are problematic)

Efficiency (Many mental health apps are backed by scientific research, proven therapy techniques, and specialists.)

Access to an online doctor or support 24/7

Cost reduction (Online therapy sessions are likely a more affordable option than seeing a therapist in person, and there's no need to travel.)
As you can see, building a mental health mobile app is a very promising idea. The healthcare market is constantly gaining momentum, and it's a great time to enter it with your own custom solution.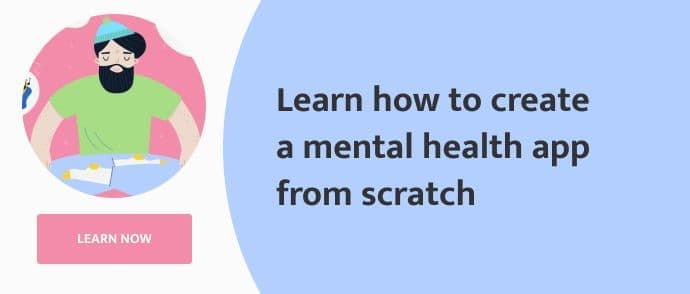 Remote patient monitoring (RPM)
Early in the COVID-19 pandemic, remote patient monitoring usage surged as patients and healthcare providers sought methods to safely access and deliver healthcare.
Healthcare providers can use special monitoring programs and devices to offer remote patient monitoring. Thus, patients who have diabetes, for example, use Bluetooth-enabled monitors that securely track and send blood sugar levels to their doctors. Healthcare providers receive that data to monitor patients' conditions in real-time and effectively and timely provide medical care.
From 2020 to 2030, the global remote patient monitoring devices market will record a stellar growth rate of about 12.5%, compounded annually. It will add notably to market value.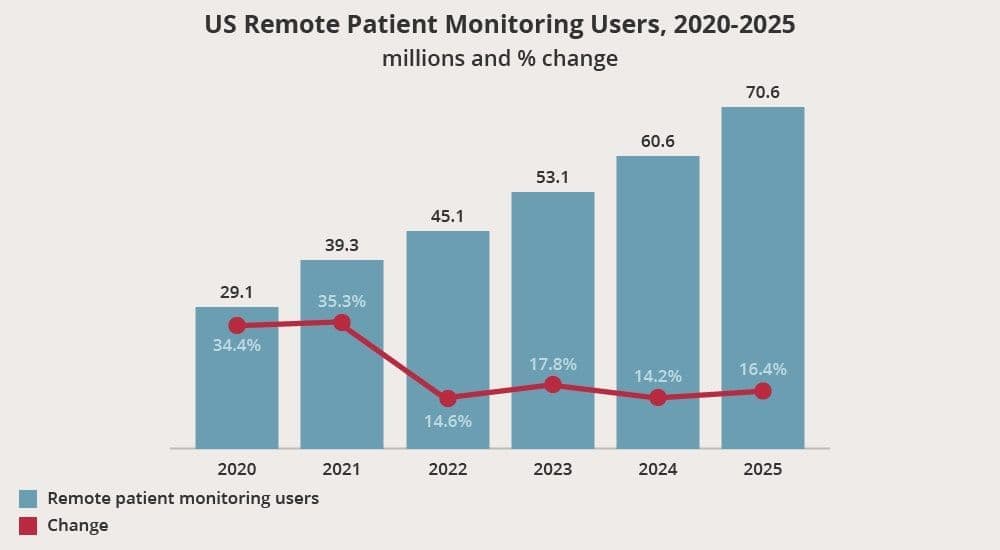 Source: Insider Intelligence
Remote patient monitoring is a hot trend in 2022, and there are reasons why this has happened. Let's review the key benefits healthcare providers can get by using RPM:
Increased revenue

Reduced operating costs

Eliminating much of the manual data collection

Flexibility for staff

Improved office efficiency

Fewer missed appointments and cancellations

Higher competitiveness

Increased patient satisfaction 
This technology trend is going to continue as using RPM provides greater accessibility of medical care and allows the delivery of high-quality medical care. Moreover, this trend will spread worldwide soon.
mHealth
mHealth is an abbreviation for mobile health that refers to the practice of medicine or public health supported by mobile devices. This industry is rapidly developing. In 2018, its total revenues nearly reached US$28 billion worldwide, and this amount is expected to reach over eightfold by 2025.
The primary group of users is chronically ill people who require the constant tracking of health indicators, but the benefits of mHealth technologies extend far beyond that. For example, at the height of the COVID-19 pandemic, many countries saw hikes in medical app downloads.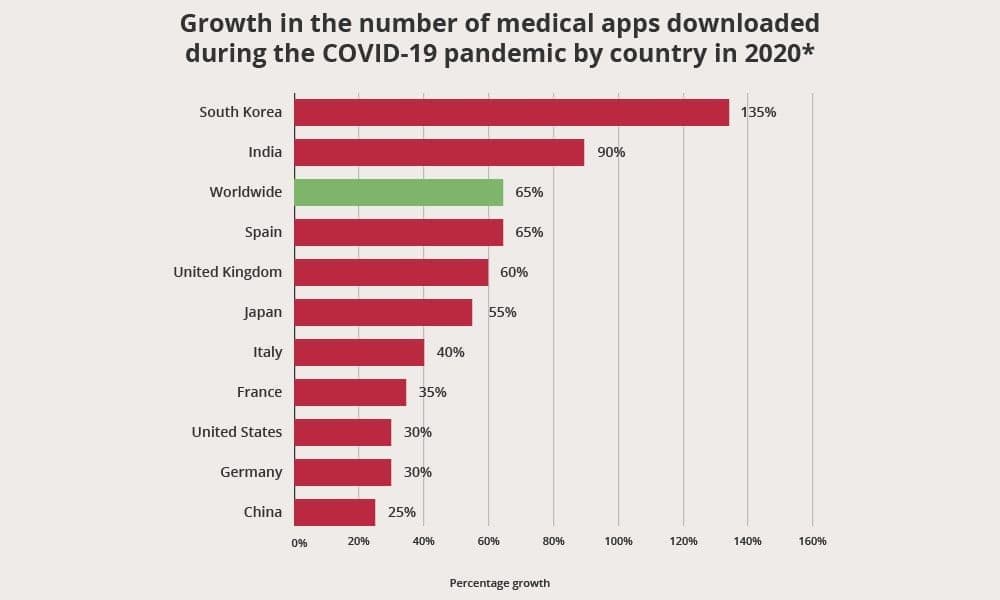 One of the main factors accelerating market growth is close attention to personal health and growth in use of smart devices and wearables. Moreover, today people are always on the go, so they strive to minimize real-life visits and hospitalizations and more conveniently track their health-related information. This factor also will further drive the demand for mHealth solutions.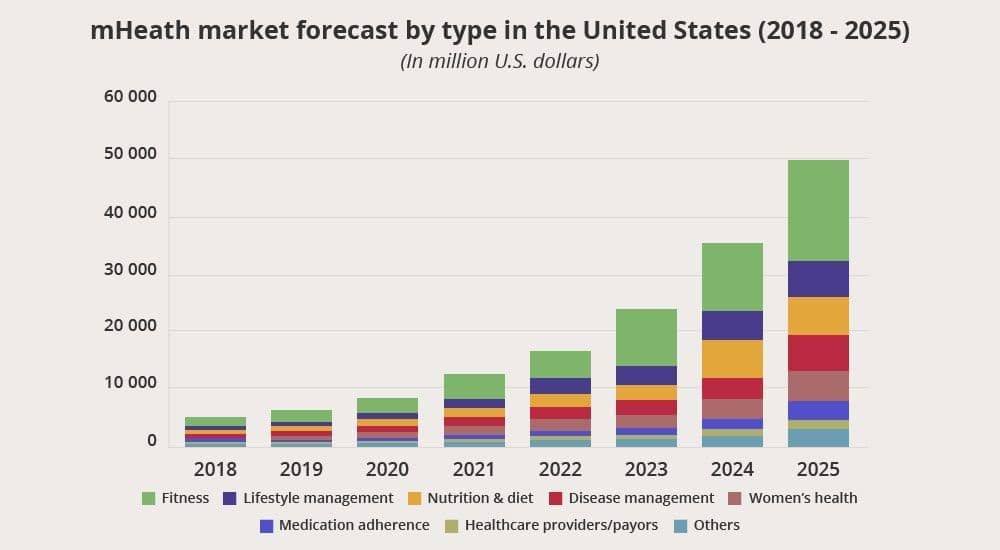 Final words
Now you know more about how technology trends are changing healthcare services for the patients and helping organizations become more agile with their operations, reducing costs and increasing revenues.
If you want to join the digital revolution and look for a team equally passionate about healthcare and technology, please don't hesitate to contact Onix. Our experienced developers, designers, and project managers know how to take your business to the next level.