If you wish to learn about software that is used in the tourism industry to help businesses meet various daily needs and adapt to the changing super competitive market, you're in the right place! As a travel agency software development company, Onix-Systems has repeatedly helped to create such solutions.
Travel businesses, some of the hardest hit by the pandemic, live a tough life. The share of giant online travel platforms in overall bookings keeps growing. Online booking engines and reservation services (which Onix also develops) have largely supplanted traditional travel agents that took and managed the reservations manually.
However, travel agencies also retain their traditional appeal, such as saving clients hundreds of dollars per trip, sparing them hours of online research and travel planning, and preventing costly mistakes. Travel businesses that want to survive and thrive must reinforce these advantages by accessing the best deals, reaching new customers, personalizing services, optimizing business processes, and reducing costs. The right enterprise and individual travel agent software should provide the solution.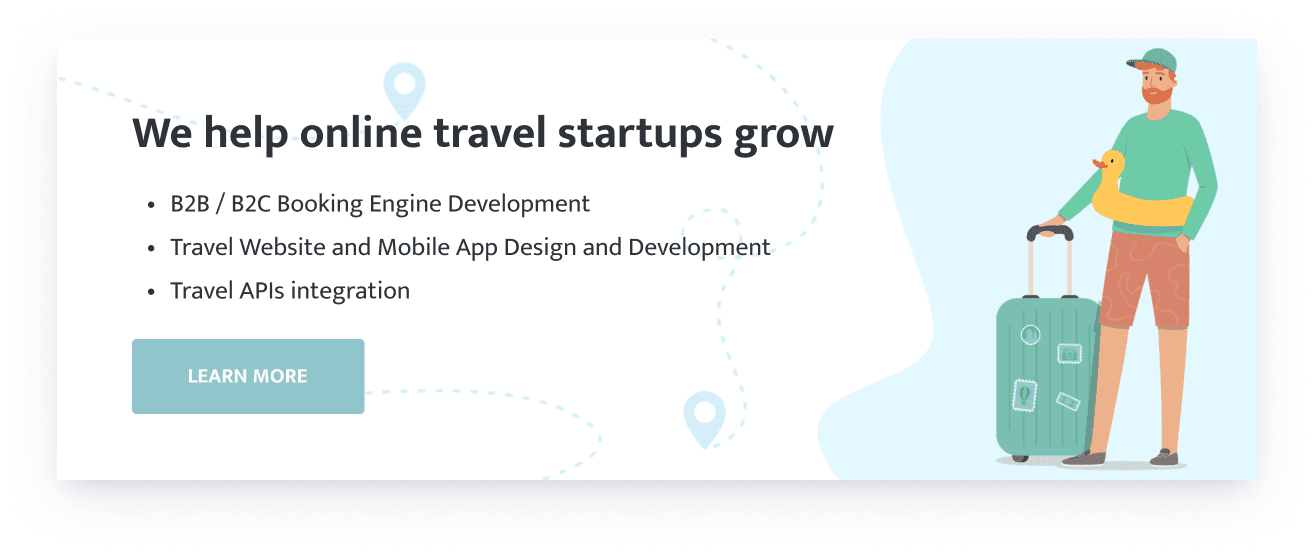 The first chapter of this article classifies the essential types and features of such software, and the second gives an idea of some of the most popular information systems and  software used in tourism industry.
Types and Features of Travel Agency Software
Travel businesses need a few types of software to cover both front- and back-office activities. Most tasks and challenges are common, so the feature set of software used in tourism industry typically includes:
Online Booking Service
Many travelers prefer booking hotels, flights, or activities themselves. Online travel booking software lets them reserve and pay for the services through a website or mobile application. The benefits for businesses and consumers alike include, but are not limited to:
booking process improvement;

optimized operations and reduction of administration processes;

centralized data;

greater freedom for the customers, etc.
User behavior analysis enables the applications to suggest most appropriate options for travelers to consider. Software for travel agencies should support multiple currencies and languages. Automatic confirmations and notifications are a must: both consumers and travel agents must be notified about the main touchpoints. Application programming interfaces (APIs) for connection to vendor websites ensure up-to-date pricing information. Price aggregators, within seconds, give the best price on the market and can even predict prices using historical data. Chatbots can facilitate bookings. By the way, we specialize in providing online scheduling and booking software development services, so feel free to contact us for advice.
Inventory Management, Reservation & Tour Building Tools
Tour building is one of the most time-consuming operations for travel businesses. It requires booking, planning, scheduling, and pricing of various travel products for each location. A travel agency's Central Reservation System (CRS), or travel portal, provides a connection to Global Distribution Systems (GDS) or networks of travel service providers across the globe. The vendors that access such distribution channels can update, adjust, and modify inventory and pricing quickly and seamlessly. A CRS thus empowers travel businesses to manage enormous inventories of flights, cars, bus services, hotel rooms, resorts, activities, vehicles, tours, cruises, and other services and handling multiple types of reservations in one place. 
Read also: Guide on Hotel Property Management Systems Development
A travel portal may combine booking engines for hotels, flights, activities, and transportation reservations. Accessing the system from any computer with an Internet connection, an agent can quickly make up a complete itinerary for a client or change bookings and airline tickets, if needed. There should be options for group or corporate travel and custom travel plans. Tour operators can use the software to organize and book tours too. 
A channel manager can help agents find the best travel deals available for their clients. By comparing multiple booking engines and travel sites, they can pick the best option for a client's budget. The faster travel agents can return quality searches, complete bookings, modify accommodations, and respond to delays or cancellations, the more agile they are in driving customer engagement and repeat sales. Improved booking management capabilities also mean greater insight into the travelers' buying patterns and the ability to offer more appropriate bookings to the right customers at the right time. 
Modern computing platforms allow travel agencies to update and highlight products, offers, and pricing in real time and to return comprehensive and curated search results quickly. Quote management features help them manage combinations of reservations the customers may choose and offer accurate quotes on the fly. Agents can also present several options for packages based on pricing and suppliers' inventory. With an itinerary creation functionality, they can allow users to view and browse documents with itineraries and pricing online or receive them via email. Travel agency software should also automate tasks like emailing customers their travel booking confirmations and reminders.
Such flexibility and agility are key to a travel agency retaining customers and offering value-added services to suppliers and other partners. The faster a customer can see personalized booking options, the more likely they are to proceed with a booking. Quicker response times and improved abilities also increase the travel agents' productivity and job satisfaction.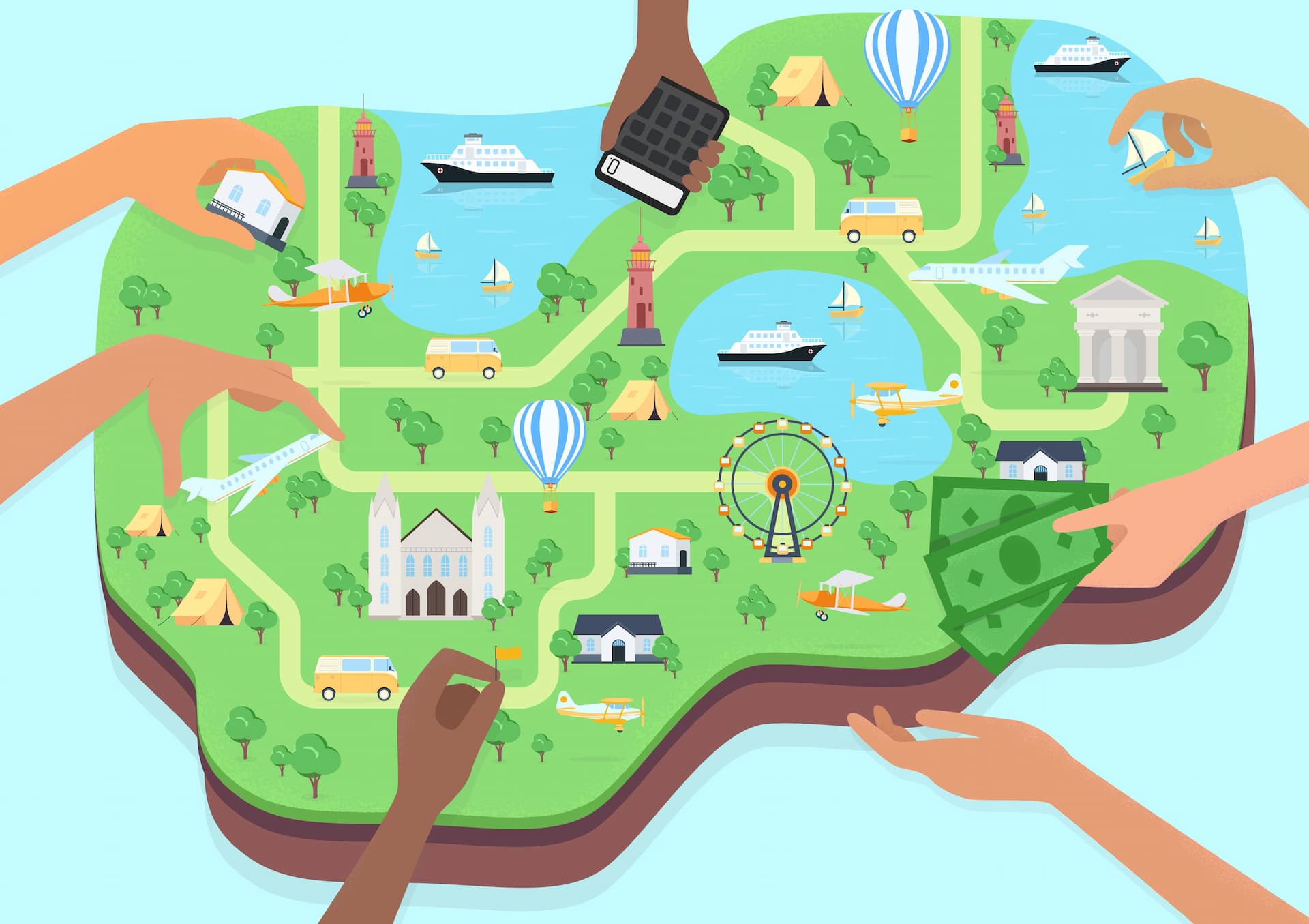 Customer Relationship and Marketing Management System
Most CRMs automatically generate lead and client profiles once they've requested a quote online. The initial data include the contact information, desired destinations and dates, etc. Then, the CRM gradually adds travel and purchase history, loyalty program participation, and so on. The properly stored and organized data should help travel businesses identify potential loyal customers and the most lucrative ones, design personalized advertisements, optimize marketing efforts, and facilitate the development of loyalty or other incentive programs. The travel agency information system should feature an effective search for customer preferences, undiscovered deals, vacation trends, etc. Because travel agents handle a lot of sensitive and personal information, data protection is a must. 
Many travel agency systems offer tools for sharing marketing materials on social media channels, optimizing the site with SEO tools, and managing targeted email or SMS campaigns. Businesses can use these features for advertising discounts and promotions.
Read more: Key Advantages of Using Ruby on Rails for Web Development
Billing, Invoicing & Accounting Software
Travel agents often need to organize invoices and keep track of payments for multiple clients simultaneously. A solution for travel businesses must offer features for billing and invoice management, the calculation of sales commissions, and other specific needs.
Most reservation tools do provide some form of financial management. There must be at least an online payment processing feature, accepting all major credit cards and providing invoices and receipts. If not, specialized software integration is required. For example, Online Invoices, which serves companies in all sectors, offers advanced features to travel businesses. They can send invoices to customers and partners via email and receive payment by credit card, PayPal, Stripe, or bank transfer, and analyze data to identify the most popular hotels and tourist attractions.
Accounting software helps users manage their travel agency company's financial health. If your Enterprise Resource Planning (ERP) or another software doesn't include financial tools, you may also need to integrate accounting software for travel agency needs. For instance, Xero is a cross-platform service for travel agencies, hotels, and hostels. It supports accounting in 160+ currencies and can be integrated with third-party tourism apps. Three pricing plans are available for different business needs. Each plan includes invoicing, mobile access via Android and iOS apps, connection to bank accounts, and secure SSL encryption. Thus, this will help you avoid fraud in online tourism.
The critical procedures in travel agency accounting are the cash flow statement, the general ledger, and the income statement. A travel agency must recognize revenue as earned as soon as a payment is received and declare the earnings on its accounting statements and for taxes. Cash flow management not only keeps track of its sales and incoming payments but also helps identify any financial problems. The accounting impact of all business transactions of the travel company should be recorded on the general ledger through the accounting software so that the company can keep track of its assets, everything it owns, and what it owes. The income statement records its total income and expenses to calculate the net profit over some time and give an understanding of the company's overall profitability. 
Read more: How to Create a Booking Website for a Tourism Business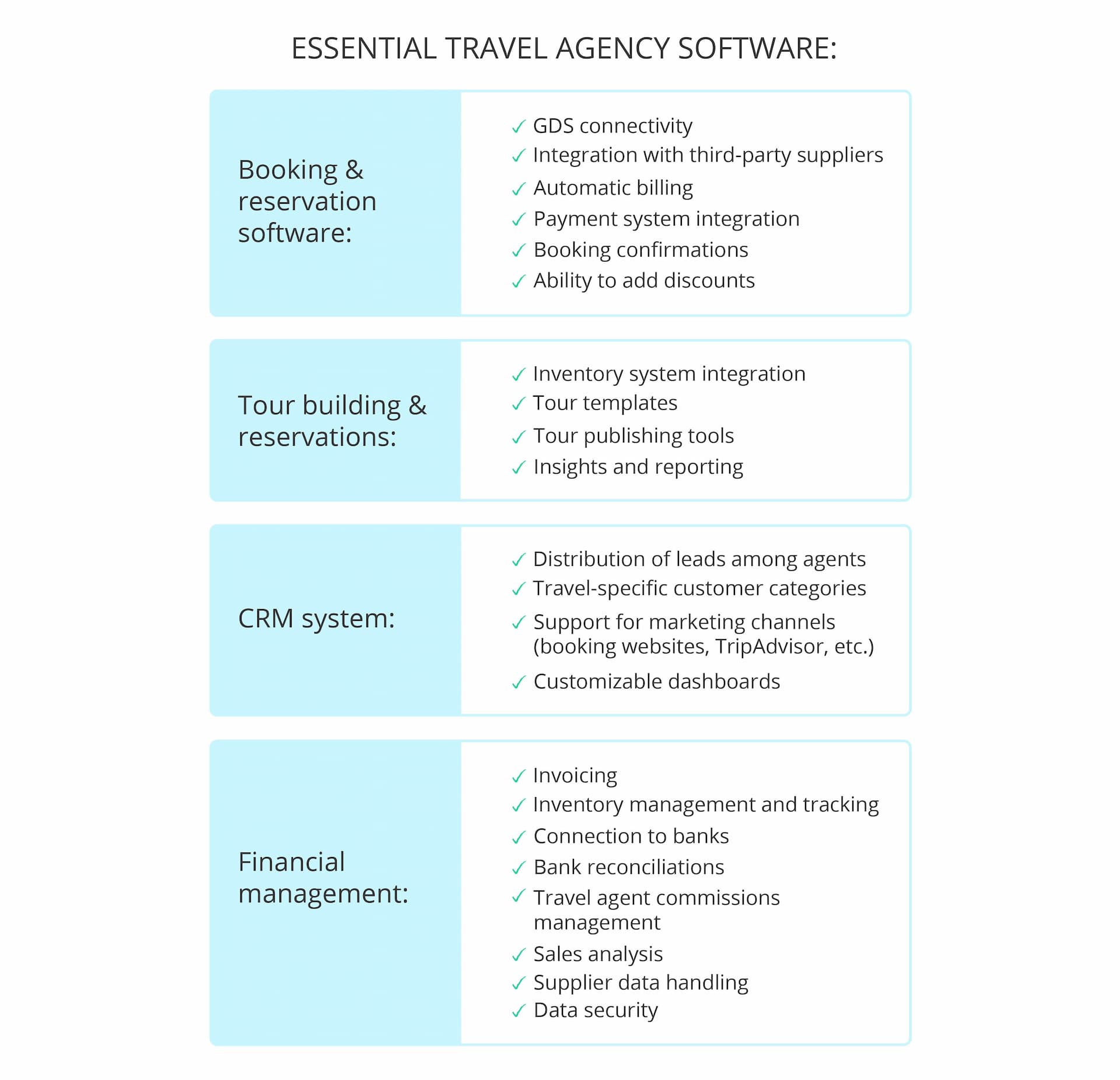 These are the functionalities that are indispensable for travel businesses. Among the features that are highly desirable, we should also mention:
Reporting features.

The functionalities let businesses collect and generate reports about sales, inventory, financial data, customers, and more. Such reporting functions can show them which destinations, seasons, and agents bring the company the most value, as well as any negative trends they need to address. Most travel agency software that has the functionalities offers templates for faster generation of standard report types.
Tech support.

Users need a knowledge base, FAQs, video tutorials, etc., and ideally a 24/7 chat or call service to assist with any issues.  
Travel agency software must be user-friendly and customizable as well. Ideally, it should align with the company's existing CRM or ERP systems.
The above classification applies both to specialized standalone software and to modules within a generalist software product. Travel businesses should look for solutions that span across the full customer engagement cycle and combine all useful features onto a single platform. Reservation management, invoice tracking, updating and monitoring of catalogs, and other processes are easier and faster when all information dwells on one platform. Luckily, most software for travel agency management combines several essential components.
Examples of Travel Agency Software on the Market
Businesspeople can look for and compare various brands of software on resources like G2.com, GetApp, or GoodFirms, or SoftwareAdvice. G2.com shows ratings based on user satisfaction and doesn't allow for paid placements. GoodFirms presents a list of travel agency software from around the world with a detailed outline of features and client reviews. GetApp's directory allows for making fast comparisons by filtering by the deployment method, operating system, pricing, platform (including Google Apps, Salesforce, Intuit, NetSuite, SAP), and supported location.
The following list of software for travel agency needs is non-exhaustive and alphabetically ordered. It should give you a snapshot of what's available for travel businesses of all sizes.
The software caters to traditional and online travel agencies. The platform gives real-time access to accommodations, activities, rentals, and packages, automatically displays prices in different currencies, applies discounts to loyal customers, and syncs data with Airbnb or Booking.com. A customer portal enables travelers to see information about their departures, arrivals, and transfers. It contains a built-in CRM and advanced financial reporting. Bookinglayer also has an installed payment mechanism with customized surcharges.
Dolphin customers range from independent travel companies to multinational corporations. The platform provides back-office support for reservations, sales, and customer communication. There are also solutions for business travel agents with integrated company and client profiles and other functions for commercial relationships.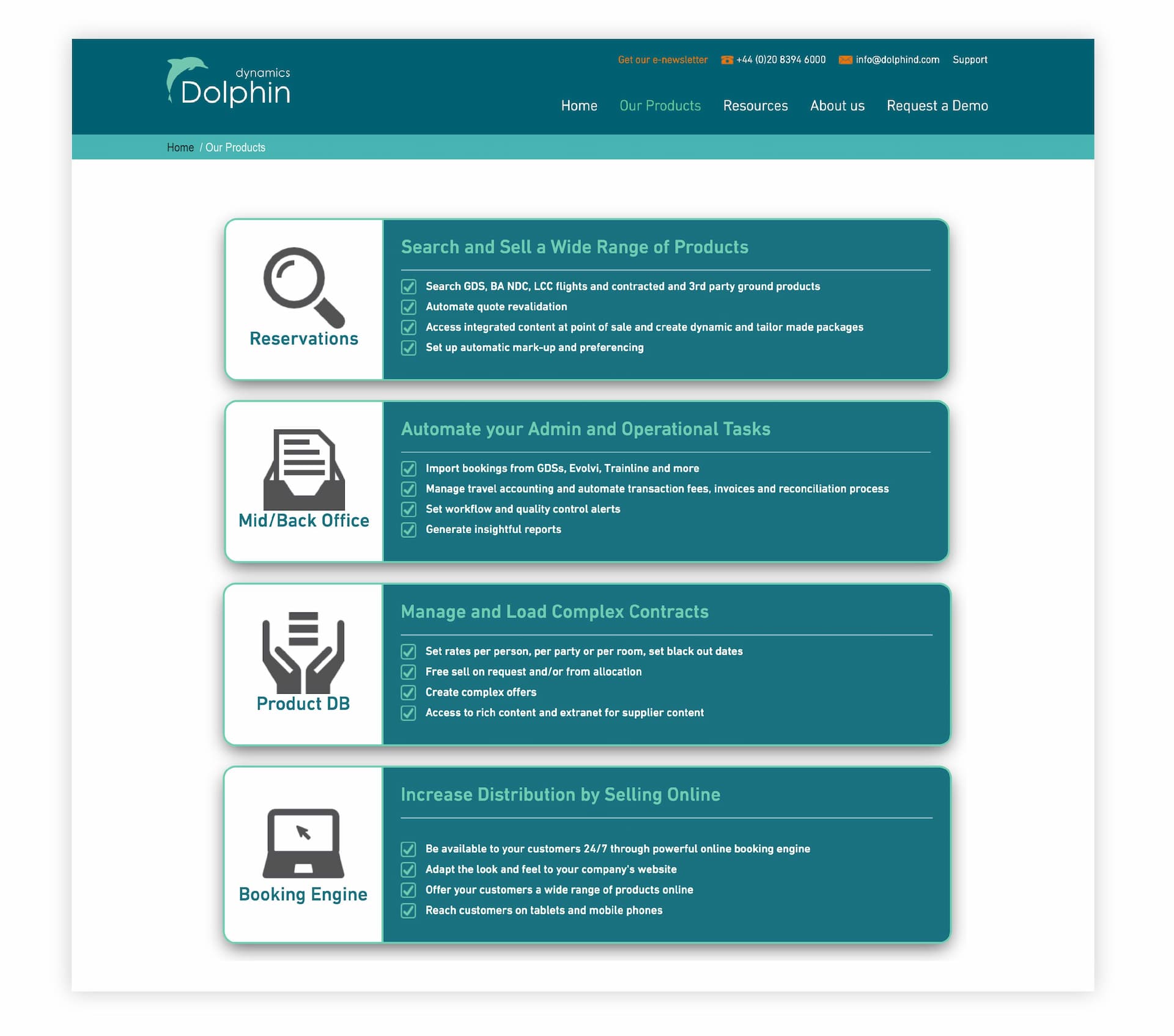 The extremely user-friendly software offers booking and sales solutions both for B2B and B2C models. Lemax supports multiple languages and currencies. It's integrated with Travelport Galileo and Amadeus GDS to allow travel agencies to add flights, hotels, rentals, excursions, vessels, cruises, and more. Lemax API can be used virtually for all travel booking operations.
This cloud-based tool was designed for small, specialized tour operators, e.g., bike or trekking tours, brewery/wine/food tours, and even escape rooms. With Orioly, they can promote and distribute their services, process payments, and manage inventories on one platform. A handy activity building tool allows to design, publish, and sell excursions in a single user experience flow. Orioly offers monthly and annual plans and charges a commission per ticket.
This open source travel agency software caters to tour operators, airlines, hotels, car rentals, and other services. The rich modules can be used separately or in addition to an existing solution. A travel agency's software developers can customize the tool to meet specific requirements and use the available code for a mobile application.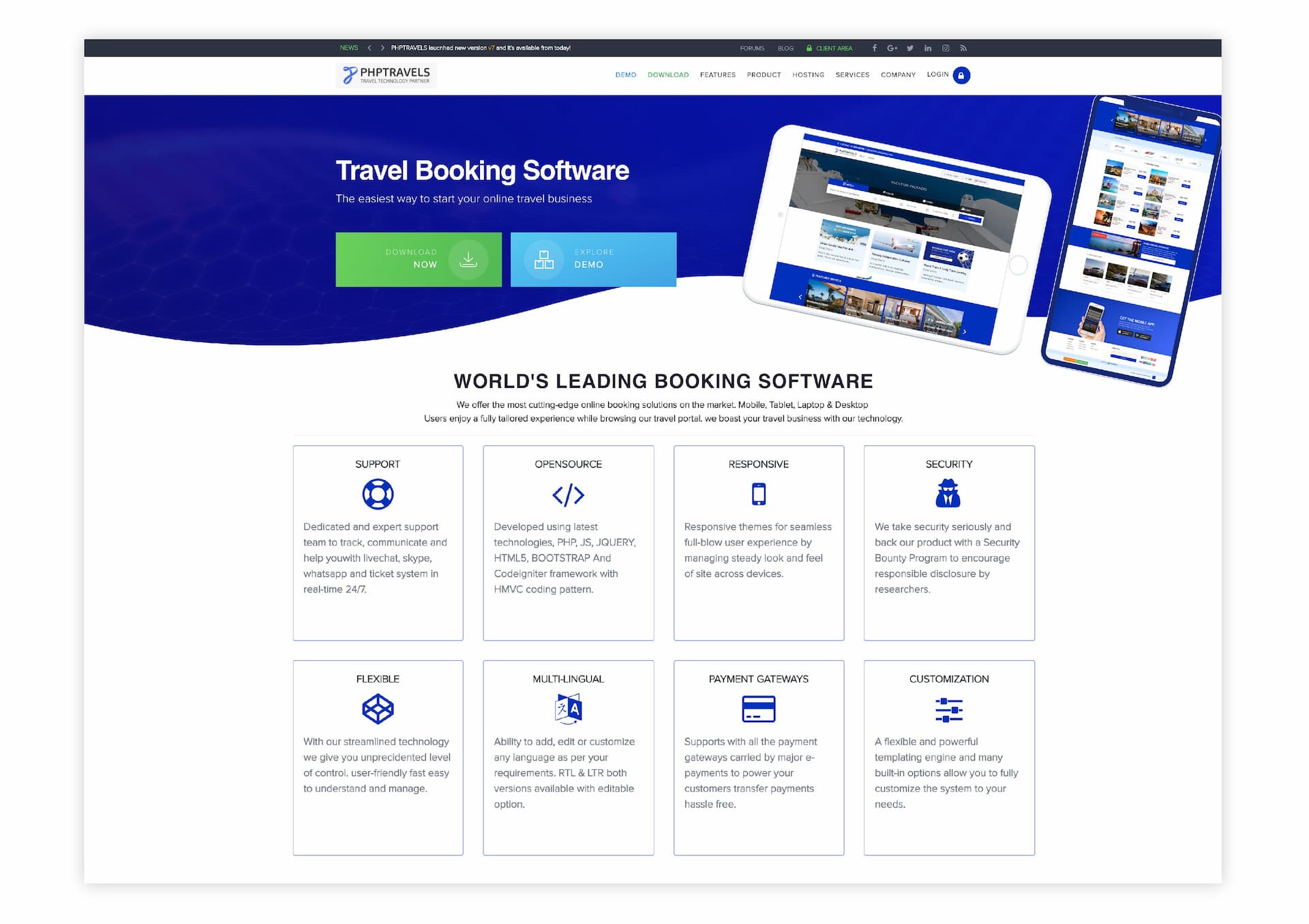 The software's features range from an online booking engine to advanced reporting. A channel manager enables travel agencies to scale their distribution channels and automate inventory updates. Rezdy offers three pricing plans, with an option of customization for high volume bookings.
This solution is designed for destination management companies, travel agencies, and tour operators. The web application includes bookings, trip building, quotations, sales and marketing, logistics, finances, web site (CMS), document creation (information sheets and travel books, price lists, vouchers, invoices, etc.), and more. The subscription plans are based on the number of users, and there are fees for hosting services and backups, additional hosts, languages, and other supplements.
The tool for tailor-made itinerary development has a drag-and-drop itinerary builder, automated supplier confirmations, and custom reports. Tourwriter provides three pricing plans targeted at individual agents and small to medium travel businesses. Each plan allows for creating an unlimited number of itineraries and clients, but the number of suppliers is limited in the first two tiers. The third, enterprise tier, allows unlimited suppliers, has groups and accounting modules, and gives access to APIs. 
In Conclusion
Tourism is a major driver of job growth and economic prosperity. Self-employed travel agents, brick-and-mortar and online travel agencies, tour operators, and other travel businesses have all the chances to thrive as well, but they have to adapt to the constantly evolving market in a highly competitive climate.
The ongoing digital transformation of businesses is another challenge, but can become a competitive advantage. Modern technology, software, and solutions help provide smoother tailored customer experiences, streamline business processes, automate operations, add flexibility, agility, and transparency to transactions, help reduce costs, and drive sales. That's exactly what suitable travel agency software can do.
Various types of software for travel agencies and features within such software help professionals and companies in this industry:
manage flights, hotel rooms and lodgings, car rentals, and other travel products from around the world quickly and flexibly;

provide the greatest variety of services to travelers;

compile and offer vacation packages, quotes, and itineraries to the customers rapidly and conveniently;

streamline time-consuming tasks like reservation management, invoicing for individuals and groups, paperwork and scheduling, payments, travel agent commissions tracking, and complying with travel industry regulations;

access current and prospective clients more freely, market products in various ways, promote offers more efficiently, and strengthen relationships with customers;

track and analyze customer feedback, the business' financial health, and so on for valuable insights.
Consumers also value handy applications where they can manage bookings, travel itineraries, payments, and much more from any location at the last minute. Moreover, users' interaction with services is increasingly cross-device and graphic-based, so the solutions must be visual and adaptive. Smooth customized user experiences drive more bookings and repeat business.
Almost every aspect of a business' growth can be enhanced and driven by technology. When your rivals are doing the same, adopting such technology is vital.
When looking for off-the-shelf reservations, marketing, or accounting software, consider your unique needs and issues. For example, requirements for corporate travel differ from those of group leisure travel, so you may want a specialized solution. If you opt for a custom application, specify your requirements to the software developer.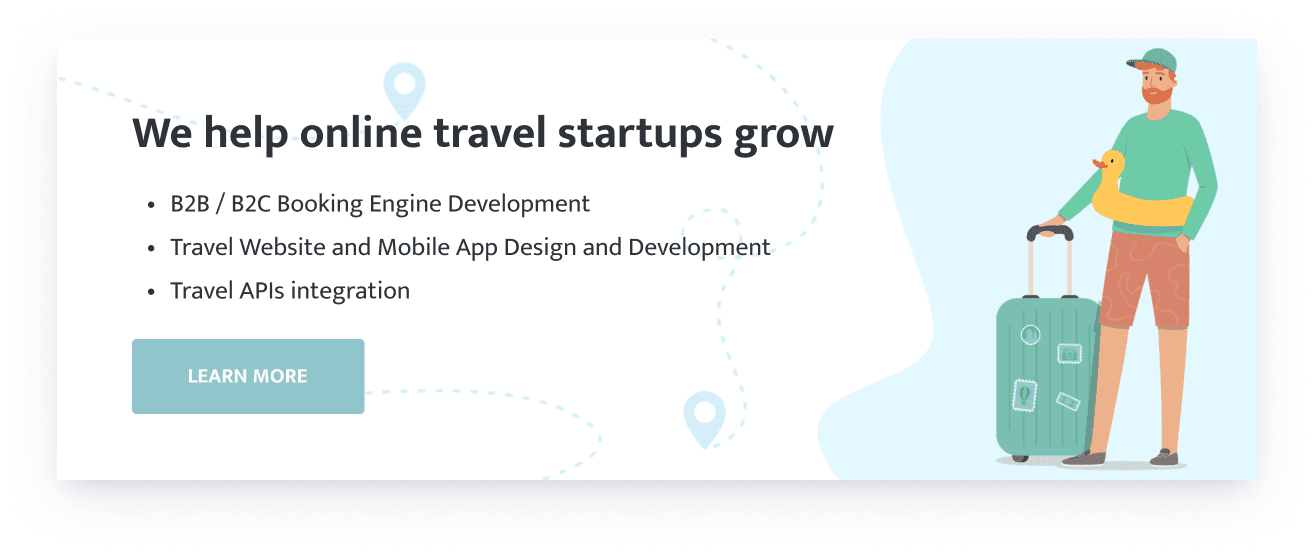 Whatever your requirements or ideas, feel free to contact Onix's professionals — we'll be happy to help!
FAQ
What is travel agency software?
This type of software is designed to enable travel businesses to manage travel products, such as flights, lodging, and activities, offer packages, quotes, and itineraries, manage marketing initiatives, process payments, and monitor the travel company's financial health.
What are the main features of software for travel agencies?
The software for travel agency use may include at least the following:
a portal for the customers' online booking and reservation management
an online booking engine for hotels and transportation
functionalities for accepting online payments, invoice generation, and bills and payments processing (directly or through integration)
a management system for multiple aspects of an agency's offerings
administrative tools for acquiring and maintaining customers
Where should I look for travel agency software?
The starting point is industry publications and resources like G2.com, GetApp, GoodFirms, and SoftwareAdvice. You can find information about and compare the features, pricing, and other aspects of various off-the-shelf solutions. If the available options don't cover your travel agency's unique needs or can't solve your problems, you may order a custom solution with a travel software developer like Onix.