Are you sure your product design decisions are based on valuable insights, not intuitions? 
Luckily for you, there is a great way to analyze your digital product and get specific recommendations. UX audit is a data-driven approach that allows you to define actual customers' needs, improve products' quality, and achieve your desired business goals. Forrester's research once reported that, on average, every dollar invested in UX brings $100 in return. 
Based on our experience and real-life examples, in this blog post, we explain in greater detail what designers and other specialists do along UX lines, what benefits it brings to your business, show a UX audit report example, and talk about UX audit costs. Enjoy!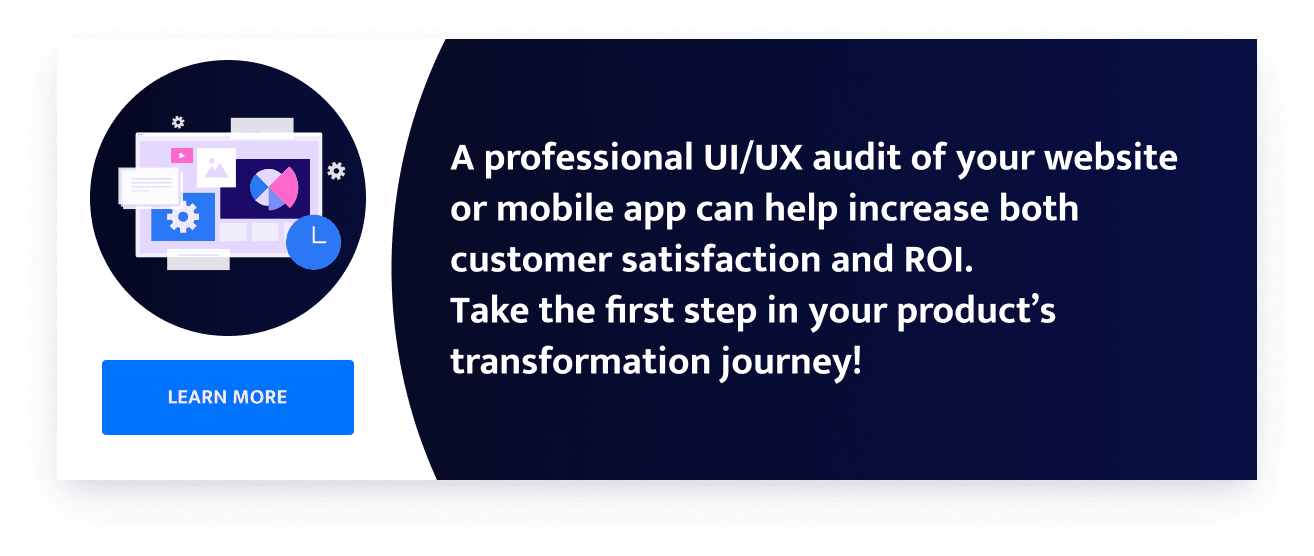 When to and why conduct a UI/UX audit
The rule of thumb is that a holistic audit is necessary at the beginning of redesigning a site that has been live for some time. New features are usually evaluated with just usability testing.
Other possible reasons for having a website user experience audit:
your website is a few years old;
data indicates that traffic has declined;
the site was never or not regularly tested by a UX expert;
your team does not have a professional UX designer;
your site improvement process doesn't take user feedback into account;
startup launching for a new product needs an external opinion on whether the MVP is user-friendly;
a new website does not perform as expected, e.g., user signups are suspiciously low; 
the web pages rank well, but conversions are poor or stagnant;
after three or more months since the website redesign, instead of generating more inquiries or sales, the numbers are flat;
a company wants the site to grow;
it's time to update the information hierarchy, or the user flows;
SEO professionals require an audit to support their marketing strategies.

What are the benefits of a UX audit?
A UX audit is an expert evaluation of your website's performance in terms of usability and user experience. Here are some of the key benefits you can get from conducting professional UX reviews and audits:
Website design decisions based only on valuable insights
A review will help you determine the reasons for low retention and conversions or other issues you're experiencing. When UX teams test with real users, they help to confirm the hypotheses. Recommendations based on observation and measurement, rather than guesswork and opinions, can help to update the website faster and more effectively.
Increased lead flow
After you work through and eliminate major issues, website lead flow may increase by 10% or more in the following month. Before a redesign, the awareness of friction points and cognitive overloads that lead to low conversions helps to address them upfront. After a well-executed UX audit and research-based improvements/redesign, conversions may increase by as much as 30-75%.
Enhanced customer loyalty
The results of an intelligent redesign, such as better user engagement, more accessible information, faster task completion, fewer support calls, and others, will help improve customer loyalty, retention, and promote a better brand perception.
Better understanding of your website opportunities 
Along with any defects, a full UX review will help you understand your website's strengths and find opportunities for improvement.
User experience during product development and beyond
User experience encompasses the practical, experiential, and affective aspects of human-computer interactions. UX designers aim to enhance people's satisfaction with a website, mobile application, or other software. They primarily focus on several high-level constructs defining the UX measures:
Utility
Usability
Aesthetics
Stimulation
Identification
Value
If you want your website, web application, mobile app, or another product to generate revenue, it's vital to check all these items, even for the minimum viable product. 
In user-centric software development, which is Onix's approach as well, UX permeates all stages of product creation, and everybody is involved in the appropriate UX assurance.
Every commercial website is built to have visitors take target actions – sign up, make a purchase, and so on. However, there's actually much more to it. Users should want to do it and be able to do it easily. 
During the ideation and business analysis stage, project managers elicit the businesses' requirements and thoroughly study the end-users needs. UX designers and developers provide usability consulting when a specification is written or assessed. Wireframes and prototyping are all about website usability, as is the UI/UX design stage. 
The right technologies and quality programming help ensure the system's proper performance, and excellent content should also increase future users' satisfaction.
Usability testing should be set up during the development stage and afterward. It helps detect any problems, distractions, or bottlenecks in the website's work that prevent users from taking the desired actions.
The quality assurance and product acceptance stages may be considered a website's first user experience audit. For example, a UX-centered QA audit may cover, at least, the conformity of the site's:
text and non-text content
labeling (e.g., page titles, breadcrumbs, and the labels of the forms, grids, etc.)
the general, search, and workflow navigation
controls and links
forms
feedback elements
visual hierarchy
accessibility
Subsequent UX assessments should be part of the ongoing maintenance. They will show whether the website continues to meet the users' and business needs in a changing world.
Continuous testing and adjustments will help maintain a high overall customer satisfaction level.
If developers built the system thoroughly and have considered all usability trends, the website should perform well for years. Owners may start neglecting regular health checks. The need for conducting a UX audit becomes more urgent when a website underperforms or causes problems for the business. In this case, external assistance should be sought.
At this phase of a website's lifecycle, owners usually request an audit from Onix. An outdated UI design is a less severe case. The owners wish to improve users' experiences to match the upgraded look. Their request for a professional UX review is also motivated by a desire to test our skills in case they order a redesign with Onix.
How user experience audits are done
UX audits can be roughly divided into UX review and usability testing. The first identifies any misalignments between the business and user objectives. The UX teams may review 100+ secondary factors that affect conversions along with the six primary constructs.
Depending on the website type, audit goals, and the client's and auditor's requirements and limitations, a UX audit process may include a variety of components and methods:
Technical audit
Traffic/engagement
Form analysis
Search log analysis
Links audit
Click tests
Navigation testing
Heat maps analysis
Scroll maps analysis
5-seconds testing
Website content audit
Sales data analysis
Acquisition-behavior-conversion
Surveys, polls, and interviews
Wireframing and prototyping
Analysis of competitors' sites 
Marketing audit
Usability audit
Here are some of the key steps you can take during a UX design audit:
Understand business goals and prepare a baseline
First and foremost you should clearly define your end goals to confidently know what results you are eager to achieve. For example, your goals can be a higher conversion rate, increased revenue, and other things vital for the company.
Analyze your current users and define your target audience
Any successful product is created with an end-user in mind. So when conducting a user experience design audit, you should thoroughly analyze the audience since user experience directly depends on users' needs. 
This in-depth research allows you to clearly define your buyer persona and create a website that speaks to your visitors in their language, showing that you know their pain and offering a great solution.
Carry out a heuristic evaluation
There are 10 general principles for interaction design created by Jacob Nielsen that all digital products should follow to make them more user-friendly. These broad rules of thumb allow you to use a product from the user's point of view and ensure you meet their goals and expectations.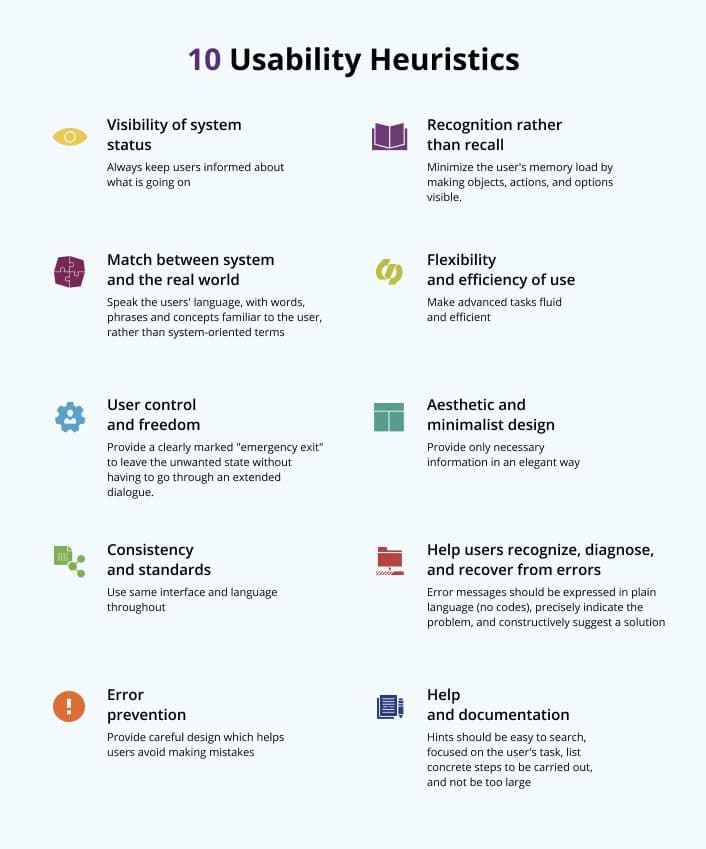 Analyze website metrics
To identify the gaps and have a better picture of what to pay attention to, it's better to analyze your current metrics (website traffic, conversions, time on site, churn rate, bounce rate, etc.)
Test and collect feedback
When you implement new design solutions, it's vital to analyze them and optimize them if needed. 
For example, at Onix, we use HotJar to understand how users really experience our design solution. Using Heatmaps, we examine what is and isn't working with our images, text, etc. And when a product prototype is ready, we implement and analyze the analytics. Web analytics enable us to collect, measure, and analyze web data to know what to optimize for website effectiveness.
Use practical tools
Testing on users is integral to an in-depth UX audit. It implies using advanced analytics instruments and tools that anonymously track users clicking, scrolling, looking, and moving within a website. It shows where users got stuck, hesitated, looked for the information too long, or even left the site. Today there are a few useful tools you can use during your website UX audit and get valuable insights:
Kissmetrics helps you track, analyze, and optimize your digital marketing performance.
Google Analytics can provide valuable insights regarding your website visitors, which you can utilize for user experience improvement.
HotJar helps understand how users experience your design solutions, what they do on your website, and what attracts them most.
Mixpanel captures specific behaviors you set, for example, "how many users clicked the CTA button from the home page." The results allow designers to understand what works and what to change to boost the conversion rate.
These UX tracking and analytics tools allow you to see visitors' flows towards a set goal on your website, and better understand what distracts users and which parts of the user journey to change. Depending on traffic volume, tracking user behavior and website performance may take a few days or weeks. For instance, evaluating a SaaS product and marketing website will take two weeks.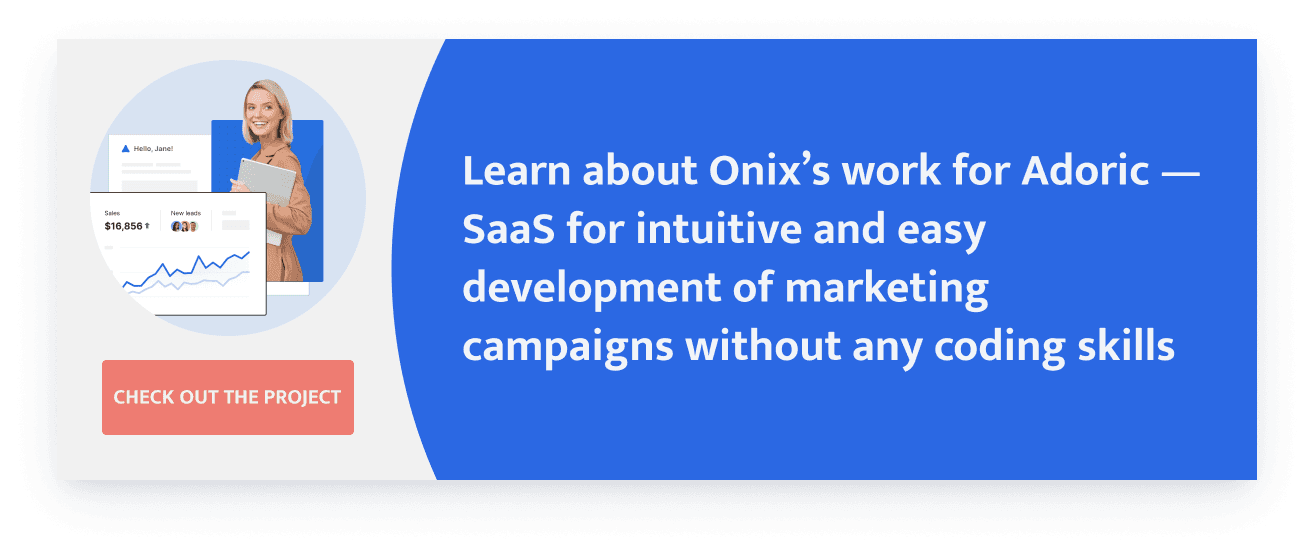 UX audit report
The deliverable of a website usability audit is a UX audit report. You can see an example here, but formats vary, often including videos. The document not only cites statistics on the visitors, sessions, bounce and conversion rates, etc. but also identifies those elements that distract users or hinder conversions and supports the findings with facts.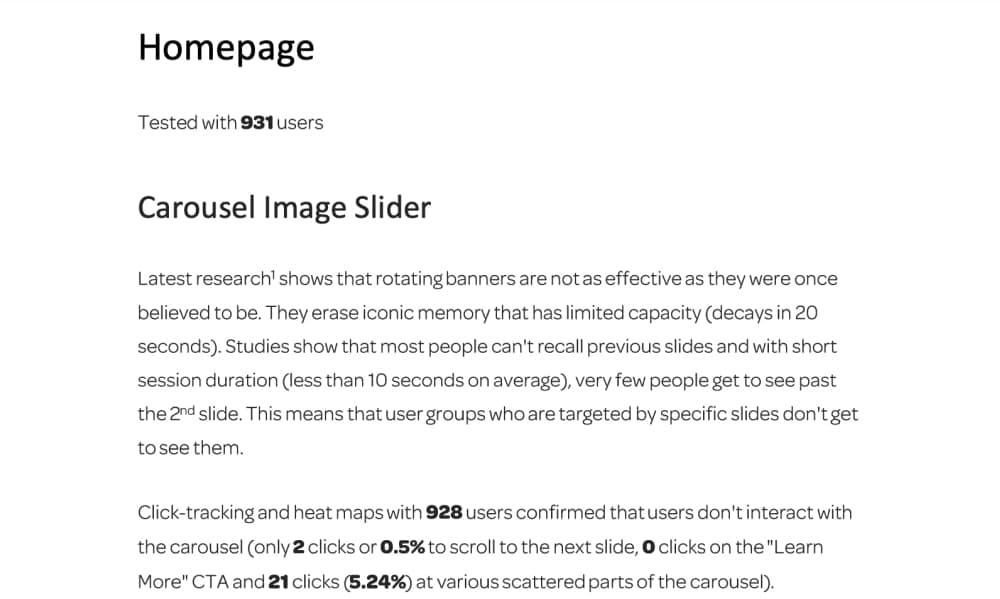 Simultaneously or afterward, prioritized recommendations are given for fixing issues and improving the site's performance, specifically for search engines, onboarding, increasing sales, etc.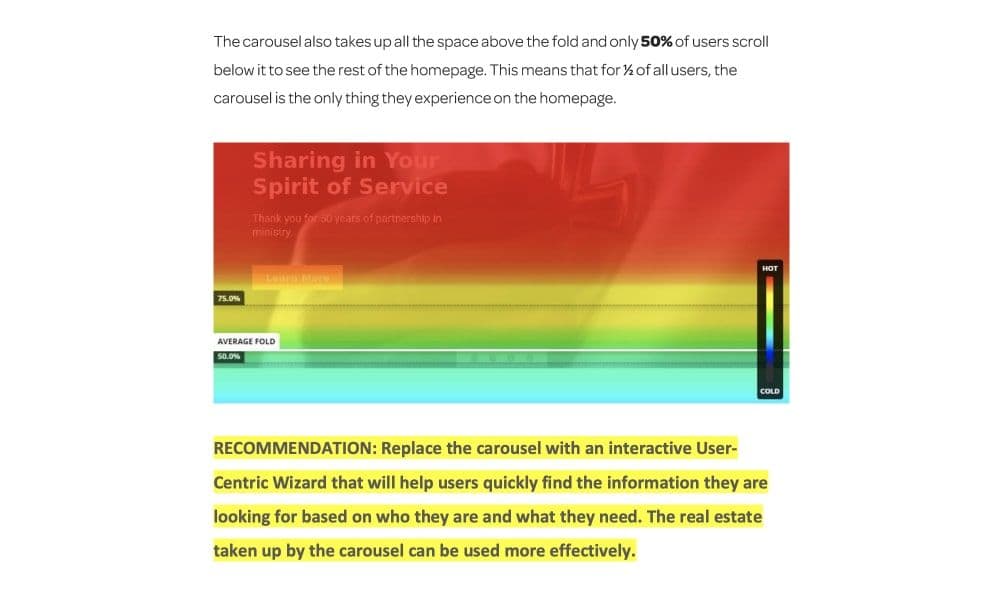 The report also offers mockups and resources for such improvements. Experts may organize a presentation or video conference and walk the client through every issue or recommendation.
We believe that not every case requires considerable time, effort, and money investments. Usually, mere compliance with UX standards proves sufficient for solving most issues.
Our professional UX designers check the website for compliance with UX best practices in the first place. The information provided by the client helps to simulate the visitors' experience on the site, test the user flows, and identify the points where users are likely to incur difficulties. There's no observation or experimentation with real users, mainly because the sites are in niches where an experienced designer can immediately see any mistakes and problems.
When we need to interview and observe users actually interacting with the website, we recruit a few volunteers. According to the world's foremost authority in UX, just five users can reveal about 85% of all usability problems on a website. 
The stated short timeframe limits the audit scope. However, the evaluation of even five pages may result in eye-opening insights, provide a proof of concept, or convince stakeholders that a further thorough examination is warranted.
The resulting UX report includes:
Initial impression
Website structure
Components prioritization
User flow
Fonts
Colors
Readability
Mobile responsiveness
(Parameters 1, 3, 4, and 8 are critical to conversion rates)
Page-by-page list of identified issues and less-than-perfect areas, including annotated screenshots;
Heuristics-based recommendations for corrections.
The report may also recommend testing with more users, mobile device testing, SEO enhancements, or even a complete website redesign.
How much does a UX audit cost?
UX audit cost depends on various factors such as the scope of your usability audit, what specialists will work with you (freelancer or UI/UX design team), team location, and its rate. 
Moreover, the cost of user experience audit services depends on the website's complexity. If you need a UX audit for the site's main pages, it will generally take about three days. If it's an audit for a complex system, designers first need to figure out how it works – all this will take more time and cost more.
For example, a three-day audit representing a checklist of the significant challenges will cost up to $1,000.
If you want to know the accurate cost to conduct a UX audit, discuss your idea with our experts, and we'll calculate your auditing costs.
Onix-Systems experience
Nearly 20 years of successful web and mobile development we ensure an excellent understanding of the UX requirements for businesses. Using our user experience audit services, you can verify if your app or website design corresponds to your business goals and modern UX, define any design issues, and achieve your business goals faster.
Our professional UX audit services provide you with the following benefits:
Increased user engagement
An intuitive user interface
Increased conversion rate 
Improved bounce rate
Defined buyer persona according to your target audience
User satisfaction
and many more
Our UX/UI specialists use state-of-the-art tools and practices to provide UX audit on the highest level. Below we provide you with examples of our UX audits and show how we describe the problem/solution in our UX audit report.
Problem. The home screen for trial members displays only the profile and goals set up status. As the app's starting screen, it provides too little functionality.
Solution. We suggest moving all functionality available to trial members to the home screen. There might be a kind of dashboard with
an indication that the user's membership type is trial
features available to trial members for free
features they can unlock with a paid subscription
preview of features available to premium members to entice users to consider upgrading
preview of challenges since currently, there is no indication for trial members that challenges can be unlocked with the premium subscription.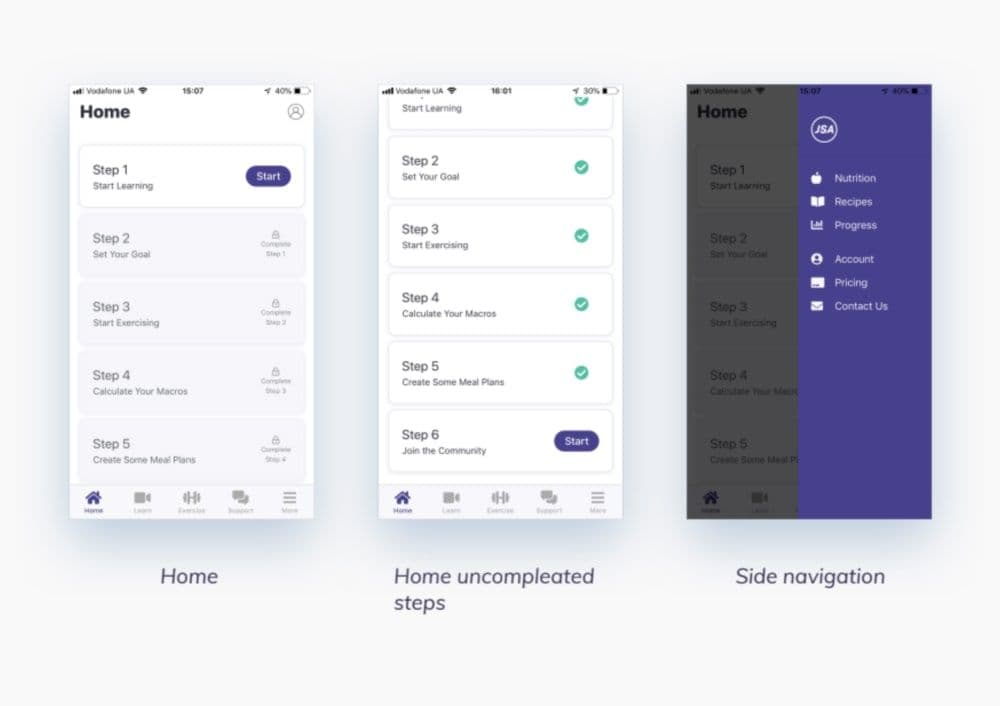 During the UX audit, our designers defined some issues with the video feed.
Problem. The feed shows only new videos. Categories are an essential part of this tab, but they are hidden in the side menu and thus may be overlooked. The search field takes up useful space on all screens with videos that can be used to show more suggestions instead. This might be especially handy for users who may not have a particular video in mind but merely browse the directory.
Solution. Enrich the feed with sections and categories so that users know right away that they can find what they need and want to see. Allocate space for Favorites on the feed tab and make this option more noticeable, as the users tend to browse the library, mark videos they want to watch, and then return to the list of marked videos again and again. We suggest using a button for search, which will open the search field. This will save space for more options.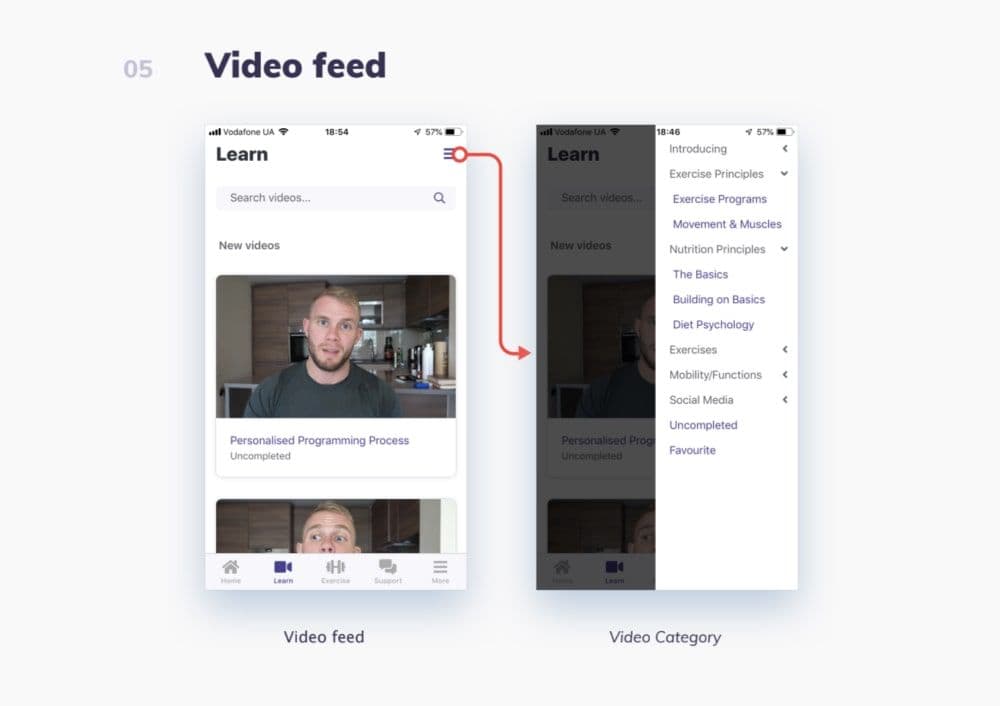 Also, we found some problems with the exercise screen. Here are our recommendations:
Problem. The screen has two sections with equally prominent CTA buttons: Preferences and New workout. The user may feel confused, not knowing whether it is better to use presets or create a workout from scratch. Moreover, the functionality of the upper section is not self-explanatory. James' workouts part has a horizontal scroll, which is not a typical/recommended solution for this type of feed. Like many social networking apps, a vertical feed would be a more familiar and user-friendlier option.
Solution. Make James' workouts and user's workouts separate tabs. Make Jame's workouts scroll vertically with sticky compact filters at the screen top, which will allow users to quickly find what they need and add it to their training schedule. Add compact calendar navigation to the My workouts tab as a shortcut to the day users need to access.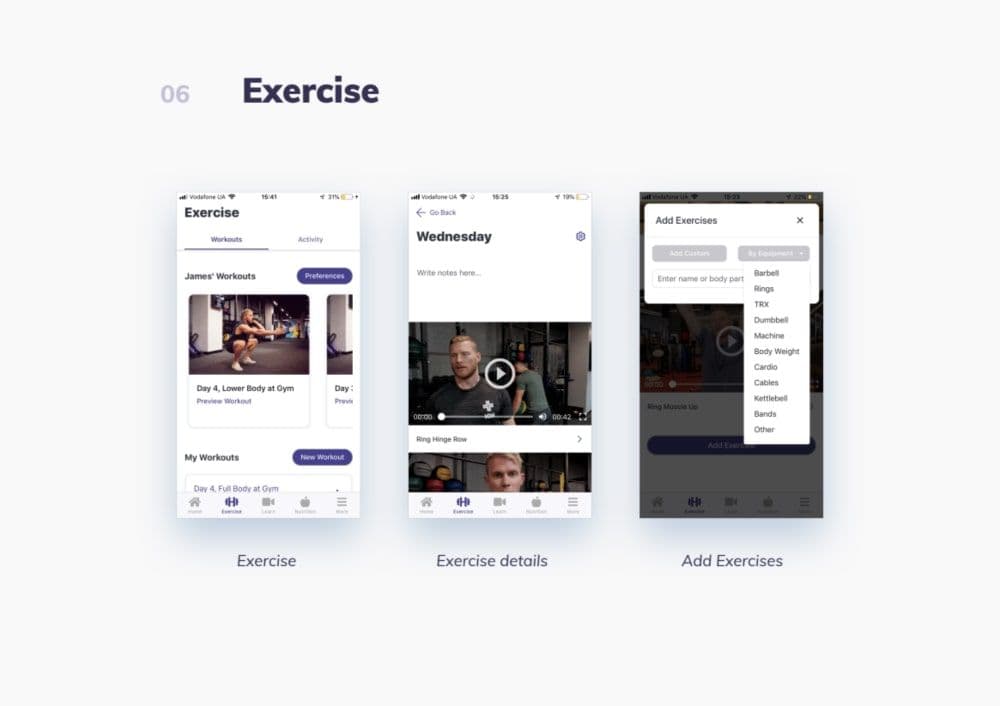 We demonstrated only a small part of our UX report. If you want to see more examples of our UX audit reports or you need a detailed analysis of your product, feel free to contact us.
Onix-systems is your reliable website UX audit company
Through usability audits and other methods, UX experts create an alignment between the business and website visitors. However, it takes a whole team to build, test, maintain, and promote a quality website. Besides each team member's skills in programming, web UI design, information architecture, functional testing, or content writing, the knowledge of and experience in UX quality assurance is a must.
Contact Onix if you are looking for this kind of team. Our usability audit service can be the first step in your product's transformation journey!
FAQ
Why is UX audit important?
A professionally done UX audit helps you define the current design gaps and issues. Through usability audits, UX experts help you to create an alignment between the business and website visitors. As a result, you can design your product based on reliable data, not assumptions, gain a new product perspective, improve performance, draw more traffic, and increase conversion rate.
How do I choose a UI/UX design team to conduct a UX audit? 
To make the right choice and hire a reliable design company, it's better to pay attention to important factors such as portfolio, relevant expertise, experience, location, previous clients' feedback, etc. Moreover, to choose the right company, you can talk openly with its specialists and ensure they understand your problem and know how to solve it with modern and reliable technologies.
Do you need users for a website UX audit?
No, users are not required. Usually, UX designers analyze a website for compliance with generally accepted usability standards and practices.
How much does a UX audit cost?
UX audit costs may vary on various factors. To accurately answer this question, we need to know your product idea, its complexity, and the number of required pages to audit. You can share your idea with us, and our experts will calculate your UX audit costs.
Do you have examples of your UX audit works?
Sure! Over twenty years of successful web and mobile development, we ensure an excellent understanding of the UX requirements for businesses. Here you can see how Onix experts help verify if our client's app or website design corresponds to their business goals.