Although the construction industry has improved significantly, it's still in desperate need of transformation and optimization. Most work is extremely dangerous, unattractive, and ineffective for construction workers. Today, many construction companies are looking for an effective solution to solve these problems. And, if you're reading this article, you're probably one of them.
Well, what if we told you that there's a solution that can reduce all these problems, enhance safety, improve staff productivity, and increase profit? This solution is Virtual Reality technology. 
In today's post, we're going to tell you how VR in the construction industry solves issues, show you how to benefit from VR, and and demonstrate how you can use virtual reality in the construction industry. We will show you construction VR use cases and share our experiences. 
Please keep reading!
What are the Benefits of Virtual Reality in Construction?
Nowadays, VR is truly gaining momentum. According to the Fortune Business Insights report, the global virtual reality market is expected to grow from $6.30 billion in 2021 to $84.09 billion by 2028. Moreover, the survey of 33 top UK construction organizations found that 36% of them are planning to implement VR technology in their processes.
The demand for the use of Virtual Reality in the construction industry is so high for a number of reasons. There are a number of substantial advantages VR solutions can bring to the construction industry.  Let's take a closer look at some key benefits of VR in construction.
Memorable User Experience
VR makes the customer experience more comfortable, effective, and pleasant. Using this technology, you can bring your clients closer to their buildings. VR technology in construction lets people make virtual visits to see how the project is going and always stay up-to-date. 
Moreover, clients can virtually model buildings, rooms, and furniture to make sure it is right for them before investing in it.
Better Construction Management
Using Virtual Reality in construction management can bring significant improvements and advantages. VR technology allows for the building of 3D models that will contain information about the future building and provide an immersive walking around that building. 
Thus, clients have an opportunity to view a clear picture of their projects instead of uninformative drawings. They can see every corner of future constructions and spot any problems before starting to build. This allows better management of the construction project, avoiding rework, overpaying, and staying on the same page with all stakeholders.
High Level Of Training Safety
One of the most important advantages of using AR and VR  in civil engineering it's improving the level of training safety. Since the construction industry works in high-risk zones, even experienced professionals must train from time to time, not to mention interns. VR-based training solutions allow trainees to simulate real-life situations in a fully immersive risk-free environment. 

Using a VR construction training simulator, trainees learn how to manage heavy machinery or use their tools and get valuable hands-on experience safely. Virtual reality in construction training is a great way to reduce risks, enhance safety, and increase general training level.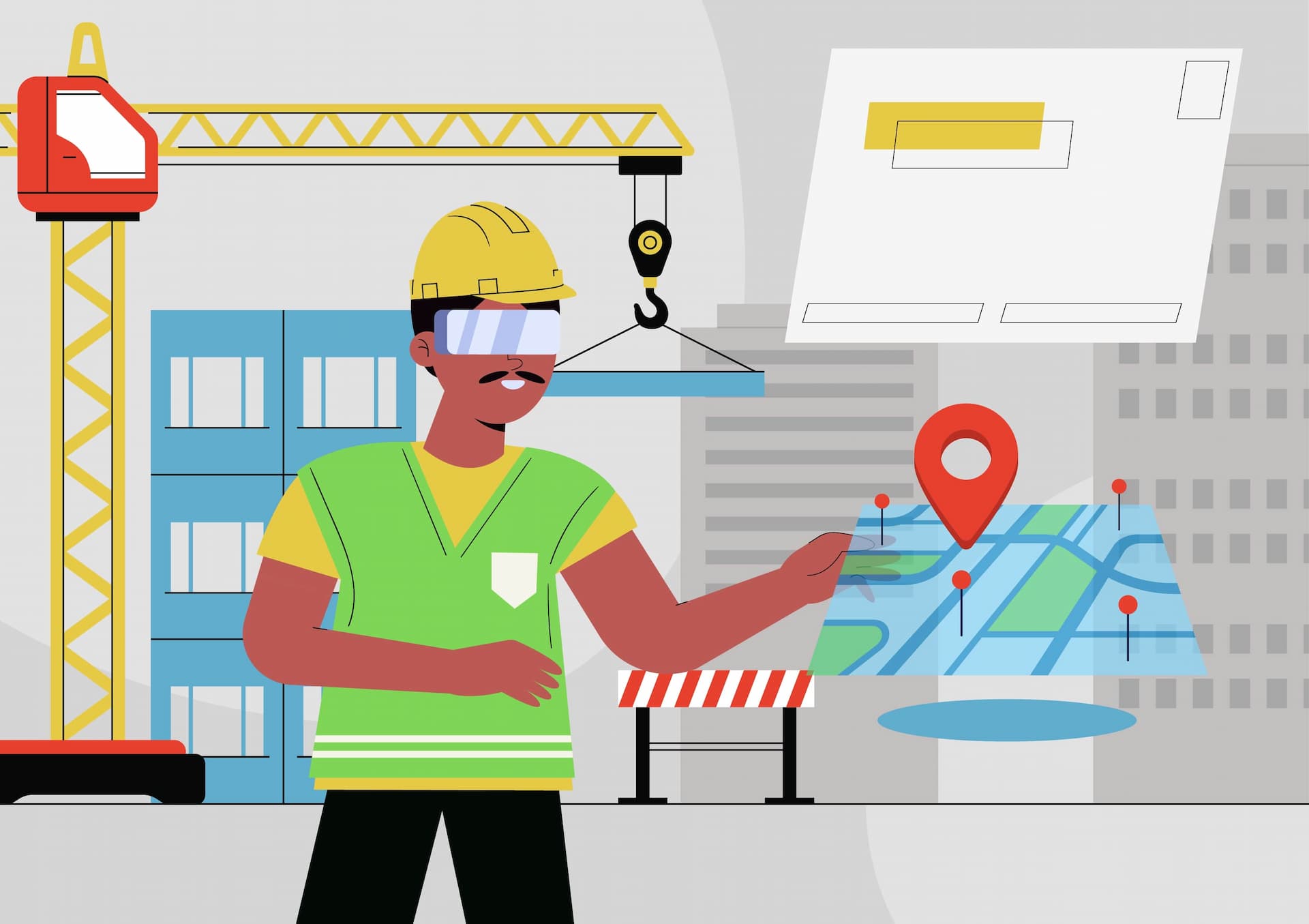 Lower Development Costs and Time
Preview of the future outcomes can significantly reduce reworks, development time, and costs. Luckily, VR allows doing it. Clients can view a 3D prototype with all needed details from every angle before starting project development. 
This opportunity enables detecting misconceptions in the initial stage and providing quick feedback. Thanks to this flexibility, clients can avoid any reworks and complete projects on a time and within budget.
Read Also: Augmented reality (AR) app development cost
Enhanced Communication and Collaboration
All construction projects involve different numbers of people who have to collaborate to complete tasks properly. However, this collaboration can be complicated for international partnerships, or construction workers can work at different times or remotely. 
Implementation of AR and VR in construction helps avoid communication issues. VR technology allows participants worldwide to meet virtually, coordinate projects, check for updates, spot issues, and make changes. The sharing of a global VR experience assures a more transparent project development process and highly productive cooperation.
4 Beneficial Ways to Use Virtual Reality in Construction
How is Virtual Reality used in construction? In this chapter, we will pay close attention to the most popular examples of how construction firms use virtual reality and see real examples. Let's dive in.
Virtual Representation of a Construction Project
Drawings or renderings are a thing of the past. They provide a limited experience of the completed building.  This can't be said about building information modeling (BIM). BIM involves creating 3D models to demonstrate future buildings. 
However, VR takes BIM to the next level, making its models more immersive and interactive. More precisely, now you can put your clients into a construction project as though it is actually finished and ready. By virtue of a virtual representation, people can walk around a building that has yet to actually be constructed.
This opportunity provides a clear picture of the site; clients and construction workers are on the same page, avoiding rework. Stakeholders can view every nook and cranny to find any misconceptions early so they won't pay twice for mistakes in the future. VR takes your construction management to the next level.
For example, the Onix team has created a detailed model of the Messe Berlin exhibition complex.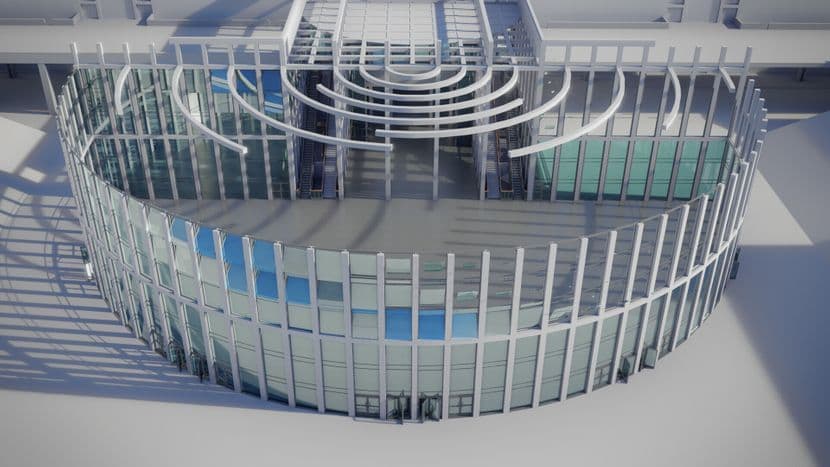 We combined and collated blueprints of buildings and prepared the subsequent ​models. Our experts decorated the animation with more complex effects (the appearance of stairs, windows, houses), developed our pipeline for preparing animations and rendering complex scenes, and created a choreography of parts of the building's appearance. 
Below you can see our results.
3D Interior Designs and Virtual Apartment Tours
VR technology like 3D interior designs, 3D visualization, and virtual apartment tours showcase customers' buildings in an interactive, effective, and convenient way. You can present the interior, exterior, or any other structure your clients want to see.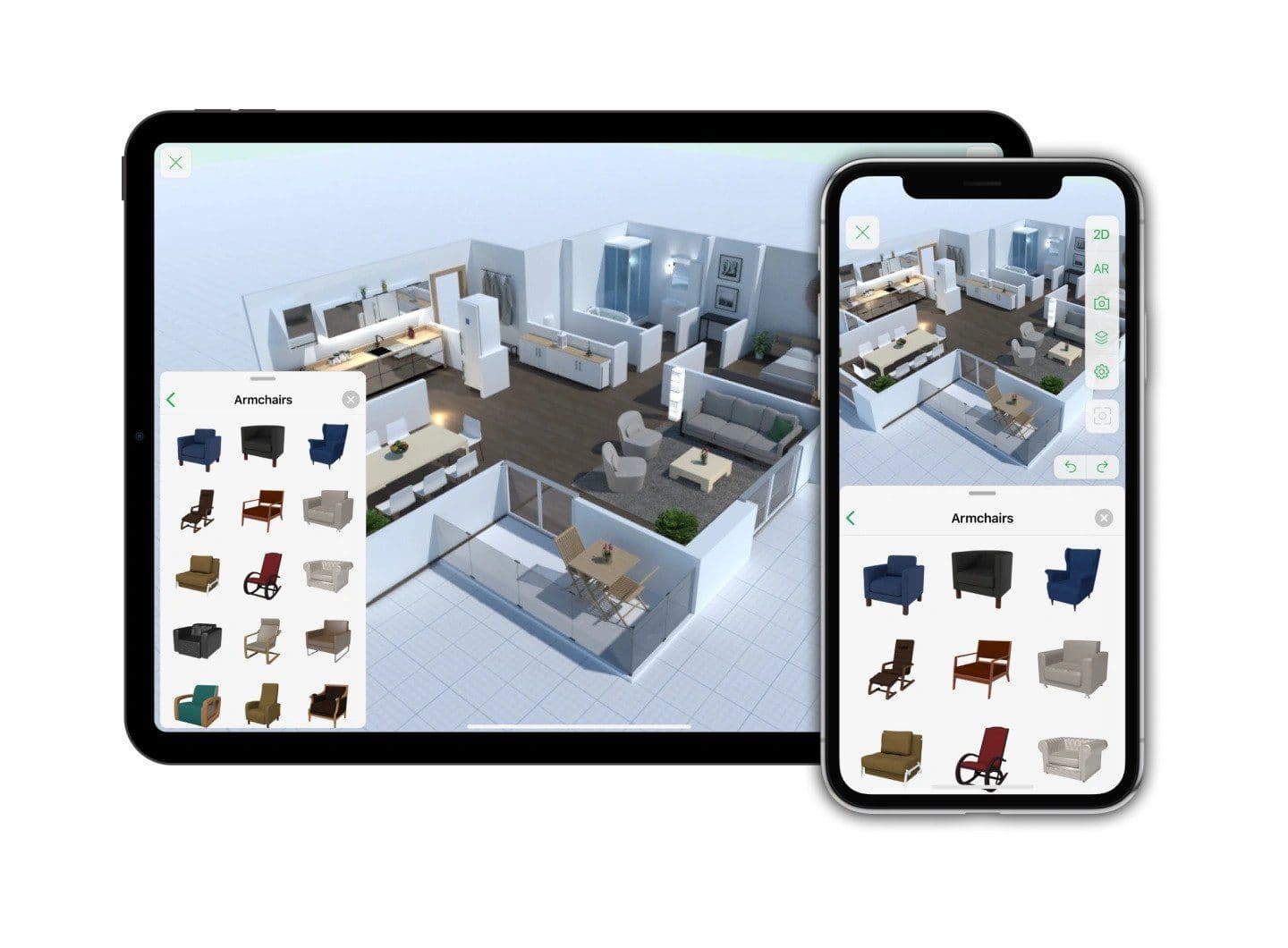 This opportunity boosts sales significantly since clients know what they pay for.  They can try different designs such as wall color, floor material, etc., and chose furniture that is most appropriate. Moreover, people can "walk around" their future apartments. 
Virtual apartment tours help show clients building ideas, interior furnishings and let them stroll around a building that doesn't exist yet. Such close interaction with a property helps to make  people more loyal and convinces them to make payments.
For example, Park Central Apartments provides clients with a 360 degree virtual tour to show them all corners before purchasing. This convenient virtual tour helps you provide an enhanced customer experience that leads to closing deals faster.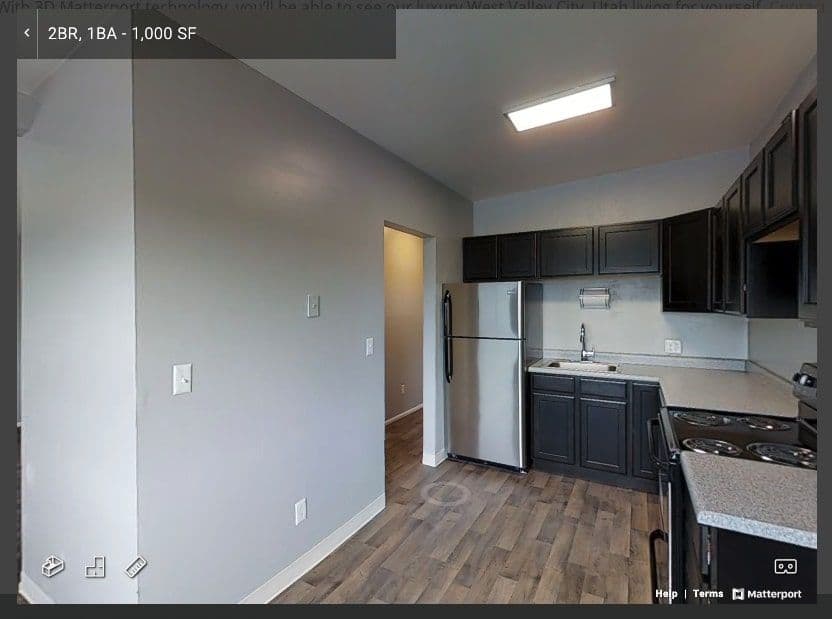 Collaborative Virtual Reality experience
One of the most vivid use cases of VR in construction is a collaborative virtual reality experience. Such shared experience allows for bridging the gap between construction workers and all stakeholders wherever they are. The virtual collaborative experience makes for a virtual conference room where people meet to discuss current issues, view project updates, and make changes.
Read Also: Construction app development guide
Collaborative Virtual Reality environment is a single source of truth that provides all engaged project members the same data. Thus, contractors and clients work more effectively and productivity together, avoiding misunderstandings or errors.
Safe Training of Construction Workers
According to research, by 2030, 23 million jobs globally will be set to use virtual reality staff training programs. And the construction industry is no exception since it's known for being hazardous. Using virtual reality in construction training helps to provide a safe and risk-free working environment. 
The VR training simulator enables construction workers to simulate complex and dangerous real-life scenarios and operate hazardous equipment without risks.
Thanks to VR technology, workers are ready for emergencies like breaks, fires, or working in bad weather conditions and to know how to act effectively. 
As an example, we can show our work, namely a virtual reality simulation of the skyscraper construction site. The main idea of this VR training simulation is to let workers reproduce their work on construction sites, train their skills, and enhance safety knowledge.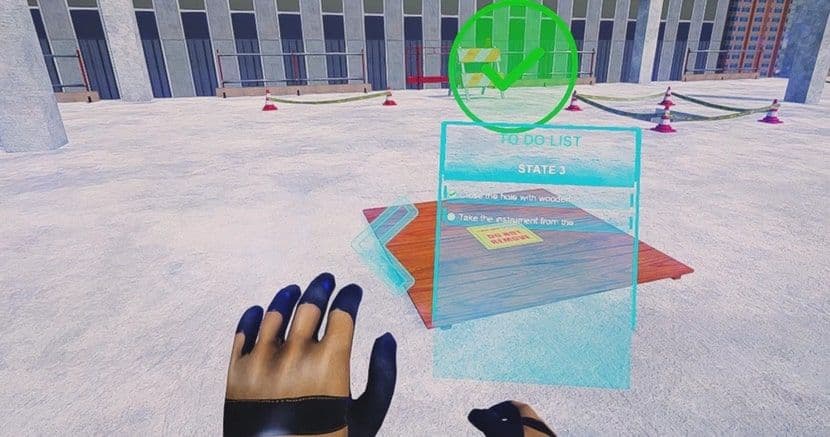 As a result, using 3D imitation and VR technology, we've managed to build a VR simulator that allows construction workers to reproduce dangerous situations, train their professional skills, and gain on-hand experience to be prepared for real life emergencies.
Read Also: New Construction Technologies for 2022-2023
Please see the video below.
The Costs of Using VR In Construction Projects
Use of virtual reality in construction can offer numerous benefits, but it's essential to consider the associated costs. Here are some key factors that contribute to the costs of using virtual reality in construction industry:
Hardware and Software. VR hardware, such as headsets and controllers, can vary in cost depending on the brand and specifications. Additionally, VR software development tools and licenses may have associated costs. Consider the upfront investment required for acquiring the necessary hardware and software for your VR solution.
Content Creation: Developing VR content for construction projects involves creating 3D models, environments, and interactive elements. The complexity and detail of the content can impact the costs, especially if you require highly realistic and detailed visualizations. Hiring skilled 3D artists and developers or outsourcing the content creation can contribute to the overall expenses.
Customization and Integration: Integrating VR into construction workflows often requires custom development to connect the VR experience with existing systems, databases, or project data. Depending on the complexity and scope of integration, additional costs may be incurred for customizations and software engineering.
Training and Support: Implementing VR applications in construction projects may require training for project teams, including architects, engineers, and construction personnel. Training programs and ongoing technical support to ensure smooth usage and maintenance of the VR solution may incur costs.
Infrastructure and Maintenance: VR systems typically require high-performance computing hardware and dedicated spaces for users to engage with the technology. Setting up the necessary infrastructure, including powerful computers, network connectivity, and dedicated VR rooms, may involve additional expenses. Ongoing maintenance and updates to hardware and software also need to be considered.
It's important to note that the costs of using VR technology in construction projects can vary widely depending on project size, complexity, and specific requirements. Consulting with VR technology providers and conducting a thorough cost-benefit analysis tailored to your project can provide a clearer understanding of the potential expenses and return on investment associated with integrating VR into construction workflows.
Onix Experience
Onix is a leading development company with years of experience in delivering VR and AR solutions that meet clients' company needs, goals, and budgets. Our services vary from product strategy, prototyping, proof of concept to 3D content creation, research and technological development (R&D), and consulting and support.
We have deep expertise in creating virtual interior design, real estate business representation, image recognition, a visualization tool for designers, and many more. Our well-qualified virtual reality developers will guide you through the entire process: from the conceptualization stage to the first live launch to help guarantee success.
At Onix, our expertise in virtual interior design, real estate business representation, image recognition, and visualization tools for designers allows us to offer a comprehensive range of innovative solutions. 
Recently, our team at Onix conceptualized and constructed a VR simulation of a skyscraper construction site, revolutionizing how training is conducted for workers in the construction sector. This solution offers a risk-free training environment, enabling workers to enhance their skills, minimize human error, and significantly reduce additional costs associated with traditional training methods.
Utilizing the power of virtual reality (VR) technology and advanced 3D imitation, we have successfully crafted an application that excels in responsiveness, realism through computer graphics, an interactive scene system, an intuitive user interface, and immersive sound effects. These elements combine to provide a deeply engaging and realistic experience for users.

It's the very time to modernize your construction business!
VR solutions have enormous potential for the construction industry. This technology has already transformed how construction businesses operate, and it's going to continue modernizing it. And while you might be hesitating, your competitors are likely already leveraging VR technology.
The advantages include a highly interactive and super convenient customer experience, effective construction management, risk-free training to gain hands-on experience, a preview of the future outcomes to spot misconceptions at the planning stage, and productive cooperation with clients worldwide using a virtual conference room. 
You can get these and many more when implementing VR solutions into your construction company.
Would you like to enrich and optimize your construction business with modern VR technology? Please get in touch with us, and our experts will assist you in building a top-tier VR solution that will take your company to the next level!
FAQ
What are some examples of VR software for construction?
Among the popular VR technologies in construction, ARki, SmartReality, Unreal Engine, Visidraft, and Storyboard VR are worth noting. The Onix team has also developed similar virtual reality construction software, contact us for more details.
How Virtual Reality is changing the construction industry?
VR in construction has opened up many new possibilities. VR-based solutions can help architects, engineers, and constructors visualize and plan projects with increased accuracy and efficiency. It can be used for interactive 3D design reviews, providing builders with a better understanding of a project's scope and potential problems before it even starts. Additionally, VR can be used to optimize on-site inspections and ensure quality control during construction.
Does Onix have a case study for VR in construction?
Our development team worked on one use case of VR in construction. Here we realized all the possibilities of VR technology and helped the construction business reach a new level.