Can a meeting in virtual reality substitute a video-conference with remote co-workers or partners, not to mention an in-person conversation? After building Unreal Space, a virtual reality meeting solution, we at Onix believe that VR is the future of business cooperation and networking!
The way we work is changing again. Business connections have become truly global while people are becoming increasingly tech-savvy and picky about work options. In the US alone, remote work already accounts for over 25% of paid full-time workdays.
Video-conferencing connects colleagues across various workplaces or working remotely, helping make day-to-day operations more efficient while minimizing travel. With immersive technologies like virtual and augmented reality, meetings with colleagues, partners, and clients can get to the next level.  
Onix has developed a virtual reality office/coworking space for meetings with colleagues and friends and an application for presentations in VR. 
In this article, we will share our team's experience in VR meeting application development and demonstrate how VR technology can facilitate remote communications and collaboration for various businesses.
Virtual Reality Meetings in a Nutshell
VR meetings are designed to bring people that may be separated by thousands of miles together in a three-dimensional visual or other sensory digital simulation of a workspace to communicate and collaborate as if they were all in the same physical space. 
The difference is that the space can be customized and look as fantastic as the host wants, and the participants will arrive in the form of avatars, more or less realistic graphical representations of each attendee.
Photo of a VR meeting app called Arthur 
The interactive technology supports spatial awareness, so users can look and move around and interact with objects and individuals within the environment. They can speak with other attendees and sometimes write on virtual whiteboards, edit documents, and do other things they would do at regular team meetings at a normal cadence and speed, but remotely, in a simulated environment.
Users need to wear at least a VR headset and hold two touch controllers to navigate the virtual spaces and interact with digital objects during  business meetings in VR.
The Benefits of Using Virtual Reality for Meetings and Collaboration
Nurturing relationships and teams
Remote work has many advantages but also comes with challenges. Working on one's own may feel isolated and lonely. Home environments may also be distracting. Even brainstorming doesn't feel the same when just 2-3 people are together in the same meeting room while the rest participate virtually. 
Immersive technologies help to defy distance and can give people a shared sense of presence and even fun. By using virtual reality for meetings, training, and presentations, companies can enable people to stay on the same page, stay focused, feel involved and connected with teammates, and collaborate, no matter where they are.
An improved people-centered experience
Traditional online video-conferences limit participants to a screen, creating an artificial and passive environment. VR brings them back into a 3D space, with greater freedom of movement and replicating more natural human interactions. 
Moreover, after spending hours in front of multiple screens, many people subconsciously crave to experience things instead of just watching. VR can make online meetings more appealing and action-focused.
VR technology can simulate both real-world experiences and different worlds. Do you want a neat boardroom where nothing would distract the attendees' attention? Do you want to spur their creativity in an exotic environment, with the ability to design their own avatars? VR collaboration platforms allow the creation of meeting spaces that reflect the tone and enhance the agenda of any meeting. 
VR facilitates sharing information, knowledge, values, and visions in a more natural and fun way. VR training sessions are not a novelty for astronauts, pilots,  construction and medical professionals, but as VR platforms become more accessible, virtually any business can benefit from VR's hands-on nature and ability to simulate live experiences and bring out people's creativity. Namely, VR can transform any workshop or webinar into a memorable experience.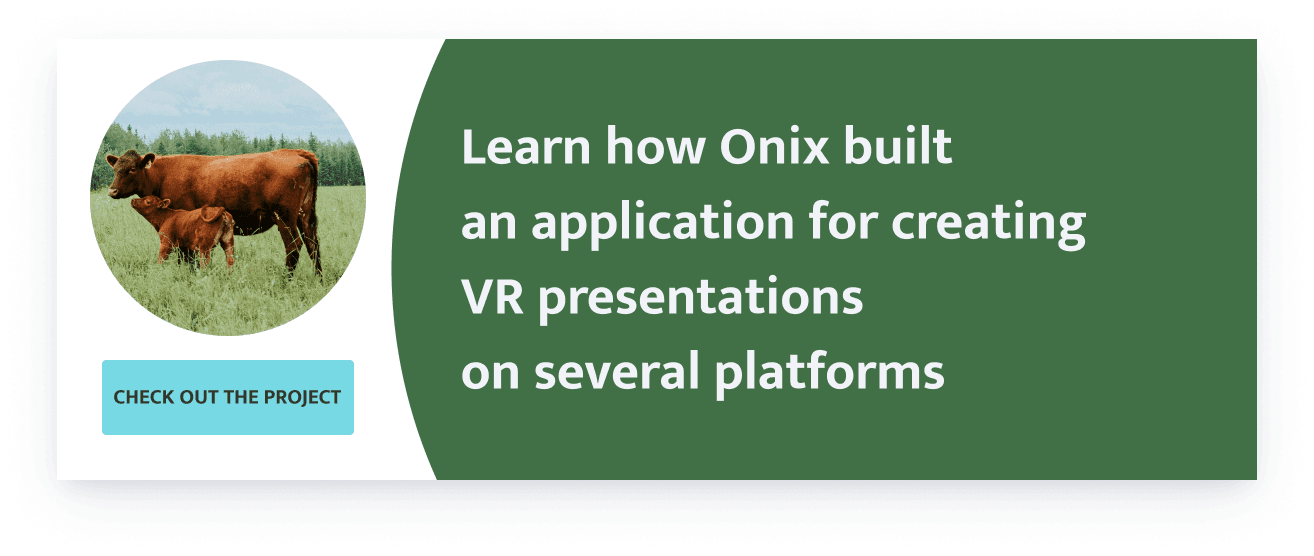 Stronger engagement and higher productivity
Participants can bring collaboration tools and digital content to VR business meetings, such as virtual whiteboards, shared documents, digital drawings, and 3D models. All attendees, however remote, can scrutinize a model and make changes in real time. Business, creative, or design ideas can be shared and discussed more effectively.
By blocking real-world distractions, immersive environments help people focus on the matters at hand. So does the inability to turn off their microphone and camera during business meetings. Even the sense of movement can help participants share ideas and facilitate remote collaboration. For example, drawing on a virtual whiteboard or writing post-it notes make VR business meetings less sedentary and more engaging.
Simultaneously, vendors strive to enable users to do more in VR and toggle more easily between work, entertainment, and social activities. This includes the ability to bring a real keyboard and desk into virtual reality or receive important notifications from mobile apps, so they don't miss out on anything while wearing a headset.  
When VR gives everyone the tools to work together without traveling, it will also free up time and energy for doing things that matter.
Cost-efficiency, and sustainability
The ability to use VR from anywhere in the world, including one's home, easily translates into huge savings on travel and venues.
It's easy to compare a one-time investment of $300 for a headset to the average cost of round-trip airfare plus ground transportation, hotel, and meals for just one person to attend a business meeting or event. For example, Nestle Purina saved $100K a year in travel and lost productivity costs by training salespeople through virtual tours of its production facilities. 
In addition to companies paying less, technology advances expand the remote working paradigm with more employees able to avoid business travel and the daily commute, saving money and time and reducing their carbon footprint. Imagine the effect of eliminating millions of commutes on energy usage and the environment.
Read More: AR app development and how much does it cost
Competitive edge
By connecting colleagues, business stakeholders, and clients in new, exciting, and visually engaging ways, VR-based solutions can help businesses stay ahead of the game.
Suppose a company with thousands of employees wants the entire workforce to attend a virtual corporate event or training. Usually, it would be limited to a few hundred leaders who would return to their teams and share what they learned. 
Instead, everyone in the company might attend a meeting in virtual reality at the same time, hear the same messages, and interact in real time. VR's creative abilities would reinforce the keynote speakers' presentations or hands-on lessons, and its visual and auditory channels would support storytelling, education, and entertainment. Moreover, the company wouldn't incur travel or venue expenses. 
Read more: Benefits of Virtual Reality in Education
Moreover, if a business successfully adopts innovative technology and becomes more efficient, it can publicize the achievement to create their own buzz. Even when the entire industry ends up using virtual reality for meetings, collaboration, and training, those who did it first will be remembered and cited as pioneers.
Let's review some of the possible applications of VR in business meetings and similar settings.
Virtual Reality and Meetings – Use Cases and Examples
Virtual reality business meetings
Like in the real world, the host needs to select the time and venue, decide on how the space should look and what equipment is necessary, and send invitations to the participants. During a virtual conference, they would sit around a virtual office desk or move around a virtual room, listen to others and speak, brainstorm or whiteboard ideas, work on documents, etc.
One of the most popular products for virtual business meetings and events, MeetinVR, allows users to make presentations, review 3D models, sketch in 2D and 3D, use sticky notes, and create mind maps. They can do it in a close circle of colleagues around a table, in a larger boardroom, an open-floor brainstorming room, or a presentation room for larger audiences.   
The service is free for teams of up to 10 users. At €35/month per user, teams can enjoy richer functionalities, such as unique avatars, access to the Web Platform for team and content management, using their own uploaded images, videos, documents, 360 and 3D files at meetings in VR, and ability to save and export notes and whiteboards. Enterprises, at custom fees, can access even more features and have up to 33 persons at a single meeting.
Virtual workspace
VR meeting spaces can also function as individual virtual workstations accessible both from home and at the office. This immersive virtual office will be free from distractions, not limited by a person's physical desk space, and highly customizable – much-needed conditions for many of us – and soon, VR applications may offer us all the tools we need to perform our daily tasks.
Horizon Workrooms by Meta is a mixed-reality experience that works across VR and the web to improve a team's ability to collaborate and connect remotely. Users can join a business meeting in VR as avatars or dial into the virtual room from their computer by video call.
Workrooms are designed to use hands as the primary input. It allows users to:
configure the virtual room's layout
bring their physical desk, computer, and compatible tracked keyboard into the virtual room
have one-click access to their entire computer from VR
bring their files into VR
sketch out ideas on the physical desk in front of them or on a virtual whiteboard;
pin images from their computer on the whiteboard and mark them up
export a whiteboard out of VR to share as an image on their computer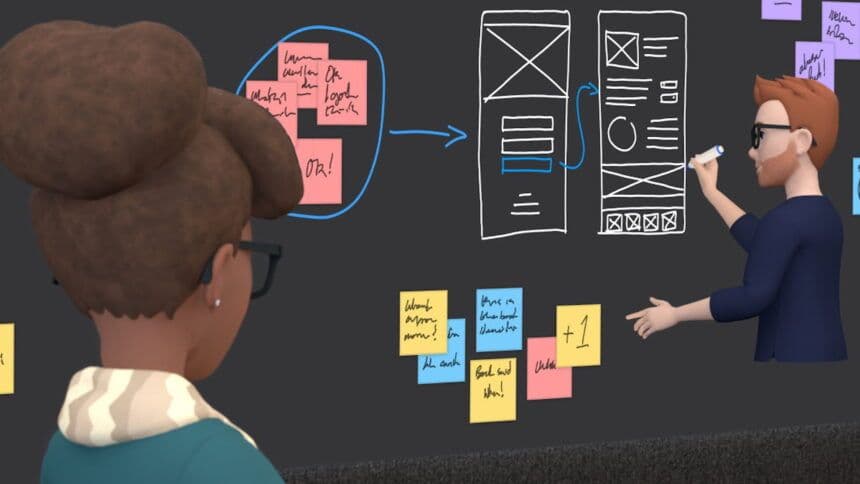 The integration with Zoom enables people to meet in Workrooms even without a headset. They can join a Zoom meeting from Workrooms and add Workrooms to a Zoom call with their team.
Video calls
Since not everyone has a VR headset handy, the ability to dial into a meeting in virtual reality from a computer by video call is valuable. The host can invite these remote participants by sharing a meeting link.
Networking, workshops, and training in VR
VR workshops and learning are some of Arthur's most popular use cases. Their customer PwC conducted research that revealed that the participants were
3.75 times more emotionally connected to content than classroom learners
4 times more focused than their e-learning peers
4 times faster to train in virtual training environments than in the classroom
275% more confident to apply skills learned after such training in VR
Here is a basic VR workshop flow. It can kick off with a quick icebreaker activity to loosen up the mood, such as participants lining up on a virtual stage in the order of height, years within the company, etc.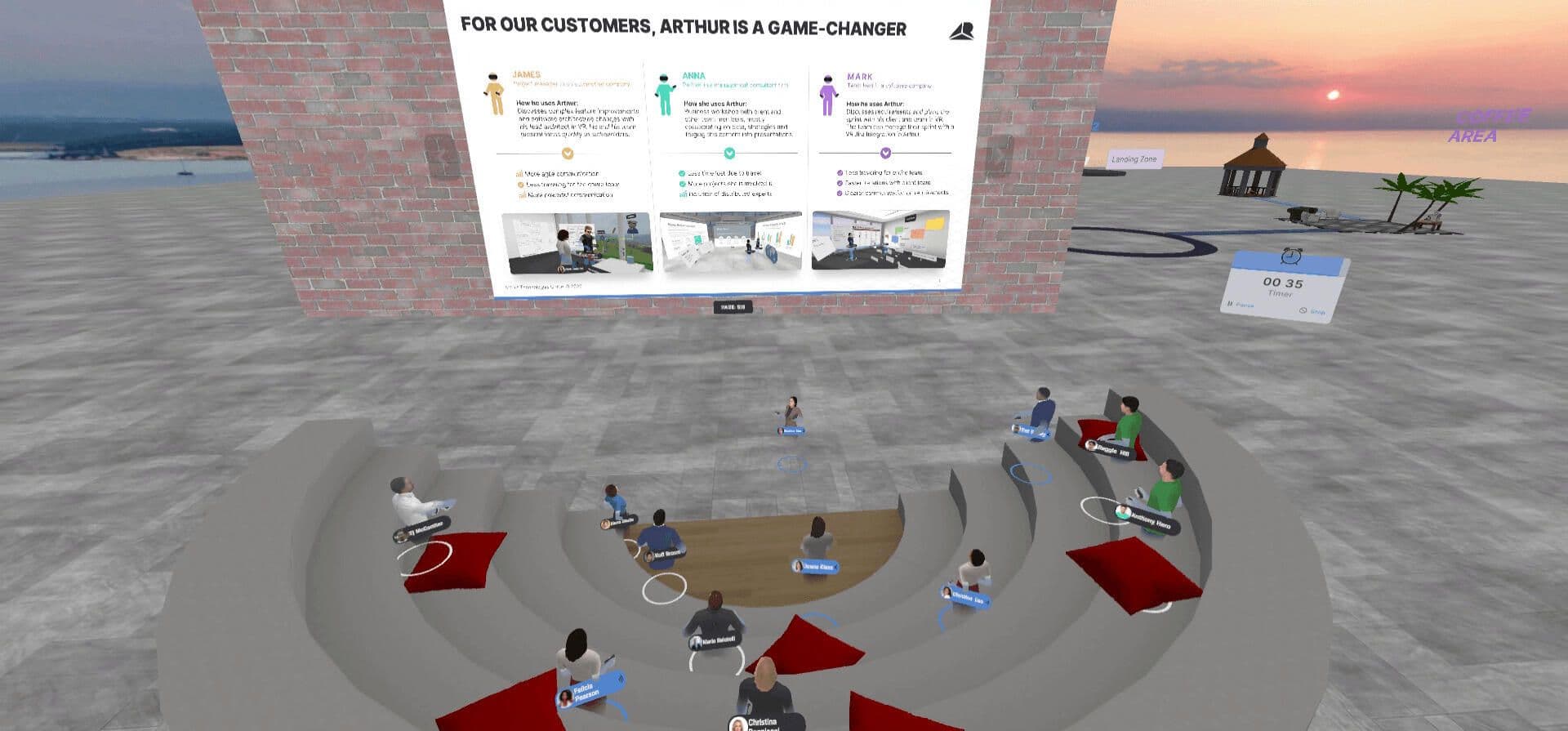 Keynote speakers can hold their speech or presentation on stage or in one of the virtual rooms. Each speaker can upload their presentation to Arthur, make real-time mark-ups, and use speakerphone mode to present their content to everyone in the room.
Later, the attendees can split into several breakout sessions, which the host can facilitate. The attendees can use whiteboards, post-its, presentations, and 3D objects. Thanks to Arthur's spatial audio feature, each breakout session feels natural despite being just a few steps away from the rest of the group. Alternatively, the host can create private audio zones. Participants finding themselves in these zones will not hear anyone outside and vice versa.
The attendees can wrap up a VR workshop with some drinks or a fun game.
VR can also enrich such experiences and enhance the sense of connection by providing additional information. For example, attendees can unlock speakers' bios and rich media while listening to speeches or find out essential information about other people they encounter at virtual meetings.
Virtual tours
Attendees can collaborate, learn, and build relationships not only in a traditional "meeting space," however fantastic it looks. They might do it during virtual tours of existing spaces, such as a simulation of an organization's headquarters, manufacturing facilities, properties, etc., or non-existing places, such as visualized construction projects, digitally reconstructed historic locations, or other visual presentations of the company's work and projects. In this case, the experience would be focused on the virtual environment itself and the attendee's ability to scrutinize it in great detail and interact with it.
Virtual breakrooms
VR meeting rooms need not always be there for work. Colleagues that are miles apart or working in different rooms might want to hang out and socialize in a less formal virtual environment from time to time.
For example, your team might enjoy finding themselves on the beach, albeit digitally rendered, where they can relax and meditate, or randomly changing luxury venues or world landmarks so that every meeting is a surprise.
Even in a traditional meeting room which they might design to their liking, they might have a daily catch-up or small talk, play tic-tac-toe on the whiteboard, or even burn some calories while bonding with teammates.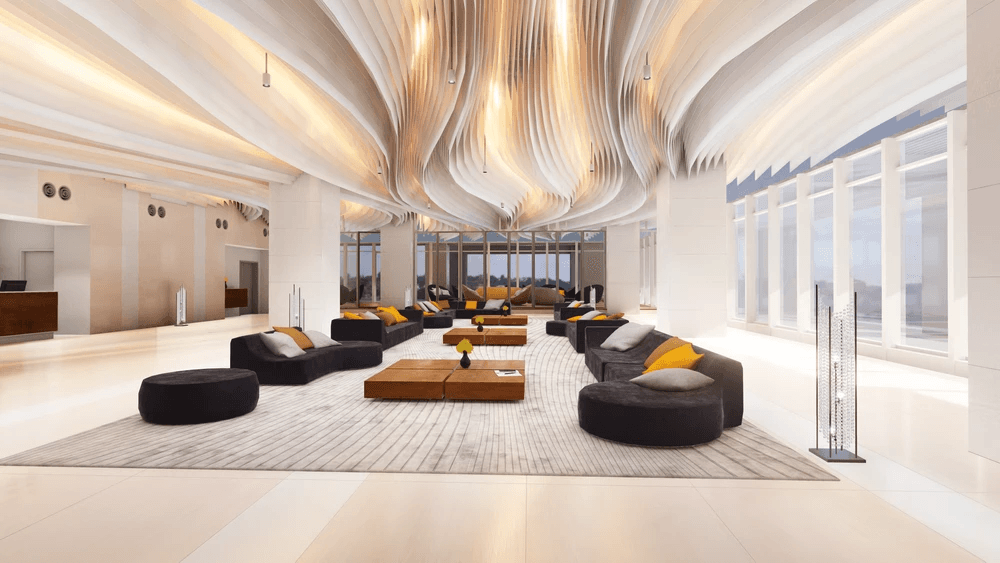 Screenshot of the Unreal Space VR app developed by Onix
Team-building in VR
Simulations of the company's headquarters or manufacturing facilities, virtual breakrooms, digitally rendered beaches, and even Martian landscapes can be great settings for team-building activities for geographically scattered employees. It's possible to organize various games and activities to build connections and bond over.
Recruiting and screening in VR
It's also possible to use VR for meetings with applicants. To recruiters, it offers an environment where they can assess candidates more effectively, for example, by observing their interactions with 3D models or documents in real time. Presentations in VR or virtual tours can help candidates develop more realistic expectations about their future job and facilitate onboarding.
As more VR software and hardware are developed, people will inevitably find more business uses for it. VR is applicable to any industry or business, but it's just perfect for entertainment, events, and education. 
Read also: How VR Is Changing the Entertainment and Film Industry
Besides the products mentioned above, there are already plenty of options on the market for VR business meetings, such as Engage, FrameVR, Glue, Gravity Sketch, Immersed, Spatial, and more.
The difficulty with these solutions is that they may come with either too many generic features or with too few despite being quite pricey. Moreover, commercial VR meeting apps are meant for a general audience and cannot account for each industry's specifics, much less each organization's unique needs.
A custom-built solution tailored to your business needs may complement and enrich your processes. Moreover, you might create a solution that other businesses would want to use. Then, you may sell your VR meeting app as a service. 
How to Build a VR Meeting App
Here are the basic steps to building a VR business meeting solution:
1. If you do not have the necessary expertise in-house, you need to engage external VR specialists as early as possible in the project.
2. List the business goals and users' needs that determine the product requirements and select platforms for VR and stores for product distribution. An application for meetings in VR may include the following essential and optional features:
an interface for entering, navigating, and exiting the VR experience
ability to schedule meetings and send invites 
preset or customizable VR avatars for the participants
a virtual room or rooms with different designs and seating layouts that can be scaled up and down, customized, adorned with company logos, etc. 
whiteboards that can be saved in a virtual room and exported out of VR to a computer
ability to take notes during meetings
hand tracking
remote desktop streaming
video-conferencing integration
uploading and downloading files in the product ecosystem
3. Create a proof of concept to validate each innovative idea.
4. Update the project specification considering the functionalities that proved practical and feasible and plan the budget and timeline for the implementation.
5. Have the VR application programmed and tested, ensuring it is fast-loading, realistic, effective, user-friendly, and secure.
The key technologies used to build a virtual reality meeting app will likely include:
Unity
Network synchronization service
Video and audio synchronization solution
Blender
Houdini
Substance Painter
Adobe Photoshop
Onix's Experience in VR Meeting App Development
Onix-Systems has been building VR products ever since VR started gaining ground. We have a long track record of projects in multiple domains.
Namely, Onix developed Unreal Space, a virtual office/coworking solution that takes the remote working experience to a new level.
Our client wanted to use VR to fill in the gaps in communication and cooperation between team members working remotely, make communication more personal, and facilitate great conferencing experiences. Onix met the requirements by developing a simple but effective solution that enables dozens of people to communicate and collaborate in a shared realistic environment.
In Unreal Space, users can:
create a team call and book a suitable virtual meeting space
create their own avatars
discuss issues using voice chat
share their PC screens with everyone in the virtual room
show presentations
enjoy synced video/audio playback
Proper gesture-controlled interactions facilitate a realistic experience. Onix's VR developers
created a system for avatar personalization that used inverse kinematics to ensure the required avatar position at three key points – head and hands;
created realistic detail-rich graphics, highly detailed 3D models, and 3D environments for a variety of VR meeting spaces;
ensured a smooth live stream from a user's desktop for dozens of attendees.
Conclusion
From a way to avoid travel or accommodate a remote team member, video-calls have progressed to become an essential tool in the modern workplace. The remote work paradigm powered by video abilities will continue to drive interest in advanced technologies such as virtual and augmented reality conferencing.
Currently, VR is emerging as a new multi-purpose computing platform that helps people collaborate from anywhere and do more. After PCs and smartphones, VR headsets are likely the next addition to the modern workplace.
VR hardware is becoming more affordable and comfortable for longer wear, combined with the proliferation of 5G and advances in software, enabling more realistic and interactive experiences and more effective and reliable tools. People will want VR headsets for work, gaming, entertainment, social activities, and more.
In any case, virtual reality is the future. It would be wise of businesses and event planners to explore the benefits of virtual reality in meetings context and think ahead about the potential of this solution for everyday collaboration, training, and corporate events. 
Are you interested in virtual reality meeting development or how VR might benefit your business? Onix is here to help! Contact us today to start your journey into a brand-new reality!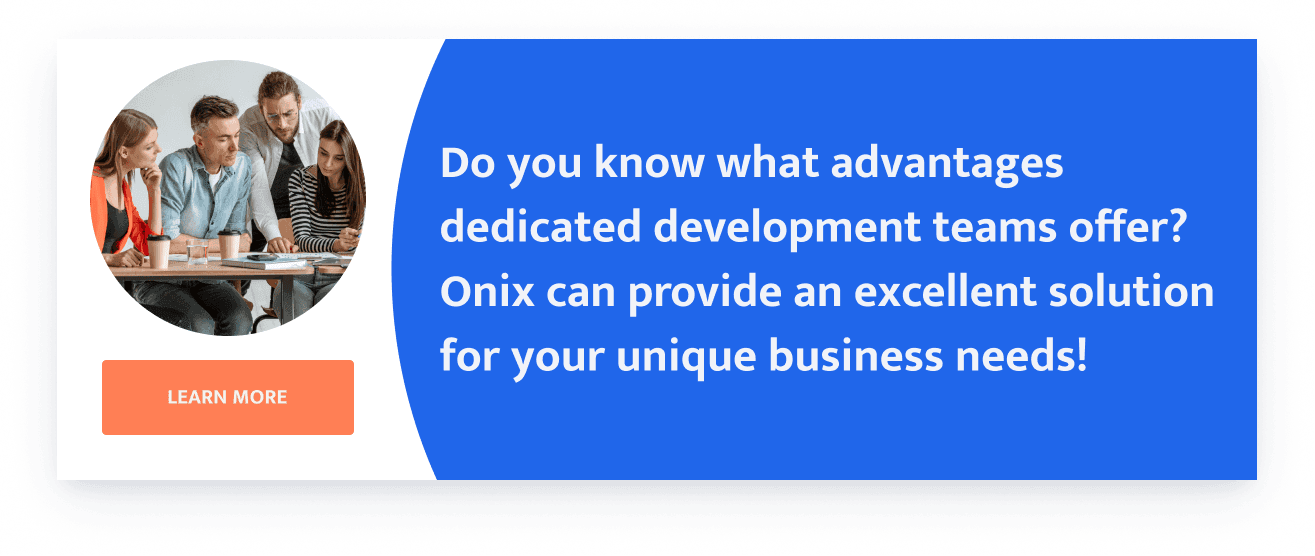 FAQ
What are the ways to use virtual reality meetings for business purposes?
Businesses may use VR meetings in many ways:
virtual business meetings 
as individual virtual workstations, conference rooms, and breakrooms for informal communication
video calls
for recruiting and screening purposes
for networking, workshops, and training
for team-building purposes 
as virtual tours of an organization's headquarters, manufacturing facilities, properties, etc., or non-existing spaces, such as visualized construction projects or other presentations of the company's work and projects
What are the benefits of using VR in meetings, trainings, presentations, etc.?
Immersive experiences facilitated by VR
- empower employees, managers, and customers to collaborate remotely from anywhere, including their homes;
- help them stay on the same page and feel involved and connected; 
- block real-world distractions, helping all participants stay focused and productive;
- reinforce presentations or hands-on lessons and support storytelling, education, and entertainment;
- eliminate the need to travel or commute, freeing up the participants' time and energy and saving money; 
- help businesses reduce travel, venue, and other costs necessary for corporate events, conferences, facility tours, trainings, etc., in real life;
- eliminate restrictions regarding the possible number of attendees at a physical space, as well as health and safety risks;
- reduce the attendees' carbon footprint.
What products promote the use of virtual reality for business meetings?
Some of the applications available on the market include:
How to build a VR meeting app?
The basic steps to building a VR business meeting solution are as follows:
1) If you do not have the necessary expertise in-house, engage experienced VR developers to help with the project.
2) List the business goals and users' needs and choose the platforms for VR and stores for product distribution.
3) List the product features and requirements in a specification, such as:
an interface for entering, navigating, and exiting the VR experience
ability to schedule meetings and send invites 
preset or customizable avatars for the participants
a virtual reality office or offices
whiteboards that can be saved in a virtual room and exported out of VR to a computer
ability to take notes during meetings
hand tracking, etc.
4) Create a proof of concept, if some feature needs validation.
5) Build the required VR content and functionalities.
6) Test the app to ensure it is fast-loading, realistic, effective, user-friendly, and secure.