Modern leaders in the healthcare, education, commerce, finance, maritime industries, and even art and culture actively invest in digitalization, data-driven products, and other innovations. This article is dedicated to innovations in the construction industry. It includes examples and explains how the applications of such technology can benefit every construction business. 
Table of contents

One of the global economy's largest sectors is one of the slowest to adopt new tech. However, more and more companies realize its importance in the changing world. Smart machinery, drones, and living building materials are just a few examples of new construction technology.
As a software development agency, we are primarily interested in digital innovations. Total industry transformation may take decades, large-scale shifts are likely to happen within the next 5-10 years, but companies open to latest construction technology trends will be best positioned to create value and maintain a competitive edge. Those who take bold strategic actions will likely end up among the winners. 
If you wish to bring your business to the next level in 2023, consider using the following effective and accessible digital technologies in construction projects.
5 Leading Digital Trends in Construction Technology
I. Cloud-based communication and collaboration solutions
This is number one among the construction technology trends. The current pandemic proved that it's vital to communicate, stay on the same page, and share data in real-time, e.g., between the office and construction sites. Keeping track of what goes on in the field is essential for keeping projects on schedule and within budget and avoiding costly rework.
Cloud computing and mobile apps are replacing old legacy software solutions on computers in the back office. Cloud technology allows storing massive amounts of information securely and affordably in remote servers while it remains instantly accessible for connected devices or data analysis platforms.
Cloud-based solutions ensuring a seamless connection between back offices and workers in the field and real-time inputs of critical project data are particularly appropriate for managing geographically dispersed equipment and personnel. Users can access construction software at any time and location as long as there is an Internet connection.
For example, instead of going back to the office to enter important data into the firm's ERP, a person in charge can do it conveniently on site and make the information immediately accessible to all authorized people.
Cloud computing and mobile technologies also facilitate real-time communication between all entities participating in the construction process or contract realization. 
Most firms use file-sharing sites like Dropbox to collaborate with partners, and online project collaboration software proliferates. Modern cloud-based solutions connect and facilitate simultaneous task completion and decision-making by multiple users, such as the architects, suppliers, building product manufacturers, building inspectors, and subcontractors. This saves time on numerous negotiations and reduces miscommunication mistakes.
Document workflow management software helps improve collaboration with contractors and mitigate field-to-office miscommunication issues. The replacement of manual tasks and paper-based documents with digital construction forms and automated workflows helps eliminate redundancies and streamline inefficient processes.
Construction workers reportedly use three or more applications to perform their jobs. In contrast to multiple single-purpose apps that generate and manage spreadsheets, messages, photos, etc., an all-in-one cloud-based platform creates a single safe location for all project information. It integrates all aspects of a firm's operations, facilitates the management of projects, partners, labor, and assets, and provides a "single source of truth" for actionable insights.
Reliable project management and collaborative software can provide a digital backbone for the construction process from start to finish, saving time and money in many ways.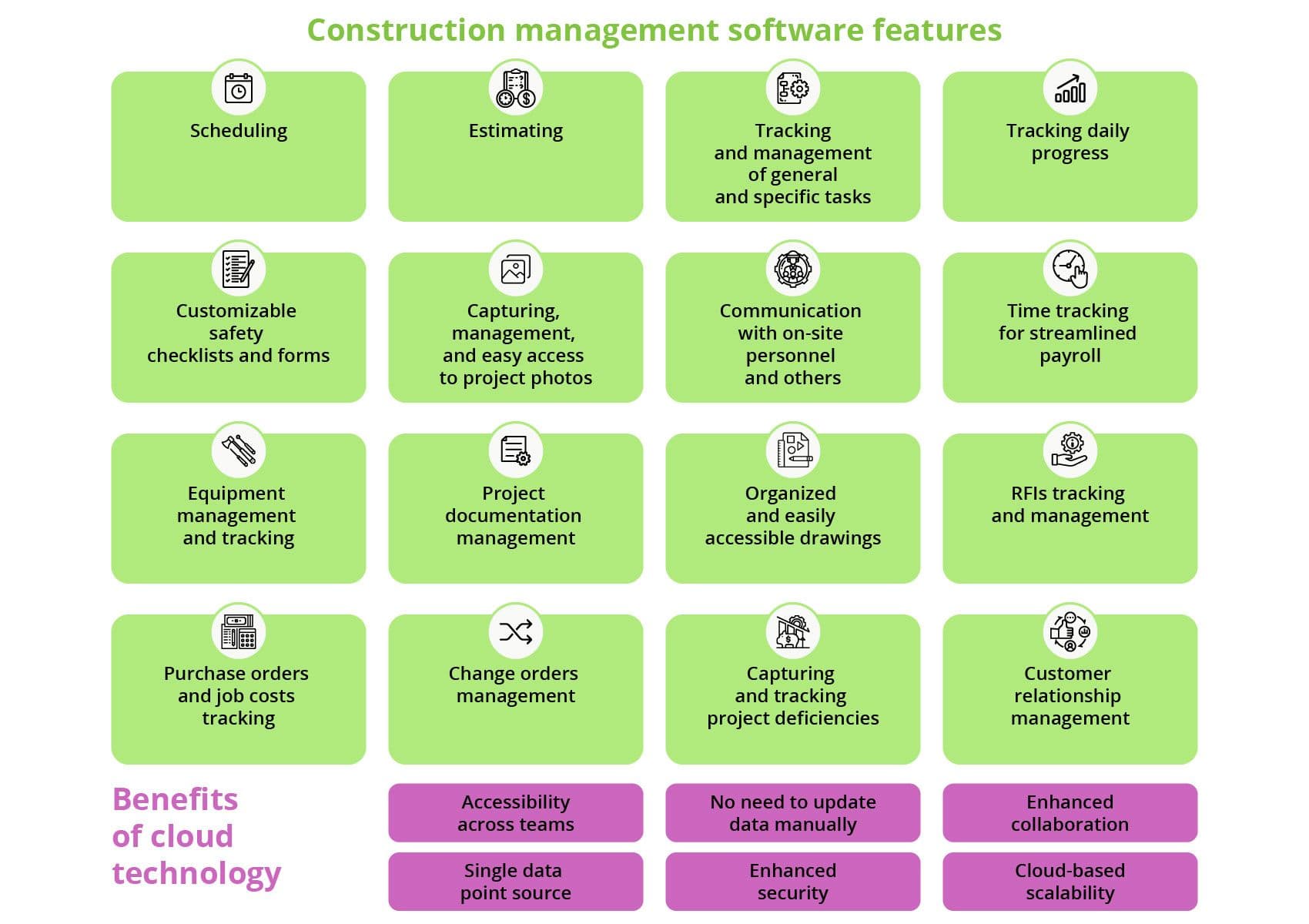 Instead of using commercial software and paying monthly fees, your company can order a custom solution with modules that meet your company's unique requirements and help adapt to each project's specifics. 
Cloud computing is a major enabler for other recent trends in construction technology, such as building information modeling, the Internet of Things (IoT), augmented reality (AR) and virtual reality (VR), and big data analytics.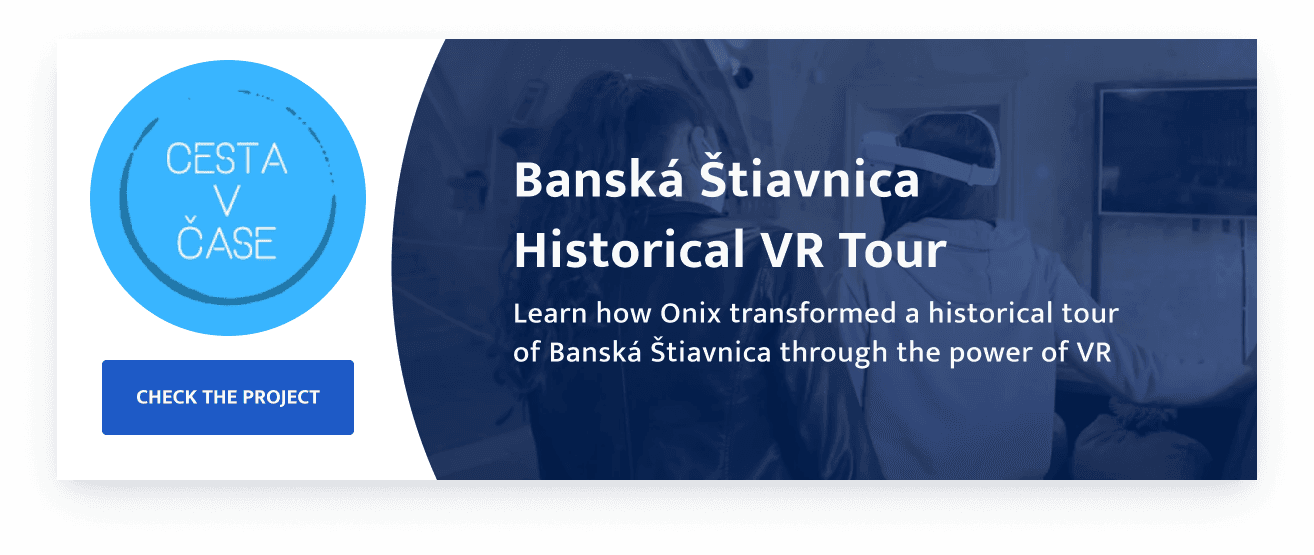 II. Mobile Apps and 5G 
Mobile phones and tablets are already used on job sites worldwide, most of them leveraging cloud technology. The 5G wireless technology becoming more accessible and widespread will further facilitate this innovation in building construction in 2023. Together with Wi-Fi 6, it will enable users to communicate even more effectively, share large-scale drawings, and run resource-heavy apps without compromising speed and performance. These factors are expected to catalyze the development of construction mobile apps that will become increasingly diverse, feature-rich, and effective.
Forward-looking construction companies are investing in mobile solutions to improve workflows and increase productivity. Mobile technology enables real-time data collection, time tracking, field reporting, updates, and communication between on-site employees and back-office project managers. The list of tasks a mobile app can help with is virtually endless.
Learn more: Construction application development – a step-by-step guide
For example, Onix has rewritten a mobile app for a US construction company that specializes in luxury housing. It is important for their clients to feel in control, visualize, and personalize the construction process. The app connects the consumers with the workers who build their dream home, enabling remote monitoring. The app also helps the construction company to track progress and keep construction permits on hand.
The workers, typically the construction manager, take pictures on the job site and mark tasks as 'ready' or 'in progress.' Based on these, the app calculates the percentage of project completion. The photos and project status are promptly sent to the client; push notifications prevent them from missing the updates.
A redesigned version will include video sharing, adding links to building permits for the construction managers, tracking user status, and information on team members' availability.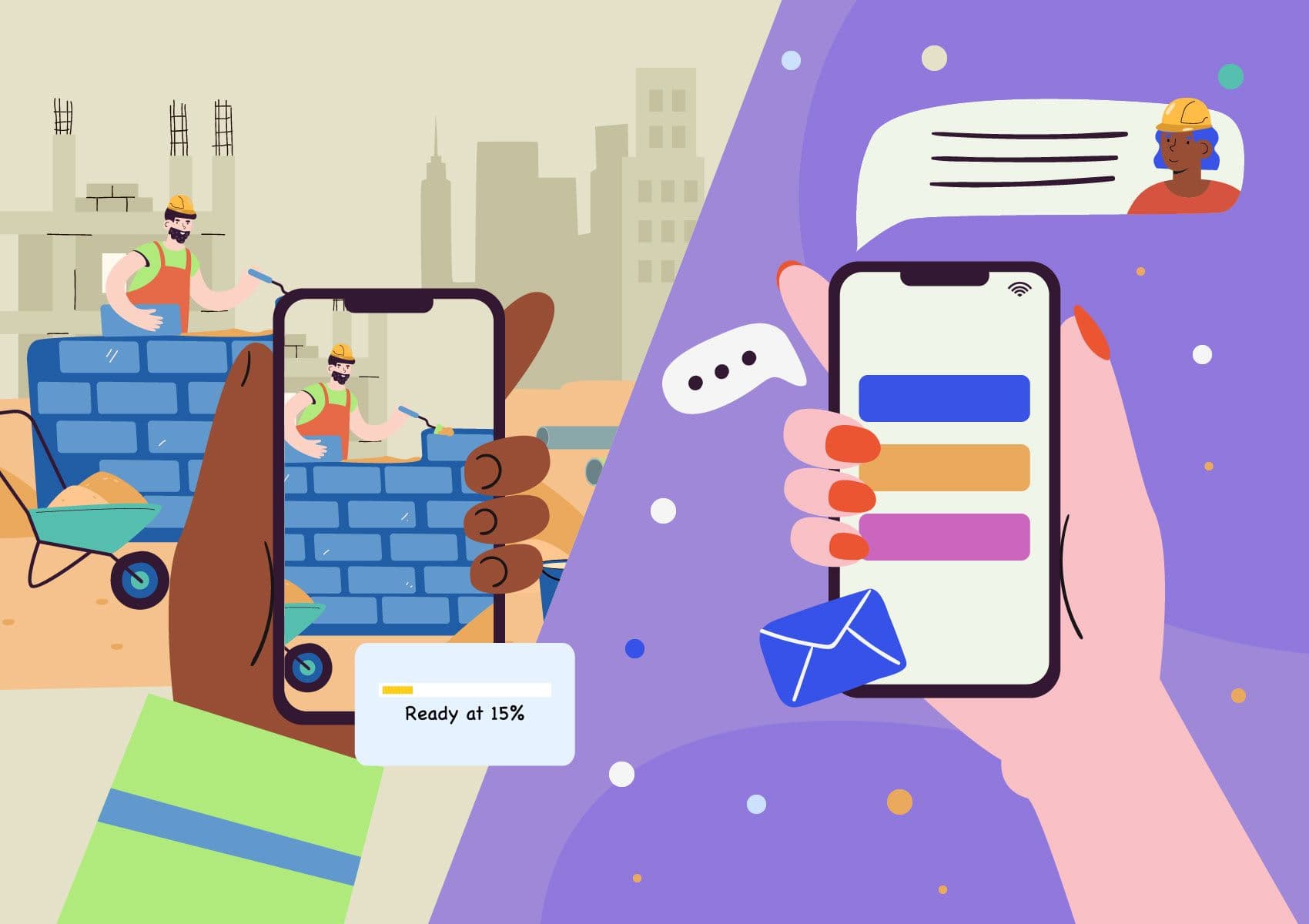 Apps available on mobile devices also provide construction managers and workers with tools to do their jobs effectively and safely. For example, Safesite claims to reduce workplace incidents by up to 57% and save field and safety professionals 8 hours per week by streamlining time-consuming processes. The intuitive app enables them to manage, monitor performance, and track the results of their safety efforts in one place on any device. 
5G and Wi-Fi 6 will also facilitate big data processing, the work of drones and robots on site, and other innovations in construction.
III. Building Information Modeling (BIM) Technology & Digital Twins
BIM is the creation of three-dimensional digital representations of the physical and functional aspects of buildings and their infrastructure early in the project. Creators can add additional layers of data to the interactive 3D models, e.g., construction specifications, pricing, lifecycle predictions, and performance scoring. 
BIM tools enable engineering, architecture, and construction professionals, even those on site, to work on a shared model. All changes and updates are immediately visible to all stakeholders. This facilitates collaboration and problem-solving and increases accuracy during the design and construction processes, as well as prefabrication, takeoff and estimating, planning, scheduling, and resource management.
Some of the BIM solutions on the market include BIMx, Trimble Connect for Windows, and Autodesk's BIM Collaborate Pro, Navisworks, and Revit.
BIM moves towards 4D, 5D, and even 6D, adding construction schedule, cost and materials, and more details to the software. The geometrics, thermal and acoustic properties, and aesthetics will become available long before construction begins.
BIM helps architects and contractors identify clashes between several models during the design stage, reducing the risks of budget overruns and delays in project completion time.
The visualization of the construction process facilitates planning out each construction phase. It becomes easier for estimators to calculate the exact quantities of building materials and components a project requires.
The modeling tool also facilitates document management, coordination, and simulation during the planning, design, construction, operation, and maintenance of a building.
BIM promotes a better project scope understanding, shorter project cycles, and increased productivity. It also supports other construction industry technology trends, such as digital twins, artificial intelligence (AI), VR, and scheduling software. 
Digital twin technology uses sensors, drones, and IoT applications to gather data on an existing building or one under construction. AI software, advanced analytics, and machine learning algorithms process that data to create and update a dynamic digital replica of the building in real time.
Digital twins can be used to create data-rich as-built drawings, improve project scheduling, monitor a project's status throughout all phases, and simulate, predict, and guide decisions.
IV. Augmented Reality (AR) and Virtual Reality (VR)
AR superimposes computer-generated images on a live view on a device's screen, while VR fully emerges wearers of special headsets in a simulated environment. 
We see the growing adoption of AR technology in the construction industry, where applications use markers, such as QR codes, architectural drawings, or geolocation to overlay BIM models, installation and safety instructions, and more.
For example, the image of a completed project can be overlaid on an empty site view or a blueprint so that the client can visualize it during discussions.
The presentation of BIM data through an AR visual platform can foster coordination and collaboration between consultants, designers, and construction teams. Overlaying the images of buildings, systems, and their surroundings on real site views, users can visualize the projects, simulate architectural or structural changes, receive clear feedback, and facilitate design improvements. 
AR integrated into head-up displays in safety goggles and hard hat visors has enormous potential in construction. Workers will be able to check project documents, guides, and checklists, access critical information about equipment, see hidden structures or 3D models, and identify hazards and ways to avoid them while keeping their hands free to perform tasks. Trimble XR10 with Microsoft HoloLens is a great example of a hard hat solution.
The ability to view the real world through a lens opens up many new opportunities for the construction industry. Сompanies that can afford it now will revolutionize the way they design and build things.
Paired with BIM, VR also facilitates collaboration between the architects and other stakeholders. First, they create a building model with BIM and then literally walk through and around its twin in virtual reality.
It's a low-stakes way to visualize an entire project, eliminate change orders, and detect clashes before construction. The team members can work together on a project regardless of their physical location.
Read more: Virtual reality meetings: benefits and use cases
Both AR and VR can facilitate the detection of design and coordination errors.
Immersive visualization enables architects to present their designs and firms – to showcase property for sale or under construction. Managers, supervisors, inspectors, owners, or tenants don't even need to be physically present to take a walkthrough of a building.
VR apps also help teach safety, equipment operation, and building systems installation. Simulated environments expose trainees to various field scenarios and possible hazards they have to handle while staying safe.
For example, Onix once developed a gamified VR simulation for VR/MR platforms. The VR experience emulates a skyscraper construction site, complete with noise and heights. Users can move around the site, interact with virtual objects, and don virtual PPE. Checklists, guidelines, and warnings help them on the journey. Correct actions earn scores, and safety violations may prove fatal – luckily, only in virtual reality. 
Learn more: 4 best ways to benefit from VR in construction
Both VR and AR bring to any training process the edutainment component that improves learning outcomes. Moreover, they appeal to the new generation of construction workers who expect to utilize digital technology at every stage of their work. 
V. Big Data and Artificial Intelligence
Big data, which basically describes using vast volumes of data to uncover hidden trends, correlations, anomalies, or patterns in behavior, is not a new building technology trend itself. However, it provides the basis for data-driven decision-making, AI, and automation systems, whose role in the architecture, engineering, and construction industries is growing. 
For example, data collected on projects over the years can be used in construction planning and scheduling, to predict future outcomes, optimize building design, assess and mitigate risks, or in predictive logistics. Forecast models allow project managers to determine the feasibility of their time frame.
AI, which enables computers and machines to mimic human intelligence, is expected to be used more frequently in conjunction with BIM, cameras, laser scanners, sensors, wearables, and other technology that gather the necessary data.
Learn more: How AI can transform your business: 8 applications
The data is also valuable for machine learning (ML), a subset of AI where computers learn from data using algorithms without being programmed.
Here are some examples of how AI and ML can benefit construction firms and the industry today:
ML allows developers to explore different versions of a solution and create design alternatives, considering the mechanical, electrical, and plumbing systems.
The analysis of weather, traffic, and community and business activity data can help determine the most problematic areas and optimal phasing of construction activities. 
By analyzing the productivity of the workforce and equipment, project teams may be able to predict potential delays, fatigue, and overall project time and cost overruns.
Using photos, recognition technology, and geolocation, construction sites can be monitored to identify inadequate PPE or hazards and immediately alert the worker and safety manager via their smartphone or a wearable device, preventing accidents.
The same method can help with surveillance, real-time theft protection, and work progress monitoring, improving accountability and efficiency on construction sites.
AI is integral to the development of self-operating and autonomous construction equipment, robots, and drones that monitor job site progress and improve productivity.
Using ML algorithms, AI can check the quality of excavation, plumbing, and electrical work and the compliance of the installed systems with the initial models and plans.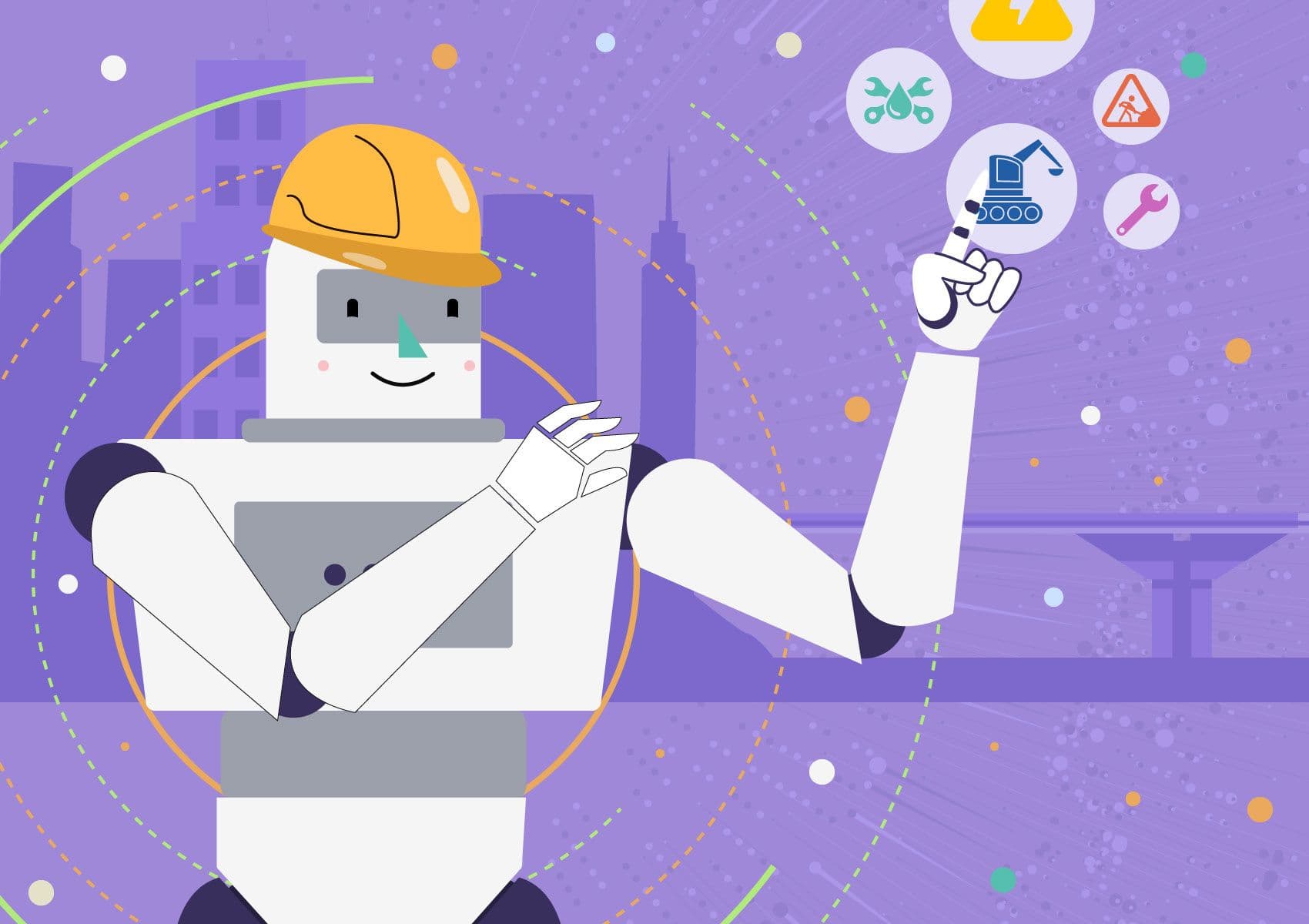 Final Thoughts
The application of new technology in construction changes the way companies design and plan their projects, run daily operations, control and integrate value and supply chains, supervise work on the ground, and connect with consumers.
Cloud-based collaboration, project management, and ERP software, big data, AI and ML, building information modeling, AR, VR, and construction mobile apps are arguably the main instruments of digitalization currently. Cloud computing, mobile technology, and AI are especially important since they pave the way for other emerging technology trends in the construction industry.
Other relatively new trends in construction technology include:
3D printing

Internet of things (IoT)

Wearables

Robots and drones

Blockchain technology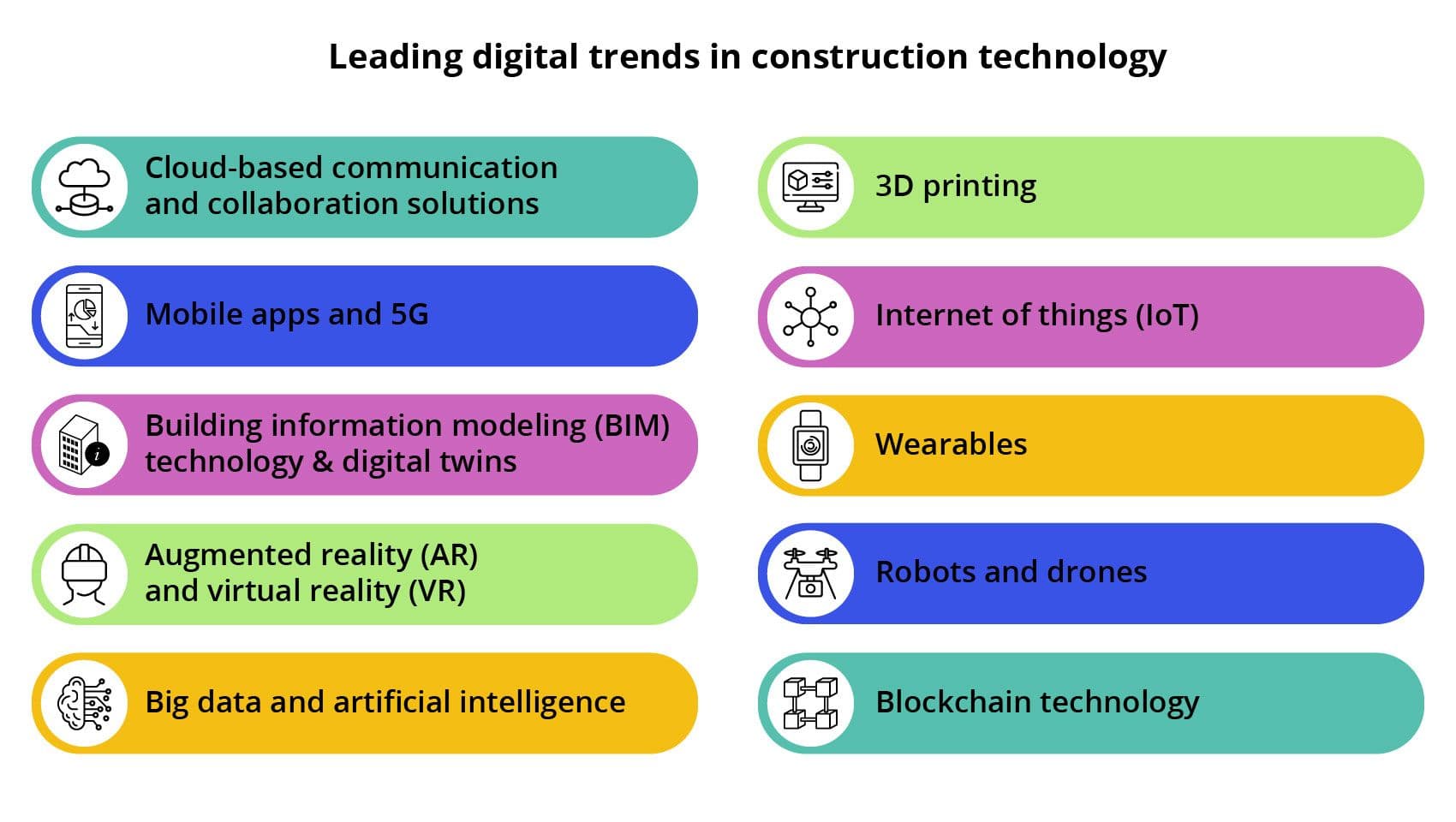 The application of new technologies in construction raises hopes for businesses amid labor and material shortages, soaring material costs, and other challenges. They streamline project management processes, promote higher efficiency and accuracy, improve working conditions and safety, and reduce risks, costs, and waste. The ability to build faster and smarter makes a company more competitive. Its projects can become environmentally friendly and create a reputation for technological innovation.
The need for remote collaboration and control, increased safety, and 'going green' will further drive innovation. Construction companies that want to gain a competitive advantage, attract a younger workforce, and appeal to increasingly sophisticated clients need to invest in digital solutions and keep their eyes open for future trends in construction technology.
Are you looking for software solutions for your construction business? Onix is here to help. We are an award-winning web and mobile development agency with experience in emerging technologies like AR, VR and AI. Just book a free consultation so we can discuss your business needs and suggest an optimal solution.
FAQ
What type of didital technology is trending in the construction industry?
There current digital technology trends in the construction industry include:
Cloud-based communication and collaboration solutions
BIM and digital twins
AR and VR applications
Big data, AI, and ML
3D printing
Robots and drones
IoT
Wearable devices
Blockchain technology
What are the most popular types of construction apps?
Computer-aided design, drawings, and collaboration apps 
Construction management tools
Construction materials calculators
Material delivery apps
Construction site inspection apps
What is the impact of IT innovations in the construction industry?
The use of new technology in construction projects results in the following improvements:
Streamlined communication and collaboration between back-office and field workers, reduced errors and higher productivity
More flexible and accurate documentation and record-keeping
Greater flexibility, efficiency, and transparency of the construction workflows
Increased visibility, accountability, and safety on job sites
Reduction in paperwork, calls, emails, trips, non-compliance instances, and mistakes that lead to rework 
Reduced construction time