Stiff competition drives companies to reimagine experiences for modern consumers. As the availability of VR/AR to wider audiences is growing, forward-looking retailers and online stores should get ready to incorporate them into their business flows. Today, it's accessible without specialized gear on a shopper's smartphone. This advantage is coupled with the growing number of purchases via mobile devices and shoppers using smartphones in stores.
Since Onix experts have deep expertise in using AR for retail projects, we decided to share some useful information with those considering this technology for their businesses. Let's get started!

AR in Retail: 2023 Stats and Trends
As we move into the future, it's likely that augmented reality will play a significant role in the retail industry. Here are some statistics to support that:
- By 2024, it's estimated that there will be 1.73 billion AR users worldwide.
- In terms of revenue, AR in the retail market is expected to grow from $2.39 billion in 2018 to $24.5 billion by 2025.
- A recent study found that 60% of consumers would be willing to try AR when shopping online if it meant they could see how products would look in their home before making a purchase.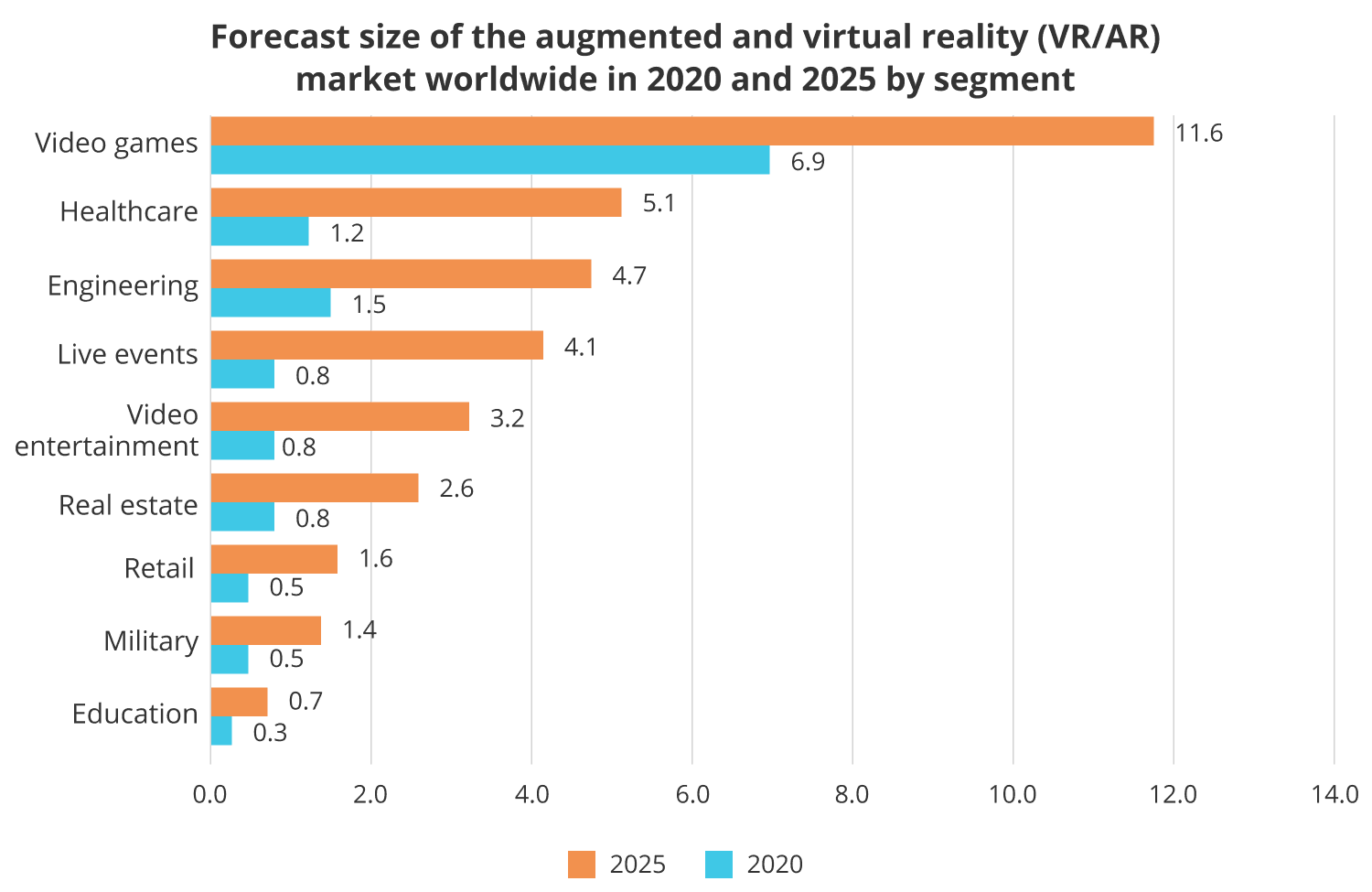 AR has a wide range of potential applications within the retail sector, from in-store shopping experiences to online customer service tools. And as consumer demand for AR increases, it's likely that we'll see even more retailers looking to adopt this technology in the coming years.
So what can we expect from AR in retail over the next few years? Here are some key trends to keep an eye on.
1. More retailers will start using AR in-store: In-store shopping experiences are one of the most critical touchpoints for retailers, so it's no surprise that many are exploring how AR can enhance this experience. For example, Ikea has been using AR for a while to allow customers to see how furniture would look in their homes before they buy it. And we're likely to see more retailers following suit in the coming years.
2. Online shopping will get even more interactive: AR is also playing a big role in changing the way we shop online. By bringing products to life virtually, AR allows customers to get a better sense of what they're buying without having to see or touch the item physically. This is particularly useful for clothes and shoes, which can be challenging to judge from a traditional online photo.
3. Retailers will use AR to improve customer service: As well as being used for shopping experiences, AR is also used as a customer service tool. For example, Sephora has been using AR in its stores to allow customers to try on makeup before they buy it. This not only helps customers to make more informed choices but also reduces the number of returns.
4. Augmented reality will become more affordable: As AR technology develops, it's becoming more and more affordable for retailers to implement. This means we're likely to see even more retailers adopting AR as the cost of entry becomes increasingly lower.
Read also: Best AR/VR Applications in Mobile Apps
Benefits of Using Augmented Reality in Retail
As a retailer, you are always looking for ways to give your customers a better shopping experience. Here are some benefits of AR in retail:
1. Allowing customers to try products before they buy them.
2. Helping customers find items in store.
3. Enhancing the in-store experience.
4. Increasing sales and engagement.
5. Boosting customer satisfaction.

Each of these benefits can lead to increased sales and happier customers. Let's take a closer look at each one.
1. Allowing customers to try products before buying them
One of the biggest benefits of using AR in retail is that it allows customers to try products before they buy them. This is especially useful for expensive items like furniture or electronics.
With AR, customers can see how a piece of furniture would look in their home before they purchase it. They can also test out different features of an electronic product to see if it meets their needs. High customer engagement can lead to more sales, loyalty, and repeat business.
2. Helping customers find items in stores
Another benefit of using AR in retail is that it can help customers find items in stores. This is especially helpful for large stores with many products like IKEA.
With AR, customers can use their smartphone to find an item in the store and get more information about it. This can save them time and frustration, making them more likely to return to the store.
3. Enhancing the in-store experience
In addition to helping customers find items in the store, AR can also enhance the overall in-store experience. This is because AR can provide a more immersive shopping experience that is fun and engaging.
For instance, AR can provide customers with information about products they are interested in. Additionally, AR can provide customers with directions and information about sales and promotions. Finally, AR in retail can provide customers with a more personalized and enjoyable shopping experience.
4. Increasing sales and engagement 
AR can enhance the in-store experience and increase sales and engagement. This is because customers who have a positive experience in the store are more likely to make a purchase and return in the future. Customers can try on products, see how they look in real life and get a feel for the size and scale of products before they purchase them. 
5. Boosting customer satisfaction
Finally, AR increases customer satisfaction. A recent study found that AR could increase customer satisfaction scores by 3.5%. Every point mentioned above adds satisfaction to the customer experience and gives customers a more enjoyable shopping experience. In turn, this can lead to increased sales and loyalty.
Read Also: How to build an VR training solution
Use Cases of Augmented Reality in Retail and Shopping
1. Augmented Reality Shopping Solutions for Ecommerce
AR enables potential customers to experience products and services at home and to make informed purchase decisions. They can examine a realistic 3D model of a product as if it was in front of them. 
Return of the goods often comes down to the consumer's inability to visualize them within their setting. For example, HORNE sells unique furnishing items only online. Interior designers make up a large segment of their customers. People would frequently send in a room photo and ask, 'Would that lamp look good?' Thanks to AR, they can now see it in their room, next to the pieces they own. A designer can shoot a link over to their client. They'll pop a product up on their phone, point it in their room, and make the decision.
The multi-channel Anthropologie released an eponymous mobile app with a similar feature. It empowers shoppers to customize the look of the furniture with different fabrics, colors, and finishes. It gives views from different angles and even with different lighting. Creatively visualizing a piece in their home, consumers get closer to owning it and feel more confident about purchases starting at thousands of dollars.
Cosmetics are also better to "try before you buy." MakeupGenius app by L'Oréal Paris was the first to let consumers make up their faces virtually. They could match and even mix products to create the desired look.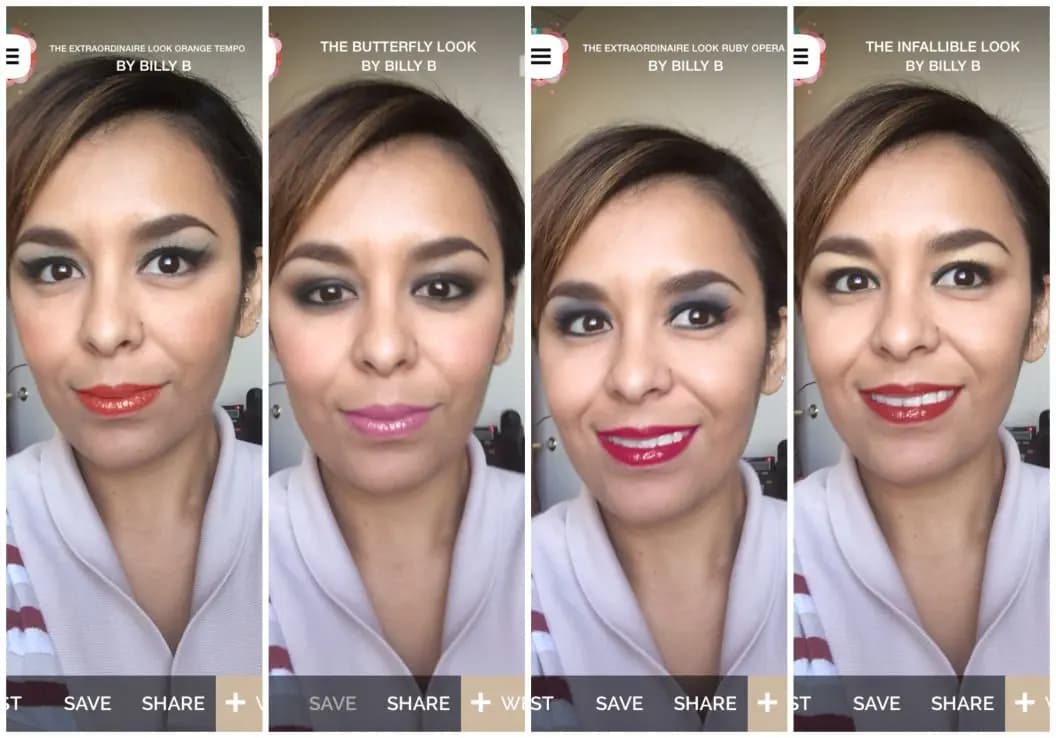 Sephora also offered virtual makeup and overlaying tutorials on selfies. If the user liked the look, they could buy it. (Notice how both applications reduce the number of steps to make a purchase while showcasing products.)
Almost 70% of online shoppers still abandon their carts. Businesses must work harder to convince them to purchase. In some aspects, online shopping should feel like being inside a physical store. Again, AR and VR provide an answer. Virtual stores and showrooms offer more immersive shopping experiences than most e-commerce apps.
Retail stores' main advantage over e-commerce is that shoppers can see how garments fit and look on their bodies. AR apps are changing the game by offering virtual fitting rooms. GAP was one of the first to do it with the DressingRoom app. Users pick their body size, select an item, and see a digital mannequin wearing it. Users can see garments look from different angles and purchase them from within the app.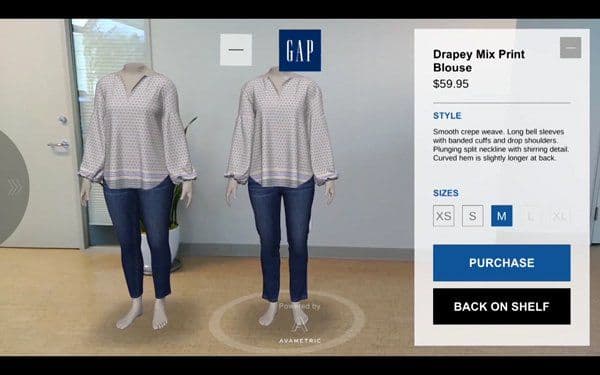 Such solutions reduce the fit issues, decrease purchase returns, and increase customer satisfaction.
Design houses, uniform manufacturers, and others in the apparel industry should consider AR technology opportunities too. Augmented reality clothing applications will empower them to close the gap between online and brick-and-mortar stores. The apps will be able to determine the customer's sizes, including length adjustments, across several product lines. Custom-tailored garments will be faster, easier, and more affordable to make and acquire.
Texas-based Rebel Athletic launched a mobile AR app in 2018. The smartphone camera takes a full-length body scan. From it, accurate measurements are derived and used to achieve custom-fit clothing. The app integrates with Salesforce and Customer Relationship Management platforms that can be used for individual and team business orders.
AR apps also mean apparel customization opportunities. They will empower users to design, customize, and 'try on' virtual garments, even for unique body shapes.
The business potential unlocked by augmented reality is accessible to all. For example, Shopify AR's toolkit empowers small businesses to create their own AR experiences. There's a marketplace of 3D modeling services and a 3D Warehouse App to store the models of the products. It's easy to add Apple's AR Quick Look support to the store. The 3D models are viewable in AR through the Safari browser on iOS 12 devices. Neither a headset nor even a separate mobile app is required.
People may be reluctant to download an AR-enabled app and use it as the primary shopping tool. Having it baked into the browser solves the problem. Web-powered AR facilitates experiences readily available through mobile browsers. Safari retains nearly half of the U.S. market share for mobile browsers. That means that many Apple users will be ready to shop with AR.
Finally, AR solutions seem to have the potential to attract people to physical stores.
2. AR In-Store Experiences
Brick-and-mortar stores remain essential for most people's everyday shopping experiences. However, with online shopping booming and e-commerce moguls venturing offline, physical stores must adjust rapidly. Their evolution implies transitioning to a more frictionless environment and new ways to delight and engage consumers.
Customer apps and beacon technology are some tools that already enhance in-store experiences. AR headsets or dedicated mobile apps allow companies to project additional content and information about the displayed items. 
No wonder most users claim that shopping is also more fun with AR. It helps businesses to curate shopping journeys and more interactive in-store experiences, drive more foot traffic and publicity, and make their goods stand out. For example, Timberland created a virtual fitting room and turned it into the main window display. People could try items on without entering the store, searching for their size, and so on.
Many shoppers might even pay more for a product they could experience through AR. (Make sure to place purchase buttons in your AR shopping experience!) Finally, most consumers prefer stores that offer AR solutions and feel more positive about such retailers or brands.
Increasingly sophisticated AR and mobile technology can be leveraged to connect with customers, bridge the gap between mobile devices and physical retail, link together a brand's offline and online shopping experiences, drive in-store visits, and increase sales. 
Zara released an AR shopping mobile app in 2018. The goal was to engage increasingly mobile-focused shoppers. When users point the camera at a mannequin or the screen of their e-commerce purchase, a model wearing the clothing appears. From there, they can click to shop the look and related items and snap and share the holograms on social media.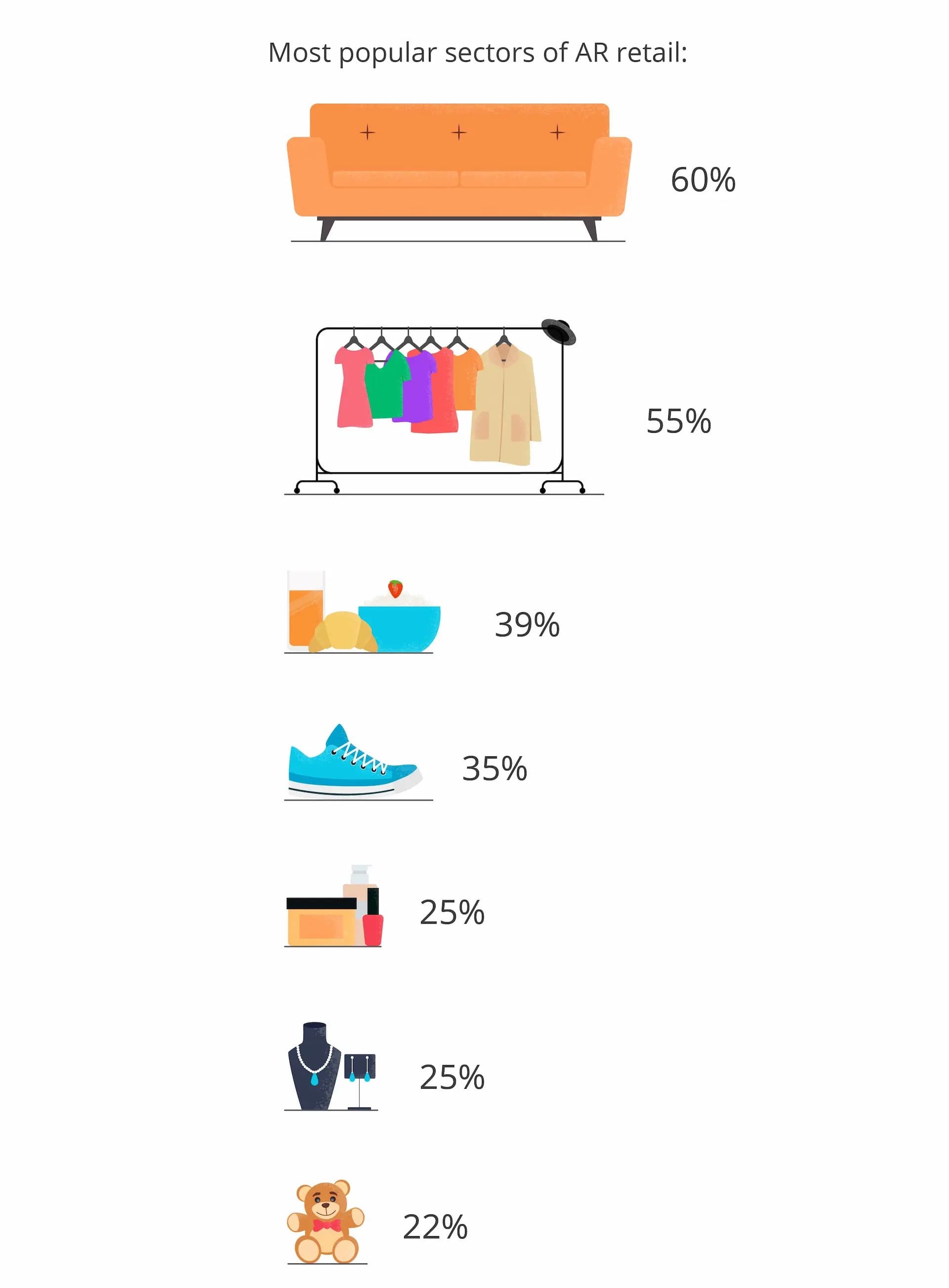 As the full potential of augmented reality shopping continues to unfold, in-store AR experiences will be increasingly accessible and valuable for companies and customers.
3. Augmented Reality Stores
Modern consumers expect to be able to shop online, in a store, or wherever they want. In 2010, GoldRun mobile app helped create the world's first augmented reality store for Airwalk. Geolocation, mobile, and AR technologies helped to bring limited-edition sneakers directly to the biggest skate and surf spots. Two 'invisible stores' were set up in Washington Square Park in NYC and Venice Beach in LA. Virtual versions of the sneakers were GPS-linked to each location. 
Users of a dedicated AR app would capture them and get a unique code link to make the purchase. The campaign resulted in $5 million in earned media. Airwalk's online store had its busiest weekend by that time.
Such 'pop-up stores' offer the opportunity to create engaging targeted shopping experiences, a cheap yet highly-effective sales channel, and a chance to increase brand awareness. The solution is especially attractive if coupled with a store- or product-specific game that encourages users to play with and experience the products.
4. Augmented Reality for Marketing and Promotion
The marketing area looks like a perfect environment for augmented and virtual reality implementation. At its simplest, AR provides an innovative way to spice up business presentations and connect a brand's catalog with the mobile experience.
AR technology helps retailers attract customers to stores and connect to and communicate with them. Additionally, AR-powered solutions help to extend a brand's reach. For example, millennials are looking for fresh ways to engage with stores and brands. Delightful AR experiences are just the way to connect with, market, and serve such customers. Valuable and fun features in a brand app also drive app downloads and usage, helping owners to build digital channels.
Apparel and accessories retailer Tilly's has a website, mobile app, and 200+ stores, many based in shopping malls. AR promotion brought together animated 3D images, in-store video cameras, and a huge video screen in one of those stores. 3D animation overlapped the shoppers' images to show them interacting with a life-size dragon, octopus tentacles, dinosaurs, and so on. The video feed was projected to the front window. The results included a 30% store traffic hike and more consumers downloading the brand's mobile app.
Tilly's also used AR in a treasure hunt tied to back-to-school shopping. It encouraged store exploration, interaction with hero products, and instant social media content sharing. The participants downloaded or updated the app and were allowed access to location tracking and phone camera. Then, they searched the stores for animated coins connected to marker images. Shoppers who found three coins received a discount coupon. The event drove "tens of thousands" of entrants to stores, which yielded an 80% coupon redemption rate. There was a 23% increase in app downloads.
5. Augmented Reality for Brand Awareness and Loyalty
Consumers are more willing to shop via a retail app than ever before, so retailers need to create better personalized experiences to meet their expectations. In the overcrowded retail and e-commerce world, finding new and more sophisticated ways to stand out, engage customers, and establish new brands is vital. Sometimes it means taking risks.
Outdoor clothing retailer Moosejaw once released a free iPhone and Android app for in-store signs and the printed and online catalog. It endowed the users with "X-ray vision" so they could see what the models were wearing — if anything — beneath the clothes. Notably, there were 250,000 downloads. The campaign allegedly drove a 37% sales hike during Thanksgiving weekend alone.
Augmented reality shopping solutions don't need to be profitable or convert users. It's the customer experience that primarily matters. 7-Eleven uses AR, chatbots, and rewards programs to drive customer loyalty. Entertaining AR in-store experiences are becoming essential to its promotions. In April 2018, the chain received a 73% rating on the best in-store experiences. That may signal that the marketing efforts resonate with customers.
AR built into a product may assist in building communications that last long after the product was consumed. 
For example, Danone employed AR technology to improve customers' loyalty. A yogurt for children was coming with scannable magnets. A mobile app recognized them to animate planets, galaxies, aliens, and spaceships. Dino, the Danone mascot, would tell exciting facts about the Universe, emotionally educating and engaging the young consumers. To learn the whole story, they had to collect all the magnets. Photos with the 3D animations were shareable on Instagram or Facebook in one click. The AR app became a leader in the family category on the App Store.
AR may be instrumental in building brand identities associated with the latest trends, top-notch technology, quality, care, and personalization.
6. Augmented reality in fashion/apparel
AR can help shoppers find the right size and fit of clothing and give them a virtual try-on before they make a purchase. Some retailers already use AR in their stores and online, and the benefits are clear. AR can help shoppers make better purchasing decisions, resulting in fewer returns and happier customers. In addition, AR can also create a more engaging shopping experience that encourages customers to spend more time (and money) in your store or on your website.
Some of the ways that AR is being used in fashion and apparel include:
- Allowing shoppers to virtually try on clothes and accessories
- Providing an interactive map of a store or mall
- Displaying real-time product information and pricing
- Enhancing the in-store shopping experience with AR games and puzzles
AR can also be used to create virtual fitting rooms, where shoppers can see how an item of clothing looks on them without having to try it on physically. This can be particularly helpful for shoppers who are unsure about what size to buy or who want to see how an item looks in different colors.
AR is also being used to create virtual models of products so shoppers can get a better idea of what they are buying. For example, shoppers can see how a piece of jewelry looks on them before they purchase it. This can also be helpful for shoppers who want to see how an outfit looks together before they buy all the separate pieces.
7. Augmented reality in furniture stores
AR can be used in several ways in furniture stores, from helping shoppers visualize how a piece of furniture will look in their home to providing interactive features that make the shopping experience more fun.
For example, Ikea has an app that allows users to place virtual furniture in their homes to see how it would look before they buy it. This is a great way for shoppers to get an idea of what a piece of furniture will look like in their space, and it can help them make a more informed decision about their purchase.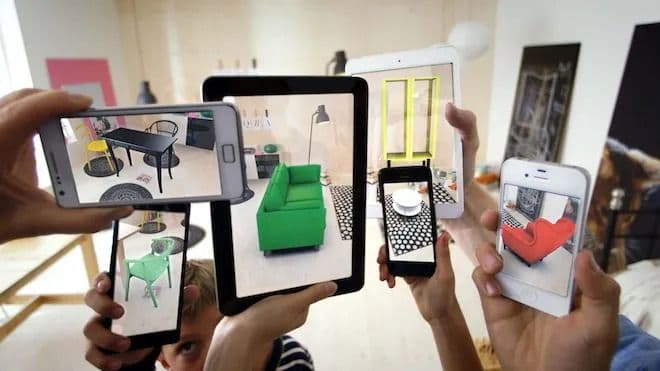 Other furniture stores use AR to create interactive experiences that make shopping fun. For example, some stores have created games that shoppers can play while they browse the furniture. This is a great way to keep shoppers engaged and entertained while they shop, and it can help them forget about the stresses of everyday life.
Our Experience of Using AR Technologies
Onix is a leading provider of VR and AR development services. We have years of experience developing high-quality VR/AR applications for various industries, including retail, e-commerce, healthcare, education, and more. 
Our development team excels in creating interactive educational environments, visualization tools for designers, virtual interior design, real estate business representation, brands in the business, video games, industrial visualization, media and entertainment, maps, and image recognition. We are constantly expanding our capabilities to provide innovative solutions for our clients that push the boundaries of what is possible. 
One of our AR projects is trying various watches. We designed an application for trying on a watch on your wrist in augmented reality mode. The user puts the wristband on paper with a printed marker at the wrist level. The virtual layer of the program draws on the screen the wristwatch of the selected model and materials. The demonstration stand used an ordinary web camera, Windows platform. VisionLib technologies were used as the AR framework. Work was also tested using EasyAr, Maxst, OpenCV for Unity, and Xzimg libraries. Let's have a look at it.
Ready to get the most out of your business by leveraging AR? 
AR applications are revolutionizing mobile and online shopping and bringing e-commerce platforms to a new level. Augmented reality shopping features which bring products to life entice people to buy. 
Virtual visualization provides greater interaction with products for remote customers and more personalized options. Vast showroom experiences drive purchases, and the ability to 'try before they buy' promotes informed purchase decisions. 
It's not only increasing conversions and reducing returns. It's fostering more happy customers. AR is also about to change the way the fashion industry creates, showcases, and retails its products.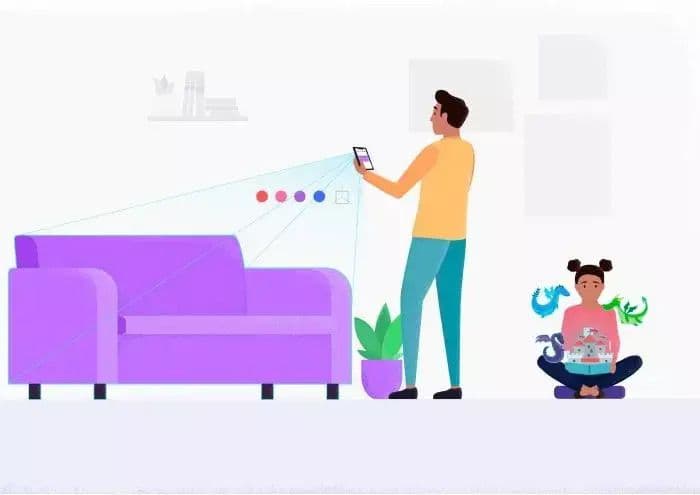 The inspirational examples cited in this post demonstrates that AR's role is growing. So are the number of brands leveraging augmented and virtual reality. Together, they facilitate the global onset of AR and VR commerce.
Would you like an AR application for Android or iOS to give momentum to your business right now? How about an augmented reality shopping experience in your business strategy? Contact Onix — we can help!

FAQ
How AR is used in retail and shopping?
AR can be used in retail stores to provide an interactive shopping experience, or online to give shoppers a better idea of what they are buying. Some benefits of using AR in retail include:
- Allowing shoppers to see how products would look in their homes or on their bodies before they buy them
- Helping shoppers to find items in store, or providing directions to specific products
- Providing information about products, such as reviews and ratings
- Enhancing the in-store shopping experience with interactive features and games
How can AR increase customer engagement?
AR can be used to provide an immersive shopping experience. This can be done by allowing customers to try on products virtually or by providing them with an interactive view of the product.
AR can also be used to create loyalty programs that encourage customers to keep coming back. For example, some retailers are using AR to offer exclusive deals and rewards to customers who scan a QR code in-store. This not only helps to increase customer engagement, but also loyalty.
How do retail businesses and customers benefit from AR technology?
AR can provide several benefits for both retailers and customers. For retailers, AR can help to increase sales and foot traffic by allowing customers to "try before they buy". AR can also help to create a more interactive and engaging shopping experience that can lead to increased customer loyalty. For customers, AR can provide a convenient way to shop and compare products from the comfort of their own homes. AR can also help to eliminate "buyer's remorse" by allowing customers to see how a product will look and function in their own space before making a purchase. Overall, AR has the potential to revolutionize the retail industry by providing a more immersive and convenient shopping experience for both retailers and customers alike.