As technology continues to advance, the integration of augmented reality (AR) and virtual reality (VR) in mobile applications is revolutionizing various industries. These cutting-edge technologies go far beyond gaming and entertainment. Many companies have already incorporated AR/VR apps into their business: from education and ecommerce to healthcare and construction. The applications of VR in mobile apps have opened up exciting possibilities for immersive experiences and enhanced user engagement.
So, how can businesses benefit from applications of AR and VR?
Lucky for you, that's exactly what we're going to cover in this article. We have extensive experience in creating AR and VR products in various fields: from games and simulators to 3D animation of buildings and virtual tours of a museum. So, we have plenty of knowledge to share with you.
Please keep reading to discover why you should think about VR and AR applications, and how popular companies use and benefit from these technologies. We will show you real examples and share our experiences. Let's dive in!
Benefits of using AR and VR technologies
Nowadays, AR and VR are changing the way businesses function and this technology is continuing to gain momentum. According to Statista, the global AR and VR market will reach $296.9 billion U.S. dollars in 2024.
And such a significant increase in demand is for a good reason. There are some important benefits augmented reality and virtual reality applications can bring to various industries; let's go over them.
Improved communication and collaboration
When it comes to international partnerships, AR and VR help remove barriers. These technologies can assist with translations or creating a shared space. VR enables people to attend conferences or shows virtually and brings live events to those who couldn't participate otherwise. Participants located around the globe share a VR experience simultaneously, which again ensures more transparent and productive cooperation.
Read more: Building a Grocery App in 2023 — Tips from Onix
Memorable and enhanced user experience
Applications of augmented reality make the customer experience more efficient and comfortable. AR technology enables people to virtually model and try on items such as: clothing, houses, jewelry, makeup, cars, and furniture. This enhanced experience leads to measurable positive responses and increased sales.

Detailed analytics to better understand consumer behavior
Companies can have access to comprehensive analytics, letting them accurately know their customers. Augmented and virtual reality technologies use the web and social media analytics to deeply understand what users are specifically looking at, their tastes, and preferences. These accurate insights help companies promote their products more effectively.
Boosting sales
Applications of Augmented Reality and applications of Virtual Reality is a powerful tool for driving sales and increasing revenue. Since this technology provides a convenient user experience allowing consumers to try many products, clothing, furniture, etc., virtually, it encourages people to buy more often.
Lower development costs
Visualization is essential for projects in any industry. Without tables, charts, infographics, and other means of visualization, data, statistics, and analytics are not easy to understand, much less to share with people. AR provides an excellent tool for showcasing data by placing it in a visual context and bringing it to life. Eventually, applications of VR and AR will take visualization a step higher, providing immersive experiences to people studying and discussing data and prototypes. Stakeholders can see a prototype in 3D with all details from all angles and provide immediate feedback. This flexibility allows for identifying errors early on and reduces app development costs when creating and testing prototypes.
Both VR and AR technologies are still in their emerging stages but hold immense promise for businesses even now. Moreover, an entrepreneur that enters the industry early improves the chances for success. Let's take a look at the most promising virtual reality and augmented reality use cases.
Best virtual and augmented reality use cases
Gaming
The revenue of virtual gaming worldwide will reach 2.4 billion U.S. dollars by 2024. The viral Pokémon GO is still the first AR app that comes to most people's minds when they think of AR. However, apart from Pokémon Go, there are many other AR games. For example, The Walking Dead: Our World. This AR mobile game allows users to fight with zombies in the park, at your home, in the street, wherever.
Companies can monetize VR games by selling them through stores or by charging brands for advertising. If you run an arcade center, investing in VR equipment and AR/VR games will bring in more customers and increase your revenue. AR/VR escape rooms are another promising business opportunity. Instead of building a real escape room, much less modeling several rooms as space stations, haunted mansions, etc., entrepreneurs can rely on modern technology. Varied VR experiences realized within a single physical space may be equally delightful for the customers.
Below you can see an example of our work. Onix Unity 3D developers created a game that is about finding your new home. The main idea of this application of virtual reality is the astronaut who's traveling from planet to planet trying to find resources to live and discover a new place that will be his home.
Ecommerce and retail
Augmented reality app development is reshaping online and offline shopping. AR apps let shoppers interact with products and help in creating personalized shopping experiences. 
For example, Lowe's Vision: In-Store Navigation is an AR app that allows users to walk around a store with a smartphone and see routes by which they can quickly find the wanted products on their screens. Moreover, by putting an item in the camera range, customers can see not only the prices, special offers or discounts but also the features and any additional details you wish to know about a product.
Another impressive example is the Nike app that enables users to scan their feet and get hyper-accurate sizing recommendations. Thanks to this feature, online shoppers are not afraid to mistake the size and safely buy shoes online. Just see for yourself.
Declining in-store purchases are pressing retailers to venture into the virtual world. It's also a chance for online retailers. There, a shopper can walk through a virtual store and look at goods as they would in real life. Businesses might run shops and ship products to customers without actually owning any real space. 
Read also: 6 Best Virtual Reality (VR) Headsets for Game Development
Interior design
Apps like IKEA Place not only help to put 3D models of IKEA furniture and room sets to see which items will fit best your own home. People can test colors and other ideas and calculate the necessary materials and labor costs. Construction workers can bring blueprints to life and images for clients to see how their prospective homes might look.
Since 2017, IKEA's Place app has enabled consumers to see how furniture would look and fit into their interior - without leaving home. The number of online shoppers wishing to do that, try on clothes without putting them on, and so on, will be increasing. That will lead to faster buying decisions, decreased purchases returns, and higher customer satisfaction.
Real estate
The Internet is the first place where buyers and renters look for properties. Use of AR and VR can help customers experience homes differently and save time. For prospective investors, AR lets showcase properties before they have been built or turn 2D blueprints into interactive 3D visualizations.
VR glasses and 3D shots of properties also create a tremendous impact. Real estate dealings can be exhausting both for realtors and clients. VR can minimize the driving and walking to view multiple properties, the need to remember numerous details about each one, the stress of choice, and other frustrations. VR showcases of properties ensure good exposure, gather millions of views, engage international buyers, and dramatically reduce the time to close a sale. A realtor can lead a tour through a property remotely and even see where the client is looking, addressing issues in real-time. Exploring 3D plans through VR also bridges the gap between an architect's or designer's imagination and the real world.
For example, Matterport is a 3D media platform that allows easy creation of 360-degree video and interactive 3D walkthroughs of any real-world place to help agents better interact with their clients and market real estate.
Tourism and travel
Tourism involves various transportation modes, hotel bookings, hospitality, tours and sightseeing, local experiences like cuisine or festivals, souvenirs, etc. Therefore, the industry abounds with virtual and augmented reality business opportunities.
Navigation is an obvious use case. Google Maps has received an AR upgrade recently. Users can view the streets through their smartphone's camera, and the directions appear on their screen. GPS apps powered by AR might show tourist routes, translate signs on streets, and give sightseeing tips. AR combined with Wi-Fi, beacons or ultra-wideband will facilitate indoor navigations. Airports, train stations, trade shows, shopping malls, and offices will become visitor-friendlier.
AR-enriched promotional materials and VR experiences featuring 3D videos of locations can empower travel companies to entice clients to buy trips. Cities and individual entrepreneurs can  also employ AR in facilitating navigation and creating shows that draw tourists.
One more example of VR applications in business is museums. Our Onix team has experience with this use case. Below you can see our work done on an extensive virtual reality application. This project is a virtual tour of the museum Banská Štiavnica, a completely preserved medieval town of historical value (an official UNESCO World Heritage Site) in Slovakia.
A VR museum is more likely to stand out and ensure steady attendance by providing experiences transporting visitors to other ages and places. At museums and galleries, adding more in-depth information about exhibits or bringing them to life on a mobile screen ensures a fuller and more delightful experience. VR and AR apps can provide visitors with even better educational and cultural educations. 
Read also: Virtual Reality Meetings: Benefits and Use Cases

Education
According to Statista, VR in education will be a $700 million USD industry by 2025. VR and AR work beautifully in education, especially considering the social distancing policies due to the COVID-19 pandemic. AR technology makes schooling more interactive, engaging, and efficient. For instance, with AR applications, students can observe a 3D galaxy on their tablets or witness an extinct animal come to life. Applications of Virtual Reality will help students see scientific breakthroughs from the scientists' perspective or even make discoveries in a virtual lab.
For example, Wikitude has developed Ai.R-Cord, an AR app that allows elementary schools to learn subjects from 1st to 6th grade through interactive AR experiences.
If you are looking to use virtual reality in businesses and institutions related to education, there are many opportunities. For example, AR/VR can be a massive upgrade to a library enabling patrons to view books in 3D or watch 3D immersive videos. 
Training
AR and especially VR can deliver realistic psychological and physical experiences through immersive real-life simulations in a safe environment. The technologies thus bring virtually unlimited possibilities for safe training processes.
Read also: How to Create a VR Training App
VR training simulators are used in aviation, automotive, construction, energy, medical, military industries, and professional athletics - just to name a few.
Read also: Developing a Custom Marine Simulation Software
For example, RAMPVR is a virtual reality training solution for ground operations professionals. This VR solution allows simulating scheduled aircraft inspections, unfavorable weather conditions, day and night operations, and so on.
VR- and AR-assisted solutions enable workers to get valuable hands-on experience safely. They also reduce costs, boost training retention and performance, and enhance collaborative working practices.
Healthcare
The healthcare industry is a Petri dish for augmented and virtual reality business ideas. AR apps are already used for various tasks, from helping patients identify their symptoms to enabling surgeons to peer inside a patient's body without making large incisions.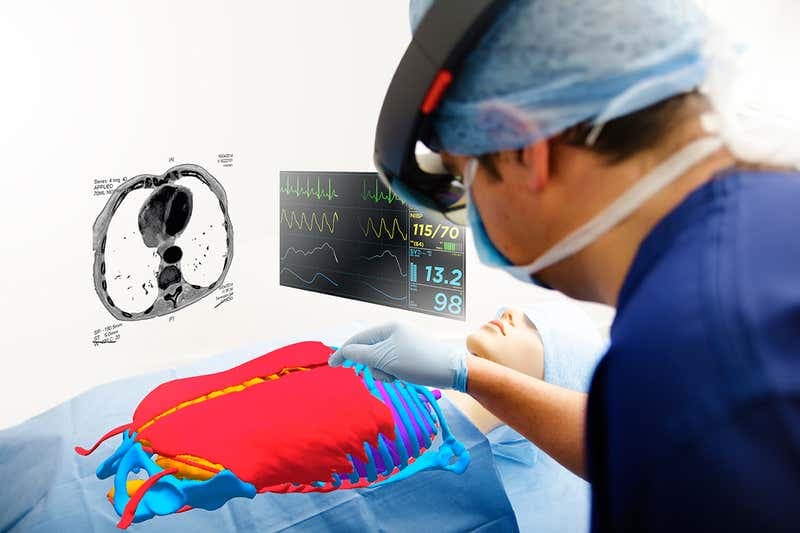 Ultra high-definition 4K displays and video gaming technology are paving the way for utilizing virtual reality in hospitals. A combination of VR, gaming software, and medical imaging procedures already offers simulation capabilities and detailed organ maps. Surgeons will be able to plan and avoid previously unforeseeable issues. This will minimize invasive procedures, reduce complications for the patients, and promote faster recoveries.
Moreover, applications of AR/VR offers virtual operating rooms and virtual organ modeling to teach medical students and healthcare professionals to sharpen their skills and minimize medical issues in the future.
VR and AR technology in healthcare has also proven helpful in diagnosing, treating, or easing the symptoms of dementia, depression, PTSD, phobias, autism, and other psychiatric disorders and pathologies. VR using medical haptic gloves makes even remote diagnostics faster and more effective.
Read also: Mental Health App Development in 2023
Manufacturing and construction
AR technology in construction can facilitate and accelerate processes at factories. AR enables engineers to demonstrate prototypes, construction sites, etc., and share their vision. AR markers on equipment help to monitor the work in progress. Digital maps and plans save time and promote understanding. AR glasses can give manufacturing and field workers real-time data that helps to reduce errors and improve accuracy, safety, and quality.
Read also: Guide to Construction App Development
Here is a view of our work creating a detailed model of the Messe Berlin exhibition complex.  We combined and collated blueprints of buildings and along with the subsequent preparation of models. Also, our experts decorated the animation with more complex effects (the appearance of stairs, windows, houses), developed our pipeline for preparing animations and rendering complex scenes, and developed a choreography of parts of the building's appearance. Below you can see our results.
Read Also: Developing Marine VR Simulator
Using VR for visualization or modeling minimizes the need for 3D printer modeling while further facilitating the work. Enterprises are already combining AR, VR, and live IoT sensory data to create a digital replica of a physical asset. Such 'digital twins' will transform the way to do many jobs and deal with many problems. They'll allow inspecting the objects in VR without visiting remote or dangerous sites. For example, an engineer located ashore can use a digital twin of a malfunctioning wind turbine to identify and fix the issue in real-time.
Read Also: Innovation in Construction
Advertising & marketing
Creative use of AR can strengthen customer relationships while increasing the likelihood to purchase. Entertaining content motivates customers to use a brand's mobile application regularly. Unique and fresh AR experiences offer a chance to surprise customers and competitors that haven't yet embraced this trend.

For example, the Onix team has created an AR mobile app to enhance our promotional materials. Onix AR mobile app reveals vivid details of our printed booklets, allowing us to tell the company's exciting story in a corresponding format. The users simply point their mobile device at a page - and it goes live.
What is more, an AR app can turn a shopping mall into an amusement park. Kids and adults interact with virtual characters, play games, and win prizes, and will come back for more.
A virtual experience thoroughly grabs the user's attention, which means advertisers can pitch their message more precisely. Like PCs and then smartphones, VR is on the way to becoming the next significant computing platform and a battlefield for marketers and brands. Why not grab a unique business opportunity early on? If you own an influential blog, website, YouTube channel, or social network, you can start with charging for reviews and ads of VR products or receiving commissions on any products sold through the ads on your platform.
Onix experience
Our VR and AR experts dedicated to helping you craft exceptional, immersive solutions tailored precisely to your company's objectives, requirements, and budget. In this section, we're going to we're excited to showcase our expertise in developing AR/VR solutions and the impactful outcomes we've achieved.
We were faced with the task of developing a VR simulator game that considers water physics and AHTS vessel architecture. And the drowning effect is one of the biggest VR challenges for this simulation game.
Our VR experts have chosen to create two visual heroes: a ship bridge with displays and controls and the water with special effects like foam and spray on the windows. The main goal of this simulator is to steer the ship to the oil rig, avoid traffic, put out any fires using the water guns, while keeping the vessel within the marked area for 10 seconds. The captain uses a Vive controller that is managed as a "joystick" to interact with bridge controls. 
See the video below:
As a result, we've managed to implement realistic computer graphics, true-to-life water, and vessel physics effects, achieve a smooth VR user experience, and design completely immersive virtual reality. Furthermore, this VR simulator had great success during the display at CeBit 2017.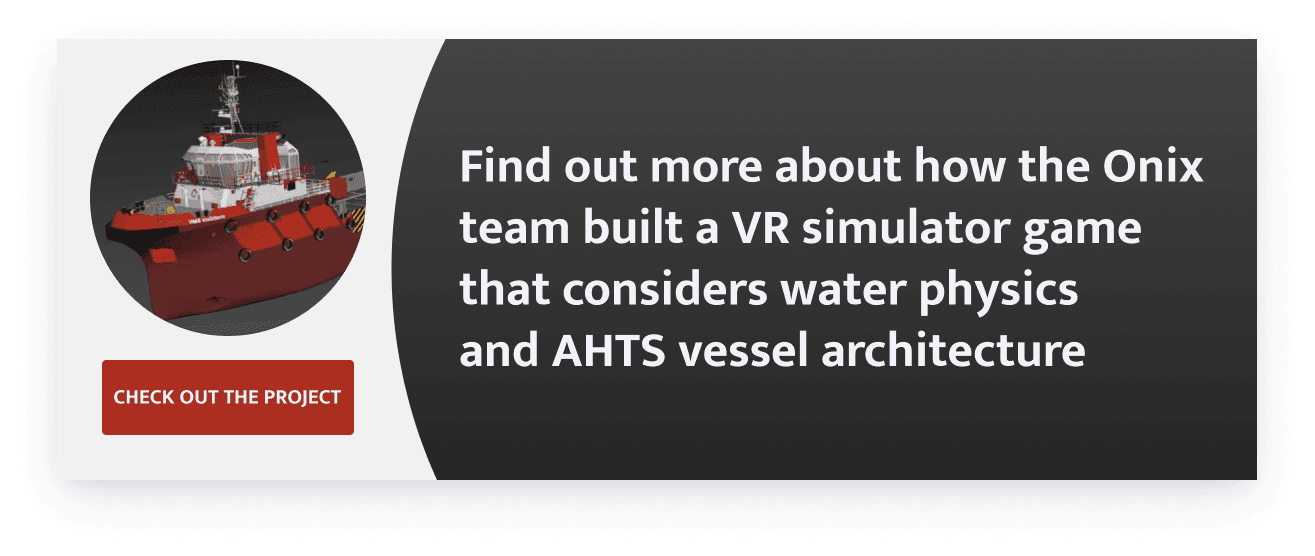 Ready to get the most out of your business by leveraging AR and VR technology?
Virtual and augmented reality apps for business are already transforming how people work and interact with customers, colleagues, and the world. AR and VR technologies will be increasingly used in gaming, employee training, healthcare, education, and entertainment industries. Both AR and VR have enormous marketing potential that is only in the initial stages of unlocking.
AR and VR technologies help to make the user experience engaging, interactive, and efficient. And as you may have noticed, many businesses have already leveraged this technology, and many others are following their lead. 
Would you like to empower your business with a progressive solution? If you're ready to dive into the world of augmented or virtual reality, please contact us, and our experts can create a truly immersive experience for your users.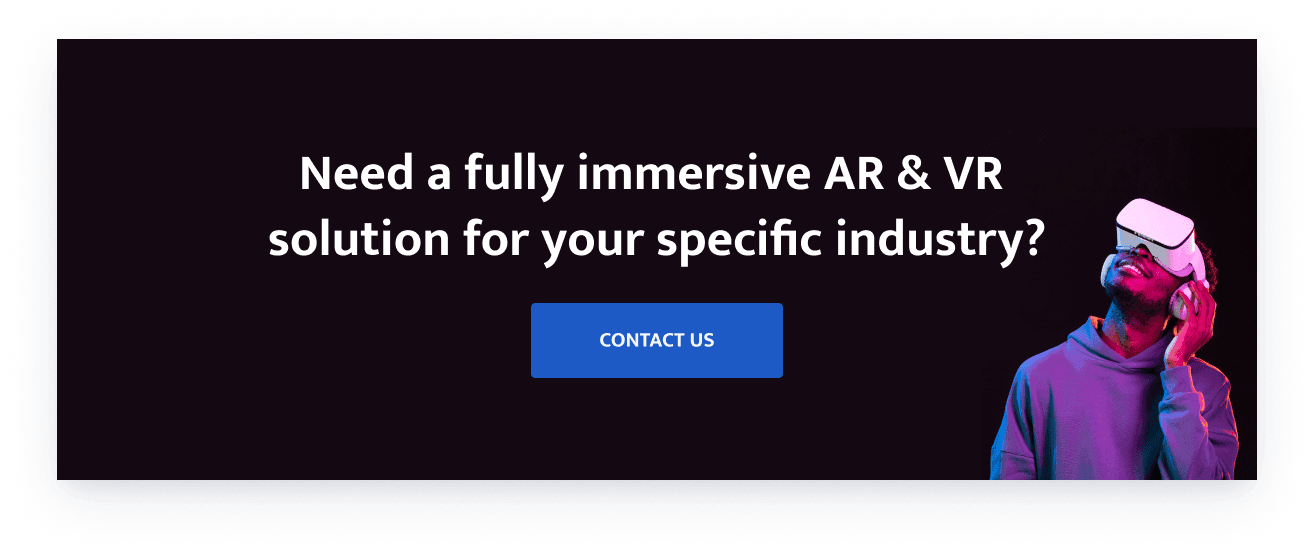 FAQ
1. In which industries is VR/AR technology most commonly used?
VR/AR technology is commonly used across various industries to enhance user experiences, improve productivity, and provide innovative solutions. Here are some of the AR and VR use cases:
Gaming and Entertainment. VR/AR gaming experiences offer immersive gameplay and interactive storytelling, creating a new level of engagement for gamers.
Education and Training. Applications of VR and AR provide realistic and interactive learning environments, allowing students to explore complex concepts and gain practical skills in a safe and controlled setting.
Architecture and Real Estate. Use of AR and VR enables architects and real estate developers to showcase virtual property tours, visualize designs in 3D, and present immersive walkthroughs of buildings before they are constructed.
Healthcare. VR/AR technology is used for medical training, surgical simulations, pain management, and therapy applications, offering innovative solutions for patient care and treatment.
Manufacturing and Engineering. VR/AR helps in designing and testing prototypes, conducting virtual product demonstrations, and improving assembly line processes, resulting in increased efficiency and reduced costs.
Retail and E-commerce. VR/AR enhances the shopping experience by allowing customers to virtually try on clothes, visualize products in their homes, and explore virtual stores.
Tourism and Hospitality. VR/AR offers virtual travel experiences, virtual tours of destinations, and immersive hotel previews, allowing travelers to preview and plan their trips.
Marketing and Advertising. VR/AR creates interactive and engaging marketing campaigns, allowing brands to deliver unique experiences and connect with their target audience in a more memorable way.
Automotive. VR/AR is utilized in automotive design, virtual car showrooms, and driver training simulations, providing a realistic and immersive experience for car enthusiasts and professionals.
Sports and Fitness. VR/AR is used for virtual coaching, performance analysis, and immersive workout experiences, enhancing training and fitness activities.
2. Is it realistic to incorporate VR into an off-the-shelf solution?
While VR development often requires custom software and hardware integration, there are pre-built frameworks and tools available that can help streamline the process. These frameworks provide a foundation for building applications of Virtual Reality and can be customized to fit specific needs.
When incorporating VR into an off-the-shelf solution, it's crucial to carefully evaluate the capabilities of the platform and ensure it aligns with the specific requirements and goals of the project. It's also important to consider the ongoing support, updates, and compatibility with future technologies.
3. What do I need to know before developing a VR/AR mobile app?
Before developing applications of Augmented Reality and applications of Virtual Reality, there are several key considerations to keep in mind:
Purpose and Target Audience. Clearly define the purpose and objectives of your app and identify your target audience. Understand how VR/AR technology can enhance the user experience and provide value in your specific industry or niche.
Hardware and Platform. Determine the target platform for your app, such as iOS or Android, and consider the hardware requirements. Different VR/AR devices may have varying capabilities, so ensure compatibility and optimize the app accordingly.
User Experience Design. Designing for VR/AR requires a unique approach. Consider the spatial interaction, immersion, and user interface design to create an intuitive and seamless experience. Focus on minimizing motion sickness and providing clear guidance to users.
Content Creation. VR/AR apps rely heavily on engaging and immersive content. Plan and develop interactive 3D models, environments, animations, and audiovisual elements that align with your app's goals and enhance the user experience.
Performance Optimization. VR/AR experiences demand high performance to maintain smooth and responsive interactions. Optimize the app's performance by managing resource usage, minimizing latency, and ensuring efficient rendering.
Legal and Ethical Considerations. Understand the legal and ethical implications of using VR/AR technology, such as data privacy, user consent, and intellectual property rights. Comply with relevant regulations and ensure a responsible and safe user experience.
By considering these factors before developing a VR/AR mobile app, you can lay a solid foundation for a successful and impactful application that delivers an immersive and engaging experience to your users.