According to the Institute of Supply Management, the manufacturing industry in the U.S. will continue to grow in 2023. Capital expenditures are expected to grow by 2.6% in the manufacturing sector and by 2.8% in the services sector from 2022. The need for more effective organization and management of day-to-day business activities is also growing, driving demand for modern Manufacturing Resources Planning (MRP) and Enterprise Resource Planning (ERP) systems.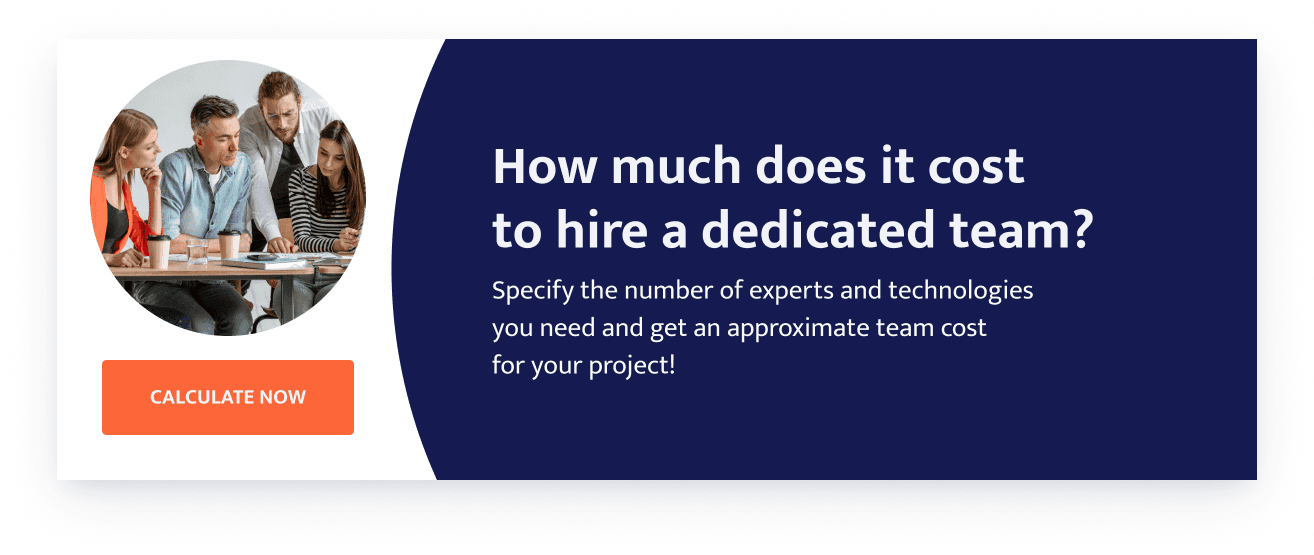 An ERP includes all elements of MRP and integrates them with other departments' functions, such as:
Materials and inventory

Production and scheduling

Operations and sales

Accounting and finance

Human resources

Fixed asset monitoring

IT

Customer Relationship Management (CRM)

Marketing
and other crucial functions for systemized business management and data analysis, all optimized for a manufacturing environment.
A recent article addressed the general question "What is ERP and why is it useful?" This post is specifically dedicated to the use of ERP software by manufacturing companies.
Enterprise Resource Planning Components that Are Essential for Manufacturers
All main features of business ERP systems are relevant for manufacturing companies. Additionally, ERP software delivers value through the following components:
Manufacturing, Engineering or Production Module
The module's functionalities make manufacturing more efficient. It's catering to companies in terms of product planning, materials sourcing, production control, quality evaluation, process synchronization, and product forecasting. ERP comes with embedded support for make-to-stock, make-to-order, configure-to-order, engineer-to-order, just-in-time manufacturing and materials control, and lean operations.
ERP software streamlines manufacturing processes through automated planning, scheduling, and fulfillment, and increases manufacturing speed and accuracy. It also simplifies the IT environment for a more transparent and effective business process. Businesses can plan production more accurately and reduce teardowns and downtimes.
Modern ERP systems come with built-in quality assurance features. Businesses can manage enterprise-wide quality data, capture nonconformance and corrective actions in a single repository, and perform a complete end-to-end audit process including planning, execution, reporting, and follow-up.
Read more: Key Advantages of Using Ruby on Rails for Web Development
Supply Chain Management (SCM)
This component of ERP software enables manufacturers to better manage their product flows from production to consumer and vice-versa for returns or recalls. It improves their ability to serve their customers, e.g., with updates on when they will fulfill the order and what the exact cost will be. It also helps to foresee any future problems in inventory or work time availability and to make necessary changes for smooth operation. A streamlined supply chain facilitates manufacturing innovations, which can help decrease costs, develop innovative products, and stay ahead of the competition.
Orders and Inventory / Material Management
This functionality helps companies organize and categorize their inventory, record product movements, and manage detailed warehouse data effectively. ERP software helps companies optimize inventory, cut down inventory levels, shortages, and waste, and reduce the cost of delivery.
Functioning jointly with SCM and Inventory modules, the Purchasing component of ERP software manages materials procurement, such as supplier listings, quotation requests and analysis, purchase orders, stock updates, and other processes. ERP systems foster effective collaboration with approved suppliers and contract manufacturers. The electronic data interchange facilitates purchase orders and other wholesale transactions.
The Benefits of Implementing ERP for Manufacturing Businesses
The advantages delivered by ERP implementation specifically for manufacturers include the following:
1. ERP applications and a common database bring transparency to manufacturing processes. They give the manufacturer a coherent, integrated real-time view of its production, order processing, and inventory. ERP systems track a business' cash, raw materials, production capacity, and the status of commitments regardless of which department has entered the data.
2. The 'single source of truth' allows for managing operations proactively, prevents disruptions and delays, and helps system users make decisions faster. This helps reduce administrative and operations costs.
3. Using quality information, companies can improve order times, better update customers, etc. This helps increase customer satisfaction.
4. Paper-based processes and manual data entry greatly contribute to the occurrence of costly errors in accounting, inventory management, and on the shop floor. Manufacturing ERP can automate not only error-prone procedures but also increasingly complex business operations. The software helps users navigate complex processes and optimizes production, order completion, and delivery functions. Thus employees can add more value, which increases efficiency and productivity.
5. ERP helps eliminate "fragmentation." The problem arises when the product offerings and manufacturing volume start exceeding the capabilities of a company's existing systems. An ERP solution will be integrating material and business controls into a single platform. This ensures better organization and control of production and back office functions.
6. Across discrete industries, ERP solutions help factories streamline their entire production cycles and manage operations more efficiently.
7. Discrete manufacturers can enhance productivity by deploying manufacturing ERP as their manufacturing execution system on the shop floor. A simplified user interface will improve operator productivity and efficiency. A supervisor workbench will help improve shop floor visibility and monitor performance. Manufacturers can also deploy eKanban planning and execution using product replenishment lead times and demand.
8. ERP helps to manage the build-to-order production process and drives operational excellence. It enables companies to share manufacturing processes and events and better manage the sequence using flow routing. Graphical product synchronization provides a real-time view of manufacturing runs. Balanced production and pre-planned inventory increase operator efficiency and improve product throughput.
9. ERP promotes collaborative manufacturing and helps integrate planning to the shop floor in all discrete industries. Factories of all sizes can achieve complete visibility to all manufacturing work order activity. They can see everything, from the initial order to shipping, within the ERP, track lot genealogy back to raw materials, and measure yield levels accurately with dynamic routing and yield-based operational costing. They can also make necessary changes in time, inventory or cost along the way.
10. The ability to align separate departments and improve workflow results in significant savings.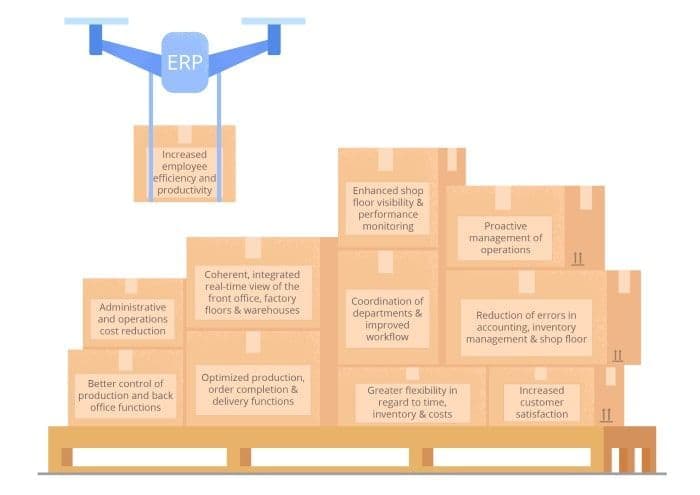 11. ERP not only facilitates information flow inside an enterprise but also manages connections to outside stakeholders. The company's wealth of knowledge can be accessible to all involved regardless of their location.
12. Modern ERP software calculates ROI and helps develop real-time business expectations based on the past and current performance better than any manual process.
13. The MRP component within each ERP system assists with balancing between demand and supply in a way that will virtually eliminate the chance of a surplus or deficit of the stockpile. Advanced demand/supply planning makes sales more efficient.
14. ERP systems provide robust reporting functionalities, such as data visualization, and advanced analytics to manage changes and support growth.
15. Advanced ERP systems position businesses to take advantage of innovations like machine learning, Internet of Things, robotic intelligence, and wearables.
16. These new technologies promote a comprehensive, real-time understanding of business activities in the front office, on factory floors, and in warehouses.
17. The integration of all company functions, automation, and real-time data analysis improve performance. New data intelligence promotes better decision-making, helps find out the areas for improvement, and reduces administration costs.
18. Cloud ERP helps to add new users and support changing business needs quickly. It's especially valuable for small and mid-sized businesses looking for fast innovation.
19. Industry-specific ERP products are designed with relevant best practices in mind and already tuned to the needs of the manufacturing industry. By employing such software, a company becomes an active member of an industry community and feels better prepared to compete in the market.
20. In the global economy, manufacturers are sourcing supplies from around the world and running factories in multiple time zones. ERP software provides companies with a comprehensive view of the overall status of outsourced manufacturing and allows to proactively manage the manufacturing processes, track the quality of the supplied components and finished products, and monitor sales and procurement activities to meet on-time delivery schedules.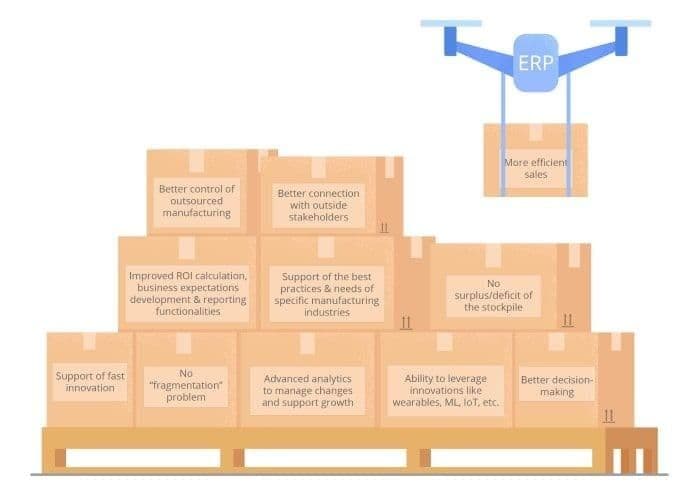 The next chapter is dedicated to cloud manufacturing ERP which is a benefit in its own right. It's relatively easy to install and equally accessible to large and small companies. It minimizes the need to purchase software and hardware or hire additional IT staff. Without the need to run a costly and complex infrastructure, businesses can invest resources in growth opportunities, and the employees can concentrate on value-added tasks.
Examples of Business ERP Systems for Manufacturing
Let's take a look at some of the best Tier II and Tier III providers catering specifically to manufacturers. (The order is alphabetical and we're focusing on the advantages. If you are interested in indexes, comparisons, and details, resources like FinancesOnline or Top10ERP should be helpful.)
This comprehensive, end-to-end ERP solution is targeted at mid-sized and large companies. It includes particularly strong modules for CRM and quality performance management, SCM, product lifecycle, financial, and business performance management and e-commerce capabilities. The platform allows purchasing additional modules a la carte. The system is easy to customize, scalable, and compatible with all mobile devices.
Epicor is deployable both on-premise and as a cloud-based application, and can be hosted. As for the pricing, estimates are around $175 per user per month after implementation costs.
Infor's ERP software includes various products for organizations of any size with different needs. These solutions combine manufacturing expertise, micro-vertical functionality, and cutting-edge technologies for
ERP can run on-premise, on AWS's EC2 cloud, or as a combination of both. Clients can also choose to host it via own Velocity-hosted facilities.
IQMS is a Tier III modular ERP provider. The core functionality includes manufacturing and resource planning, scheduling, supply chain, CRM, purchasing, and accounting. Manufacturers can implement additional capabilities as they scale up.  
Two strong features in the ERP cater specifically to small manufacturers looking to adopt lean best practices. The Vendor Managed Inventory allows them to manage inventory on the customer end. This includes, for example, the invoicing of the product when it is actually consumed by the customer. The Electronic Data Interchange feature facilitates seamless automation from the point of order through delivery of raw materials.
The ERP is available through the cloud or on-premise. The estimated prices have reached $45,000 for annual cost and $3,000 per user per month.
NAV is customizable for a range of verticals within manufacturing. It's designed primarily for SMBs but is utilized within larger enterprises, including companies with extensive field technician operations. The robust ERP platform includes out-of-the-box operations, financial accounting, project management, and purchasing functionality.
NAV can be delivered on-premise, as a SaaS application and SaaS components, or hosted on Microsoft's cloud platform. It can be purchased with a one-time payment or subscription. After infrastructure and implementation costs, the price is $210 per user per month for full features with the Dynamics 365 plan.
Plex is the only ERP for manufacturing built from the ground up in the cloud. It aims at ERP and Manufacturing execution system integration for the needs of discrete and process manufacturing. The complete, unified set of ERP applications features industry-leading plant floor to top floor functionality. It helps companies of all sizes manage their manufacturing operations with agility and superior performance. The clients pay as they go with a subscription service.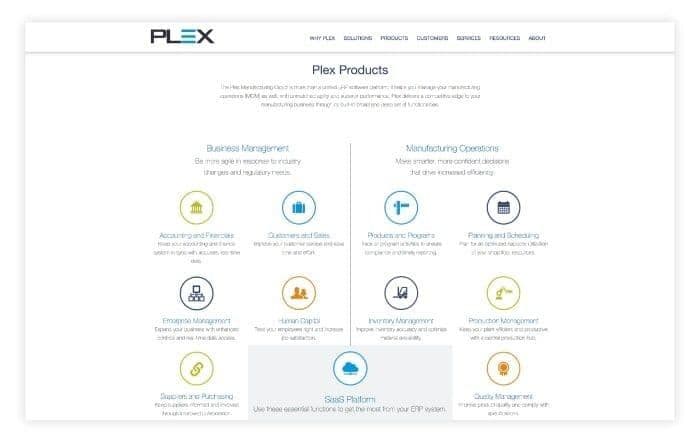 When choosing an ERP for your company, remember that the system should meet your needs for the next 5-10 years. The primary evaluation criteria are:
To Recap
Enterprise resource planning systems solve a number of challenges that manufacturers face and offer a transformation for the businesses. They are driving continuous improvements across an enterprise, making it more agile, and protecting or extending its competitive advantage. Their clear organized functionality helps to automate and streamline processes, improve customer service, increase sales, facilitate supply and demand, control and reduce costs, and manage growth.
Powerful and sophisticated ERP systems are already indispensable for manufacturing giants, empowering them to compete globally. Smaller manufacturers often risk choosing a system that is too strong, too expensive, or too difficult to master, whereas something simpler may perfectly meet their business needs at a reasonable cost.
Whether you're planning on growing, considering some corporate restructuring, or just wish to work faster and get rid of errors — contact us! Onix can develop exactly the business management system you need.
Many thanks to Serhii Kholin for the assistance!