There is no silver bullet to help you immediately hire a UX designer. However, we do know some useful tips and tricks you should bear in mind if you want to find an ideal candidate. 
Well, if you are looking for a UX designer and information on how to hire them the right way, this recruiting guide should definitely help you.
The Onix team has 20+ years of experience designing web and mobile solutions, so we know how to hire high-level UX specialists and manage a design team effectively.
In this blog post, we share valuable insights and advice that help ensure a successful UX designer hiring process, consider various cooperation options, and highlight key things to pay attention to.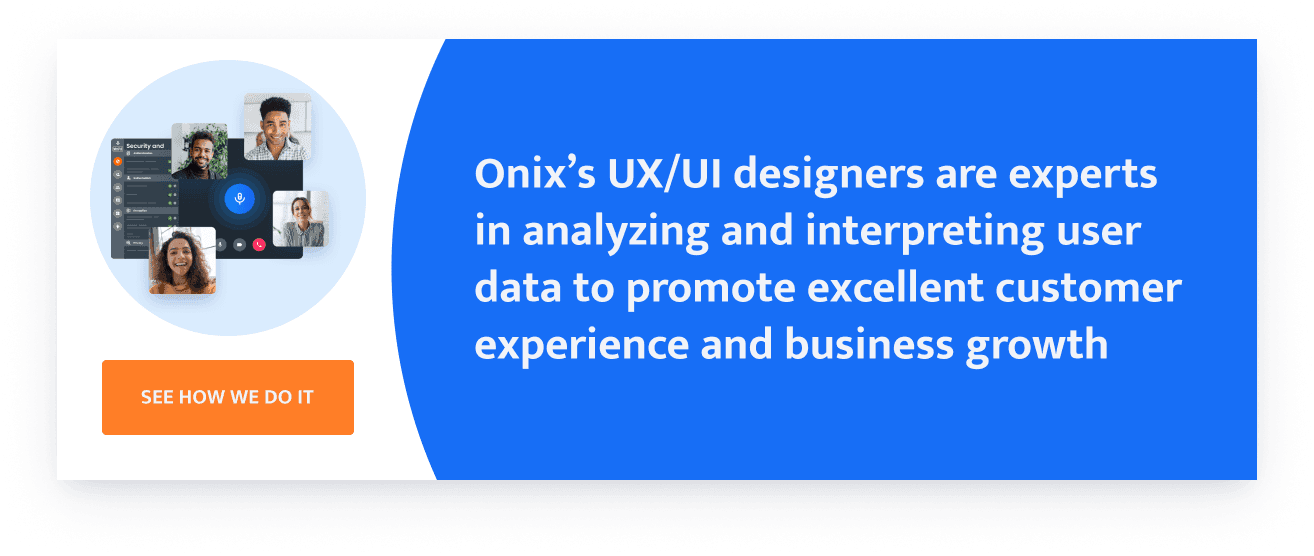 What is the difference between UI and UX designers?
You probably already know the answer to this question and want to learn more about how to hire a UX designer as soon as possible. However, let's consolidate the information.
UX stands for "user experience." A successful user experience design ultimately means the user won't be confused when interfacing with your product or service and will intuitively understand how to use it. A competent UX designer ensures user experiences are smooth, seamless, fun, and productive.
Let's look at an example. 
Imagine a beautiful, perfectly crafted teacup, but its handle is so thin you can't hold it because it feels like it can slip off at any moment. You try to use it without the handle, holding the bowl, but the tea in the cup burns your fingers. You can buy a teacup sweater, but it would ruin the visual design of the cup. You can pour less water and hold it close to the top. But what's the point of having a nice cup if you need to make your tea twice to have a full cup? This is what a bad UX design feels like. 
Eventually, you put this pretty cup on the sideboard and go back to drinking tea from your old mug with a secure handle, a thick bowl that can hold as much tea as you like. A good UX design is NOT about reinventing the wheel. It's about making it more user-friendly.
Now let's turn to UI design. 
You've probably encountered a similar term in Google search results as a "UX/UI designer." UI stands for "user interface" design and focuses on how digital products look, while UX focuses on showing off the product's functionality and purpose. 
UI is responsible for the creative and visual pieces of a website or mobile app. This is what makes the teacup from the previous example so beautiful. Placing the web page elements, selecting colors and forms — this is what UI does.
We should also note that the tasks of UI/UX designers, graphic designers, or visual designers are not interchangeable. The main difference between graphic designers and UI/UX designers is that graphic design does not exclusively belong to IT and is the most classic form of design that deals with business cards, billboards, and static graphic images.
Let's summarize all of the above with a comparison table.
UX designer responsibilities
UI designer responsibilities
UX/UI designer responsibilities

Consult with clients to understand their goals
Conduct competitor analysis
Develop personas and usage scenarios
Explain user research results to internal and external stakeholders
Conduct a usability test to assess the ease of design
Create wireframes, prototypes, and screen flows according to users' needs
Collect and analyze feedback on users' satisfaction with the product
Iterating to improve the user experience

Define and implement innovative solutions for the product direction, visuals, and experience
Design UI mockups and prototypes to clearly illustrate how products function and look
Help UX designers create wireframes, user flows, and site maps to communicate interaction and design ideas effectively
Design the aesthetics to be implemented within a product, from the layout menus and drop-down options to colors and fonts
Hold all visual design stages from concept to final hand-off to engineering
Ensure adaptation to all device screen sizes

Develop and conceptualize a comprehensive UI/UX design strategy for the brand
Gather and evaluate user requirements in collaboration with product managers and engineers
Provide high-quality UX design solutions through wireframes, graphic designs, flow diagrams, storyboards, site maps, and prototypes
Adhere to style standards on typography and graphic design
Identify and troubleshoot UX problems (e.g., responsiveness)
Conduct layout adjustments based on user feedback
What you need to know before hiring a UX designer
Hiring new talent is not as easy as it may seem. Before hiring a UX designer for software development, you should clearly understand for what purposes you need UX designers for hire. The following are key things to define before hiring a UX designer:
Project requirements
What are your requirements and expectations? You should first identify what design practices, experience, and tools your design team should know and master. Will it be a mobile or web design? It's vital to define your goals and needs and describe your product requirements in detail. Clearly defined requirements nurture the growth of solid design practice for your business.
Level of seniority
What level of seniority do you need? Junior, middle, or senior UX designers? It's common to evaluate a designer's expertise with a three-level model – junior, middle, and senior. Each level has a particular set of skills, knowledge, and experience. Your choice will depend on the specifics and complexity of your project. Will the middle designers with two-four years of experience be sufficent for you? Or will your potential candidates deal with complicated tasks that require more than five years of experience?
Responsibilities
What is the designer supposed to do? Indicate what you expect your specialists will do and describe in detail their day-to-day tasks and duties that would normally be associated with the job and your company.
Cooperation model
What cooperation model is the most suitable for you? When hiring a UX designer, you can choose three common models for your cooperation: finding in-house specialists, employing a freelancer, or hiring an outsource design agency. Below we compare these options so you can consider their key pros and cons and choose the best fit.
When to employ a freelancer, an in-house designer, or a design agency
Cooperation model
When to choose
Freelancer

Small project
A limited budget
You have an in-house team of designers, and you need part of your work to be done

In-house designers

You already have an in-house team of designers
You can provide a team with constant tasks
You're not afraid of the bureaucracy and high costs

Design agency

 

You're planning a midsize or large project
You need different specialists with the specific skillsets for your project
You need a reliable partner who can deal with all management tasks
Having answers to all these questions will help you develop a clear understanding of the ideal UX designer that you need. You can easily make the right choice and hire UX designers that ideally meet your expectations and the project's goals.
How to hire a UX designer: 5 expert tips
Let's dive into the most vital points you should consider when hiring UX designers.
Focus on the experience
When choosing UX specialists, be sure to pay attention to whether your potential candidates have the experience and the necessary expertise with the type of product you want to design. 
You're looking for a UX designer who will work with certain tasks on a certain project and with specific tools. To find an ideal candidate that meets your expectations and project's goals, it's better to define the required experience beforehand. Let's see some examples of expertise your UX designers can have:
Experience in designing for web and mobile
Proficient with visual design programs such as Sketch and Figma
Experience in balancing speed and quality with a focus on driving impact through optimizations
Experience in ads or business/enterprise industries


Validate candidate's portfolio
Look through UX designers portfolios to make sure they have relevant expertise and enough experience to work on your product design. Review case studies or visit the website your candidates have designed to get a clear picture of what design solutions these specialists can offer you.


Pay attention to soft skills
Hard skills are vital but don't forget to check your UX team's soft skills. Soft skills are essential to successful cooperation since they influence how well your team will interact with you and each other. When hiring UX designers for software development, you can assess not only their hard skills and experience but also their empathy, problem-solving skills, teamwork, and so on. 
Let's consider the critical soft skills to pay attention to when hiring UX specialists.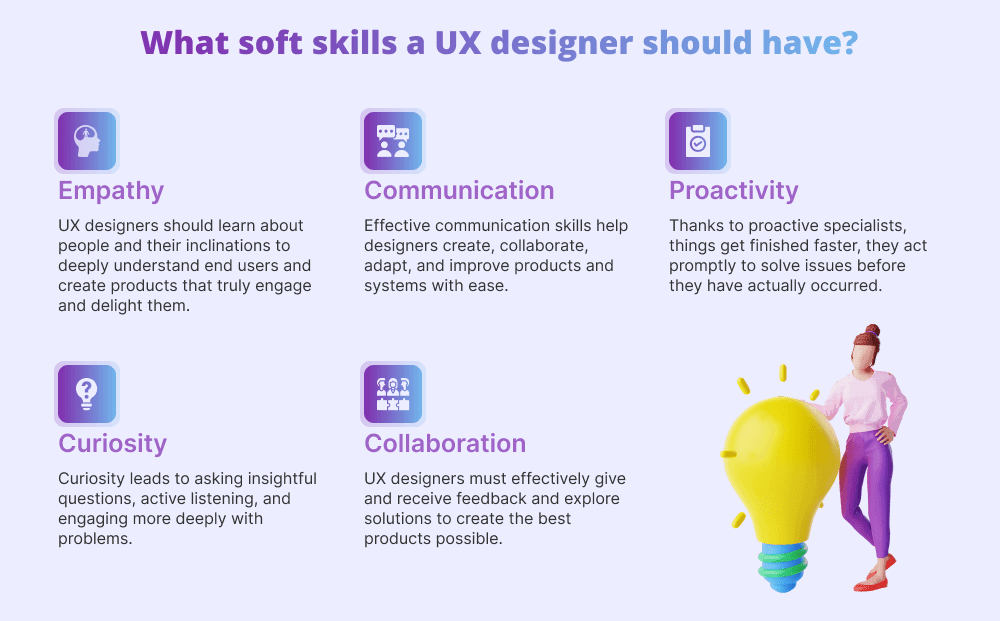 Investigate reviews and previous customer ratings
There are various job platforms, social networking sites, and other channels where you can see specialist ratings and reviews from past clients.
For example, in-house specialists post their CVs and reviews on such popular professional job websites as LinkedIn, Glassdoor, or CareerBuilder.
Also, you can go to reliable platforms like Clutch, IT Firms, or GoodFirms, where UX design teams post info about their services. On these platforms, you can see the design company's rates, reviews, etc., and find your ideal design partner.
To find freelance specialists, you can use popular and trustful websites such as Upwork, Fiverr, Freelancer, and Toptal.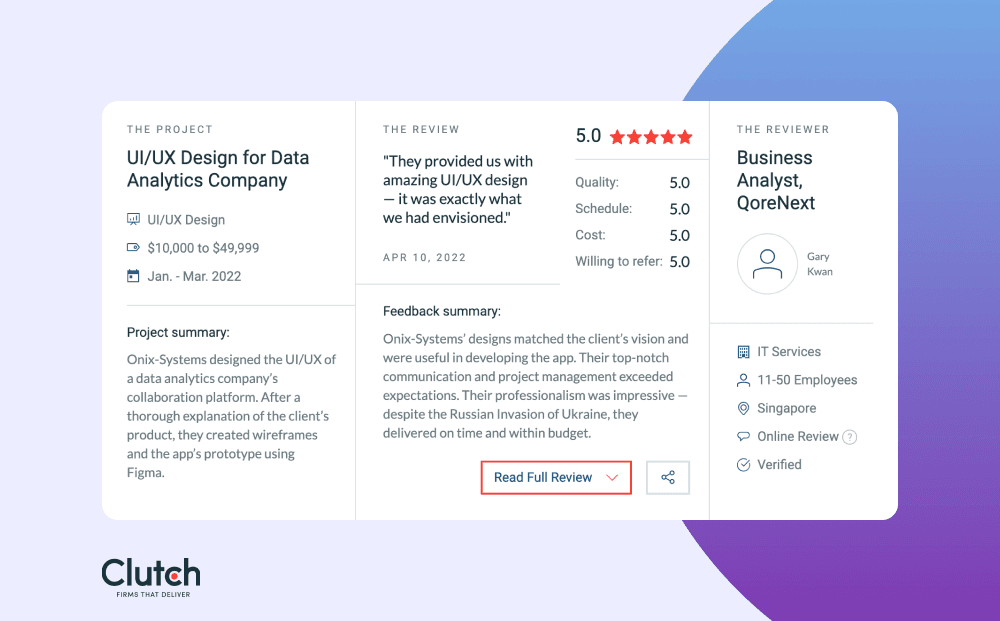 Ask about workflow 
A well-established workflow ensures high-quality results and timely product delivery. You can ask your UX specialist to describe their workflow including all the stages, and steps that help them avoid continuous work and repetitive iterations.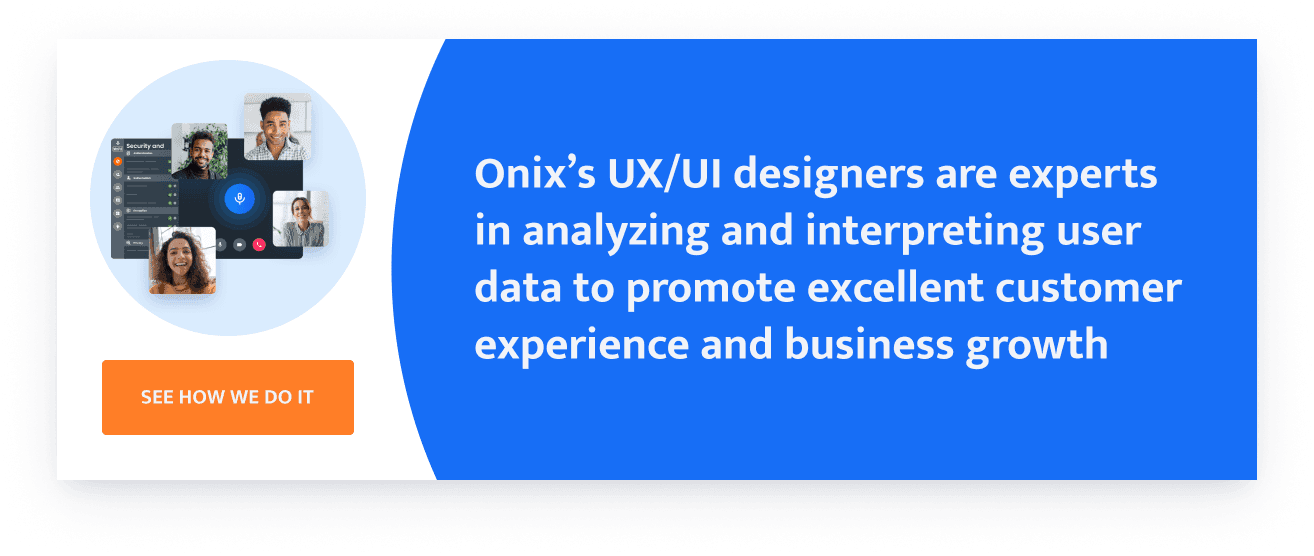 Essential questions for UI/UX design interview
To hold an effective interview with UX designers, you should thoroughly think out what you'd like to know and what types of questions you're going to ask. You can prepare a list of questions to help you determine your candidate's personal qualities, skills, experience, and more.
We've gathered some helpful interview questions that will help you to hire UX designers successfully.
Examples of some general questions:
Why did you decide to become a UX designer?
How do you keep your skills sharp and up to date?
How do you stay current with design trends?
Do you prefer to work individually or as a team member?
How do you handle work-related stress?
What qualities do you think make you a good UX designer?
What are some of your weaknesses as a UX designer?
Examples of questions about work experience:
What kind of projects have you worked on?
Talk about tough design obstacles and how you deal with them.
What is the largest web/mobile application you have worked on?
How do you prioritize your tasks as a UX designer?
What does your research work look like?
Name a website or app that annoys you. What's wrong with it?
How do you communicate with other designers and developers? Please, describe what your collaboration is like.
What UX tools do you commonly use?
What's the biggest difference between designing for mobile and desktop?
Some questions to check a candidate's specific hard skills:
How do you use prototyping in the design process?
What is atomic design? What are the elements of atomic design? 
What does the term 'design-thinking' mean to you?
What are some of the biggest trends in the UX design industry right now?
What analytics tools and key performance indicators (KPIs) have you used to evaluate your designs?
A well-thought-out and comprehensive list of questions will help you interview a UX designer quickly and effectively. And most importantly, you will not waste time on unnecessary questions and discussions on topics that will not help you define the designer's skills.
How much do UX designers charge?
While considering how to hire a UX designer for your company, you may become confused about why one designer wants more money for the same job. Of course, it's always easy to select the lower price quote, but a less skilled UX designer may cause your project to be delayed or even to fail.
Let's look at some of the most critical factors determining the cost of a UX designer's services:
the project scope
experience
specialization
cooperation model
location
Moreover, the cost of UX design services depends on the project's complexity. A team of experienced UX designers will provide a quote based on the time and effort needed to complete the job. The details may vary from team to team, but it should be thorough enough to consider possible variables. If your project is a basic software product or service, such as a landing page or a site that needs only a few elements, the price will be less than a complex project.
The average hourly rate will be $70-100 for US-based freelancers, as stated by Upwork. 
Ukrainian/Polish designers charge $22-50 per hour. 
Outsourcing design agencies charge for their UX services from $100-200 per hour in the USA, and in Ukraine, rates range from $25-50 hourly.
Freelancers often charge less than IT outsourcing providers. This is because they work alone and don't have the expense of an office. But freelance workers may not always meet obligations. If they miss a deadline, they simply won't get paid. On the other hand, outsourcing providers' work is to maximize the profitability of the resources at hand, and they will be a good  fit if you need flexibility.
IT outsourcing providers may have higher rates, but they can offer broader experience and more versatile solutions. They usually handle the project management role themselves. It is often easier to reach an agreement with the outsourcing party because they are experienced in business processes and interested in delivering an exceptional product or service to benefit all parties.

As you can see, UX designers from different locations charge very different rates. Remember that the cost will depend on the local market, the economic situation in the country they are based, and the overall cost of living. 
North America and Western Europe will be more costly. Mainly because most countries there have higher living costs.
Eastern Europe. Many companies from the US work with outsourcing providers from Ukraine or Poland due to their lower rates, the same level of expertise, and a big talent pool.
Asia. Rates for Asia and Eastern Europe are nearly the same but you should consider possible cultural differences.
Moreover, we should note that these are only rates without additional expenses. So if you want to hire in-house specialists, you will have to pay extra costs such as HR costs, office rent, taxes, etc. Finding freelancers requires managers' time for candidate sourcing, screening, and interviewing. While a design agency allows you to avoid specialists' sourcing and takes care of candidates' interviews.
If you want to know the accurate UX design cost, discuss your idea with our experts, and we'll calculate your design costs.
Trust your UX project to Onix
Onix's designers have 20+ years of extensive experience designing various products for any business size worldwide: from travel startups and fitness apps to hybrid integration platforms and game simulators.
Onix's experts combine years of experience in the industry, a thorough understanding of the UI/UX best practices, and attention to each client's requirements and target audience's needs with the commitment to deliver unique, highly aesthetic, and innovative designs.
Delivering an intuitive and delightful app design is our task #1. We conduct our careful analysis to put all design details in the right place. Our work involves far more than just an appealing design. We produce ground-breaking, problem-solving, and user-driven designs.
Here is an example of how we designed a mobile travel app. The app was created for strangers willing to travel and find out more places of interest with the help of local people who share their experiences. The design process included mapping, wireframing, prototyping, and elaborating a custom visual design. As a result, a thoughtful user journey along carefully arranged components to facilitate fluent interactions with the interface resulted in a unique visual style making finding a place to go and like-minded people to communicate easy and engaging for each user.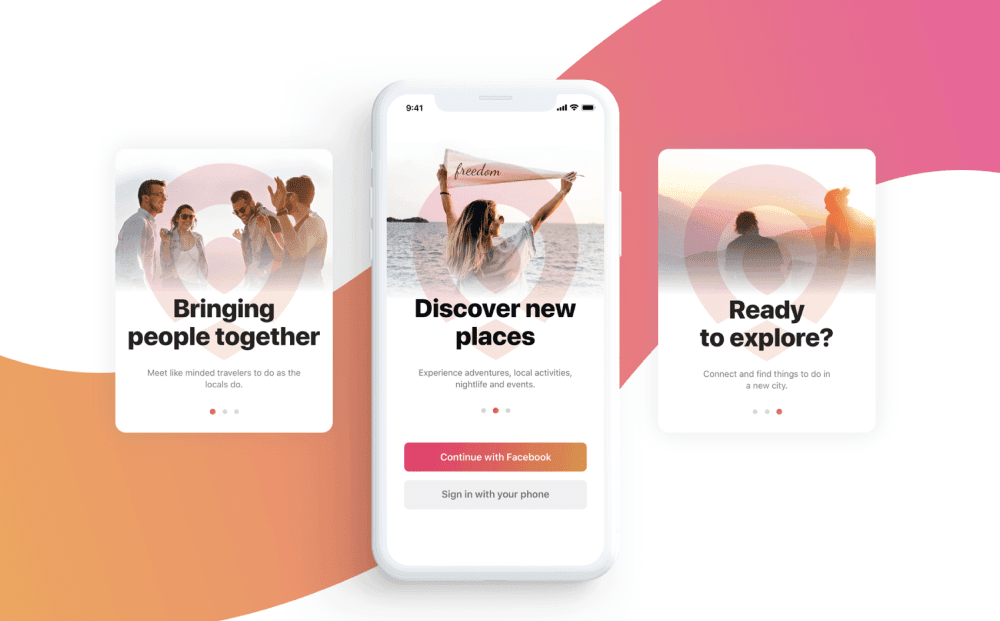 Final words
Finding a UX designer with the relevant experience and expertise your project requires might seem challenging. However, well-defined requirements and reliable platforms can simplify your recruiting process. 
When hiring UX/UI design specialists, the most crucial things to remember are your project's goals and needs, deadlines, and budget. Knowing this will help you choose the most rational approach for you and your business.
If you want to save time with the UX designer hiring process, get in touch with Onix, and we'll help you find your ideal UX design specialists who will focus on solving your business problems and meeting user needs.
FAQ
How do I hire a UX team? 
To make the right choice and hire user experience designers successfully, it's better to pay attention to important factors such as portfolio, relevant expertise, experience, location, previous clients' feedback, etc. Moreover, to choose the right company, you can talk openly with its specialists to ensure they understand your problem and know how to solve it with modern and reliable technologies.
What do UX and UI designers do?
First, a UX designer conducts user research to discover the target audience's needs related to a digital product, the steps its users need to take and the tasks to complete, the problems and pain points they may face, and the ways to solve them. Then, the designer maps out the entire user's journey across the product, considering information architecture and the necessary product features. Finally, simple wireframes or clickable prototypes are created to present the skeleton of the product.
The UI designer brings the blueprints to life. Working with icons, buttons, typography, color schemes, spacing, imagery, brand's visual assets, and other visual or interactive elements, they develop the individual screen layouts, potential users' actions such as tapping the buttons, scrolls, and swipes, and the interface's reactions, e.g., transitions, animations, pop-ups, etc. To make the user journey truly intuitive, the designer may need to address details such as color combinations that enhance the readability for color-blind users.
What are the options to hire UX designers for a startup?
When hiring a UX designer, there are three common models you can choose for your cooperation: 
Finding in-house specialists — this option is suitable for you if you already have an in-house team of designers and you can provide a team with constant tasks.
Employing a freelancer — this is your choice if you have an in-house team of designers and need part of your work to be done.
Hiring an outsource design agency — It is suitable for you if you're planning a midsize or large project; you need the whole team from one place with different specialists and specific skillsets.
What are the popular resources to look for UX designers?
There are various job platforms, social networking sites, and other channels where you can hire UX designers and UI designers: Clutch, Behance, Dribbble, IT Firms, GoodFirms, Glassdoor, and Upwork. You can see the design company's rates, reviews, etc., on these platforms and find your ideal design specialists.