If you're wondering about mobile app design cost, you probably already know your app idea and goal. And now you're ready to take the next important step – design your mobile app.
Most entrepreneurs know that top-notch mobile application design is worth putting money into, but how much exactly?
Well, lucky for you, we've prepared the ultimate guide that sheds light on what it takes to design a mobile app, how much time and money it may require, and an idea of how to reduce the cost to design an app. Article is based on real-life cases by Onix-Systems.
Read also: How Much Does Mobile App Development Cost
But before we delve into app design cost, let's explore why mobile app design is so important.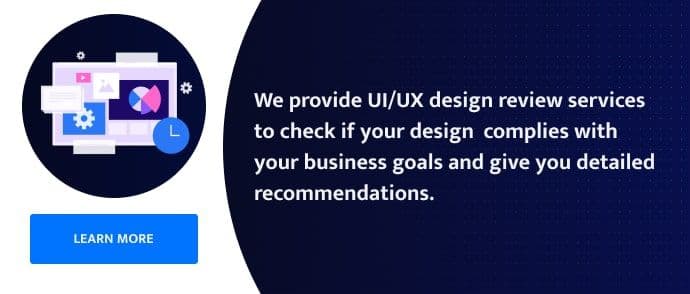 Why does mobile application design matter?
Quality user experience (UX) and user interface (UI) design are critical to any mobile application's success. From the onset, a good design facilitates the app development process. When the app is on the app store, an attractive interface helps attract users to install it. Afterward, seamless onboarding can help reduce abandonment rates. Smart UX design will facilitate users' interactions with the system and the business, driving app engagement, user retention, and customer loyalty. If the app's design helps convert more users to long-term customers, it's allowing your business to generate revenue and remain competitive.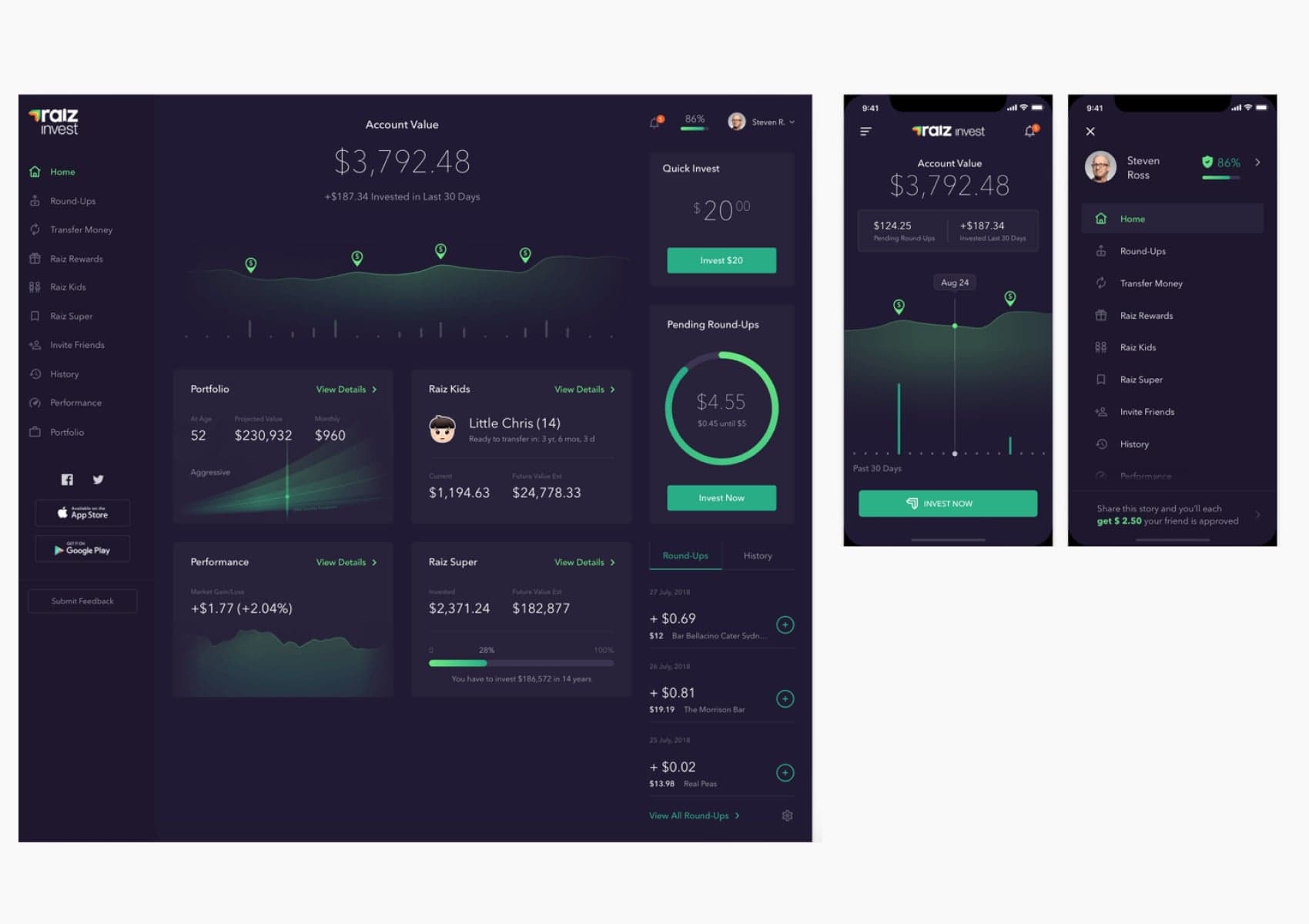 Example of how Onix team created a design for a micro-investment app
Let's conclude this section with compelling reasons why mobile app design matters:
An appealing app design allows you to attract more users

Well-thought-out UX design saves development time since it gives insight on which features are crucial and which ones are useless

A professionally designed mobile app can solve users' problems, turning them into customers

Unique and eye-catching design enhances your brand image

Thorough research while designing the app ensures customers' satisfaction and product quality
So, we considered why mobile app design is so essential and what benefits it can provide to your business. 
But how much does it cost to design a mobile app? What factors influence the cost? How long will it take?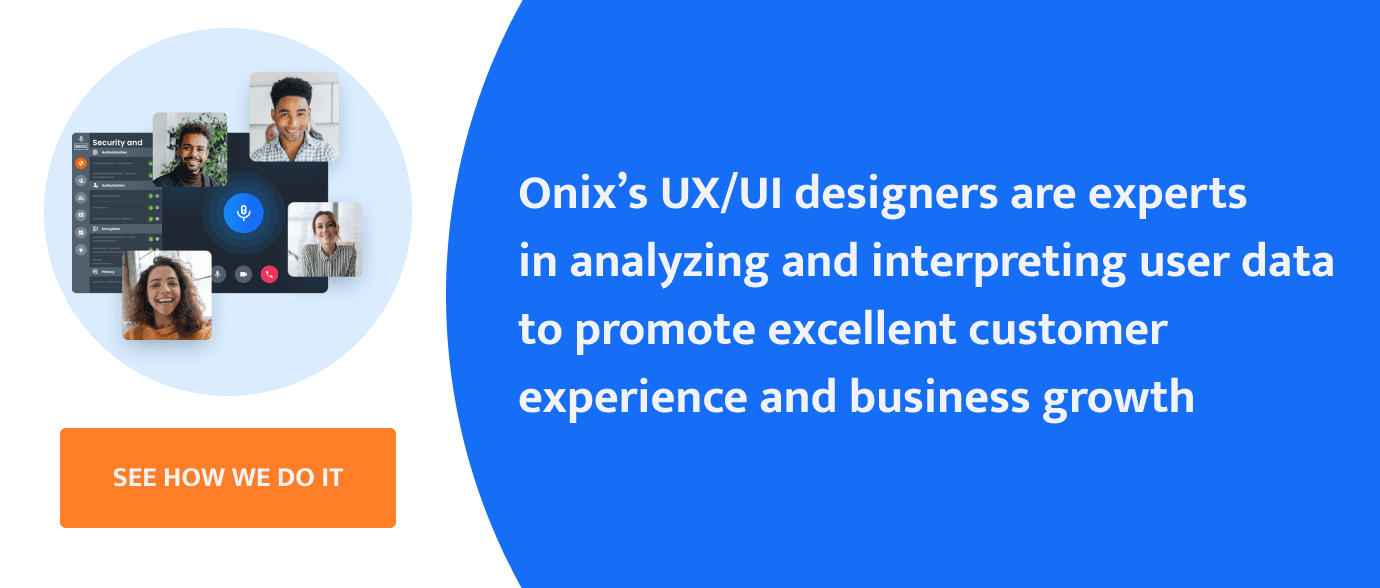 Factors that influence a mobile app design price
Simply put, the cost of designing a mobile application is the project time multiplied by the designers' hourly rate. The general rule is that the more features an application has, the longer it takes to design and which drives up the cost. The time to create an app also depends on:
At Onix, we have a well-established design workflow that we can divide into several stages. 
Below we review the design process in more detail to understand what factors influence the design costs.
#1
Competitive analysis and user research
Approximate time: 20-40 hours
Every company aims to build an app that will meet its business goals and end-users needs. The design team needs to know them inside out. 
Our team begins every design project by eliciting the company's requirements for the desired functionalities and researching the niche competition, target audiences, and market trends. This initial analysis allows us to understand business goals and define users' problems and needs appropriately.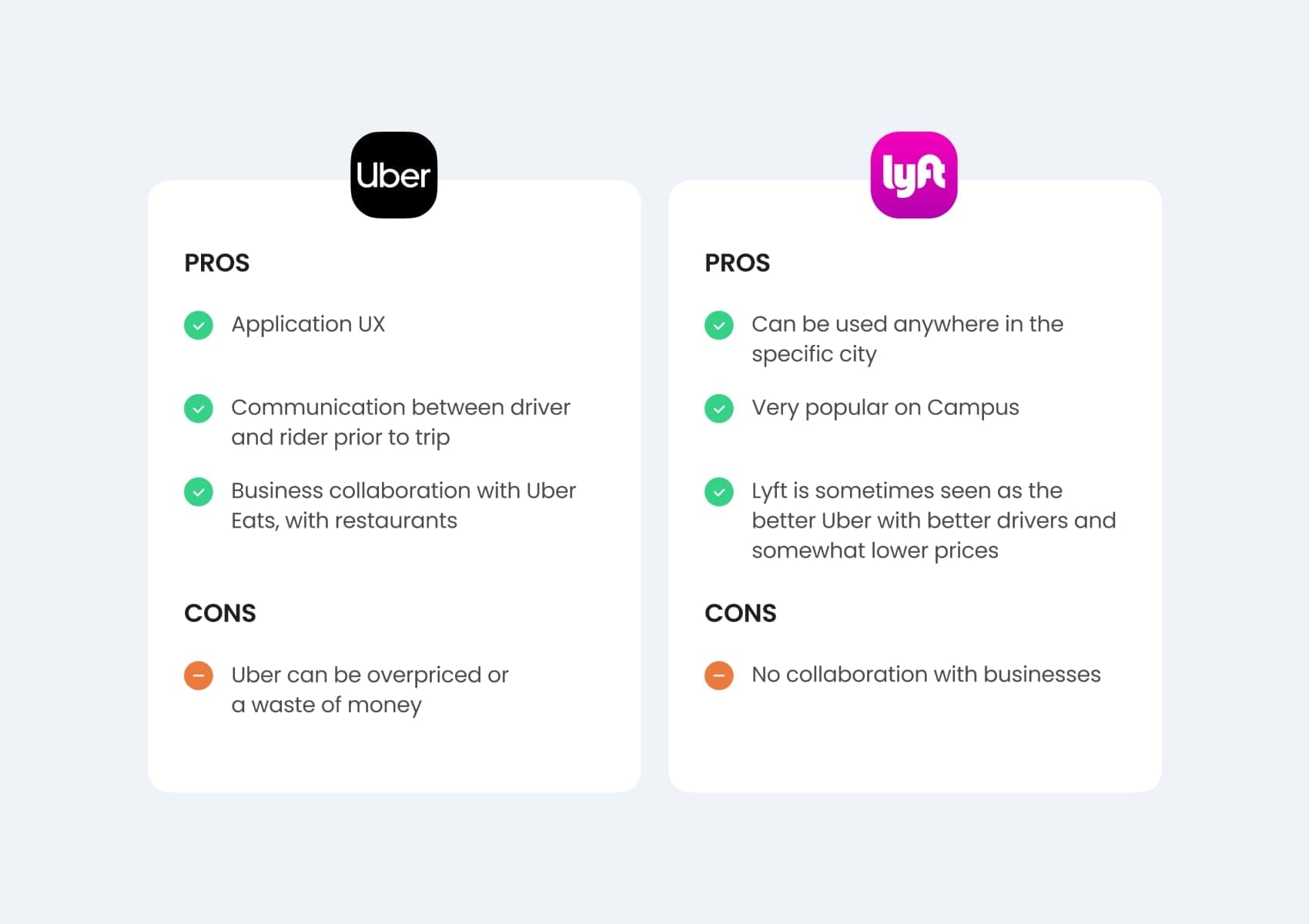 #2
User experience design
Approximate time: 60-120 hours
The outcome of the business goal and market analysis enables our designers to proceed to the next stage of the design process – turning ideas into UX design prototype. 
This is when our designers focus on how people will interact with the application. It should be easy to navigate and pleasant to use. Our designers carefully consider user flow to demonstrate the entire path users will go through using the application.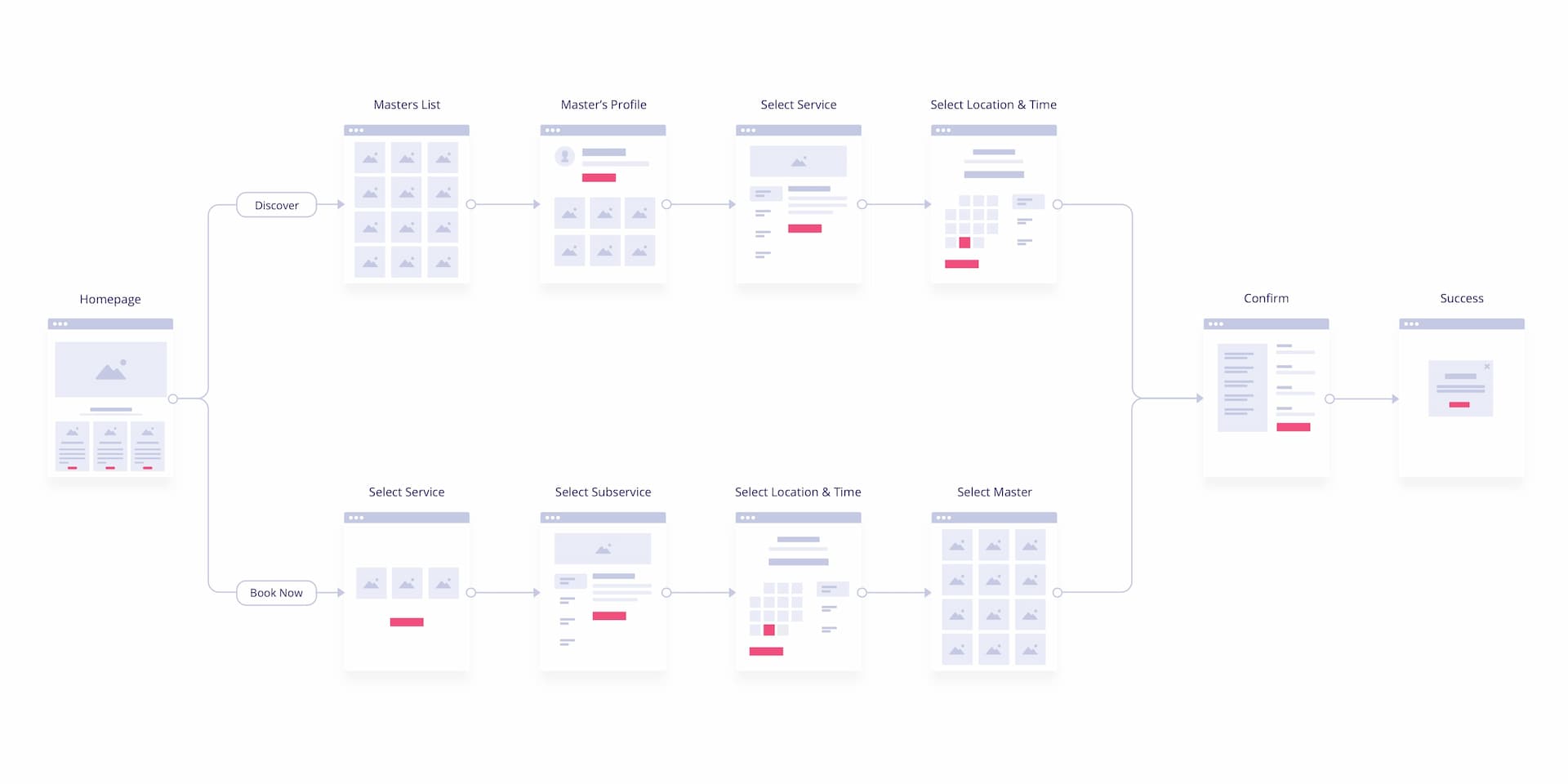 To craft core ideas into a seamless user experience, the designers start with creating wireframes. These are sketches that outline the locations of buttons, labels, content, and other components. It's essential to specify their structure, navigation, statuses, and dialogues.
Generally, only a professional UI/UX designer can fully grasp the nuances of mobile usability and aesthetics and incorporate the latest trends. Moreover, the designer should be an expert in the platform you've chosen. 
#3
User interface design
Approximate time: 50-100 hours
The next stage, user interface design, is not only about polishing the newly designed layout. The development of an app's unique visual style requires creative thinking and years of experience. 
Research from the very first stage is also essential for delivering the special look that will appeal to the target audience. This includes designing patterns, selecting the color scheme, creating shapes, and making effective use of typefaces. 
A native user interface design strictly follows the mobile platform guidelines. Since designers can use templates and ready-made examples, they can complete the design in a shorter time. 
A custom UI is created from scratch using unique styles, graphical elements, and non-typical UI components to look more appealing and memorable. Consequently, a bespoke application takes some 100 hours longer to design than a native design app.
During UI design, we typically craft a few screens and share the designs with our clients. If they approve the color palette, icons, and overall layout, we design the rest of the screens in the same style. Animation and additional graphic elements, such as icons, take extra time and increase the total design cost.
A mock-up is an accurate and realistic representation of an application design. Figma is commonly used for creating mock-ups. Initial mock-ups are shared with the client and potential users for testing. Their feedback and new suggestions help the designers with final adjustments to the mock-up. 
The UI/UX designers, iOS or Android developers, project managers, and the client all work together during this phase. 
By identifying any errors or misunderstandings which might occur during the app development, we can help keep the project on budget and on time.
At the end of this phase, the client receives a complete product design with images and animations, app logo, icons, and screenshots for app stores. With these files, they are ready to proceed with app development.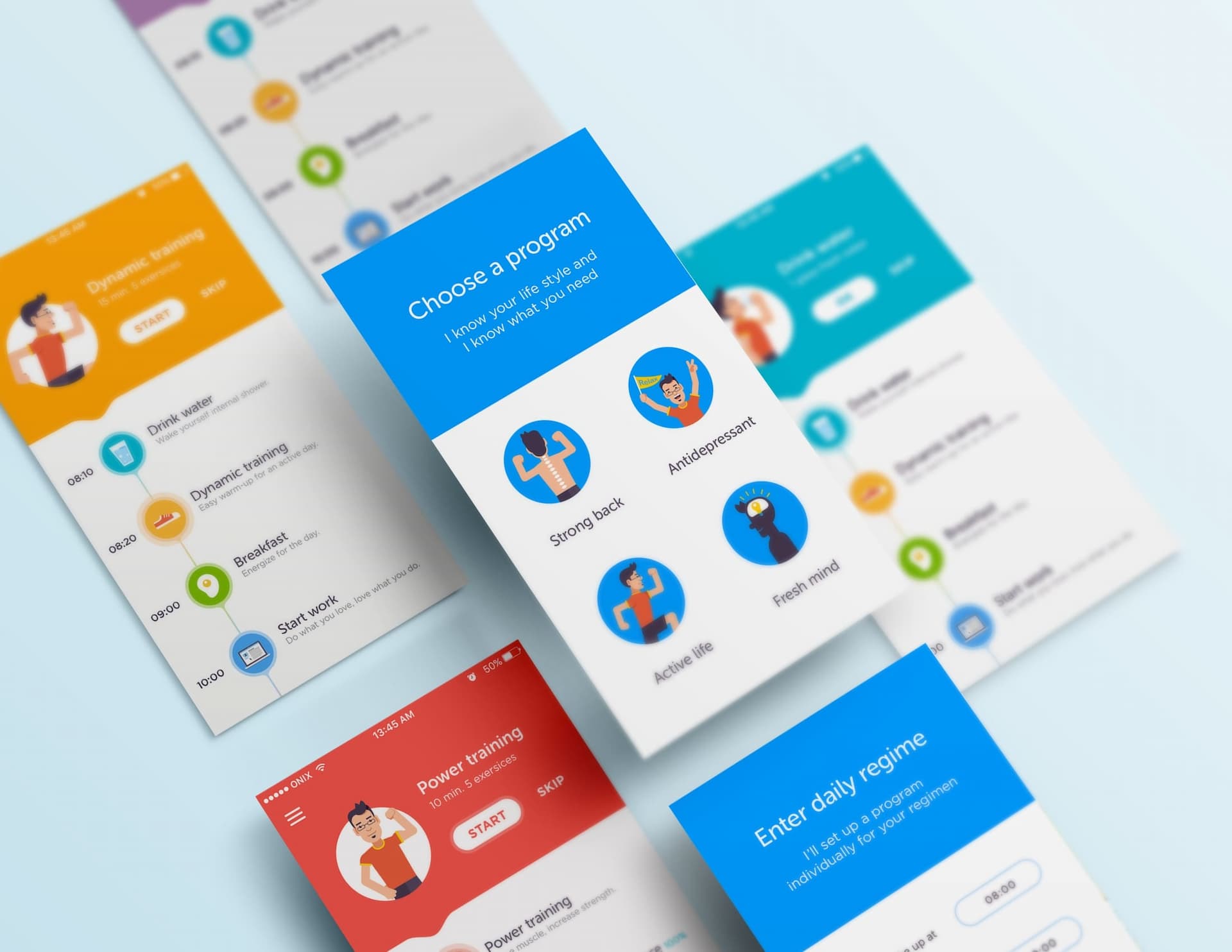 Example of prototypes 
Prototyping may seem tiresome and time-consuming, but in fact, it's a fast and cost-efficient way to visualize the future app, validate the concept, and make critical changes with minimum loss. It helps find out which components are indispensable and which are not. By removing the surplus, you can improve the product while saving money.

We've covered the main factors that influence app design costs. However, there are still some other nuances that should be taken into account.
Mobile app platform
The number of platforms to design for is a significant factor that determines the cost. For example, Onix designs and develops applications for the Apple iOS ecosystem and Android phones, tablets, Smart TV, and Wear.
Every operating system has guidelines that help ensure the interfaces look and feel like part of the OS. Depending on whether you are building an app for iOS or Android devices, the designer should know the Apple Store or Play Store design guidelines, respectively. 
In some countries, iOS experts tend to charge more. 
However, thanks to the limited range of iOS devices and strict design guidelines, designers can be 'pixel-perfect.' There are fewer screen sizes requiring adaptation, and the design is easy to test and fix. 
On the contrary, Android mobile phones and devices are numerous, and the operating system is fragmented. 
The team will focus on a limited range of Android OS versions or even specific Android devices.
The design team's location and hourly rates
The geography and expertise factors are equally important for calculating an app design price. Companies can either handle the design in-house or entrust it to an external team or specialist. Outsourcing software design and development allows for cutting expenses by eliminating the cost of recruiting local designers, their salaries, social packages, sick leaves, leave pays, office maintenance, hardware, license fees for the designer tools, etc.
Both design studios and freelance designers charge by the hour. The cost may depend on the level of expertise and their location within the country. Each studio offers its quality, approaches, specialists, and processes. A beginner or even an experienced freelancer will typically charge less compared to a big agency with decades of experience and top-rated professionals on board. 
If you require senior designers that charge higher hourly rates, the cost increases too. However, the greater a designer's experience and skill set, the faster and better they will work.
The most significant, however, is the difference between designers' hourly rates across the globe. In the table below, we compare the average cost of app design based on Clutch.
The quality of mobile design services also varies greatly and can range from subpar to world-class. The trick is finding a balance between quality and price. To be safe, it's wise to focus on the upper part of the regional price range.
Eastern European countries offer good quality at rates much lower than in North America or Western Europe. For example, an excellent design service that would cost you $200 per hour in the US would be just $30-$50 per hour in Ukraine.
The difference is striking if the same "design project time X hourly rate" formula is calculated based on a $30/hour rate.

How to reduce app design costs
Unfortunately, there is no silver bullet to reducing app design costs. However, some valuable tips will allow you to optimize the price.
Conduct deep initial research
In-depth research of the market, competitors, and target audience beforehand will allow you to get valuable data to move in the right direction without unnecessary spending on rework. Deep initial research is a good way to start on the road to a useful and problem-solving mobile app.
Focus on essential features
Focusing on the core features of the future mobile application will help the project stay on budget. Don't try to put all elements in your app at once. A large number of functions is not always a good idea. Some features can sometimes be confusing or simply unnecessary. Concentrate on essential features that solve your users' problems. Over time, you can gradually add additional functionality.
Collaborate with an outsourcing design team
Cooperation with offshore design teams should be both time- and cost-effective. As we've mentioned above, there are a wide range of outsourcing design teams with different rates. You can choose one that suits your budget perfectly. But you should be careful not to sacrifice the quality of the UI/UX design. Hire professionals skilled in both usability and aesthetics insurance. A company with a proven track record in mobile design will complete the project in a shorter time.
Start with MVP
Don't hurry to design a fully-fledged app. We always recommend our clients start with a minimum viable product. This means you launch an app with only must-have features. MVP allows you to verify your app idea, get early adopters, and get valuable feedback from real users. Users will tell you what feature is missing, and you can easily add it and be sure that you are not wasting money on unnecessary functionality.
Below you can see an example of how we designed an MVP version of mobile application for self-learning.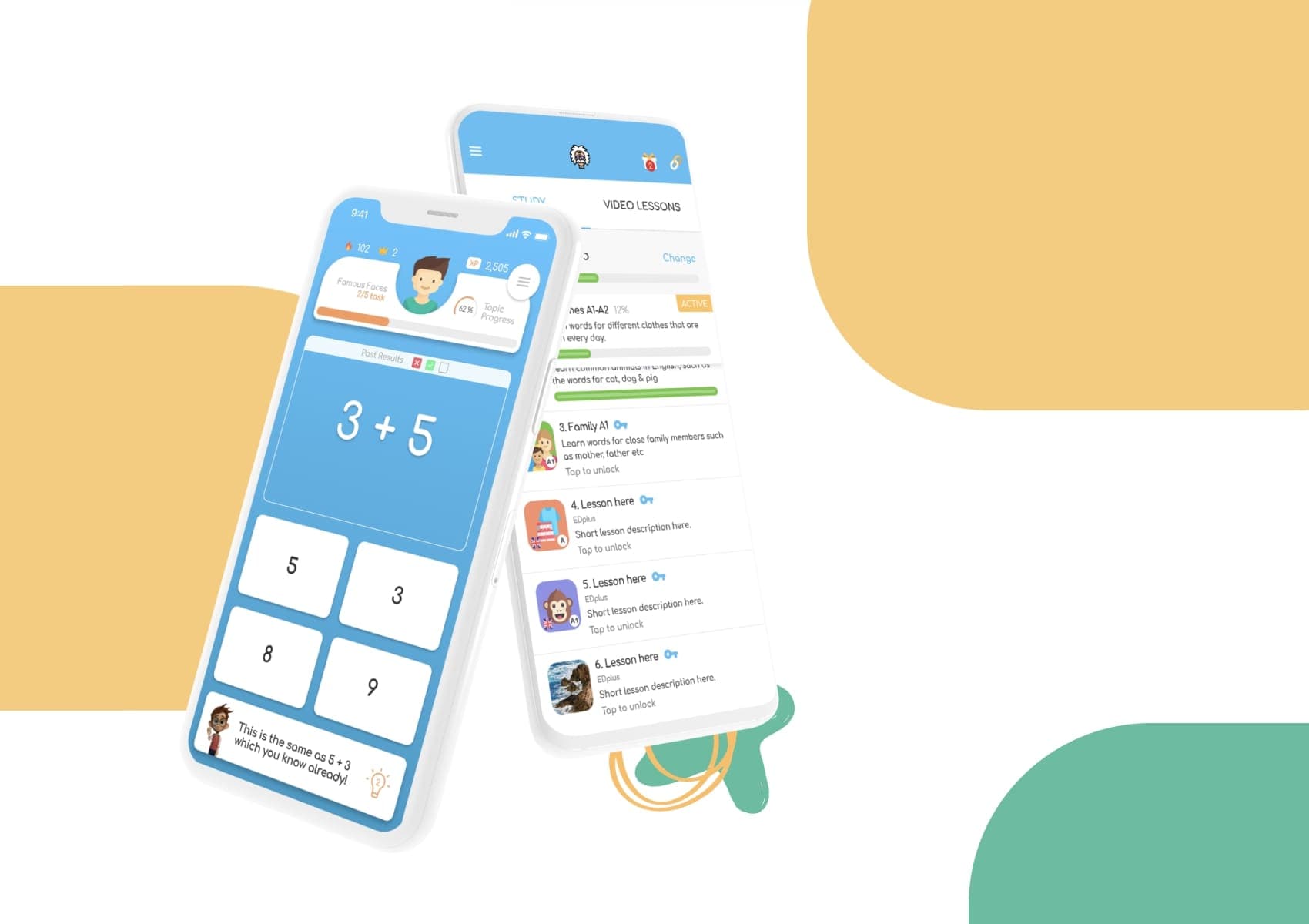 Onix experience
Onix's mobile app designers have 20+ years of extensive experience designing various products for any business size worldwide: from custom travel apps and fitness apps to hybrid integration platforms and game simulators. Below you can see some examples of our designers works.
Here is an example of how we designed a travel mobile app. The app was created for strangers willing to travel and find out more places of interest with the help of local people who share their experiences. The design process included mapping, wireframing, prototyping and elaborating a custom visual design. As a result, a thoughtful user journey, carefully arranged components to facilitate fluent interactions with the interface, unique visual style developed made finding a place to go and like-minded people to communicate with easy and engaging for each user.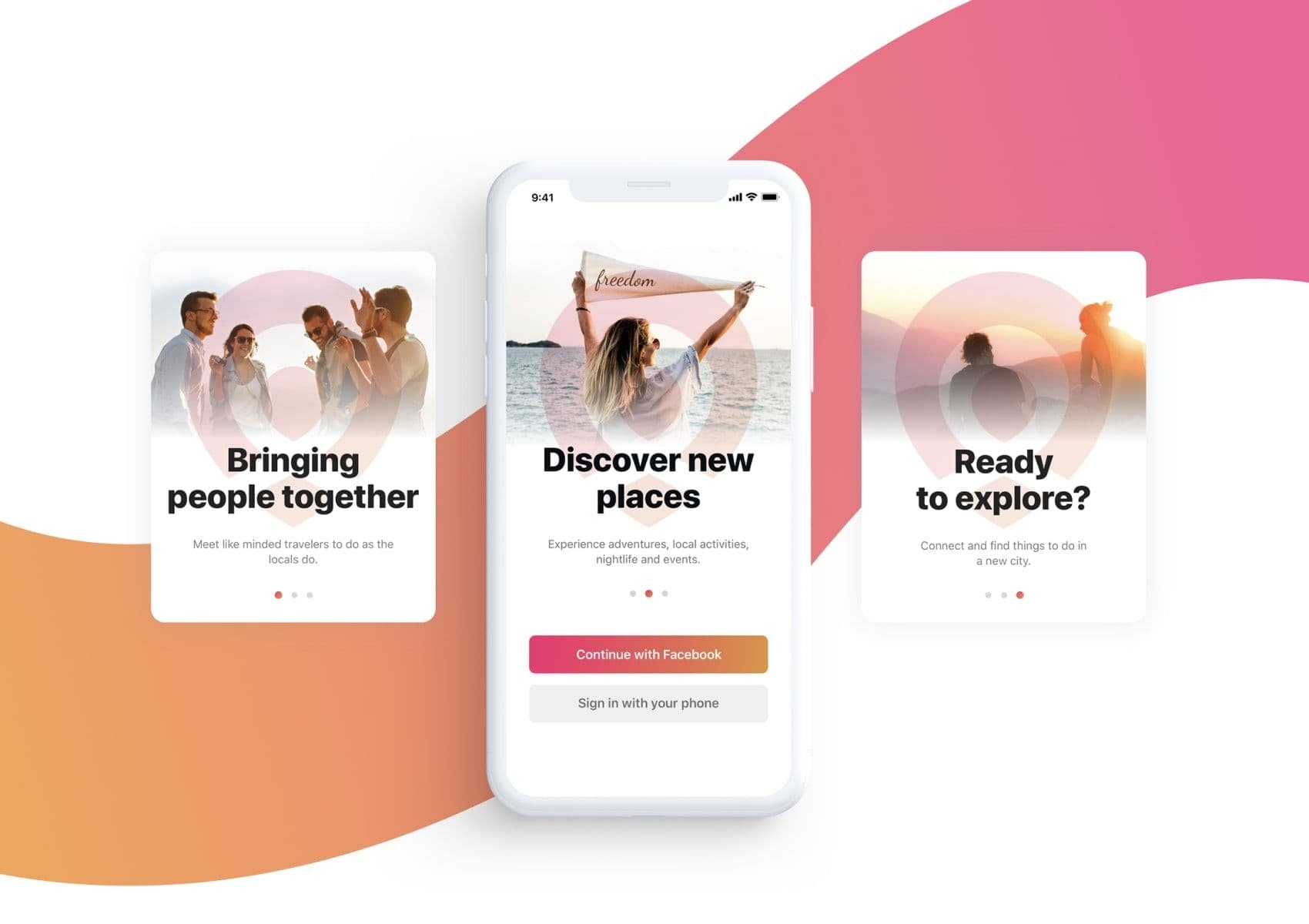 And this is an example of how Onix team created a design for a fitness app. Onix team can help you develop a feature-rich fitness app that contains videos, images and 3D models and considers different user groups and levels of difficulty (from beginners to professional athletes).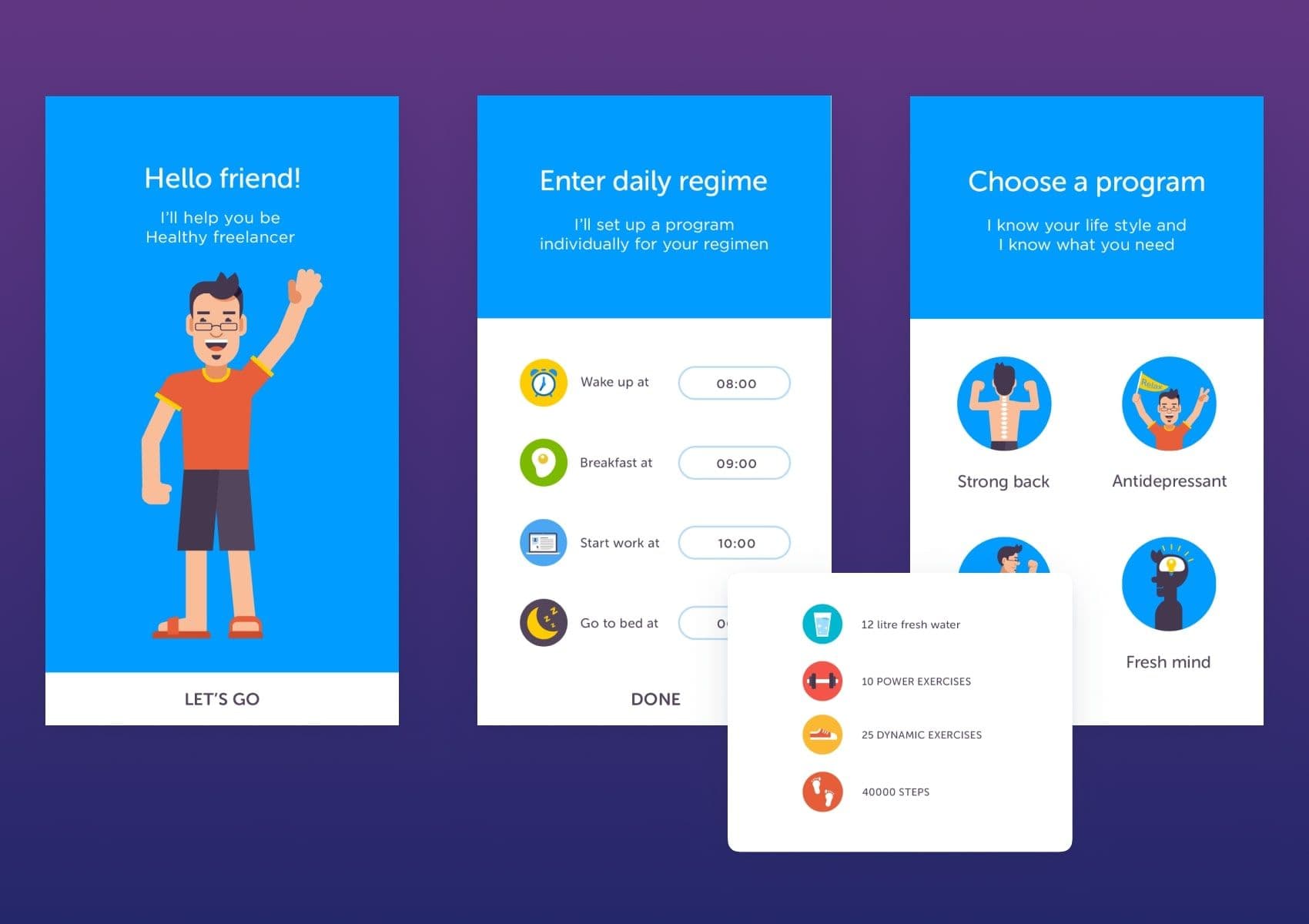 Our design team understands UI/UX best practices and knows how to meet client's requirements and their target audience's needs by delivering top-notch design solutions.
Delivering intuitive and delightful app design is our task #1. We conduct our careful analysis to put all design details in the right place. Our work is more than just an appealing design. We produce ground-breaking, problem-solving, and user-driven designs.
At Onix, we provide a full scope of design services from deep search analysis to a full cycle mobile design (iOS and Android). Below is a detailed look at our design services and examples of our work.

Ready to design your mobile app?
As you can see by reading this guide, design is an essential part of mobile app development. Design is more than just drawing a product. It's about solving users' problems by providing intuitive navigation. Whether users stay with you or go to your competitors ultimately depends on how effectively you plan your app design.
If you need advice or are looking for a professional team to realize your mobile app ideas — please contact us!
Frequently Asked Questions
What goes into the cost of mobile app design?
All design projects should start with goal analysis and market research. Based on the outcome of the initial goal and audience analysis, designers begin work on eye-catching wireframes to show a clear visual structure. The next stage is prototyping that allows designers to introduce important features and navigation. And, finally, designers can add images and animations, app logo, icons, etc.
How to find a reliable mobile app design agency?
The first place to start is to prepare a list of project requirements and needs. One more good marker is the past experiences of the agency. It's essential to examine an agency's portfolio to understand what to expect from them. Moreover, pay attention to the agency's design process and its approach. This will give you a good understanding of how streamlined and effective their processes are.
How much time does it take to design an app?
The time to design a mobile app depends on project complexity, requirements, goals, hourly rates of the design agency, etc. For example, it will take a few days to design an MVP interface. As for a more complex app like Uber, it'll take 350+ hours to design it.
What is the hourly rate of designers? 
Designers' hourly rate depends on their location. For example, Eastern European countries offer good quality at rates much lower than in North America or Western Europe. An excellent design service that would cost you $200 per hour in the US would be just $30-$50 per hour in Ukraine.
How much does app design cost?
You can use the following formula  "design project time X hourly rate" to calculate the app design costs. For example, to design a complex app like Instagram, and your design agency charges $50 X 350 hours (approximate design time) = $17,500 (approximate UI/UX design cost of iOS and Android apps).