E-commerce has been driven by the implementation of 4G and 5G technology, the growing adoption of smartphones, social media applications that increase the users' exposure to online shopping, proliferating small and medium businesses and increasing consumer wealth in developing economies, and other factors. Large enterprises have also been increasingly leaning towards online business. The global e-commerce market size was expected to grow at a compound annual growth rate of 14.7% from 2020 to 2027.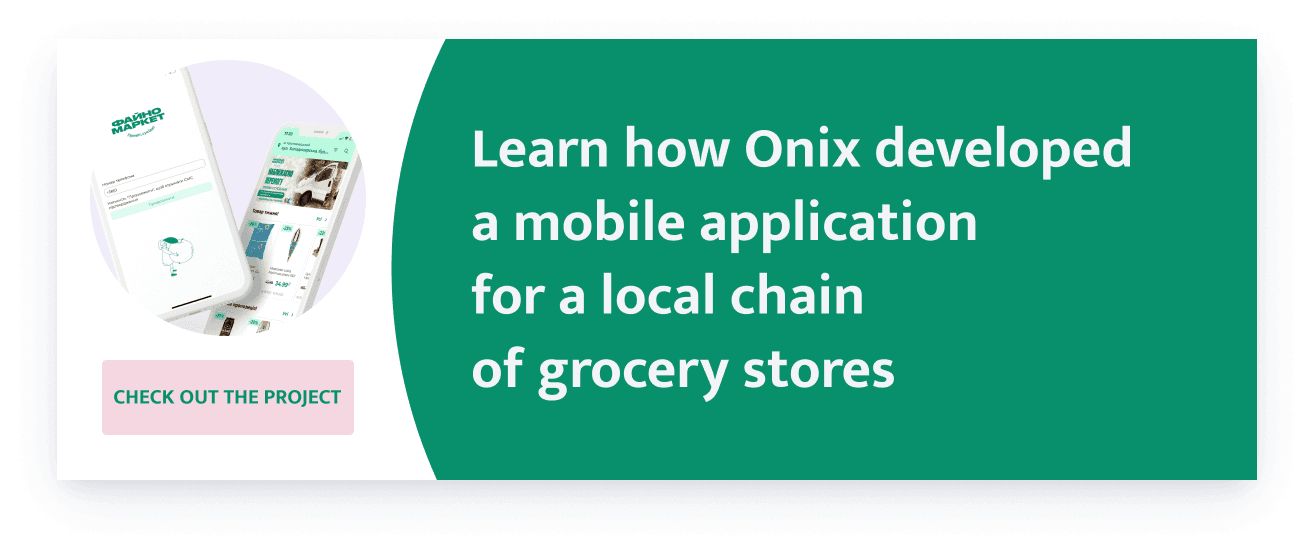 COVID-19 has given e-commerce a major boost. In 2022, the U.S. retail e-commerce market size should exceed $875 billion. The number of digital buyers exceeded 2.14 billion worldwide in 2021, up from 1.66 billion in 2016.
Despite the high competition in the industry, there is still space for new players. 
For entrepreneurs that are contemplating their own online store or marketplace, this article offers some tips from our experts regarding e-commerce website development. Well, let's look at how to create an online store website and what you need for this.
Benefits of Building Your Own E-commerce Website
1) The majority of consumers nowadays start product searches online, primarily on mobile phones. Without an online presence, they wouldn't learn about a company's goods or services. In contrast, the power of digital marketing combined with search engine optimization (SEO) creates tremendous opportunities for sales and growth.
2) E-commerce links sellers and buyers regardless of their geographical location. The opportunities to endorse a company's products and services become boundless.
3) The cost of building and maintaining an online store website is much lower compared with the cost of opening a physical storefront.
4) An online platform enables consumers to shop and companies to run sales round-the-clock.
5) Businesses can also receive and quickly respond to customers' questions and requests, improving customer service, customer loyalty, and retention.
6) Process automation is another great advantage. E-commerce platforms with integrated billing and delivery service APIs make it possible to prepare an invoice and delivery note in two clicks. An admin panel facilitates the management of product stock and keeps the descriptions, pictures, names, categories, etc., up to date.
7) Online sales help cut expenditure on communication and infrastructure even for big established companies.
8) The system collects data about the customers, orders, stock, etc., empowering businesses to access statistics and discover trends. This helps build strategies and adjust their marketing and sales efforts to maximize profits.
9) When customers don't have to travel to a physical store and browse among the goods there, they save time and money. A smart business can convince them to spend those saved resources on extra online purchases.
10) The use of innovations, such as artificial intelligence (AI), chatbots, and augmented and virtual reality (AR and VR), facilitate conversions, sales, and hence businesses' growth.
11) An easier reach for a wider pool of customers and the necessary exposure to other businesses are the primary benefits of e-commerce to business owners that are only starting, expanding an existing business, or giving it a fresh start.
The potential benefits of e-commerce website for your business may be plentiful, but starting an online store requires consideration, research, calculations, planning, and a basic understanding of e-commerce website development. Let's take it step by step. 
Read Also: 9 Tips for a Selling eCommerce Website Architecture
Custom E-commerce Website Development Process
Generally, the e-commerce website development process encompasses the following activities:
Discovery phase
User experience and user interface (UX and UI) design
Web back-end and front-end development
Quality assurance (QA)
Ongoing support and development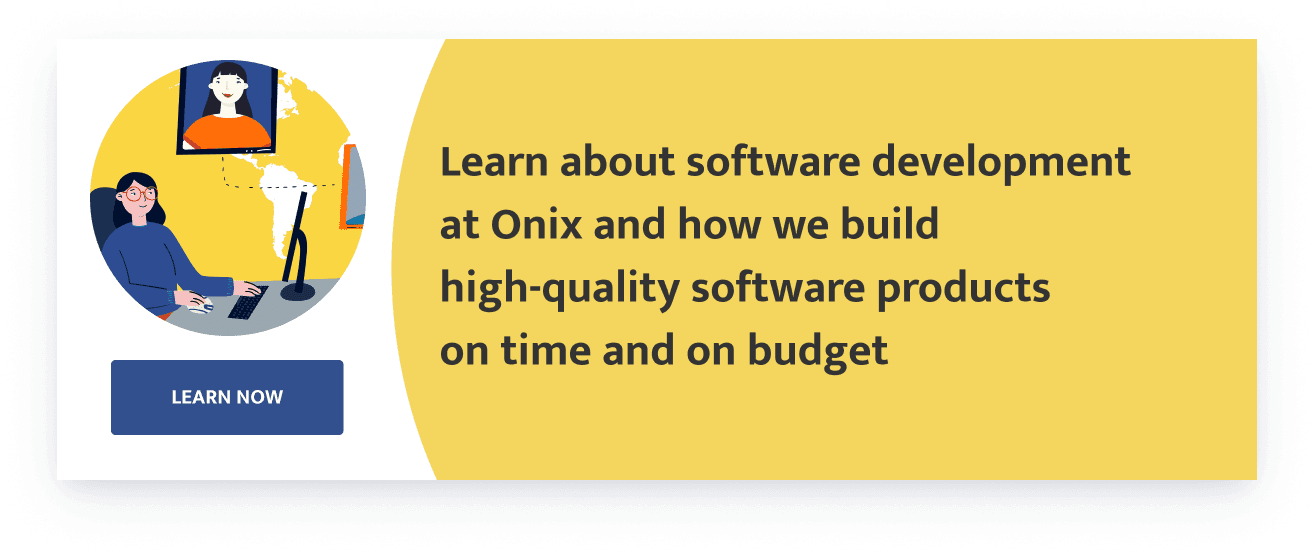 Define core business goals
Before launching an e-commerce website, the business owner should consider both the market potential and their own capabilities, e.g., their website development budget. This roughly corresponds to the discovery phase.
It all starts with your business goals. First of all, it's necessary to determine your preferred type of website:
Choose the right business model
If it's a marketplace, there are several e-commerce business models you might go for:
Business to consumer (B2C). Goods or services are sold straight from businesses to the general public without involving any third parties. The customers use an online catalog, pick items for purchase, and check out virtually. Amazon and Flipkart are examples of B2C online shops. 
Business to business (B2B). The sales of goods or services happen between businesses through an online sales portal. This model is generally used to enhance a company's sales efforts. The seller may be a manufacturer, a wholesaler, or a provider within a given industry, e.g., outsourcing services, particular equipment distribution, etc. Alibaba.com is a B2B online commercial center.
Customer to customer (C2C). This marketplace enables people to sell or exchange goods or services. eBay and Etsy are C2C e-commerce websites.
Consumer to business (C2B). This business model involves freelancers that perform jobs offered by the clients, mostly corporate entities. Remember Upwork as an example.
Price comparison (aggregator) websites. These vertical search engines help users filter and compare products from vendors' websites based on features, price, reviews, etc., and purchase the best deal.
Auction (bidding) e-commerce websites. On these websites, products are enlisted for auction, and users place their bids to procure those items.
Conduct an in-depth research
Every e-commerce project should be guided by research about the products or services that will be sold and the people who will buy them. Begin the description of your solution with answers to the following questions:
What are you going to sell, and in what amounts or numbers? (It may be something you are passionate about, something that is in high demand or missing in the market, and so forth.)
Which particular market niche is most relevant for you (e.g., where you have the most experience, or where your product fits best)?
What problem or problems are you going to solve for the consumers and businesses (if applicable)?
Which demographic group(s) primarily need, or will be interested, and will be able to spend money on your website?
Put down several SMART goals that the e-commerce site should achieve for your business.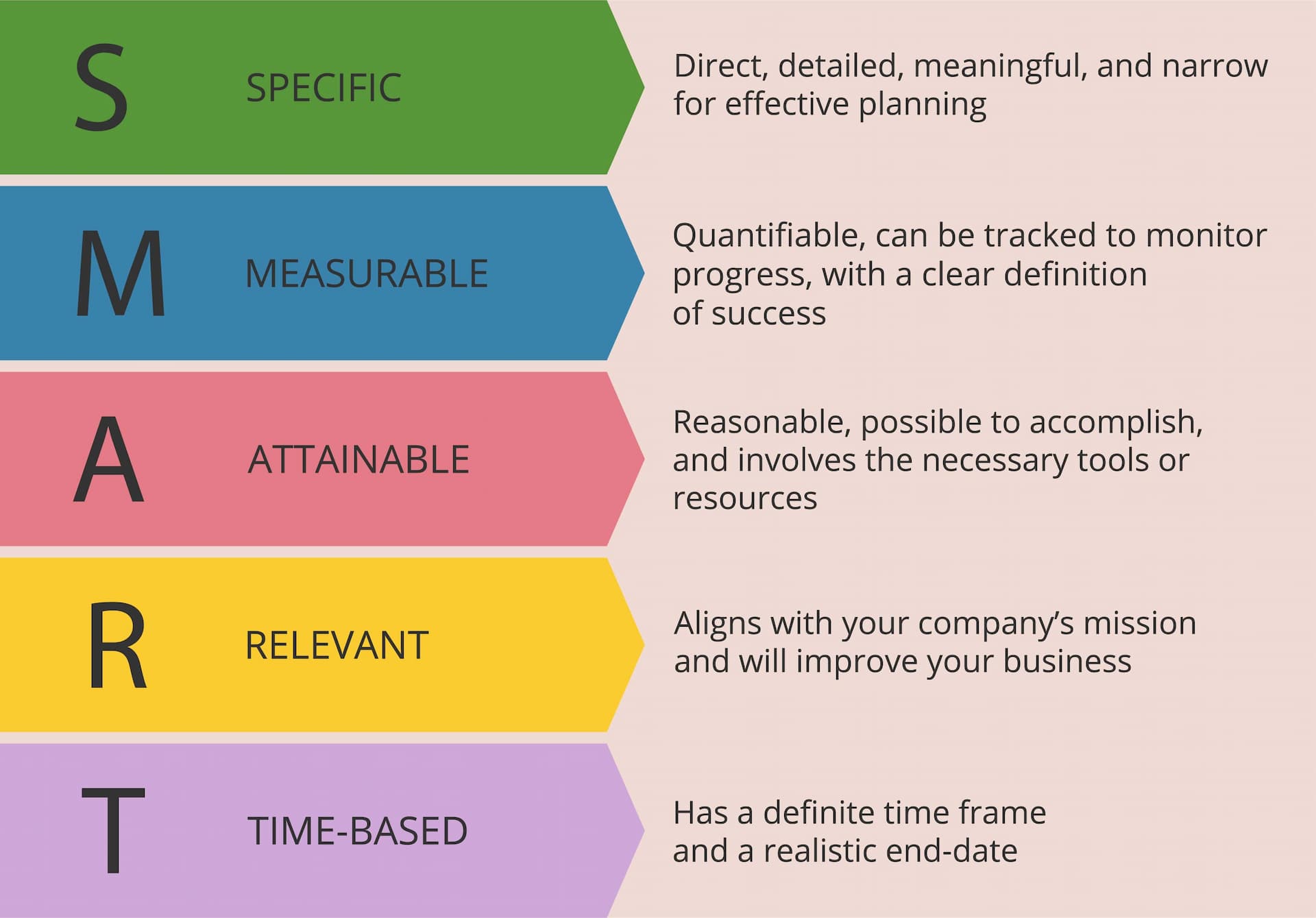 All this will give you the basic concept of your future solution and the project scale. Now you can start your research, potential competition, and target market analysis. For example, after defining the products or services you are going to offer, you can identify other online shops selling them.
Make eCommerce website competitor analysis
Online store website competitor analysis is equally important. Your odds of success are extremely low if you intend to compete with big players possessing popular services and impressive marketing budgets. Finding a niche with some breathing room can give you a better chance, especially if you have a unique idea for processes, branding, and customer experience. 
The easiest way to search for competitors in your ecommerce business is to browse the web indexes utilizing relevant catchphrases. Instruments like Semrush also help analyze the most relevant keywords indicating demand, discovering potential rivals, and identifying the most active and ready-to-buy TAs. Looking at other companies' rates, you can also see how well and in what numbers you can expect to sell your products. For more in-depth e-commerce market research and analysis, it's generally recommended to hire experts.
Create your eCommerce website name according to research
Knowing your TA's tastes and the competition is essential even for choosing or creating your website name. It should be concise, original, but easy to remember and distinguish your brand from competitors. A unique name also means better odds of getting a perfect e-commerce domain name. If you can't find an available URL including the iconic .com, you might try .biz, .shop, .solutions, .online, or other domains that can work as well. 
NB. Once you've got a business name and found an available URL, go ahead and register the domain name lest someone else snatches it up while you are developing your website.
Choose technical partner for e-commerce website development and design
Once you have worked out your business idea and requirements for the future e-commerce solution, you are ready to reach out to the professionals that can implement it. 
To qualify for the job, vendors should have positive reviews and a strong track record of building e-commerce sites. Ideally, they should also provide UX/UI design services, offer ongoing support, and be ready to advise you before your actual cooperation begins.
Namely, you will likely need advice on prioritizing your future e-commerce website features, most suitable technologies, project planning, and other prerequisites of successful and cost-effective software development.
Firstly, the experts can help you decide on the format of your solution. Depending on the results of your research, available budget, and ambitions, you may choose among several scenarios:
Basic website. It can be initially limited to several simple web pages and the bare minimum of functionalities (to be expanded later). It's even possible to build single-handedly, using an off-the-shelf template (to be discussed further in the article).
Specialized resource. Often, business owners take a ready-made template but hire web developers to customize it, e.g., to change the look and add interactive elements, marketing tools, and so on.
Custom-built online shop. This implies another level of user experience and helps a business stand out from the crowd. The owner can implement an authentic look and various features to meet their unique business and end-users needs. This is a pricier yet totally affordable option.
Full-on online enterprise. This includes maximum security and sophisticated features aiming at mass audiences, selling top-end products or services, eliminating all competitors, and so forth. Such custom e-commerce website development will require a considerable budget.
Onix typically recommends its clients start with a minimum viable product (MVP). This is a practical way to validate your assumptions and test the market interest quickly and at a minimum cost. Within a few weeks, a couple of programmers can build and launch an MVP marketplace or store that can effectively sell goods or services to real customers.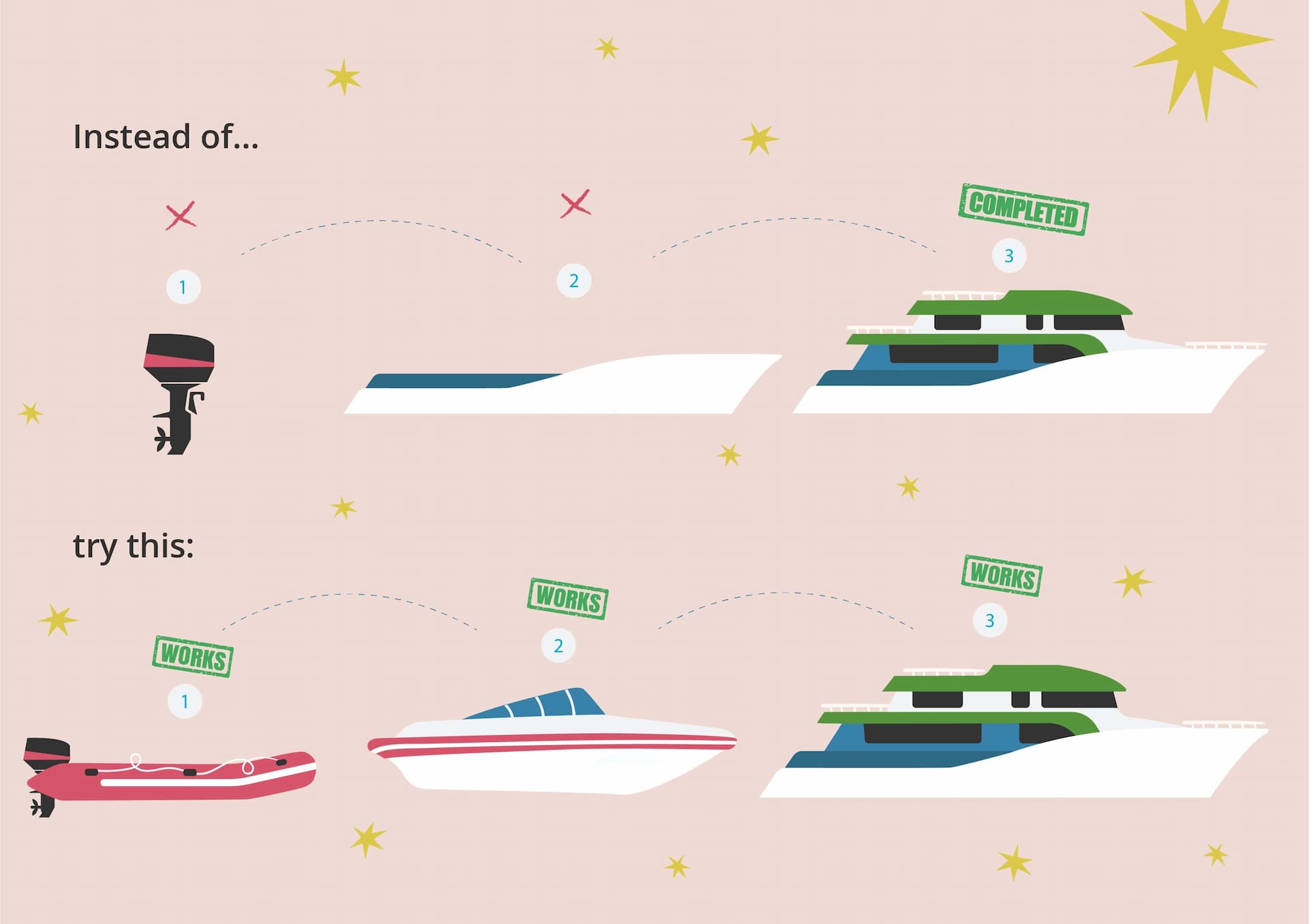 By monitoring the early users' feedback and key performance indicators (KPIs), including the sales, you will be able to assess the effectiveness of the platform and chosen solutions, the user experience, and more. Then, you may either make adjustments and develop the website further, or pivot, or close the project.
Read also: How to Measure UI/UX Design Performance
The development of your MVP or a full-fledged online commerce platform will proceed faster if your team utilizes one of the specialized web development platforms. This topic deserves special attention. 
Must Have E-сommerce Website Features List
Let's start with the functionalities that will be available to your website visitors. The minimum eCommerce website features list is likely to include:
Login/Sign up
Users can create an account just by entering their email address or phone number or using Facebook, Google account, or another social login ID.
Categories and products
Users should be able to browse by categories, subcategories (if needed), and products.
Product page
A basic product details page should contain an image, description, and price, as well as an 'Add to cart' button.
Search
Enable users to search products, filter products by category, price range, and other parameters, and sort by price.
Basic cart management
The items in the cart should be stored on the server. Users will need to add items, change the amount, remove items, and empty the cart. The page should automatically calculate an order's total cost and shipping costs.
Checkout
At checkout, users should be able to access instructions and choose a convenient payment method.
Credit card payments
Users should be able to link one or several credit cards to their profile and add and remove them as needed.
Order history
The feature is not a mere list of past orders but also the ability to repeat orders.
The system must load fast and be secure, especially when it comes to online payments. Interfaces must be intuitive, neat, and display correctly in all browsers, on all types of screens.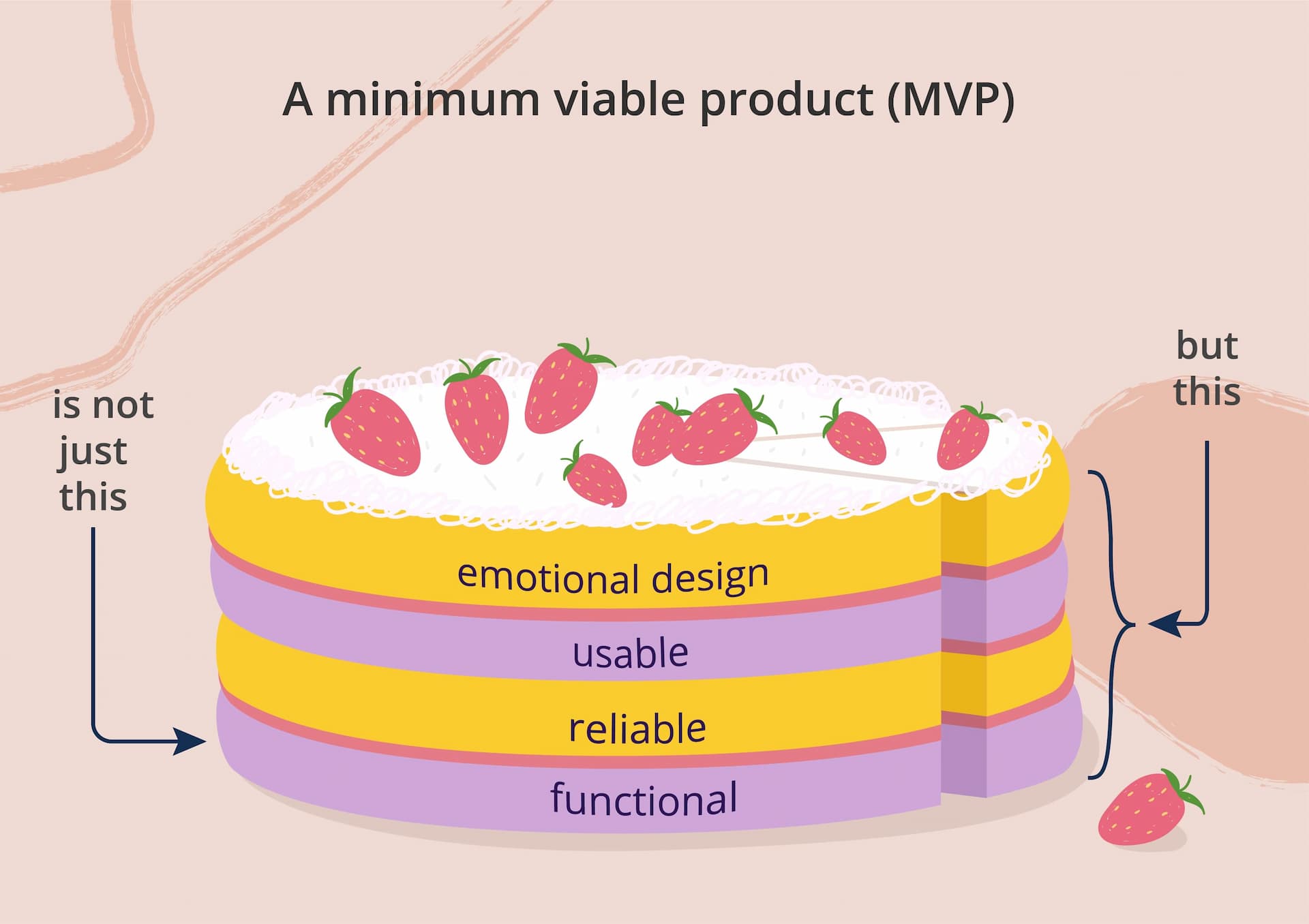 The following custom e-commerce website features are valuable but might be omitted in an MVP due to time or budget restrictions:
Subsequent versions can include functionalities related to coupons, promo codes, or vouchers.
It's great when users can see an average review on the product page, access more ratings and textual reviews, and post, edit, and delete their own review.
Product videos are a powerful online selling instrument: they can entice viewers, educate them about the product, and convince them to purchase.
Product suggestion bar at the bottom of a product page, which shows similar or related products, encourages users to buy more.
Ability to manage favorite products, brands, vendors, etc.
Multiple payment gateway options can facilitate more convenient shopping experiences and thus more sales.
Multilingual support and currency converter will do the same and make your service accessible to more users.
An incorporated shipment tracking API will enable both the consumers and vendors to follow shipping from the source to the destination.
Chatbots can assist or substitute your customer service team by responding to the customers' inquiries about products, orders, and payments 24/7.
The store administrator's functionalities, inaccessible to consumers, are indispensable for managing your online business. The instruments you are going to use include:
Content management system (CMS). You will need to create, read, update, and delete (CRUD) administrators and authorize them to access the system, CRUD categories, subcategories, and ordering, CRUD and activate/deactivate products, manage the orders and payment statuses, filter and sort them, etc.
Customer relationship management (CRM). Such systems help strengthen customers' associations with a website and improve the customer experience.
Read also: Healthcare CRM Software Benefits
Role-based dashboards. This indispensable functionality is provided by ERP (enterprise resource planning) systems. They facilitate the creation, configuration, and management of custom dashboards depending on the roles for accounting, operations, and other areas of your business. The administrator can monitor and examine various website users, run reports, and adjust the users' activities to increase their effectiveness and productivity.
Business intelligence. Modern cutting-edge technologies empower e-commerce owners to store vast amounts of raw data, process it, generate reports, and gain insights into their business and consumers. Having the benefit of various reports, pie diagrams, and live dashboards, the management and administrators can make well-informed decisions.
Customer behavior tracking. Detailed analysis of the customers' actions is a significant part of doing business online. A business that understands their browsing, interactions, and other activities on the website can provide more relevant content, offers, and services, improving customer experience and sales.
Marketing tools. Modern admin panels include various tools for social media campaigns, managing ads and SMS blasts, and so forth. E-commerce businesses can initiate, coordinate, and track all necessary marketing activities in one place, run various reports, and plan and adjust their sales and marketing strategies for better results.
Once these functionalities have been implemented in the MVP, you will need to select features for future iterations and upgrades. Whatever your decisions, the security, proper performance, user-friendliness, and scalability of your e-commerce solution will remain important.
Quality UI/UX design is essential for an intuitive, smooth, and convenient shopping experience. Along with the strictly utilitarian purposes, online store's design should build trust and emotional links with the buyers. Hire a professional web designer with a thorough knowledge of modern user interfaces and experience in custom e-commerce design. 
Smart innovation can give you a competitive edge. Voice shopping, AI-powered features, and augmented reality (AR) are among the first integrations to consider when online stores want a better customer experience and higher sales.
If you are hiring external back- and front-end developers to implement your selected e-commerce website features, familiarity with some technical terms may prove useful as well. The following chapter lists the most relevant programming languages, libraries, tools, etc. – something to look for in the candidates' CVs.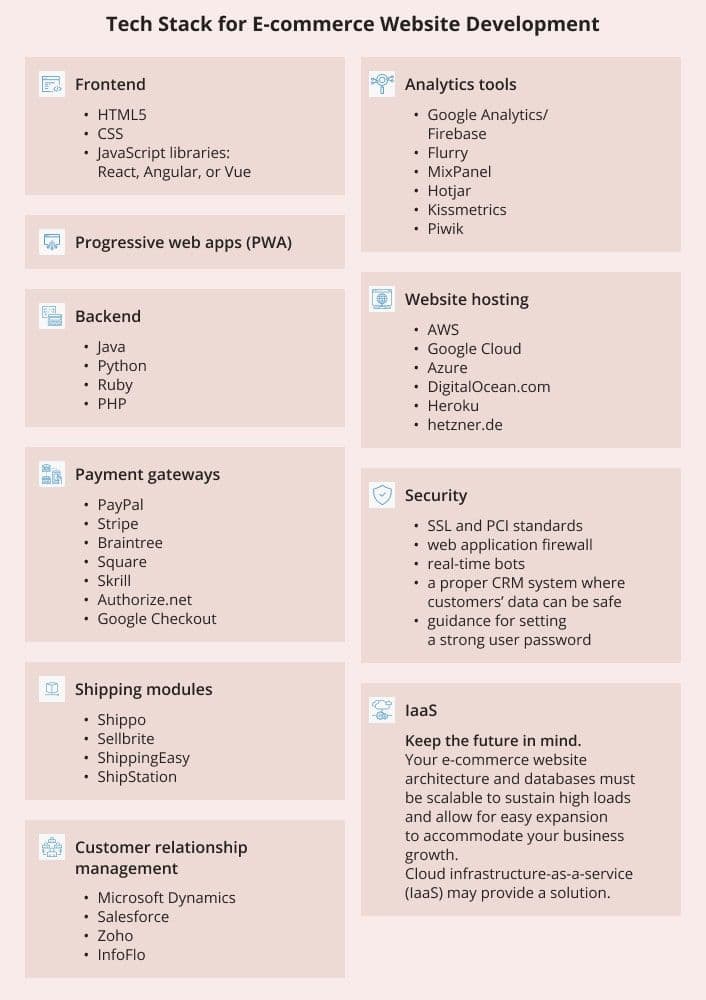 Timeline and Cost of E-commerce Website Development
Words like price, expenses, or budget have been popping up throughout this article. Now, we'll try to sum things up and answer probably the most vexing question: how much does it cost to build an e-commerce website?
Regarding timelines, a project's initial stage lasts roughly 2-4 weeks. Subsequent software development will depend on the system's complexity and other factors. The first version of a basic solution may take from 3 to 5 months, a custom-built online shop – some 4-9 months, and a large e-commerce platform may take a whole nine months and more to build.
Basically, the project budget compounds the hours spent by appropriate experts at each stage of your software development. All of the project stages, choices, and activities mentioned so far both contribute to and can directly impact (increase or decrease) your e-commerce site cost, along with other factors:
qualification and specialization of the members of your product development team
size of the team
type of cooperation (e.g., freelancers, in-house, or remote developers)
location of the team and individual professionals
size and reputation of the outsourcing software development company
whether you opt for templates or build a custom product
pricing of the preferred e-commerce platform (if any)
level of customization or complexity of the website design
scope and complexity of the solution's functionalities
intricacy of the e-commerce solution's architecture
number and integration of third-party APIs
urgency and other business objectives
Budget issues are the second major reason why startups fail. An increasing number of companies choose to minimize this risk through a productive outsourcing partnership. Offshore outsourcing helps in saving costs enormously when compared to in-house development or nearshore outsourcing. Furthermore, it enables entrepreneurs to hire the most suitable experts and promotes flexibility in the business process. 
You can outsource your e-commerce MVP development on a fixed-price basis or hire a dedicated team that will be working for you throughout your product life cycle. In any case, the recommended team structure should include at least:
Project Manager (PM)
UX/UI designer
Front-end developer
Back-end developer
DevOps Engineer - to build and support infrastructure. 
NB. 
Don't forget the additional services, such as creating brand identity, graphics, product descriptions, keyword-rich titles, high-quality photos of the products, maybe even short videos, and other content for your website.
Make sure to reach out to at least five development teams and compare their offers. Your essential e-commerce features list can be the basis for the teams' initial project estimates. The more details you can provide, the more accurate their assessment may be.
A lower quote may not necessarily imply a lower quality of work. The gap in the professionals' hourly wages in different countries has little to do with differences in training, skills, or experience. Normally, the reasons are purely economic, but the development of the same custom e-commerce solution in the US may cost four times as much as in India. 
| | | |
| --- | --- | --- |
| Region | Countries | Rates/hour |
| North America | USA, Canada | $100–$450 |
| South America | Mexico, Panama, Brazil, Argentina | $20 - $55 |
| Western Europe | Ireland, Germany, Norway, Netherlands, UK, Belgium, France | $150–$400 |
| Eastern Europe | Ukraine, Slovakia, Bulgaria, Poland, Czech Republic, Hungary, Romania | $25–$199 |
| Central Asia | Kazakhstan, Uzbekistan, Tajikistan | $10–$59 |
| East and South Asia | China, Indonesia, Malaysia, Philippines, Vietnam, Japan | $10–$350 |
| Africa | Morocco, Kenya, Nigeria, Egypt, Ethiopia | $10–$99 |
| Australia | Australia | $100–$350 |
Eastern European IT markets are known for their optimal price-quality ratios. For example, a Ukrainian software developer's average rate is $45-$90 per hour. The Polish specialist's rate starts from $100 to $149. Hungarian developers take minimum $50 and maximum $100 per hour, the same as Slovakian and Romania IT specialists. This is higher than in most outsourcing destinations in Asia or Africa but still much lower than in the U.S., Canada, or Western Europe.
As a result of all the factors, the cost of creating e-commerce solutions of different complexity, from the initial business analysis to launch to the market, can vary dramatically. 
However, this is not all. E-commerce website development is not a linear process. Once your team has successfully released the first version, the continuous maintenance work starts. Simultaneously, you will need to monitor your customers' feedback and keep updating and upgrading the website to satisfy the TA's emerging needs and preferences. The testing of new releases and patching up occasional flaws will also continue.
After your e-commerce website launch, you may still have to pay:
monthly fees for the server that hosts your site
annual expenditure on your domain name
cost of SSL endorsement
The maintenance of an online store website thus may cost from $1,000 to $6,000 per month.
Custom E-commerce Development or Website Builders?
The primary benefits of e-commerce development using website builders and templates are:
Lower upfront development costs
Shorter time-to-market period
The disadvantages include:
Often, a limited range of provided functionality
The result is a generic product
Off-the-shelf templates or themes may offer little room for customization and unique design ideas 
Bottlenecks while building an e-commerce site and inability to scale an online business
Their marketing and SEO capabilities may be limited and not suited for a particular business
High monthly fees, so costs can accumulate over time, especially if you want to scale your site later on
You will still incur expenses like hosting, domain, extra themes, plugins, development, etc.
Still, such platforms are an excellent solution for small and mid-sized sites that don't harbor plans for extensive scalability, employing new technologies, or innovation. 
Even free plans empower entrepreneurs to set up a basic store and start selling products online immediately. If they build a simple templated solution, the eCommerce solution provider will handle most testing and maintenance. For greater capabilities, store owners will need certain skills and investments into premium plans and underlying software.
Some of the leading e-commerce website builders are:
Over one million business clients across 175 countries are using this e-commerce solution. It is best geared towards small-to-medium businesses (SMB), especially boutiques and exclusive product stores.
With various features already integrated, it's virtually possible to make an e-commerce website single-handedly. Shopify has diverse custom domains, AI personalization, over 70 user-friendly templates, extensive SEO features, and excellent 24/7 support.
Shopify Lite, with certain limitations, costs $9/month; Basic Shopify will cost $29/month. There will also be an additional fee for each sale you make. 
A quarter of all online stores use this free, open-source shopping cart plugin. WooCommerce is perfect for small businesses that already have a WordPress site but also a modest budget.
The features include shipping options, calculator, geolocation support, mobile optimization, coupons, and discounts. However, since you may need to buy additional extensions to implement more features, your e-commerce site cost will depend on their number and complexity.
This platform is also open-source and free and can be integrated with your existing website. Although not the best fit for large-scale projects, OpenCart offers everything you may need to run an online store: unlimited item categories, accessible dashboard, numerous themes, and plugins. Various modules, extensions, and themes will help you customize its look-and-feel. There's also excellent documentation, a helpful online community, and paid technical support. 
OpenCart's self-hosted version is free; the cost of a cloud-hosted version starts at $30. 
If your business requires a small and simple e-commerce site, a ready-made template costing $1,000 or less can do the job. However, companies that aim at a global arena, vast customer bases, promotion, high revenues, and brand loyalty may have to resort to custom e-commerce web development (albeit it can also use templates).
'Have to' because the option implies two significant disadvantages:
More expensive development
Longer time-to-market
On the other hand, custom e-commerce development offers:
Maximum flexibility and control over the UX/UI design, development, and app features tailored to your unique business needs
Complete ownership of the website code and design 
Capability for easier scaling
Maximum integration with your business model and marketing strategy and business processes.
Ability to create an exclusive look-and-feel of your website across desktop, laptop, smartphone, and other mobile devices
Ability to handle your SEO needs and other digital marketing parameters as needed
Easier updates to the system and adoption of new technologies
Easier website support, bug fixing, and maintenance
Ability to choose the most suitable hosting provider to sustain your load, so the performance will not depend on third-party software
It's clear that a custom-built e-commerce web app, with its unique look and feel and customized features, will enable you to stand out amongst the competitors and provide better user experiences. This means more conversions, higher customer loyalty, and so forth.
Whether you opt for building an MVP on one of the e-commerce platforms or a bespoke full-fledged online marketplace, your product should include certain e-commerce website features. The following chapter will provide you with a preliminary list.
Common Mistakes When Creating an E-Commerce Website
1. Poorly-defined target audience
When creating an e-commerce website, it's important that you take the time to define who your target audience is. This will help to ensure that your website is designed in a way that appeals to them and meets their needs. Without a defined target audience, it will be difficult to create an effective e-commerce website.
2. Complex navigation
If your e-commerce website is not easy to use, potential customers are likely to give up and go to a competitor's site that is simpler to navigate. Make sure that your website is designed with the user in mind and that it takes a couple of seconds to find what they are looking for.
3. Low-quality imagery
The quality of the photography on your e-commerce website is important as it can make or break a sale. Poor quality images will put potential customers off, so it is worth investing in good quality photographs that show off your products in their best light.
4. Lack of payment options
If you want to maximize sales on your e-commerce website, it's important to offer a range of payment options. Customers should be able to choose from a variety of methods such as credit card, PayPal, bank transfer, Apple or Google Pay, etc.
5. Not having a mobile-friendly website
In today's world, it's essential to have a mobile-friendly website as more and more people are using their smartphones and tablets to shop online. Make sure that your website is optimized for mobile devices and that it's comfortable to use on a small screen.
6. Poor customer service
If you want to keep customers coming back to your e-commerce website, make sure you provide good customer service. This includes responding to inquiries and complaints in a timely manner.
7. Low-security measures
When it comes to building an e-commerce website, security should be at the forefront of your mind. In today's digital age, there are a number of ways that fraudsters can attack your business, including financial fraud, phishing scams, and infected links.
Investing in security measures is essential to protecting your business from these threats. At a minimum, you should have SSL certificates to protect payments, antivirus software to keep payment information safe, and switch to HTTPS to protect your users' data.
8. Confusing checkout process
When it comes to actually executing the sale, e-commerce businesses often see a lot of abandoned carts. This can happen for a variety of reasons - usually because the checkout process is confusing. If your customers get lost during checkout, they're likely to get frustrated and give up before completing their purchase.
To increase conversions, it's important to make the checkout process as simple as possible. Eliminate any obstacles in their way. Your website's copy should be clear, detailed, and concise. Outline the exact steps they need to take in order to make a purchase and make sure buttons are big and eye-catching.
Finally, don't hit them with any unexpected terms or fees. Everything should be defined from the beginning. Making a purchase involves a degree of trust, so you don't want to give customers any reason to think that you're being sneaky or spammy.
Our Expertise in Building E-commerce Websites
From the project discovery stage through the ongoing support of your online store or marketplace, Onix can be your trusted outsourcing partner. Our employees possess a thorough knowledge of the e-commerce industry, the most popular and emerging applicable technologies, and excellent user experience and modern online shopping interfaces.
We have vast experience in building custom e-commerce solutions for international clients. Our development process combining the Scrum framework and the Lean Startup approach promotes flexibility and facilitates quick implementation and testing. 
One such example is the BetterMe project our specialists worked on. 
It's a leading healthy lifestyle eCommerce solution provider featuring a vast assortment of fitness programs and clothes. As of today, this app is available in 10 languages in more than 190 countries and has 100 million installs so far.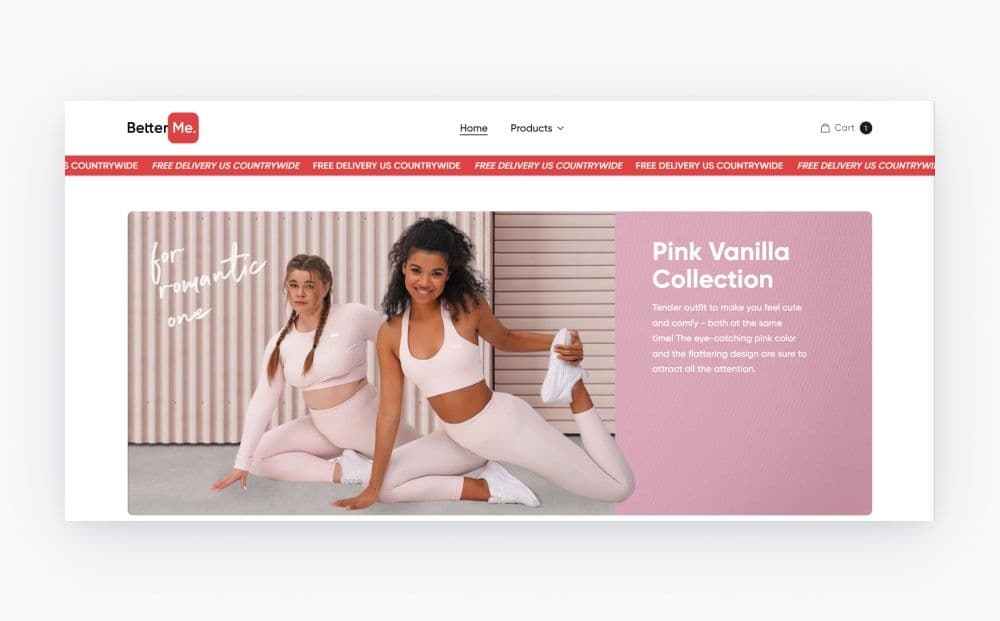 One more example is a branded mobile application for a nationwide chain of wholesale grocery retail stores Metro UA. 
Our team won a tender for this project among 10 candidates and was really proud to become a technical partner for this company. We were responsible for making the app that will not only facilitate the physical shopping experience but also pave the way for online sales in the future. 
Today, the app has more than 500,000 downloads on Google Play. We continue to work on this project adding new functionality and improving existing features.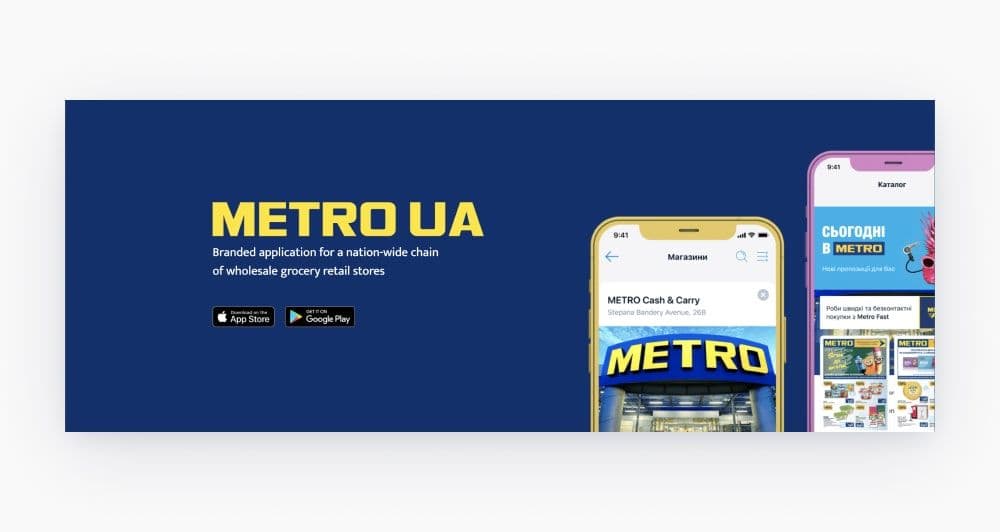 Wrapping up
E-commerce is a great way to reach a global audience and sell your products or services online. But if you're new to the world of e-commerce, the whole process can seem a bit daunting. 
Whether you would like to test the water with a minimum viable product using templates, or are about to build something groundbreaking from scratch, please feel free to reach out. A 30-minute talk will be enough to decide how your project should proceed.
FAQ
What are the most important elements of an e-commerce website?
The most important elements of an e-commerce website are a product catalog, a shopping cart, and a payment gateway.
What are the most popular e-commerce platforms?
Some of the most popular e-commerce platforms are Shopify, BigCommerce, and WooCommerce.
How much does it cost to build an e-commerce website?
The cost of building an e-commerce website can vary depending on the platform you use, the features you want, and the size of your business. The basic model can cost between $10k and $90K. Middle-scale app development may vary from $40K to $150K, While large-scale apps can start from $80K up to $250K.
What are the steps to building an e-commerce website?
Building an e-commerce website can be divided into a few different steps:
1. Choose an e-commerce platform
2. Select a domain name and web hosting
3. Design your website
4. Populate your website with products
5. Set up payment processing
6. Launch your website!
What are some common mistakes when building an e-commerce website?
Some common mistakes when building an e-commerce website include:
1. Not investing in a good e-commerce platform
2. Not putting enough thought into the design of the website
3. Not providing enough information about the products
4. Not setting up a payment gateway
5. Not promoting the website enough
6. Not providing good customer support
7. Not regularly updating the website
8. Not measuring the website's analytics
9. Not A/B testing the website
10. Not making the website mobile-friendly