According to Statista, the global e-learning market is forecasted to grow and reach over 370 billion U.S. dollars by 2026. That forecast was made even before the COVID-19 outbreak when online education went viral. Now that people have learned how much of their work and studies they can do online, on computers, and smartphones, those numbers will probably exceed the expectations. So if you're thinking of starting an e-learning business, it's a perfect time!
This blog post is a handy guide on how to create an online learning platform that may compete with Coursera or Udemy. Below you'll learn about:
the main types of e-learning platforms

essential features and required tech stack to implement them

e-learning development costs

our recommendations to build a viable e-learning product

and much more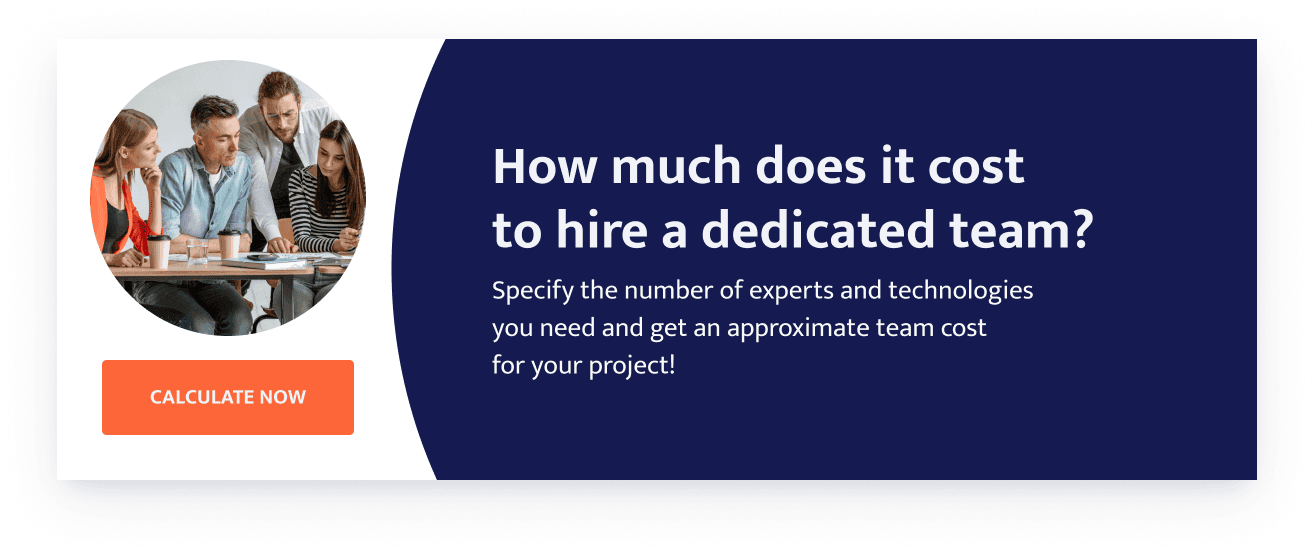 What are the main types of e-learning platforms?
There are a lot of different e-learning platforms today. Each type solves real problems for specific target groups. Let's consider the significant types of e-learning websites in detail:
How-to websites.

This type of e-learning website aims at answering how-to questions. It may contain articles with related images or screenshots, or video tutorials to explain each query in great detail. For example, WikiHow and EHow are how-to websites.
Read also: How to Create a Chatbot: The Ultimate Development Guide
Digital libraries

. Digital library is much more than just easy access to literature. Such websites provide educational information in various digital formats: ebooks, videos, images. Google Books and World Digital Library are vivid examples of digital libraries.
Language learning platform.

These platforms allow people to learn foreign languages online. People worldwide can connect with native speakers or tutors via live audio/video chat to master enough of a language to write correctly, carry a conversation, and much more. Duolingo and Busuu are prime examples of this e-learning platform type.
A learning management system (LMS). Such platforms allow students and tutors to learn from a distance by virtually attending a real-time class session. Users meet in a virtual learning environment and hold an online lesson using video calls or online chat. Zoom and Google Hangouts are notable examples of tools that provide synchronous online learning.  And in our other article, we talked about how to embed Zoom into a website.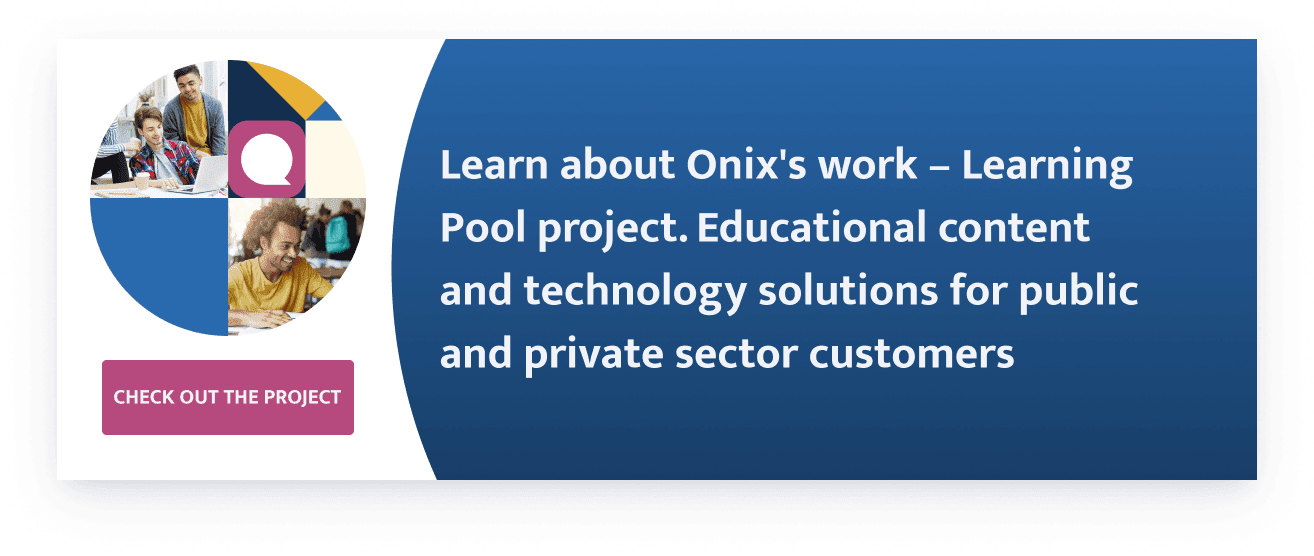 Core features to build a successful e-learning platform
To create a truly viable and valuable e-learning platform, you should include features that will solve your users' problems. Moreover, functionality directly depends on your e-learning website type and goals.
However, we can share some ideas on what features your minimum viable product should include to meet primary users' needs. Let's take a closer look.
Read more: 8 Data Mining Techniques for a Successful Business
Registration and login
To start using an e-learning platform, users should register their accounts and enter personal data. We recommend making a sign-up process quick and easy so as not to annoy users. So it's better to enable people to use their email or social network accounts for more convenient sign-up procedures.
User profile
Besides the user's name, picture, and other relevant information, the page should also include dashboards with information on courses or classes that are active, completed, and saved for the future. History is a useful feature, especially if the platform delivers video or audio materials. Achievements or similar information make an account more likable. Moreover, by analyzing users' profiles, you can create your content and update the recommendation.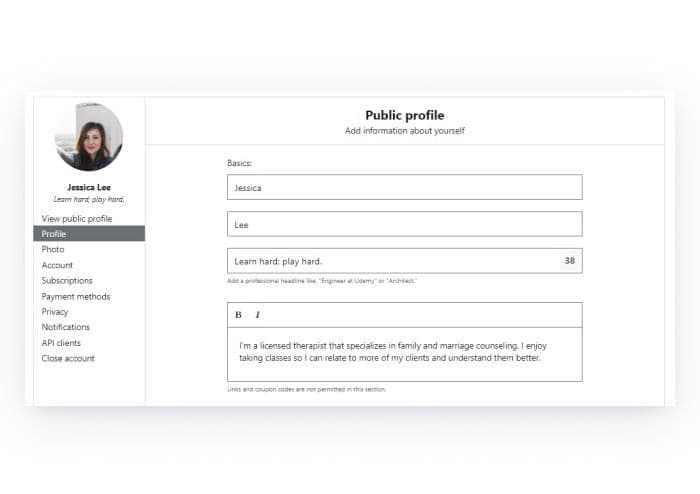 For tutors, the profile page should contain more information about their experience, degrees, and the courses published.
Search engine
Several search options will be necessary to help users find courses, tutors, and educational materials on your website. That includes categories, filters, keywords, and recommendations of similar courses.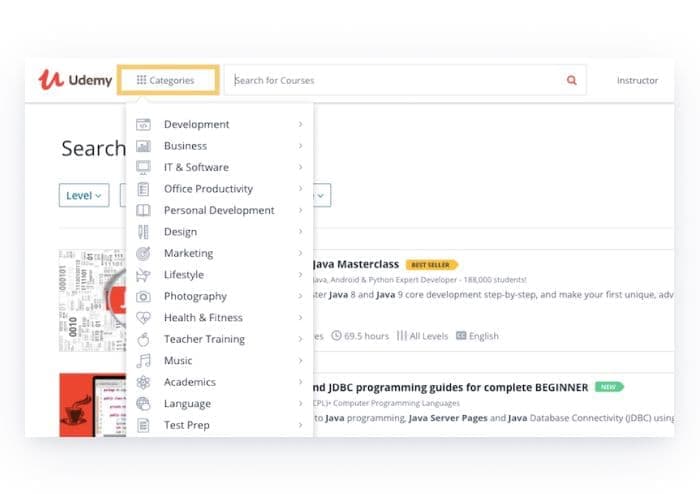 Courses page
Every course shall have its page with a detailed description, short demo, content (brief summary of what is in the course). If applicable, the cost of online courses should be clearly stated. The pages can also have a review area.
Course editing
If your e-learning website allows tutors to build their courses right in the system, there should be learning management system (LMS) features for creating and editing the content, adding tests, and so forth. By the way, our company specializes in providing LMS development services, so if you have additional questions, please contact us.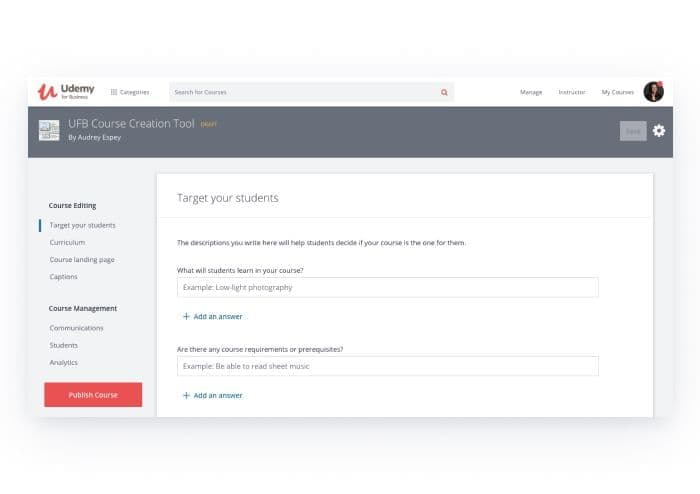 Notification system
By reminding learners of deadlines or updating them on discounts or fresh, relevant materials, you would keep them engaged. Just don't make the notifications too annoying, for example, "you have access to the next lesson" or "don't forget to watch the materials before the subscription expires". The notification should be short (up to 30 words in an email and up to 15 words in a message).
Payment systems
If you target only one region or country, you may use the method that is most popular there, e.g., PayPal and credit card. However, it's recommended to add more options for users to choose from. Also, tutors should have a convenient way to withdraw their earnings.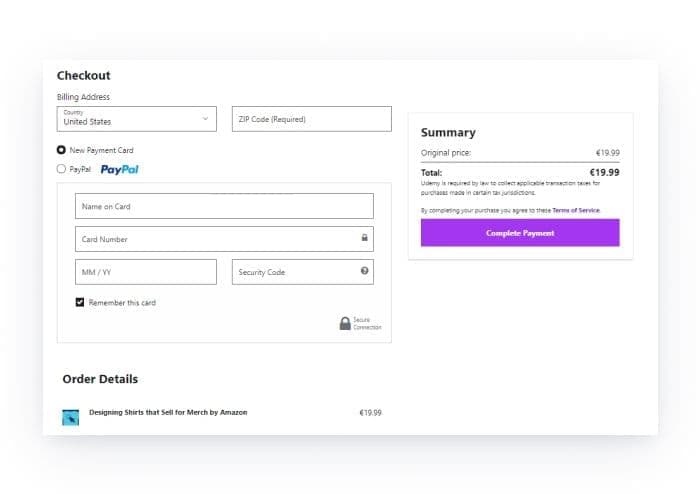 This bare minimum of core e-learning platform features can be enriched with whatever functionalities you fancy. 
Read also: How to choose a payment system.
Below we share some ideas on how to make your educational website a masterpiece. 
eLearning platform design best practices
All components and features of your platform should be useful, interactive, and user-friendly, and further your business goals. Otherwise, they may distract users from studies and disrupt the learning experience.
While providing eLearning software development services, we have collected the best practices together. Here's what you should remember when designing the e-learning platform to let your users get knowledge in a convenient and engaging manner:
Intuitive and easy to use website structure
According to the Hubspot survey, 76 percent of people considered an intuitive site structure is the most important factor to start using it.
When designing an e-learning platform, obsess over the usability of your end-users. Clearly organize your website and ensure learners and tutors can easily find what they need. Don't overload a platform with unnecessary categories, include an advanced filtering system, and place all the important features on the homepage.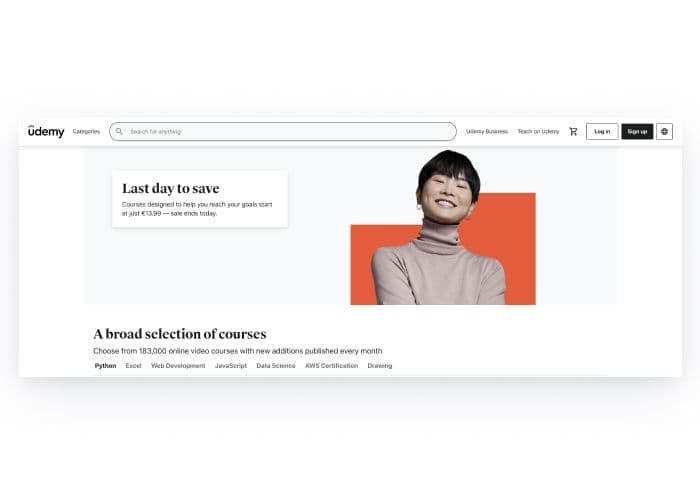 Engaging visual design
Visual design plays a critical role in making users' first impressions of your educational website. Colors, typography, animations, illustrations – all these visuals increase the willingness to use your platform, or vice versa force them to leave it.  
People come to educational websites to get knowledge and train for required skills, but it doesn't mean your platform must be boring and tedious. Make your website visually appealing by using an eye-catching color scheme, readable font size and typography, engaging animations. Clean and simple UI and a well-planned site structure are two keys to any lucrative e-learning platform.
Clear value proposition
To stand out from the crowd and attract more people, you should provide a clear statement. A value proposition is a powerful tool to describe your product and demonstrate the advantages of using it. Make your value proposition concise, unique, and to the point, just like Coursera did.
Multilingual design
If you're planning to start your e-learning business globally, you should design a multi-language website. From the design point of view, make it easy for users to find and switch between languages. We recommend placing a language switching drop-down in the header of every site page.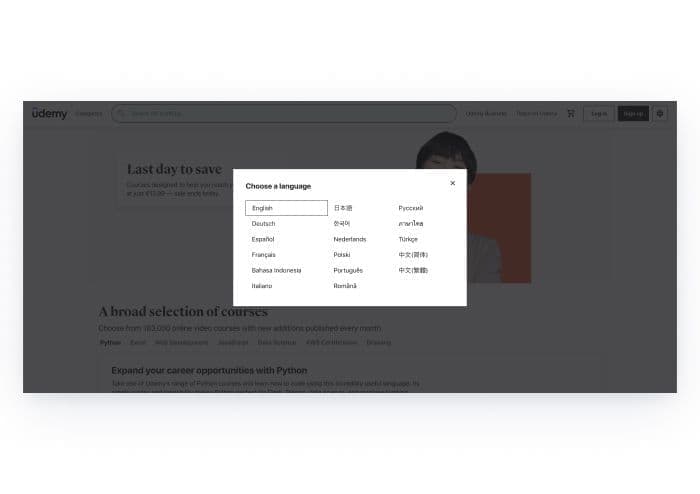 Required tech stack to build an online learning platform
The chosen technologies play a crucial role in providing quality and cost-effective e-learning application development. Below,  our specialists prepared a reliable tech stack you should pay attention to when building an e-learning website.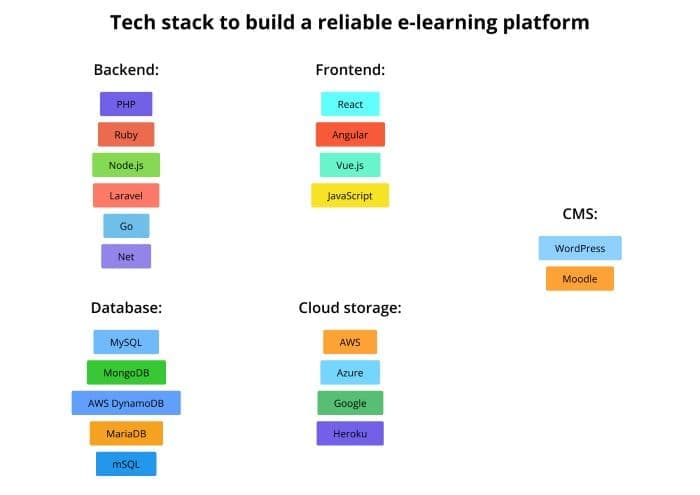 How much does it cost to
create an online learning platform
?
Estimating the overall price is not an easy task since eLearning development costs depend on many aspects. Some factors affecting the costs to create an e-learning website include:
The project's requirements and unique features

Material complexity

Technologies used

Employees' time

Subject matter experts' time

Hosting fees

Upgrades

etc.
To estimate how much it costs to build an eLearning platform, you also have to consider the number of specialists you'll need. Usually, building an eLearning website requires a team assembled as follows:
Backend developer: 2

Frontend developer: 2

UI/UX designer: 1

QA engineer: 1

Project manager: 1
However, the number of experts may vary depending on the number of features and the project's complexity.

Moreover, development time plays an important role in calculating development costs. Below,  we provide approximately estimated hours for building an MVP version of an e-learning platform.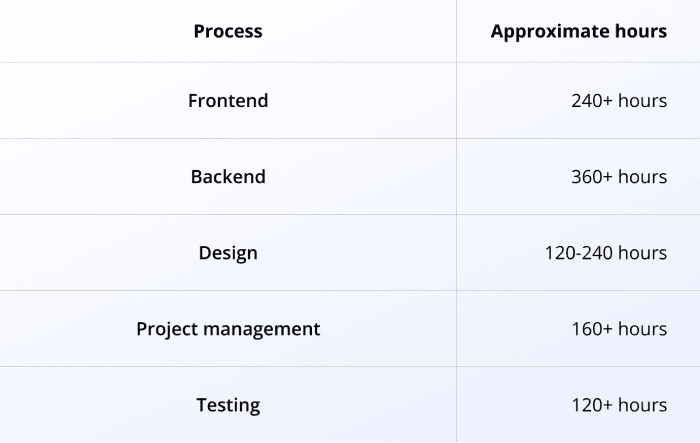 We also need to take into account the companies' rates, which differ from country to country. Below, you can compare the average hourly rates of IT specialists from different countries.
Source: Accelerance 
As you can see, there are many factors affecting the cost to develop an e-learning platform. Prices are calculated individually depending on the development approach you need, the technologies required, whether it's a development from scratch or an old version update, and many more factors.
Do you need accurate estimation? Share your e-learning idea with us, and our experts will calculate your app development costs.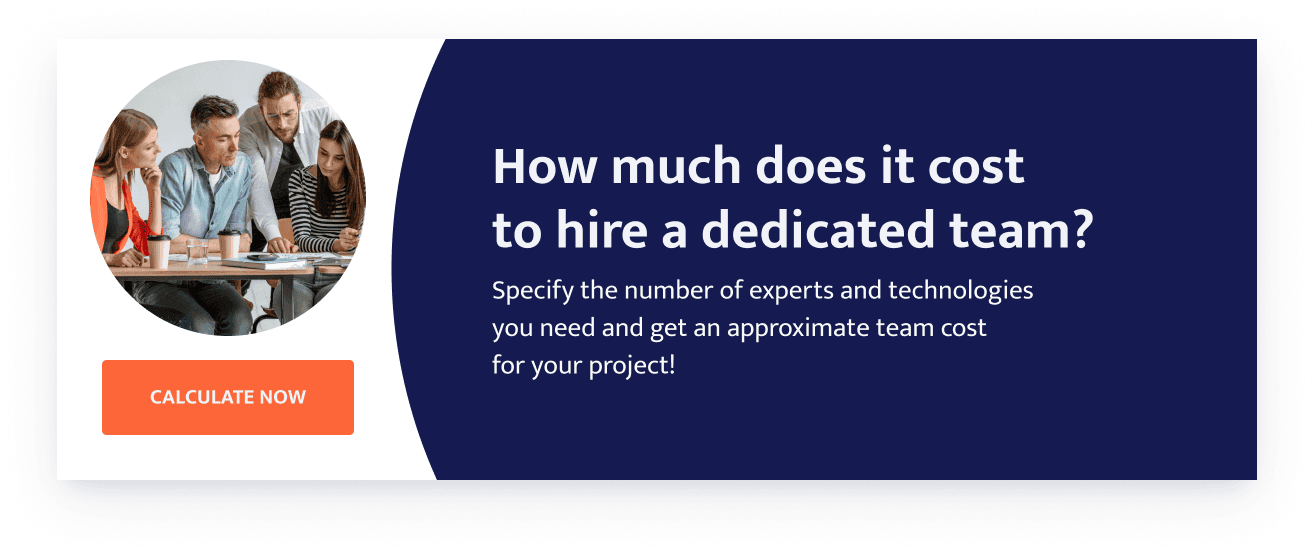 How to build an online learning platform like Coursera, Udemy or edX
Today, creating an online learning platform is pretty simple technically but shouldn't be taken lightly. Lots of expertise, research, and effort will be required when you start devising your e-learning business plan. Modern learners have plenty of options, so it's essential to make your platform engaging, even addictive, and make it stand out from the crowd. Let us share some advice that can help improve your odds of success.
Let your target audience and competition guide you
You can always try to engage everyone of any age and social background, but it is better to choose your niche and stick to it. Analyze your target audience's needs and leisure habits. Personalize the content according to their needs. It should be both helpful and engaging. A nice trick is to research your competitors and see how they approached the challenges you are facing.
If you don't know how to carry out the research effectively, you can entrust specialists with this initial stage of your product development. At Onix, first and foremost, we conduct a product discovery stage that allows us to analyze the business idea, gather requirements and define project complexity, test the market viability and minimize development risks.
Create or curate the best educational content
To accomplish this, you will need excellent educators onboard. The smoothest way to develop an online course is to cooperate with universities or other educational institutions. Even if you choose Udemy's business model, you would need tutors to help kick-start your platform with the first courses. Skillshare and MasterClass did just that, but the latter concentrated on big names, such as Bobbi Brown or Neil Gaiman.
People prefer visual and audio content, so we recommend using various visual materials like catchy guides, useful tutorials, engaging lectures, and so on. Moreover, to effectively interact with your users, you can implement forums on a variety of subjects.
Gamify your e-learning platform
Gamification is an effective tool for engaging and motivating users. It helps to encourage people to learn more and also entertains them. 
Gamification elements for e-learning platform include:
Scoring points for each completed task

Leaderboards to add competitive spirit

Badges/Certificates for mastering certain skills

Bonuses/Internal currency for completing various exercises

Progression bars to show the completed courses/lessons
Using gamification you can significantly boost learners' motivation, engagement, and enjoyment in the training experience.
Choose your teams carefully
A template-based website is easier to build, but it will be short on customization. If you go for custom eLearning software development, outsourcing the project can make it cheaper without compromising quality. Platforms like Clutch, where you can sort companies by country, reviews, and hourly rates, will be helpful. An agency's portfolio should prove their experience in e-learning platform development.
Consider a successful marketing strategy
Think about how people will learn about your educational platform. For example, you might try email marketing, social media, discounts, and demos. Your competitors, educators on your team, and the software development agency you hire will provide more ideas. The final marketing strategy will hugely depend on your product, but it's good to have some ideas beforehand.
Ready to
build an online education platform
?
Our modern world is changing at a tremendous rate, and online education is no longer a new idea. It's actually a must. Now, especially considering the COVID-19 pandemic, people prefer online learning platforms to gain knowledge in a comfortable,  safe, and engaging way. 
Now is the very time to create a new viable product for the growing e-learning market. Onix has 20+ years of experience designing and building online learning apps, eLearning platforms, corporate training, mobile learning, and VR/AR solutions.
Our e-learning products make online education user-friendly and engaging for children, students, and other target audiences. When creating e-learning solutions, we focus on your company's needs, goals, and budget.
At whatever stage you are with your e-learning website or mobile application development, please feel free to contact Onix if you need a consultation or assistance. We will be happy to help!
FAQ
What are the types of eLearning platforms?
There are many different types of eLearning platforms available for businesses and organizations. These can be broadly divided into two main categories: Learning Management Systems (LMS) and Content Delivery Networks (CDN). LMSs offer features such as course creation, student registration, grading, testing, and more. CDNs provide access to digital content such as video lectures, podcasts, webinars, and more. Additionally, there are specific programs that cater to certain industries or training needs such as medical education or employee onboarding.
What are the main features of eLearning system?
Learning Management Systems (LMSs) typically offer functions such as student registration, course creation, testing, and grading. Additionally, many LMSs can link to other services such as video conferencing platforms for live lectures. Other features found in existing systems include learning analytics tools for tracking student progress and gamification of training content. Content Delivery Networks (CDNs) provide access to digital content such as videos, podcasts, webinars, and more. They also allow users to create custom content libraries to organize their materials.
What is the cost of creating a learning platform?
To accurately answer this question, we need to know your app idea, its complexity, the number of required features, the developers' expertise, and team size. Share your eLearning app idea with us, and our experts will calculate your app development costs.