The augmented reality market is growing. In 2019, the active installed base reportedly approached 900 million, and revenue exceeded $8 billion. The same indicators are expected to reach 2.5 billion and $60 billion, respectively, by 2024. Messaging-based mobile augmented reality is now the major platform type in long-term forecasts. Advertising is likely to be the main revenue stream, with lots of ads spending going towards sponsored and user-generated content like filters and lenses on multimedia social applications.
As the understanding of the medium's potential is growing, so is the entrepreneurs' desire to sponsor or develop an augmented reality app. After Gucci, Ikea, Toyota, and other leaders have built their products; smaller companies are catching up. 

Augmented reality development is most appealing to the entertainment, education, healthcare, and engineering segments but is worth exploring virtually for any other industry or branch of business.
If the idea has occurred to you as well, you probably wondered: how much does augmented reality cost? This article covers how to build an augmented reality app, including the factors that determine development costs. We're focusing on mobile app-based AR as the most appealing platform.

Key benefits of building an augmented reality application
With the development of AR, the development of mobile and web applications using this technology have become popular. AR software development is a promising idea for various industries. According to the augmented reality predictions report, AR technology is not just for games anymore. Today different types of businesses are leveraging AR technology and will not stop.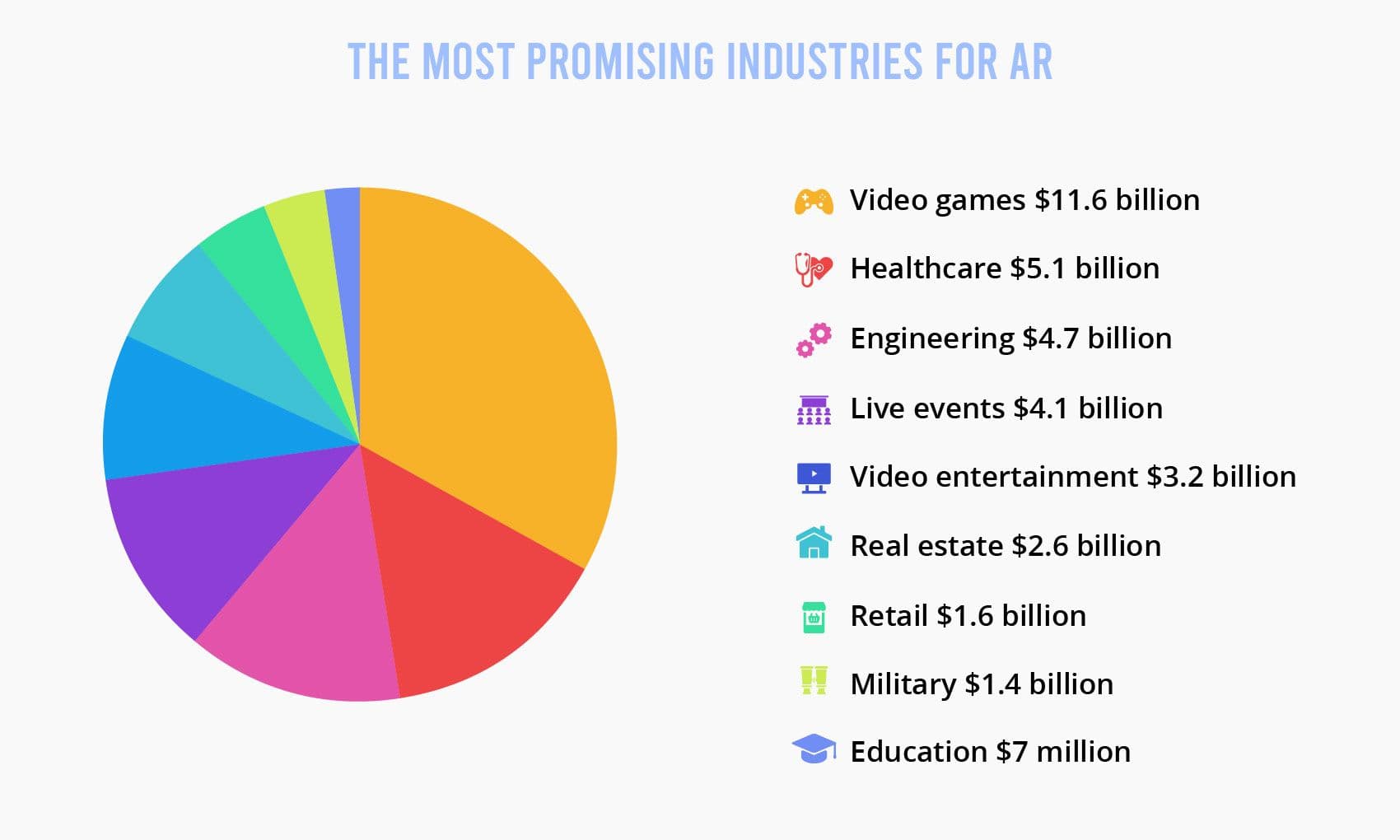 There is a great demand for a good reason. Let's review the main advantages of using AR applications.
Strengthen user experience
Using AR technology, you can provide your users with a unique experience that increases engagement and interaction with your products or services. AR technology enables shoppers to virtually try on clothing, houses, jewelry, makeup, cars, and furniture.
For example, the Onix team developed a complete AR service for trying on glasses and sunglasses for web and offline systems. The system uses realistic materials, reflections, complex shader with refraction and many other parameters for the lenses. The sets of glasses are divided into several categories and types. Read Also: AR for shopping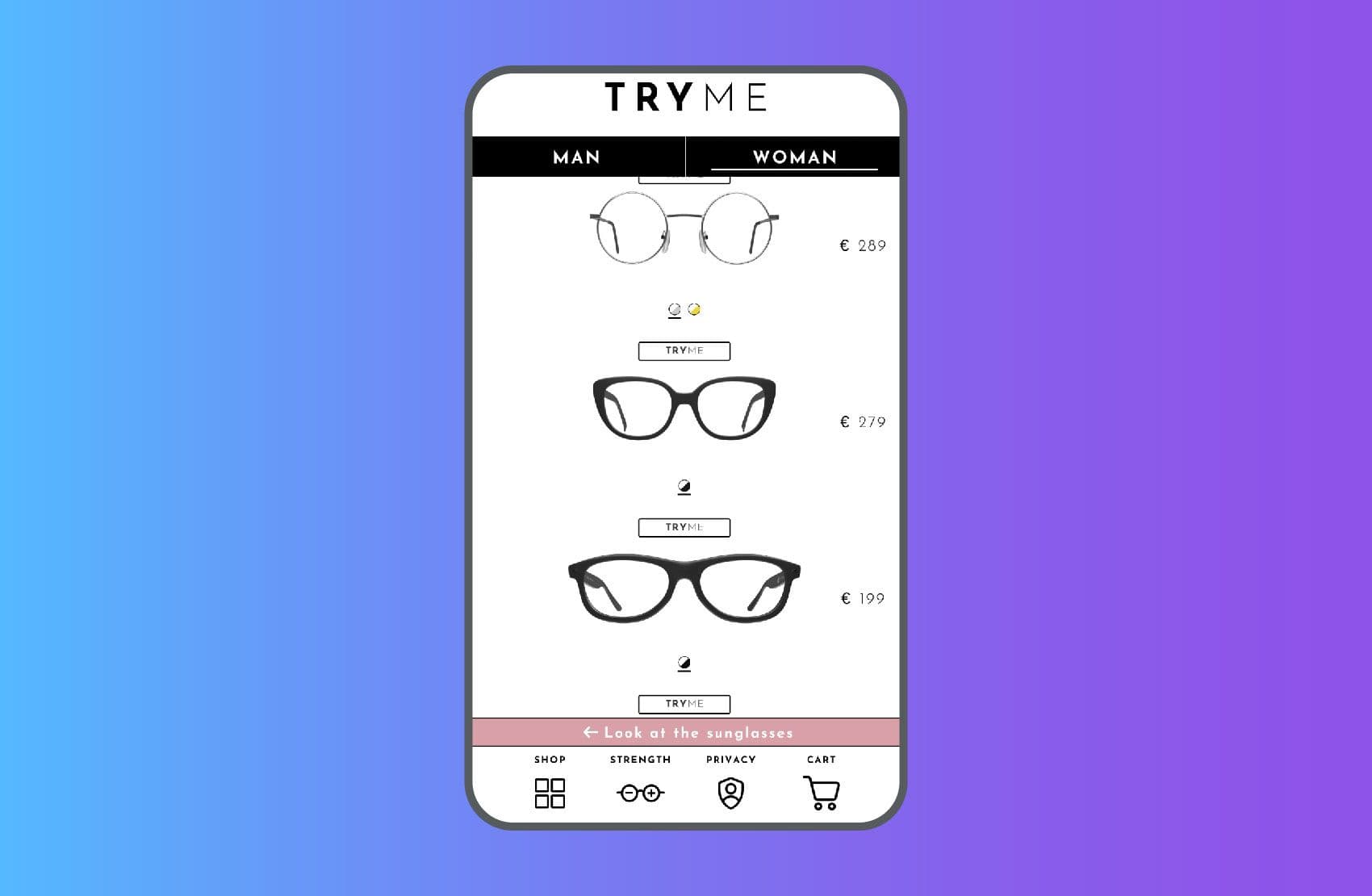 We also built an AR mobile app that allows consumers to try on a watch on their wrist in augmented reality mode. The user puts a paper wristband with a printed marker at the wrist level. The virtual layer of the program draws on the screen the wristwatch of the selected model and materials.
These experiences led to positive responses and increased sales. As a plus, to try this AR experience, it doesn't require special hardware. All your users will need is their smartphones or a web-browser.
Increase in sales
Since AR solutions offer enhanced user experience, enabling consumers to virtually try on items like furniture, clothing, buildings, and so on, it boosts sales and increases income.
Enhanced business performance
AR technology empowers B2B and B2C businesses, expanding their business efficiency. For example, automobile or construction industries can use AR to design and visualize cars and buildings before starting a full-fledged development. This opportunity significantly improves business efficiency and allows avoiding rework and overpaying. Read more about construction app development.
A clear picture of the target audience
Using AR technology, you get access to comprehensive analytics that shows you data to understand your consumers and their behavior better and accurately. Thus, you'll know what your target audience prefers, its needs, and tastes.
As you can see, nowadays, AR is changing how various types of businesses operate. According to Statista, the global AR and VR market will reach $296.9 billion U.S. dollars in 2024.
According to the numbers above, we can confidently state AR technology is continuing to gain momentum, so take a chance!
Types of custom augmented reality applications
Based on the underlying technology, there are three types of augmented reality applications:
Marker-based/markerless AR applications
Physical images called markers act as triggers for placing pre-programmed virtual content onto a device screen. A QR-like image, icon, or another image can be a trigger. The user scans it with the device, the app recognizes it, and projects related AR content, such as a piece of textual information, animation, or call-to-action.

Marker-based apps are the simplest and least-costly as compared to other AR apps. The cheapest option is to put easy-to-scan 2D tags with edges and corners on a surface, e.g., AR-enabled labels, business cards, or marketing materials. 
Read Also: Augmented Reality in Business
Developers need about 40-160 hours to implement marker-based AR technology.
Location-based AR apps
Through a mobile device's camera, virtual objects are placed over real-time video of the user's surroundings without any markers, using mobile location awareness capabilities instead. For this purpose, they collect data from the device's GPS, accelerometer, gyroscope, magnetometer, digital compass, or other sensors. Such AR apps are most suitable for travelers, drivers, and open-world 'gamers'. Pokemon Go is an iconic example.
AR apps can also scan real objects, create 3D models, and then put the digital copies to cloud storage. 3D scanning technology is sensor-based too. Ikea Place is an example of this kind of AR mobile apps. Interior designers, decorators, architects, engineers, and educators also appreciate such 3D simulations.
The integration of sensors makes AR experiences costlier to develop. 
For example, building a GPS-based solution leveraging cellular communication and Wi-Fi connection takes 550-650 hours.
Visual odometry/SLAM-based AR apps
SLAM stands for 'simultaneous localization and mapping.' This technology ensures the highest accuracy for imposing digital 3D objects on real ones and performing actions with them. Manufacturers of drones, self-driven vehicles, and robotics utilize this technique. 
Since SLAM uses complex algorithms and multiple sensors at once, the augmented reality development timeline may exceed 850 or up to 1,000 hours.
Interactive AR apps mixing virtual elements with physical objects and allowing real-life interactions with the user, e.g., using the touch screen, are most in demand. The features of AR visualization and interactions with virtual objects are limited only by your imagination. However, the more you want, the higher your AR app development budget will be.
Augmented reality app features to consider
Before starting augmented reality application development, let's look at the essential features, including new real-time features to users.
AR app content
Augmented reality content is the computer-generated data that enriches our real-world by adding digital content using smartphones or tablets. Typically, AR content consists of 3D models, but it can also be visual, video, or audio format.
You may have various 3D content, depending on your app type. Usually, AR app development includes content such as:
3D environments to create a realistically rendered background

Superimposing images, text, 3D models, inserting labels, changing colors to make content more true-to-life and attractive

Intuitive audio effect to make the experience more realistic 

Real-time directions to provide an excellent user experience
For example, IKEA allows users to try 3D furniture in buyers' homes before they buy it.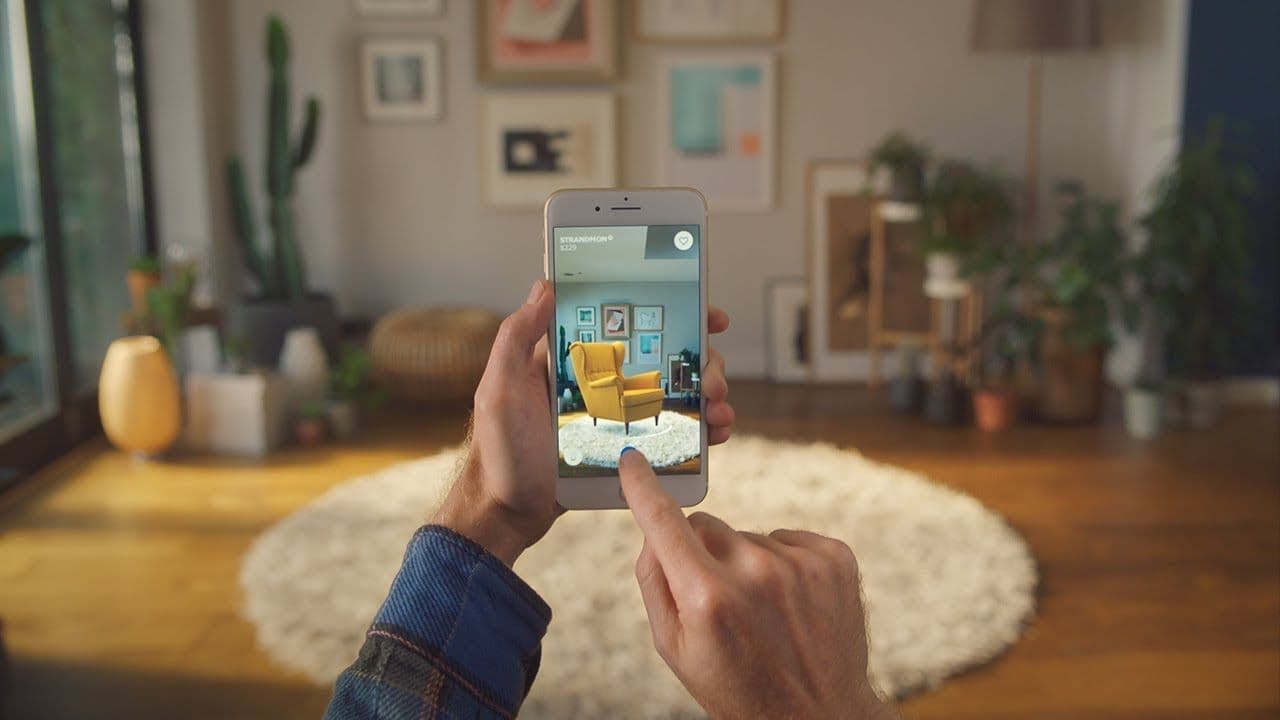 Push notifications
Push notifications are your effective communication channel with your users that allows notifying about updates, sales or special offers, helpful information, and so on. These messages reach your users, stimulate engagement, increase conversion rates, and improve brand consistency. 
QR code scanner
This feature creates interactive content to the real world around users. Using a smartphone, people can scan QR codes and experience an extra dimension to the product.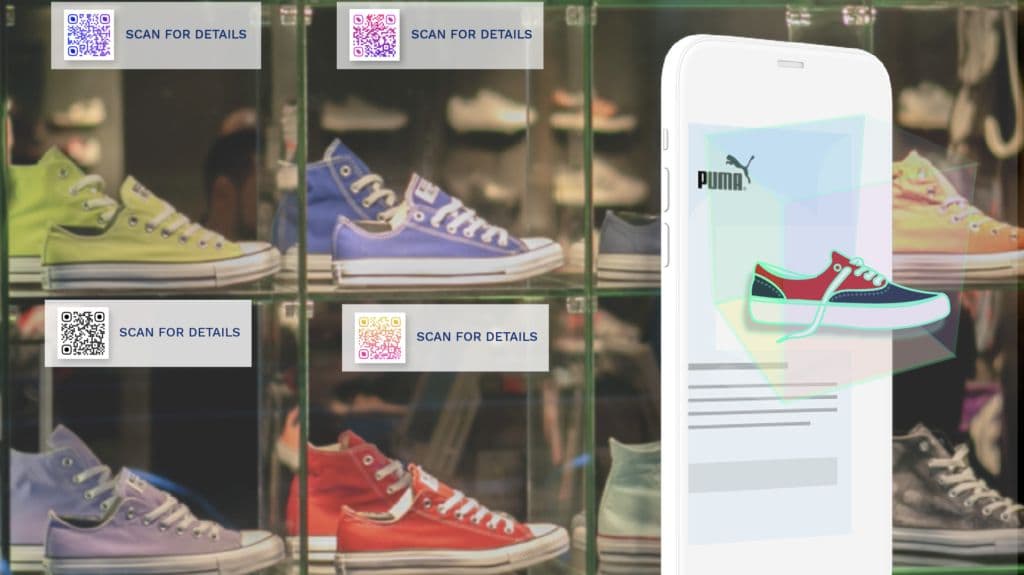 Signup/user account
To start using your mobile app, people have to sign up and leave their personal data. After registering, users can create their accounts and start getting to know the AR experience.
Social media sharing
Social media integration enables users to share their app content via different social media. Such a content spread allows you to attract more people who can be your frequent users afterward. And, as a result, you can run an effective ad and significantly grow your business.
Required tech stack to build AR mobile application
Now that you know about the required functionality, we can consider which augmented reality tech stack to use to create those features. Below, our experts share technologies and tools to help you build reliable and stable custom AR software.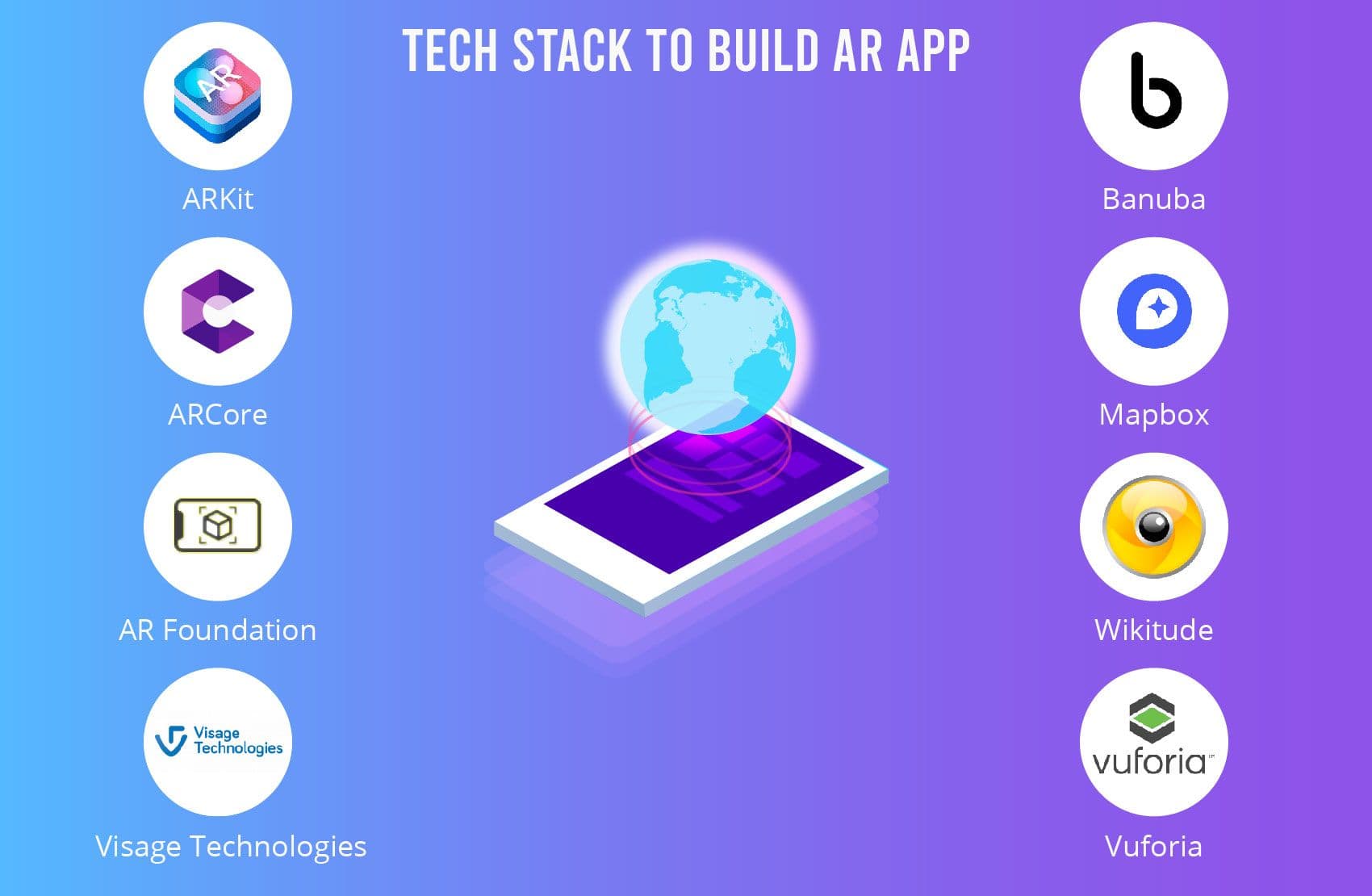 Augmented reality mobile app development challenges
Verifying product viability
Creating a superb app in demand requires a solid basis. Thus, before starting an augmented reality development process, you should define your target audience, consider their needs and goals, and decide how your AR app will solve your users' issues.
At Onix, we offer our clients a product discovery phase first. At this stage, our experts analyze the business idea, its viability, collect all requirements and define project complexity. All these activities allow us and our clients to minimize development risks and avoid rework. To learn more about the product discovery stage, please, check out the link below.
Designing the app and AR content creation
AR app development involves not only experts in mobile UX/UI design and branding but also 3D artists with image processing skills. Depending on the type of app, they may have to create animated images or 3D models to project on real-world objects or environments. The creation of 3D models includes the development of detailed 3D graphics, which should look as natural and realistic as possible.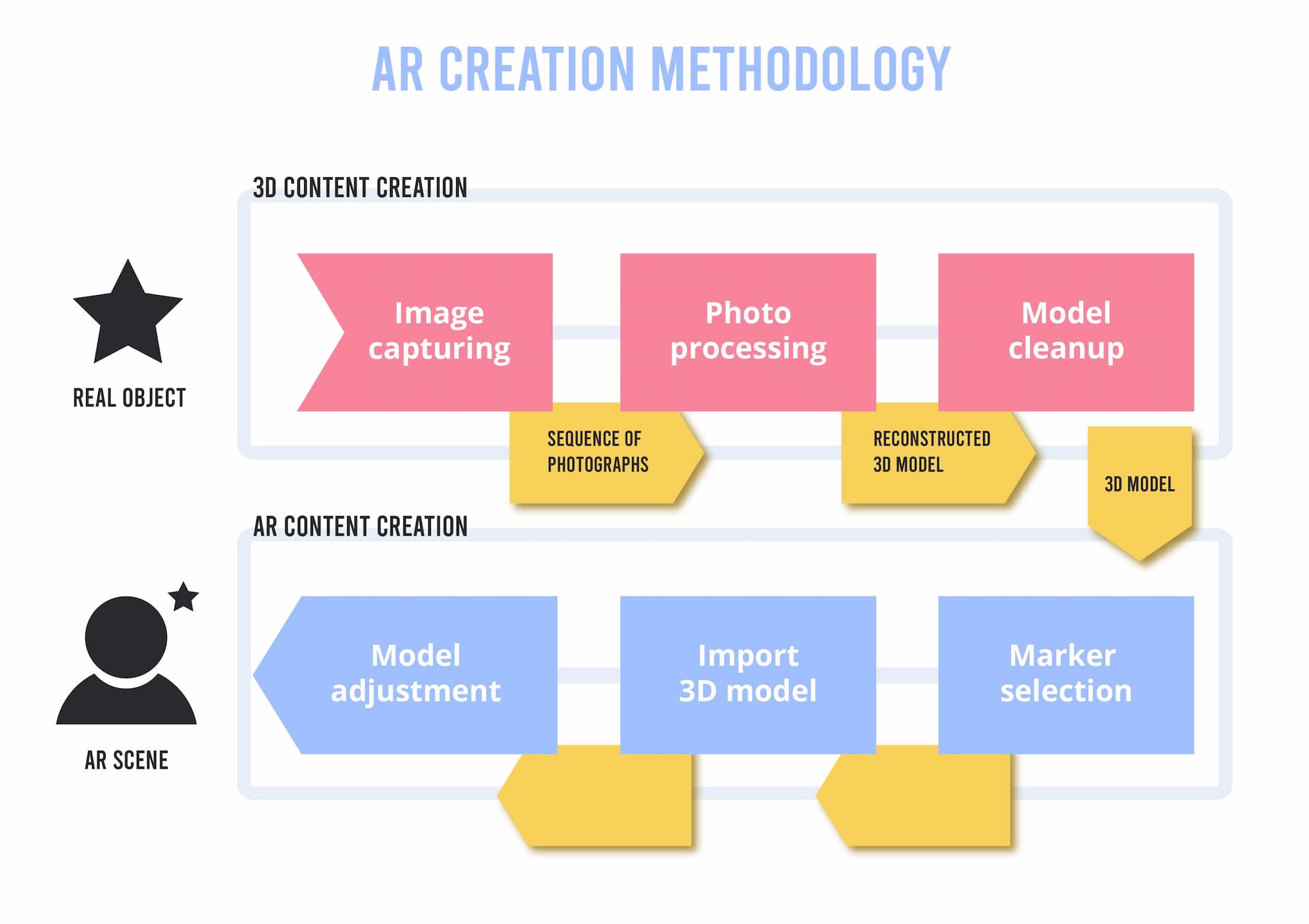 When designing an AR mobile app, bear in mind the following:
Keep in mind your users' safety, since people get distracted and can face real-life risks when using an AR app. Consider safe routes, send protection notifications, etc.
Choosing a reliable tech partner
Before that, you might have difficulty finding a skilled and reliable tech partner. It's crucial to select a partner that understands your business goals, offers the most relevant solutions, and keeps the promises they make.
The most popular way to find an augmented reality app development company is to go to reliable platforms like Clutch, IT Firms, GoodFirms, or TopDevelopers where IT vendors share info about their services. On these platforms, you can view the outsourcing company's tech stack, rates, reviews, etc., and find your ideal augmented reality app developers.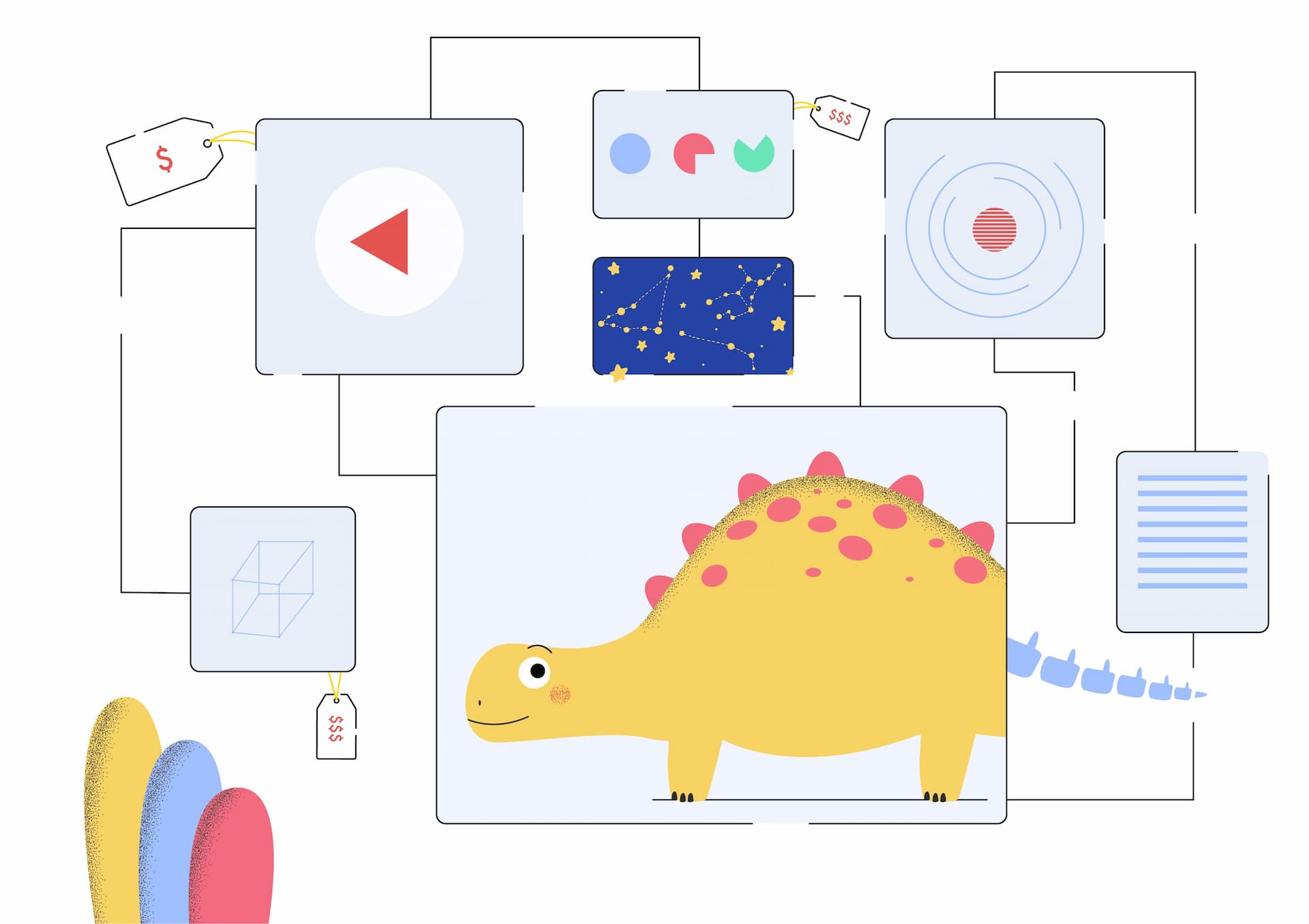 Main components of the augmented reality app development cost
The AR costs are determined by many factors. As with any other app, the AR app development cost may be calculated by multiplying the specialists' rate by the time required to complete the project. Let's take a look at the factors that determine these variables.
AR functionality
AR features are the most expensive part of the development. AR relies on special algorithms and sensors that determine the position and orientation of the camera for the appropriate rendering of 3D graphics at a location. The accurate location of the graphic elements enables real-time interaction with 3D objects. The more complicated the coding, the more hours specialists will spend on it, and the higher the resulting app price.
Choice of SDK
The choice of the SDK (Software Development Kit) may impact your cost to develop an augmented reality app in two ways. First, the right set of tools simplifies and speeds up your AR app development process and helps adapt the product to various operating platforms, thus saving time/efforts and reducing the cost of future fixes and product improvements. Second, some SDKs are paid, which should be considered when calculating the final augmented reality app development cost.
Usually, the development team selects the best technological stack for a project. The primary factors that influence their decision are:
target operating platform

support of the preferred programming language

possibility and frequency of AR app updates

monetization strategy and licenses
Below, you can see some of the popular options suitable both for Android AR and iOS app development: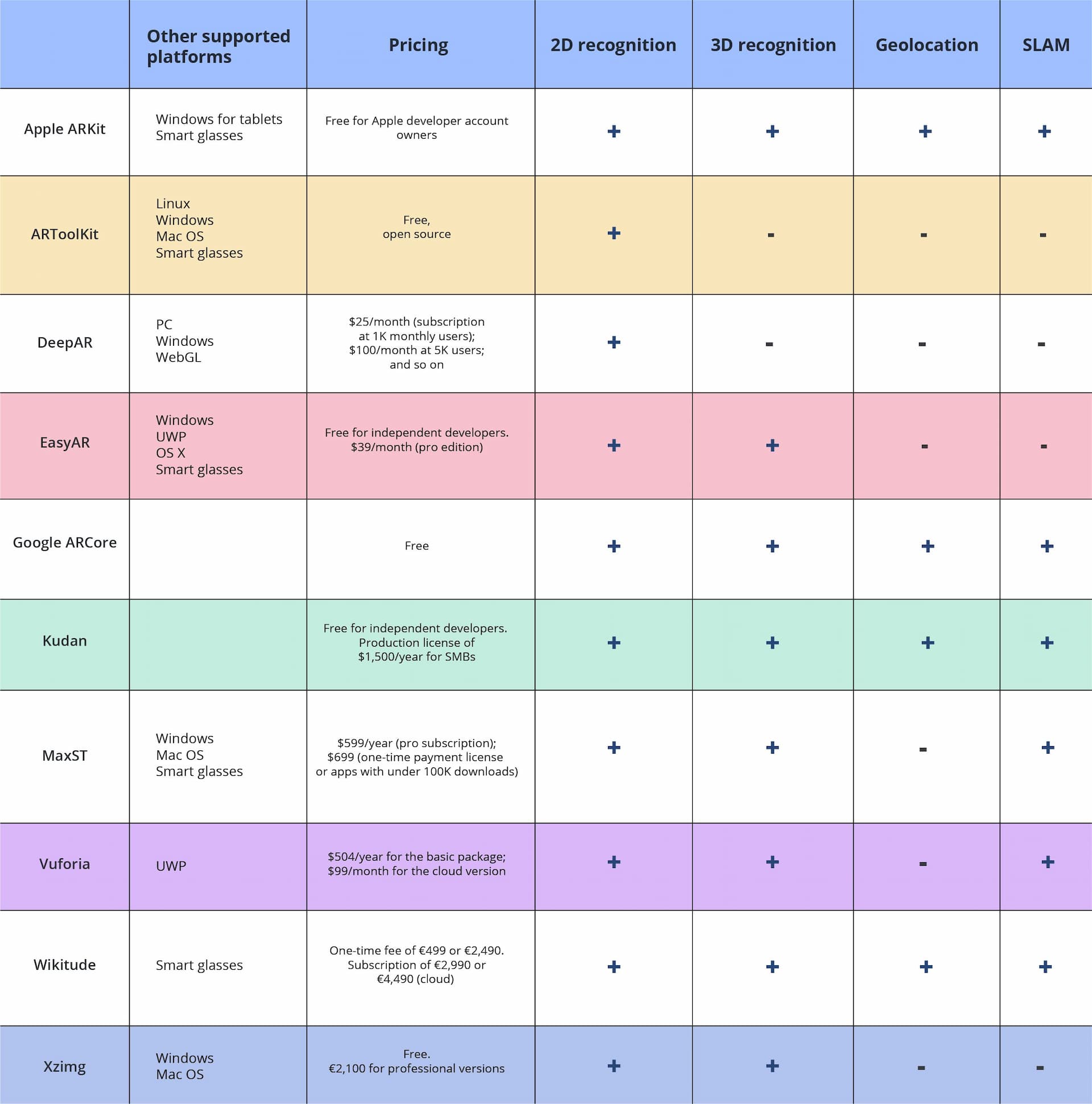 AR app development time
The time needed to make an augmented reality app correlates primarily with the number of features to implement. If you have a limited budget, are not sure of your app idea, or wish to test the water before investing in something big, it makes sense to prioritize the desired features for a minimum viable product (MVP). Below is a list of possible essential features.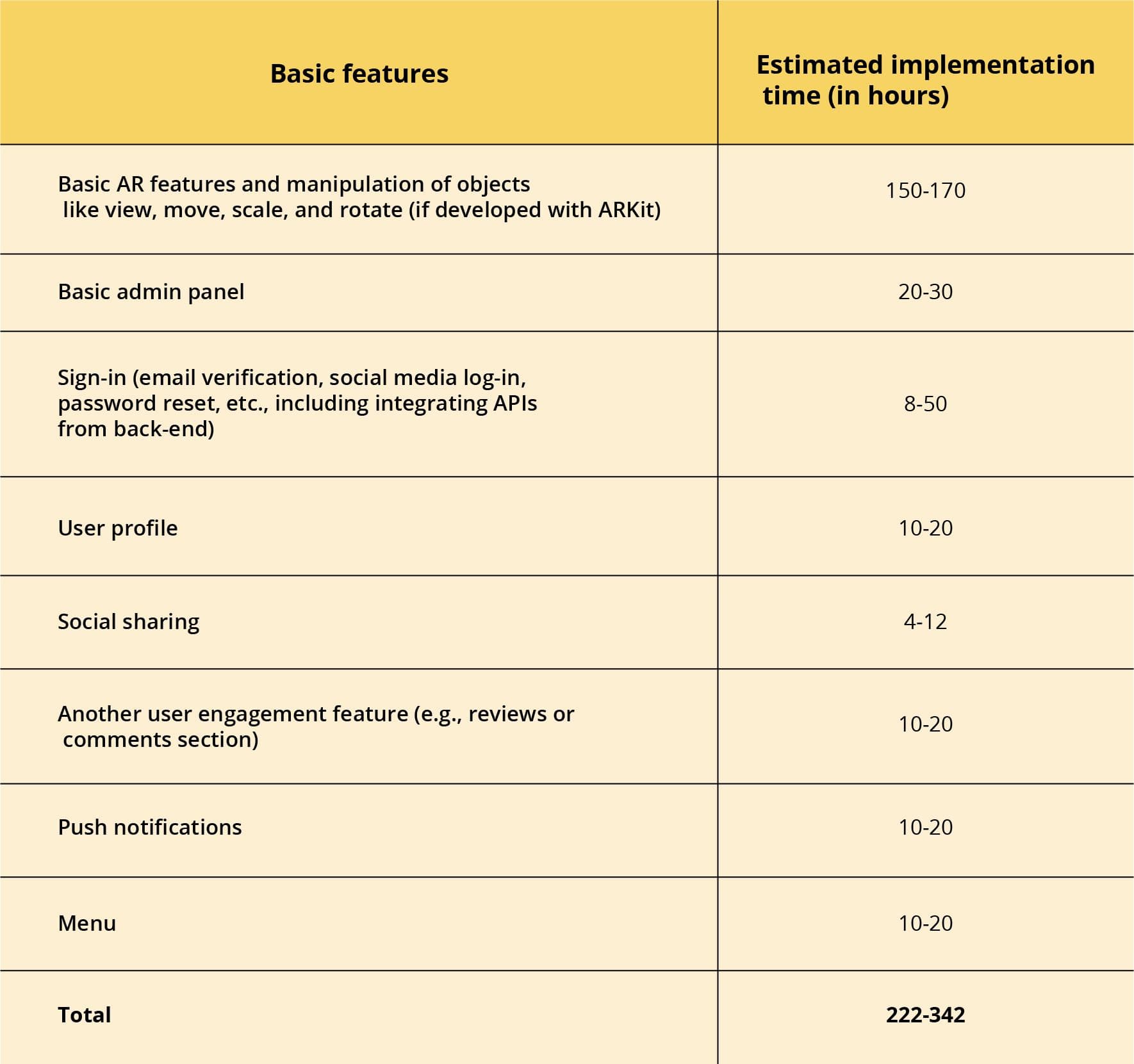 The back-end development includes API and server implementation and sets up the connections between the mobile app, servers, databases, your website (if any), and third-party services.
Unfortunately, not every AR-focused mobile app can be launched with only a bare minimum of functions. It takes a more sophisticated application with additional unique features to satisfy both the users' needs in the real world and the investor's needs. Below, we have estimated the time needed for implementing some extra features:
If you are developing a game, the additional features may include: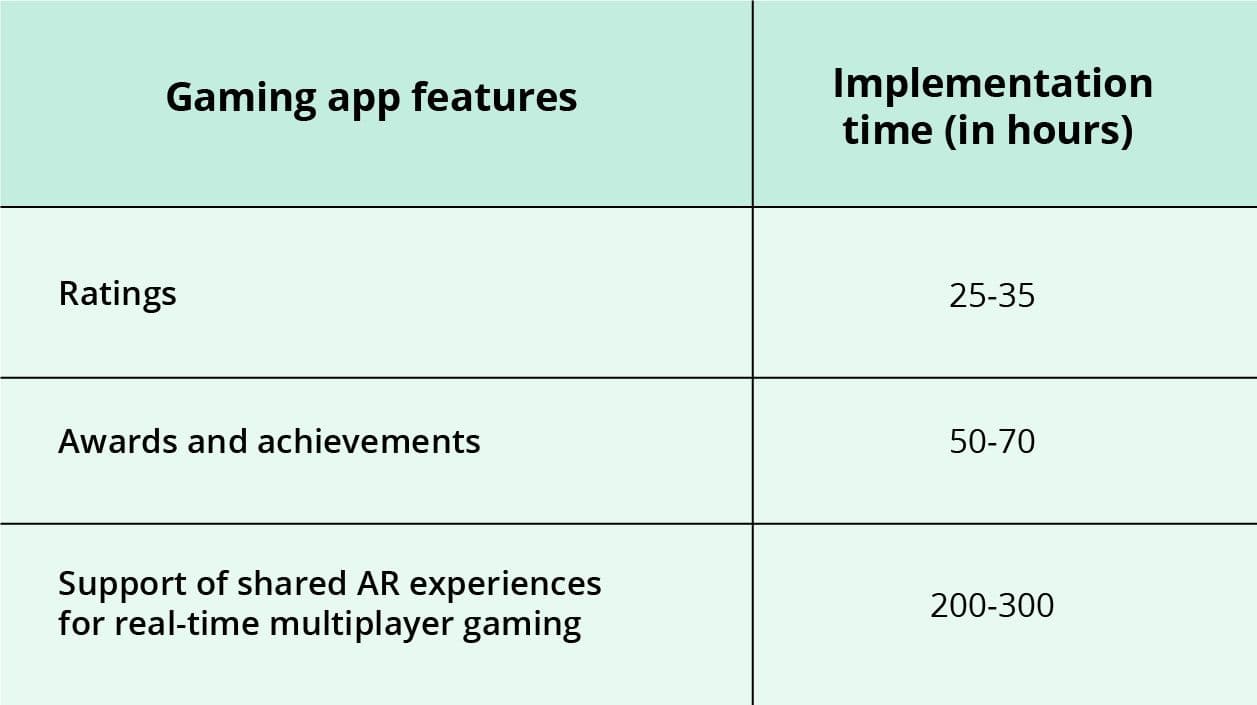 AR app development rates
Your choice of the team impacts your augmented reality app development both in terms of skills and prices. Suppose you want your project to proceed speedily and effectively. In that case, you may need at least nine people to cover all aspects of AR app development:
1 UX/UI designer

1 3D artist

2 AR developers

2 server developers

1 QA engineer

1 project manager
The size of the team also significantly affects the cost of augmented reality development. It takes experienced professionals to create augmented reality apps that will be successful. However, large renowned developer agencies may charge unreasonable fees 'for the brand,' and some won't consider a budget of less than $100,000. 
It's wise to shop around but not necessarily search for the cheapest freelancers or agencies in the market. Professionals invest their time and money into mastering the necessary skills and constant improvement, so their rates are likely higher even in the primary software development outsourcing destinations. It's crucial to evaluate the candidate's portfolio, arrange a video conference, and listen to their ideas for developing your app.
Whether it's a website, a regular mobile app, or an application with AR functionalities, the development team's location often affects the final cost the most. Digital agencies, small development shops, and freelancers across the globe have dramatically different hourly rates.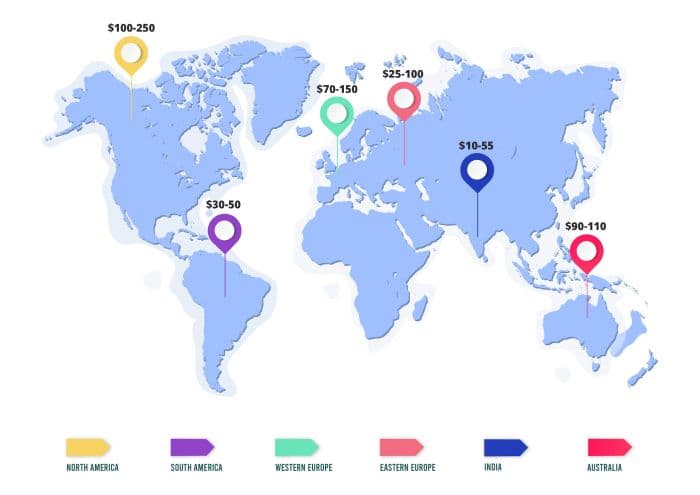 As a result, an app that requires 500 hours to build might cost $50,000 in the US or $10,000 in India.
Onix experience
Onix has broad experience in designing and building applications, including augmented reality apps. Our experts know how to build top-notch and high-quality AR mobile apps that fulfill your company's needs, goals, and budget.
In this section, we share our experience in building AR training solutions, namely Wormhole Tours. This is a social application for people to interact with one another and with AR-objects - points of interest (POIs) connected with geodata. POI objects are displayed in AR, on the planet (globe view), and on the map (map view).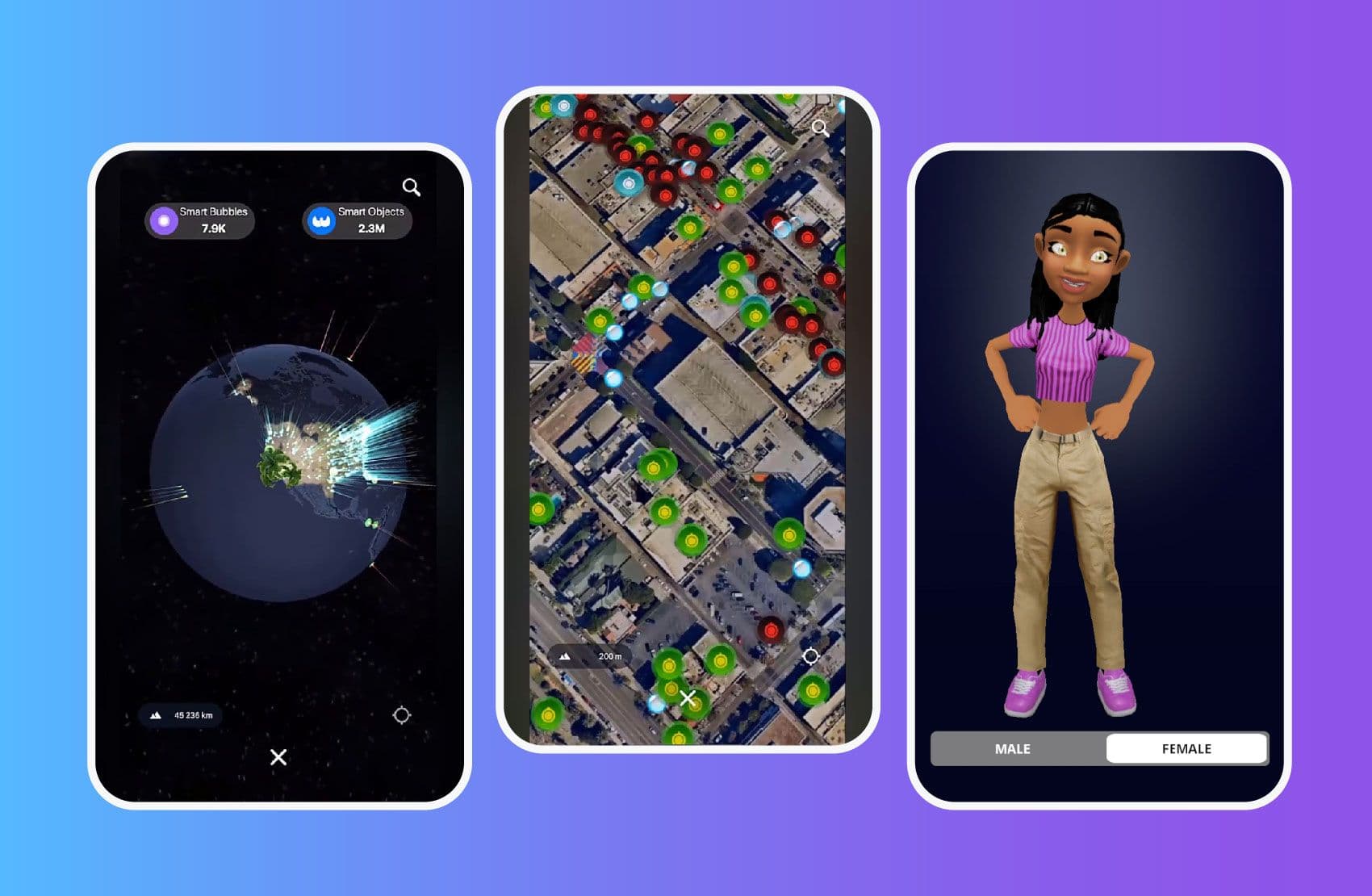 Quests are located in certain geo positions around the world. 
When users find a quest, they can read the task and start it. Many quests are multi-step, and each step has its own geoposition in the world. The user must visit all geo positions for all steps and complete all tasks to finish the quest. The user will receive a virtual or physical (as planned) reward at the end of the quest. Additionally, each user creates their own avatar. Users can see one another's avatars in AR if they are close enough in the real world (100 meters in radius).
See the video below:
Conclusion
Businesses in various fields have quickly realized the vast benefits that augmented reality and its cousin virtual reality can offer. 
Particularly, AR technology can help companies of all sizes to improve interaction with customers and create an emotional connection with them, increase customer engagement, enrich the promotion of services and products, maximize conversions, increase the efficiency of employees, improve product quality, and more. Your AR-enriched product can become your competitive advantage eventually.
So, if you are looking to create an AR mobile app or game, we will be glad to help. Feel free to contact us, and our experts will create a true-to-life experience for your users.

Frequently Asked Questions
How to create an AR mobile app?
You may follow these steps to develop an augmented reality app:
The first step includes comprehensive research, project requirements elicitation and writing, and planning of the project development. This output affects all subsequent stages. 
AR app development involves not only experts in mobile UX/UI design and branding. Depending on the type of app, they may have to create animated images or 3D models to project on real-world objects or environments. The creation of 3D models includes the development of detailed 3D graphics, which should look as natural and realistic as possible.
Before proper coding, the developers usually need to create the API contract, prioritize tech tasks, choose optimal development tools and practices for the project, or otherwise get prepared for the development of your product.
If you have a limited budget, are not sure of your app idea, or wish to test the water before investing in something big, it makes sense to prioritize the desired features for a minimum viable product (MVP).
Quality assurance will help ensure that your mobile app effectively performs the tasks for end-users, is error-free and runs smoothly on different devices.
What augmented reality app development services do you provide?
Our augmented reality development services include interactive environments in an educational format, visualization tools for designers, virtual interior design, real estate business representation, brands in the business, video games, industrial visualization, media and entertainment, maps, image recognition.
How to choose an AR software development company?
To make the right choice and hire reliable augmented reality app developers, it's better to pay attention to important factors such as portfolio, relevant expertise, experience, location, previous clients' feedback, etc. 
How much time does it take to develop a basic AR app?
To accurately answer this question, we need to know your app idea, its complexity, the number of required features, developers' expertise, and team size. Moreover, keep in mind that development time can depend on user feedback. After each stage of development, we conduct testing in order to collect user feedback and improve the product accordingly. Thus, the client and our developers influence the development vector of the application.
How much does it cost to build an AR application?
AR app development costs can be higher compared to typical mobile app development, for example. However, user engagement and results can be obtained in fewer steps. Therefore, we often practice creating PoC, MVPs that don't imply fully-fledged development but cover the essential functionality.