If you are interested in virtual reality game development, here is a review of the best VR platforms and our recommendations based on Onix's experience. This should hopefully help you choose the best VR headset for your game development endeavors.
There are many reasons to focus on gaming VR for developers and entrepreneurs. The use and application of the technology in gaming has been growing. It is well suited for various gaming genres: shooters, role-playing games, racing simulators, etc. Related applications include virtual entertainment, cultural projects, education, various industry training simulations, e.g., for lab technicians or construction workers, and even virtual meditation sessions and workouts.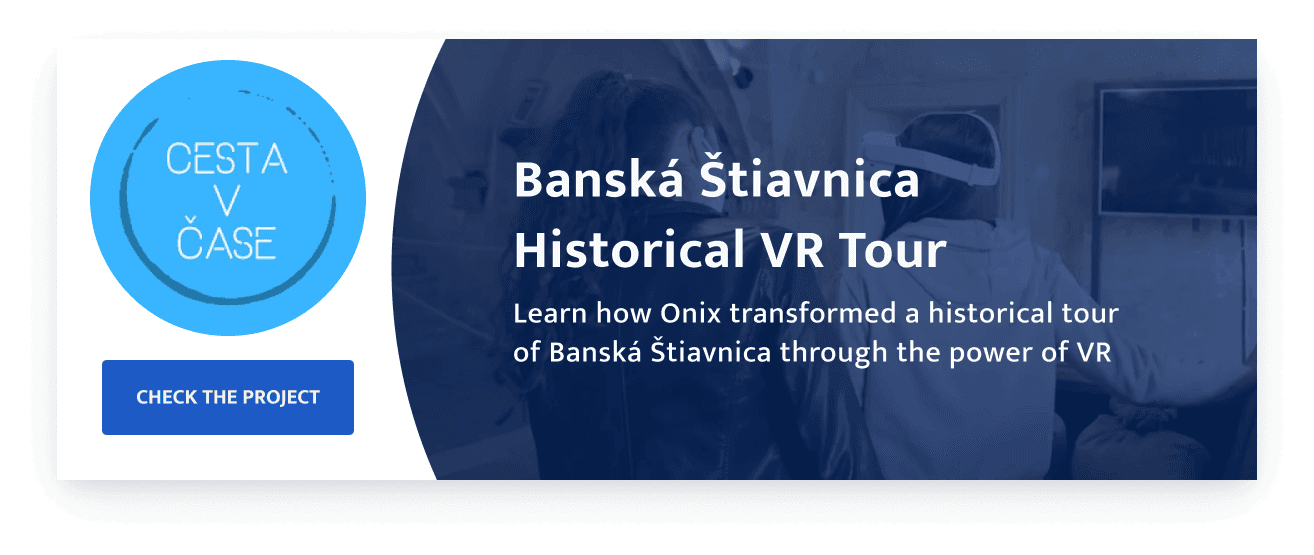 Market Research Future predicts that the VR gaming market will reach $74.62B by the end of 2030, growing at a CAGR of 4.72%. This market growth is driven by:
the growing demand for immersive gaming experiences, making more game developers focus on creating VR games
the increasing adoption of smartphones
the growing availability and affordability of VR devices
the advancements in VR technology
the increasing adoption of artificial intelligence (AI), machine learning (ML), and other innovations
North America is the largest market for VR in gaming due to the high gaming adoption, the activities of major players, such as Oculus/Meta and Sony, and the availability of high-end VR devices and software. Another significant market is Europe, with a large gaming community and an increasing number of VR game developers. 
The Asia Pacific region will also likely see significant VR gaming market growth in the coming years. It will be driven by the increasing popularity of gaming, with China being the largest gaming market in the world, and the growing middle-class population with disposable income.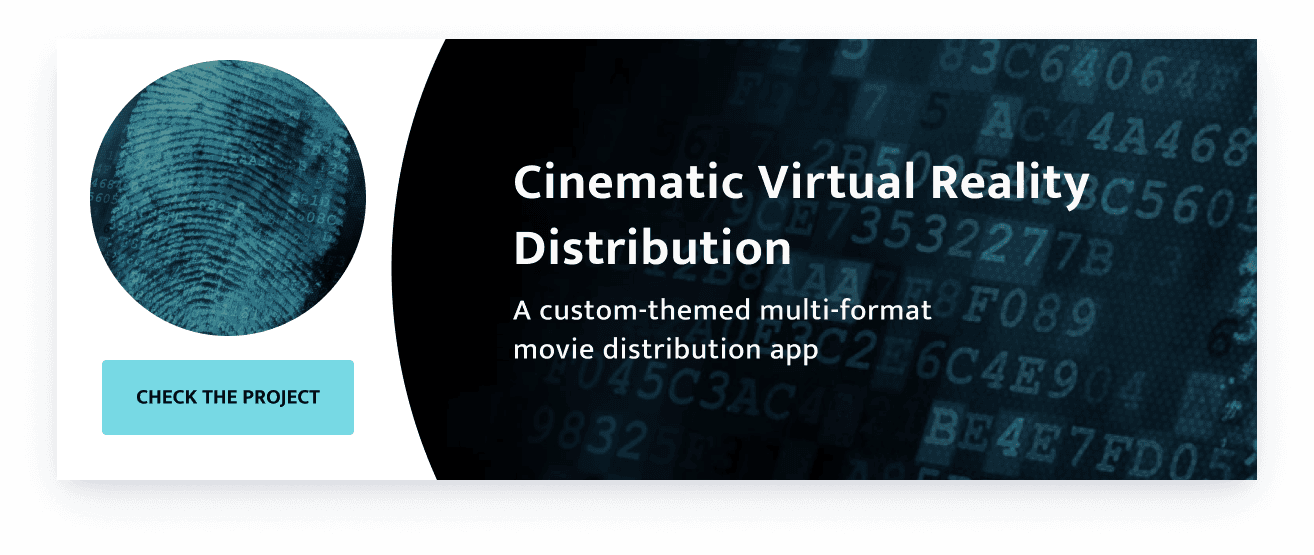 The market of gaming VR is segmented by:
Hardware, such as VR headsets, VR bodysuits, VR treadmills, etc.
Compatibility: MMOs, smartphones, casual web games, and console
A good gaming experience requires the use of a high-quality headset and specialized input devices that track the user's actions to facilitate maximal immersion in the virtual environment.
In 2023, there are more products than ever to choose from. And although this variety of devices offers freedom of choice in interaction with virtual reality, it also becomes a matter of entrepreneurs' and developers' concern: what VR platform to choose for game development? In this blog post, we'll take a look at some of the best VR platforms for game development and offer tips on selecting the most suitable one for your project.
Let's start with the factors to consider when selecting VR headsets for your game development.
Tips on Choosing the Right VR Platform for Your Game
VR games may target different devices: an autonomous tetherless headset or a device that is linked to PC/laptops or game consoles.
The first thing you should consider is your game's specifics, e.g., if it is a single-player or a multiplayer game, whether extra support for advanced graphics is required, etc. For example, the untethered Meta Quest's lower performance also calls for lower-level graphics.
VR fitness sessions require maximum freedom of movement, which is possible only with cordless headsets. Hand-tracking limits interactivity options to the directions and a number of gestures. Additional sensors and manipulators should be utilized when more complex movements require more accurate tracking.
Games that use standard equipment can be accessible to anyone on the game stores, whereas companies with specific needs and goals can order and use experiences that employ additional equipment.
Read also: How to create a custom marine VR simulation solution
In most cases, it's preferable to make a VR experience available on multiple devices sold in as many countries as possible. For example, our Unity team's projects AHTS Ship Simulator and Paintball VR are compatible with Oculus Rift and HTC Vive — both global bestsellers.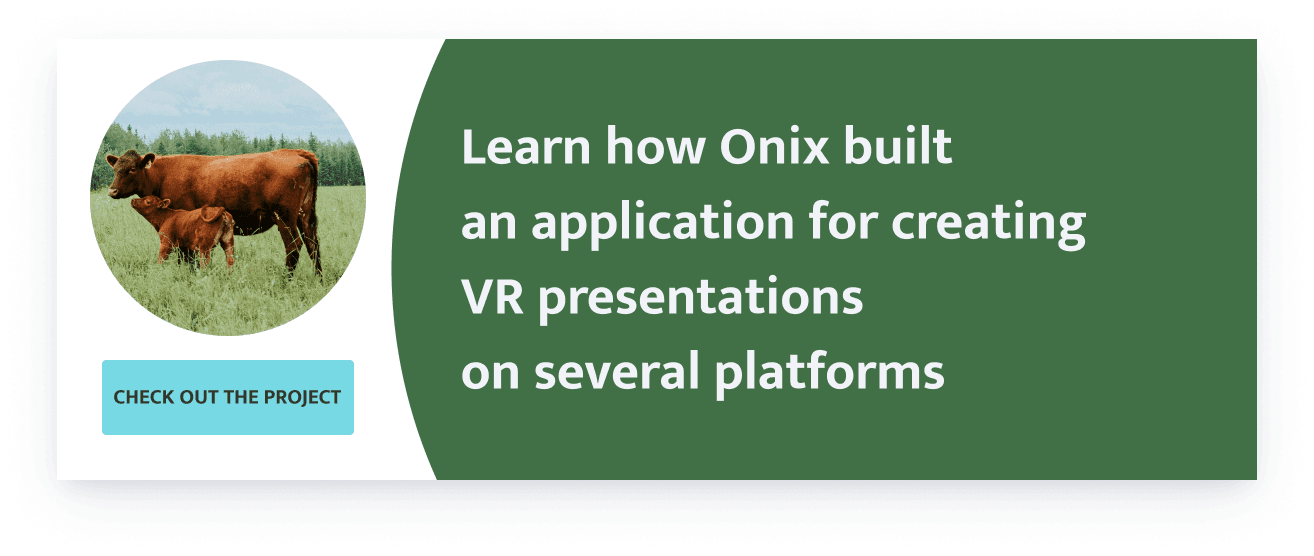 When choosing between particular wireless or PC-connected VR headsets, another rule of thumb for any software developer applies: follow the consumers.
Players assess VR headsets by essential criteria like comfort, ease of use, immersion, controls, and price. For example, the headgear should distribute its weight around the head well, minimize pressure on the ears, and be comfortable to wear for extended periods without breaks.
Immersion is possible only with high-resolution screens with fast refresh rates ensuring sharp and smooth visuals. The best VR headsets with resolution above 3,664 x 1,920 pixels will remove the screen door effect and make your games feel genuinely immersive.
Field of view (FOV) refers to the extent of the virtual environment visible on the head-mounted displays (HMDs). A broad FOV is integral to a feeling of immersion. A good VR headset for gaming should have at least a 100° FOV.
Low latency, i.e. the delay between user input through a controller, head movement, or other methods, and the response on the HDM, is also crucial to an immersive experience and in reducing motion sickness.
Inside-out tracking (tracking a user's movements in VR that originate in the headset) and outside-in tracking (motion tracking with external sensors) should ideally provide six degrees of freedom, i.e. abilities to look around and move in any direction in the game world.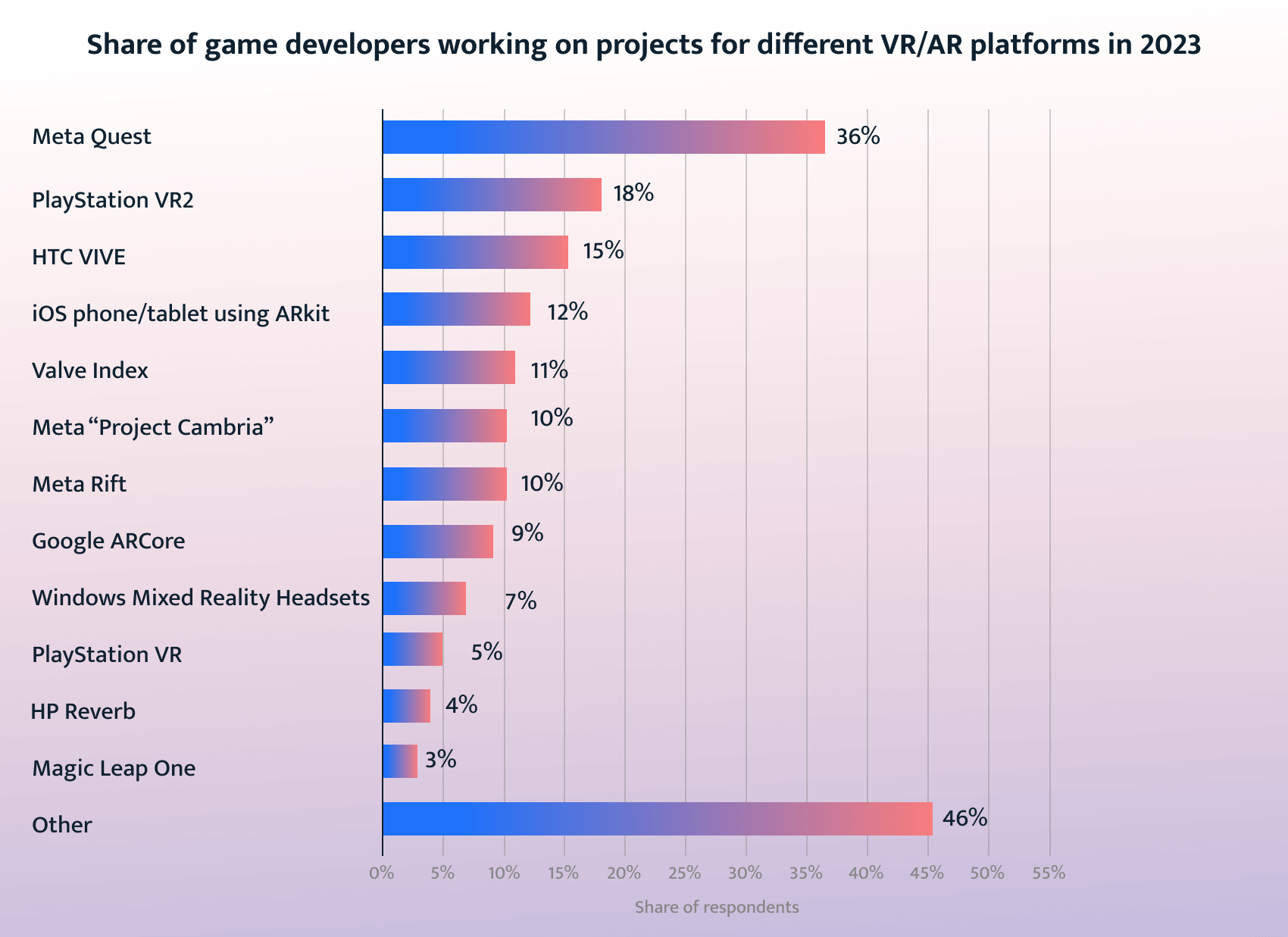 Our list of the best VR headsets considers both players' and game developers' preferences and stretches across every platform and budget scope, including wireless experiences:
Meta Quest 2
HTC Vive Pro 2
Valve Index
Sony PS VR2
PICO 4
Meta Quest 2
As of 2023, 36% of game developers worldwide are developing games for Meta Quest, formerly Oculus Quest 2.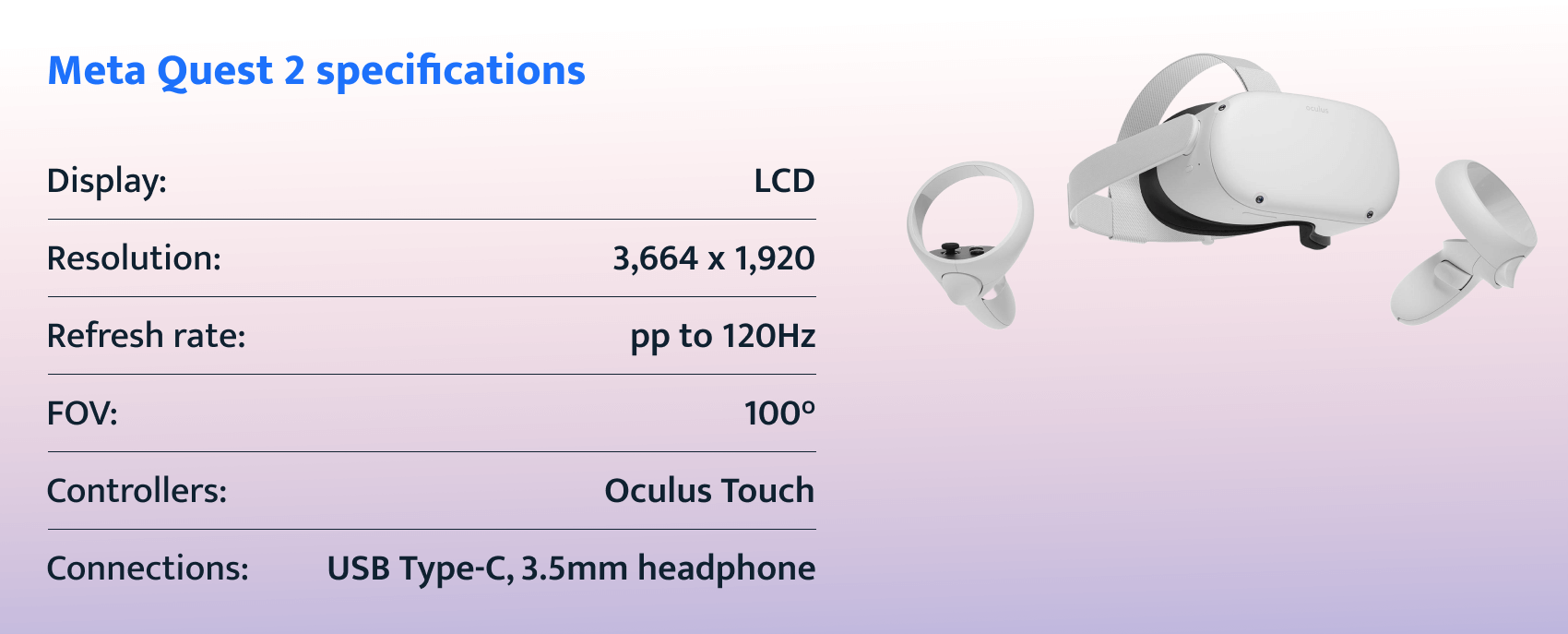 Meta Quest 2 is often praised as the best VR headset for all or the best overall, at least among standalone headsets. With the current price of $281 at Amazon, it's a blend of affordability and capability.
With inside-out tracking and hand tracking built in, Meta Quest 2 has proven to be a capable portable VR experience. It's easy to set up and use, comfortable for long sessions, and offers around 2 hours of battery life. No additional equipment is required, but consumers can purchase accessories to improve their gaming experience, e.g., face pads or straps.
The base model Quest 2 comes with 128GB of storage for VR games and apps. Users can smoothly play games built for the standalone headset and can connect it to a gaming PC through Oculus Link and a compatible USB Type-C cable to stream more demanding VR experiences. Quest 2 owners can access a wide selection of compatible content, being able to download games, movies, and other experiences from both the Meta Quest Store and SteamVR libraries.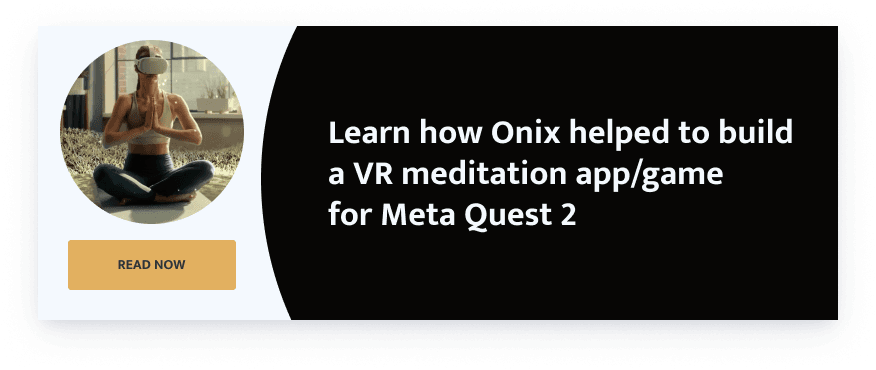 Onix also favors developing games for Meta Quest 2, which offers several benefits for VR game developers.
Easy start. It's easier to develop games for Meta Quest 2 because it doesn't require any permits or certifications.
Significant market coverage. Meta Quest is one of the most popular VR headsets, having great potential for further improvements. Developing a game for Meta Quest raises your odds of attracting more players.
High-quality visuals. Meta Quest's CPU and GPU support advanced graphics and performance.
Streamlined game development. Everything is intuitive on Meta's platform, and game developers can use a variety of software development kits (SDKs) and plugins inside game engines like Unity and Unreal.
Flexibility and scalability potential. Your existing 2D or 3D cross-platform game can be released in VR, broadening the fanbase, targeting new audiences, and maximizing the industry coverage.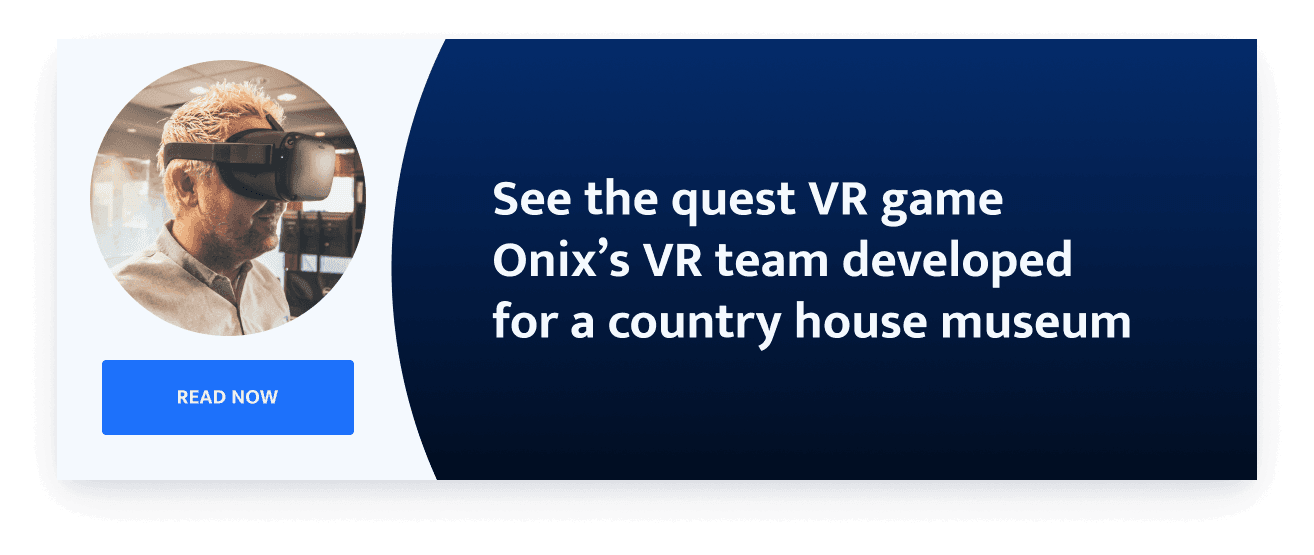 Read also: Virtual reality in museums: How VR improves museum experiences
It's still worth mentioning that the Meta Quest 2's overall power is somewhat limited compared to some more expensive options.
HTC Vive Pro 2
HTC Vive is a result of a collaboration between Valve, a giant PC game developer, and HTC, a hardware company. This result is regarded by many as the highest-quality VR display and tracking champion, which, however, comes at a higher cost. For users upgrading from a first-gen setup, it makes sense to purchase only the headset at $565. The whole starter kit includes a pair of wand controllers and Base Station satellites to install at opposite corners of a play area for movement tracking. It costs $1,445.  
They will also need an ultra-powerful PC to support and make the most of it.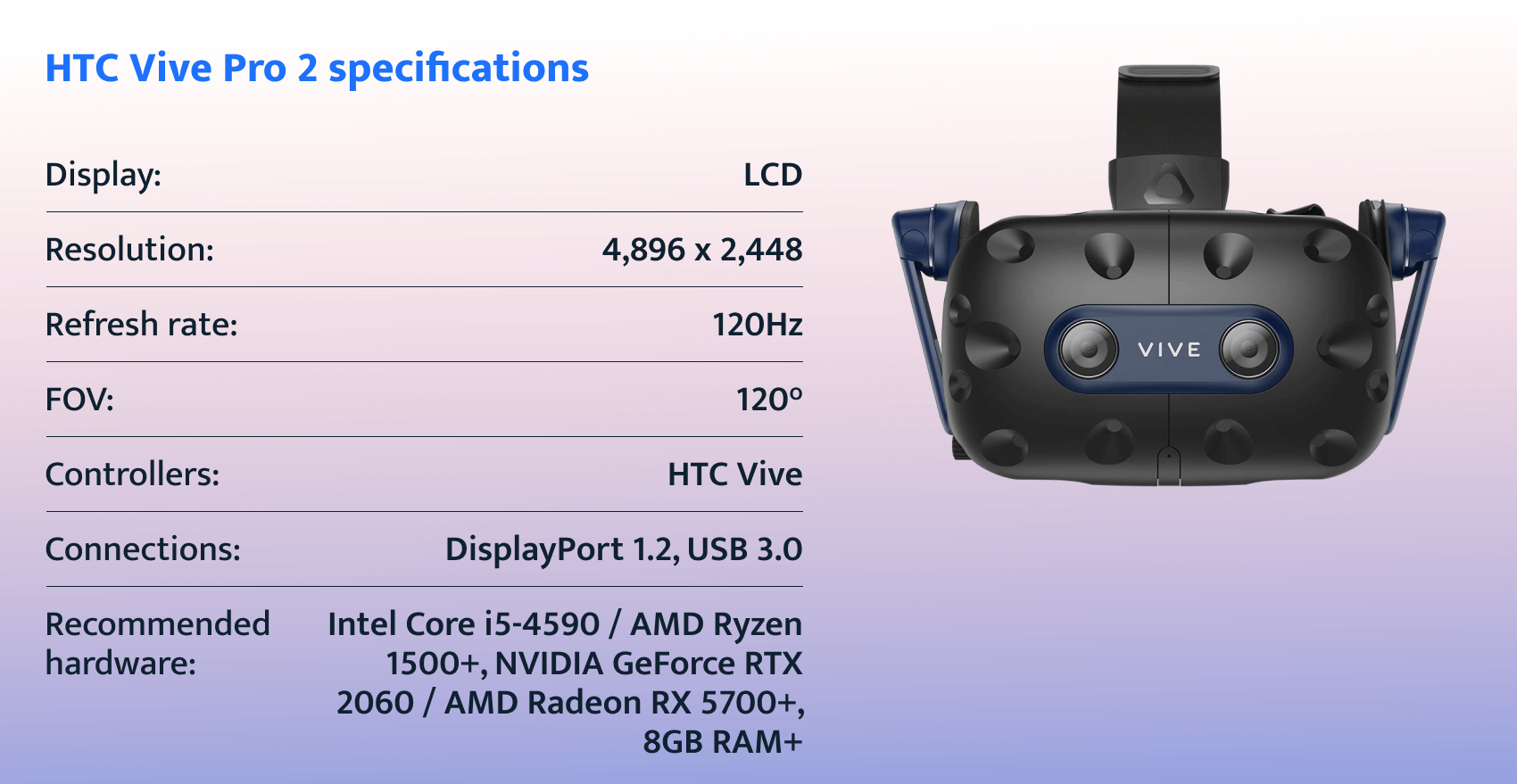 Besides the awesomely sharp screen, a solid refresh rate, and 120° field of view, ensuring arguably the best-looking PC virtual reality with super clean visuals, HTC Vive Pro 2 is also well-balanced and comfortable.
The cable may still get in the way and disrupt a complete immersion in the game world. Again, the HTC Vive wireless adapter may provide a cable-free gaming experience, but it limits the refresh rate to 90Hz.
Valve owns Steam, a super large PC gaming platform, so the HTC Vive Pro 2 also has an extensive library of games.
HTC Vive is a developer-friendly VR development platform that ensures seamless gaming experiences and has extensive developer network support.
As one of the highest-resolution mainstream headsets, the HTC Vive Pro 2 is more suitable for graphics-intensive, high-fidelity games. However, all that power can make it get hot after a while, so shorter gaming sessions are preferable.
VR game developers should take full advantage of Valve's fantastic finger tracking.
Being one of the best premium VR headsets has pros and cons. On the one hand, it limits the number of potential players for VR developers. On the other hand, if a gamer paid a steep price for the headset and a high-end machine and put some effort into setting it all up, they may also be likely to pay more for an excellent game. The HTC Vive Pro 2 headset, paired with the Valve Index Controllers and two HTC SteamVR Base Station 2.0 units, is arguably the best combination for enthusiasts. Superb graphics, comfort, and top-notch hand tracking facilitate exceptionally immersive VR experiences.
It's also cool that games developed for HTC Vive are compatible with the Valve Index VR Kit.
Valve Index VR Kit
Valve's Index Kit is arguably the best high-end VR solution for PC gaming.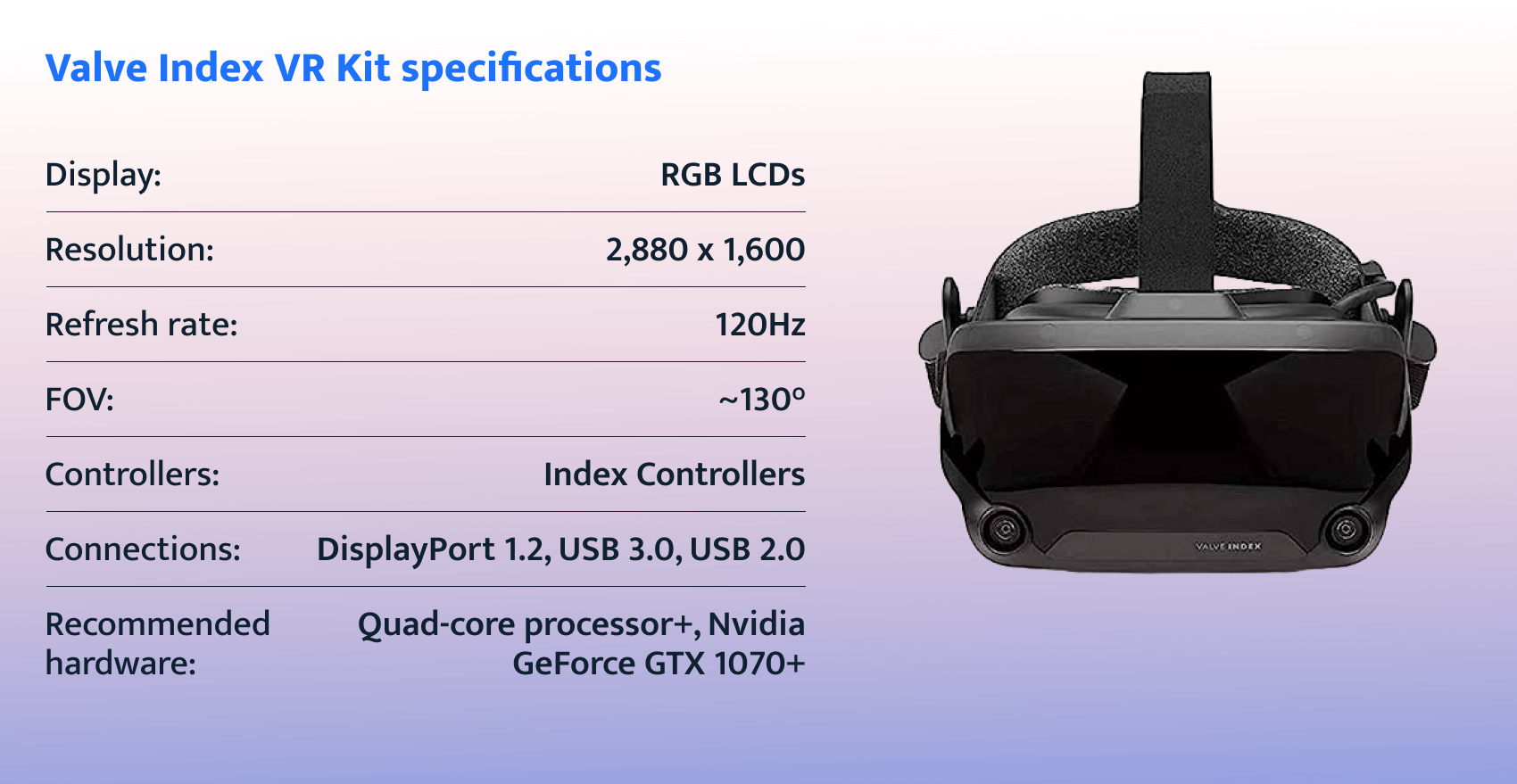 For $999, consumers get a VR headset, two SteamVR base stations, and 'knuckle' controllers that can track every finger's movement.
The Valve Index boasts some of the best visuals among mainstream VR headsets. Its speakers offer outstanding 3D surround sound, delivering a level of aural isolation without shutting the gamer off completely to external noises. It's also comfortable for extended play sessions. Its strapped controllers doubling typical motion controllers and hand/finger trackers are also super comfy.
The Valve Index's Steam VR compatibility means hundreds of VR games are supported.
The Index is more challenging to set up and use than Meta Quest 2 and requires a high-end GPU. Still, at this price range, a well-supported game library, near-unparalleled image clarity, performance, and overall reliability fully compensate for some inconvenience.
Valve's excellent finger-tracking feature has great potential for future games and apps, and game creators should employ it more actively.
Sony PlayStation VR2
Available at $550, Sony's PS VR2 enables PS5 owners to enjoy high-quality virtual reality without a high-spec PC.

PS VR2 is the best console-based VR option and one of the most comfortable headsets for long gaming sessions. It's easy to set up, with only one cable needed to connect it to PlayStation 5. 
Dual 2K OLED HDR screens provide a high-fidelity immersive VR experience further enhanced by eye tracking, headset haptics, and accurate spatial tracking for pin-sharp responsiveness. PS VR2's excellent Cinematic Mode offers a new way to experience their favorite PS5 games. This value is even more impressive considering the cost, which is significantly lower than the costs of VR gaming on PC. 
PS VR2 isn't backward-compatible with the last-generation PS VR's software library, so it has a smaller selection of available games than Meta Quest 2 or PC-connected VR headsets.
Still, Sony's headset maintains a solid fan base that relies on the brand's history. It has set an extremely high bar for future console-based VR headsets, so it will likely remain the audiences' favorite.
The benefits of PlayStation VR for developers include the ease of development and distribution due to its use of a single set of hardware specifications. This VR game platform steadily nurtures game developers, provides funding to support new partnerships and development projects, and helps make more games compatible with this VR headset. However, the Sony developer license required for work with this platform raises the entry threshold.
PICO 4
The PICO 4 headsets are available for purchase at €399. This PC VR gaming option is more affordable than the Valve Index or HTC Vive Pro 2, although, as a downside, it's difficult to buy in the US.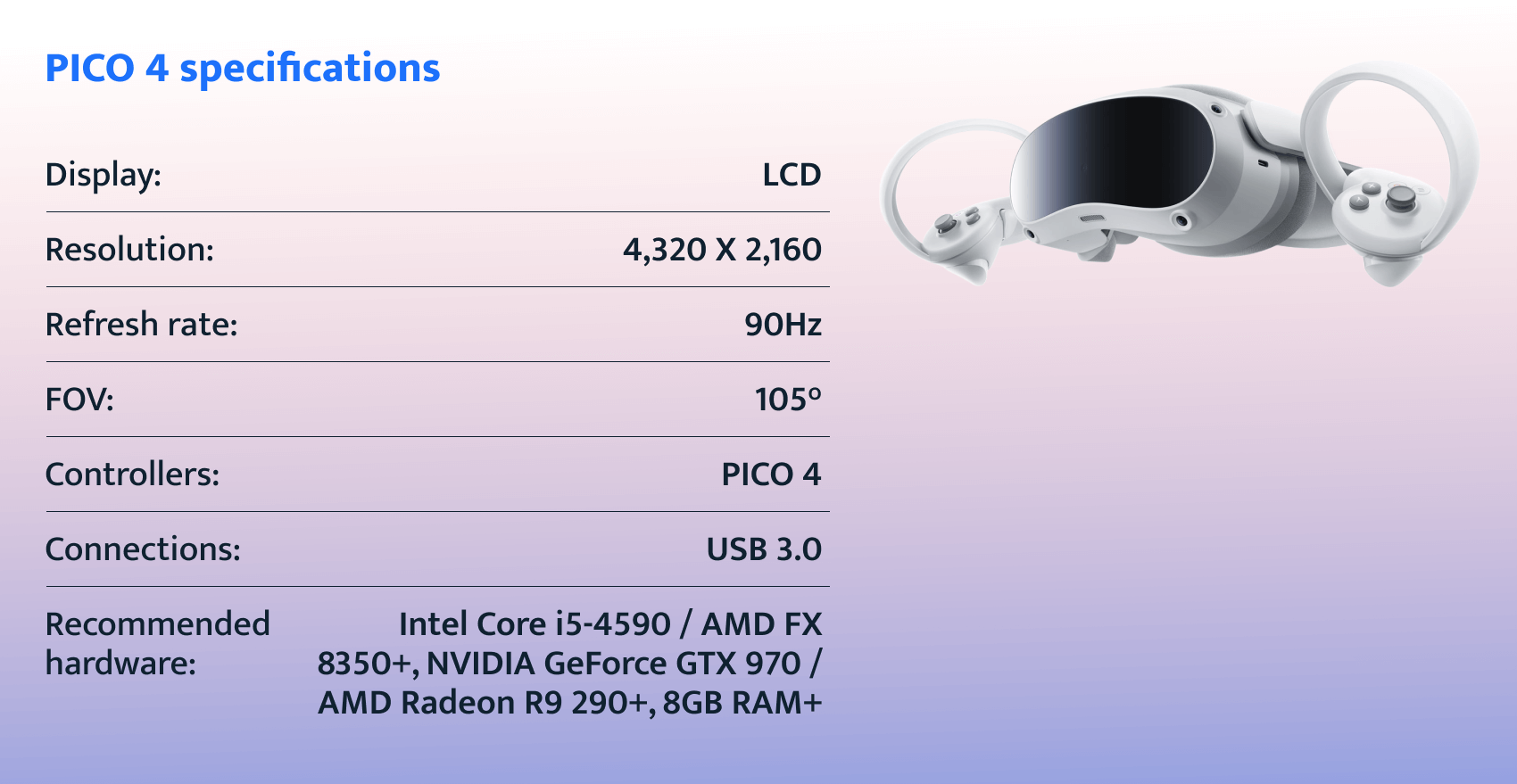 PICO 4's resolution, comparable with HTC Vive Pro 2, and the sharpness provided by Pancake lenses facilitate vivid and immersive VR experiences.
360° surround stereo speakers provide 3D spatial sound. Sound positioning, calculated based on head movement, facilitates precise and realistic audio effects.
The SLAM omnidirectional system provides improved tracking and positioning on the headset and controllers. PICO 4's haptic motion controllers use vibrations or movements to convey more realistic tactile feedback during VR experiences.
The headset is a little front-weighted but offers a generally comfortable fit.
Conclusion
In this post, we have reviewed some of the best VR platforms for game developers and gamers:
Meta Quest 2 is the primary choice of most VR developers and the favorite headset of those who prefer wireless gaming, being also a perfect medium between functionality and price.
Those who appreciate full room tracking and are ready to invest in high-spec PCs, VR headsets, and accessories opt for HTC Vive Pro 2 or the Valve Index, arguably the best PC VR headset for gamers.
PICO 4 VR is the best headset for PC VR gaming among more affordable options.
PS VR2 is the best console VR headset, allowing owners of Sony PlayStation 5 the advantages usually reserved for more expensive headsets.
Affordability, comfort, and ease of use are the priorities for most people wishing to explore VR. In this case, Meta Quest 2 is clearly the winner currently. However, it is quite challenging for VR game developers to stand out on the platform and difficult to get to the official Meta store.
More expensive PC-powered VR gaming appeals to a smaller audience, but it is easier to get a product to the Steam store.
There's little point in predicting the best VR headset for game development: the situation changes too quickly when vendors roll out new versions with better and more robust features. The current dominance of Meta Quest 2 may be overthrown by Meta Quest 3, fresh in the market at $500 and likely to make quite a splash.
Read also: 8 ideas for mobile game development
Are you interested in virtual reality game development or supporting your business with a custom-built VR experience? Onix is here to help! Contact us today to start your journey into the virtual realm!
FAQ
What wireless VR headsets are there?
Meta Quest 2 is the best wireless headset, which can still be plugged into a gaming PC. PICO 4 can also run games wirelessly, as can HTC Vive and the Valve Index with the help of adapters.
What is the best VR headset currently?
Meta Quest 2 is the best VR headset for the vast majority of gamers due to affordability, and since it is most widespread, also for game developers. The affordable product offers plenty of functionality, services, and games and doesn't require a premium gaming PC to run it. The fully standalone headset that is easy to set up and use is perfect for novice VR gamers.
What VR headsets are better than Meta Quest?
PC VR and Sony PlayStation VR 2 headsets can achieve better-quality virtual reality thanks to more powerful graphics hardware.
What VR headset has the best screen?
HTC Vive Pro 2 has the highest-resolution display on our list with 4,896 x 2,448 pixels, but resolution alone doesn't determine a screen's quality. Latency, refresh rate, field of view, and the structure of the optics are other important factors. Moreover, visual perception largely depends on the human eye, so even the best technical characteristics may not be the best fit for a particular person.
What VR headset is best for full-body tracking?
Accurate body tracking is achievable with most Steam VR-compatible PC headsets, including the Valve Index and HTC Vive Pro 2. Players can also add HTC Vive Trackers to wrist and leg straps and belts for even better coverage.
Valve's VR helmets, Meta Quest, and HP Reverb G2 are also compatible with VRChat, an online virtual world that utilizes full-body tracking.
PICO 4 also has a solution called AXIS (Active XR Interface System), which is even used in Olympic esports such as Taekwondo.
Full-body trackers can be attached to most popular VR headsets, but this product is not for the mass market.
What are the top 3 VR headsets for developers?
Our trio of the best VR headsets for developers are Meta Quest 2, HTC Vive/Valve Index, and Sony PlayStation VR2.
Which VR headsets work with Unity?
All VR headsets listed in this blog (Meta Quest 2, HTC Vive Pro 2, Valve Index, PS VR2, and PICO 4 VR) work with Unity, as do HTC Vive Cosmos and HP Reverb G2 devices.