The use of virtual reality in medical education is emerging in the healthcare field as a high-tech solution for improving medical education. Medical staff are continually learning throughout their lifetime of work. Today, with medical tools undergoing revolutionary upgrades faster than ever before, it is critical for these professionals to stay up to date with innovations. If ignored, that growing gap in knowledge hampers their ability to provide good services to their patients.
AR/VR technology in medicine presents ideal opportunities for startups. For example, according to Zion Market Research, the global Healthcare AR/VR market will reach $5,115M by 2025. The future for this technology looks promising.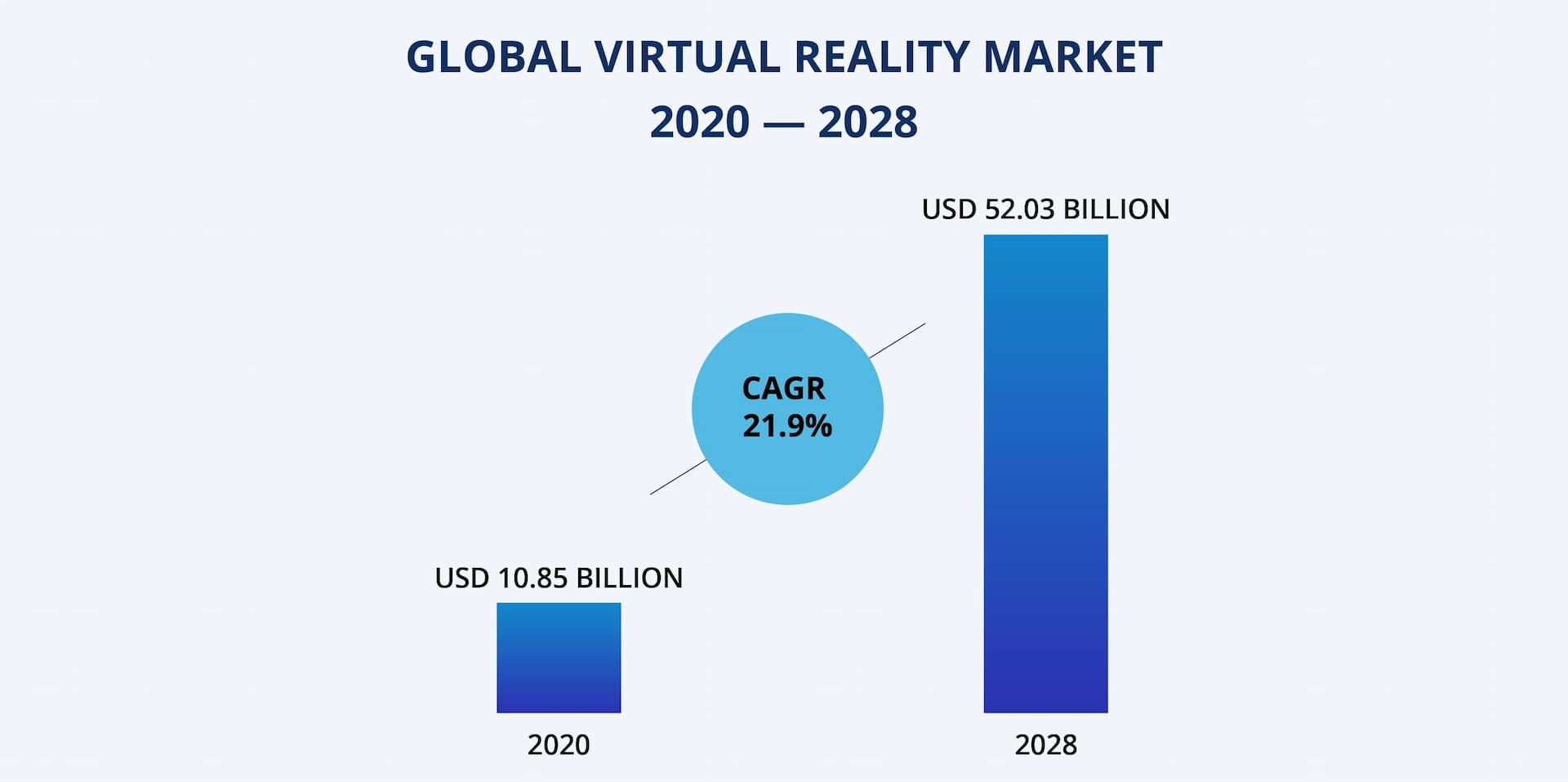 This article will share Onix's insights on VR medical training, some most prominent use cases of AR/VR in healthcare, how they can improve the business' revenue cycle, and our experience building VR applications in medical training with mobile VR support backed by case studies.  Let's dive into it!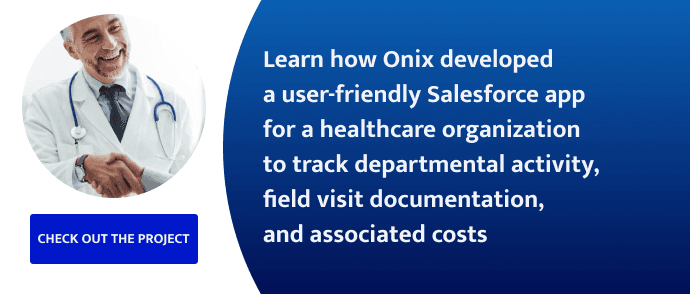 Virtual and Augmented Reality in Medical Training: Use Cases
How can virtual and augmented reality in medical education benefit patient care, which is crucial for the industry? Let's take a closer look at VR in medical training.
At the very least, using AR and VR applications in medical training helps future doctors obtain more vital knowledge, thus providing more accurate diagnoses for their patients. Here are some real-life examples of how AR and VR technologies are already used in medical training.
FundamentalVR
FundamentalVR was founded in 2012 in London. It was named one of Time Magazine's best inventions for 2018 and received an Interactive Innovation Award at SXSW 2019.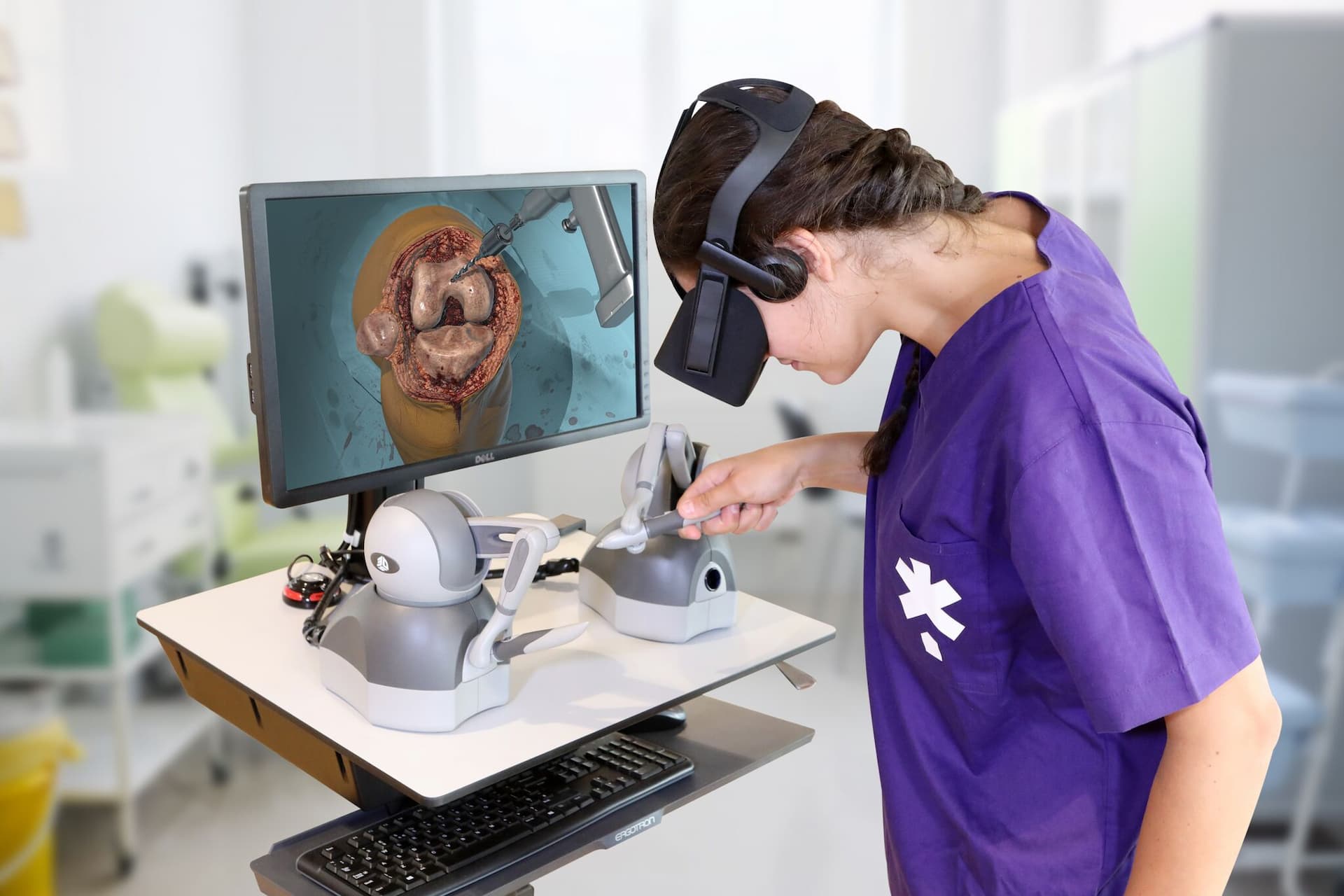 FundamentalVR offers simulator-based training programs for surgeons, with all its simulations being approved by the Royal College of Surgeons of England. The simulations are aimed at helping surgeons in training to rehearse and improve their techniques and skills by providing a safe, controlled virtual environment. It also has a tactile feedback feature.
Augmedics
Augmedics is a Chicago-based company founded in 2014. In March 2021, Augmedics raised $36M in an oversubscribed Series C financing with an international syndicate of Israel-US investors.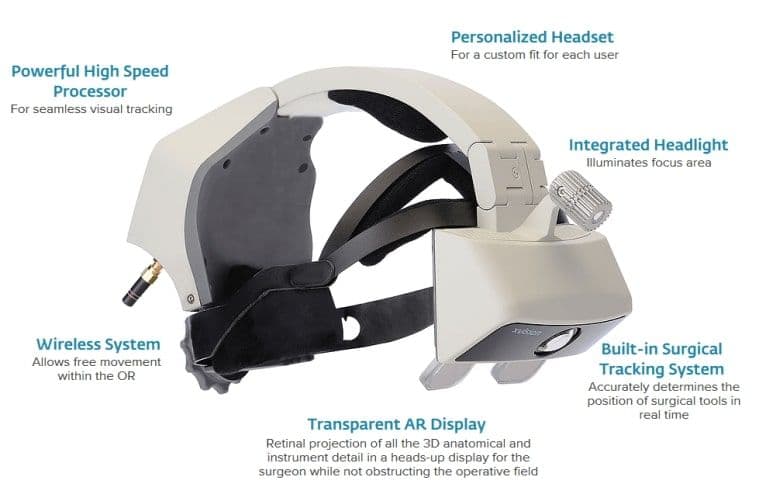 Augmedics developed the first augmented reality (AR) navigation system aimed at being used in surgery and is called xvision. The technology projects a 3D representation onto the surgeon's retina using a headset to see the patient's anatomy through skin and tissue as if using X-ray vision. It helps the surgeon to attend to the patient and see the navigation data simultaneously. The system has demonstrated a 98.9% overall placement accuracy when tested on spinal screws in cadavers.
Health Scholars
Health Scholars was founded in Westminster, Colorado, in 2017. In January 2020, Health Scholars closed its $17M Series B to support further development and expansion of its VR content library.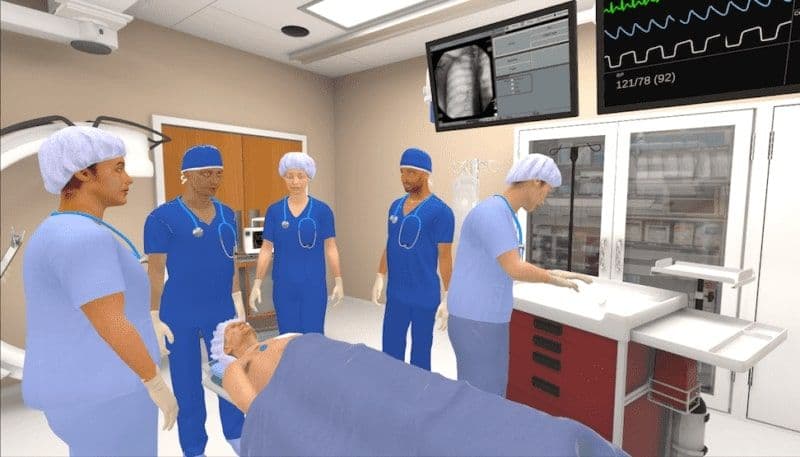 Their VR training solutions are aimed to scale life-saving experiences through VR simulation powered by artificial intelligence (AI). Health Scholars' VR simulations address emergency care training for adult and pediatric scenarios in various settings (e.g., pre-hospital or perioperative). Realistic and accurate visualizations help in mastering life-saving skills by delivering targeted virtual reality medical training.
HoloAnatomy by Microsoft
Another solution of Virtual Reality in medical education. HoloAnatomy app was developed in 2016 and won the 2016 Jackson Hole Wildlife Film Festival Science Media Awards. The app is free but was tailored to be used with the Microsoft HoloLens device.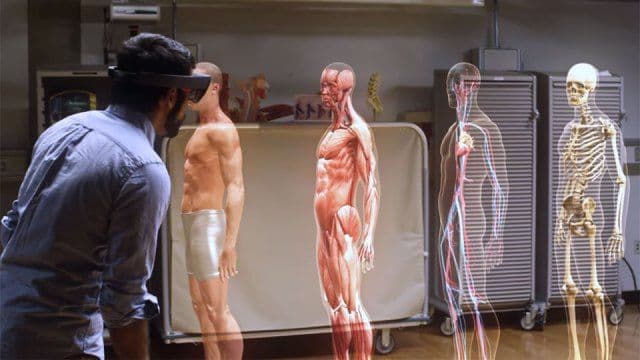 It was the first AR healthcare educational application that provided students with a digitized, interactive anatomy curriculum. It uses mixed reality technology that assists in studying human anatomy with a high level of detail and interactivity. HoloAnatomy proved to provide an excellent value for medical students and practitioners by giving them seamless access to the tiniest details of the human body.
How Can VR for Medical Education Improve Your Revenue Cycle?
The advances of VR in learning and training allow students and specialists to train more enjoyably and engagingly. New skills are acquired and honed through practice in interactive and safe virtual environments. Students don't necessarily require an instructor because instructions and tips are built inside the VR app. Since VR is making medical learning almost as easy and effortless as a game and highly effective, the demand for VR-based solutions for healthcare is high. Implementing it can be very profitable for startups in terms of revenue while also providing a vital service to the medical community.
Medical schools can benefit from adopting augmented and virtual reality in medical devices and programs. For example, VR simulations provide the ability to explore the human body without endangering patients. A scarcity of subjects to practice on can often result in a situation where students could only practice once or twice before performing an actual surgical procedure. Virtual environments provide students with the valuable ability to explore, make mistakes, and learn from them. In addition, students can repeat these procedures multiple times.
In healthcare education, augmented and virtual reality doesn't replace traditional training, but it provides a critical edge. It can present sophisticated concepts through visualization and interaction and provide a valuable view of real-world experiences. This makes tasks easier to grasp and creates a level of interest that textbooks or tests struggle to do.
To establish credibility, let's turn to some benefits of virtual reality in medical education supported by research.

Cost-Effectiveness
Even though implementing VR applications in medical training requires somewhat costly hardware and software, it is still more cost-effective than a physical simulation of the same level of complexity. According to the study published in the Journal of Medical Internet Research, VR is 83% more cost-effective than high-fidelity mannequin-based simulation.
Performance Improvement
The vast majority of students who used VR technologies in their medical education stated that it enables faster work, enhances their performance, and boosts their motivation (supported by a study by Research Gate). Another survey by Research Gate states that VR training can scale up to any number of learners and improve overall performance by 250%.
Retention Enhancement
According to the Virtual and Augmented Reality in Education, Art, and Museums book, using VR in education makes it possible to reach a four times better retention rate than traditional educational methods. The book states that students of VR training retain 80% of the information after a year of training, while conventional methods showed only a 20% retention rate.
Reduced Number of Errors
According to research by Accenture, VR-trained surgeon students had 40% fewer mistakes than a similar group of students that trained using traditional methods. Additionally, the study by Springer Link shows that over 68% of students responded positively to using VR tutorials. 
VR Learners are More Confident to Act on Acquired Knowledge
Virtual reality simulations in healthcare education allow students to train and rehearse their skills in immersive and low-stress environments, gaining more confidence when it comes to applying the acquired knowledge in real-life situations. As the PWC study shows, VR-trained students were up to 275% more confident to act on what they learned. 
Medical device makers benefit from virtual environments as well. Instead of giving personal instructions or demonstrations to every specialist, they use VR to present their products. Although VR devices for medical training can be costly, each year, these companies are making this technology available to a broader audience by producing simpler headsets such as Oculus Go. The price points for these new devices are often cheaper than sending representatives to meet in person with clients.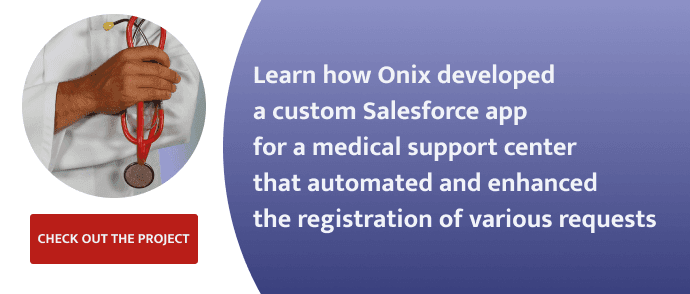 Augmented Reality (AR) Is Also Suitable For Medical Training
Augmented reality overlays digital details on the physical world, producing real and digital environments. The increased usage of AR came along with the innovations that made it available and applicable. It may not be as engaging as VR but can still yield outstanding results.
Today, AR applications are used in almost every stage of medical training, e.g., anatomical teaching tools, image training simulators, classroom study aids, and clinical skills interaction simulators. The advantages of augmented reality in medical training are:
Students don't need a VR helmet. They can hold a tablet over a manikin to superimpose simulated internal organs or a hologram of a patient on it. With AR, medical students and doctors can learn and practice anywhere, even at home, promoting continuous improvement.

AR is not fully immersive, so it can combine real and virtual medical devices. For example, when students learn to read ultrasound images, AR would add layers with images of underlying tissue, blood vessels, nerves, muscles, and bones on the actual ultrasound image. 

Because AR is not fully immersive, it also makes teamwork possible. Team members can interact with one another and with the instructor.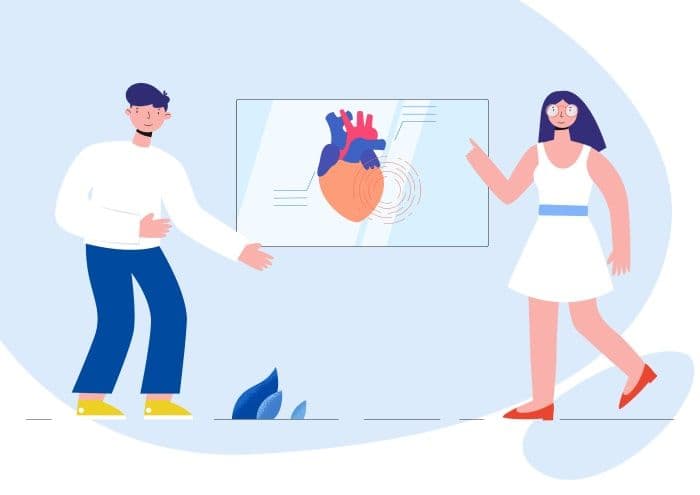 More so, AR can help anyone to become more knowledgeable about our bodies. For example, the UK-based company, Curiscope created a unique immersive learning experience using augmented reality. They developed the AR-enhanced T-shirt, which allows users to explore the body's inner organs through realistic holograms. It is called Virtuali-tee, and it brings anatomy to life.
Onix-Systems' Experience in Developing VR for Medical Training
Our company has an established team of experienced AR/VR developers. They have created AR and VR applications for a variety of industries, from entertainment to construction. Onix can provide you with an outstanding virtual reality system to further your hold on your target market and increase customer traffic.  
As for experience developing virtual reality for medical education, the Onix team has built several immersive and detailed VR applications. Some of them are:
Laboratory VR Training Simulation is a digitized science lab providing hundreds of affordable experiments. It was created as a demonstration project that works on HTC Vive and Oculus Rift, with the main objective of introducing students to work in the laboratory.
The VR Medical training prototype is designed for medical staff. In this project, immersive virtual reality technology created low-stress, safe, and interactive digital environments to provide immersive training opportunities.
Is VR What Medical Training Needs? / Conclusion
Medical and especially surgical landscapes are evolving rapidly, and there is plenty of space for exploring new and experimental ways of training. VR and AR have great potential in the field. As they become more refined and accessible, the case for incorporating this technology into training programs seems to make sense. 
Some don't believe that VR technology can be helpful based upon the traditional training they received, i.e., cadavers or live patients. While cadavers will continue to be of use, training on live patients may be dangerous and dramatically pressures young trainees. Some specialists also note that virtual and augmented reality in medical education does not provide very realistic simulations of individual features of human bodies. For example, knee joints differ in each patient. Objects and tools in the virtual world do not have weight and create less than realistic user experiences.
Despite these limitations, VR for medical students is expected to help transform medical education. Both AR/VR applications are already helping to better understand the anatomy of the human body and the steps of various medical procedures. They empower students to apply knowledge and practice skills until they are mastered. Virtual environments allow medical and interprofessional training to be conducted more efficiently.
VR technology has a long road ahead to become fully integrated with current curricula, but it is reasonable to predict that one day it will be a common practice. If you have innovative ideas on AR or VR for medical training or other fields, the Onix team is here to help. Let's pave the path for the future together.

FAQ
Why should the healthcare industry take AR and VR seriously?
Virtual and Augmented Reality provides limitless possibilities for the healthcare industry. Researchers and companies are coming up with different solutions and ideas on using these technologies to improve healthcare experiences ranging from equipment maintenance and medical training to surgeries support and patient's hospital stay.
What is the current state of the AR and VR healthcare market?
AR and VR are emerging technologies in the healthcare industry. Both could be used in various settings, including physician training, patient treatments, and hospital management. As of 2018, the North American healthcare AR and VR industry was valued at $477M. By 2025, that is expected to increase dramatically to $4.64B.
Can AR and VR help during the COVID-19 pandemic?
By simulating the real world, VR can be used in any infectious outbreaks or disaster situations for improving preparedness against pandemics by considering various aspects, such as human behaviors, disaster consequences, and experiences. According to research by ScienceDirect, during the COVID-19 outbreak, these technologies can be used in various fields, including telehealth, drug discovery, patient assessment, mental health management, VR for medical education, and VR-based content for improving public health. 
How much does a healthcare industry augmented reality app cost to develop?
Like any other mobile app, the development cost can be calculated by multiplying the specialists' rate by the time required to complete the project. We have an article dedicated to estimating AR app development cost, where the factors that determine these variables are listed.