Online sales accounted for over two-thirds of the revenue in the travel and tourism market worldwide in 2022. The global online travel market, estimated at US $475 billion that year, is forecast to exceed one trillion by 2030. If you would like to jump on the bandwagon and wonder how to start an online travel business, you're in the right place! 
As a travel software development company, we know the ins and outs, including the cost, of building a travel website or mobile app. If you have any questions, please don't hesitate to contact Onix-Systems!
If your travel agency still hasn't gone online, it's time to do it. A hybrid model combining online travel booking with the services of experienced travel agents can eliminate disruptions and errors and increase your efficiency dramatically.
If you are just about to start your own travel agency, it's reasonable to launch it online from the onset.
It's possible to start an online travel agency (OTA) with little funding and without office space or hired staff. Some research and feasibility studies showed that $70,000 would suffice for setting up a small-scale travel agency business in the U.S. Regardless of your business plan, location or budget, investment in proper website design and development is essential.
NB. Software development expenses will make only a part, albeit substantial, of the total cost of starting an online travel agency. It may also include legal advice, paperwork, marketing and advertising expenses, etc.
Before calculating the cost of a travel agency website, we need to break the system down into basic components. 
Parties and Moving Parts of an Online Travel Business
Every online travel business connects people in search of travel products with corresponding vendors. The essential travel products are flight tickets, hotel rooms, tour and cruise line tickets, and car rentals, but may also include shuttle buses and taxi cabs, restaurants, events, activities, visas, or whatever else modern niche travel may imply. An OTA sells them on behalf of the vendor, and travel agents may book them on travelers' behalf.
Therefore, an online travel booking system should have three user interfaces:
1. Web user interface for travelers and travel agents. They should be able to:
search and filter available flights, rooms, and other items by price and location for specific dates
access sufficient information for choosing the right product or service
book the items
pay for the items
modify/cancel bookings
create and manage their account
Read also: How to create a mobile booking app in 2024 [+ Free Guide]
2. Web user interfaces for tourism businesses. Also called the extranet, it enables business owners to manage their inventory for the OTA. They need the ability to:
create and manage their accounts

manage the inventory

manage the availability of travel products

manage the rates

accept payments for the bookings
The OTA administers the extranet, aggregates all deals, and displays them to tourists via the web user interface.
3. OTA administrators' interface. The platform administrators should be able to manage:
tourism businesses' and tourists' accounts

a business' inventory, availability of travel products, rates, and payments

a tourists' bookings
Two back-end components enable transactions between these users:
4. Booking engines and third-party APIs (application programming interfaces). Depending on your online travel business' specialization and scope, you can connect only with your partner hotel's Central Reservation Systems (CRS), or Amadeus CRS, Galileo CRS, and Sabre, or major computer reservations systems (Global Distribution Systems – GDS), or other web applications for selling airline tickets, making hotel reservations, and booking events, restaurant tables, and other services. Most modern GDS, CRS, and other consolidators provide APIs for easier integrations with website builders (such as WordPress), payment gateways, and services like Google Analytics and Mailchimp.
5. Payment system. A payment gateway allows tourists to transfer funds to the travel service providers. It encrypts users' data sent from a browser to the vendor, requests authorization from a bank, and transmits the response to the website to complete the payment. An OTA can be integrated with any payment gateway with an open API, starting from Amazon Payments, PayPal, Stripe or WePay, and ending with local systems processing MasterCard and VISA credit cards. For example, for TravelBid.com, Onix's experts integrated Stripe and PayPal. Besides these two, MisterB&B, a travel booking platform for renting LGBTQ-friendly accommodations, employs the Payoneer and Adyen payment systems for safe online payments.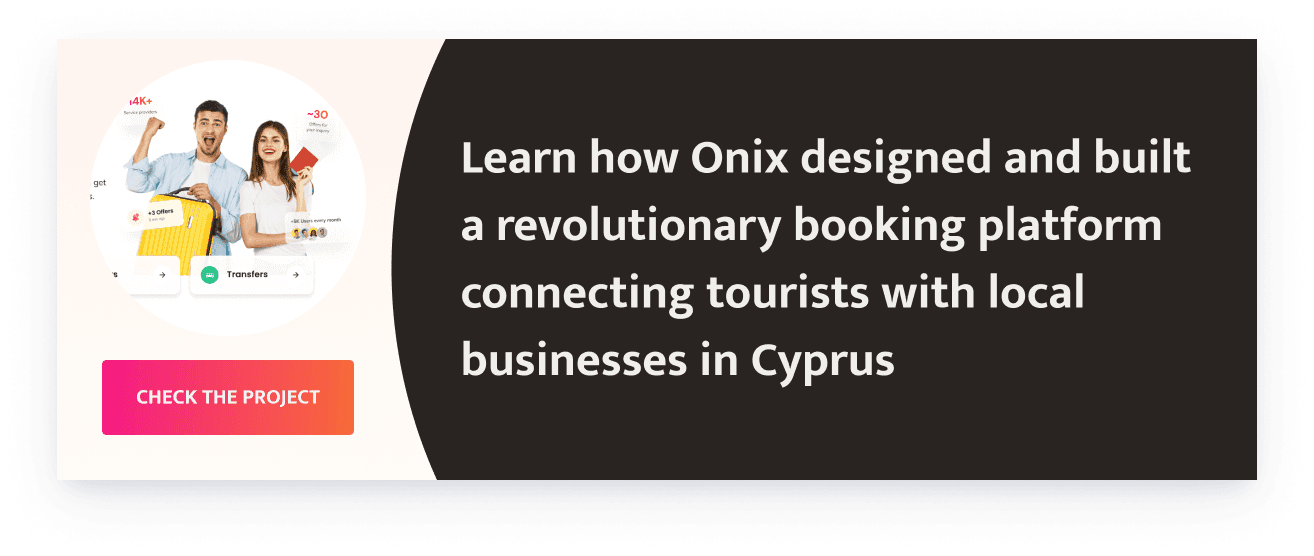 This may be your minimum viable product (MVP), i.e. just enough for selling and purchasing travel services online. However, a whole working system may prove useless if few travelers and vendors use it. Without constantly updated helpful and engaging content, it's difficult to attract potential customers and to persuade them to book services at a new travel website. Therefore, we deem one more component indispensable:
6. Content Management System (CMS). A CMS will help you publish the OTA's Terms of Services, destination travel guides, blog posts, user-generated reviews and ratings, FAQs, and other valuable info. Unique practical content enables a travel agency to demonstrate its expertise and care for the customers. It helps build trust. Blogging is especially good for reaching out to people. Blog posts and insider articles can promote offers and include direct calls-to-action, e.g., "Book my stay in Munich" in a piece about Oktoberfest. You can create a database of subscribers for lead generation, enable satisfied customers to share their travel experiences and photos with your audience, award discounts and other prizes for the best travel picture, and so on. The ability to optimize the content to make your website more visible for search engines is equally important.
It's possible to start a travel business online without a proper CMS. For example, MisterB&B ran without it for several years. However, after adding the Guides, Events, and Blog sections to the website, Onix witnessed a significant increase in the number of users and sales.
The content management component is relatively easy to integrate, and the value it adds will outweigh any cost you may deem 'extra' now.
The cost of starting an online travel agency can be estimated by multiplying the time to develop these components by the appropriate professionals' hourly rates.
Basic Travel Website Development Cost
A skeleton team for such projects should include:
two programmers for front-end and back-end development
specialist in user experience and user interface design  
project manager 
The team can accomplish the development of components listed above within the following approximate terms: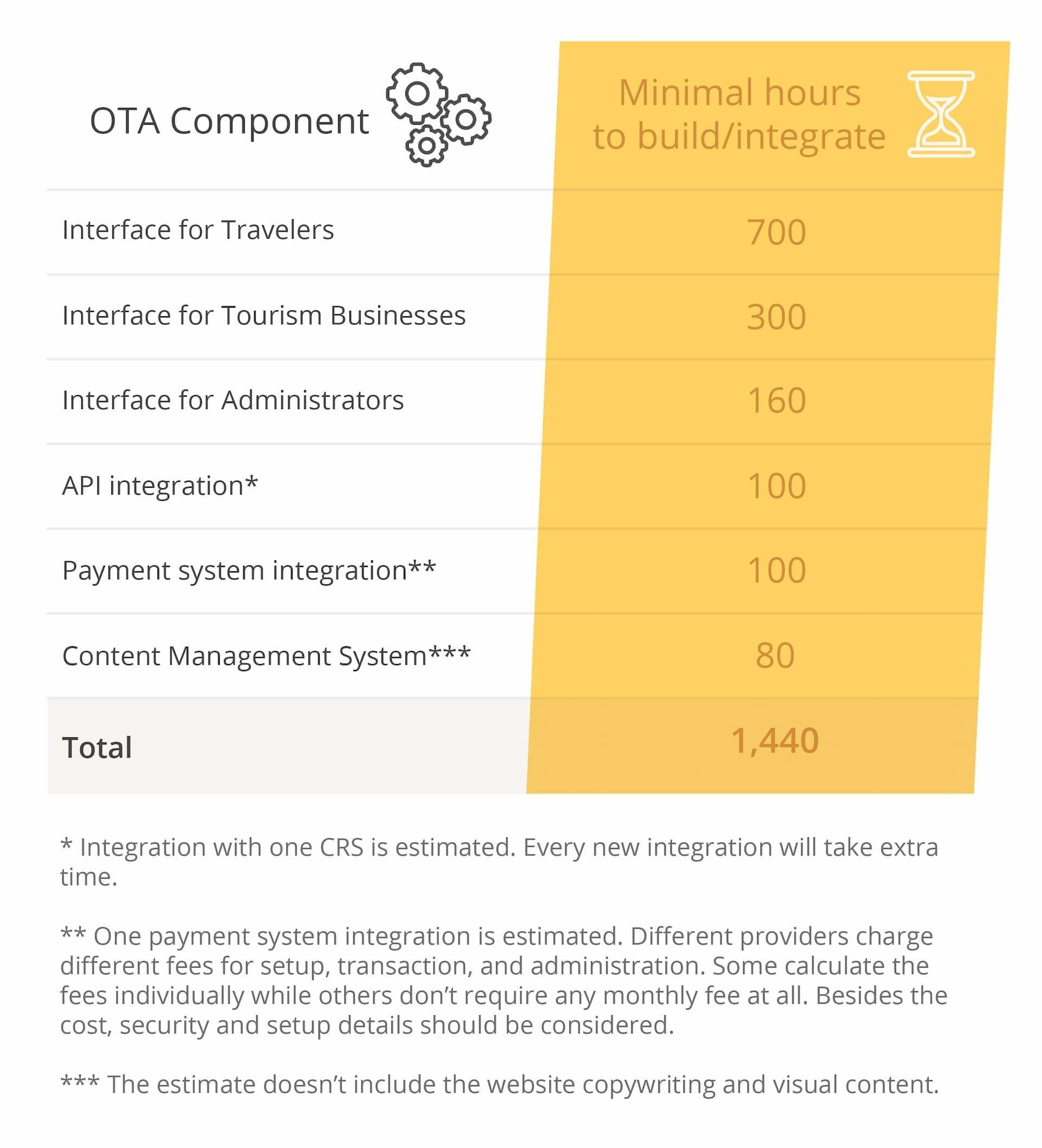 The salaries of specialists building your online travel agency are the other major factor. For a pilot project starting at several weeks, a whole new in-house team may be overkill. It makes sense to outsource the job: established companies need not be distracted from the core business, and a travel agency startup can save money.
Read more: What questions to ask when outsourcing your project
The saving will be more impressive if you hire a dedicated team in Eastern Europe. Usually, it means lower programming and web design rates without compromising quality.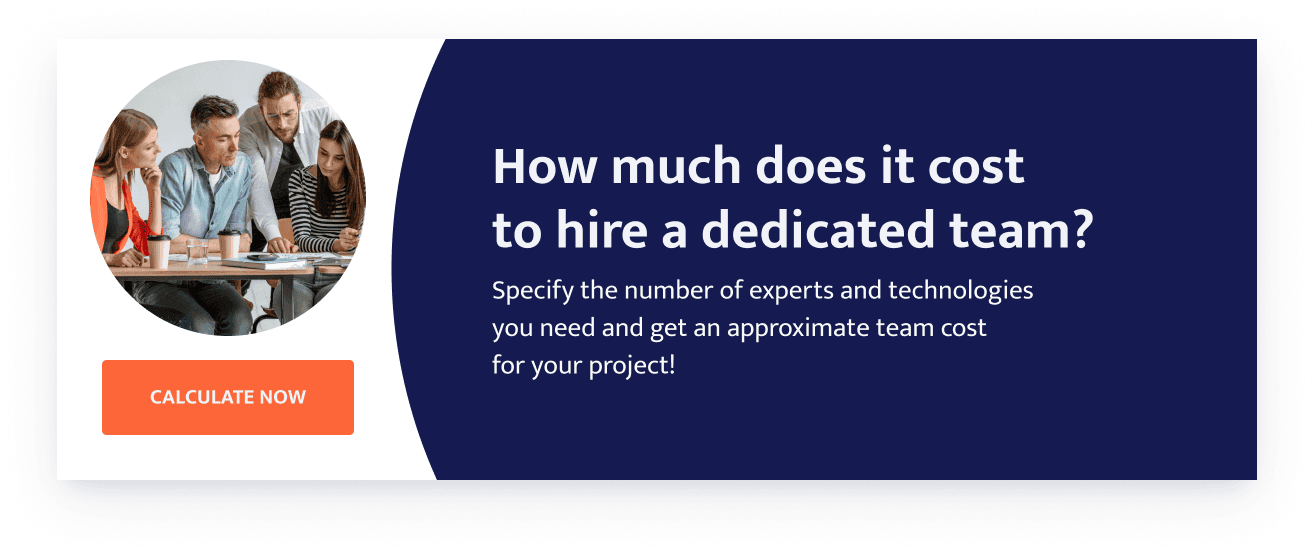 For example, if you order your OTA web development in Ukraine, with the average hourly rate of $50, the above minimum time estimate translates into $72,000.
This budget covers the bare minimum an online travel business should offer its customers and partners. Travelers have been spoiled by the abundance of destinations, service options, and excellent experiences. Your travel business will be competing with giant one-stop shopping platforms like Booking.com, Expedia, Hotels.com or Kayak, as well as with smaller fish in your niche travel pond. Only a unique value proposition (UVP) will let you stand out from the crowd. You need to find at least three tangible benefits that can be points of difference and invest in specialties and additional features to support them.
Valuable Additional Components & Specialties
The following functionalities and features can make your travel booking site more interactive, user-friendly, and competitive:
After flight and hotel booking engines, you can add car rental service, train and bus ticket booking, taxi cabs and bus shuttle services, tours, cruises, and activities reservation, event tickets sales, securing visas (especially transit visas), travel-related insurance policies, or the services of interpreters, bodyguards, and other personnel for VIP clients.
Integration with a Channel Management System, a web platform mediating hotels with their sales channels. It will help you cover most of the CRS functions (e.g., rooms availability would be synced automatically), extranet, physical reservations, and payments.
Customer Relationship Management (CRM) integration. A good CRM system will help you maintain meaningful communication with leads and customers. For example, you can monitor their progress on a package trip and receive both positive and negative customer feedback quickly. A CRM can send tailored quote emails, bulk SMS, or special offers on customers' birthdays, initiate marketing campaigns in social media, monitor their results, and much more.
Artificial intelligence-powered recommendation engine and upsell tools to suggest tailored and exclusive offers according to users' travel needs and history.
Learn more: How artificial intelligence can transform your business
Hot deals, last-minute deals, and vacation packages generation. The engine will produce best offers to customers based on their travel history and interests and aggregated best prices from hotels and airlines.
Social media buttons. Social networks present another opportunity to promote your travel business. Use Facebook, Instagram, Linkedin, Twitter, and other social media to update your followers about new services, packages, and discounts. When you see what they 'like,' you are more likely to offer them something they'll purchase in the future.
Reviews and rating system will enhance the OTA's transparency and credibility, which would eventually translate into higher conversion rates. An invitation to review your services engages customers and shows that you care for them. Positive reviews about your travel agency may persuade potential customers to purchase your services.
Alerts can be sent as emails,

push notifications

, or SMS. They will help customers keep abreast of the changes in specific hotel room prices or availability on their chosen dates.
Real-time messaging

with your customer service or a

chatbot

. A bot dealing with repetitive tasks and answering frequently asked questions will improve the customer experience before and after sales.
Learn more: The future of chatbots: 10 trends, latest stats & market size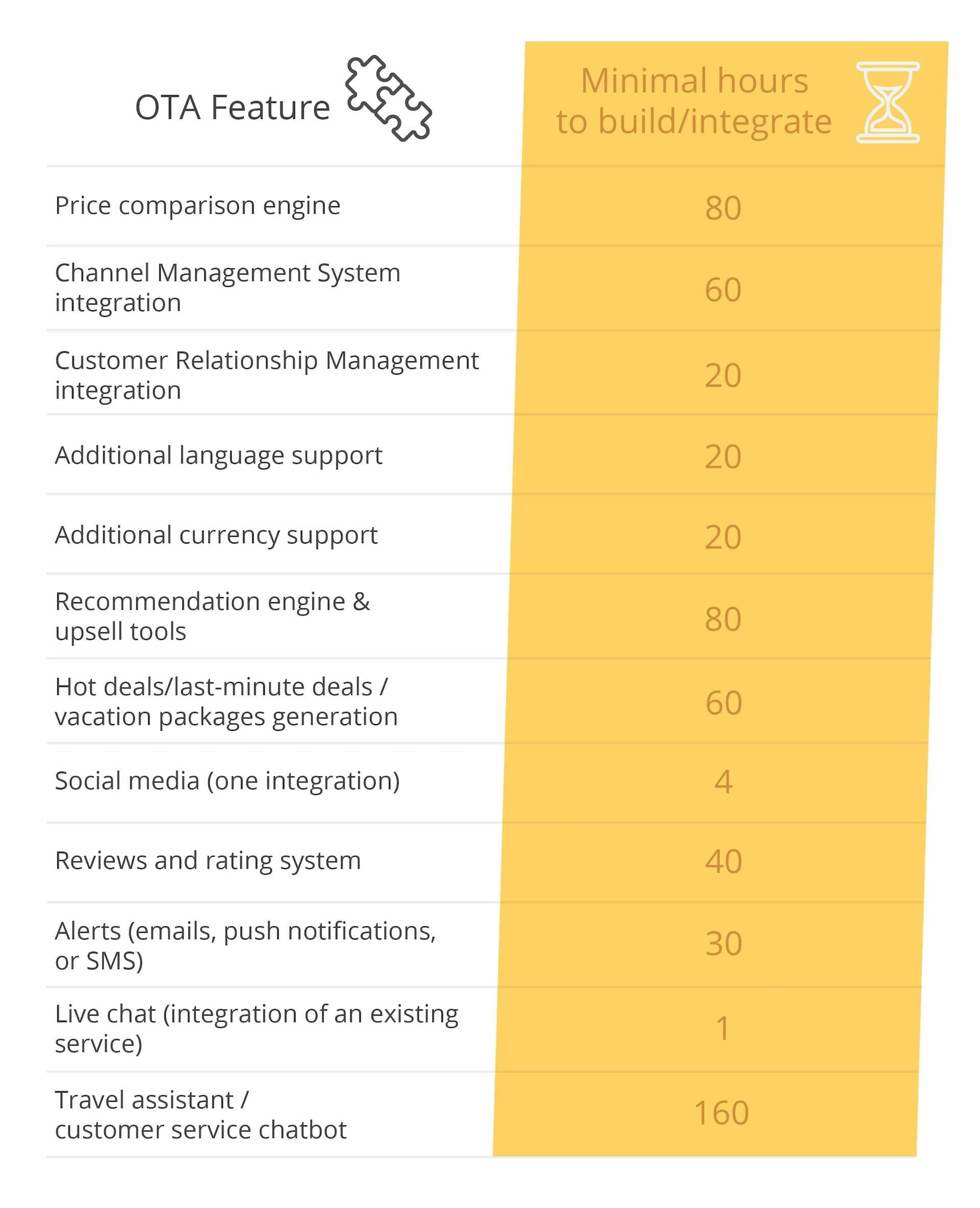 It's best to implement these and other features gradually, as your business needs determine. For example, if your present or potential customers are price-sensitive, you should go to all lengths to offer the cheapest airline tickets, accommodations, travel packages, and services from the onset.
However, since leading OTAs are doing it already, affordable travel is not a unique selling proposition. Neither are bed-and-breakfasts and hostels anymore. By contrast, niche and location-based services promote underrepresented vendors and cater to narrow dependent audiences that are likely to form a loyal clientele. Here are a few examples of niche travel businesses:
Religious travel, e.g., organization of regular pilgrimages, arrangements for observant Jews, etc.

Medical, spa, and wellness tourism

Special needs travel

Eco-friendly travel and accommodations

Round the world flights

Trips inspired by books and movies

Wedding destinations

Libertine tourism
And more. For example, MisterB&B matches travelers with LGBT-friendly hosts and hotels and offers guides to major destinations and Gay Pride events worldwide to the community.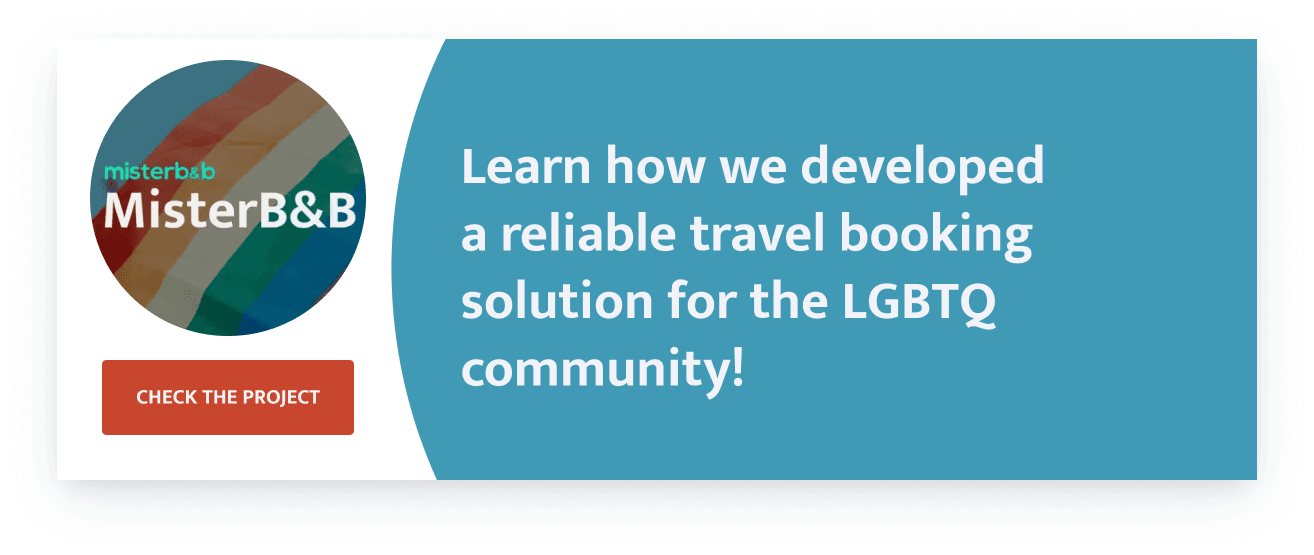 It makes sense to focus on a specific target audience (or create your own), adapt your OTA to a specific culture, and integrate the services and features that will work for the UVP and promote your leadership in the market.
Onix's Travel Booking Platform Development Expertise
Our company has considerable experience in travel booking service development.
TravelBid.com, a booking platform designed for travelers ​​in Cyprus, is an example. Its UVP was the ability to easily book deals and personalized offers that wouldn't be found anywhere else. Simultaneously, local travel and hospitality businesses can offer special deals when the demand is low without publishing prices below market average on popular booking engines like Booking.com or Expedia. 
Accordingly, the system has interfaces for two categories of users:
travel and hospitality services booking portal
interface for vendors
A customer looking for an accommodation, airport transfer, or rental car places a request, views offers from local service providers, and can communicate with vendors through the in-app chat. After the customer pays for a selected service with a credit card or via PayPal, TravelBid sends them an invoice. Simultaneously, the vendor receives the booking confirmation, and then the payment.
Onix's designers succeed in creating a streamlined and convenient user flow, as well as a delightful clean UI design and a unique logo for TravelBid.     
Misterb&b is one of Onix's oldest ongoing projects. When the client approached us, he already had a website and mobile apps that needed improvement.
Read also: How to build a travel mobile app
Among other things, Onix's specialist helped to:
enhance the app operation and product capacity and broaden functionality using reliable technologies
expand the listing base and business opportunities through proper integration with aggregators and providers like Booking.com, Rentals United, Guesty, Ospita, and BookingSync
improve the search through 2M+ property listings using various filters
automate the financial processes and increase payments security
raise the overall level of security with the help of a fraud detection system detecting illicit and high-risk activities, such as suspicious credit card transactions, theft, cyber hacking, or scam messages
Read also: Overview of online travel fraud and means of its prevention
The resulting platform, once called the "gay Airbnb" by Forbes, is considered the world's largest gay hotelier with 900K+ members and 1 million accommodations in 200 countries.
If you wonder how much it costs to develop a custom travel booking platform like these, Onix's experts are here to help!
The Takeaway
The must-have elements that should be included in the cost of the online travel agency website are:
interface for travelers 

interface for tourism service providers

integrated booking engines, hotel central reservation systems, global distribution systems, etc.

payment system

OTA admin interface

CMS for the

travel site

content management and search engine optimization
This is a bare minimum allowing vendors to sell a travel product, travelers to book and pay for it, and the OTA administrator to moderate the platform. The cost of building an OTA starts around $72K, provided you outsource the project to Eastern Europe, Latin America, or South Asia. Additionally, even the MVP's scope can vary depending on the target audiences, vendors, and OTA's business needs.
Each element expanding the services and improving the customer experience will increase the cost of your project. Building up the services and functionalities, eventually, you may develop into a one-stop travel shopping platform. The minimum budget for an Expedia-like app starts at $100K (with outsourced development).
However, the cost of a travel agency startup need not reach that amount. A user-centered approach and thorough knowledge of the travel industry and particularly your niche will help you identify the essential components. Keep your eyes peeled for emerging travel needs and changes in your area, and invest in technological developments to support exceptional services.
If you plan to start a travel business online but don't know where to begin – let it be Onix!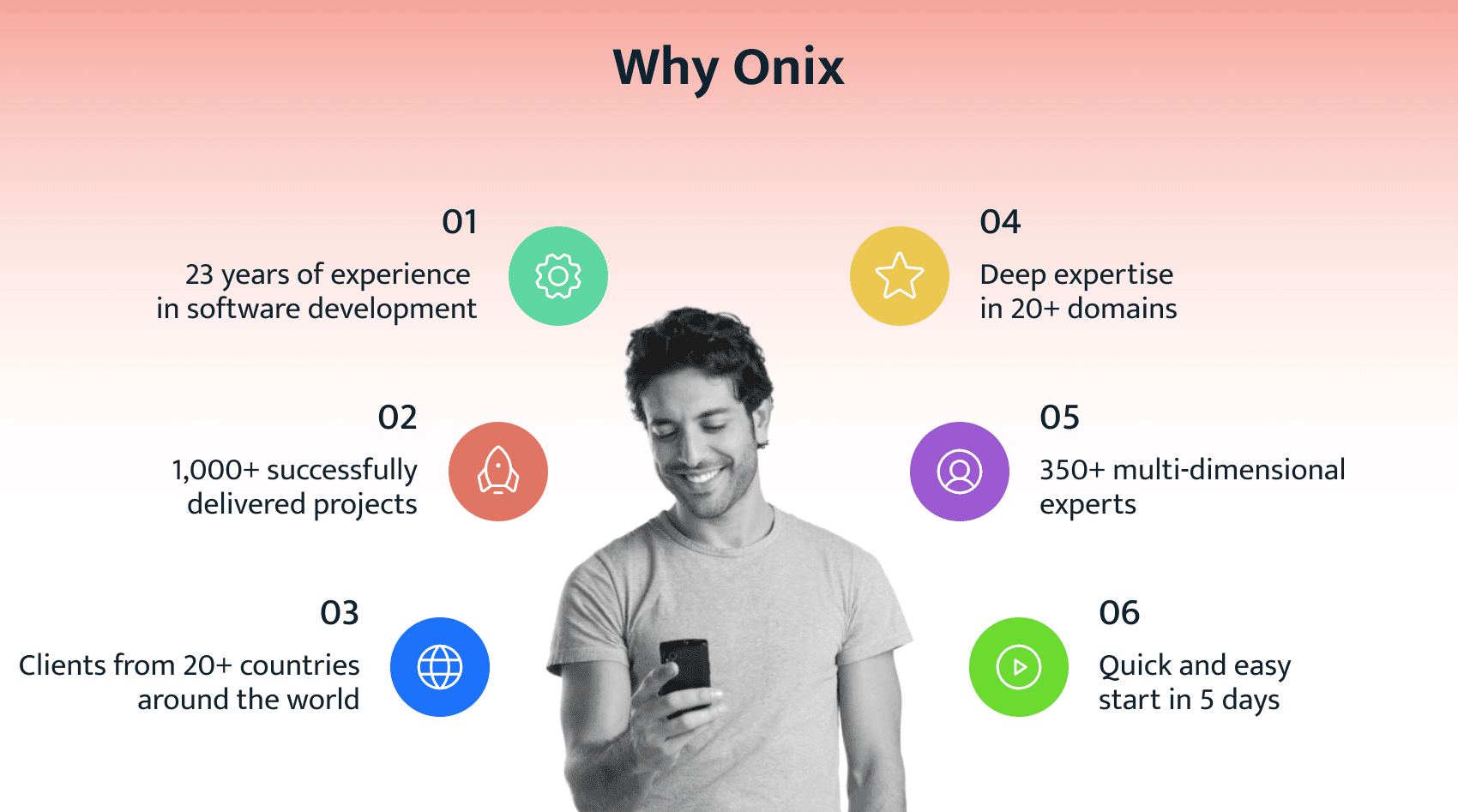 FAQ
How much does it cost to create a travel site?
The budget of a basic online travel agency development starts at around $70K when outsourced to Eastern Europe, Latin America, or South Asia. Each element expanding the services and improving the customer experience will increase the cost. The minimum budget for an Expedia-like web application will start at $100K.
What factors influence the price when building a travel website?
the number and technical complexity of its features
app architecture solutions
website design requirements
technology stack
integration of licensed APIs and third-party services
the number and qualifications of specialists on the development team
their salaries or hourly rates
their location
the type of contract with the developers
What features will help make a tourist website more interesting?
support of multiple languages and currencies
AI-powered recommendation engine and upsell tools to suggest offers based on a user's needs and history
hot deals, last-minute deals, and personalized vacation packages
reviews and rating system for the travel products
blog and other enticing content, including vivid images and videos
forum
real-time messaging with customer service or a chatbot
social media buttons