Mobile applications have been responsible for the success of many startups and groundbreaking ideas. An online doctor consultation app is a prominent example. 
Such apps, also called 'telemedicine apps,' are among numerous high-tech solutions that are actively changing the healthcare industry today, especially after the COVID-19 pandemic has shaken the healthcare industry. Now, it is not only convenient but essential that medics and patients have the ability to connect virtually. For example, in China, online doctor consultation services during the quarantine allowed advising thousands of patients per hour. When thousands of people were suspecting they had coronavirus, a video consultation helped doctors assess more accurately who had actual symptoms and who was just panicking. With hospitals full and strict quarantine rules, it is highly beneficial to have a doctor in your smartphone that can check your health condition and offer advice.
Read also: Guide on How to Build a Telehealth App
As of 2019, the global telemedicine market was valued at $45 billion. According to a forecast by Statista, it is expected to grow over $175 billion by 2026. The reasons behind this rapid increase include the rising costs of traditional healthcare services and an increased number of digital health users.
The Benefits of Telemedicine Apps
Health is one of the top human priorities: people want to stay healthy and live longer. It is hard to imagine a more vital human need. This means that the industry of healthcare services and medical care will most likely continue to grow. The pandemic has shown that there is a shortage of healthcare-related products and services. When the situation becomes dire, even a single online doctor consult is important.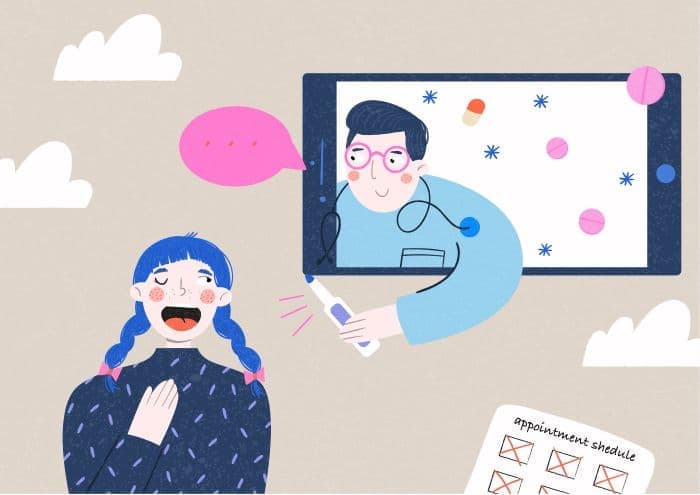 Telemedicine apps generally only provide users the ability to talk to a doctor and ask sensitive health questions. However, they help many patients feel better faster, just like after a real-life doctor appointment, as well as offloading traditional healthcare institutions.
Read also: How to Develop a Doctor Appointment Booking System
Other benefits include, but are not limited to, the following:
1. Accessibility. The ability to consult with a doctor online makes healthcare services more accessible to more people. The pace of our modern lives often makes it challenging for people to visit a doctor when they need to, and usually, visits occur only when more serious health problems arise. But telemedicine apps enable users to contact their doctor regularly via an audio or video chat for a simple consultation or examination. Some regions have a shortage of healthcare personnel, so having a 'doctor on demand' option in a patient's smartphone is very handy and also saves time on both ends. The same can be said for people who live too far from healthcare institutions or for persons with disabilities. 
2. Automated paperwork. Most people know that healthcare institutions deal with many forms and documents requiring time and attention to fill out. Telemedicine apps can help automate much of this paperwork so doctors will have more time for more patients. Also, it is easier to navigate archives and medical records when they are securely stored in the cloud and are easily accessible on a tablet or smartphone.
3. Unified management system. According to Doctor on Demand research, doctors that periodically work 60-80 hours per week become prone to burnout and depression. Telemedicine apps can help manage specialists' work and ease their overloaded schedules. Management can often improve for the patients, too. If something changes and patients need to cancel or postpone the upcoming consultations or prescriptions, they can usually do it through the app quickly. More advanced apps also help to monitor the course of chronic diseases.
Essential Features of an Online Doctor Consultation App
A virtual doctor consultation app has split interfaces that differ for doctors and patients. Some apps are more complex on the doctors' side while others are more complex for patients. Let's see what features a minimum viable product (MVP) might have. 
Features for patients
Features for doctors
Profile. The patient's profile can include health-related information, such as healthcare records.
Profile. The doctor's profile can contain info on their specialization, education, and fields of expertise.
Calendar and notifications to manage the appointments according to doctor availability and to cancel them if needed.
Calendar and notifications to set the availability, receive and accept/decline requests, and manage the schedule.
Communication usually implemented through text, audio, or video chat, depending on the type of medical problem and personal preferences. 
Search allows patients to find the best online doctor based on their criteria. 
Electronic health record (EHR) review enables doctors to access their patients' health information from a database. 
Geolocation is vital for a telemedicine app. For example, in the United States, some licenses may not be valid from state to state. 
Online prescriptions. Doctors have an opportunity to send digital prescriptions for their patients right to the pharmacy. 
Payment system and transaction history. 
Consultation recording. Such records may be useful for tracking treatment history and symptoms. 
Read Also: Mental health app features
A Few Online Doctor Apps that Are Already Enhancing Healthcare Services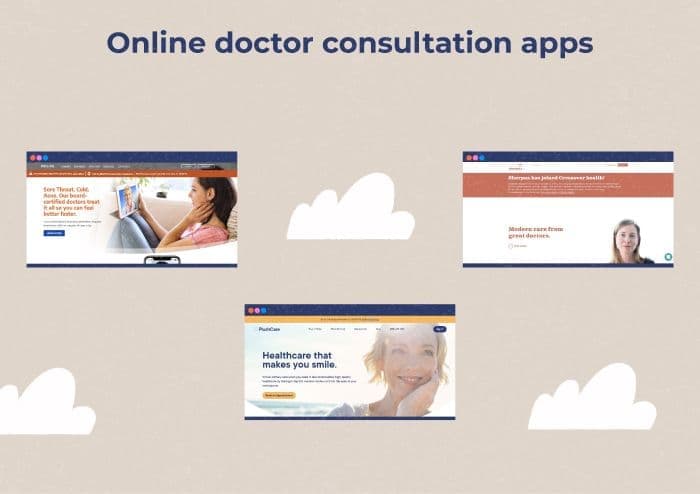 Here are a few examples of online doctor consultation apps that are online and helping patients today:
1. MDLive. This service has a website and apps for iOS and Android. They provide general medical and urgent care, and also behavioral and dermatological care on-demand 24/7. Users can register for free and then pay a fee for each appointment. The most affordable service is dermatology at $69 and the most costly is psychiatry at $259 for the first virtual visit and $99 for each subsequent visit. For users with participating health plans, prices may be lower. Users request an appointment with a chosen doctor, and a video consultation begins in less than 15 minutes. Doctors can send a patient's prescriptions directly to the pharmacy.
2. PlushCare works on a fee-for-service model and offers patients video chat consultations with specialists from all over the United States. It is a secure, HIPAA-compliant option for services ranging from a sore throat to sensitive issues related to HIV prevention or STD testing. In comparison with other telemedicine services, PlushCare may seem more costly. One visit costs $99, but they accept most major health plans and work with established specialists. The service doesn't have a 'doctor on demand' option, although same-day appointments are possible, usually within an hour.
3. Sherpaa telemedicine service works on a membership model. In exchange for a membership fee, users receive 24/7 care via text chat or phone calls. Every member receives help from an assigned team of doctors that responds to a request within 20 minutes. Sherpaa is the closest to a real-life primary care service since it has full-time doctors online that specialize in treating approximately 1,500 medical conditions. Sherpaa's specialists can perform an exam and order laboratory tests or coordinate care for patients with local board-certified specialists when needed. Read more: Benefits, Use Cases, and Challenges of Teledentistry in Healthcare
The Future of Telemedicine Apps
Telemedicine is one of the innovations changing the healthcare industry in fundamental ways. This combination of true medical expertise and modern technology can help minimize haphazard self-diagnosis and self-medication. Among the many telemedicine options, each patient may choose the best online doctor solution for themselves. They may ask health questions in a virtual emergency room and get professional aid almost anytime and anywhere. 
Face-to-face medical care delivery will remain essential since doctors can't perform surgeries through a video chat. But telemedicine wasn't meant to replace clinical care. Rather, its goal is to make healthcare more accessible and affordable. 
Currently, an online doctor app is just an option: some people may quickly embrace them as the primary healthcare providers, and while others will prefer traditional medical appointments. As with other innovations, the acceptance and comfort level with telemedicine apps will likely take some time but it's a good bet they will become more commonplace in the years to come.
If you have an idea for an app, please contact the Onix team to start discussing your project. Together, we can make your healthcare solution ideas a reality.