Telemedicine has become extremely popular under the current conditions, as Covid-19 has made people worldwide more concerned with their overall health. 
People have been self-isolating much more and otherwise trying to reduce the risk of infection, so visiting a doctor is problematic. Telemedicine apps have become crucial for health promotion and disease prevention for millions of people around the world.
The size of the telemedicine market is expected to rise at 19.3% CAGR from 2020 to 2026. One of the reasons for this growth is that healthcare institutions are focusing on the modernization of their services and providing faster solutions.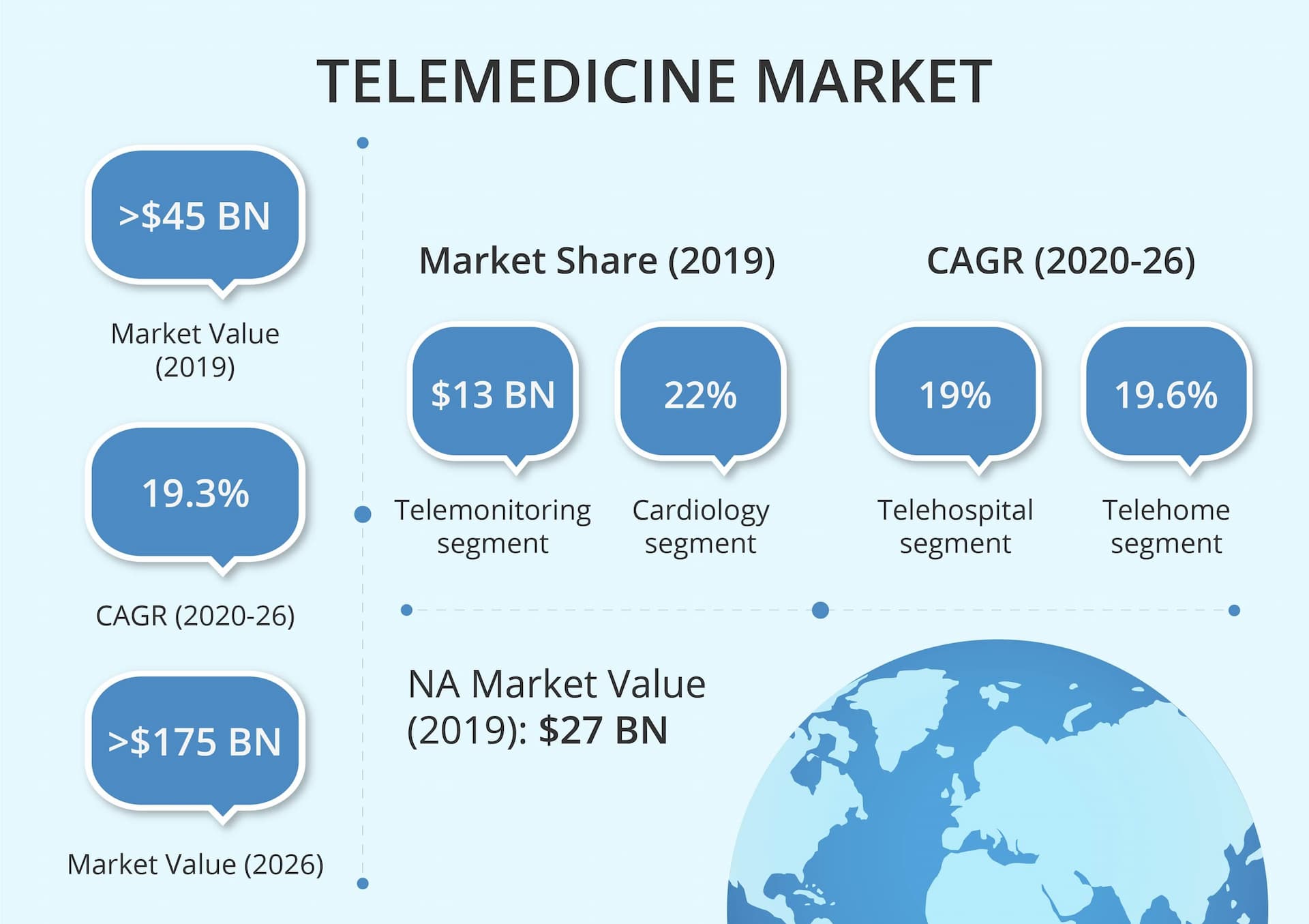 The decision to make a telemedicine app may be very successful and profitable as developers and investors have not fully discovered this niche. The development of telemedicine apps is rapidly transforming the healthcare industry, and in the next few years, the demand for such apps will continue growing.
This article describes relevant data in the telemedicine market, the main aspects of telehealth app development, security tips, development costs, and much more useful information on how to develop a telemedicine app successfully. Please keep reading!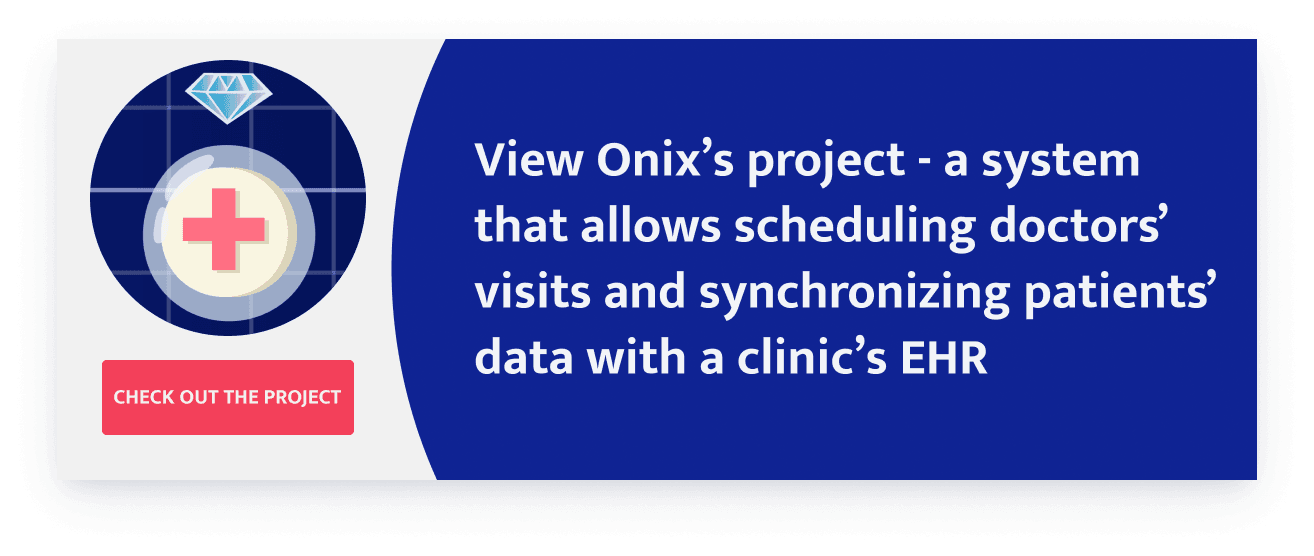 What is a telemedicine app and what problems does it solve?
Telemedicine is a relatively new development niche that utilizes telecommunication technology for providing clinical services, such as medical diagnosis, intervention, or treatment. Telehealth is a broader term encompassing non-clinical services like remote patient monitoring or personal medical training.
Telemedicine aims to provide healthcare services to patients who cannot come to a medical facility. Healthcare specialists integrate telehealth apps into their communication with patients to facilitate diagnosis and treatment.
Previously, people used such apps to address the barriers to healthcare in rural areas, and now the Covid-19 pandemic is boosting telehealth services use worldwide. There are many other circumstances when people can make use of telehealth apps, such as:
Simplifying the access to healthcare for the elderly and disabled

Enhancing the process of patient monitoring

Improving the efficiency and personalization of healthcare services 

Ensuring efficient time management of healthcare specialists

Reduction of patient waiting times and commuting time
Read Also: How to Implement Telehealth for Chronic Care Management
Moreover, statistical data supports telemedicine significance.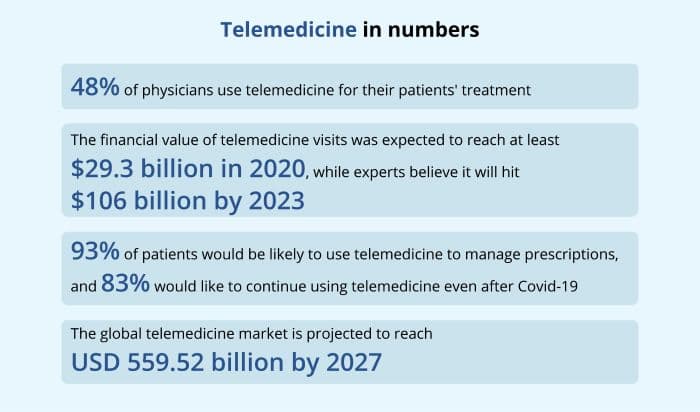 How do telemedicine apps work?
Before we learn how how to build a telemedicine system, we need to understand how it works. To put it simply, telemedicine provides medical services remotely between patients and healthcare providers. To start using telemedicine, they need custom software, specific hardware such as a camera and microphone.
Below you can see a typical telemedicine visit workflow.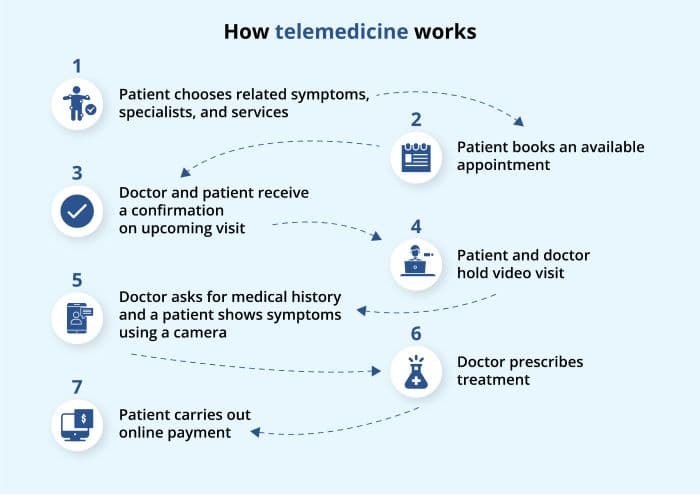 What are the major telemedicine app types?
Before developing a telemedicine app, you should define what app type you need. Currently, we can divide telemedicine software into several types. Let's go through them.
Remote patient monitoring (RPM).

This type of telemedicine app is used to treat chronic diseases. RPM apps receive data from special medical devices that patients use at home, such as glucose meters, heart rate monitors, etc. Medical specialists, in their turn, monitor the patient's condition and quickly respond to any changes.
Electronic prescription software.

To make the prescribing process seamless and control the misuse of prescription medications, practices and pharmacies use this type of telemedicine app. Patients can apply for a required recipe online and wait for its submission. When prescribing medications, healthcare providers rely on patients' EHRs that electronic prescription app stores.
Online video conferencing.

This telemedicine app allows patients and doctors to communicate in real-time via camera. Video conferencing apps make a doctor consultation like in real life, allowing people to get qualitative medical advice wherever they are.
Mental health app.

To treat PTSD, ADHD, and depression, people are increasingly turning to telepsychiatry. Using video and audio chatting allows doctors to provide

mental health services

to patients in a convenient and comfortable way.
Store-and-forward.

This type of app collects and transmits recorded patients' medical history to healthcare specialists who use it to provide an accurate diagnosis and quality treatment. Store-and-forward apps keep patient medical records in the form of text, multimedia like photos or videos, and records of interaction between doctor and patient.
After covering the main types of telemedicine apps, let's learn more about the essential telemedicine system features you should consider to build a telemedicine app successfully.
You may also be interested: Benefits, Use Cases, and Challenges of Teledentistry in Healthcare
What are the key features of a telemedicine app?
Telemedicine application developers should pay attention to several aspects before embodying their innovative ideas. 
Aimed at connecting patients and medical specialists on demand, a telemedicine app should consist of three interconnected elements — the patient's interface, the doctor's application, and an admin panel. You may create one mobile app with three corresponding profiles or two separate applications with a single backend. Your decision will define the architecture of your system. 
Patients choose telemedicine apps for multiple reasons. Whatever functionalities and features you select for your application or minimum viable product (MVP), you should strive to meet all end-users' expectations.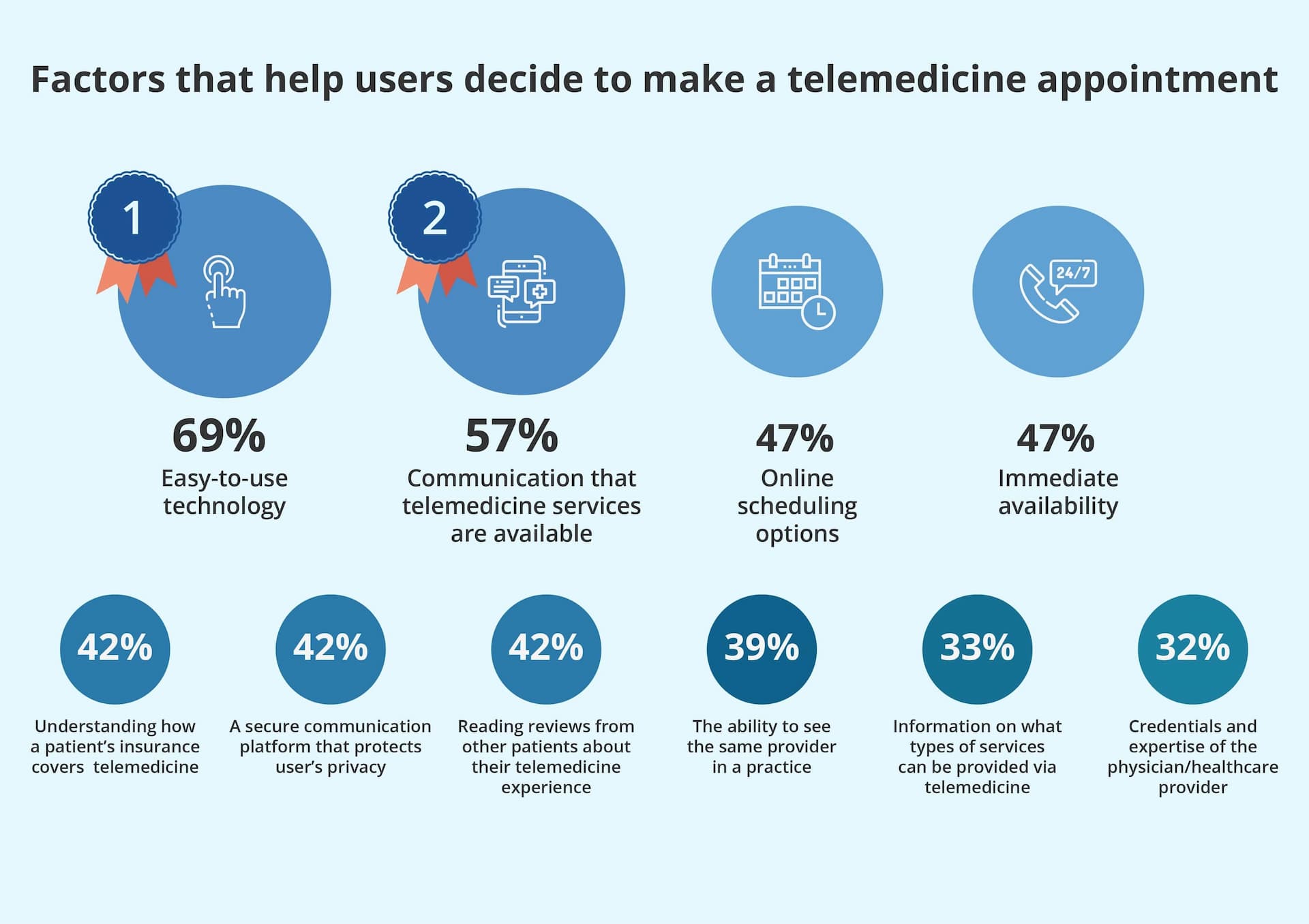 Patient's telemedicine app features
A patient's algorithm of using the app for communication with a doctor is the following: once they have signed in with an app, they browse doctors' profiles to choose the needed specialist. The app allows them to see the doctor's availability and schedule an appointment. 
A real-time telehealth visit may be held via video call to enable the doctor to examine them. The patient describes their symptoms and receives a prescription, if needed. 
This fundamental algorithm may consist of the following app features, although an MVP can make do without some of them:
Registration.

This process should be quick and straightforward, enabling users to create a profile without difficulty. If the process is too complicated, the user may give up and choose another app. Users like simple registration options via email or phone numbers, but modern

threats to sensitive patient data

require more robust authentication methods.  
Patient profile

. Patients' profiles should contain personal data such as name, age, gender, address, contact details, medical history, notes from previous visits, and other data that may be necessary for efficient diagnosis and treatment.
Search and filters.

Filters facilitate the search process and enable the app user to find the best doctor, considering their needs and situation. This feature is convenient for patients who care for their specialist's specialty, language, gender, the doctor's rates, and insurance provider.
Real-time visits.

Make patient-doctor interaction fast and convenient through video and audio calls. High-quality video is essential for doctors to see and evaluate the signs and symptoms of illnesses and diseases. If your budget allows, add a video conferencing

real-time feature

for more effective medical examinations.
Communication.

Besides video or audio call options, improve the user experience through one-to-one

messenger implementation

and share photos and other files using a safe and reliable connection. 
Payments.

The app should offer a payment option so that patients can pay for their visits. App developers need to

provide multiple payment methods

to allow patients to choose the most appropriate way of payment: credit card, debit card, insurance coverage, employer coverage, or coupons.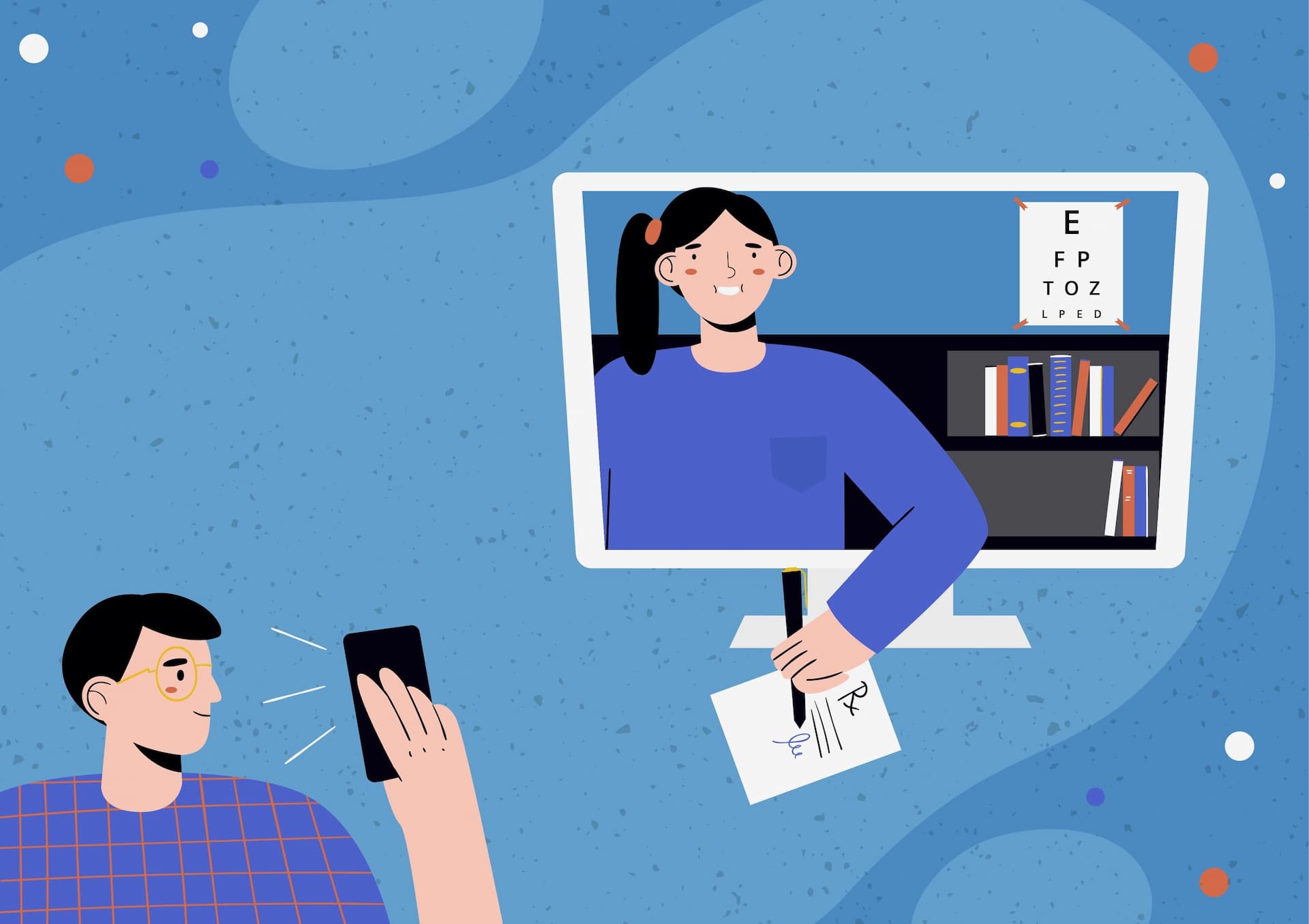 Doctor's telemedicine app features 
The telemedicine app for doctors should be easy to use and provide clear navigation. First of all, doctors choose whether to accept or decline a patient's request. If they have time, they create a visit where examination, diagnosis, and a treatment prescription occur. If the patient doesn't have any questions, they can simply end the call or schedule a follow-up visit if needed. Let's consider the main functionality for this app:
Doctor's profile.

The profile is a doctor's calling card helping patients decide if they want the specialist to treat them. In addition to general information like name, address, photo, and specialization, it's also wise to provide their education, experience, and credentials details. The more relevant data the doctor will have on their profile, the more patients they will have to make a more informed decision.
Scheduling and calendar.

A calendar within the app will allow a doctor to make available time for remote consultations visible to the patients. When a patient requests an appointment, and if the doctor accepts it, this time is automatically set as unavailable for others to view in the calendar.
ePrescription (eRx).

Ideally, telemedicine applications for healthcare providers should be integrated with pharmacies. Having quick access to a list of pharmacies with needed medications, doctors would be able to recommend the closest locations with a range of relevant prices. Doctors will also appreciate writing a prescription in the app and sending it to the pharmacy electronically. This functionality also helps to keep all medical history in one place.
Electronic medical records integration

. With an integrated Electronic medical records system, doctors will have access to patients' medical records and lab results in real-time. Doctors will consult with a patient's health information contained in their profiles, previously filled forms, hospital database, and other sources.
Tech stack for telehealth app development
When answering the question of how to build telemedicine app, do not forget about technology. Onix's professionals suggest utilizing the following technologies for improving the usability of a telemedicine application:
Platform compatibility and codebase considerations mean that you may need to choose the platform - iOS, Android, and/or web - and the corresponding programming languages: Swift, Java, or React Native.
Chat and messaging APIs for efficient communication between patients and doctors using advanced in-app chat features like threads, typing indicators, and read receipts.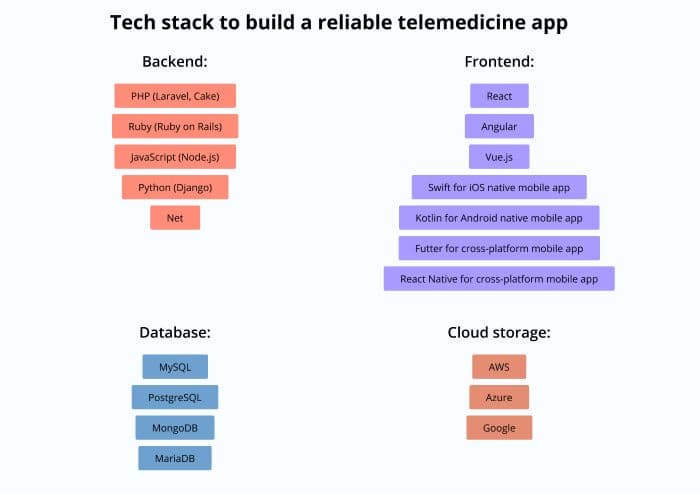 6 steps for building a telehealth app: challenges and tips
Well, it's time to learn how to build a telemedicine application.
Start with a discovery stage
The first step is to gather project requirements and prepare a work plan. This is what a discovery phase is about, in a nutshell. Your project success depends on how clearly you define goals, accurately estimate a project, and define future steps. 
The product discovery stage allows your outsourcing development vendor to determine project complexity and what functionality to implement, test the market viability, set deadlines, select needed technologies, define expectations on budget, and plan a project. 
For example, at Onix, our specialists write documentation that includes all the key project details to implement it correctly. As a result of the product discovery phase, we can organize smooth and timely product development and stay on the same page with our clients.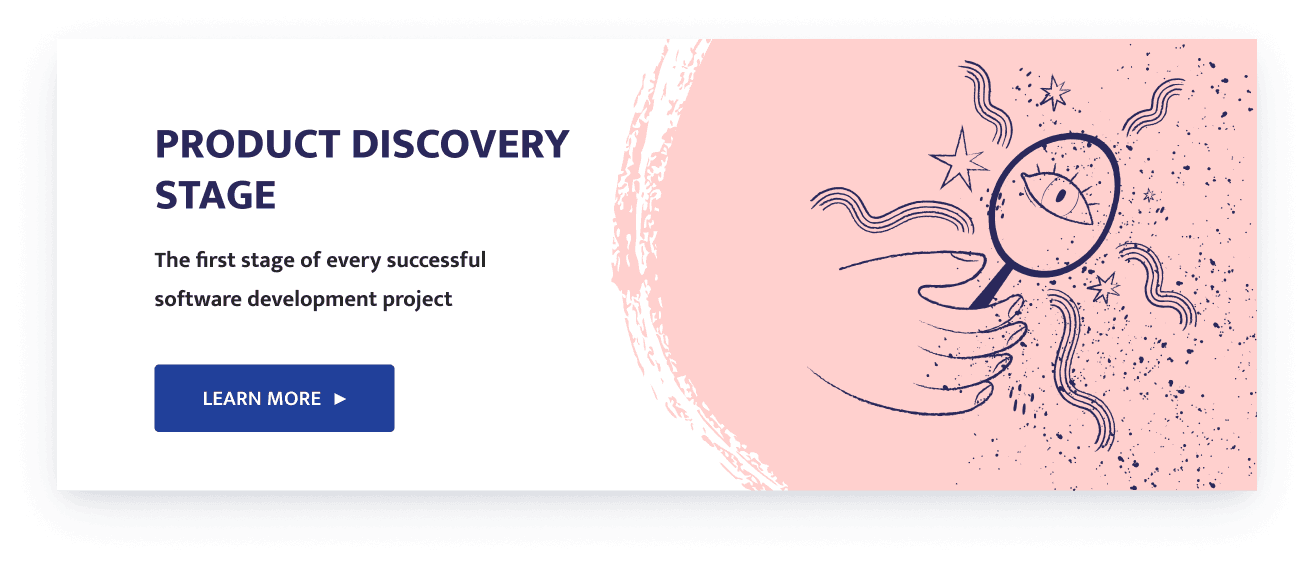 Select the required platform
Before you start coding and designing your telemedicine app, it's vital to do deep research and decide on which platform your app will run. 
There are three common app development approaches you can choose from to build a telemedicine app:
Cross-platform app development is the creation of software applications that are compatible with multiple mobile operating systems. To put it simply, this approach allows developers to create a single codebase that works simultaneously on multiple platforms.
Ensure friendly and intuitive UI/UX
Having a great idea isn't enough if your design doesn't satisfy users' needs and expectations. The main purpose of UI/UX in telemedicine apps is to make all the required information available and to facilitate navigation for both patients and medical professionals.
Engage UX/UI designers that specialize in creating effective and easy-to-use interfaces for the healthcare industry. An expert will adjust the logic, navigation, and layout to all target users' preferences and needs to ensure optimal user experiences.
Below we share some practical design tips that help achieve results:
Easy-to-follow onboarding.

Most of the medical staff, especially older generations, isn't tech-savvy enough. So, when designing a telemedicine app, it's crucial to ensure a straightforward and intuitive onboarding process. For example, you can show users valuable tips navigating users through the app to know core features. Comprehensible onboarding procedure improves users' experience and engages them since you show your care from the very beginning.
Usability.

Poor usability of telemedicine app lowers the chances that this product can thriving despite its revolutionary idea in healthcare. Keep simplicity and ease of use as your most significant goal. Ensure all necessary elements are available on the dashboard and all buttons and icons are obvious and self-explainable. This clarity enables healthcare providers and patients to quickly solve their problems without a long search for the required feature.
Modern UI.

Use a pleasant color palette, appropriate button sizes, easily readable fonts, the position of components on a screen to strengthen the UX. Don't forget to keep in mind your corporate style and make sure all design elements match your specific brand. 
Personalization.

Each patient is different, not only in terms of medical history but also in preferences and personality. Understanding users' needs and goals provide the most relevant user experience. Personalization is a great way to make your product unique and valuable. For example, Orlando Health leverages patient data to offer personalized communication to new moms. The new mothers can pick a preferred track to focus on caring for the newborn and receive personalized emails/notifications addressing their queries.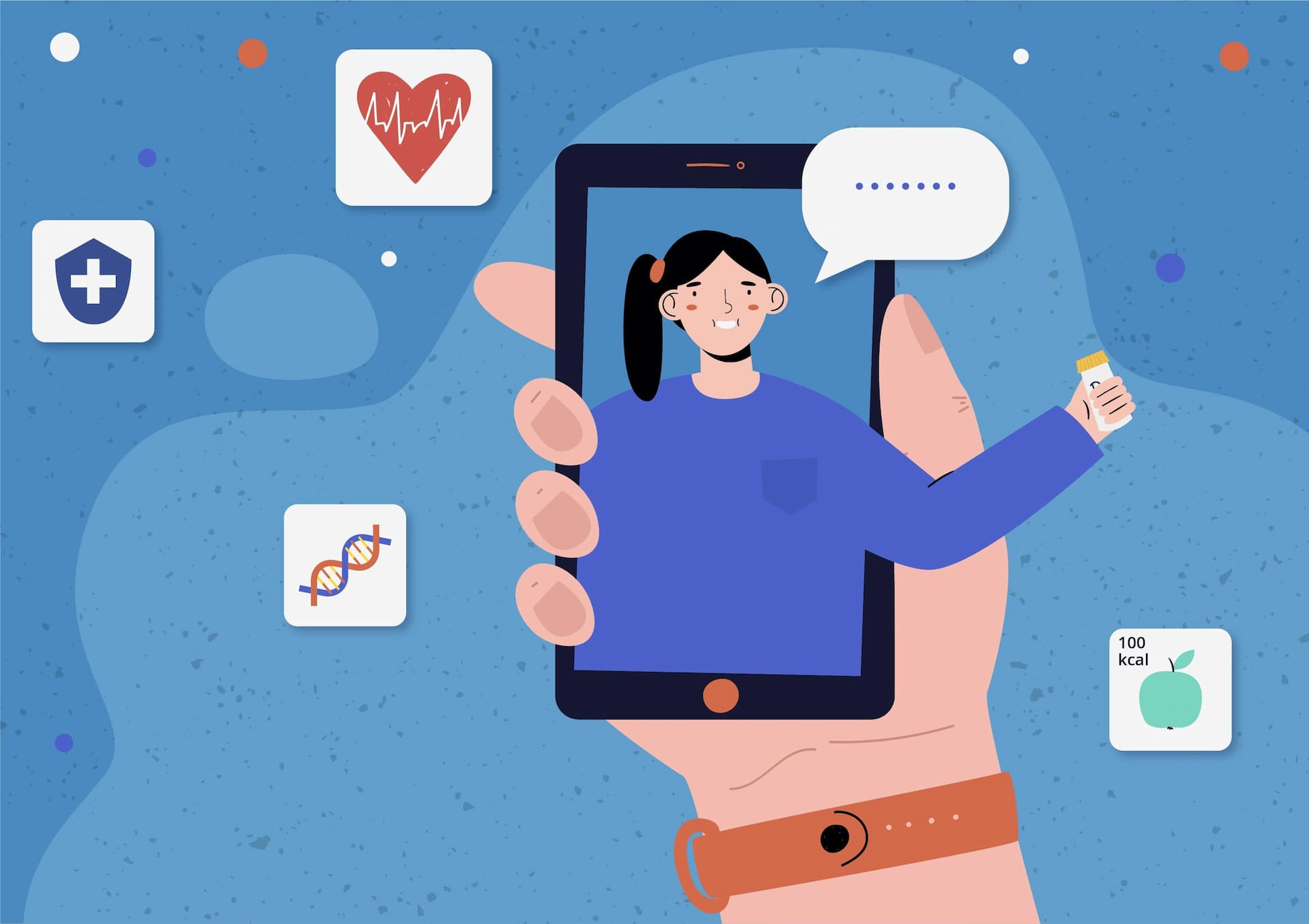 Pay close attention to security 
Security is paramount, especially in the healthcare industry, since it uses patients' private data. Jusy one security issue can ruin your reputation, and your customers will soon leave. Some best practices can keep your app security at the highest level. So, here they are:
High-level authentication.

SMS passwords are not enough to provide a proper security level. It's better to integrate several technologies. For example, you can apply multi-factor authentication (voice, face, and fingerprint recognition) or ask users to reset their passwords every two months. Moreover, it's better to limit the number of login attempts to avoid account hacking or information leakage.
Data encryption.

One of the most essential steps in developing a secure telemedicine app is to encrypt data. Encryption algorithms encode data into ciphertext, hiding the actual content. There are such popular encryption methods as hashing, key derivation functions, signatures, and algorithms as Twofish, AES, RSA.
Reliable data backup.

To prevent the loss of electronic health information during some operations with data, it's vital to regularly back up your data. In case of data loss, data backup allows you to restore all the data quickly.
Regular testing.

Test, test, and test. You should be concerned about your app's security at every stage of the development process. Make sure you test every corner of the telemedicine app to ensure a high level of protection and avoid security problems in the future. To do this, QA specialists run penetration tests to simulate attacks for catching all security flaws and vulnerabilities.
Ensure compliance with all regulatory requirements
Well, if you're serious about developing a telemedicine app, your next step is to be aware of local legal compliances and meet them. The Onix team has vast experience in healthcare app development. We know how to ensure your medical app complies with all legal requirements of local policies in which it will operate. 
Let's consider the most common regulations your telemedicine app has to comply with:
HIPAA

(meaning Health Insurance Portability and Accountability Act of 1996 in the USA). It governs the management, storage, and transmission of protected health information (PHI). Since September 2013, all doctors, hospitals, insurers, and other entities that deal with PHI have been obliged to follow HIPAA guidelines to ensure compliance.
The Interstate Medical Licensure Compact Commission (IMLC)

creates a streamlined process for obtaining licenses for physicians seeking to practice medicine in multiple IMLC states. This legislation comes in handy to reduce physician shortages, especially in rural and underserved areas.
Consider APIs you can implement into your telemedicine app
There are ready-made APIs you can easily implement into your telemedicine app to reduce development time significantly. Let's take a closer look at some popular ones:
Vidyo

. This API enables telemedicine app users to have real-time communication on various platforms (iOS, Android, Mac, Windows, Linux). You don't need to use a separate text chat API since it provides its own built-in text chat. Moreover, it allows sharing screens and creating group video calls.
VSee SDK

. This API allows you to integrate HIPAA compliant video & chat communications right into your own app or website. What's more, it has its own server client, so there is no need to allocate a server to set it up.
A Few Online Doctor Apps that Are Already Enhancing Healthcare Services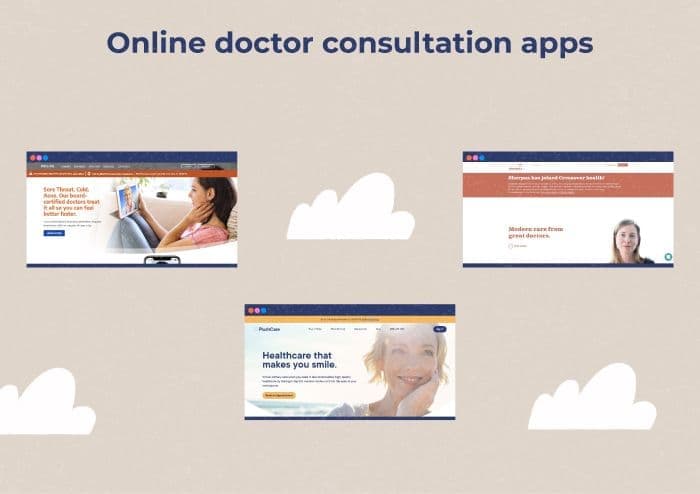 Here are a few examples of online doctor consultation apps that are online and helping patients today:
1. MDLive. This service has a website and apps for iOS and Android. They provide general medical and urgent care, and also behavioral and dermatological care on-demand 24/7. Users can register for free and then pay a fee for each appointment. The most affordable service is dermatology at $69 and the most costly is psychiatry at $259 for the first virtual visit and $99 for each subsequent visit. For users with participating health plans, prices may be lower. Users request an appointment with a chosen doctor, and a video consultation begins in less than 15 minutes. Doctors can send a patient's prescriptions directly to the pharmacy.
2. PlushCare works on a fee-for-service model and offers patients video chat consultations with specialists from all over the United States. It is a secure, HIPAA-compliant option for services ranging from a sore throat to sensitive issues related to HIV prevention or STD testing. In comparison with other telemedicine services, PlushCare may seem more costly. One visit costs $99, but they accept most major health plans and work with established specialists. The service doesn't have a 'doctor on demand' option, although same-day appointments are possible, usually within an hour.
3. Sherpaa telemedicine service works on a membership model. In exchange for a membership fee, users receive 24/7 care via text chat or phone calls. Every member receives help from an assigned team of doctors that responds to a request within 20 minutes. Sherpaa is the closest to a real-life primary care service since it has full-time doctors online that specialize in treating approximately 1,500 medical conditions. Sherpaa's specialists can perform an exam and order laboratory tests or coordinate care for patients with local board-certified specialists when needed.
Read more: Benefits, Use Cases, and Challenges of Teledentistry in Healthcare
How much does it cost to develop a telemedicine app?
Estimating the overall price is not easy since custom telemedicine app development costs depend on many aspects. Let's consider the main factors that affect the costs to develop a telemedicine app.
The project's requirements
Telemedicine software development cost directly depends on your project and business requirements that may involve:
the number of features you want to build

the technical complexity of features development

the design creation and its unique customization

selected platforms on which the app will run

technologies used

APIs and third-party services you need to implement

etc…
The team size
To develop a telemedicine application, you'll need a certain number of specialists with the required expertise and skills. Usually, developing a telehealth app requires a team that looks as follows:
Backend developer: 1-2

Frontend developer: 1-4

UI/UX designer: 1

QA engineer: 1

Project manager: 1
However, the number of specialists may vary depending on the number of features and your project's complexity.
Read Also: How to hire remote software developers
The development time
When calculating telemedicine app development costs, you should pay close attention to the time spent on building the required functionality. Below we provide approximately estimated hours for building an MVP version of a telemedicine platform.
The outsourcing partner rates and location
We also need to take into account the companies' rates, which differ from country to country. Below you can compare development companies' rates.
As you can notice, there are many aspects affecting the development cost. Based on your specific project requirements, the technologies needed, team size, and many more factors, prices are calculated individually.
Do you need an accurate estimation? Share your telemedicine app idea with us, and our experts will calculate your app development costs.
Conclusion
Still relatively young, telemedicine technology and clinical applications have the potential to transform the industry worldwide. Healthcare startups can benefit from the rapid growth of the telehealth market and create a profitable business built around a high-quality telehealth platform.
If you are looking for a reliable vendor, please feel free to contact Onix. We have extensive experience in creating solid, innovative solutions for the healthcare sector and would be glad to bring your ideas to life.
FAQ
What is a telemedicine application?
The telemedicine app is a method of providing medical services remotely between patients and healthcare providers.
How to develop a telemedicine app?
To develop a telemedicine app you'll need to conduct deep research and business analysis that involves project requirements elicitation and planning of the project development. After defining the main functionality, you and your tech partner select the required tech stack. Then you can start the UX/UI design and development process.
How much does it cost to build a telemedicine app?
To accurately answer this question, we need to know your app idea, its complexity, the number of required features, developers' expertise, and team size. Share your telemedicine app idea with us, and our experts will calculate your app development costs.
What are the legal requirements a telemedicine app must comply with?
These are the most common regulations your telemedicine app has to comply with: HIPAA, GDPR, PIPEDA, IMLC, Data Protection Directive 1995/46/EC, the e-Privacy Directive 2002/58/EC/ IEC 62304.