Augmented reality (AR) and virtual reality (VR) already support a rich gamut of experiences across multiple sectors, but it's probably most exciting to see how AR and VR change entertainment and media. 
This post is intended for entrepreneurs considering the application of VR for entertainment industry endeavors and includes references to Onix's experience in this domain.
VR immerses people in digitally simulated environments, which can be super-realistic or fantastic and provide exciting interactive experiences. Industries as disparate as retail and construction already utilize this ability, but fun and pleasure seem to be the most natural and, thus, potentially most successful applications.
VR headsets already provide a new way to watch videos, play games, socialize, keep fit, relax, and more.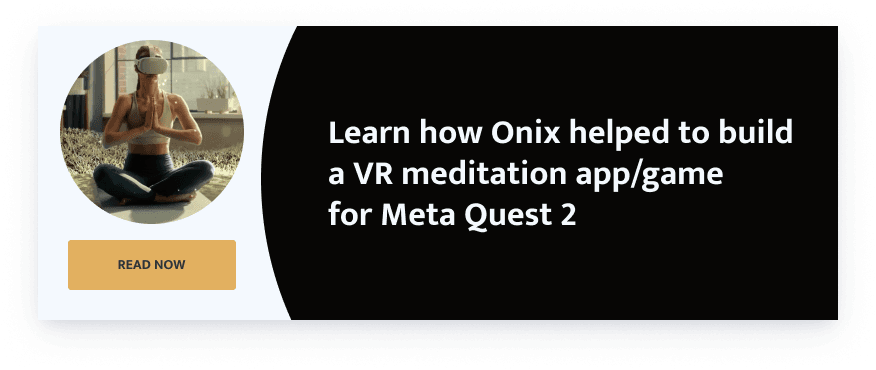 Businesses and artists experimenting with or using VR in entertainment likely mark the next step in the industry's evolution, like the previous adoption of Internet technology, PCs, or sound and video recording. 
This article aims to build awareness of emerging forms of virtual reality entertainment, providing real-life examples.  
First, let us provide some context for the development of virtual reality in the entertainment industry and beyond.
VR Technologies Will Continue to Advance
Over the last few years, VR technology has evolved drastically, the industry is growing rapidly, and investors have yet a world of opportunities to explore.
Statista sources forecast the global VR market size to increase from 11.97 billion USD in 2022 to over 24 billion by 2026. Others predicted its growth at a CAGR of 15% from 2022 to 2030 so that the market might reach 87 billion by 2030.
Revenue in the global VR software B2C industry is estimated to increase to 5.45 billion USD by 2027. VR gaming will likely remain the most significant segment in the VR software B2C market, generating 4.6 billion USD in 2027.
According to a recent report by Market Research Future, the AR market is expected to gain even more traction in the coming years. It's forecast to flourish at a CAGR of over 41.5%, reaching 461.25 billion USD by 2030.
One of the reasons for the VR market's slower expansion is the medium's greater dependence on head-mounted displays and other accessories. However, vendors like Oculus are actively pushing VR into the mainstream; their untethered headset Meta Quest 2 (formerly known as Oculus Quest 2) is the current bestseller. VR headsets and controllers are being improved year after year while becoming more affordable for broader audiences.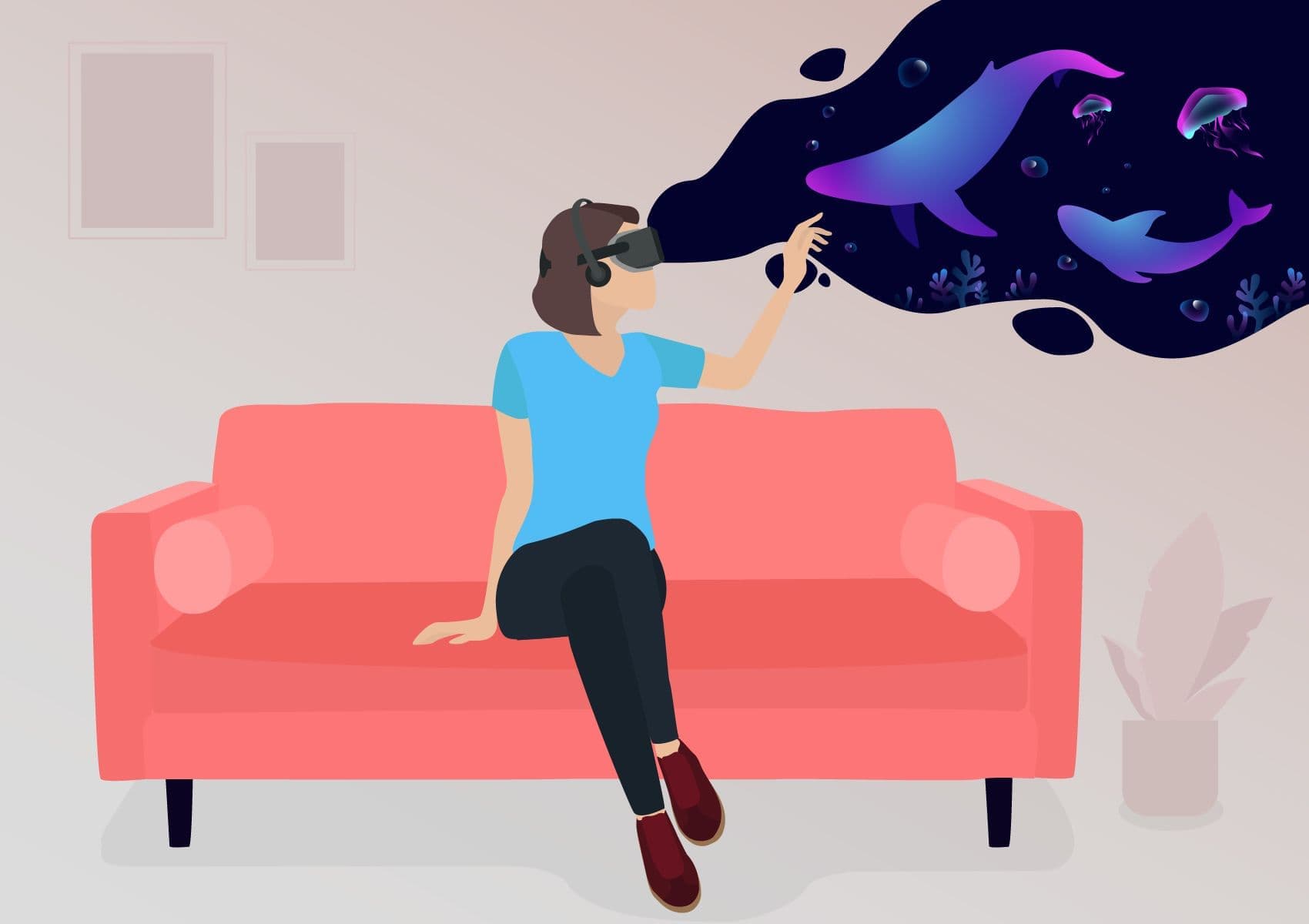 VR hardware market size is expected to approach 9.4 billion USD in 2023 and keep growing at a CAGR of 12.6%, resulting in a projected market volume of 15.09 billion by 2027. User penetration should grow from 1.3% in 2023 to 1.7% by 2027, which would amount to 137.8 million consumers. 
VR gaming is considered a major driver. Its market size is expected to hit 2.7 billion USD in 2023. According to a research study by Zion Market Research, the global VR in gaming market size and share is expected to grow at a CAGR of 31.4% and hit 90.7 billion by 2026. 
People spend more time and money not only on video games but also on social networks, cinema, music concerts, sports games, amusement parks, etc. For example, cinema spending is forecast to grow by 18.9% annually between 2022 and 2026. 
The global metaverse in entertainment market share is projected to grow at a CAGR of 9% from 2023 to 2027 so the market grows by 33,332 billion USD by 2027. The rising consumer spending across virtual concerts and other events is one of the key factors. The significant increase in demand for virtual events and the number of people attending them will further push the industry forward.
Read also: How AR/VR Technologies Impact eLearning
The use of AR and VR in various entertainment and media forms is transitioning from experimental to commercial. Innovation continues, improving both the quality of immersive experiences and their applications. Consumers may be unaware or not fully convinced yet, but more lifelike VR entertainment experiences will engage more consumers and boost the commercial success of such applications.
Let's take a look at some actual examples of the implementation of virtual reality in entertainment businesses.
Virtual Reality Applications in Entertainment Industries
Virtual Reality in Movies
VR cinema is basically filmmaking adapted to the VR medium. This novelty art form promises new and better ways of experiencing stories due to interactivity, non-linearity, and increased  empathetic power.
VR creates a greater sense of "presence" than traditional movie theaters or streaming services, allowing viewers to explore the movie's settings, experience the protagonist's journey, and even get involved in the action. Moreover, viewers will be more likely to revisit an experience because they can see and do something new every time they watch a VR movie. 
The technology is still in its infancy, but actual references to VR in movies, such as The Matrix or Don't Worry Darling, give an idea of future possibilities. Meanwhile, it creates a potential niche opportunity for pioneer filmmakers and new production companies. 
VR movies include
live-action films
computer-generated (CG) films
animation films
a combination of live-action and CG/animation films.
The first type appears to be prevalent now. VR videography studios like 360 Labs, East City Films, MindVR, or Onix's client VR Gorilla produce VR videos for clients in the entertainment and film industries and their own creative projects.
CG VR movies allow for easier incorporation of interactive and non-linear elements. The award-winning Baobab Studios and Penrose Studios are some of the leaders in interactive animation.
Cinematic VR requires new forms of movie storytelling and workflows.The adoption of VR in the film industry will largely depend on the quality of storytellers and producers it attracts.
The first VR movies are going to be quite costly to create, but the development can eventually lead to cheaper film production. For one, completely CG virtual environments reduce the cost and challenges of shooting in multiple locations and settings.
In the immediate future, "VR cinema" will likely be associated with 
theaters with VR headsets, possibly with rocking and swinging seats that replicate the motion in the movie, and other devices adding more dimensions to a traditional cinema experience;
virtual environments simulating a traditional movie theater where users can watch movies of their choice.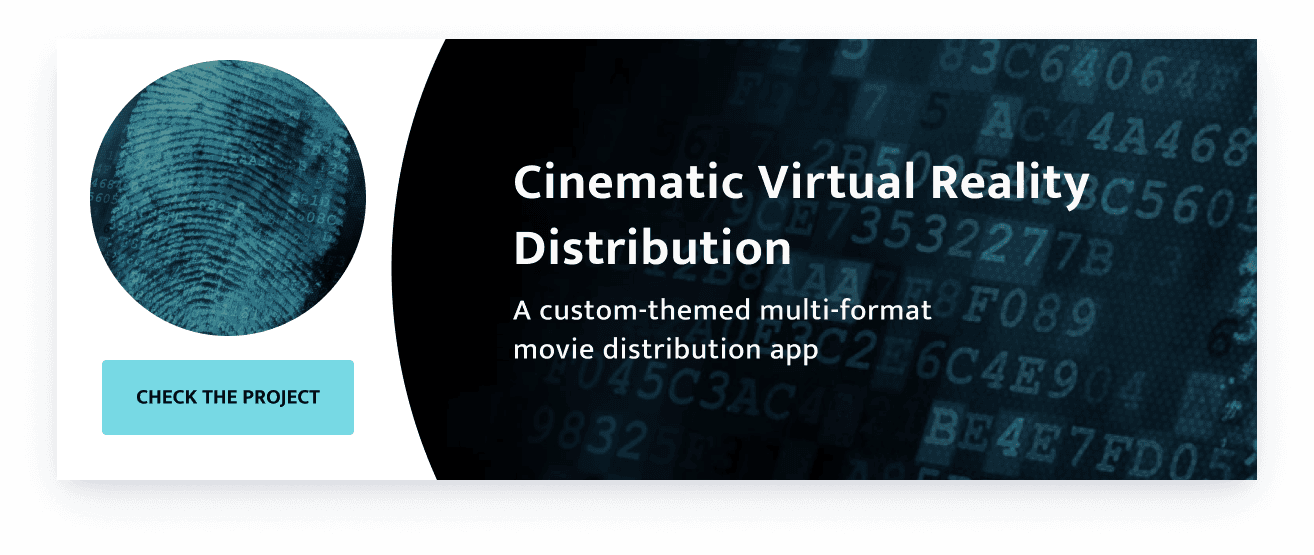 Multidimensional/XD (3D, 4D, 5D, 7D, 9D) cinemas present arguably the most exciting application of VR in films and entertainment in general. The first-ever permanent virtual reality cinema opened in Amsterdam in 2016. Instead of a big screen and rows of seats, it had VR headsets, phones, headphones for audio, and chairs that could swivel 360 degrees to allow viewers greater freedom of movement. Up to 50 people at a time could view professional quality VR movies lasting about 30 minutes.
IMAX was an early adopter of VR cinema, betting on:
state-of-the-art hardware and equipment to offer a cutting-edge experience that is not available to consumers at home
high-quality immersive and interactive content, such as virtual reality experiences created in partnership with Warner Brothers, including the blockbusters Justice League and Aquaman
The first permanent motion VR theater in the US opened in July 2022. Yosemite VR is located in Oakhurst, CA, just off the main road leading to an entrance to Yosemite National Park.
The flagship VR film, Yosemite Experience, includes views of the park's natural environment from perspectives unique even for veteran hikers and climbers. The multi-sensory experience gives an understanding of the park's rich history, size, and grandeur, enriching an actual trip.
Yosemite Experience was made possible by CityLights Production and the VR chair manufacturer Positron. The experience was digitally rendered and choreographed from thousands of images, combined with 360-degree turns, multiple scents, and moving air currents to fully immerse viewers in the captivating educational experience.
Lucky owners of VR headsets can enjoy an immersive home cinema experience alone and with friends. VR movie apps like Bigscreen, Plex VR, or a custom-themed movie distribution app developed by Onix make watching movies, TV series, and other video content truly engrossing.
Users can view and share their favorite content in beautiful spaces while actually sitting on their couch. The home movie theater experience is complete with a virtual cinema lobby, sitting next to other moviegoers, and even virtual popcorn, but without any distractions or interruptions.
This can be a successful business model. The developer can market this app to broad audiences, use it as a promotional tool for 2D movies, and generate revenue as the market expands. 
For film companies, it provides a new opportunity to distribute their movies to global audiences at a lower cost than at physical theaters, without any safety and health-related restrictions, etc., and access audiences who wouldn't go to the movies otherwise.
Read also: VR Guide to Create Your VR Training Solution
VR in Theatres
Immersive or interactive theatre performances, where spectators can feel present and involved in the action, are more entertaining and engaging. They attract public attention and drive new audiences to theatres. VR's technical capabilities allow for conveying their main features: narrative, immersion, and interactivity. So, forward-looking producers are now looking at the medium as a new means of promoting the art form and providing unique theatrical experiences.
This application of AR/VR in entertainment is in the experimentation stage yet. For example, in 2018, the faculty and students of the University of Iowa in computer science, theatre arts, dance, and art and art history realized a project integrating live performance with virtual reality.
The show titled Elevator #7 was played for one spectator, called a single-audience-member (SAM), at a time. On a physical theatre stage, they would find a desk, a chair, and a chandelier and meet an actor playing a concierge. After the SAM put on a VR headset, a curtain at the back of the stage would rise, revealing a green screen, computers, and the technical crew. However, the SAM would see only the same table, chair, chandelier, and concierge, now digitally rendered, in the lobby of a 1900s hotel. 
The concierge would invite them to an elevator, after which a series of scenes and adventures followed. They would fall into the basement, try to fix the elevator, find a caged prisoner, and meet an electrician. At last, the elevator would bring them to a beautiful meadow on the roof.
The show was a mix of live and prerecorded action. For example, the concierge was the same actor performing on the same stage in real time. Green screen technology was used to project live videos of the actors into the SAM's headset. The actors looked into a camera in front of the green screen to look at the person. A monitor next to the camera showed what the SAM was seeing. Another monitor displayed different camera angles of the actor.
In 2020, Relative Motion studio collaborated with the Barn Theatre in Cirencester, UK, to reimagine Christopher Marlowe's Edward II for modern audiences. The 8-minute VR experience is available on YouTube and Facebook, bringing a scene of the historic LGBTQ+ drama captured at the Barn Theatre into the audience's phones, tablets, and VR headsets.
Edward II VR was also created for a SAM sitting at the center of the performance. By 'staging the story' this way, the creators intended to remind audiences about the parallels between homophobia and corruption in Marlowe's era and the intolerance and bias in the world today.
Both companies got recognition for their innovative support of the creative process and audience experience and for producing work for the "virtual stage" during the lockdown.
VR in Museums and Art Galleries
It is possible to use VR in art galleries and various museums as part of a visitor experience or remotely, through VR apps that promote the establishments worldwide and increase attendance.
The world's foremost and less-known museums and galleries actively create AR/VR apps for publicity and educational purposes. For example, the Madrid-based Thyssen-Bornemisza Museum offers immersive virtual tours of its galleries and temporary exhibitions since 2017.
Such VR tours allow people, regardless of where they are, using a VR headset or just a smartphone, to see the museums without having to travel, stand in lines, buy tickets, etc., and sometimes even interact with the artifacts and artworks.
VR and AR also add a new dimension to individual physical exhibits and entire collections. Interactive exhibitions are more engaging, fun, and helpful. There is hardly a better way to bring scientific principles and abstract notions to life. VR experiences on a museum's premises make a visit more exciting, informative, and memorable.
For example, Onix developed a virtual tour of Banská Štiavnica, a UNESCO World Heritage Site in Slovakia. The VR experience blends artifacts scanned at the local museum with digital panoramas, transporting visitors to the medieval town or an ancient mine.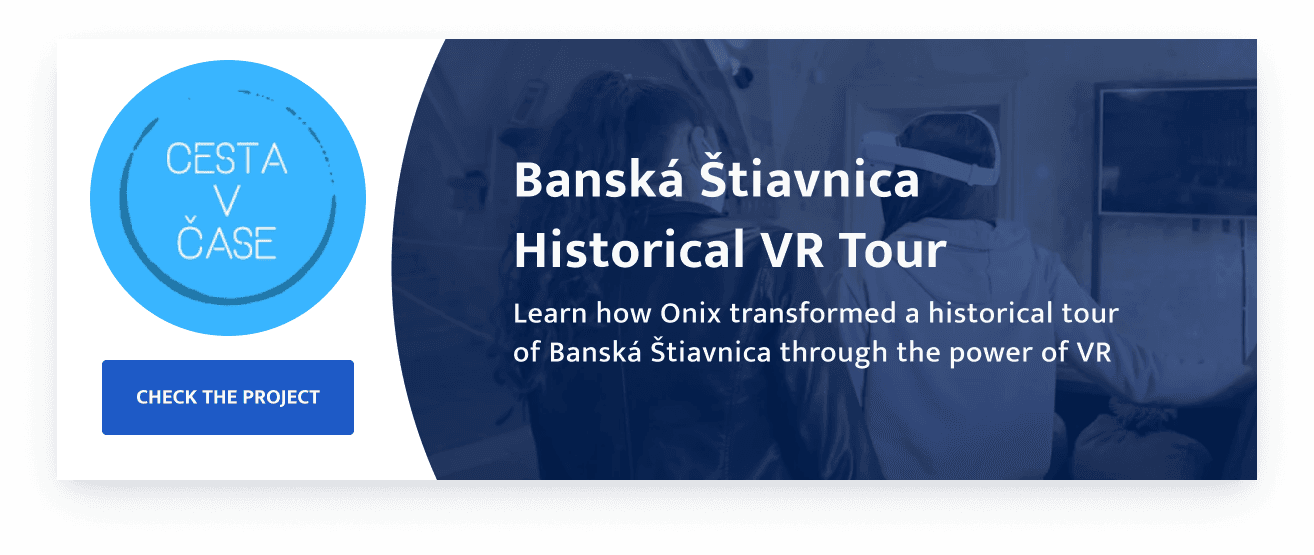 Read more: How Virtual Reality Takes Museum Experiences to a New Level
Such VR applications are unlikely to generate much income but can be a powerful marketing tool. Still, there is commercial potential for VR implementations in cultural settings.
The growing public interest and contemporary artists' ongoing experiments with the new medium make a VR art gallery a compelling endeavor. For example, the ArtScience Museum in Singapore features a permanent gallery space equipped with state-of-the-art VR headsets and controllers. Aiming to celebrate curiosity, innovation, and experimentation, the gallery regularly presents VR artworks from world-famous artists, scientists, museums, and film festivals.
Virtual Reality in the Music Industry
Competition drives musicians and producers to endless experimentation to stay up-to-date and relevant for the audience. The application of VR in music projects may help with both.
Björk, Coldplay, Eminem, Imagine Dragons, Maroon 5, Paul McCartney, U2, and other artists have presented various VR experiences. MelodyVR app offers a selection of live shows of hundreds of musicians for fans to stream on VR headsets or other devices.
The use of virtual reality in the media industry not only empowers fans to "attend" gigs remotely.  They may take the best seats or watch the concert from backstage, jump on stage with the band, soar over the crowd, and enjoy other viewpoints and interactions impossible in real life. The experiences can be available to people worldwide regardless of their income level, disability, or other barriers.
Major music events, such as Coachella, Lollapalooza, Sziget, or Tomorrowland, have also experimented with VR applications and 360-degree videos. VR experiences may help scale the festivals, increase their audience, and generate extra revenue through VR content sales.
Another promising direction of using virtual reality in music industry is fully simulated concerts. The technology allows for the attendance of unlimited numbers of concertgoers, creating stage effects impossible in real life, or even "bringing back to life" artists who passed away. 
Viewers may pay to watch concerts through subscription or pay-per-view, generating revenue for the artist and the platform hosting VR content. CG performances also provide a cost-efficient way for artists to reach audiences worldwide because they eliminate travel and transportation of the crew and equipment, venue rentals, stage effects, promoters, safety, and other costs.
For concertgoers, it also means lower ticket prices, no need to travel and find accommodations, and no health and safety risks. Instead, they can enjoy gigs and mingle with others in the comfort and safety of their home.
Read more: Meetings in VR: The Future of Work & Collaboration
VR in Amusement Parks
It becomes increasingly difficult for amusement parks to impress modern audiences. Virtual and augmented realities truly resonate with this goal, as well as the aim to immerse guests in particular 'themes.' AR glasses or even a mobile app can enhance and enrich a visitor's experience with extra information, amusing virtual guides, or gamification. Headsets can instantly transport a person to another world.
A business that creates a unique ride in virtual reality or a user-friendly combination of immersive visual content with existing rollercoasters, drop towers, water slides, etc., can attract and serve more guests without expanding the park, generate a lot of buzz, and get a competitive edge.
People enjoy successful implementations of VR in theme parks worldwide. There is Coastality in Europa-Park, The Demon in Tivoli Gardens, Zumanjaro: Drop of Doom at Six Flags Great Adventure, and others. For example, the latter is a drop ride transformed through VR into a fight with mutant spiders in a futuristic city.
The first theme park built entirely around VR, the Oriental Science Fiction Valley, opened in 2018 in China.
A theme park needn't be a vast outdoor space with dozens of immense structures; there are "VR parks" that can only accommodate around 50 guests. For existing theme parks, it is cheaper to develop a VR application with several experiences (and even more so an AR app) than to acquire a property and build new material objects for every new ride. It's also easy to customize the experiences, for example, before Halloween or Christmas.
There are also amusement parks that exist only in virtual reality but whose rides make VR helmet wearers dizzy as real-life rides do. You can find these apps on Oculus, Steam, and mobile app stores. The advantages for consumers are the same as with virtual concerts. 
Read also: Implementing VR & AR in Medicine and Medical Training
Gaming
Games are the ultimate virtual reality entertainment. Headsets ensure that players are totally engrossed in their video games.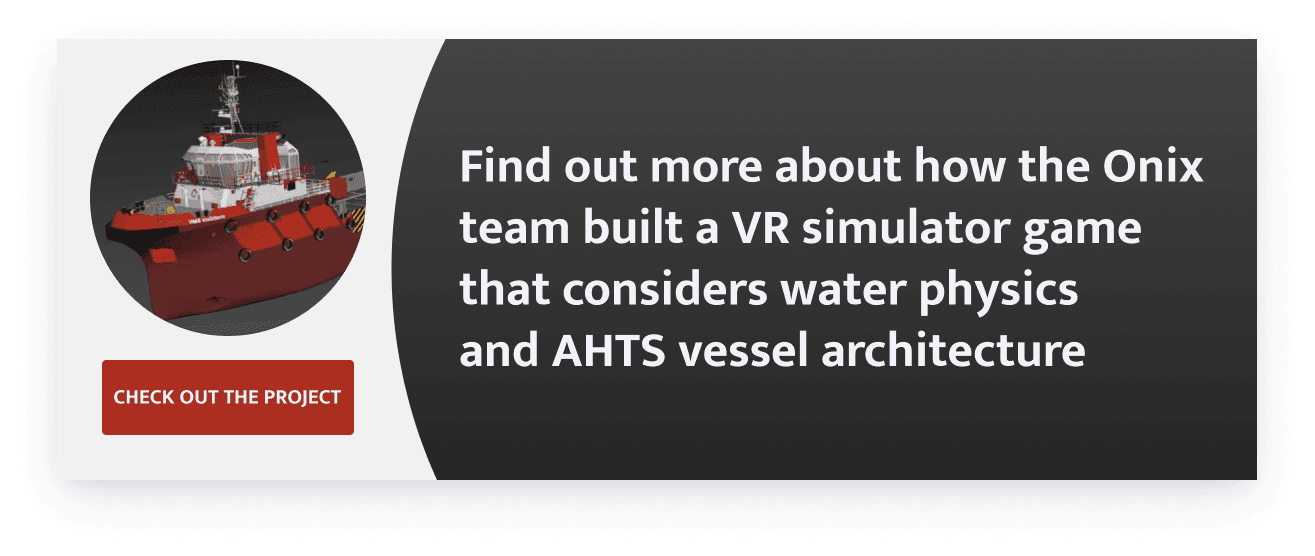 For those who don't own consoles, headgear, and controllers, a growing number of arcades and malls offer immersive experiences at reasonable fees. Increasingly realistic virtual environments, haptic feedback, improving chairs, gloves, full-body suits, and other equipment and accessories can create a complete illusion of driving a racing car, fighting zombies, or playing in a casino. The addition of air currents, steam, heat, smells, and other sensations programmed for corresponding moments in a VR experience can take it to a new level.
The first IMAX VR centers also offered revolutionary gaming VR experiences. People could come to the arcade and play VR games for 8 hours in pods for $10. John Wick Chronicles VR game using the proprietary StarVR system and a controller constructed out of a retrofitted gun was reportedly the most impressive experience. After several minutes, a gamer would feel the fatigue from ducking behind cover and wielding a gun as the action got more intense.
Read also: Why and how to implement VR and AR in fitness apps in 2023
The showroom of Owatch, China's leading VR equipment manufacturer, gives an idea of what a VR park/arcade may look like. A one-stop VR center can provide a full range of simulator games and experiences: 5D/7D and 9D cinema, VR walker, racing, machine gun, and flight simulators, and more.
The market of VR games for kids is underdeveloped. A quality experience requires VR headsets, storytelling, and design adapted to children's needs and tastes. As the competition in this niche is still low, a successful developer can become a unicorn.
Gambling also treads into virtual reality. Many online casinos already include VR slots, and one can play blackjack and poker in virtual environments. Games that require live dealers are also gaining popularity, as people appreciate the opportunity to enjoy a casino experience from home, safely and without the risk of social stigma often associated with gambling.
As VR technology develops, it will be possible to deliver more realistic experiences. Once internet speeds increase, improved VR headsets and accessories become more affordable, and the market more competitive, the industry can see a surge in VR casinos.
VR in Graphic Design
Virtual reality is a place where technology meets art and creativity. Professionals already use VR in the design industry, arts, engineering, etc. For others, it can be a creative outlet and a fun pastime.
Tilt Brush is a good example. The app/game enables users to paint in 3D space. Using their room as a canvas and a controller as a 3D brush, they can create life-sized virtual objects, step into their artwork and walk around it, fully immersing themselves in the creative process. The virtual palette ranges from ink to fire.
Final Thoughts
VR and entertainment are a match made in heaven. The combination of cutting-edge technologies and experiences targeting human senses and emotions has extraordinary commercial potential. Moreover, the industries stimulate each other's growth, attracting more consumers, investments, and creators.
Virtual reality adds a new dimension to traditional media and forms of entertainment and allows more personalized experiences. For example, owners of VR headsets can enjoy a music concert, movie night, or art gallery tour in the comfort of their homes. 
Those who like going out can get a thrill at XD cinemas, VR-powered rides in theme parks, or arcades with various VR simulator games. More high-brow VR entertainment is available in museums and art galleries, and theatres begin to experiment with the medium as well.
Video game developers, show producers, musicians, filmmakers, artists, and even casinos are eyeing the technology. The adoption of AR and VR in entertainment businesses will accelerate, given the innovations made day by day, high competition, and growing customer demands. Particularly, it is likely to be a priority for amusement parks.
Media and entertainment businesses should also consider utilizing AR/VR technology for promotional and customer engagement purposes. Innovation attracts public attention and appeals to tech-savvier audiences. AR and VR enrich the customers' experiences and make them come back for more and spread the word.
The speed of AR/VR adoption in the entertainment industry is still slower than we would like. There aren't as many 360-degree and VR videos as 2D or 3D movies yet. More realistic VR cinema will take some time and innovation to happen. The examples of successful integration of live performances with VR are still few, and so on.
However, as technologies are perfected and the market continues to expand, there will be more VR content and applications to enjoy. Many businesses will be part of the process, and the earlier they jump on the bandwagon and the more actively they invest, the bigger piece of the pie they might grab.
If you plan to create an exciting virtual reality experience, you need an experienced team of VR developers, top-class specialists who know how to make your dreams a reality. An exceptional command of programming languages and artistic gifts are required to build a truly engaging product. Onix can offer just that! 
FAQ
What are the main types of virtual reality content?
To put it simply, you can watch three types of video content in VR:
2D videos. One can find these videos on YouTube or rip from DVDs and Blu-ray discs.
180 or 360-degree videos. Lots of these videos are available on YouTube. One can use the mouse to see things in those videos from different angles on a 2D monitor. Oculus Rift or HTC Vive allows turning one's head around, activating the headset's head tracking system. Wherever you turn your head, you will watch your favorite movie! 
Full VR videos. This format encompasses 3D, 180, or 360-degree videos to give viewers a complete immersion experience. You can watch some of them on YouTube.
What applications of virtual reality in the entertainment industry are gaining momentum?
Online gaming and gambling
Arcades
Amusement parks
Cinema
Music performances
How is augmented reality used in the entertainment domain?
Businesses and consumers are already using AR in entertainment and media fields like games, sports, music, movies, TV, museums, and social media.
Are VR and AR useful outside of entertainment?
Yes. The industries experiencing active adoption of AR and VR include education, science, healthcare, fitness, marketing, ecommerce, retail, fashion, real estate, construction, manufacturing, and others. 
What technologies and programming languages are used for VR apps?
VR developers can use a variety of engines and technologies, including WebXR web integration, but Unity is arguably the most used game engine. VR developers can work with many platforms, from PC to mobile. The scripting language is C#. 
Read also: Best VR Platforms for Game Development
Can Onix develop a custom VR application for my entertainment business?
Yes. Onix's team possesses the necessary virtual reality programming expertise, artistic skills, and experience to create gaming and movie experiences for Android, iOS, and a plethora of headsets through a themed custom-made VR app or turn original video content into exceptional viewer experiences.