If you are a business in IT outsourcing development to Ukraine or just considering the possibility, here you can find useful information and reasoning for choosing Ukrainian software developers. Despite the war, life goes on, and the Ukrainian IT industry is working at full throttle. As usual, outsourced software development companies, including Onix-Systems, continue to fulfill their obligations, acquire new clients, and deliver high-quality products.
Outsourced software development is known to have many advantages over an in-house development team. The primary one, cost reduction, is typically achieved due to the gap between offshore developer rates across the globe and the elimination of hiring, training, and retention costs and taxes.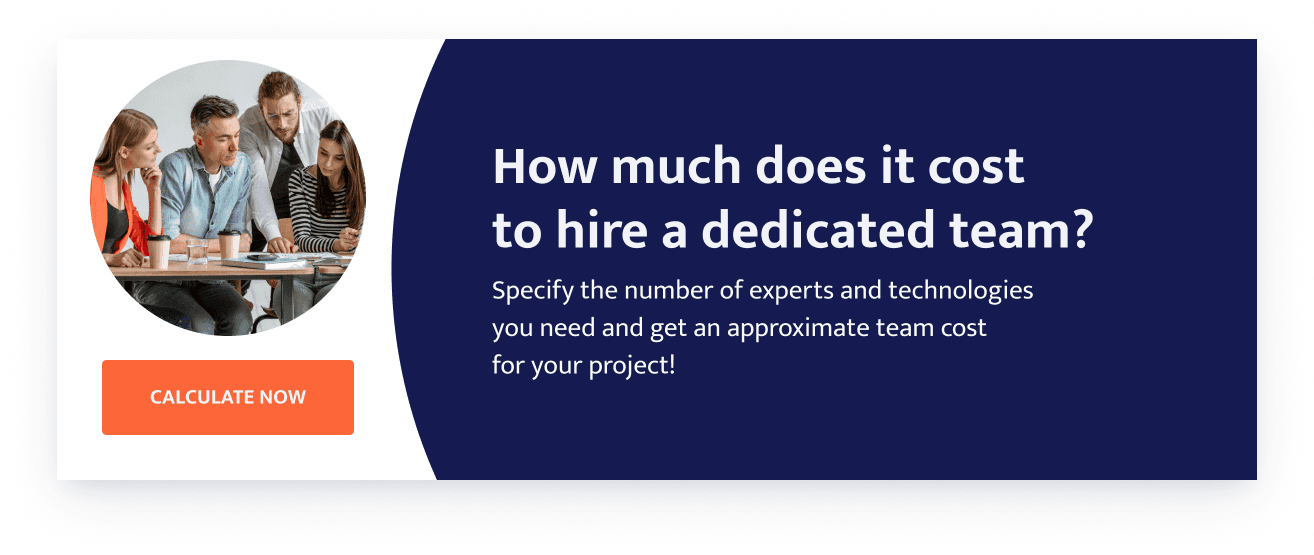 You may save even more: for example, in Ukraine, IT outsourcing rates vary depending on multiple factors. However, there's more to it than just money.
If you're interested in outsourcing software development, Ukraine remains an attractive option. This article will explain why, give you an idea of the average software developer rate in Ukraine, and share some insights into the current market situation and prospects. Hopefully, it will help you make better-informed decisions and find the best price/quality ratio.
Ukrainian IT Outsourcing in Numbers
According to the IT Ukraine Association report, about 5,000 companies worked in the IT market at the end of 2021.
51% of the IT companies were service companies, 33% — service-product companies, and 16% were software product companies. E-commerce, banking, and FinTech are the primary consumers of their services. 
Ukraine's IT industry grew by 25-30% every year. 
IT was Ukraine's primary exporter of services, bringing in $6.8 billion in 2021.
Technology sales grew by an average of 27% annually for several years, faster than any other goods or services.
The main growth drivers were the USA, accounting for 40% of exports, and the UK, with 10%.
There were approximately 300,000 IT professionals in Ukraine, 80% between 18 and 32 years of age.
In 2021, the regions with the most significant shares of IT specialists were Kyiv (35%), Kharkiv (14%), Lviv (10%), Dnipropetrovsk (9%), and Odesa (5%). However, many companies relocated shortly before and after the invasion, and powerful IT clusters emerged in the Lviv and Transcarpathian regions. The number of IT talent there tripled.
While the biggest cities have hundreds of firms, smaller regional centers like Vinnytsya or Zaporizhia are home to dozens of custom software development companies and offshore / nearshore outsourcing vendors. The latter offer virtually any kind of service: mobile, web, and desktop development, UI/UX design, quality assurance (QA), dedicated development team building, R&D services, IT consulting, etc.
In early 2022, IAOP included 12 Ukrainian IT companies and international outsourcers with large offices in Ukraine in the global top 100 outsourcing service providers and consultants.
How Much Does It Cost to Hire Developers in Ukraine?
The easiest way to answer this question might be to look up Ukrainian software developer rates.
For example, the DOU jobs platform lists the average pay rate of a software developer in Ukraine in summer 2022 as $3,000/month. This may give you an idea of what to expect or help compare software developers' rates to their counterparts in other countries. 
However, it's more important to know who exactly you are going to pay and how. For example, if you plan outsourcing web development to Ukraine, you are likely to hire front-end and back-end developers, UX/UI designers, QA engineers, and possibly others. Do you need a small project executed quickly? Then you need to look into the specialists' hourly rates. If you plan long-term cooperation, it will be helpful to know possible monthly salaries. 
So, the answer to this article's key question depends on several factors. 
1) Type of technology and skill level
For example, if your software's back-end is written in PHP or Java, you need to look specifically for PHP or Java developers. Here are some of the hourly outsourcing rates in Ukraine:
| | |
| --- | --- |
| Technology | Outsourcing rate |
| C# | $30-90 |
| C++ | $35-100 |
| Java | $30-100 |
| PHP | $35-50 |
| Python | $35-120 |
| Mobile development | $15-100 |
| Unity | $15-50 |
| QA | $10-60 |
If you are developing a software product from scratch and don't know yet what technologies you will need, conducting a proper product discovery with experts is reasonable. They will recommend the most suitable tech stack to look for. 
Custom software development rates range depending on both the specialist's programming language skill set and their years of experience:
A junior developer receives a minimum wage for 1-4 years while they accrue expertise and prepare for more complex projects. 
A middle developer with at least 3-5 years of experience usually knows several programming languages and can handle more challenging tasks.
A senior developer, after over 5 years of work, is normally proficient with practically any technology they use and can handle the most complex tasks.
Read Also: How to Implement a QA Process
The higher the level, the greater the price. Although junior programmers usually can do most of the required coding, a custom system may require advanced software engineers to supervise the work, design system architectures, or perform more complicated tasks. 
Here are the monthly salaries of some of the most in-demand specialists and programming languages according to the IT Ukraine Association report and TIOBE index:
| | | | |
| --- | --- | --- | --- |
| Technology / position | Junior dev minimal salary | Middle dev minimal salary | Senior dev minimal salary |
| C# | $1,000 | $2,500 | $4,000 |
| C++ | $1,000 | $2,400 | $4,000 |
| Java | $1,100 | $3,000 | $4,000 |
| JavaScript | $800 | $2,500 | $4,000 |
| PHP | $850 | $2,000 | $3,500 |
| Python | $1,000 | $2,330 | $3,900 |
| Mobile development | $950 | $1,310 | $1,650 |
| Salesforce | $1,300 | $1,800 | $2,100 |
| Unity | $1,500 | $2,420 | $3,300 |
| UI/UX design | $1,500 | $2,340 | $2,500 |
| QA Automation | $950 | $2,793 | $3,600 |
| QA Manual | $760 | $2,100 | $2,300 |
| DevOps | $3,000 | $3,800 | $4,000 |
It's easy to notice that the gap between a novice and a senior developer working with the same language is often greater than between different languages. Thus, your low-to-high cost estimate should account not only for the estimated number of hours and technologies selected but also for the required level of the development team members.
2) City/region of the country
Outsourcing rates may differ significantly even between towns short distances from one another.
As a rule, salaries in big cities are often higher than in smaller ones.
Among major cities, Kyiv tended to be more expensive. However, the ongoing war forced many businesses to relocate their offices to the western regions of Ukraine. Lviv is now a key city associated with outsourced software development, so the rates there are on par with the metropolitan area. The rates in Kharkiv, Dnipro, and Odesa will be slightly lower, and you can expect the most significant saving when hiring software developers in smaller regional centers.
For example, in 2021, the average monthly salary of a mid-level software engineer was $2,800 in Kyiv, $2,708 in the Lviv region, and $2,650 in Kharkiv. The lowest wages among the regions were reported in Zhytomyr — $1,686 per month.
Still, the "bigger city, higher salaries" rule doesn't always apply to each technology. For example, a mid-level JavaScript programmer in Odesa would earn $34,800 while their Kyiv colleague — only $31,200. A Python developer in Lviv is paid $34,200 per year compared to $32,400 in Kyiv.
The rates of specialists working in outsourced development companies tend to be lower than those at outstaffing companies. 
3) Outsourcing pricing model
You will most likely choose between the following cooperation models: 
Hiring freelancers
You may find individual Ukrainian specialists on freelance platforms like Upwork or Freelancer. The payments will likely be calculated based on the specialists' hourly rates. 
The developers' rates may vary from freelancer to freelancer, depending on their specialization, skill level, and geographical location. Still, in any case, they tend to be higher than a fixed salary for the project or per month. The platform's commission is a "hidden cost."
Fixed-price contract
This contract is possible when all project requirements, deadlines, and budgets are known. You may contract an individual software developer, but most often, outsourced development companies and teams are contracted to realize your project from A to Z. 
The price will likely be calculated based on the team members' hourly rates and include some extra hours (typically around 20% of the budget) the developers may or may not spend if an initial estimate proves incorrect or another issue pops up. 
Time-and-material, a.k.a. hourly rate contract
Each specialist is paid for the work they do according to their fixed daily or hourly rate. This model is often used for ramping up a team temporarily, filling a skill gap, or completing some extra work the in-house team can't handle. It's also applicable to tasks with unclear or fluid requirements when engineers cannot estimate the exact timeline.
The T&M approach allows the client to make as many changes to the requirements as they need, which is critical for startups and businesses that must quickly respond to changes in a highly competitive market. However, since the hourly rates are higher than the monthly rates of dedicated developers, this is not the best option for long-term cooperation.
Dedicated team
The vendor, a company like Onix-Systems, will assemble a dedicated team based on your project requirements, considering the programmers' skills and experience. The team is focused on that project full-time. As a client, you can define the number of developers and their workload and control the processes.
The monthly payments will include each specialist's salary plus the vendor's fixed service fee that covers the outsourcing agency's costs, such as the office in which the team works, payment of their employment taxes, accounting, and other maintenance costs.
This outstaffing model lowers outsourced software development costs by 20-30%, and the developers' rates are usually negotiable, so hiring a dedicated development team in Ukraine is top-notch outsourcing IT practice.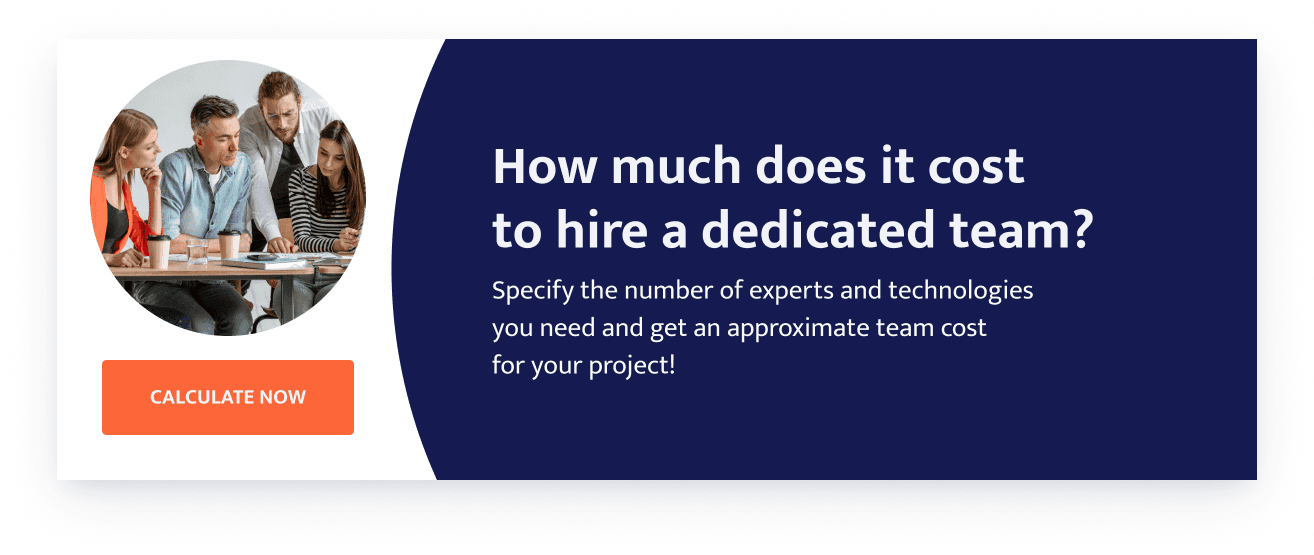 These are the basics. But now, you might wonder, why is it worthwhile to outsource to Ukraine in the first place? Let us list some reasons.
IT Outsourcing to Ukraine: 5 Main Reasons
1. Ukrainian software developer rates are super attractive
Whenever people speak of the advantages of Ukraine, outsourcing rates come up first. Central and Eastern Europe continue to be a hotbed of growth with diverse, proficient programmers and teams offering an excellent price/quality ratio. The outsourcing rates are generally higher than in India or other low-cost destinations yet lower or comparable to Latin American ones.
However, a median Ukrainian developer hourly rate of $30-65 is more competitive than even in neighboring Poland, Bulgaria, or the Czech Republic. Ukraine's government has taken measures to secure reasonable IT outsourcing rates, including the prevention of double taxation in outsourcing.
2. Growing pool of IT talent
Ukraine's tech talent pool is second only to Poland in Eastern Europe. Nearly 450 local institutions of higher learning produce over 36,000 tech graduates annually. IT companies also invest in training new tech talent. After reading some textbooks for several weeks, highly motivated people can enroll in an online or IRL class and then an internship with leading companies.
For example, Onix-Systems runs Onix Academy to prepare students for various IT careers. Our team members share their knowledge, teach, and mentor the trainees for free. It's a win-win for all: the mentors give back to the community, the company may hire talent trained according to its requirements, and people obtain high-paying jobs.
Ukrainian tech community widely adopted knowledge sharing culture, and software development companies regularly sponsor events like tech conventions, hackathons, etc. Nearly 230 industry conferences, 420 meetups, and 2,600 workshops and webinars were held annually.
The huge tech talent pool means not only more choices for clients. Stiff competition among software development companies and developers in Ukraine's labor market promotes the provision of high-quality IT services at fair prices.
3. The professional and personal qualities of Ukrainian software developers
Over the years of work, Ukrainians have proven themselves trustworthy and reliable. Ukraine is the home to several "unicorn" projects, and there are projects in the USA founded by Ukrainians. You will find R&D centers of global leaders like ABBYY, Ericsson, Huawei, Samsung, Siemens, and Magento here.
A typical Ukrainian IT worker has a higher, typically technical, education, speaks English at a level no lower than Intermediate, and has 2+ years of experience.
Over 80% of local IT professionals have an intermediate or higher level of English proficiency. For leading software engineers, project managers, and client support, it's 100%. The style of communication is refreshingly direct. 
Ukrainians are increasingly tech-savvy and interested in innovations and IT best practices in more advanced economies. They travel to Europe and the USA on vacations and to attend technical conferences.
Besides strong hard skill sets, Ukrainian developers excel in problem-solving and self-management. Regarding work ethics, they are open to new challenges and are inclined to be more personally involved in the development projects. Most customers find them friendly, polite, diligent, loyal, dedicated, and eager to understand and prioritize the client's needs.
For example, in Europe and the USA, employees work "from 9 to 17." Ukrainians stand out for their willingness to go the "extra mile." Lately, when Onix's team was developing the real estate digital marketing app Penny, our specialists were ready to work 10-12 hours daily to meet the strict deadlines. This diligence and sense of responsibility is also our competitive advantage.
Much of the Ukrainian software developers' work ethic seems to stem from a strong sense of family and Ukraine's turbulent history that taught the people to treasure stability. This has a practical meaning for outsourcing clients.
For instance, one of the benefits is the high retention rate among Ukrainian developers. The average lifespan of software may reach 6-8 or even 12-14 years. Suppose software developers tend to change jobs biannually. Then, your project may see 3-7 completely different teams during its lifetime.
It's hard to quantify the total cost of lost knowledge and productivity when each team member leaves, but recruitment, onboarding, and other costs of replacing each developer in the US would amount to thousands of dollars. Three rotations of an in-house team result in hundreds of thousands in turnover costs.
Outsourcing exempts you from the recruitment costs. Your partner is responsible for filling any gaps caused by a developer leaving the team. Moreover, most Ukrainian software developers are more eager to keep their job than to risk an uncertain future. As a result, Ukrainian software development companies typically have turnover rates of less than 10%. Therefore, turnover-related costs, primarily due to reduced efficiency during onboarding, may be reduced by over 70%.
Simultaneously, Ukrainian IT specialists are endowed with flexibility and mobility. These characteristics are precious now when it is necessary to refocus on new markets and build relationships with new clients.
Therefore, hiring Ukrainian software developers is especially attractive for startups as it provides the necessary technical skill, cost-efficiency, and stability.
4. Convenient time zone
Outsourcing development to Ukraine is desirable for Western European businesses due to lower travel costs and favorable time zone (GMT+2). The 7-hour time difference with the American East Coast provides more convenient shared working hours than South Asia offers.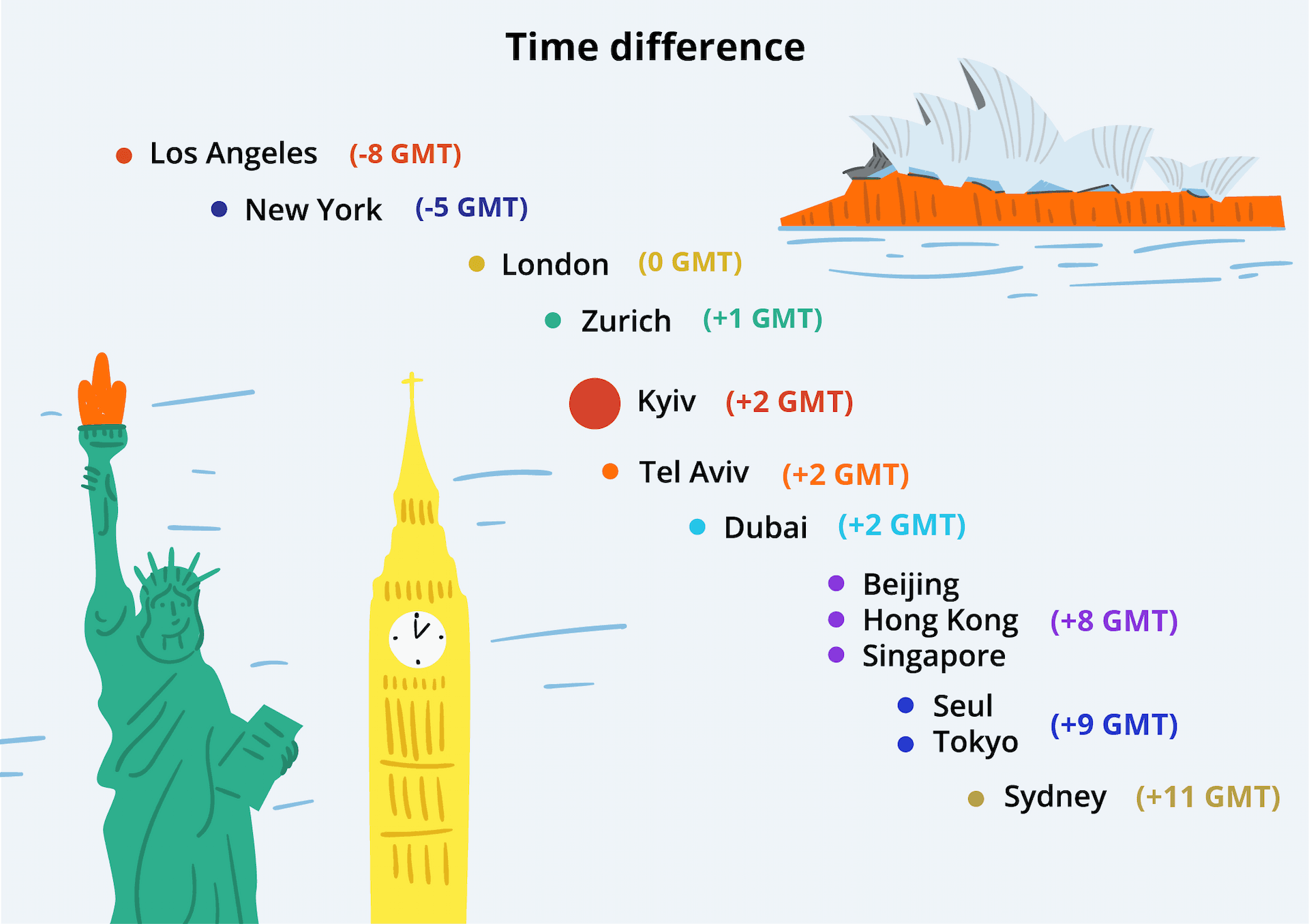 5. Favorable conditions and convenience for businesses
Overseas business operations are often complicated, but Ukraine has proven to be a positive environment for developing and growing large international projects.
Outsourcing development to Ukraine is usually concluded through a third party that hires IT professionals and manages all the legal issues.
Ukrainian IT companies often have management, sales offices, or client relationship officers in the USA, European Union, and Australia. If issues arise, you can meet representatives in person to work out a resolution. Customers from the EU and the US can work with Ukrainian contractors in the EU legal field, invoice everything via email, and easily pay from any location over the Internet.
Ukrainian outsourcing companies are typically more focused on establishing long-term relationships than making a quick buck. Numerous companies outsource software development to Ukraine long-term. For example, some of Onix's partnerships have lasted over a decade.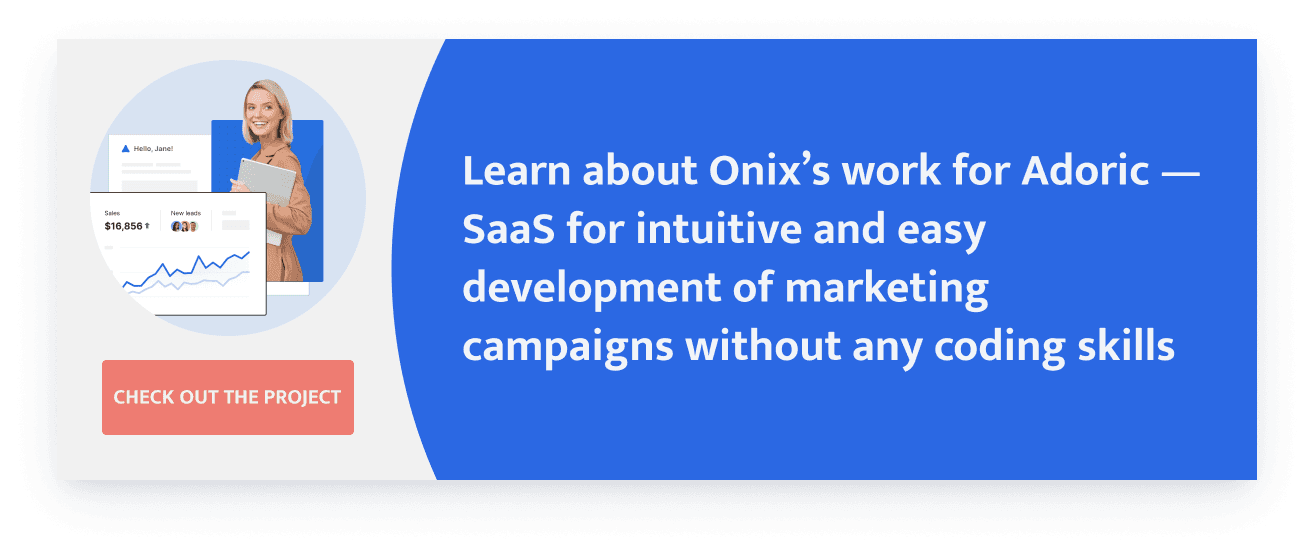 Is the Crisis in Ukraine a Problem for Software Development Outsourcing?
It's impossible to ignore military actions in a significant part of a country. Many clients will be discouraged by the inability to physically meet with Ukrainian team members, possible project disruptions due to losing team members at any time, damaged infrastructure, etc., and other war-related risks. 
However, Ukraine's IT industry and tech community proved to be some of the most resilient. Firstly, Ukrainian IT specialists are still world-class professionals with an excellent reputation. As the global trend toward economy digitalization remains strong, so will the global demand for highly qualified engineers. Secondly, the digital industry is much less dependent on infrastructure than the hard-hit industries and agriculture.
"... the Ukrainian IT industry remains a stable source of foreign exchange earnings in the country's economy and helps ensure the digital security of the state. IT companies provide financial assistance to our defenders and citizens. During the first days of the war, IT companies transferred more than $25 million to support the Army, citizens with humanitarian aid and the country with taxes paid in advance. Currently, the IT industry is one of the few that can be the basis of the rear and economy recovery, reducing the risks of humanitarian catastrophe due to the loss of jobs…",  said Konstantin Vasyuk, Executive Director of the IT Ukraine Association.
Thirdly, according to the IT Ukraine Association's survey, 92% of IT companies had Business Continuity Plans before the war. These crisis plans provided for relocating employees who found themselves in hot spots. Some relocated employees in advance; others had to rush their teams relocation during the war.
As a result, 46% of IT specialists had to move to a safer place in Ukraine, and 16% (mostly women) — went abroad.
The COVID pandemic experience improved the industry's mobility and organization of remote work, which made it possible to keep IT teams' productivity stable. Therefore, once the specialists resolved the primary security issues, they quickly returned to work and supported each other in doing what was most beneficial for the country — working, creating value, and fulfilling contractual obligations.
Currently,
77% of companies largely retained almost all customers and contracts
more than 85% of IT specialists have kept their jobs
55% of companies resumed work by 50-80%
40% were restored entirely
5% continued work by 20-30%
Here are some highlights from analytics and surveys of leading IT platforms:
Most IT specialists did not feel any changes in their work (65%) and income (77%) since the beginning of the war. 6% of specialists saw an increased amount of work and 3% — income increase. Only 25% were forced to reduce the amount of work or lost it. 20% have seen decreased income or lost it completely.
Since the Russian invasion began, the number of hires has decreased, as well as the number of those who received offers from employers. However, it will most probably recover gradually. 
The number of potential new contracts is also down. Large companies are reluctant because outsourcing a part of their business to Ukraine now poses too large a risk. Simultaneously, small startups and medium-sized businesses are ready to order software development projects, understanding that they support the struggling Uktainians economically.
Salaries also decreased. For example, DevOps engineers were offered $2,5-4K instead of the usual $3-5K.
However, the demand for IT specialists is recovering. Job applications have already surpassed pre-war numbers. The number of posted jobs fell sharply in the first week of the invasion but is climbing up.
Many IT companies claim that the number of clients remained the same. Most companies kept all the projects they worked on before. The vast majority of clients reportedly are extremely supportive, and some have even expanded the cooperation and increased their orders in favor of Ukraine.
Ukraine's IT exports reportedly increased by 28% in the first three months of 2022, and the industry generated a record $2 billion in revenue.
The speed of market recovery will depend on the results on the military front. Still, effective crisis management and experience in remote work since the pandemic are some of the prerequisites for stability, even in the difficult year of 2022. The reputation of Ukrainian IT specialists is the reason for choosing them despite the risks of cooperation during the war. The specialists are ready to make every effort to remain reliable outsourcing partners and deliver high-quality products.
Moreover, any crisis creates new opportunities. The Ukrainian IT business has a unique opportunity for growth now. Firstly, thanks to the worldwide support of Ukraine. Secondly, due to the massive exodus of business from Russia, Ukraine has a unique chance to accelerate the pace of development significantly.
Even Ukraine's problems can ultimately become beneficial for outsourcing clients. For example, if the war drags on, many businesses will close. More freelancers will find themselves on the market looking for new opportunities.
The insufficient number of posted jobs compared to the number of candidates leads to decreased salary expectations among developers. Some are even ready for 60-70% of their former salary. Specialists will also become more receptive to new job opportunities. They will be more active in expanding their professional horizons: mastering relevant niches, refocusing on international markets, and looking for new clients.
How to Choose the Right Ukrainian Software Developers
Here are several tips to help you find a suitable partner for custom software development in Ukraine:
Using a staffing company or online marketplace places you at the mercy of the open market. You can mitigate the risks by partnering with a vendor with solid staff retention. Look for well-established software development outsourcing firms with a broad spectrum of services, reasonable fees, and low staff turnover. Enterprise-grade partners offer the best chance for successful outsourcing.
Helpful information is available on Clutch, jobs.dou.ua, or GoodFirms. They provide lists of the best Ukrainian software development companies based on each one's past projects, designing skills, competence, verified client reviews, total experience in the industry, and market penetration.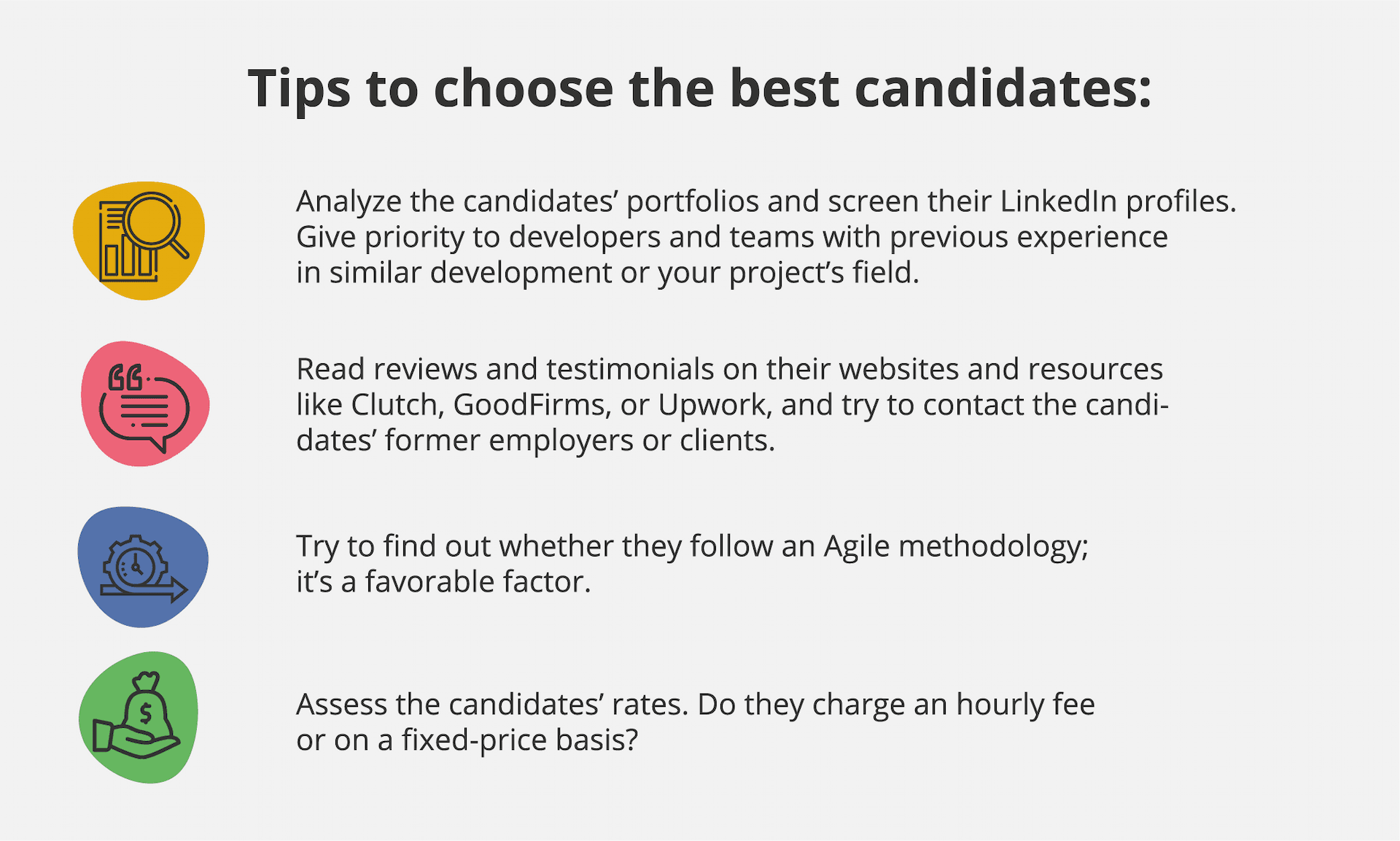 Make sure you consider the outsourced companies' experience with the technologies that your project requires and previous projects in your domain. If an eligible candidate is pricier than less experienced competitors, think of the cost as an investment in success: the development team's expertise will help reduce the development time and ensure the high quality of the product.
Hire fast. In-demand candidates may have several options at a time. Don't let competitors with a quicker decision tree snap up much-needed talent. 
Is It Worth Working with Onix Developers?
Located in the heart of Ukraine, Onix has been performing complex outsourcing development services for 22 years, including custom software development and full-time dedicated teams working with various technologies, UI/UX design, AR/VR and games, and much more. 
Our advantages as outsource partners include broad expertise, a variety of software engineers that can make a cross-functional dedicated team, established effective work processes, and flexible and attractive pricing. Onix's hourly rates start from $50, but they are negotiable, and many clients enjoy significant discounts. Dedicated development teams are available without any recruiting, administrative, or training costs to the client.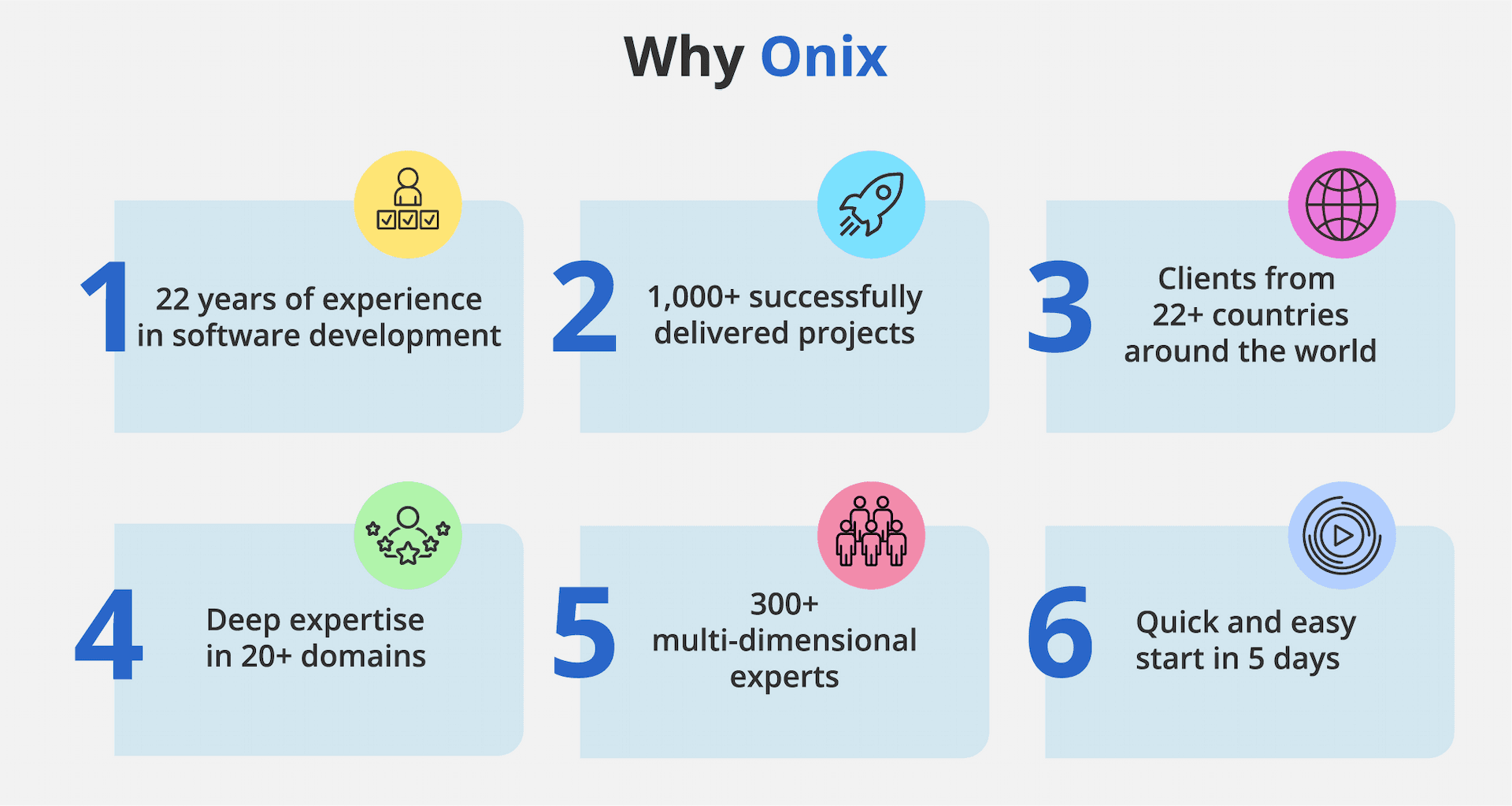 Since the Russian invasion began, Onix's software engineers have proven they can complete projects without decreasing productivity and quality. Our specialists did their best to resume work as usual in the shortest possible time not to let down our clients, users, and colleagues.
Sometimes, there are problems with the Internet; air alarms often distract from work. Still, in general, people are highly motivated and focused. We clearly understand the importance of our work under the current circumstances. Onix has a plan, and we are working towards a great common goal. For example, Onix has donated $100,000 so far to the needs of the Armed Forces of Ukraine. 
Effective management paired with individual motivation enabled Onix to reach the pre-war level of efficiency quickly. There were no personnel cuts, and employees who joined the Armed Forces of Ukraine retained their jobs and salaries. For other employees, the company organized relocations to safer areas when needed, constantly tracked each employee's location and monitored their emotional state, and regularly reported the situation to clients.
Onix also supports its employees emotionally and financially. The company provides generous equipment and financial support to cover the relocation expenses and also offers interest-free loans.
Since the invasion began, we have completed several projects, managed to attract new clients, and continued to provide a wide range of services:
Lean inception
User experience (UX) and user interface (UI) design
Mobile application development
DevOps consulting
Usability testing and validation
Project management
Support and maintenance
If you need any kind of help, please don't hesitate to contact Onix.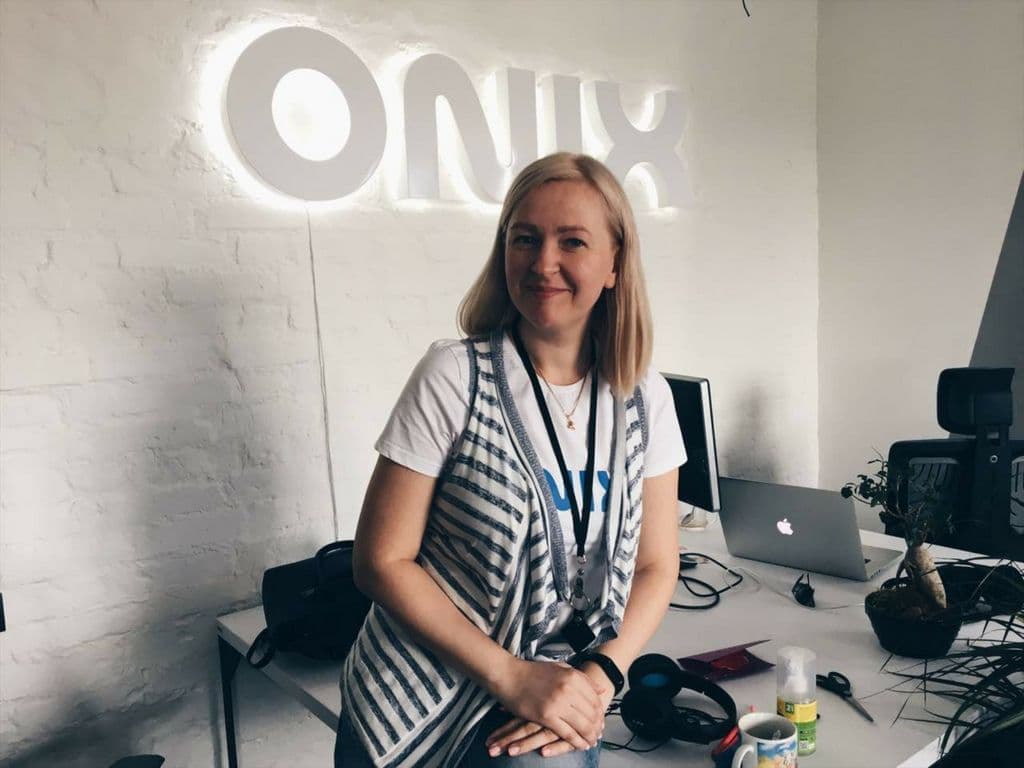 Wrapping It Up
Despite slightly rising offshore developer rates due to growing demand worldwide, outsourcing remains a cost-effective solution and has become a competitive imperative.
There are two main reasons for the continuing interest in Ukraine: software developer rates and the specialists themselves. The cost of one in-house developer in the US may be the same as that of 2-4 Ukrainian software developers with equal or better skills but higher retention rates, lower overhead, and without limitations to communication.
For successful outsourcing, you need to evaluate not only the Ukrainian software developer rates but also the variations within the country. Like everywhere, salary levels depend on the tech stacks and location, but software developers' experience seems to be the most important factor. 
The Ukrainian IT industry proved one of the most resistant to the war-induced crisis, and outsourcing companies that worked for global markets found themselves in the best situation. If the industry can grow even during a military crisis, optimistic forecasts for its development seem quite reasonable. 
Onix-Systems, a leader in custom software development in Ukraine, is a part of the industry's and the nation's struggle. Despite the crisis, Onix continues delivering high-quality digital products on flexible employment and pricing terms, focusing on regulatory compliance and intellectual property, and providing reliable tech infrastructure and support to international clients. Contact us if you wish to start a mutually beneficial partnership!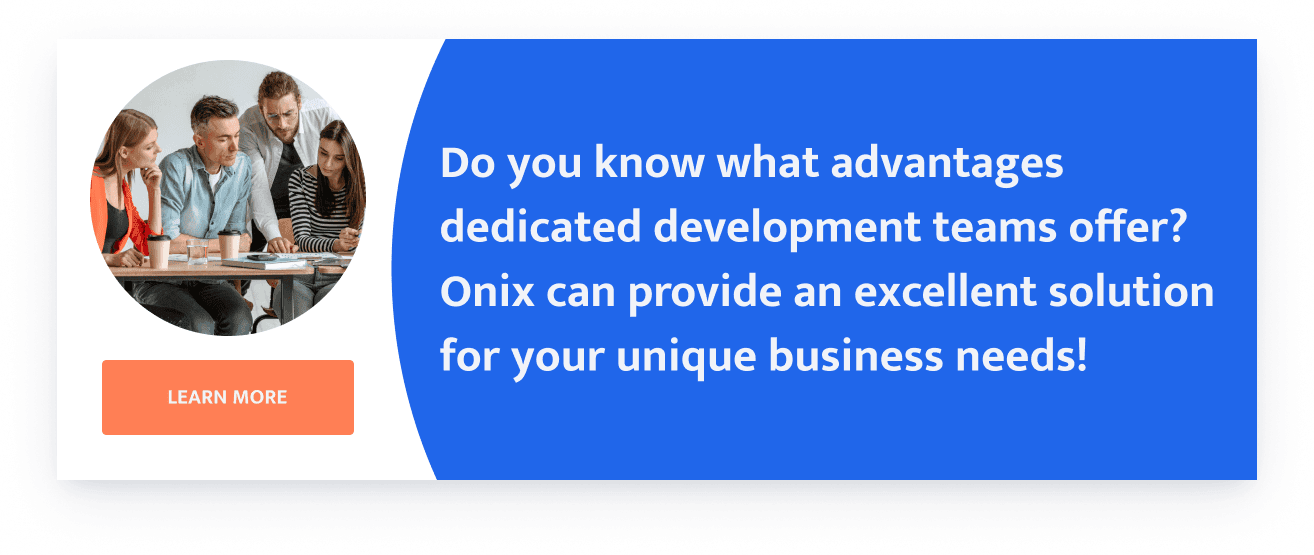 FAQ
Why is Ukraine good for outsourcing?
The primary reasons for IT outsourcing development to Ukraine are:
Flexible and attractive Ukrainian software developer rates
A huge pool of IT talent
The professional and personal qualities of Ukrainian software engineers
Convenient time zone
Favorable conditions for businesses
How much does it cost to hire a software developer in Ukraine?
Ukrainian software developer rates primarily depend on the level of skills and experience, the technology a person specializes in, and the specialist's location. When looking for various software developers in Kyiv, Lviv, or Kharkiv, you will likely encounter a rate ranging from $800 to $4,000/month.
How do I hire software engineers in Ukraine?
Define your outsourced software development requirements.
Choose a suitable software development outsourcing model.
Search for outsourced development providers in Ukraine, e.g., on popular aggregators, such as Clutch or GoodFirms.
Contact the candidates, evaluate them, and choose one.
Run a thorough final background check.
Negotiate, develop, and sign a contract.