Here at Onix-Systems, we don't shy away from challenges and opportunities. Whether it's an extremely technical development or a simple project, our team goes the extra mile to deliver outstanding results. If you ask our clients, that commitment is what distinguishes our team from others in the industry.
With that being said, we're extremely excited to announce and celebrate with you that we've unlocked a new recognition thanks to our clients' support. According to Clutch's 2022 report, Onix-Systems is among the top-performing B2B companies from Ukraine!
"Being recognized as one of the leading service providers in Ukraine by Clutch makes me feel honored and thrilled about the company's achievements. The positive experience that our customers are sharing about working with Onix and also feedback about our professionalism and efficiency show that Onix is the company that always sticks to bring outstanding results." 
— Dmytro Durach, CEO at Onix-Systems
Clutch is a B2B ratings and reviews website dedicated to assisting SMEs in locating and connecting with the service providers they require to realize their objectives. Each year, the platform recognizes the best B2B companies based on their sector, focus on services, and location. Companies must successfully pass the site's stringent evaluation criteria in order to be eligible for the honors. We give it our all whenever we're entrusted with projects, that's why we're absolutely grateful to be listed among the proven partners on Clutch's Leaders Matrix for AR/VR development.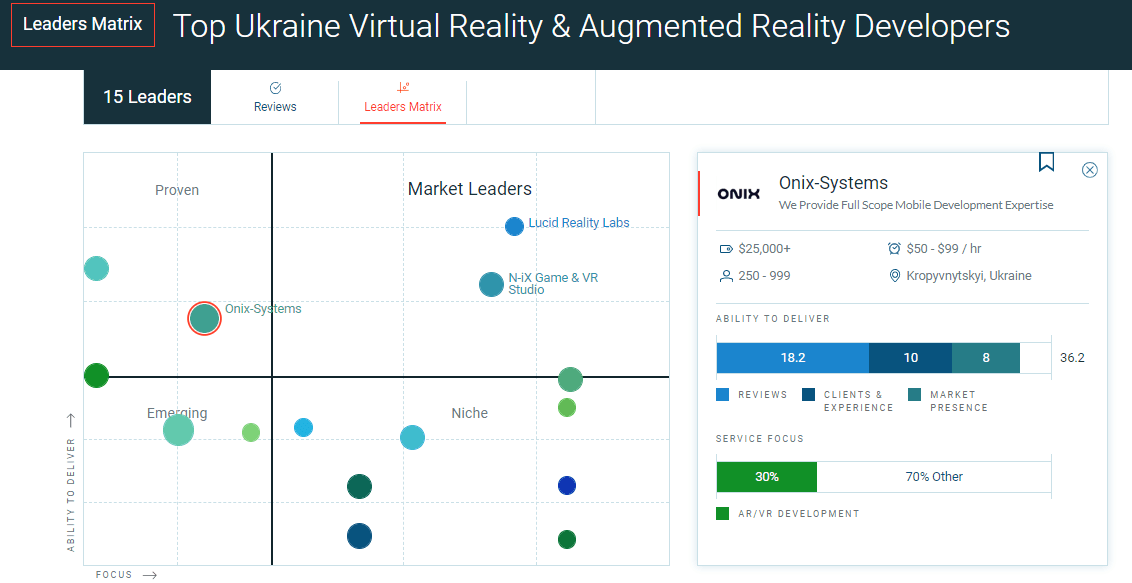 In addition to our new Clutch Award, we're also thrilled to be highlighted on Visual Objects, a creative portfolio site, as one of the best app development companies in Ukraine this 2022!
Without our clients' kind support, these two feats would not be imaginable. We sincerely appreciate all of our wonderful partners, especially those that took the time to give us a Clutch review. We appreciate your unwavering support and fantastic faith in us! You may be confident that we will continue to put your needs first.
Looking for a proven development partner? Onix-Systems is here for you. Contact us right away and let's work together to build outstanding solutions.