Virtual reality (VR) and augmented reality (AR) have formidable capacity to bring things and concepts to life and create impressive immersive experiences. Among other applications of VR and AR, the 'edutainment' abilities make them just perfect for cultural institutes, events, and programs. This post is dedicated to the applications of VR technology for museums' and art galleries' purposes.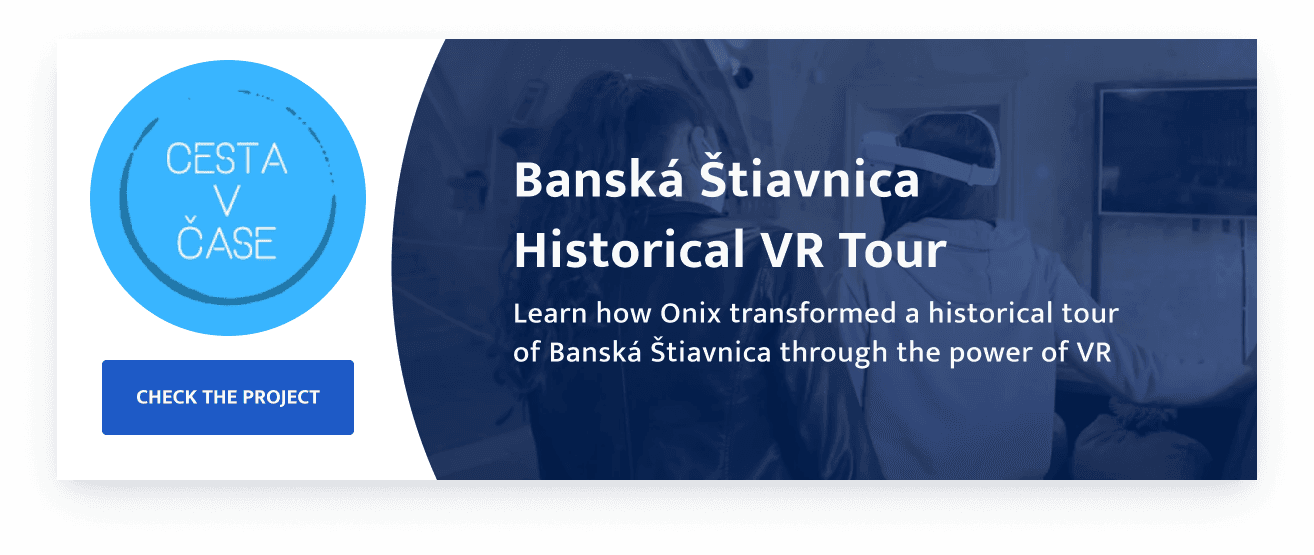 Dr. Chris Michaels, Director of Digital, Communications and Technology at the National Gallery, London, once predicted that virtual reality would be the next frontier for museums. Many exciting virtual reality experiences have demonstrated both the medium's capacity and growing popularity in the field, providing a perfect occasion to talk about museum virtual reality.  
VR experiences can be interactive or take the form of 360-degree videos. Museums are using them in different ways. Here are a few examples of how they leverage VR technology for the benefit of museum-goers, fine art aficionados, students, school children, curators, and artists.

Remote
VR Museum
Experiences
Traditionally, art appreciation has been exclusive and often expensive. It requires some planning and organizational effort and often involves travel. The same can be said about visiting a major natural history or science museum. Afterward, museum-goers would often encounter long queues, crowded rooms, and unsympathetic guides. Too often, they may have just a few seconds per exhibit and even fail to see what they'd anticipated most. Besides these difficulties for the public, this model actually contradicts the museums' aim to disseminate knowledge and art to as many people as possible.
Virtual reality can both alleviate these problems and take the museums' mission to a new level. The medium is praised for its ability to recreate spaces, remote destinations, or places that no longer exist, and to transport viewers there just by strapping on a VR headset. This way, even people with mobility issues can nowadays access the world's best collections without leaving home. 
In the 19th century, people used stereoscopes for viewing three-dimensional depictions of wars, historical figures, or magnificent world's fairs. In the Timescope project for Somasoft, Onix has helped to bring this experience into a VR environment. Using images from the Library of Congress, we felt literally bringing history to life.
Many museums use VR technologies to create virtual tours and programs that share their collections worldwide. Best VR museum tours can provide the experience of self-guided exploration or a private viewing, standing in front of an exhibit as long as one pleases, without rope barriers and glass walls. Access to art and knowledge becomes both immediate and more affordable regardless of the viewer's background and location.
The Smithsonian National Museum of Natural History in Washington DC created a set of online tours of the museum building, select areas at the satellite support and research stations, and even exhibits no longer on display. Within most of the tours, virtual visitors can navigate room-by-room via an on-screen map or interactive arrows on the floor. The rooms' panoramas were stitched together from many still photographs so that visitors can enjoy a close-up view of an exhibit. The virtual tours are suitable for any VR headset type, provided they use a Web VR-enabled browser. The experience is also accessible on desktop computers and mobile devices.
Museum-goers have long dreamt of the ability to pick up items and examine them closely. In 2017, the British VR Museum in London partnered with the VR content developer Boulevard to make that dream come true. They created "Two Million Years of History And Humanity," an Oculus Touch application that allowed users to view and compare 48 artefacts from the museum's collection. The app was free to download for users around the world. Using Oculus Rift with Touch controllers, they could reach out, lift, rotate, and study unique exhibits including the Gilgamesh Tablet and a two-million-year old stone chopping tool.
It's possible to develop virtual experiences around particular artworks, too. Eye of the Owl – The Hieronymus Bosch VR experience by Pieter van Huystee is dedicated to "The Garden of Earthly Delights." Not everyone may have a chance to fly to Madrid and spend hours in one of the Prado's rooms to fully appreciate the painting's countless figures and scenarios.
The free VR game, however, allows you to explore it at leisure in otherwise impossible detail. The picture was digitized in ultra-high resolution so that you can both see the texture of the paint and view the figures in life-size. The multimedia experience includes a narration from the latest art history research, image-related sound effects, and animations. 
Virtual reality technology not only enables people to experience a certain exhibit or tour virtually but makes it possible to create an entire new museum online. The Kremer Museum, launched in late 2017, is an iconic example. The trick is that this collection of Flemish and Dutch Golden Age paintings doesn't have a brick-and-mortar building. "Our journey as collectors has always been about finding the highest quality artworks and simultaneously finding ways to share them with as many people as possible," the founder George Kremer said. A virtual reality museum seems like a perfect solution.
The museum space, though virtual, was designed by a world-class architect and ensures perfect lighting that art lovers and collectors appreciate so much. Each of the 74 paintings was photographed 2,500-3,500 times using the 'photogrammetry' technique to build ultra-high resolution visual models. Virtual visitors can see the colors and brushwork up-close, look at the back of the paintings, and explore their provenance.
Location-based Museum Virtual Reality Experiences
Museums leverage virtual reality on premises to help visitors better understand their collections. VR exhibits can enhance, complement, or simply promote physical exhibitions.
For example, in 2020, Onix-System built a virtual tour for a museum at Banská Štiavnica in Slovakia. The completely preserved medieval town is a UNESCO World Heritage Site. The historical VR project blends scanned museum exhibits with digital panoramas to give visitors the feeling of walking in the town centuries ago or witnessing the flooding of an ancient mine after an explosion. 
In 2023, Onix's VR team created a quest VR game to enrich the permanent exhibition at Anija Mõis, one of Estonia's most beautiful country houses. The museum visitors can rent a VR headset and plunge into the game since we ensured it's accessible for kids and adults alike.
The visitors play various mini-games, each set in one of the manor's rooms, trying to score as many points as possible while learning the estate's history. 360° photo panoramas accurately recreate the rooms to ensure a player's complete immersion in the museum's slightly haunted atmosphere while they are trying to solve the mystery of the lady of the manor. 
VR promotes scientific knowledge by combining emotion with discovery. The National Museum of Natural History in Paris opened its first permanent VR exhibition in 2018, dedicating to virtual reality a room on the 3rd floor of the Gallery of Evolution. There are five VR stations equipped with the newest VR systems to support contemplative, interactive, seated, standing, or moving immersive experiences. Five participants can have the sessions simultaneously, viewing various life-forms up close and to scale and exploring the links between them. Their companions can see on a video screen what they are seeing. 
The museum offers a coherent experience, from the staff's greetings in the waiting area to the exit door. To facilitate a total immersion, the comfortable, warm Cabinet of Virtual Reality is soundproofed and features a glittering mosaic ceiling. A tactile mat on the floor limits and marks out the optimal experience area. Dynamic lighting accompanies visitors in their journey from the real world to virtual reality and back.
Museum virtual reality can take you to worlds you can't possibly visit or even imagine. Jurassic Flight at the Cincinnati Museum Center is an example. The dinosaur hall at the Museum of Natural History & Science has two V2 Birdly machines that provide a truly immersive full-body experience: flying with dinosaurs as one of them. The amazing VR experience became possible thanks to the Birdly VR platform. 
"Mona Lisa: Beyond the Glass," a part of the Louvre's landmark Leonardo da Vinci exhibition in 2019-2020, was a collaboration with Vive Arts. The museum's first-ever VR project was primarily intended to solve a long-time problem associated with the iconic picture. "Mona Lisa" is pretty small, tucked behind bulletproof glass, and permanently sieged by tourists craving for a selfie with it.
The VR experience must have enabled many visitors to access the masterpiece up close in a transformative way. They could explore details invisible to the naked eye, see what could surround the artist and the model, learn about his techniques, her identity, and the history of the painting, and even fly across the surreal landscape aboard Leonardo's visionary flying machine.
Virtual Reality Art
Artists have been experimenting with VR and creating pioneering new works. VR allows them to design original and often fantastic environments and simulations for multisensory virtual immersion experiences. Moreover, VR's neural and muscular interface allows viewers to become active participants rather than mere consumers. 
Technology is evolving to support them. For example, the already mentioned Vive Arts is a multimillion-dollar initiative aiming to transform the way we create and engage with art. Since its launch in November 2017, it has been instrumental in the development of many artists' and cultural institutes' works.
VR is known for simulating out-of-body experiences, but Sir Anish Kapoor made his first VR project a visceral odyssey. The journey starts in a hurricane-blown forest, proceeds through the human body, creating the disorientating sensation of falling into yourself, and ends in a realm resembling the outer space. "Into Yourself, Fall" is thus a radical introspection that the viewer is experiencing physically.
This is an example of cinematic VR that is produced by playing linear material. By contrast, VR games are fully interactive, especially with the addition of physical interfaces that enable the viewer to interact with virtual objects. Most artists have seemed to prefer cinematic VR so far, but a few are beginning to experiment with gaming.
Learn more: How VR is changing the entertainment and film industry
In May 2019, the 58th Venice Biennale featured "Rising," a climate-change-focused work. Marina Abramović, the artist, explained: "I was really interested in the idea of videogames and how children are playing the games that are based on aggression, violence, and fear. I was thinking about how I could reach a young audience." She also assumed that empathy evoked in the virtual world could drive people to real-world action.
"Rising" featured the artist's virtual avatar standing in a glass tank that water slowly fills. As the viewer approached, she would disappear, and the viewer would find themselves in the middle of the Arctic sea, where polar ice caps are melting and splashing into the water. Back in the room with the glass tank, they could make a difference by pledging to support the environment. If they didn't, they would watch Abramović drowning.
It was overwhelming even via a dedicated AR mobile app. With VR, when the brain believes what the viewer sees, and standing on a moving platform, the viewers would become panicky – exactly as potential victims of environmental catastrophes should feel.
Read also: Augmented reality (AR) app development cost
The market for VR art projects is emerging as well. For example, in 2017, Chinese artist Yu Hong and the Khora Contemporary production company collaborated on a work titled "She's Already Gone." The artist hand-painted every detail within each episode of the virtual character's life from birth to death, with the history of China going backward in the background.
According to Beijing-based gallery Long March Space, a Chinese private collector bought one of the eight editions for $100,000.
Value of VR for Museums, Artists, and the Public
Immersive VR experiences dramatically enhance the museums' storytelling potential. VR can make exhibits interactive, put objects in context, show their true scale, and bring an extra dimension to museum exhibitions and collections. It is changing the perspective of the viewer and making a genuine connection with them. 
Developing original and fresh virtual reality experiences, museums, galleries, and cultural events demonstrate their desire to innovate and reach a broader public. They can also grow their visitor numbers. There's still considerable media interest and excitement about VR, so a new interactive multimedia museum experience may attract even people that usually are not interested in art or history. Those who have visited a gallery or museum in VR will likely want to see the exhibits in real life too.
Virtual museum tours make galleries and collections accessible virtually to all with unprecedented ease, especially when the digital content is available online across multiple VR platforms.
Artists are always in search of new means for artistic expression, expanding their audiences, and connecting with them. VR offers these opportunities. It's a new way both to convey feelings and information and to absorb them. VR can transform the ephemeral qualities of light and atmosphere into art and create lasting records of temporary experiences.
It's possible to create a VR experience for museums, galleries and individual artists, and other cultural institutes that will be effective both within and outside their walls. If you have ideas for utilizing VR and AR for cultural, educational, entertainment, or any other purposes, please feel free to share them with Onix. We can make your dreams a reality – virtual or augmented.