The COVID-19 (aka coronavirus) outbreak has claimed thousands of lives, infected over a million of people, and continues wreaking havoc around the world. While international organizations, governments, NGOs, and local healthcare professionals are struggling to save lives and curb the spread of the virus, businesses are dealing with its economic effects.
The COVID-19 outbreak has affected economic activity globally and created a situation that was not anticipated by most industries. As a software development service company, we are specifically preoccupied with the coronavirus impact on the software industry. Our existing and potential international clients wonder whether their projects may be affected. The answer is "no," and in this article, we will list the reasons, including the opinions of our clients and partners. However, changes are sure to occur: the world will not be the same after COVID-19.
The Economic Effects of the Coronavirus Pandemic
China, the largest exporter of goods responsible for one-third of manufacturing globally, was the first to feel its humanitarian and economic impact. The pandemic originated in Wuhan, an important manufacturing hub. Then it spread to other major centers, causing entire cities to be quarantined and disrupting business processes locally and internationally. In the first two months of 2020, the industrial production, retail sales, and fixed-asset investment in China all tumbled compared with the same period in 2019. The industrial production alone fell by 13.5%.
A halt in manufacturing, broken supply chains, and decreased demand for merchandise continue to impact businesses worldwide. The US is one of the economies that rely on China as a supplier, e.g., of smartphones, tablets, and other gadgets. The coronavirus outbreak is slowing down production and closing stores in China and beyond.
Read also: The benefits and components of ERP for manufacturing companies
For restraining the virus, governments have been banning and restricting international and domestic travel and gatherings, which further impedes the development of technology industries worldwide. Tech companies' employees are finding it more difficult to cooperate and learn about the latest innovations in their usual ways, and executives cannot negotiate new contracts as easily as before. Tech industry leaders are canceling or suspending international trade shows and conferences. For example, the Mobile World Congress in Barcelona draws over 100,000 participants every year. In 2020, MWC was called off for the first time in its 33-year history.
Airlines have been canceling flights, which impacts both business trips and tourism. The widespread panic and governments' safety recommendations also have a devastating impact on small businesses like hotels, restaurants, movie theaters, gyms, and casinos, as well as the sports and entertainment industry.
Investors are increasingly fearful about the global spread of the virus. According to the Organisation for Economic Cooperation and Development, the global economy this year could grow at its slowest rate since 2009. A longer-lasting and more intensive pandemic could halve growth to 1.5% in 2020.
The Nikkei, Dow Jones, and FTSE 100 indices have fallen dramatically since the beginning of the pandemic. Such significant shifts in stock markets can disrupt many investments in pensions or individual savings accounts.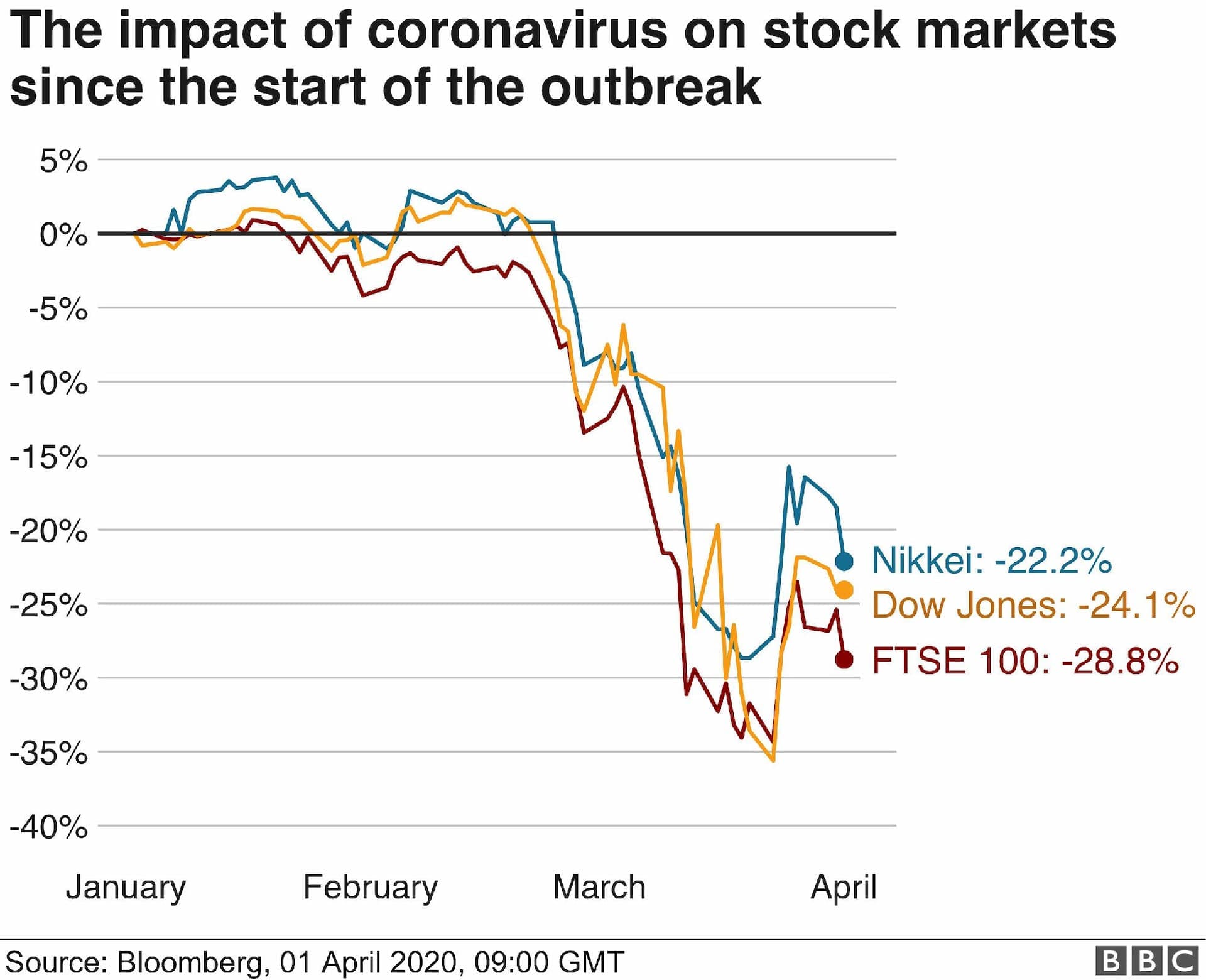 Supply-chain disruptions may raise the cost of business for manufacturing and construction companies. Declining consumer confidence, expected severe retail-traffic drops, and temporary store closures are evolving risk factors.
The Possible Impact of Coronavirus on Software Development 
Will the quarantines and disturbing macroeconomic trends brought by the coronavirus impact IT industry as well? Yes, they will as this industry is highly globalized. Leading companies have R&D facilities in areas that either have suffered from the coronavirus outbreak or are under quarantine. If the company's HQ is located in an affected area and has no remote workforce strategy, they may face some issues. Those who outsource their software development are temporarily unable to visit the contractors when they need, and vice versa. The pandemic will also decrease the demand for certain kinds of software and limit customer spending in some segments.
However, so far, we haven't seen the virus shockwaves hitting the industry too much. For example, David Pawlan, a strategist at Aloa.co, a software outsourcing platform, has noticed some prospective clients taking a step back, needing to deal with the situation at hand, although existing clients have continued development. Some delays in the sales process are apparent as well.
Additionally, the variations in software downloads and usage caused by quarantines globally may have IT companies adjusting their plans and activities. For example, the popularity of travel apps has dropped, but people staying at home need food and groceries and want to be entertained and to keep fit. Naturally, downloads of games, food-ordering, educational, and fitness apps, as well as consumption of online content, have been increasing.
However, we may hope that coronavirus affects software development to a lesser extent than other industries. One of the business' advantages is that it is conducted online, allowing employees to work remotely and maintain the necessary communications using teleconferencing tools. The remote virtual world in which IT companies and their employees have been dwelling for years, in a way, helps them escape the dangers of our current world.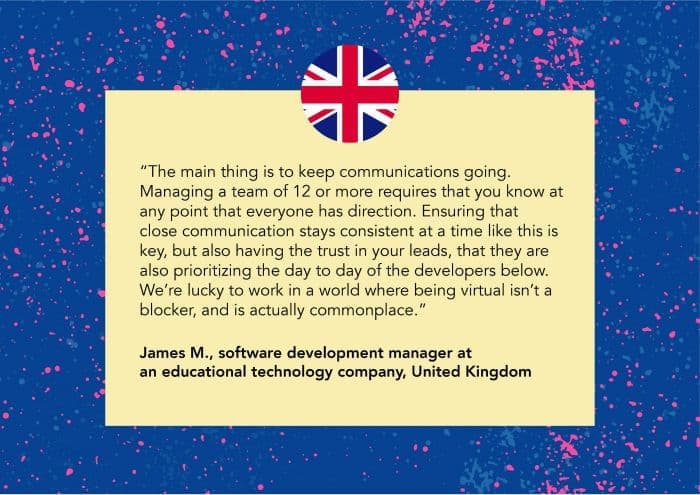 Onix's Operations during the Coronavirus Pandemic
The virus reached Ukraine only in March 2020. A week after the first case of infection was confirmed in a border town, the government, local authorities, businesses, and organizations started taking precautions. The preventative measures ranged from awareness campaigns to enterprise shut-downs, until the nation-wide quarantine was finally imposed. Hopefully, this quick reaction has helped cut off the virus, will mitigate its humanitarian and economic impacts, and will prevent lasting effects thereof.
Meanwhile, a fresh survey by Deloitte and the American Chamber of Commerce evaluates the expected impact of the coronavirus pandemic on Ukrainian companies. Most respondents expect their sales and cash flow to slow down and fear they could be unable to serve customers and manage the business as usual.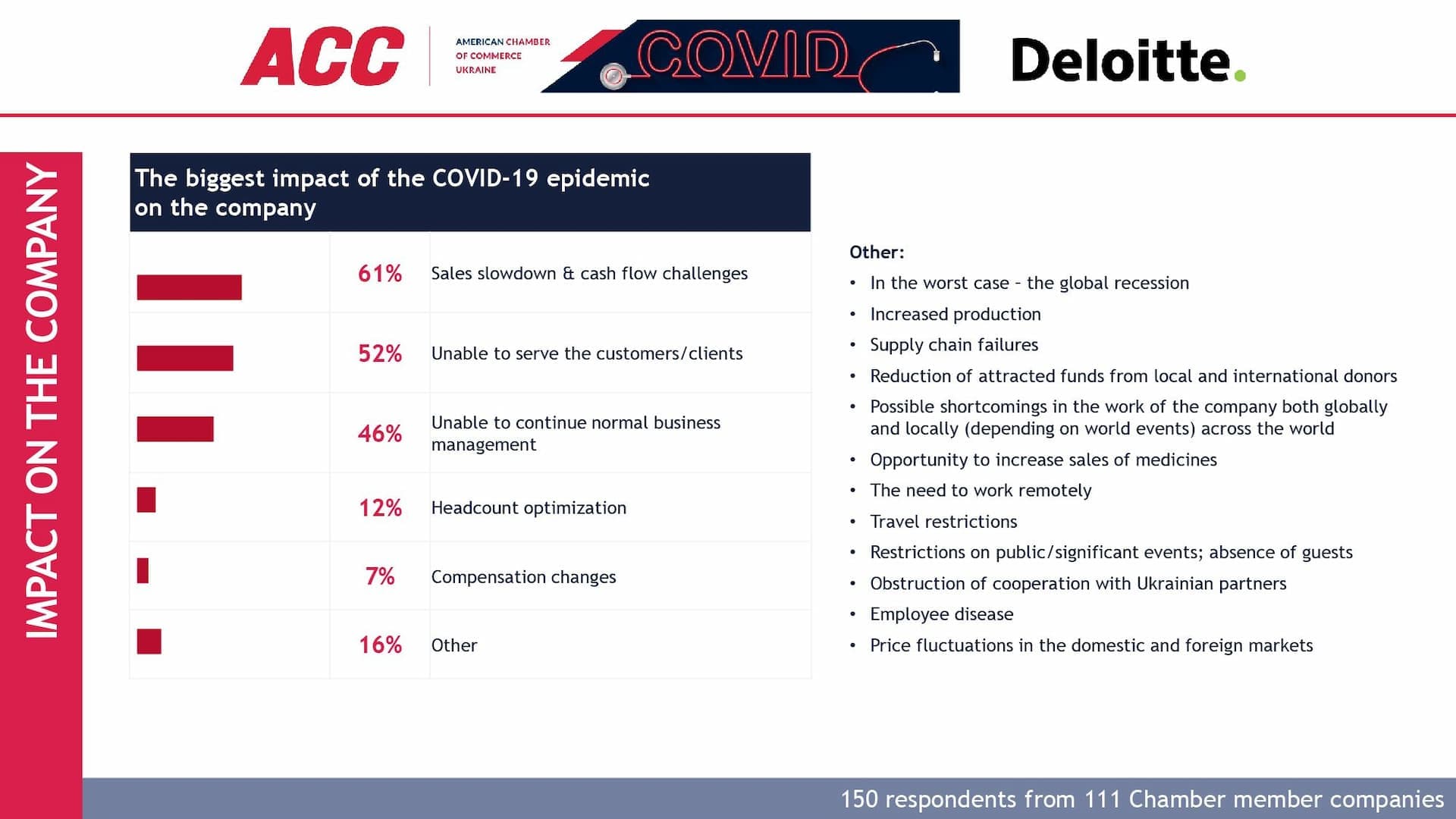 65% of respondent companies plan to maintain the business performance target in 2020, while 17% plan to lower their target. 
Regarding sales, software developers are likely to share their expectations. Ukraine's IT sector is primarily an outsourcing service industry. Over 60% of IT companies provide services to clients based in the US and Western Europe. Both regions are currently handling the coronavirus crisis with all its implications. There is an apparent slowdown in the ongoing software business process and new deals, which have already resulted in revenue loss. 
However, most of the Ukrainian IT companies are accustomed to working with distributed teams, have the necessary infrastructures and processes for uninterrupted work, and are prepared for all forms of disruptions. Even with lower sales projections, they are continuing their normal processes and fulfilling all obligations to customers.
The companies started preparing for possible adverse scenarios while still witnessing the spread of the virus in China. By March, almost all of them had implemented plans and actions designed to prevent possible disruptions in operations. Specifically, the Ukrainian IT companies
started informing employees about the virus threat and providing advice;

limited business travel;

improved office safety, including the provision of disinfectants, face masks, thermometers, etc.;

started preparing their infrastructures, tools, and processes for work during a possible quarantine;

reviewed the force majeure provisions in their contracts and all applicable government  decrees;

determined if their critical suppliers were based in affected or vulnerable areas and assessed available resources in order to redeploy or stockpile them or find alternatives.
Onix-Systems started planning the necessary precautions and revising its travel and office work policies once our clients in Japan and Western Europe felt the first effects of the COVID-19 outbreak. Our top priority was to protect employees and clients while delivering high-quality products as usual. We started with the necessary office safety measures and optimization of online tools for remote work, communication, and collaboration.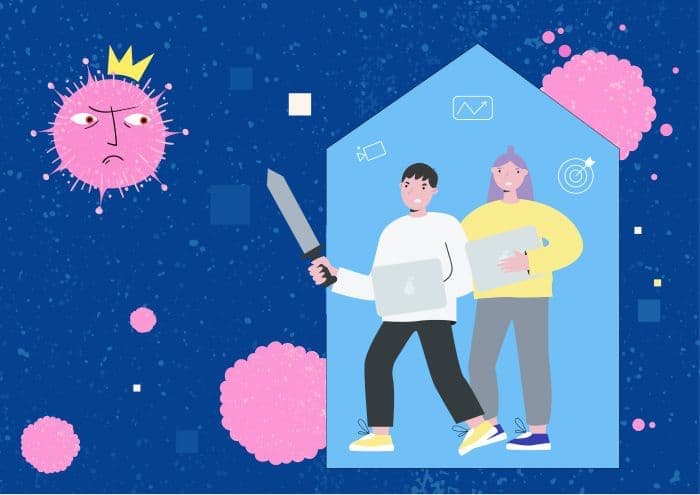 As the neighboring countries started reporting infection, Onix canceled all business trips, postponed workshops, conferences, and other IRL gatherings, and adopted other safety measures in compliance with government decrees and social distancing rules. Employees returning from foreign countries were obliged to work from home for 14 days from the day of arrival, and those at the office switched to online communication whenever possible.
Cybersecurity concerns were also addressed in a timely manner. Work-from-home models are creating additional avenues for unauthorized access to company networks and data or storing company information on unprotected laptops and mobile devices. Onix reviewed its cybersecurity controls, reminded the employees about the acceptable use of corporate systems and confidential info, warned them about possible phishing attacks under the pretext of "important notices" emails, and brushed up security rules of using laptops and mobile devices remotely.
Employees were voluntarily switching to the work-from-home mode long before the government ordered citizens, except those employed in critical infrastructure sectors, to stay at home. During the nationwide quarantine, the company allows no vacations for employees engaged in ongoing projects, opens the office only for those who must work there due to technical restrictions, and requires more detailed reporting than usual. Our situation is currently identical to most of our customers' and partners'.
Indeed, the coronavirus crisis presents both risks and opportunities. IT companies adapting to the new reality faster than others, rethinking their strategies, and seizing new opportunities will emerge stronger in the end.
What Is to Be Done
Let us suggest a few tips for handling the coronavirus crisis in the long run:
Put aside a reserve and urgently cut costs.

Without certain financial management adjustments, companies may face a cash gap during an extended quarantine. Start with revising your revenue plan and proceed on the basis of a low scenario. Check the plans for income and suspend projects with an unconfirmed term or amount of payment. Adapt your value proposition to the new circumstances. After reassessing revenues, optimize expenses. Try to negotiate a lower rent for the quarantine period due to force majeure. Review each cost item, starting with large ones, and cut those items that do not affect revenue over the next 1-3 months. Allow your finance experts to do much of this work so that the executives can concentrate on generating income and navigating the challenges of the crisis. 
Plan business continuity.

Even in the best-case scenario, businesses will feel the impact of the coronavirus outbreak long after it's over. Companies should have a long-term business plan, including contingencies. An interdisciplinary crisis response team will help to identify and assess risks and suggest appropriate actions. The team should include experts from the sales and marketing, operations, financial, human resources, and legal departments. IT companies should also monitor their customers' demands and situations to evaluate the possibility of non-payment or pausing software development projects.
Revise the company's infrastructure and explore new techniques and tools for efficient remote work and collaboration.

Let employees do their research, test solutions, and share their findings and life-hacks with their colleagues.
Improve communication.

Companies need to effectively update employees, customers, and partners on government and company policies regarding the disease, as well as to encourage feedback to make sure everyone is on the same page.

Effective communication with critical suppliers will help mitigate the consequences of any delays in the delivery of mission-critical materials and parts, especially from areas hit by the pandemic.
To Recap
Sooner than later, almost every business around the world will have to deal with the economic impact of the coronavirus pandemic. Airlines, travel, leisure, and hospitality industries, and small businesses affected by public gatherings prohibition are going to bear the hardest blow. In many countries, the central banks are already cutting interest rates to ease the burden on businesses and to stimulate consumer spending. Still, in the conditions of the global economy, all companies will need flexibility and comprehensive planning to go through the coronavirus crisis unharmed.  
In Ukraine, businesses are demonstrating complete awareness of the threats, readiness to the challenge, and reasonableness of actions. They have the advantage of having survived the economic crises of 1998, 2008, and 2014. The current situation is not as shocking for Ukraine as for developed economies. Moreover, Ukrainian businesses can learn from the experience of companies that have faced the COVID-19 challenges earlier.
Most Ukrainian companies have promptly undertaken measures aimed at mitigating the humanitarian and economic effects of the pandemic. Regular information of the employees, increased safety at offices, limited or banned business trips, and social distancing measures are only some of the actions taken to support employees in the current situation.
Even in the situation of worldwide panic, lower sales projections, and nationwide quarantine, Ukrainian IT companies are maintaining their business performance targets and meeting obligations to all customers. The application of best practices from international companies and local safety measures will help us mitigate the impact of coronavirus on software development projects and keep the business running as usual.
Like all IT companies adapting to the new conditions, Onix is both adjusting its business processes and monitoring the market. When the pandemic is over, all entrepreneurs should be prepared to position their business as well as possible in the post-coronavirus world.
If you have a project to discuss right now, please don't hesitate to contact us!
You can see the full video interview with David Pawlan here: