This article is dedicated to telehealth as a chronic care management technology that can benefit patients and healthcare service providers alike. Whether you are a healthcare business or a tech startup, it's worthy of your attention.
If you are interested in developing software for the healthcare sector, you are welcome to view more articles on this topic or visit Onix's portfolio to see examples.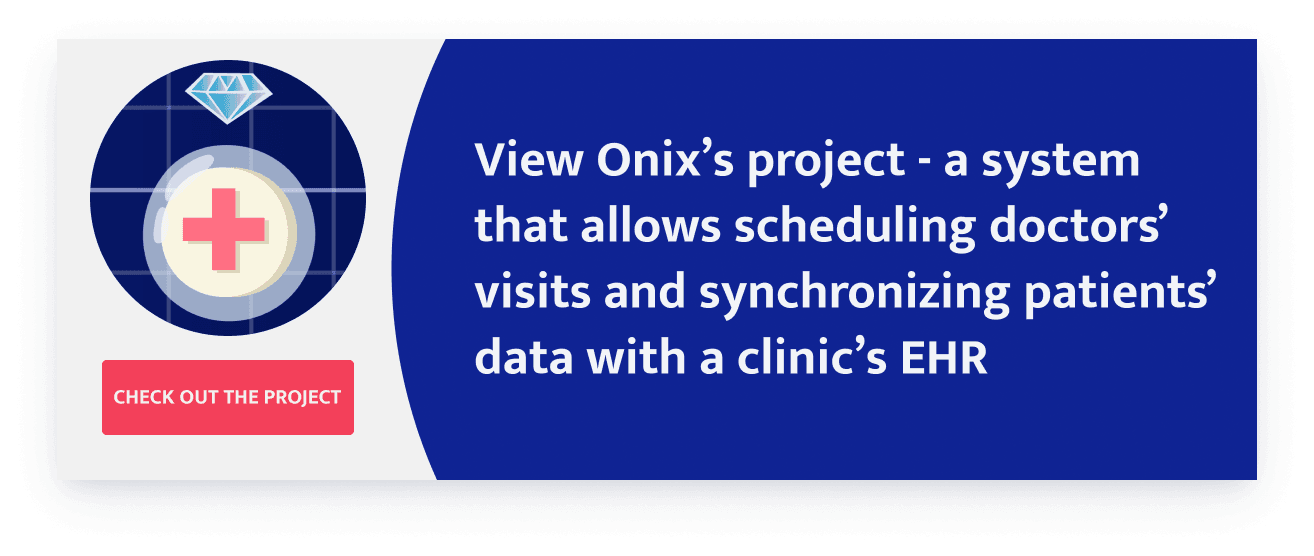 Chronic diseases are defined as conditions that last over one year and require ongoing medical attention or limit daily activities. Chronic conditions include, but are not limited to:
Chronic conditions like heart disease, cancer, and diabetes are the leading causes of mortality and disability in developed countries and present a heavy physical and financial burden on patients, clinicians, and healthcare systems worldwide.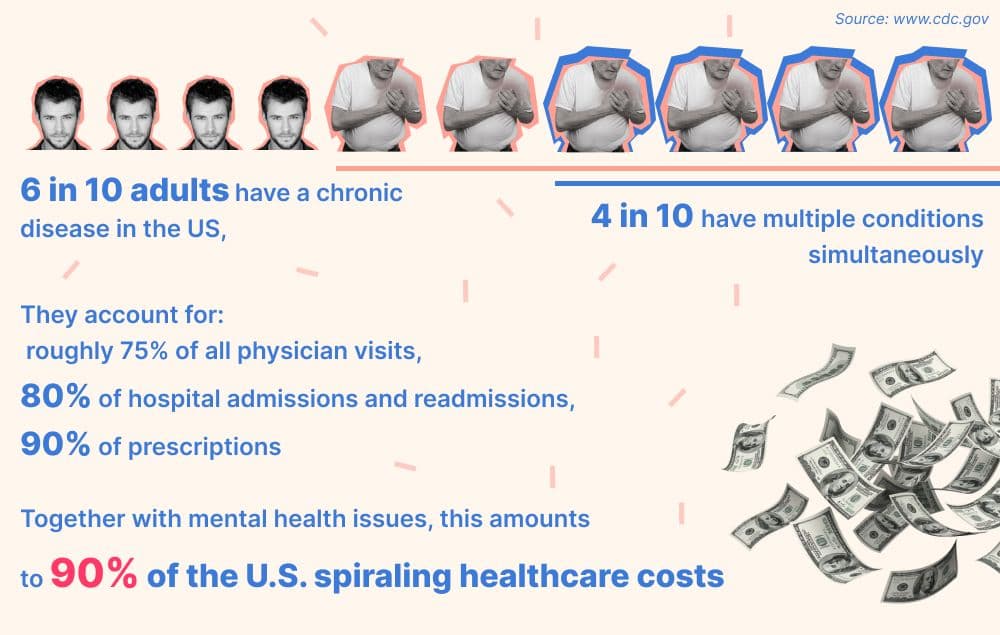 Diet, exercise, treatment compliance, and medication adherence can help prevent or manage many diseases. However, healthcare systems are traditionally focused on acute care in hospitals. Doctors only see patients at arbitrary intervals, which hardly promotes a thorough understanding of a patient's situation, so, between the visits, chronic patients commonly end up in emergency rooms, hospitals, or urgent care centers.
Besides insufficient education about their conditions and independent management thereof, patients are usually poorly controlled at home until the next check-up or crisis occurs.
Read also: Salesforce Security Best Practices and Tips
As this approach is risky for patients and economically inefficient, healthcare providers are looking for easier ways to reach out to patients, provide them with sufficient support and education, and lower the cost of services without compromising the quality of care.
Chronic care management (CCM) services aim to enhance the quality of care and health outcomes for chronically ill people, especially with multiple diagnoses, by 
increasing their engagement with clinicians

offering medical intervention more frequently

improving their understanding of their condition

supporting the self-management of healthcare

monitoring the conditions' progress

facilitating adherence to prescribed regimen and treatment plans

enhancing communication and coordination among a healthcare team members
Telehealth tools, such as video check-ups, and remote patient monitoring devices are increasingly regarded as a solution.
Telehealth refers to delivering healthcare services and education (e.g., diabetes management and nutrition courses) remotely using digital information and communication technologies. Telemedicine, a related term, is sometimes used as a synonym or relates more narrowly to the delivery of remote clinical services.
Ironically, it was COVID-19 that propelled the use of telehealth for chronic care management. The pandemic posed the biggest threat to chronically ill people. Facing a higher risk of contracting the novel virus and developing more severe symptoms, they couldn't access their routine vital health services that the unprecedented pandemic disrupted.
In response, American doctors and patients were explicitly encouraged to conduct remote visits. The use of telehealth tools for out-patient consultations reportedly rose from 0.3% in the period between March and June of 2019 to 23.6% in the same period of 2020 as 77% of doctors used them for the first time.
It appears that abrupt necessity brought about an opportunity to address some of the present system's weaknesses and overcome some barriers to effective remote patient monitoring chronic disease management. Let's see how it can be done.
Read also: Teledentistry in Healthcare: Benefits, Challenges and Use Cases
How Providers Employ
Telehealth for Chronic Care Management
Telehealth encompasses four distinct modalities or domains of applications:
Asynchronous modality
This method involves storing and exchanging texts, images, and patient data between providers or between a patient and a provider. The information is first recorded and shared, and an interpretation and response follow later.
For example:
Store-and-forward video-conferencing enables providers to share lab results, imaging studies, and other reports with patients and specialists.
communication with any specialists a patient may need to see

setting up virtual appointments with a doctor or nurse via phone or video call, prescription refill requests, medication and appointment reminders management, etc.

quick access to test results, prescriptions, notes made by their doctors, etc.
Using online questionnaires, a doctor can prescribe medications, suggest home care strategies, or recommend additional medical care.
Patients can access web-based educational content related to post-hospitalization regimes, symptoms monitoring, etc.
Synchronous modality
 This method typically implies real-time interactions between healthcare providers or between a patient and a provider. It utilizes messaging, live streaming, or video-conferencing via smartphones, tablets, laptops, etc.
For example, doctors can examine patients from afar or, like in stroke cases, oversee the treatment at home, in nursing homes, or in critical access hospitals. A care provider may apply peripheral medical tools, such as digital stethoscopes, ultrasounds, or otoscopes on a patient while a consulting medical professional evaluates the data remotely.
Remote patient monitoring (RPM)
 RPM is arguably the most popular telemedicine solution for chronic care management. Wearable biosensors and glucometers, thermometers, blood pressure cuffs, pulse oximeters, and other medical devices connected by Bluetooth or cellular networks record a patient's clinical data for self-monitoring or remote evaluation by providers. 
Either a patient would monitor their vitals and give feedback to a physician, or RPM tools would automatically collect, transmit, process, save, and retrieve health-related data. It need not necessarily be real-time, but the instant transmission of patient data to physicians promotes faster access to specialist care.
These technologies include:
web-based or mobile apps for sharing health information with a doctor or healthcare team;

devices that measure and wirelessly transmit clinical data, such as blood pressure, blood glucose, or lung function;

wearables that automatically record and transmit data like heart rate, gait, posture, tremors, physical activity, sleep patterns, etc.;

home monitoring devices that detect changes in routine activities, such as falls.
For example, digital glucometers that regularly transmit blood sugar levels to a care provider help formulate an optimal treatment plan for patients with diabetes.
Patient applications can collect additional insights via digital surveys and aggregate all data streams into easy-to-read reports providing a comprehensive picture of a person's health and any changes related to their treatment plan, medications, and lifestyle. This drives data-backed conversations and informs care management decisions.
Mobile health (mHealth)
 This modality refers to the provision of healthcare and education supported by mobile communication devices, such as cell phones, smartphones, tablets, and other PDAs.
The applications range from targeted text messages promoting healthy behaviors to specialized software, such as mobile mental health apps. App developers can incorporate all telehealth modalities and implement telemedicine into mobile apps for all categories of specialists and patients with any chronic condition.
Read Also: How to Build an mHealth App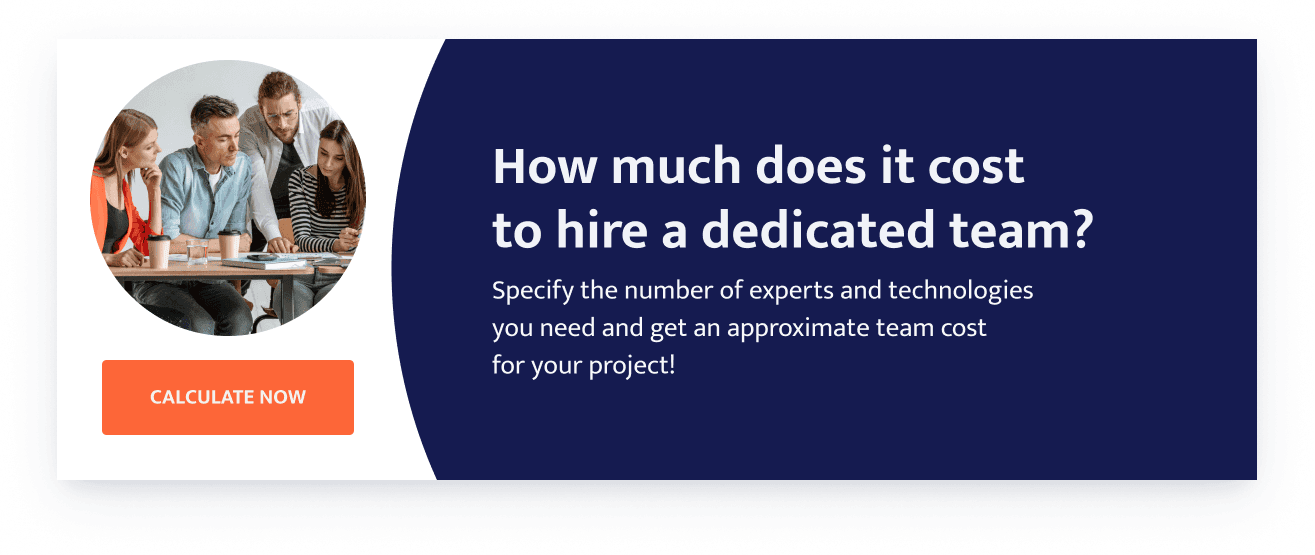 We have already mentioned some goals and reasons for chronic care telemedicine app development, but let us provide a more detailed classification with real-life examples.
Read more: Onix Named One of the Most Reviewed Mobile App Developers in Ukraine - The Manifest
The
Benefits of Telemedicine for Chronic Disease Management
The adoption of telehealth for chronic care management extends its benefits to individuals and organizations alike. Let's start with the advantages for patients and caregivers.
Better access to healthcare services
Delays or failure to see the primary care physician can result in serious health risks for chronically ill people. Multiple conditions multiply the number of physicians they need to visit, but advanced age, disability, lack of convenient transportation, lack of healthcare facilities in rural areas, and other socioeconomic factors limit their ability to do so. Luckily, many conditions that typically make patients seek a visit may be evaluated remotely. 
Telemedicine solutions enable patients to interact with healthcare providers and specialists without traveling. Patients can schedule appointments more often and at convenient times, even during evening and weekend hours. Frequent interaction with the medical system enhances the management of hypertension, high cholesterol, heart failure, stable angina, and diabetes.
Read Also: Doctor appointment system development
Convenience and cost-efficiency
Patients can see their doctor online from virtually anywhere without traveling and waiting in consulting rooms. COVID-19 Telehealth Impact Study analyzed responses from 2,007 persons across the U.S. who used telehealth between March 1, 2020, and January 30, 2021. They reported a high level of satisfaction with the care they received as an alternative to urgent care and emergency room services. They reportedly helped reduce the following barriers:
transport to the appointment

taking time off from work

additional costs (e.g., parking fees, gas, childcare, etc.)

exposure to COVID-19
Most respondents replied that they would have chosen telehealth over an in-person visit or that either visit type would have been acceptable.
Patients feel more comfortable during online 'home calls.' The provider may encourage and even oversee the patient perform home blood pressure checks and other required procedures. Afterward, their vital signs data can be automatically reported from the home comfort.
It's handy to do medication reconciliation over a video call with pill dispensers and medication bottles at hand. Family members can be present and participate even remotely. Patient education can be reinforced frequently, encouraging dialogue, increasing health literacy for all, and promoting positive lifestyle changes. 
In nursing homes, a telemedicine visit allows a nurse to be present and provide important details, as well as more accurate medication reconciliation.
Interactive digital devices have proven effective at helping patients manage their BP and facilitating cardiac rehabilitation programs. Daily progress visualization helps understand how prescriptions and lifestyle changes affect daily biometrics. For instance, a diabetic patient can measure their blood glucose level before and after a walk. When they notice the rate at which their blood glucose level drops, they will likely maintain the habit.
Modern electronic personal health records collect, maintain, and make a patient's health information accessible via web-enabled devices. In the case of an emergency, these records can help emergency personnel access vital information like current diagnoses, medications, allergies, and the doctor's contact information quickly, which can save a patient's life.
Reduced health risks
 Virtual doctor visits and remote monitoring proved particularly useful during the COVID-19 pandemic, reducing the risk of infection for patients, doctors, nurses, and staff. However, their benefits extend far beyond epidemics.
Remote monitoring of well-defined vitals and healthcare needs enables care providers to quickly identify unusual activity or indicators outside of expected parameters. When they can contact patients easily and provide timely and clinically accurate prompts, it's easier to guide and keep them invested in their own health between visits. This helps prevent mortality and costly cycles of hospitalization and readmission.
One of the biggest challenges to telemedicine for chronic disease management is a patient's compliance with regimens and self-management protocols, e.g., taking prescribed medications on time, adopting healthy habits and diet, and tracking their health frequently.
For instance, studies reviewed by the Community Preventive Services Task Force (CPSTF) showed that mHealth interventions help cardiac patients adhere to medications and treatment plans.
Medication non-adherence affects up to a half of patients, aggravating their conditions and contributing to thousands of preventable deaths every year. There is strong evidence that mobile messaging interventions help patients with asthma, diabetes, HIV, and cardiovascular disease better adhere to their medication protocols.
Chronically ill people may notice new symptoms from time to time. These may be medication side effects, a minor concern, a sign of deterioration, or the start of a new ailment. Telehealth empowers patients to consult with their care provider about a new symptom once it appears.
While patients may know what signs and symptoms they need to watch out for, they cannot detect more subtle changes, which can be an early warning of an impending acute episode. Wireless remote monitoring gadgets can pick up these signs instantaneously and raise the alarm for relevant medical professionals to intervene.
Privacy and security
For instance, online patient portals offer an alternative to emails, generally considered insecure for communicating about medical issues. A portal facilitates secure messaging between a patient and their providers and lets them review sensitive health information safely.
The Health Insurance Portability and Accountability Act (HIPAA), regulating the collection and use of patient data in the US, is one of the world's strictest data privacy laws. HIPAA-compliant telehealth products help ensure the security of patients' information.
Improved health outcomes and quality of life
According to a 2018 joint report from the national association of America's Health Insurance Plans and the Coalition to Transform Advanced Care, RPM is effective at telehealth and chronic disease management for senior patients, particularly those with diabetes, heart failure, and COPD. Real-time monitoring of patients outside of hospital settings reduced hospitalizations and readmission rates.
CPSTF concluded that telehealth strategies could reduce chronic disease risk factors and help with managing common conditions. Namely, they found that telehealth interventions can help patients with cardiovascular disease, end-stage renal disease, and diabetes eat more fruit and vegetables and lower sodium intake for weight loss and improved clinical outcomes.
CCM apps help physicians keep tabs on their patients' adherence and tweak their medication plans to ensure continued progress toward effective management and recovery. Physicians can assess data from RPM devices for better-informed clinical decision-making, automate alerts, and detect health deterioration earlier. 
Self-monitoring improves both BP measurements and medication adherence. Patients who take their own BP, are monitored, have frequent co-interventions, and receive regular education and lifestyle counseling achieve significant BP reduction.
A study by Cedars-Sinai Medical Center and UCLA found that activity trackers contributed to the self-reported general health, physical function, and fatigue levels of patients with ischemic heart disease through what appears to be improved adherence.
Chronic conditions often undermine patients' confidence, restricting them from pursuing activities beneficial for their mental and physical health. Constant monitoring and direct connection with a clinician restores their confidence, bringing about further positive changes.
The majority of nearly 1,600 healthcare providers that responded to the American Medical Association's survey in 2020 reported that telehealth improved the health of their patients and the timeliness of care provided to those who needed it.
Increased efficiency and safety for healthcare providers
Healthcare providers with insufficient human resources may have a hard time with CCM programs. RPM promotes more efficient use of medical resources, significantly increasing the number of chronic patients that can be cared for. Telehealth visits remove the barrier of 'rooming' a patient and permit more patient visits per day. Opening up new appointment slots will enable closer follow-up.
Telehealth facilitates a better understanding of a patient's needs and barriers to treatment and cooperation among healthcare professionals. A primary care doctor can consult with specialists regarding a diagnosis or treatment. They would send specialist exam notes, history, test results, X-rays, or other information. The specialist may respond electronically, conduct an online meeting with the patient, or request an in-person meeting at the doctor's office.
RPM systems help physicians make better-informed clinical decisions and adjust treatment faster while reducing the need for manual health data collection.
It becomes easier to follow up on patients with complex illnesses, conveys information those patients need, and contact patients more frequently.
For example, a doctor may need to check whether a patient eats healthy meals, quit smoking, exercises regularly, etc. They may have the patient step on a Bluetooth scale to see how their weight has changed, use a live video or audio to ask questions about medication, etc. Detailed RPM reports of patient vitals promote a better understanding of treatment efficiency and possible ways to improve a patient's condition. 
Storing patient data from a chronic care management app on virtual private servers boosts data interoperability across the healthcare organization and increases its accessibility so that concerned physicians can check it at any time, even on their smartphones.
Telehealth services limiting unnecessary personal contact will be beneficial during flu seasons or other infectious disease outbreaks. RPM allows for increasing capacity at short notice in response to an emergency. For instance, in the case of a pandemic, medical teams can track hundreds of 'virtual beds.' This will help physical hospitals free up real beds and resources for new patients while allowing infected patients to stay at home if their symptoms are not severe.
Improved customer experience
A telemedicine solution for chronic care management or remote patient monitoring enables providers to:
streamline customers' access to care
improve communications with the patients

ensure seamless coordination across care teams

use various health information, such as weight, BP, blood sugar levels, etc., to deliver personalized treatment plans digitally

support patients that manage their conditions at home

increase patient engagement and adherence

access health data in real-time for timely interventions

receive meaningful insights for a holistic view of a patient's health

promote significant financial savings for patients
These improvements to the customer experience are likely to translate into higher customer satisfaction, customer engagement, loyalty, retention rates, and other critical KPIs.
Growing customer base
Another benefit of telemedicine for chronic care is growing customer base. Most individuals aged 65 and over have one or more chronic conditions and will require long-term care; a significant percentage will end up in nursing facilities. A feature-reach telemedicine solution for chronic care management will help a business capture these customers. 
If you decide to implement a telemedicine solution into your app, it can attract new audiences and unlock additional revenue streams, such as Medicare compensation to physicians for CCM services. The number of Medicare beneficiaries is expected to grow significantly in the next few years.
Competitive advantage
 An innovative custom telemedicine solution for remote chronic disease management will set a healthcare business apart from the competition. For example, a combination of diet, exercise, and medication tracking with gamification and personalized notifications will make patients stick to their treatment plans, improving health outcomes. So will a simple, easy-to-use telehealth video platform compatible with the providers' current practice management systems, scheduling flows, electronic health records, and devices that most patients have at home. 
RPM can directly impact a payer's quality scores by reducing inefficiencies, tailoring personalized care, and improving outcomes. Telehealth appointments can improve the patient experience and enhance engagement through interaction with patients where they live and work on a more personal level. RPM also increases user satisfaction and loyalty.
Value-based healthcare thrives on new organizational competencies, innovative technologies, engaged patients, reduced hospital admissions, preventable hospitalizations, and healthier and longer lives. Providers focused on such healthcare will have a clear advantage over rivals that are slow to act strategically now.
Cost reduction
Chronic disease telemedicine programs save healthcare organizations time and costs normally incurred with regular appointments and home calls. When physicians and specialty care providers closely monitor and consult patients, they can considerably enhance in-home care, adjust the regimen, identify serious issues, and triage new symptoms quickly, mitigating the factors of costly hospital readmission.
For hospitals on tight budgets and incentivized to reduce readmissions, telehealth has effectively cut costs and chances of readmission. Online consultations and advanced, engaging RPM programs can help dramatically reduce costs associated with higher-risk patients, emergency room visits, and hospital utilization, saving billions of dollars annually.
The AHIP/C-TAC report of 2018 mentioned above cited several case studies supporting their efficiency.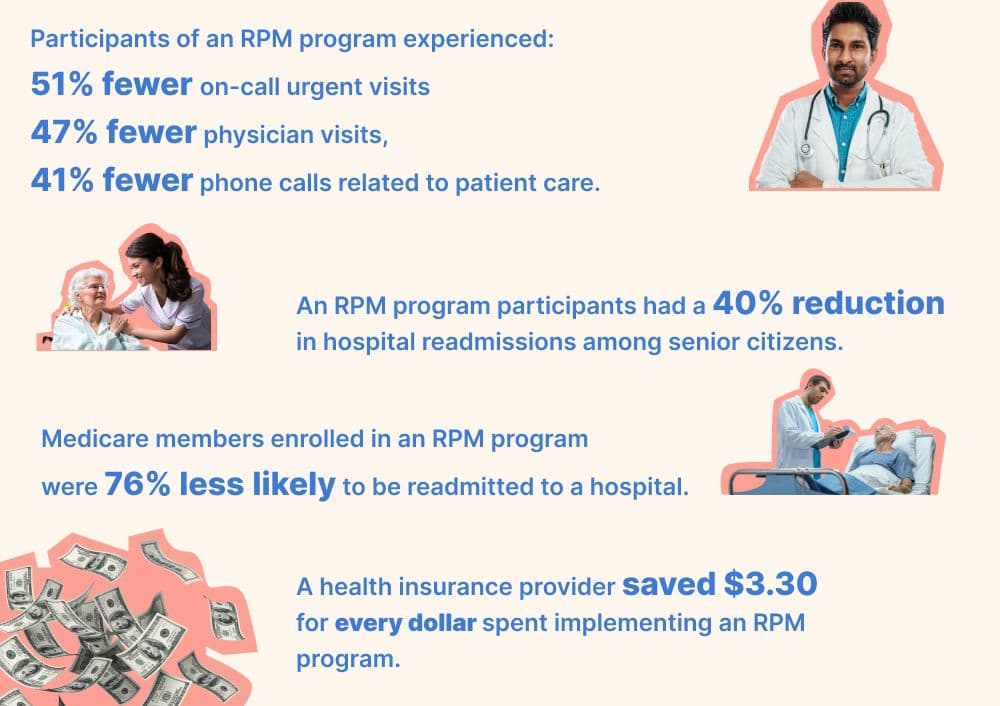 From curbing the use of PPE kits to eliminating office space rent and other long-term infrastructure costs, telehealth can benefit both institutions and the nation in the long run. 
Read also: Teledentistry in Healthcare
Final Thoughts
As the medical system embraces the digital transformation, telehealth, and chronic disease management have significantly changed the healthcare landscape in recent months, especially during the pandemic. Improved patient experience, enhanced medical time management, decreased costs, and, most importantly, better health outcomes are cited as results of using telemedicine for chronic care management. It's time for governments and medical authorities to normalize this technology.
The telemedicine market is expected to grow at a CAGR of 19% from 2022 to 2029. Medical providers and tech companies will continue to implement telehealth solutions in their existing systems and build innovative chronic disease management applications to provide better quality care and improve the lives of patients and medical professionals worldwide. 
The use cases for chronic care telehealth app development include, but are not limited to:
Online patient portals that centralize communication with doctors

Access to primary care specialists and providers for check-ups, counseling, care planning, and prescription management

Surveys for check-ups, screenings for illness, and other remote patient assessments

Virtual therapy sessions with mental healthcare providers

Nutritional, weight management counseling, physical, occupational, and other modalities of therapy

Post-hospitalization follow-ups

Non-emergency care for residents in long-term care facilities

Reminders and tracking of prescribed activities and medications

Monitoring of medical signs of specific chronic ailments
Do you plan to build a custom chronic disease management telemedicine app or enrich your existing software with telehealth features? Do you have any questions? Please feel free to share your ideas and concerns with Onix-Systems! We're here and ready to help!
FAQ
What are the benefits of telemedicine for chronic disease management?
better access to healthcare services
convenience and cost-efficiency
reduced health risks
privacy and security
improved health outcomes and quality of life
increased efficiency and safety for healthcare providers
improved customer experience
growing customer base
competitive advantage
cost reduction
What other chronic care management technologies are there besides telemedicine?
Other technologies that improve chronic disease management include digital medication management, remote patient monitoring devices, and secure direct messaging tools.
How much does it cost to implement telemedicine for chronic care management?
It depends on many factors, starting with what kind of software you want to implement, what tasks it should solve, and so on. It is easier to contact our company and find out the approximate cost than to look for information about it.