Full-stack developers have been around for years, but the arrival of 'full-stack designers' seems to have caused quite a buzz in the IT industry. Some welcomed it as another forerunner of the cross-disciplinary era. Employers rejoiced: one man who is worth two or three regular team members is a unicorn! The 'unicorns' were happy as well: the employers are now able to distinguish them from the 'regular' peers on job boards. And some of the peers felt that being mere 'designers' was now going to reduce their qualification to someone pushing pixels around.
The more you look into the details, though, the more doubts are gnawing at you. Is it really a new breed? How full should the stack be to justify the title? Everybody seems to have a different idea of what a full-stack designer should be and what they should do. This brings about another question: has anyone ever seen that unicorn?
Who is a Full Stack (Unicorn) Designer?
There is neither a standard definition of the term 'full stack designer', nor a universally accepted list of skill sets for the qualification. The spectrum of opinions on a person possibly hiding behind the title on a CV is vast: 
an expert in strategy, user research, interaction design, and visual design

a versatile visual designer who can do illustration, print, websites and mobile app design

a web-designer who understands the programming languages well enough to communicate with developers in their native language

a designer who understands the technical side of the product and can fulfill the design to a working prototype by himself

a cross-disciplinary individual who is able to design, handle copywriting, figure out code, etc., to provide overall solutions to a variety of areas linked to the user experience

a multi-skilled person able to tackle every layer of software development single-handedly

a web designer who can do back-end development and databases work

a web developer who is for any reason designing more than developing anything

a person who has tried to be everything but is not sure what should be their specialty

another marketing phrase that job agencies use to categorize IT personnel
There seems to be no agreement on the scope of the full-stack designer tasks during the software product development either. Some limit it to the phases from UX design (including research, wireframing, and prototyping) to the front-end development (HTML/CSS/JS, etc.). Others argue that HTML and CSS is not coding anymore, since coding is happening the visual way now. And some envision their participation continuing well into the issues of the released product's monetization. And who knows what follows next.
The truth is always somewhere in between, isn't it?
Is a 'full-stack designer' in agile software development a new phenomenon in the first place? We are sure it isn't. It's typical for small teams, especially startups, to have members that play multiple roles. Haven't you heard stories of designer co-founders who were there from the very beginning, when the company didn't even have a product yet? They did the research, branded it and created pitch decks, generated innovative ideas, designed and brought the designs to life, project-managed and marketed, they improved the product on and on... And now they are legends while other designers are still a fundamental part of the product.
The borders between design and front-end development were always thin. Nowadays, you can see almost every front-end developer not only coding, but also building prototypes with the tools like Axure, Proto.io, etc. On the other hand, more and more designers are using tools that generate static pages with beautiful semantic code. The evolution of team collaboration has forced many web designers to learn UX design, work alongside a copywriter or developers, and even to manage web development.
Agile methodologies have been breaking down the interdisciplinary walls for years. As a result, UX designers in an Agile team are heavily involved during pre-project phase, project initiation and project execution, and are now supposed to:
work closely with the product owner to understand their vision for the product and to define and refine the user stories

propose a design that supports product vision with a good user experience

collaborate with the developers to ensure technical feasibility of the proposed user experience

test the proposed UX design with real users in user research
…and much more, as may be required by the team and the project. Isn't it more than you'd expect from a mere cog in the machine, a creator of wireframes and graphical user interfaces? And still, not all of Agile UX/UI designers rush into titling themselves 'full-stack'.
Advantages of a Full-Stack Designer
The first to cross your mind is probably the familiarity with proper development process and its limitations: it is a widespread belief that designers who understand code produce more realistic prototypes.
Another major advantage of a full-stack UX designer in web development is a more thorough understanding of the user's needs and motivations, structure of the product, development process, marketing, and other details that create the context of a product development. Such comprehensive thinking ultimately results in higher quality of the UX/UI design.
A full-stack product designer must be a great asset to any team because of their ability to step in at any phase of a project and help out even outside their area of focus. In addition to traditional designer's duties, a 'full-stack' one might assist the product manager, complete the pre-concept for the entire project, facilitate brainstorming, do basic planning, conduct user research, do the testing and front-end development, participate in the project handover, etc.
Everyone enjoys smoother cooperation and a better grasp of the whole project picture, and employers benefit from keeping teams lean and diversified with fewer people. Very short of perfection, isn't it?
Even the Unicorn Has Spots
Unfortunately, we know too well that neither unicorns nor perfection can exist. First of all, no one can be an expert in everything, even if 'everything' is limited to only software product development. With the industry growing at such a fast rate, there is something new to learn by the end of each day. Having dozens of technologies, practices, and skills to keep up to date, it's easy to lose the focus, but increasingly difficult to find the time for everything.
It is also hardly possible to be able to assume every role in the development process. For example, there will always be a need for research, business analysis, or a project manager to mediate between the various figures. There is no replacement for developers either.
Both designers and developers generally doubt a person's ability to do both jobs equally well. It takes a certain type of person to be a good programmer or a good full-stack UXer. If you are not a natural born programmer, it may take you years to get to the level sufficient for building your own designs.
They also seem to fear lest a full-stack designer (unicorn developer/designer) should go the full distance only to fail at really great design in the end. It's easy to explain. If a designer has to think how he or she is going to implement something before they have even tried to design it, the freedom of their original design thinking is instantly limited by the need to consider the constraints of their own development skills.
Designers of websites and mobile apps certainly need to know what the technology can or cannot do, but those who try to do both may end up diluted and lose their design skills. For this reason, major companies and entrepreneurs interested in the best UX/UI will always prefer specialists to 'all-round designers' or 'full-stack designers'.
And still, it must be the universal hunt for hiring full-stack designers that have either reduced their number or made them elusive to the extent they seem to be as rare… not quite as unicorns, but almost as dragons in the Game of Thrones universe. So, if you are unbelievably lucky to hire a true full-stack designer (universal designer), get ready to work with one of the most formidable, high-paid, stressed-out, and sought-after specialists. But if you are not so lucky…
What about UX/UI Designers?
When a truck gets stuck at the entrance to a tunnel, it can be lowered to the clearance level by simply letting the air out of the tires. Maybe we also need to let some of the air out of the designers' ambitions and the companies' requirements for a 'full-stack designer' for the idea to work.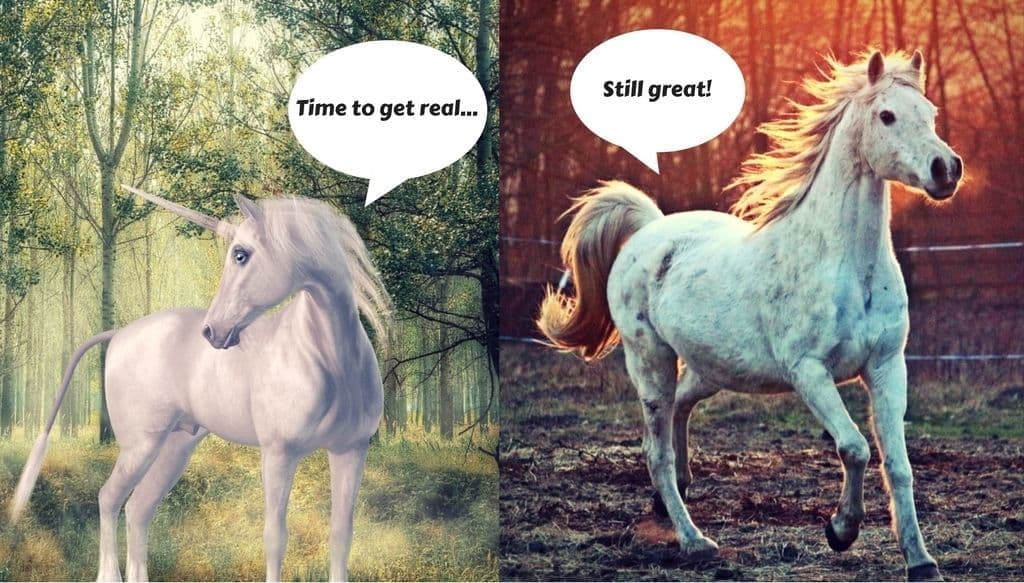 We can't help feeling the generic description of a full-stack designer in the product development process is actually what a good UX designer is supposed to be. All the elements are requirements for a good UX as part of the whole process and life cycle of a product. Just as a good developer is required to know more than just coding, a good UXer must know enough to make better use of available resources and expertise for the problem-solving side of the business.
It seems that for some full-stack UI/UX product designers is just about the technical part, but is it correct? With more and more tools labeled 'No Coding Required' in the market, designers are able to execute their work without writing a single line of code. If a team has brilliant developers who are also team-players, why should a product designer ever bother to solve code issues in the time they might invest into product design improvement? They say the frontend is evolving too fast for a designer to keep up with best practices and new ways of writing code. Others go further by claiming that a full-stack designer doesn't have to be a developer at all as it is an absolutely different 'stack'.
Being full-stack obviously refers to someone who has the skill set required to deliver a well-designed finished product. From this we deduce that the required 'stack' may largely depend on each project's specifications and the organization's needs.
It is not a requirement for full-stack designers to master everything perfectly, but they definitely must have a 'full-stack' mindset. Continued education has always been a part of our fast-paced and diverse industry. Any UX/UI designer is expected to keep learning, enriching their skill-tree, and following up the design trends and technology, new patterns, and new tools.
If it is hard to say which particular assets and skills are critical to have, the best way is to ask oneself:
What will make you more valuable at what you do? For most designers, that means pursuing a deeper understanding of the science and psychology behind user experience design, focusing on print and branding design, or (still!) learning to code.

What skills will help your project team? Every new skill acquired outside the UX/UI field means an ability to speak in a common language with every team member.
To be on top of the latest stuff in design and to contribute in ever new ways, UX designers must stay open-minded, always focused on searching for more efficient tools and for opportunities to learn and research. Even if a designer falls short of a real 'full-stack' (whatever it means), even if only a small subset of their extra skills is being utilized, it still improves their own performance, helps everyone involved in the product development, and improves the product.
Full-Stack or not Full-Stack
All-around IT personnel is going to be a career trend in the future. Ye goode olde days when UI designers finished their job by sending PSDs to a developer are over. Change is happening, roles are shifting, skill sets are expanding, and the market puts more responsibility on UX designers than ever before.
The 'full-stack' addition to a UI/UX designer's title does not mean being an expert in everything or the ability to carry out the entire software product development single-handedly. Neither does its absence indicate a designer's inability to contribute to the product throughout the development cycle.
Full-stack or not, a good UX/UI designer remains crucial for the product. A specialist in their own field, but with an eye for how stuff works: what the user needs, psychology, marketing, user research, the code, testing, how to innovate and monetize, and much more. A 'full-stack' UXer should thoroughly understand what a product should do for the customer, the company, and the users, and pair the understanding with the constant pursuit of the best user experiences possible.
READ MORE ABOUT UI/UX DESIGN: