NewVantage Partners, strategic advisors in business innovation to Fortune 1000 businesses, annually release a Big Data Executive Survey. The participants are leading banks, insurance, credit, and asset management firms, and top companies representing industries, such as IBM, Ford Motors, and Verizon. According to the latest survey, 97% of the companies were investing in big data (BD) and artificial intelligence projects. 73% claim to have achieved measurable results.
Table of contents
Virtually all said they were trying to make the shift to a data-driven corporate culture. Why only 'trying'?
In this post, we'll overview the major pros and cons of big data analytics for business.
Some Context First
Before we look at the pros and cons of data analytics, let's look at some background. Back in the 1950s, the insurance company John Hancock allegedly possessed the largest amount of data - 600 megabytes. By the early 2000s, Google alone had accumulated 25 petabytes. Soon, Facebook became another data-generating leader. Nowadays, numerous social media, search engines, smartphones, Internet of Things devices, cameras, public utility infrastructure, governmental processes, and almost every other human activity produce incredible amounts of information.
In the 1990s, 'big data' used to mean volumes of information that were too big or complex for an organization's software to handle within an acceptable time frame. The fact that the data was difficult to read in a timely manner was not a disadvantage of big data. However, not only the amounts of info kept growing. Thanks to the development of cloud computing and faster computers, it became more usable and useful. It's possible now to "discover patterns and correlations in the data that offer us novel and invaluable insights." (Big Data: A Revolution That Will Transform How We Live, Work, and Think, by Kenneth Cukier and Viktor Mayer-Schonberger)
Read Also: Correlation vs. Regression
The use of the 'big data' term has thus been extended to refer to
study and applications of massive data sets, particularly predictive analytics or other advanced methods that extract value from data;

frameworks, techniques, and tools used for analyzing information, such as A/B testing or

machine learning

;

relevant technologies like business intelligence, cloud computing, and databases.
BD philosophy encompasses unstructured, semi-structured or structured data, but the main focus is on unstructured data. The information is typically gathered and analyzed at specific intervals; for real-time big data analytics, it's done incessantly.
The Advantages and Disadvantages of Big Data Analytics for Businesses
Various processes carried out by each organization and person generate tons of information. For a company, it's a valuable asset: it can be processed to create insights as to how to improve business operations. The highly agile tech giants Amazon, Apple, Facebook, and Google are all data-driven, but BD analytics is hardly a one-size-fits-all solution. Like any technology, big data analytics has its advantages and disadvantages.
Top 7 Benefits of Big Data Businesses
The common advantages of big data include, but are not limited to:
Advanced analytics
Such analytics give the decision-makers the insights they need to help the company grow and compete. New big data tools enable them to segment patterns, trends, and sentiments to understand customer behaviors quickly and efficiently. Improved insight into buying behaviors helps in the faster development of strategies that are most likely to succeed. Monitoring products and services through such analytics can lead to higher conversion rates.
Banks and financial institutions are using insights gleaned from daily transactions, market feeds, customer service records, location data, and clickstreams to create new business propositions and improve their go-to-market strategies. In the retail industry, sales insights are vital for retaining customers, reducing the bounce rate, and finding optimal ways to boost sales. Real-time BD analytics of customer trends can further enhance a company's advertisements, discounts, and seasonal offers. The development of advanced analytics offers new opportunities for the management of supply chains as well.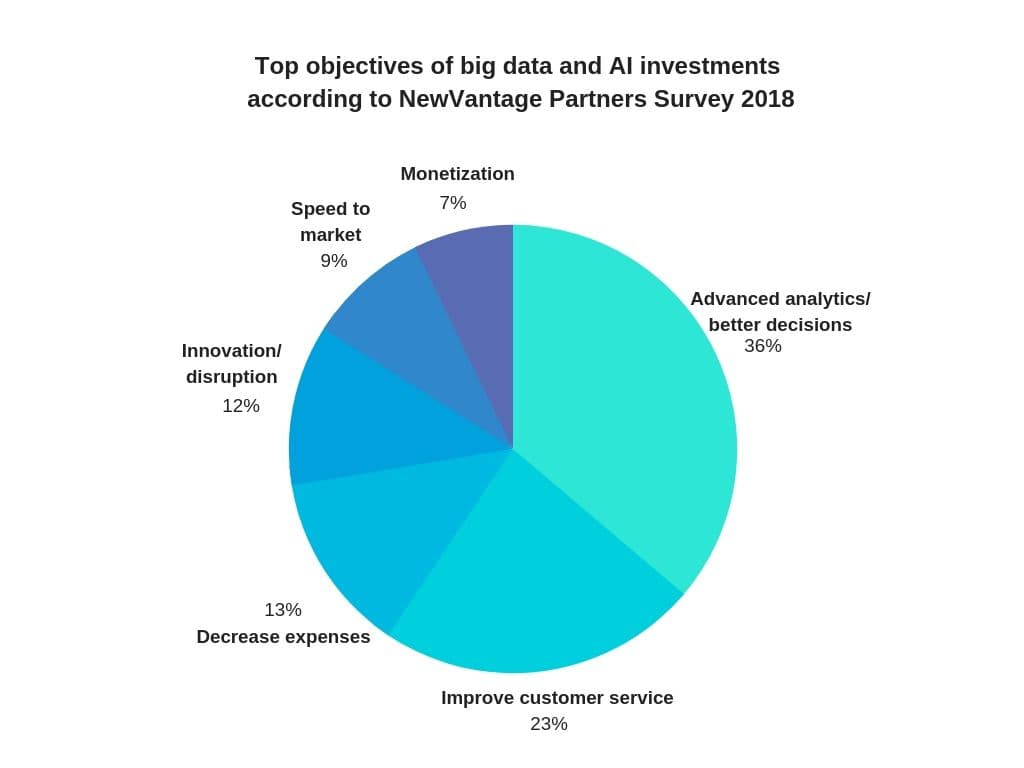 Competitive advantage
Having a constant flow of real-time information means being increasingly agile and adaptive to the market needs. If a company can get a detailed picture of its rivals and glean insights that they don't have, it can get out ahead of the market. The technology can help both in analyzing various test results and in simulating possible outcomes during the development of new products, or lowering/increasing prices, or focusing on new target groups.
Better customer experience
Knowing better what to offer next benefits both the businesses and consumers. Customer relationship management systems, loyalty card information, social media, and other points of customer contact supply businesses with rich information. Analyzing it, businesses can better understand the customers' needs and predict impending errors and issues. If companies can create in-depth profiles of the customers, they can tailor products and services to meet individual preferences.
Increased productivity
According to Syncsort's latest BD survey, almost 60% of respondents cited increased operational efficiency and reduced costs as the greatest benefits of using BD tools like Apache Hadoop and Spark. They increase both the analysts' productivity and the productivity throughout the company. Hadoop may be the most established framework for storing and processing BD. It's open-source and has other valuable functions, e.g., fraud detection and market campaign analysis.
An appropriate big data solution can reduce the time taken by month-end closing from days to hours, help reduce waste, or lead to more efficient use of resources and workforce. IT departments that apply BD principles to machine intelligence and deep computing can predict issues and provide solutions proactively.
Expense reduction
The initial outlay for a BD solution may seem expensive, but the resulting benefits help reduce cost in other areas of the business. The use of SAP HANA platform by eBay is a telling example. In 2015, it resulted in saving some $40M per quarter due to better decision-making on currency hedges based on real-time info and trend analysis.
Detection of errors and fraud
Real-time BD analytics will allow businesses, particularly in the financial services industry, to mitigate losses by quickly detecting errors and fraud. By recognizing patterns and anomalies, banks and credit card companies can spot fraudulent behavior or stolen credit cards before the cardholder finds it out. If the team managing the security of a company's systems is notified in real-time, they can take measures promptly. Early error recognition and determining the causes of failures help prevent more numerous and severe issues. The ability to correct errors on the fly improves customer service and the business's reputation.
Increased revenue
Smarter marketing strategies and better customer service naturally result in higher profits. BD also helps improve time-to-market which contributes to faster growth and higher revenue.
Still, don't forget about the possible disadvantages of big data initiatives. Their implementation presents difficulties, especially to organizations at lower levels of maturity. The challenges of storing and managing unstructured data, capturing data, search, sharing, transfer, visualization, querying, updating, information privacy, etc., may outweigh the potential gains.
The primary limitations of big data are the following:
1. Companies looking to use BD have to reconsider their plans or even their entire culture. Real-time BD inflow mandates a completely different approach and strategic changes.
2. BD skills can take considerable time to acquire, and hiring qualified staff will increase costs. In the NewVantage survey, nearly half of the executives identify people challenges as the most significant barrier to becoming data-driven.
3. More information also means more false and useless information. The need to ensure that the company is analyzing accurate and relevant information in the proper format slows the process. Data and data sets are not objective, to boot. There are hidden biases at both the collection and analysis stages. This is another disadvantage of big data analytics. And furthermore, not all BD tools are able to handle real-time data. Companies that fail at sophisticated and objective analyses risk implementing misguided strategies organization-wide and gearing the business in a wrong direction.
4. The cornerstone of privacy laws is that people are told in advance what information is being collected and for what purposes. However, a person can't give informed consent for secondary uses that are not planned at the time of collection. The use of data collected from drones, vehicle registration plate scanners, etc., raises privacy concerns too. When handling sensitive information, companies must provide the necessary security measures.
5. A company storing vast amounts of confidential information is attracting hackers. Duplication to many locations to optimize data queries processing may result in difficulty in locating and securing all items and sensitive information.
6. The data storage space, networking bandwidth to transfer the data, and compute resources to perform the analytics are expensive to purchase and maintain. If an organization has many years' information siloed in a variety of systems, integrating all data sources and moving the data adds to the time and expense of working with BD.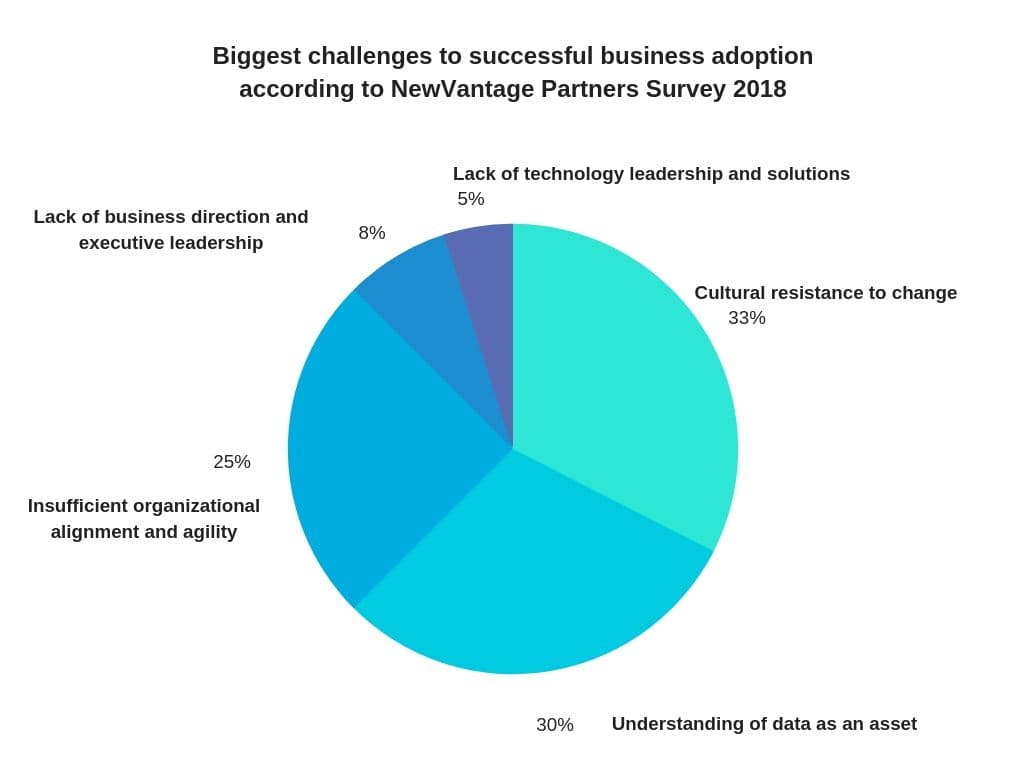 With the continuing advances in the technology front, some of the current disadvantages of big data may be resolved in the near future. The use and deployment of BD for traditional batch reporting and analytics on a monthly, weekly, or even daily basis is going to evolve into near-real-time dashboards and interactive, customer-facing or mission-critical operations for the benefit of businesses and consumers.
To Recap
As the volume and sources of new information in the world are proliferating, more companies are thinking about how to transform these masses of information into value and a competitive weapon. Big Data is used for predictive analytics and user behavior analytics.
Business decision-making can be virtually automated, leading to wiser strategic moves and solutions to emerging threats. Data-driven decisions result in improved customer retention, sales, and brand awareness. Modern BD solutions assist with enhancing customer service, process efficiency, expense reduction, business agility, and the development of new products and services. Real-time BD analytics means an opportunity to make better-targeted marketing approaches faster than ever and compete against data-driven rivals. 
Companies should nonetheless consider both the advantages and disadvantages of big data. They may face the challenges of cultural change and integrating legacy systems, as well as incur considerable expenses related to staffing, hardware, maintenance, etc. Other significant disadvantages of BD are cybersecurity risks and the difficulties of compliance.
Before embarking on a project, the stakeholders must carefully weigh all potential big data pros and cons in their particular case. If the pros of data analytics offset the cons, utilize the advantages and take preventive measures to guard your project against the possible disadvantages of big data. Many vendors offer off-the-shelf solutions, but sometimes only a custom-tailored product can meet a company's unique needs. Still, the adoption of best practices and the perception of BD as an asset is essential for all.
Feel free to ask our team about the advantages and disadvantages of big data and how to implement its benefits on your project.